Krabi, a serene town in Thailand is a cocktail of fun, romance and adventurous experiences, especially after sundown. Even though it's primarily known for being a calm and vibrant town perfect for families and couples, you'll see a different side of it during nighttime, when the entire place comes alive. From upbeat music at the nightclubs and bars to the fun night markets, and much more, there's a lot to look forward to. The nightlife in Krabi is ideal for families, friends, couples, solo travelers, and those looking for a retreat away from the hustle and bustle of Bangkok or Phuket. This town is the perfect balance between serenity and excitement. So, let's delve into this town's party scene and make your night worth recalling.
Nightlife in Krabi: Lose Yourself to the Musical Beats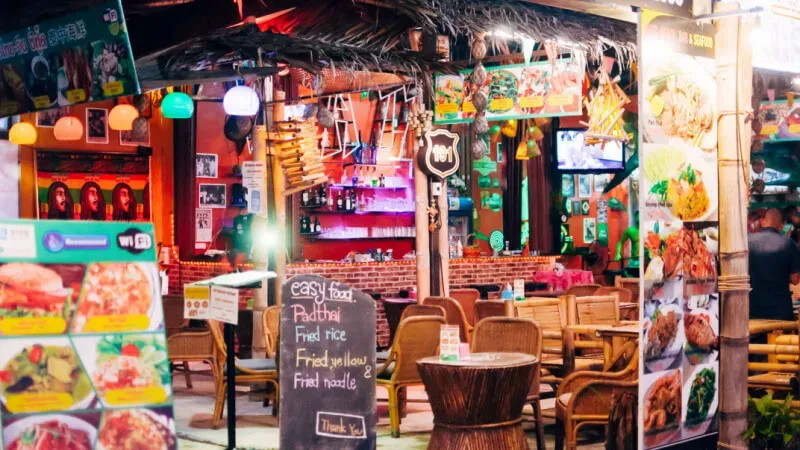 One thing you can't take away from Thailand is its tag of being a party hub for locals and tourists alike. Regardless of where you go in this country, its nightlife will always find its way to you. A vacation in Krabi calls for indulging in its best experiences, and one of those is to be a part of its nightlife.
Here's how you can enjoy Krabi's nightlife during your trip.
Shop at the Local Market in Krabi
Visit the Paka Show Park
Watch a Cabaret Show
Stroll around the Krabi Walking Street
Enjoy the Night at Ao Nang Center Point
Go Bar Hopping and Explore Nightclubs
Night Camping at Koh Lanta Island
Revel in a Sunset River Cruise
1. Shop at the Local Market in Krabi: A One Stop Shopping Destination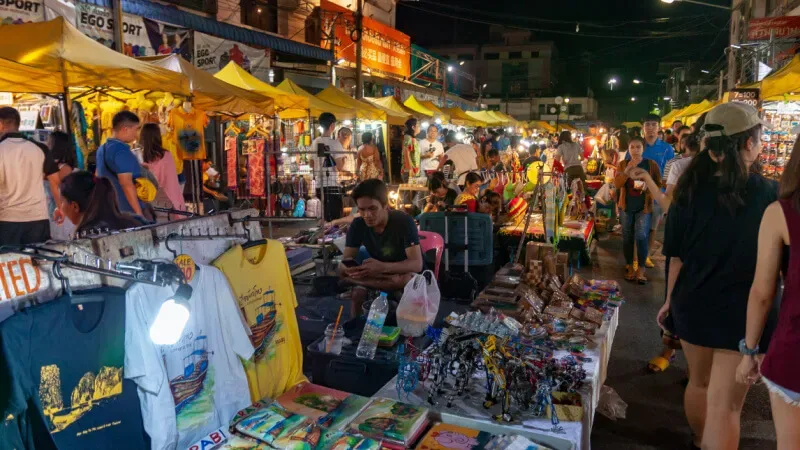 Shopping in Thailand is one of the most sought-after activities because of the variety of items available here. Similarly, the town of Krabi is one such place where you can indulge in this fun and wholesome retail therapy in its local market. The market in Ao Nang is a famous one among locals and tourists, and also includes the Catalunya Walking Street, which is a must-visit. Shopping at these markets at night is even more exciting because the entire place is illuminated with lights and there's a lively energy in the air. You can also take a walk to Ao Nang Beach, which is in proximity to this location.
Location: 2RRV+R7V, Ao Nang, Mueang Krabi District, Krabi 81000, Thailand
Timings: 1:30 P.M – 7 P.M
What to buy: Souvenirs, Buddha masks, Thai fabrics, candle holders
Nearby attractions: Ao Nang Beach, Phra Nang Beach, Phi Phi Islands
2. Spend the Night at SOI RCA: Best Way to Enjoy Krabi's Nightlife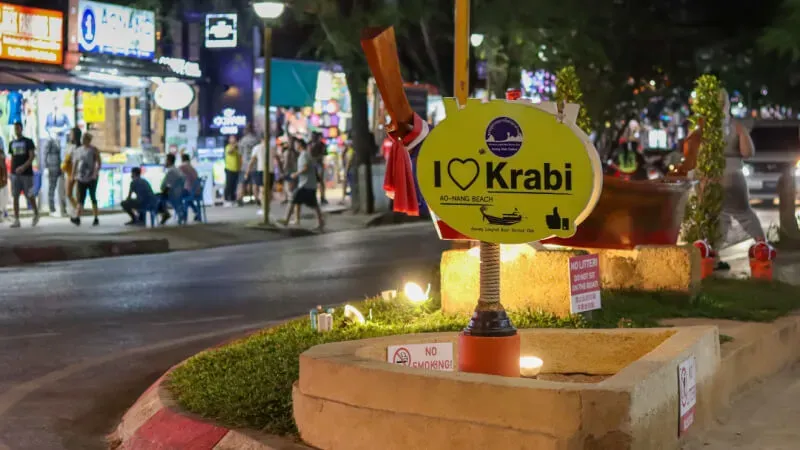 One of the most popular things to do in Krabi is to spend the night at the Soi RCA, where people come to enjoy the beauty of the night with delicious food and drinks. The laughter, friendly banter, and an overall hubbub surrounding this place is its highlight. Soi RCA is basically a narrow street lined with trails of clubs and bars, and the upbeat energy buzzing in the air and the sound of party music constantly makes it the perfect nightlife experience. You can also party with the locals here and they'll even tell you the most exciting places that you can explore during the night.
Location: 249/2 4203, Ao Nang, Mueang Krabi District, Krabi 81000, Thailand
Timings: 6 P.M to 3 A.M
Suggested Read: Best Restaurants in Thailand: Set Your Sights on the Delish Meals in Thailand
3. Watch a Blue Dragon Cabaret Show: Enjoy the Glitzy Glamor of these Performances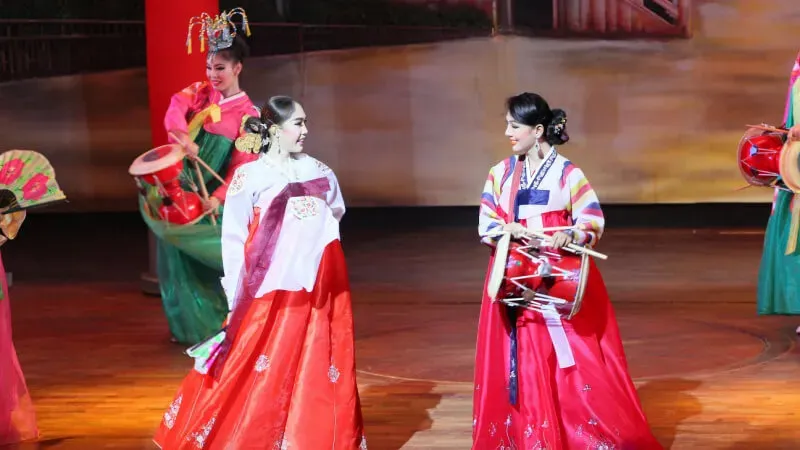 A cabaret show is one of the most famous attractions in Thailand. Unique to this country, these shows are performed by ladyboys, dressed in glamorous and over-the-top costumes that would instantly boost the serotonin in you. From dancing to singing and comedy, the Blue Dragon Cabaret Show is a complete package. However, it also highlights the culture and traditions of this country, which makes it even more important to watch this fun yet insightful show. You'll come across several places in the country where these shows are performed and there's no bad cabaret show in all of Thailand. Blue Dragon show is the first Cabaret in Krabi, though. So, you can sign up for any of them and lose yourself in the lights, dance, and music of this show.
Locations: 423 31 Ao Nang, Mueang Krabi District, Krabi 81180, Thailand
Blue Dragon Cabaret performances: Gangnam Style, Barbie Girl, Vegas Cabaret, Ari-Dung
4. Stroll Around the Krabi Walking Street: Soak in the Upbeat and Lively Energy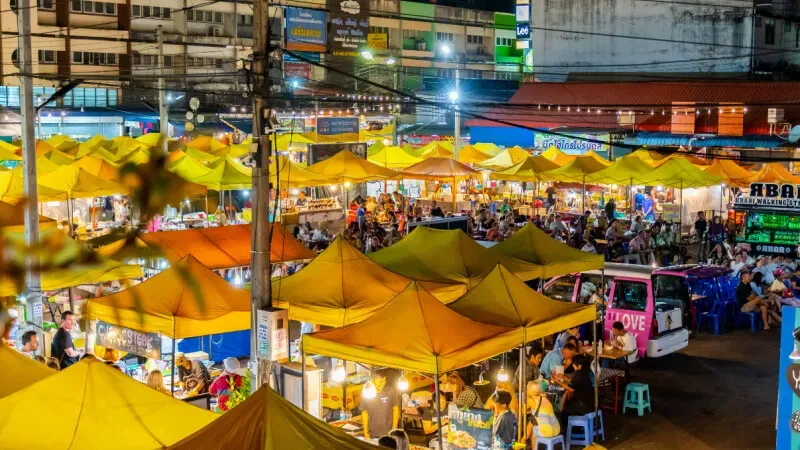 Krabi Walking Street is one of the famous night markets in the town that is a must-visit for tourists. The illuminated shops, bustling streets, and vibrant items to shop for make it one of the best ways to enjoy the nightlife in Krabi. In the evening, there's live music, magic shows, and dance performances going on around the market, which adds the right entertainment quotient to your vacation. You can even try various Thai delicacies from the street food stalls lining the streets. This walking street incorporates all the right elements from shopping and food to entertainment that you can't miss out on this activity at all.
Location: Pak Nam, Mueang Krabi District, Krabi 81000, Thailand
Timings: 5:30 P.M to 10 P.M (Friday to Sunday)
What to buy: Handicraft, artwork, souvenirs, clothes, jewelry
Suggested Read: Best Water Parks in Thailand: Where a Fun and Adventurous Time is Guaranteed
5. Enjoy the Night at Ao Nang Center Point: Heart of the Town's Nightlife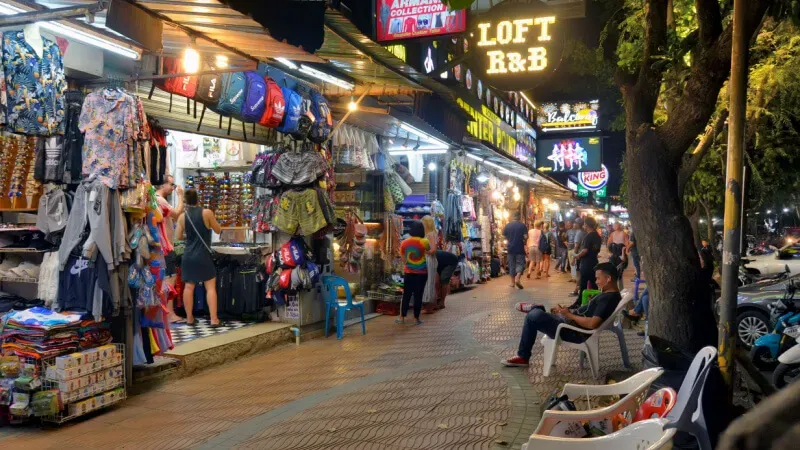 Ao Nang Center Point is where you can delve into the party scene of this place. With the best party places in Krabi, such as pubs, nightclubs, and restaurants lined up, this center is perfect for all the tourists who are looking for a fun and exciting time. From shopping to watching the Blue Dragon Cabaret show, there's a lot to look forward to here. This three-storey complex isn't famous only for its bars and nightclubs, but also for late night dining and entertainment options. So, revel in the laid-back vibes here with your friends and loved ones and experience the nightlife in Krabi in its most raw and captivating form.
Location: Central Beach Road, Near Burger King
Timings: 6 P.M to 2 A.M
Famous places to visit: Little Longhorn Saloon, Smile Bar, Blue Dragon Cabaret
Suggested Read: Best Islands in Thailand: A Guide to Exotic Getaways
6. Go Bar Hopping and Explore Nightclubs: Dance Until the Sun Comes Up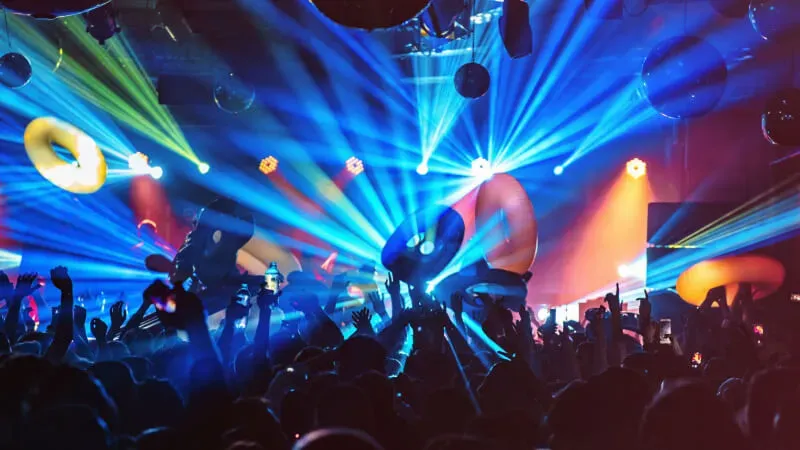 One thing you can't miss out on when experiencing the nightlife in Thailand is the bars and nightclubs that only come to life in the after-dark hours. As soon as the sun sets, the entire energy of this place shifts and you'll experience a lively and groovy vibe exuding from the pubs and clubs here. From the locals and tourists to the servers at these places, all pass the vibe check and spending time in any of the pubs or nightclubs here would surely make your night. The loud music, neon lights, and dancing people are the perfect way to enjoy the nightlife of this bustling town. You'll stumble upon some of the best night clubs in Krabi that are a must-visit when traveling to this town.
Famous nightclubs and bars in Krabi: Boogie Bar, Carlito's Bar, Factory Beer Garden, Tew Lay Bar
Suggested Read: Honeymoon in Thailand: Two Hearts, One Adventure!
7. Night Camping at Koh Lanta Island: Experience the Serene Krabi Thailand Nightlife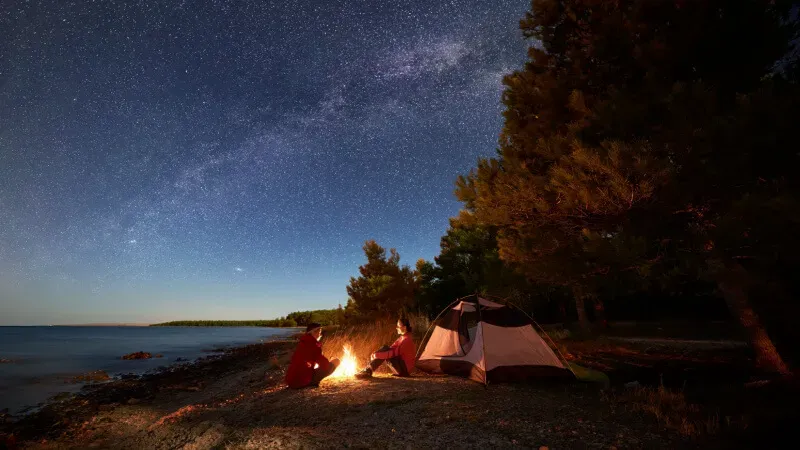 Koh Lanta Island is one of the best places to visit in Krabi because of the serene atmosphere and gorgeous views of the crystal-clear water, sandy shores, and lush greenery. This island is a sight to behold during the day, but at night, its beauty enhances manifolds. The entire sky is covered with twinkling stars, and you can only hear the sound of the waves crashing on the rocks. Enjoying night camping at such a breathtaking location is a memorable affair, one that would feel right out of a fairytale. You can also indulge in night swimming or spending a romantic time with your partner because experiencing the calmer side of this town is also worthwhile.
Location: Ko Lanta District, Krabi 81150, Thailand
Suggested Read: Top 10 Beaches in Thailand: Explore the Palm-Fringed Sandy Stretches
8. Revel in a Sunset Cruise: Add a Romantic Twist to Krabi's Night Scene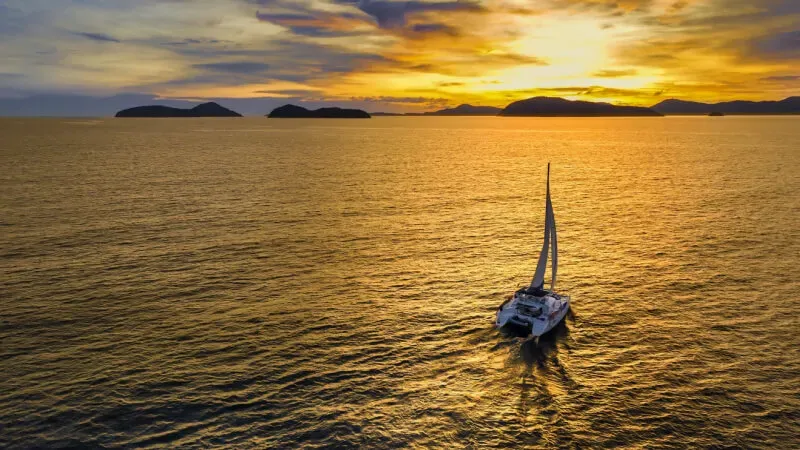 A sunset cruise is as romantic as it sounds because sailing through the waves of the turquoise blue water as the sky takes on an orange hue is the perfect way to end this list. Enjoy the journey through the mesmerizing sights and enjoy a traditional meal onboard as you soak in the love in the air. There are a few adventure activities as well that are some of the best things to do in Thailand, such as snorkeling, swimming, cliff diving, and so on. The cruise would stop at several destinations, including Poda, Tup, Si, Ta Ming, Wasam, etc. Enjoy the luxurious setting of the cruise along with the scenic views.
Location: Krabi Marina Point, Pak Nam, Mueang Krabi District, Krabi 81000, Thailand
Timings: 8 A.M to 5 P.M
Also Read: 10 Ways to Enjoy the Nightlife in Bangkok: Witness the After-Dark Side of this City
The nightlife in Krabi is vibrant and exciting one, which suits people from all walks of life. We do associate Thailand with partying and a wild time, but there are two sides of the coin. This town's nightlife offers serene and calming activities as well that are perfect when enjoyed at night. So, the next time you visit this town, make sure to indulge in these fun and memorable activities that would enhance your experience of this town a lot more. Book our Krabi tour packages and go on a vacation of a lifetime that is filled with fun, food, and entertainment.
Nightlife in Krabi FAQs
Q1. Does Krabi have good nightlife?
Yes, Krabi's nightlife is an upbeat and lively one with several bars, nightclubs, dance, music, and much more. You can also enjoy the serene activities as well like a sunset cruise or night camping.
Q2. Where can I go out at night in Krabi?
If you wish to enjoy the nightlife in Krabi, then you can go the Krabi Walking Street, Ao Nang Center Point, and visit the various pubs and clubs in the vicinity. All these places are open till late at night.
Q3. Does Ao Nang have nightlife?
Ao Nang is one of the best places to enjoy Krabi's nightlife because there are several night clubs and bars in the Ao Nang Center Point. You can also watch the famous Blue Dragon Cabaret Show here or shop at the Catalunya Walking Street here.
Q4. Is Krabi Night Market worth it?
Krabi's night market is one of the top places to indulge in shopping because the illuminated streets, vibrant shops, and an overall hubbub of the tourists flocking to this place makes it an exciting activity.
Q5. Is 3 days in Krabi enough?
3 days in Krabi are enough to explore the various tourist attractions and to delve into its nightlife and create memories worth remembering. You can also extend your trip because the charm of this town might just convince you to do that.
Q6. Which month is good for Krabi?
December is the best month to visit Krabi because the winter season has begun, and the temperatures are cool enough to allow you to enjoy your time here. You can explore the beaches, tourist spots, go shopping, and much more.
Q7. Which are some of the best nightclubs in Krabi?
Some of the best nightclubs in Krabi are Boogie Bar, Carlito's Bar, Factory Beer Garden, Tew Lay Bar, and many more. You can enjoy the thumping beats, sway to the music, and let yourself loose in the laidback atmosphere here.
Q8. How to reach Krabi?
You can take a flight to Krabi International Airport and then take a cab from there to the town, which is around 10 km away. This town has easy connectivity to Bangkok as well.
---