Under Phuket's skies so blue, Honeymoon dreams come true. Beaches kissed by golden sun, Love's journey has just begun.
Shoutout to all the romantic couples out there! Wedding bells around the corner or have you recently got married? Then, planning a honeymoon must be on your mind now for sure! Bathed in the golden embrace of the sun and blessed with picturesque landscapes, Thailand is an ideal destination for a dream holiday. From the powdery beaches, lush greenery, crystal-clear blue waters and a dramatic shoreline, the pulchritudinous city of Phuket in Thailand invites wanderers to rejuvenate. The honeymoon in Phuket is a perfect way to bloom your romance and ignite the wanderlust amidst amazing activities and luxury. Want to know about all the fun that you can do in this untamed and panoramic haven? Keep scrolling!
Honeymoon in Phuket: Relish a Soul-Satisfying Holiday Together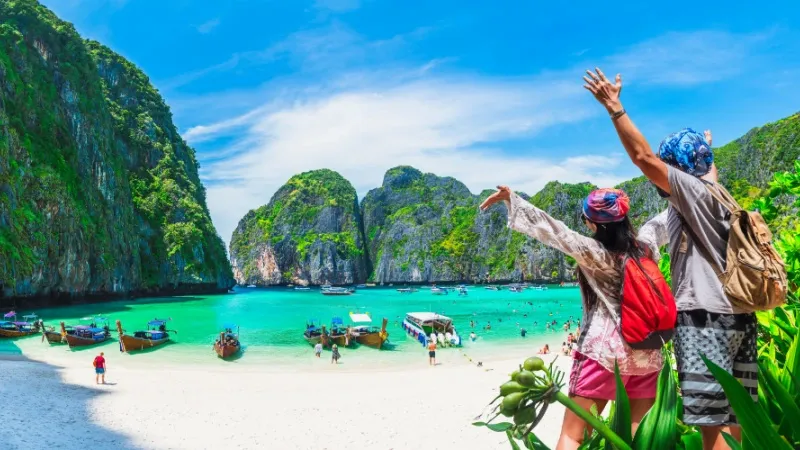 Starting a lifetime journey of love and togetherness is a delightful phase in any couple's life, and what better way to begin this chapter than with a dreamy honeymoon in Phuket? Nestled in the heart of Thailand, Phuket is an exotic paradise that promises newlyweds an unforgettable experience. With its pristine beaches, vibrant culture, and luxurious resorts, Phuket sets the stage for a honeymoon that's equal parts romance and adventure. So, let's dive into this gorgeous destination and discover the myriad of experiences that await in this heaven.
We have cherry-picked all the fun activities you can do with your love in Phuket to ignite your romance in this land of smiles:
Enjoy Boating in the Crystal-Clear Waters of the Phi Phi Island
Enjoy a Mesmerizing Cruise Ride in the Picturesque Islands
Interact and Click Photos with Tigers at the Tiger Kingdom
Try Scuba Diving to Discover the Hypnotic Marine Life
Take Your Love to New Heights with a Helicopter Ride
Savor Delicious Thai Cuisine on a Candlelight Dinner
Visit the Divine Temples to seek the blessings of God
Intertwine love and nature at Kathu Waterfall
Rejuvenate Your Senses with a Couple Spa at the Phuket Old Town
Indulge in a Thrilling Nightlife at Bangla Road
1. Enjoy Boating in Crystal-Clear Waters of the Phi Phi Island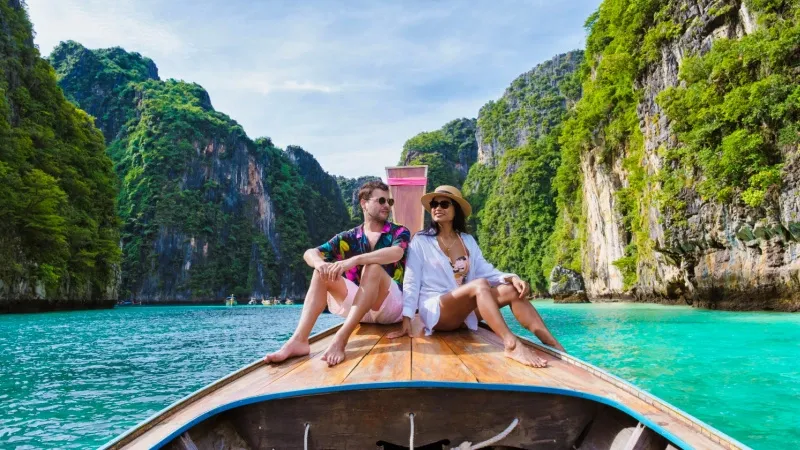 Adorned with the mesmerizing charm of aquamarine pristine beaches, lush greenery and scenic picture-perfect mountains in the backdrop, Phi Phi Island is a heaven for love birds. Spent a romantic day on the island amidst the breathtaking beauty of the sun-kissed shores with sparkling sands. Stroll around and immerse yourself in the gorgeous views of nature, especially when the sun dips below the horizon, painting the sky in hues of pink and gold. One can enjoy boating and do romantic talks with your better half for a delightful experience.
Location: Located in the Andaman Sea, between the island of Phuket and the west Strait of Malacca coast of the mainland
Water Activities to Do:
Snorkeling, scuba Diving, kayaking, boat tours, cliff jumping and swimming
Places to Visit on Phi Phi Islands:
Maya Bay: Famous for its stunning scenery and featured in the movie "The Beach
Bamboo Island: Known for its pristine beaches and excellent snorkeling spots
Viking Cave: A site with ancient wall paintings and a gathering spot for swiftlet nests
Phi Phi Viewpoint: Hike up for panoramic views of the islands and surrounding seas
Monkey Beach: A beach where you can encounter playful monkeys.
Loh Dalum Bay: A lively area with beach bars, restaurants, and nightlife.
Attractions:
Stunning Beaches, limestone cliffs, nightlife, marine life, relaxation, local culture
Best Restaurants in Phi Phi Islands:
Anna's Restaurant
Unni's Restaurant
Jungle Restaurant
Pum Thai Restaurant
Gypsy Restaurant
Suggested Read: Top Places to Visit in Thailand: A Dreamy Escapade to the Picture-Perfect Country
2. Enjoy a Mesmerizing Cruise Ride in the Picturesque Islands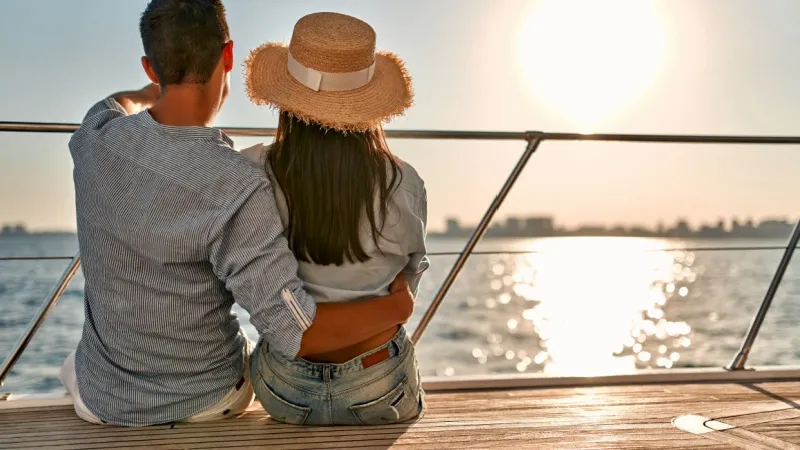 Going for a cruise ride on your honeymoon amidst the enchanting views of nature is one of the best things to do in Phuket. The beautiful city will make you enjoy a dreamy escape away from every hustle and bustle after the hectic wedding celebrations. The Andaman Sea's azure embrace sets the scene as you and your beloved sail towards secluded serenity. The gentle lull of the waves creates a romantic rhythm, inviting tender moments. With hands intertwined, discover hidden beaches, share sunset kisses, and indulge in a romantic cruise dinner. Witness the best sunset views and click the panoramic photographs of the scintillating city.
Places to enjoy cruise ride in Phuket:
Patong Beach
Phang Nga Bay
Phi Phi Islands
Similan Islands
James Bond Island
Coral Island
Racha Islands
Sunset Dinner Cruises
Location of Cruise Tour:
Salt Sailing Phuket
Phuket Island Hopper
La Moet Phuket
Sea Angel Cruise
Phi Phi Cruiser Phuket
Other Attractions:
Dining options
Recreational activities (swimming, snorkeling, etc.)
Entertainment (music, performances, etc.)
Relaxation (sun decks, spas, etc.)
Adventure activities (water sports, island exploration)
Child-friendly facilities
Fitness and wellness options
Bars and lounges
Suggested Read: Top Islands in Thailand: A Guide to Exotic Getaways
3. Interact and Click Photos with Tigers at the Tiger Kingdom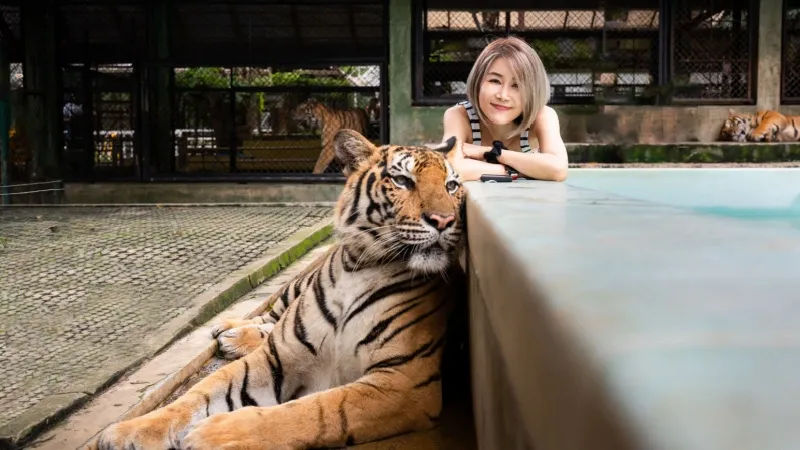 If you are exploring some of the unique things to do in Phuket for couples, then a visit to the Tiger Kingdom is something you just can't afford to miss. Offering a once in a lifetime experience where you can meet, play, and have your photo taken with tigers, this place is very popular among tourists from all over the world. Savor delicious food from the nearby restaurants and indulge in the whole new world of majestic tigers.
Location: Kathu, Phuket, Thailand
Timings: Opens daily from 9 AM to 5 PM
Things to Do at Tiger Kingdom, Phuket:
Interact with tigers, capture memorable photos with animals in a controlled environment
Nearby Restaurants:
Flying Hanuman: Offers Thai cuisine with a zipline adventure
Palazzo: Italian restaurant with a variety of dishes.
Street food stalls along the nearby roads.
Places to Visit Near Tiger Kingdom, Phuket:
Elephant Jungle Sanctuary: A tete-a-tete with the elephants
Big Buddha: Iconic 45-meter-tall statue with panoramic views
Patong Beach: Popular for its vibrant nightlife and water activities
Suggested Read: Honeymoon in Thailand: Two Hearts, One Adventure!
4. Try Scuba Diving to Discover the Hypnotic Marine Life
Explore the depths of the Andaman Sea hand in hand, discovering vibrant marine life and surreal underwater landscapes that mirror the depth of your love. Koh Phi Phi, Similan Islands, and Racha Noi are some of the best honeymoon islands in Phuket with exceptional scuba locations, each offering unique underwater wonders. Indulging in a scuba diving escapade during your Phuket honeymoon promises unparalleled enchantment. There are many beaches in Phuket where you can also enjoy other water activities and stroll around hand-in-hand to have the best time of your life.
Places to enjoy scuba diving in Phuket:
Similan Islands
Racha Islands
Phi Phi Islands
Location:
Sanook Scuba
Siam Dive Center
DiveRACE
Sea Bees Diving
Aussie Divers Phuket
Other attractions: Nature walks, photography, water sports and swimming
Suggested Read: Top Islands in Sri Lanka: The Pinnacle of Natural Beauty
5. Take Your Love to New Heights with a Helicopter Ride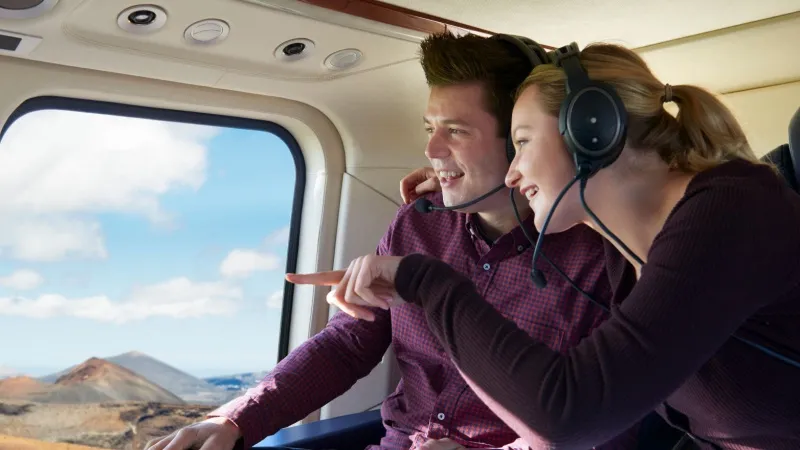 Elevate your Phuket and Krabi honeymoon with a breathtaking helicopter ride that paints your love story across the island's canvas of beauty. Soar above the azure waters of Phang Nga Bay, capturing iconic limestone formations and hidden lagoons from a celestial perspective. Fly over the serene beaches of Patong and Kata, your hearts entwined as the world unfolds beneath you. This aerial romance, etched in memory, amplifies the magic of your love, making Phuket a celestial haven for your once-in-a-lifetime experience.
Location of Helicopter Ride in Phuket:
Advance Aviation Company Limited
UN Tour & Travel
Thailand Activity Travel
Skydance Co.
Things to Do: Photography and views from the top
Suggested Read: Best Islands in Mauritius: For a Rejuvenating Holiday Experience
6. Savor Delicious Thai Cuisine on a Candlelight Dinner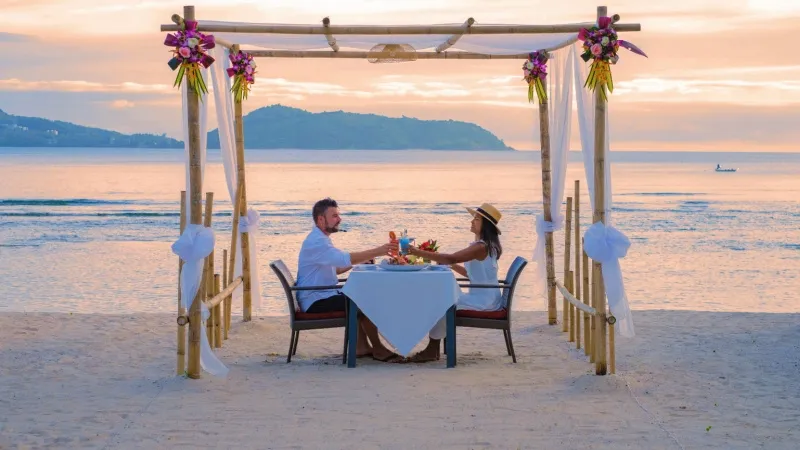 What are the most romantic things to do in Thailand that you want to try? Undoubtedly, a romantic candlelight dinner is a must to rejoice your new journey!  Indulge in the epitome of romance with your spouse by planning a spellbinding dinner date. Dress up in red and black and let the scenic aura do the rest. As the sun sets over the Andaman Sea, a table for two awaits on the soft sands, adorned with flickering candles that mirror the stars above. Savor the delectable Thai cuisine and feel the aromatic flavors in every bite.  With each sip and every shared smile, your candlelit evening here becomes a timeless memory of your love.
Best Restaurants in Phuket for a candlelight dinner:
La Gritta
Mom Tri's Kitchen
Diavolo Restaurant
On The Rock
Wok Pagoda Kitchen
Sizzle Rooftop Restaurant
Best Cafes in Phuket, Thailand:
The Old Phuket Coffee
Eleven and Two
Feelsion Café
Rose Espresso
Gaolad Café
Famous Food of Phuket, Thailand:
Pad Thai (stir-fried rice noodles)
Pancake (Roti)
Kuay Teow (Noodle Soups)
Som Tum (Papaya Salad)
Pad tau-hu priew waan (sweet-and-sour fried tofu)
Suggested Read: Honeymoon in Mauritius: Start Your "Together Forever" from this Romantic Destination
7. Visit the Divine Temples to Seek the Blessings of God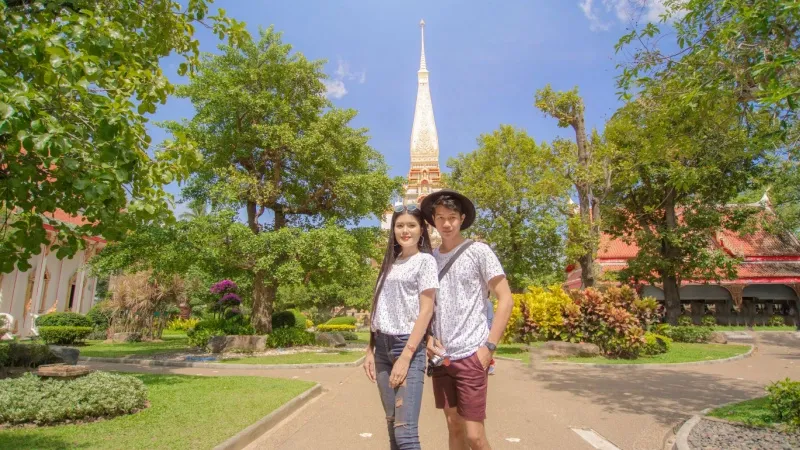 The divine temples are one of the best places to visit in Phuket to understand the rich culture and seek the blessings of God. There are numerous Thai and Hindu temples in Phuket for a blissful delight. Embrace tranquility amidst ornate architecture and serene courtyards to experience the ethereal beauty of Wat Phra Thong, where a partially buried golden Buddha emerges from the earth. At Wat Srisoonthorn, marvel at the intricate carvings that depict tales of spirituality. These temples, adorned with fragrant incense, create a spiritual aura that strengthens the depth of your bond. Seek the blessings and discover the architectural splendor for a lifetime delight.
Famous Temples in Phuket:
Wat Thepnimit
Wat Kosit Wihan
Wat Khao Rang Samakkhitham
Wat Nakaram
Phuket Thandayudapani Murugan Temple
Suggested Read: Honeymoon in Bangkok: Experience the Joys of Sun, Sand, and Love
8. Intertwine Love and Nature at Kathu Waterfall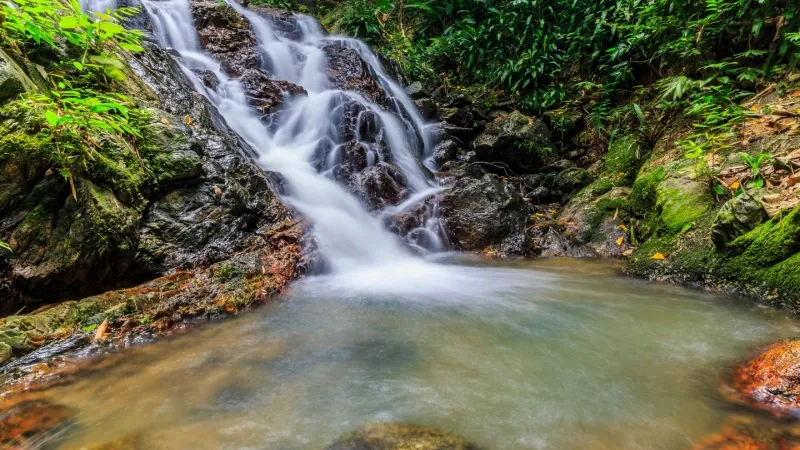 Kathu Waterfall ranks among the best places in Phuket for honeymoon if you are looking for a secluded hotspot away from the hustle and bustle. Nestled amidst lush greenery; it offers a romantic escape for a refreshing experience. As you trek through the tropical forest, the sound of cascading water mesmerizes your senses. The tiers of the waterfall reveal themselves in delicate beauty, creating tranquil pools where you and your partner can enjoy a refreshing dip. The serene ambiance and the touch of cool water against your skin create an intimate haven, perfect for quiet moments and shared laughter.
Location: Phuket
Nearby Places to Visit:
Patong Beach: Experience the vibrant nightlife, shopping, and entertainment.
Phuket Old Town: Discover historic architecture, local markets, and cultural charm.
Wat Chalong: Immerse in spiritual tranquility at the island's largest Buddhist temple.
Big Buddha: Witness the majestic 45-meter-tall statue with panoramic views.
Bangla Road: Explore the bustling nightlife and international dining options.
Things to Do Near Kathu Waterfall:
Trekking, swimming, photography and picnicking
Other Attractions:
Phuket Cable Ski: Try your hand at water skiing and wakeboarding nearby
Flying Hanuman Zipline: Experience an adrenaline rush with ziplining through the jungle
Go-Karting: Enjoy a thrilling go-karting experience at the nearby circuit
Jungceylon Shopping Mall: One of the best shopping malls in Phuket to shop for souvenirs, and clothing
Suggested Read: Banana Island Qatar: The Luxury Island For A Scenic Holiday in Doha
9. Rejuvenate Your Senses with a Couple Spa at the Phuket Old Town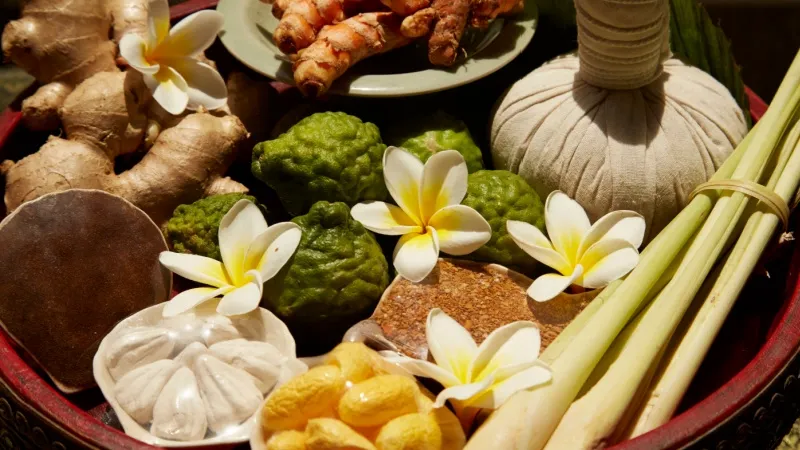 What could be better than a soothing couple spa session after all the hectic post wedding celebrations? Well, one of the best Phuket honeymoon places, the Old Town offers a perfect fusion of chic and tradition for tourists. Amidst the island's tropical serenity, surrender to the soothing embrace of side-by-side massages, rejuvenating facials, and fragrant therapies that transcend mere pampering. The air is scented with invigorating aromas, creating an atmosphere of pure tranquility as skilled hands work their magic. Select the spa according to your mood and experience complete relaxation to rejuvenate the memories of your romantic escape.  

Best Couple Spa Centers in Phuket:
The Raintree Spa
Kim's Massage & Spa 5 Phuket Old Town
Anda massage and spa Phuket
Kim's Massage & Spa 9
Lamoonspa
Famous Types of Spas in Phuket, Thailand:
Traditional Thai Massage: Combines acupressure and stretching for holistic healing.
Aromatherapy Spa: Utilizes aromatic essential oils to enhance relaxation and balance.
Herbal Spa: Incorporates Thai herbs for detoxification and rejuvenation.
Hot Spring Spa: Utilizes natural hot springs for therapeutic benefits.
Suggested Read: Nightlife in Pattaya: Experience One Blur of a Vacation in Thailand

10. Indulge in a Thrilling Nightlife at Bangla Road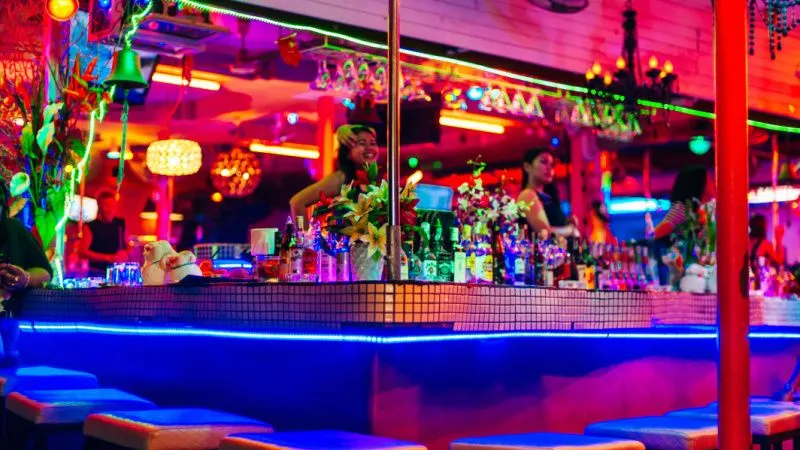 Immerse yourself in an electrifying nightlife experience on Bangla Road, Patong Beach, Phuket. This iconic street comes alive after dark, offering a kaleidoscope of vibrant lights, pulsating music, and an eclectic mix of entertainment. Bars, clubs, and street performances create an atmosphere that's both invigorating and unforgettable. From neon-lit venues hosting live bands to energetic dance floors and delicious street food stalls, Bangla Road caters to every taste. Whether you're seeking wild parties or a more laid-back evening on your honeymoon trip in Phuket, this bustling strip is a must-visit for those seeking to indulge in Thailand's thrilling nocturnal scene.
Best Nightclubs in Phuket:
Sound Phuket
Phuket Dance Club
COMICS Cafe & Bar Phuket
Pink Lady Club
Glimpse Bar & Bistro Phuket
Best Things to do in Phuket at Night:
Shop at the Phuket Town Weekend Night Market
Stroll on the Phuket Street
Party at Patong Beach
Enjoy shows in the Simon Cabaret
Additional Information:
Best Time to Visit Phuket: Between November and February
Best Accommodation in Phuket for Honeymoon:
Here are some of the best places to stay in Phuket for honeymoon:
Six Senses Yao Noi
Amari Phuket
The Village Coconut Island Beach Resort - SHA Extra Plus
Keemala
Trisara
Suggested Read: Nightlife in Thailand: Cheers Begin Every Night!

Planning a honeymoon in Phuket is a dream brought to life. With its pristine beaches, azure waters, and luxurious resorts, Phuket sets the stage for a romantic escape. From tranquil sunsets by the Andaman Sea to adventurous island hopping and pampering spa treatments, it's a paradise for newlyweds. Whether you're savoring exquisite Thai cuisine or exploring the vibrant culture, Phuket offers a perfect blend of relaxation and excitement. So, if you're ready to create unforgettable memories, book your Thailand honeymoon packages today. Let the enchanting beauty of Phuket weave its magic as you begin this journey of love and togetherness.
FAQs
Q1. What makes Phuket an ideal honeymoon destination?
Phuket's pristine beaches, turquoise waters, and a diverse range of activities create a romantic haven. Couples can relish intimate beach dinners, indulge in spa treatments, and explore local markets for unique souvenirs.
Q2. When is the best time to plan a honeymoon in Phuket?
The best time is from November to February, during the dry and cooler season. This ensures pleasant weather for outdoor activities, clear waters for diving or snorkeling, and optimal conditions for romantic sunsets.
Q3. What are some must-visit beaches for honeymooners in Phuket?
Patong Beach is famous for its energetic atmosphere and water sports, while Kata Beach offers a quieter ambiance with excellent surfing opportunities. For seclusion, Freedom Beach provides a tranquil escape.
Q4. Apart from beach time, what other activities can honeymooners enjoy?
Couples can explore the charming Old Phuket Town with its vibrant markets, colorful Sino-Portuguese architecture, and eclectic boutiques. Island hopping to nearby gems like the Phi Phi Islands offers adventure and scenic beauty.
Q5. What are some popular dishes to try while honeymooning in Phuket?
Delight your taste buds with the iconic Pad tau-hu priew waan and Pad Thai. Sampling local street food is also a must for a complete culinary experience.
Q6. What's the nightlife scene like for honeymooners in Phuket?
The lively Bangla Road in Patong transforms after dark, offering a variety of bars, clubs, and street performances. For a more relaxed experience, waterfront lounges and beachfront bars provide a romantic setting.
Q7. Where can I enjoy scuba diving in Phuket?
Some of the best places to enjoy scuba diving in Phuket include Similan Islands, Racha Islands and Phi Phi Islands. One can also explore the colorful coral reefs and indulge in a lifetime of delight.
Q8. What is Phuket, Thailand famous for?
Phuket, Thailand is renowned for its stunning palm-fringed beaches, vibrant nightlife, and a diverse range of water activities like snorkeling, scuba diving, and island hopping. Additionally, its rich culture is showcased through historic Old Phuket Town and bustling local markets offering a glimpse into Thai life.
---