Thailand is an action-packed country with adventure, beauty, and picturesque views everywhere you look. Therefore, the things to do in Thailand are incredibly exciting and would make you feel exhilarated. You can go snorkeling, scuba diving, or parasailing in the sea, bungee jump from the highest point, relax at the sandy beaches. If all this isn't enough, then you can also relish authentic delicacies, shop at local markets, and explore the tourist attractions. The lively and vibrant city life would make you want to extend the duration of your trip and revisit this place; that's the charm of this country.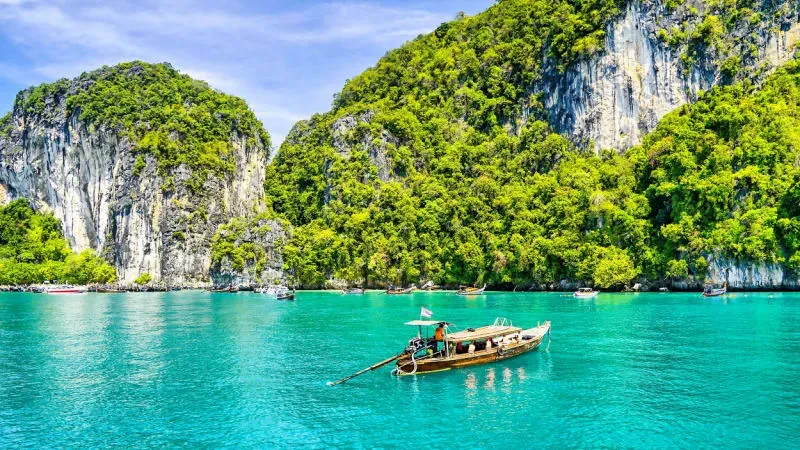 Thailand is like an unexplored territory of first-time visitors and as for the people revisiting, this country still has a lot more to offer to you. There are a lot of captivating places and fun things to do in Thailand that would keep you entertained for days. If you're an adventure junkie, then you can indulge in watersports or other outdoor activities, and if you're more of a laid-back person, then the alluring beaches are waiting for you. This is also an excellent place for foodies because Thailand's street food is quite popular among tourists and unique as well. So, let's check out the amusing things you can indulge in.
Go Kayaking in Krabi
Play with Elephants at the Elephant Sanctuary
Watch a Fire Spin Show
Marvel at the White Temple
Enjoy a Relaxing Thai Massage
Travel on the Thai Burma Railways
Go Island Hopping in Thailand
Try Adventurous Activities
Explore the Floating Markets
Hike to the Phi Phi Viewpoint
1. Go Kayaking in Krabi: Paddle Through the Crystal-Clear Waters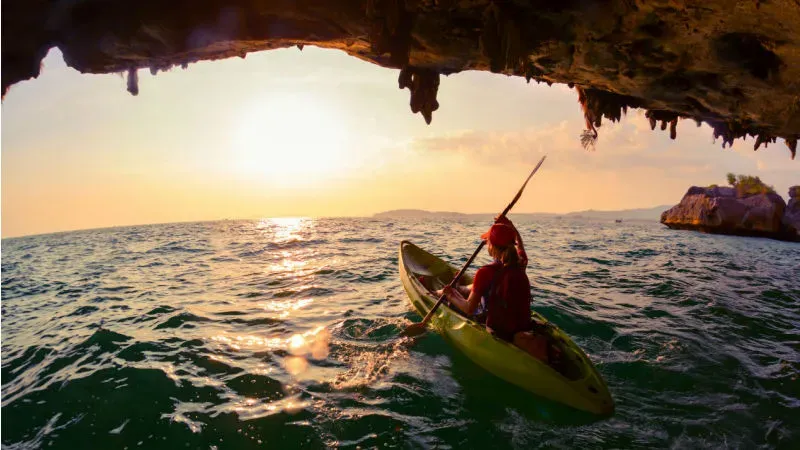 Krabi is an excellent location to go kayaking because of the calm waters. This is one of the top things to do in Thailand as you'll come across breathtaking lagoons, mystical caves, sea cliffs, and much more. It'd make you appreciate the beauty of nature and would also give you some time away from the hustle and bustle of the city. Kayaking solo is an altogether peaceful experience, that rejuvenates your soul. It's a fun and incredible activity to participate in when visiting this country.
Best time to visit: November to February
Things to do: Admire nature and enjoy the peaceful downtime
2. Play with Elephants at the Elephant Sanctuary: Witness Elephants in their Natural Habitat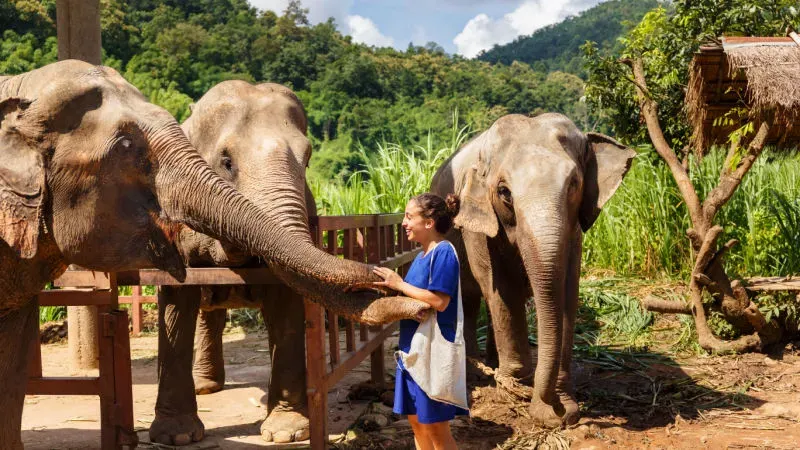 The elephants in Thailand have been used for years for logging and working; however, the elephant sanctuaries are now offering them a safe and comfortable life once they retire. You can visit any of the elephant sanctuaries, such as Elephant Nature Park, Ran-Tong Elephant Rescue Center, etc. to play with these gentle giants, feed them, have a bath with them, and so on. It's truly a wonderful experience and makes your heart happy to see these animals enjoy themselves in their natural habitat. The highlight is that riding on these elephants isn't allowed because their welfare is the priority of these sanctuaries.
Best time to visit: May to October
Things to do: Feed elephants, play with them, bathe with them, and watch these beautiful animals live the best life with their herd
3. Watch a Fire Spin Show on the Islands: Experience the Crazy Nightlife of Thailand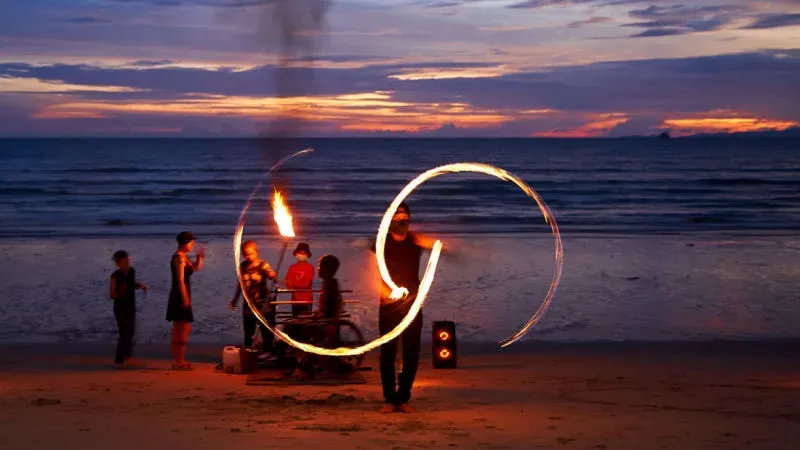 One of the best things to do in Thailand is to enjoy the nightlife of this country because the islands and beaches come alive as soon as the sun sets. You can dance to the thumping beats, munch on delicious food, drink refreshing cocktails and watch the fire spin show. Around 10 P.M, performers enact a fire show that is sure to leave you in a trance. Their quick movements with a fire baton are the highlight of the party. These Fire Sparkle Poi Shows take place on several islands, so you can ask around and reach the correct destination to be mesmerized.
Best time to visit: 7:30 A.M onwards
Things to do: Watch the fire show, enjoy the loud music, party till dawn, eat mouthwatering food and refreshing drinks
Suggested Read: Places To Visit In Doha For A Cultural & Adventurous Retreat
4. Marvel at the White Temple: Pray at this Restored Beauty
The White Temple in Thailand, also known as Wat Rong Khun is an intricately detailed temple, which is purely white. It looks like a temple made of snow from afar, and that's the beauty of it. This magnificent Buddhist temple was restored in the late 20th century and is a major tourist attraction, which makes for one of the excellent things to do in Thailand. The surrounding pools reflect this marvel, enhancing its allure manifolds. Th extensive designs and white paint combine to create an art, which is unmissable. So do visit this excellent tourist spot for a dreamy and peaceful escape.
Best time to visit: 8 A.M to 5 P.M
Things to do: Feel awestruck by the beauty of this temple, soak in the spiritual vibes, and spend some peaceful downtime
5. Enjoy a Relaxing Thai Massage: Heal Your Body from Within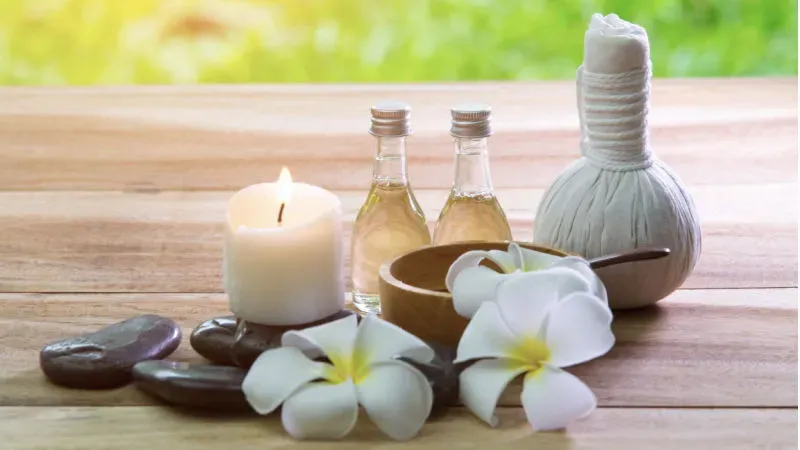 A Thai massage is a must when planning on things to do in Thailand because unlike regular massage, this massage heals your body and the masseuse kneads, bends, and twists your body in a way to increase blood flow and make your muscles strengthened. You cannot be more relaxed than here, and the best part is that these massages are available everywhere in Thailand. The Thai massage combined yogic and natural practices to rejuvenate your body and soul. You'd be reenergized to explore this country again with a new zest and you'd feel more limber and relaxed than ever before.
Things to do: Relax yourself and let the masseuse take over for a rejuvenating experience
Suggested Read: Beaches in Mauritius: Leave Your Footprints in the White Sands
6. Travel on the Thai Burma Railways: Look at Thailand from a Different POV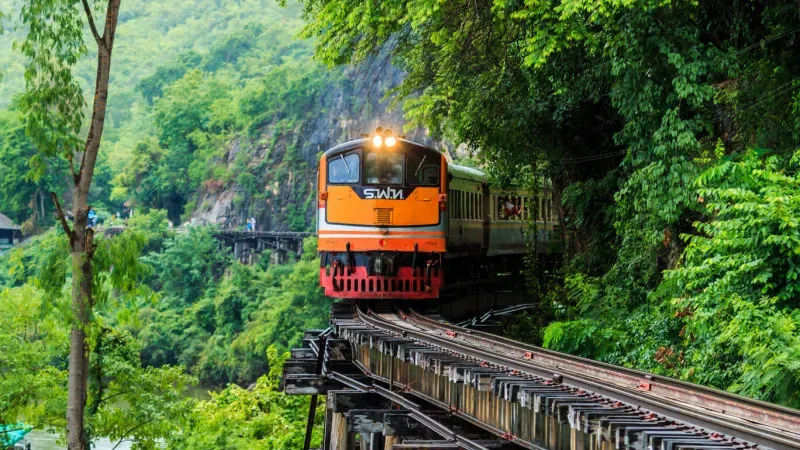 The Thai-Burma Railways, popularly known as Death Railways is a railway that connects Thailand with Burma (present day Myanmar). The history behind its name "Death Railways" is that it was built by British POWs and forced labor from Southeast Asia during World War II. It's a memorial to those who lost their lives during the war on this railway. However, this functioning railway now offers a unique perspective of Thailand and it's the best way to view this country that a lot of tourists miss out on. It's one of the attractions in Thailand that adds a unique vantage point to your vacation.
Best time to visit: November to February
Things to do: Learn about the history of the railways, and enjoy the beautiful view of the country
7. Go Island Hopping in Thailand: Time to Take Out the Beach Blanket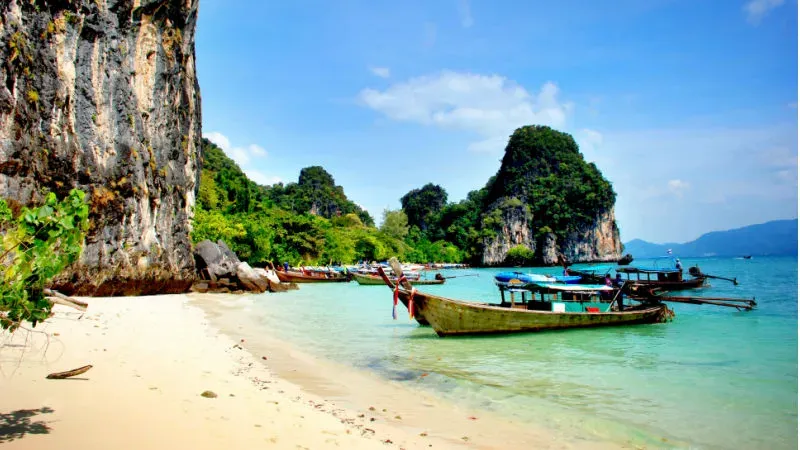 Thailand is a country with more than a thousand islands, with each one as gorgeous as the rest of them. Therefore, you can't plan a successful trip to this country without including some of the most breathtaking islands on your list. Island hopping on a long tail boat, a canopied hull boat, or a long outboard motorboat is the best way to view as many islands as possible. Phuket is one of the largest islands in the country, so it could be one of the things to do in Phuket with family that you can add to the itinerary. Apart from this, Koh Samui is also easily accessible via the mainland. It's quite a fun activity as you get to see a lot in a short span of time, like the limestone cliffs, pristine lagoons, coral reefs, and picturesque views.
Best time to visit: January to April
Things to do: Admire the marvelous view of the bay, the crystal-clear waters, and the nearby attractions
Suggested Read: Amazing Things to do in Pattaya: Prepare for an Entertaining Vacation
8. Try Adventurous Activities: Get the Adrenaline Rushing in You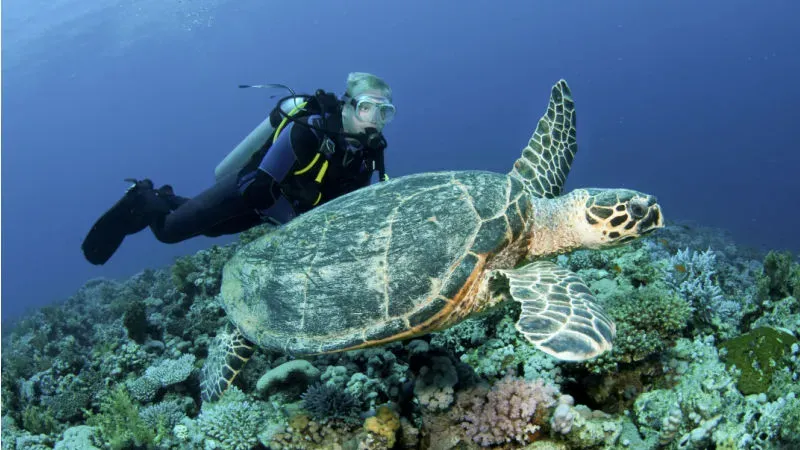 Adventure in Thailand is an unmissable part of vacationing in this country. Watersports are a popular source of thrill because the pristine and calm waters make for excellent conditions to indulge in adventurous activities. So, try snorkeling, scuba diving, parasailing, sea kayaking, and much more. Apart from this, you can also enjoy other outdoor activities like bungee jumping, hiking, rock climbing, zip lining, etc. The charm of being in Thailand is that you can bring out your adventurous side and conquer your fears. These activities are exhilarating and would make your heart beat out of your chest. So do give these rip-roaring adventures a chance to make your vacation even more memorable.
Best time to visit: Wintertime
Things to do: Go snorkeling, bungee jumping, parasailing, rock climbing, zip lining, scuba diving, etc.
9. Explore the Floating Markets: Shop in a Unique Way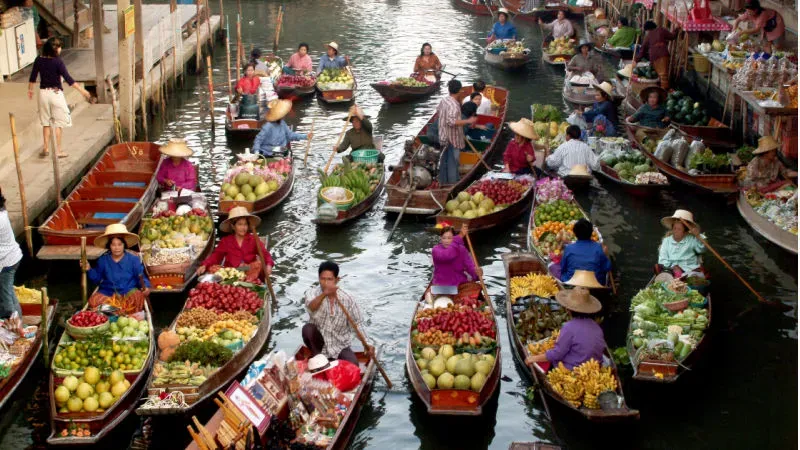 The floating markets are one of the top things to do in Bangkok. They are an absolute favorite of tourists and locals alike because who wouldn't want to shop while sitting in a boat? In a floating market, the buyers and sellers sit in a long tail boat to buy and sell items, such as fruits and vegetables, handicrafts, spices, and other trinkets. It's quite a fun and exciting way of shopping that you'd not find anywhere else. Some of the famous floating markets include Damnoen Saduak, Amphawa Floating Market, and many more. So, indulge in some retail therapy in a unique way instead of in the same old fashion.
Best time to visit: Early morning
Things to do: Buy fresh produce, trinkets, souvenirs, etc., and enjoy floating in a boat
Suggested Read: Best Places to Travel in Thailand: A Dreamy Escapade to the Picture-Perfect Country
10. Climb Up to Phi Phi Viewpoint: Soak in the Romantic View from Atop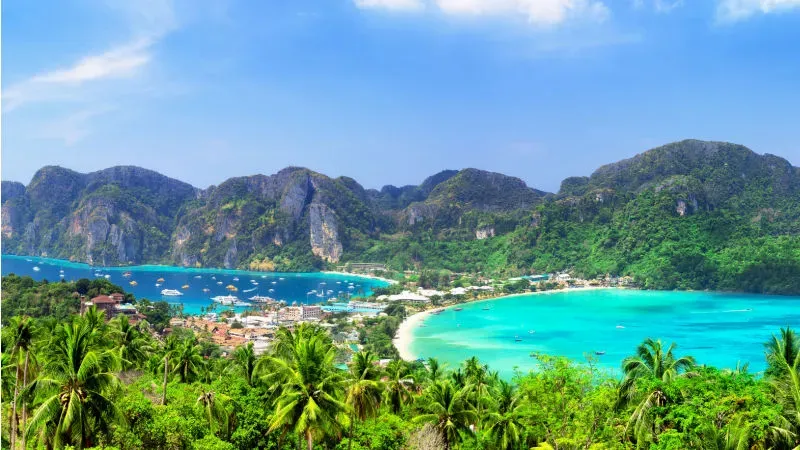 The Phi Phi Viewpoint is infamous for mesmerizing people with an amazing view of the Koh Phi Phi island, the breathtaking cityscape, lush green palm forests, mountains, and so much more. It's a perfect spot for couples and honeymooners to spend some quality time, click pictures, and admire the romantic view. To reach this panoramic view, you'd have to hike for 30 minutes, but it'd be worth it in the end. If you're visiting Phi Phi island, which you should, then you must also hike to this location to complete your journey.
Best time to visit: 10 A.M to 2 P.M
Things to do: Admire the gorgeous view of the city and the island, click insta-worthy pictures, and spend quality time with your loved one
Now that we've completed out list of things to do in Thailand, you must include at least some of these locations for a successful vacation. When in Thailand, you must experience things that are new, venture into uncharted territory because that's what lets you make some of the most unforgettable memories. So, jump off that cliff, climb down that mountain, dive into the sea, and do everything that your heart wants you to because Thailand is the best place to experience it all. To help you plan your vacation in the best way possible, book our Thailand tour packages and leave everything to us.
FAQs of Thailand
Q1. What is Thailand famous for?
Thailand is famous for its serene beaches, where you can indulge in watersports, for its local markets. Apart from this, the gorgeous attractions in this country, such as the temples, sanctuaries, etc. make this the no.1 tourist destination.
Q2. What can you not miss in Thailand?
There are a lot of amazing places to visit and things to do in Thailand that you can't miss, such as:
Trying adventure activities, like scuba diving, bungee jumping, etc.
Shopping in the floating markets
Playing with the elephants in the Elephant Sanctuary
Island hopping on a long tail boat
Trying the scrumptious Thai cuisine
Q3. What are the things that are unique in Thailand?
Thailand has several unique attractions that would amuse the tourists. For instance, the floating markets, the gorgeous view form Phi Phi Viewpoint, spending time with elephants, getting a Thai massage, and much more.
Q4. How can I enjoy Thailand the most?
The best way to enjoy Thailand to the fullest is by visiting all the famous attractions, exploring the unique aspects of the country, and eating local food. You must also try out new adventurous activities like rock climbing, parasailing, etc. to make the most of your vacation.
Q5. Why do people go to Thailand?
Thailand is one of the major holiday destinations because of the array of activities and attractions it offers to the tourists. From pristine beaches and thrilling adventures to magnificent views, you can find it all in this culturally rich country.
Q6. Where should I go for my first time in Thailand?
If you're visiting this country for the first time, you're in for an amazing time. You can visit the White Temple, Phi Phi viewpoint, the Thai-Burma railways, the floating markets, and the sandy beaches and islands like Koh Samui, Railay beach, etc.
Q7. Which month is best for Thailand trip?
Thailand is a country which is best admired during a pleasant weather. Therefore, November to early April is the best time to visit this country.
Q8. How many days are enough for Thailand?
For a vacation in Thailand, which covers most of the tourist spots, such as beaches, temples, markets, and so on, you must plan a 5 to 7 days long trip.
---