Looking for the ultimate aquatic adventure in Thailand besides beaches? Prepare to be immersed in a world of adventure as you visit spectacular water parks in Phuket. These waterparks are heaven for water enthusiasts looking for a perfect combination of tropical pleasure and heart-pounding rides. Phuket's waterparks provide an incredible retreat, whether you're racing down high-speed slides, drifting down lazy rivers, or enjoying mesmerizing wave pools. You can share the joy with your family and friends thanks to colorful themed zones that satisfy all ages. So be ready for an aquatic adventure that offers unlimited fun and treasured memories.
Best Water Parks in Phuket: Unleash Your Inner Water Enthusiast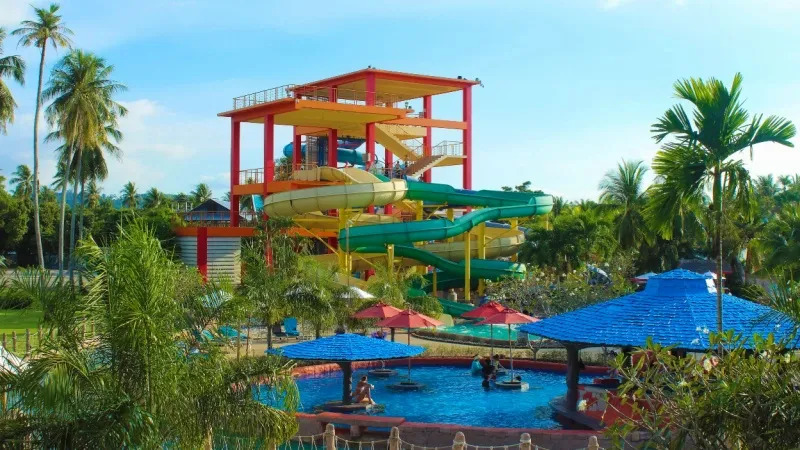 The waterparks in Phuket provide an exciting variety of attractions. There's something for everyone, from adrenaline-pumping slides to kid-friendly zones that will excite the entire family. Feel the excitement of the wind as you tumble down steep slides, or simply rest in the tranquil surroundings of beautiful tropical landscapes. This is not it; you can also enjoy delectable snacks at poolside cafés and capture picture-perfect moments. These waterparks guarantee unlimited laughter and cherished experiences for you to take home with a wonderful combination of action and leisure. So, let's go on an incredible voyage, whether you're looking for heart-pounding thrills or serene relaxation.
Unveiling Phuket's Best Waterpark Destinations to Dive into Thrills and Adventure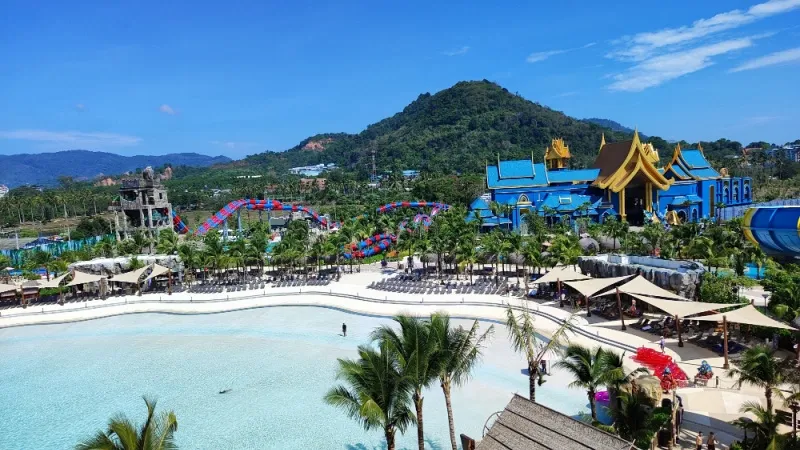 Begin an exciting adventure as we reveal Phuket's best waterpark destinations. Immerse yourself in aquatic pleasures that offer unique excursions, from heart-pounding slides to peaceful pools. Prepare to enter into a world of adventure and make precious memories at every splash.
Andamanda Phuket
Blue Tree Phuket
Splash Jungle Water Park Phuket
Aqua Kingdom Water Park Phuket
Rawai VIP Villas and Kids' Park
Surf House Phuket
Phuket Orchid Resort
Centara Kata Resort
Outrigger Laguna Phuket Beach Resort
Anthem Wakepark
1. Andamanda Phuket: Unforgettable Zipline Experiences Await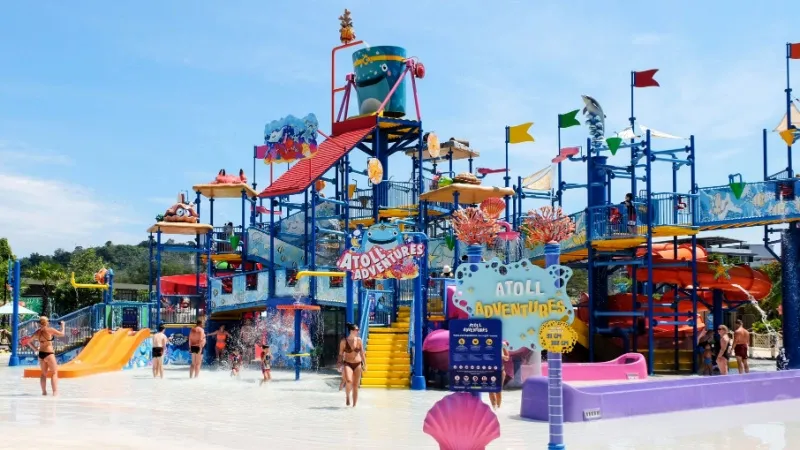 Andamanda Water Park in Phuket offers a wonderful combination of culture and thrills. This unique Thai-heritage-themed park elegantly incorporates local customs and mythology into its attractions, creating a one-of-a-kind experience. From Angel Slides to Racing Nagas, a variety of thrilling attractions ensure an adrenaline sensation unlike any other, so get an Andamanda Phuket ticket to enjoy it all. You're taken into the heart of Thai culture as you bask in the sun at sand and wave bars and savor traditional flavors at the Village Restaurant. Andamanda Phuket, a beacon of aquatic wonder in Phuket, joins the league of adventure havens, with thrills echoing from rides to contests, while just a skip away stands the majestic Phuket Fantasea Theme Park, a symphony of culture and enchantment.
Timings: 09:00 AM – 06:00 PM
Address: 333/3 Moo 1, Tambon Kathu, Amphur Kathu, Phuket 83120
Approximate Price: Adult – THB 1500, Children – THB 1000 & Senior Citizen – THB 1000
Famous Rides: Thrilling Zipline Adventures
Shopping Nearby: Central Phuket
Foods inside or Nearby: On-site restaurants serving national and international cuisine
2. Blue Tree Phuket: Where Adventure Meets Leisure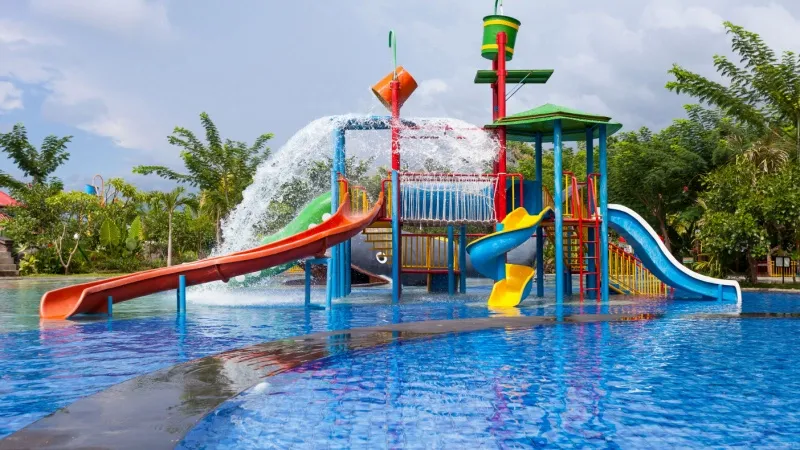 Immerse yourself in an unforgettable journey at Blue Tree Phuket, one of the best water parks in Thailand. It's made in a 56-acre area and provides adventure for people of all ages. Plunge into the enthralling Crystal Lagoon for a relaxing dip or embrace adventure with snorkeling. The Slip-N-Fly Drop-zone launches you into the air for a surge of exhilaration. Enjoy cliff-jumping, rock climbing, and beach volleyball in addition to aquatic adventures. Meanwhile, Kids Planet keeps the kids entertained. Recharge in the top-floor restaurant, where you may dine on excellent food while admiring the breathtaking Blue Tree Lagoon below.
Timings: 10:00 AM – 08:00 PM
Address: 4/2 Srisoonthorn, Cherntalay, Phuket 83110, Thailand
Approximate Price: Adult – THB 1100 & Children – THB 600
Famous Rides: Lagoon Waterpark, Kids' Adventure Course
Shopping Nearby: Boat Avenue
Foods inside or Nearby: Various food outlets within the park
3. Splash Jungle Water Park Phuket: The Ultimate Splash Zone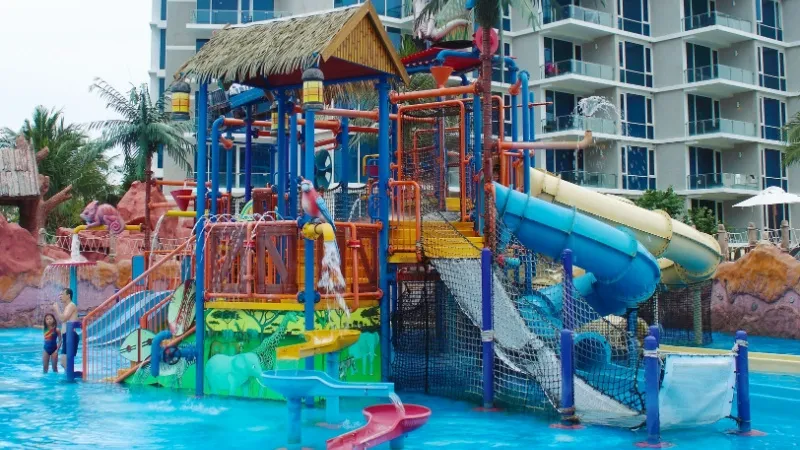 Splash Jungle Water Park, one of the biggest water parks in Phuket is located near Mai Khao Beach and is an oasis of fun. It's a wonderland for all ages, with thrilling rides and relaxing aquatic getaways. Conquer the Super Bowl's exciting drop and Boomerango's reverse free-fall. Glide through the tranquil flows of the Lazy River or enjoy the exciting bends of the Whizzard. The Aqua Play Pool is ideal for children, while the Wave Pool is ideal for adults. This exhilarating water park, located near Phuket Airport and ornamented with verdant cabanas, colorful restaurants, and a family-friendly ambiance, is a must-see on your list of things to do in Phuket.
Timings: 10:00 AM - 5:45 PM
Address: 65 Soi Mai Khao 4, Tambon Mai Khao, Amphoe Thalang, Chang Wat Phuket 83110, Thailand
Approximate Price: Adults- THB 850 & Child- THB 650
Famous Rides: Boomerango, Super Bowl
Shopping Nearby: Turtle Village
Foods inside or Nearby: Various food outlets within the park
Suggested Read: Water Parks in Bangkok: Make a Splash this Holiday for the Summer of Your Dreams
4. Aqua Kingdom Water Park Phuket: Kingdom of Aquatic Delights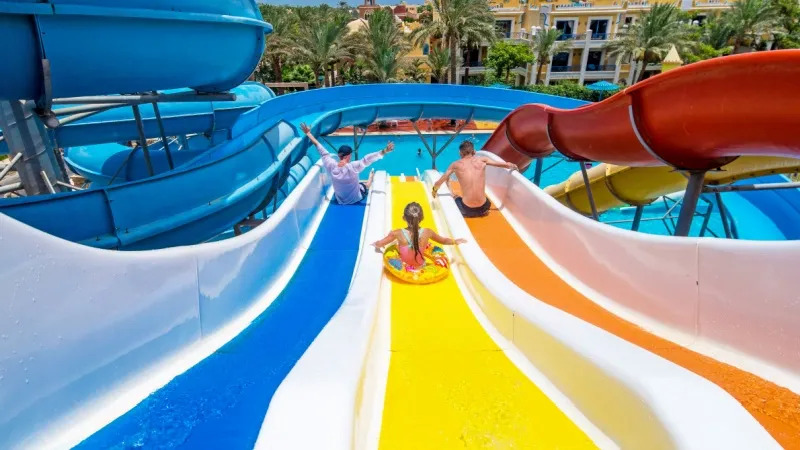 Discover an aquatic fantasy at Aqua Kingdom Water Park, a hidden gem in Phuket, Thailand. A combination of twisting slides, wave pools, and exhilarating water activities ensures that every minute is a joy for adventurers. While the kids play in the kids' zone, adults may unwind in Jacuzzis or float down lazy rivers. Capture the laughter-filled memories and savor delectable snacks in their pleasant cafés. This aquatic sanctuary is ideal for families and is located across from Kajonkiet School Cherng Talay. So, embark on a water-soaked journey where laughter and cherished memories merge together. Unveil a realm of aquatic wonders in this aquapark in Phuket Thailand.
Timings: 08:00 AM – 10:00 PM
Address: 2, 2 Srisoonthorn Rd, Tambon Si Sunthon, Thalang District, Phuket 83110, Thailand
Approximate Price: Adult & Children – THB 100
Famous Rides: Wave Pool, Lazy River
Shopping Nearby: Central Festival Phuket
Foods inside or Nearby: Various food outlets within the park
5. Rawai Park: Aquatic Playground for Families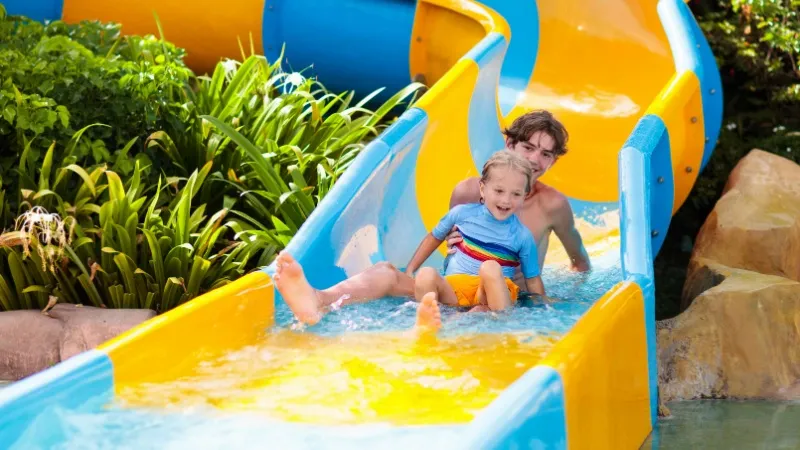 Nestled within The Rawai VIP Villas and Kid's Park, this aquatic wonderland is a haven for all ages. Splash around in the kiddie pool, slide down small thrills, and enjoy interactive water activities. Safety is prioritized with designated play areas and watchful lifeguards. Parents relax in shaded areas, sipping cool refreshments and meanwhile, kids may enjoy the thrilling rope climbing tower and explore the indoor and outdoor play spaces. As your little ones bask in the fun under highly professional supervision, you can plan your exploration of other places to visit in Phuket. From thrilling rides to captivating cuisine, Water Park Phuket promises a day of pure family joy.
Timings: 10:00 AM - 7:00 PM
Address: Rawai Beach, 58/88, Soi Rouyphad, Rawai, Muang, Phuket 83130, Thailand
Approximate Price: THB 8000 and above
Famous Rides: Adventure Playground, Pool Slides
Shopping Nearby: Fisherman Way Business Garden
Foods inside or Nearby: On-site restaurants serving international cuisine
Suggested Read: Best Water Parks in Bali: Give Your Family Holiday a Fun Twist
6. Surf House Phuket: Ride the Waves of Excitement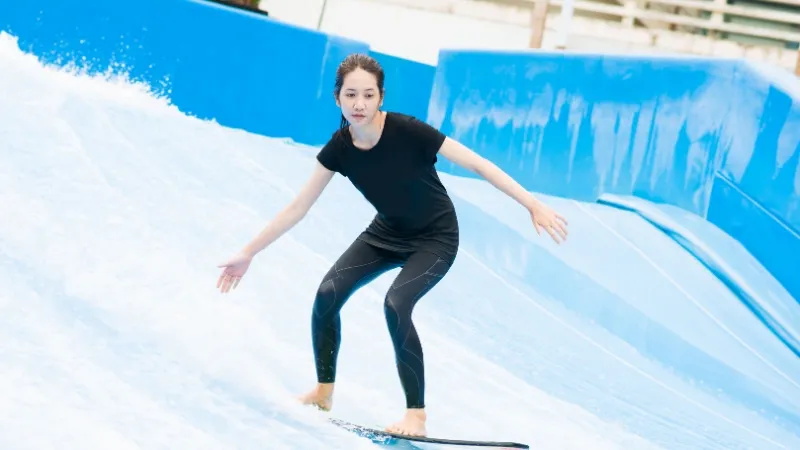 Surf House Phuket stands as the embodiment of aquatic excitement within the vibrant tapestry of water parks in Phuket, Thailand. With its cutting-edge simulated surf machine, it invites all adventure enthusiasts to seize the thrill of riding the perfect wave. This encounter goes beyond sports and leaves you craving more no matter what your skill level is, the promise of endless excitement awaits. Amidst the cascading waves, don't overlook the alluring Hanuman World Phuket, where treetop adventures wait for you. From heart-pounding rides to vibrant shopping malls nearby, this Phuket water park embraces tourists with the ultimate adventure called- Surfing.
Timings: 11:00 AM - 09:00 PM
Address: 162/7 Thawewong Rd, Pa Tong, Kathu District, Phuket 83150, Thailand
Approximate Price: THB 990 for one hour of guided surfing
Famous Rides: FlowRider Experience
Shopping Nearby: Jungceylon Shopping Center
Foods inside or Nearby: Various food outlets within the park
Suggested Read: Theme Parks in Qatar for a Family-Friendly Day Outing
7. Phuket Orchid Resort: Where Tranquility and Adventure Converge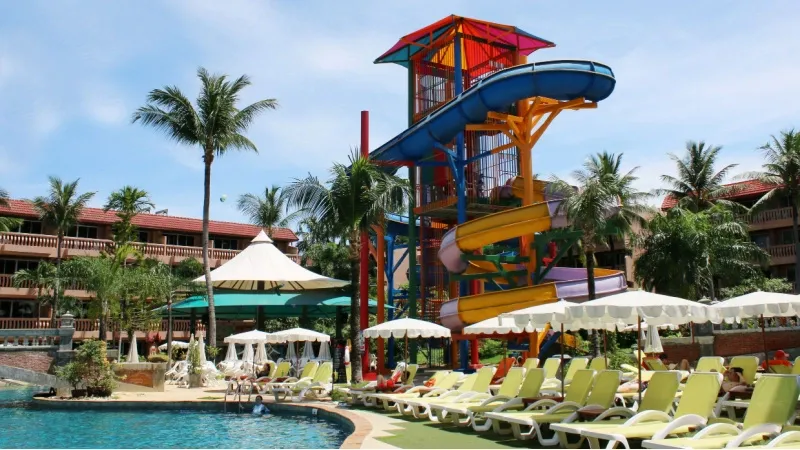 Phuket Orchid Resort stands out as the best aqua park in Phuket, seamlessly blending relaxation and exhilaration. Nestled within lush Bougainvillea gardens, this haven offers a paradise of water slides and pools. From the Giant Slippery Slide's snaky adventure to the Guinlider's splashy excitement, there's fun for all ages. While parents enjoy the gorgeous views, children enjoy the kid's pool with waterslides. With a privileged beachside location, this resort ensures family joy both in and out of the water. Feel the rush of skiing, parasailing, and windsurfing before winding down to the luxurious rooms. Dive into a haven where unique memories are created with each splash.
Timings: Resort open 24 hours
Address: 34 Luang Phor Chuan Rd, Karon, Mueang Phuket District, Phuket 83100, Thailand
Approximate Price: THB 3000 onwards
Famous Rides: Relaxing Poolside Ambiance
Shopping Nearby: Karon Market, Karon Plaza
Foods inside or Nearby: Multiple dining options offering diverse cuisines
Suggested Read: Phi Phi Islands: Explore the Adventure Land in Phuket
8. Centara Kata Resort: A Haven of Leisure and Discovery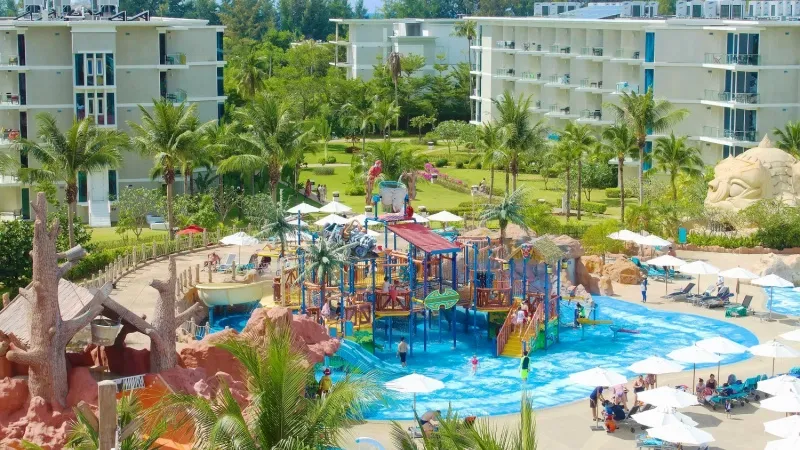 Immerse yourself in the perfect blend of relaxation and excitement at Centara Kata Resort, a thrilling water park and resort wrapped in one. Nestled amidst picturesque hills, this modern haven offers three sprawling pools. Dive into the crystal-clear swimming pool, unwind in the sparkling Jacuzzi, or explore the beautifully landscaped Emerald Pool. As you bask in the sun on the sundecks, the vibrant energy of Phuket's best water park envelopes you. And when you're ready to explore beyond the aquatic fun, vibrant shopping malls in Phuket await. Centara Kata Resort is the canvas for your wonderful Phuket vacation, with exhilarating water slides, an aqua zone for youngsters, and the promise of lasting memories.
Timings: Check-in: 03:00 PM, Check-out: 12:00 PM
Address: 54 Ked Kwan Rd, Tambon Karon, Amphur Muang, Phuket 83100
Approximate Price: Varies based on room type and season
Famous Rides: Tranquil Pool Area
Shopping Nearby: Kata Night Market, Dino Park Mini Golf
Foods inside or Nearby: Restaurants and cafes serving local and international dishes
Suggested Read: Incredible Theme Parks in Saudi Arabia For a Joyous Vacation
9. Outrigger Laguna Phuket Beach Resort: Find Solace and Adventure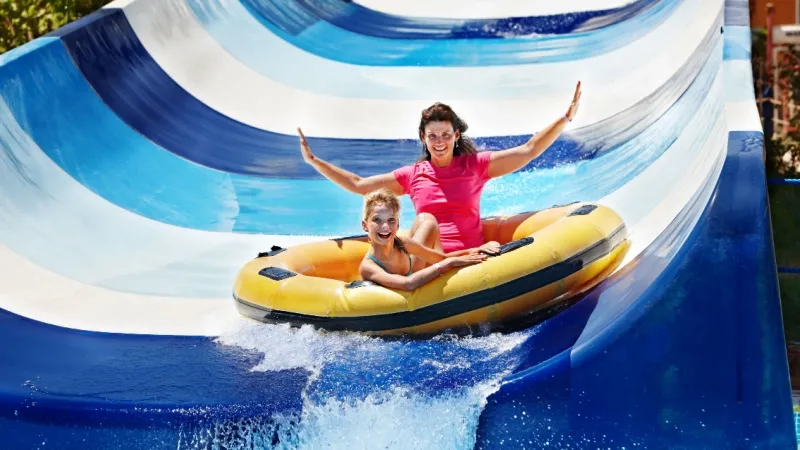 At Outrigger Laguna Phuket Beach Resort, indulge in beachfront luxury while enjoying sun, sand, and thrilling water sports. Experience Phuket Fantasea Theme Park's cultural wonders and venture to the captivating Phi Phi Islands. This resort is a water park in Phuket, featuring a 55m slide and outdoor kids' pool. Enjoy non-motorized water sports and Bang Thao Beach's excitement. The water park offers a 50m slide and interactive waterfall. Kids relish the indoor/outdoor playgrounds. Craft cherished memories at this haven where water park adventures meet serene shores.
Timings: Check-in: 03:00 PM, Check-out: 12:00 PM
Address: 323 Moo 2, Srisoonthorn Road, Cherngtalay, Thalang, Phuket 83110
Approximate Price: Varies based on room type and season
Famous Rides: Relaxing Beachfront Experience
Shopping Nearby: Canal Village, Porto de Phuket
Foods inside or Nearby: Dining options ranging from beachside to fine dining
Suggested Read: Water Parks in Sri Lanka: Get Ready for Endless Fun, Amusement, and Relaxation
10. Anthem Wakepark: Where Adventure Rises with Every Wave
Nestled at the heart of paradise, Outrigger Laguna Phuket Beach Resort offers an idyllic blend of relaxation and adventure for your family tour to Phuket. Bask in beachfront luxury, relish thrilling water sports, and immerse yourself in the serene beauty of the surroundings. With a water adventure park in Phuket just a stone's throw away, the fun knows no bounds. Splash in crystal-clear pools, conquer exhilarating water rides and unwind in luxurious accommodations. From the sun-soaked shores to the adrenaline-inducing rides, every moment is a masterpiece in this coastal haven.
Timings: 09:00 AM – 06:00 PM
Address: 194/6 M.7 Sri-sunthorn road, Sri-sunthorn sub-district, Talang, Phuket 83110, Thailand.
Approximate Price: Adult - 1,500 THB/ Kids (below 12) - 750 THB/ Rental board (obstacle use) - 600 THB.
Famous Rides: Wakeboarding Thrills and Obstacles
Shopping Nearby: Boat Avenue, Porto de Phuket
Foods inside or Nearby: Café and dining options available
The water parks stand out as colorful diamonds in the colorful tapestry of Phuket's attractions. A day at these water parks in Phuket goes beyond conventional entertainment; it's an array of family fun, exhilarating water rides, and laughter reverberating against the backdrop of azure sky. These waterparks create the ideal day escape as you chase waves, conquer slides, and spend amazing moments with loved ones. Among the splashes and shouts, you'll discover a haven of togetherness, a testament to the joyful spirit of family time. Begin this aquatic voyage and let Thailand family tour packages reveal the wonder of water-themed excursions.
Water Parks in Phuket FAQs
Q1: What kinds of activities are available in Andamanda Phuket?
Andamanda Phuket provides exhilarating zipline activities that take you over the treetops, providing beautiful vistas as well as an adrenaline rush.
Q2: What is the main attraction at Blue Tree Phuket?
Blue Tree Phuket has a variety of activities available, including a lagoon water park with slides and a Kids' Adventure Course for family entertainment.
Q3: Is Splash Jungle Water Park appropriate for all ages?
Yes, Splash Jungle Water Park includes activities for guests of all ages, with separate zones for children and adults.
Q4: What types of rides are available at Aqua Kingdom Water Park?
Aqua Kingdom has several water rides, including a wave pool and a lazy river, to provide a blend of leisure and excitement.
Q5: What activities are available for children at Rawai VIP Villas and Kids' Park?
This park has an adventure playground and pool slides, making it a pleasant and safe place for children to play and explore.
Q6: Can beginners try their hand at surfing at Surf House Phuket?
Yes, Surf House Phuket is appropriate for beginners as well, since it provides a simulated wave experience that caters to a variety of ability levels under the guidance of experts.
Q7: Is Anthem Wakepark good for beginning wakeboarders?
Yes, Anthem Wakepark has training cables for beginners, allowing them to enjoy and practice wakeboarding in a safe and supervised atmosphere.
Q8: What are the nearby attractions of Centara Kata Resort?
Centara Kata Resort is ideally positioned near attractions such as Kata Night Market and Dino Park Mini Golf, which provide a variety of entertainment alternatives.
---