Things to do in Phuket are always related to adventure and leisure because this is the perfect city for you to escape reality and leave all your worries behind. It's a place that urges you to have the best time of your life. You can explore religious places, try out fun adventure activities and enjoy the nightlife of Phuket. There's so much to do and explore in this city that your trip would undoubtedly be worthwhile. So, let's look at all the tourist attractions that you must cover on your trip to this heavenly city.
Top 10 Things to do in Phuket: The City that Never Sleeps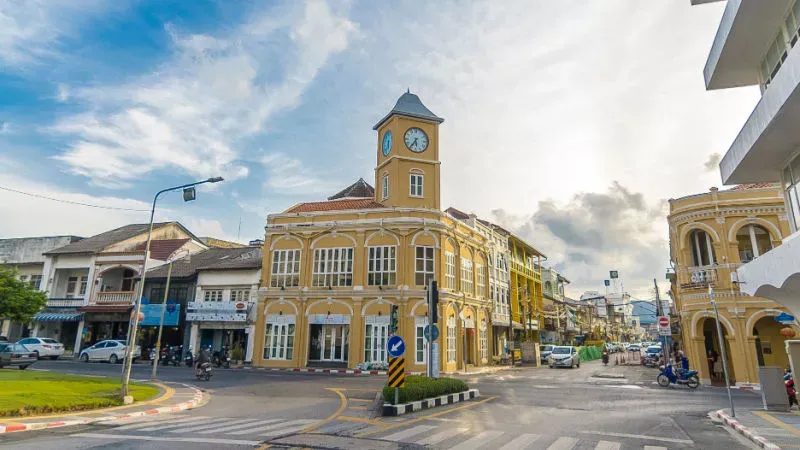 Phuket isn't like your common holiday destination because it includes a variety of unusual things to do in Phuket, such as exploring the night market, visiting culturally rich attractions, and trying out the adventure activities. The Thai culture embraced in gorgeous scenery and beautiful tourist attractions makes for the perfect holiday. Since this destination is a crowd puller, you might find it slightly crowded, but it's worth a visit without a doubt. Even its nightlife would become a memorable part of your vacation. Let's see what are the top things to do in Phuket for the best time.
Cruise in Phang Nga Bay
Visit the Old Phuket Town
Explore the Naka Market
Visit the Green Elephant Sanctuary Park
Go to Promthep Cape
Marvel at the Big Buddha Statue
Dive in the Andaman Ocean
Visit the Surfing Beaches
Andamanda Phuket Water Park
Visit the Tiger Kingdom
1. Cruise in Phang Nga Bay: Relax and Unwind Against Gorgeous Sceneries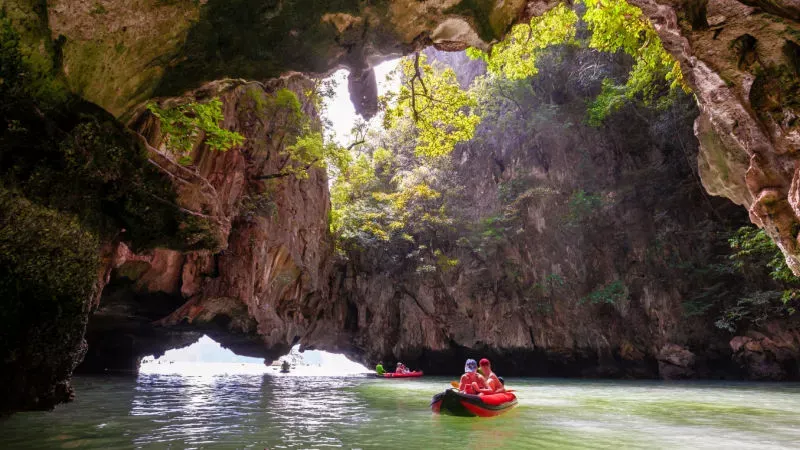 Phang Nga Bay has one of the most exotic backdrops and beautiful scenery that would mesmerize you. You can take a cruise in this bay during sunset and enjoy the view of the water and the various attractions that you pass on your way. It's ideal for a relaxing time with your loved ones while exploring the caves and lagoons. You can also visit other islands nearby, such as the James Bond Island, the Koh Panyee fishing village, etc. So don't miss out on one of the must do things in Phuket because nothing can beat the joy of riding in a boat with breathtaking beauties surrounding you.
Things to do: Explore the islands nearby, spend a relaxing time
Best time to visit: All year round
2. Visit the Old Phuket Town: Admire the Beauty of the Colonial Past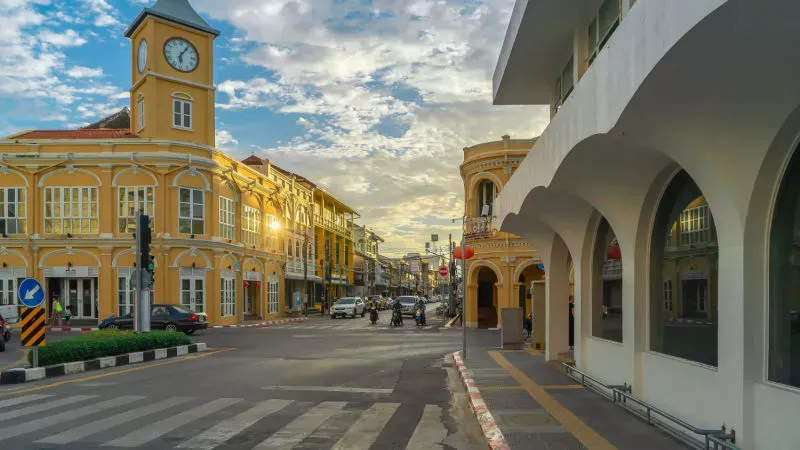 Your vacation would become complete only when you explore the old Phuket town with gorgeous buildings and mansions. You can also get acquainted with the past of the city by walking around the town and coming across Buddhist and Chinese temples adorning city. There are a few quaint eateries as well where you could spend time before resuming your journey. Soi Rommanee and Thalang Road are the two major streets that you can walk around to explore this place. This culturally abundant town is the perfect way to spend your holiday because there's comfort in the old charm of this antiquated town. A things to do in Phuket list should surely have this place mentioned in it.
Things to do: Try local eateries, know about the history of the city, walk around exploring the town
Best time to visit: December to March
Suggested Read: Best Places to Visit in Batumi: The Pearl of the Black Sea
3. Explore the Naka Market: The Most Popular Night Market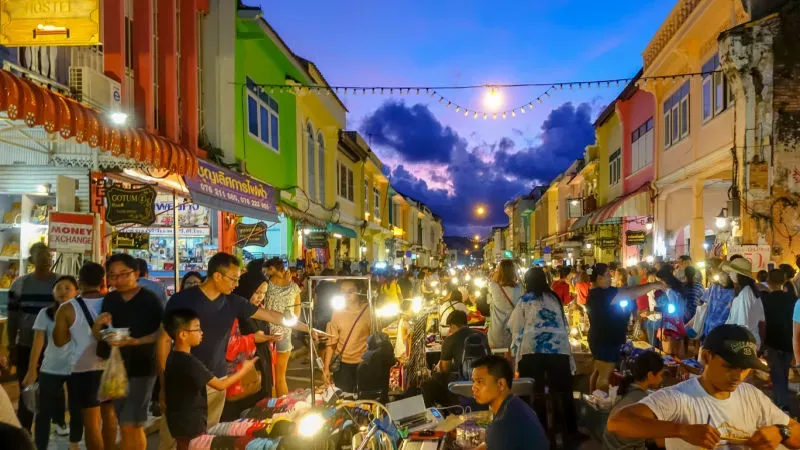 If you wish to experience Phuket's nightlife at its best, then the Naka market is the best place to start. With shops and eateries dotting the market, you'd have a lot to keep you entertained. You can buy clothes, shoes, souvenirs, or even fruits and other food items. You can gorge on delicious Thai food from the food stalls, such as deep-fried locusts, grilled fish, and much more. You can even bargain the price of items, which is an absolutely fun part of shopping. It's best to walk to this market because of the number of tourists in the market. This is one of the most exciting things to do in Phuket at night.
Things to do: Shop at local stores and try Thai street food
Best time to visit: 4 P.M to 10 P.M
Suggested Read: Shopping in Cappadocia: Best Shopping Destinations
4. Visit the Green Elephant Sanctuary Park: Get Up Close with these Gentle Giants
The Green Elephant Sanctuary is a beautiful and splendid part of Phuket, where you can spend time with elephants, play with them, bathe with them, and so much more. It's literally one of the most excellent things to do in Phuket because it's a once in a lifetime opportunity. The highlight is that they treat animals with respect. Neither do they perform tricks, nor can you ride on them, in fact most of the elephants in this sanctuary have been rescued from elephant trekking industries. You have a chance to watch them happy in their natural habitat and even be around them in the correct way.
Things to do: Play, bathe, and feed elephants, watch them in their natural habitat
Best time to visit: 8 A.M to 5 P.M
5. Go to Promthep Cape: View the Sunset from this Vantage Point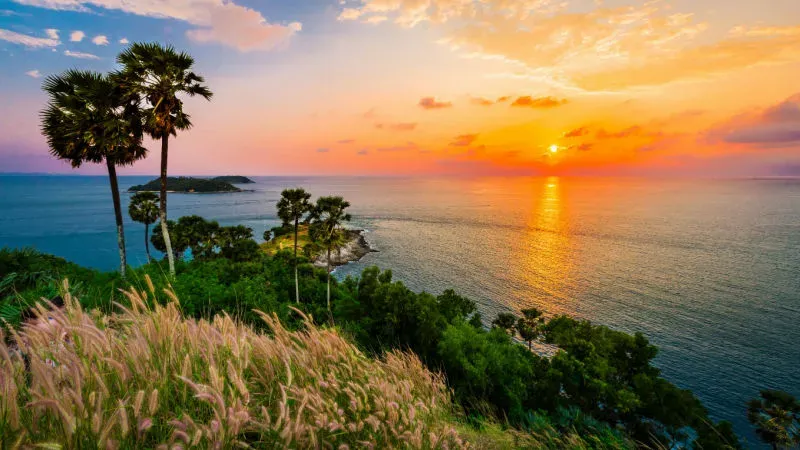 I cannot emphasize the beauty of watching a sunset from the South of the island. You can view the calm bay and the nearby islands as the sun sets over the ocean. It's a surreal feeling to be able to take in this gorgeous view and there are also a few local eateries that you can try out to spend leisure time, relaxing and having fun. There's also a Lighthouse Museum and an elegant shrine on the hilltop. The Three Beaches Viewpoint and Nai Harn Windmill Viewpoint are also some of the excellent attractions to explore in the vicinity. It's one of the best things to do in Phuket that you should definitely add to your list.
Things to do: Watch the mesmerizing sunset, check out the local attractions nearby
Best time to visit: During the sunset
Suggested Read: Top Places to Visit in Dhahran: Where History Meets Innovations
6. Marvel at the Big Buddha Statue: Climb Atop and Admire the Big Buddha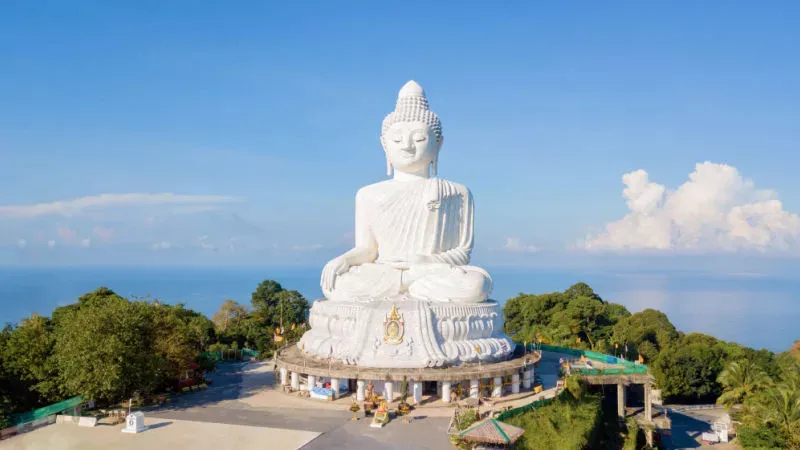 Exploring the religious places of the city should also be a part of your vacation, to understand the history and heritage of the place. It gives you a much-needed idea behind the customs and traditions of the city, and this Big Buddha statue in Phuket is one of the most visited attractions. It's one of the things to do in Phuket with family because of the spiritual and positive feeling of reaching the top and viewing the city from a high point. You can see Phang Nga Bay, and various beaches from the top. It's important to respect such religious places and to wear modest clothes and speak softly when visiting this attraction.
Things to do: Learn about the culture of Phuket and get a panoramic view of the city
Best time to visit: All year round
Suggested Read: Top Places To Visit In Doha For A Cultural & Adventurous Retreat
7. Dive in the Andaman Ocean: Swim with the Aquatic Life of the Ocean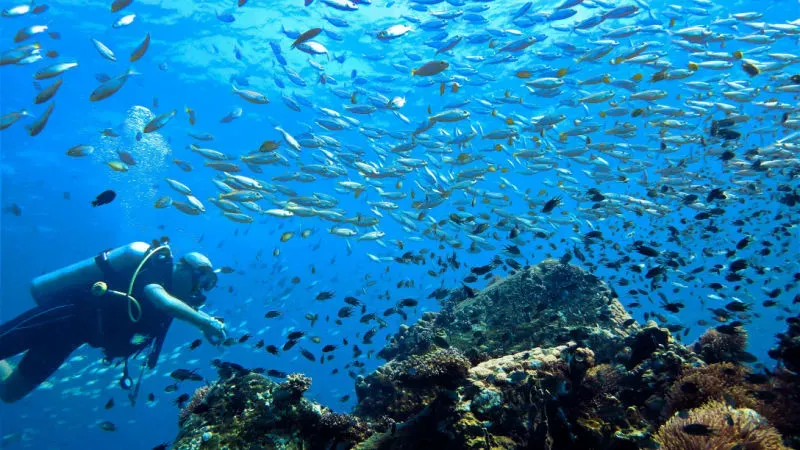 There are various water sports, such as scuba diving, snorkeling, etc. that give you a chance to swim with the aquatic animals and to explore the underwater world. You can get a glimpse of manta rays, seahorses, coral reefs, and other fishes that would make this one of the many Phuket activities that are worthwhile. The Hin Daeng and Koh Dok Man beaches are the best for scuba diving and Nai Harn beach is ideal for snorkeling. It's an extremely fun and thrilling activity to indulge in because water adventures are the life of Phuket. It'd be a shame to miss out on this opportunity.
Things to do: Traverse the underwater world, get a close view of the aquatic life, and try adventure sports
Best time to visit: November to April
8. Visit the Surfing Beaches: Take Control of the Waves and Surf Away!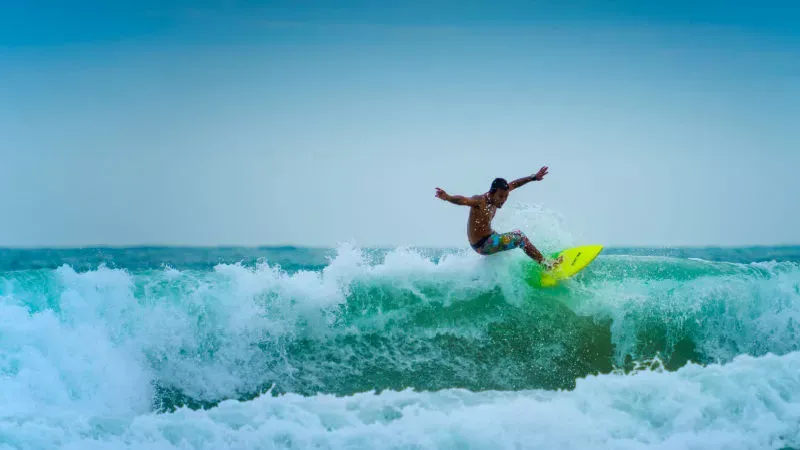 If surfing is what gives you solace or if it's something you wish to try, then going to one of the surfing beaches in Phuket is the best option. You can travel to Patong Beach, Kata Beach or Bang Tao Beach for the best surfing waves, and you can even take lessons on the spot. From experienced to novice surfers, all can flock here to show off their skills and to learn new ones. Trust me, it's an exciting activity to undertake, even if you're new to it because it gives you a sense of control, which is what makes this whole activity thrilling. It's a must do in Phuket because it'd be a whole new experience for some and for others, there'd be some great waves to surf on.
Things to do: Learn surfing, show off your surfing skills, enjoy time in the ocean
Best time to visit: May to October
Suggested Read: Top Thailand Beaches: Explore the Palm-Fringed Sandy Stretches
9. Visit the Andamanda Phuket Waterpark: A New Addition to Phuket's Fun Activities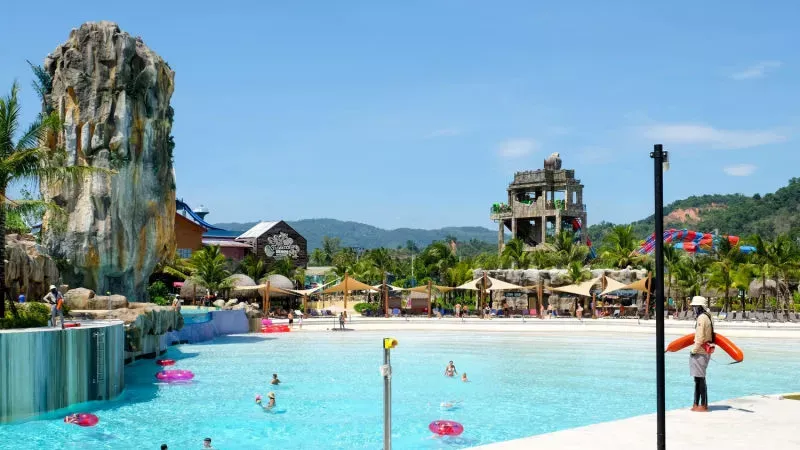 This water park is relatively new but is already a tourist attraction because of the innumerable waterslides, and other fun aspects that make it an excellent way to spend time. With artificial waves, a swimming area, and the longest lazy river in the city, you're in for a delightful time here. You wouldn't even know when time passed you by while having the time of your life at this water park. There are 25 elements to this massive activity area, which are for both adults and children. Playing at a water park never gets old, so you should definitely visit this water sport area and make this one of the things to do in Phuket.
Things to do: Evoke the child in you and play around in this giant water park
Best time to visit: 10 A.M to 7 P.M
10. Stop-By the Tiger Kingdom: A Unique Experience of Interacting with Tigers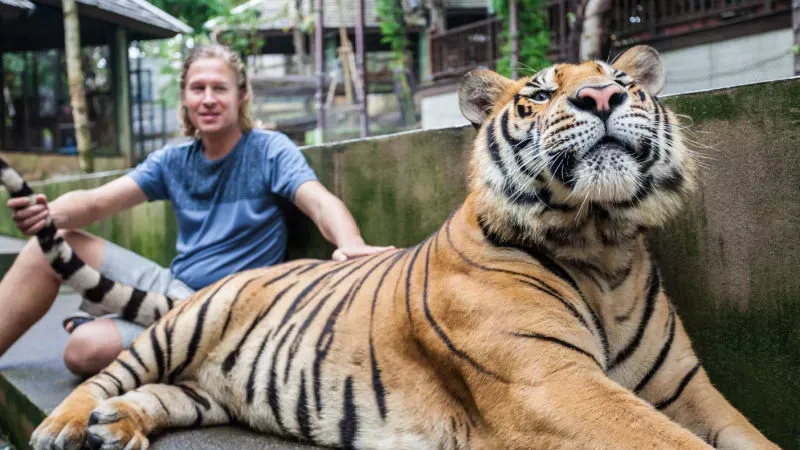 Interacting with a tiger or even going close to them is one of our worst nightmares, but not when you're in Phuket where these animals are treated with care. At this Tiger Kingdom, you'd see a sight of these predators that not a lot of people are lucky to see. You can get your pictures clicked with these royal beats and even play with tiger cubs, how exciting is that? It's not every day that one gets to go near a tiger, so make the most of this opportunity and add this to your itinerary right away. It doesn't get better than this.
Things to do: Click pictures and play with tigers and their cubs
Best time to visit: 9 A.M to 5:30 P.M
These were some of the things to do in Phuket that should undoubtedly make their way to your bucket list because it offers you the best experience of the city. From exploring the cultural and traditional attractions to the fun and exciting parts of the city, there's so much to look forward to. It's the perfect place to visit with family, friends, and romantic partners because you'll find activities that are ideal for all. Planning a trip to this ultimate travel destination would be one of the best decisions you make, so book out Thailand vacation packages and include these must visit places in your itinerary asap.
FAQs
Q1. What is Phuket best known for?
Phuket is known for its Phang Nga Bay, the big Buddha Statue, its beaches, nightlife, and many more tourist attractions. You can never get enough of this city because there's so much to explore and experience.
Q2. How many days in Phuket is enough?
Five to seven days is the ideal duration to traverse through Phuket and enjoy everything that it has to offer without the guilt of missing out on a few things. You need a lot of time to explore this gorgeous city, so plan your trip accordingly.
Q3. What is the best month to visit Phuket?
November to February is the best time to visit Phuket because the weather's cool and pleasant, giving you the chance to visit all the tourist attractions without any difficulties.
Q4. What are the travel tips for Phuket?
These are a few tips that you must remember in Phuket:
Respect the customs and traditions of the city
Wear decent clothes when visiting religious places
Keep hats and sunglasses handy
Don't disrespect the royal family
Carry light weight clothes
Q5. What is the nightlife of Phuket like?
Phuket's nightlife is lively and that's when the real fun begins. All the buildings are illuminated, there are night markets where you can shop for souvenirs and other items, and also try the delicious street food. Visit clubs and have a gala time or enjoy live music.
Q6. Is Phuket worth visiting?
There's no doubt when it comes to visiting Phuket because this lively and entertaining city is the right place for people looking to relax and unwind. You can spend your days making a lifetime of memories by trying out unique and exciting activities, such as playing with tiger cubs, feeding elephants, surfing, scuba diving, and visiting the cultural and heritage sites.
Q7. What are the adventure activities to do in Phuket?
There are several adventure activities that you can try, including surfing, snorkeling, scuba diving, parasailing, and a lot more. The beaches in Phuket offer a lot of these water sports for tourists that they can indulge in.
Q8. What should one buy from Phuket?
When shopping in Phuket, you must buy Thai silk, handicrafts, antiques, spa products, and souvenirs to remember this place by.
---