When you think of Batumi, the first thing that comes to mind are the gorgeous beaches, and the greenery. But Batumi is surely more than this; it's the soul of Georgia, that is why it's the most popular destination for all the tourists. This city boasts of rich heritage and culture through every building, tourist place, and much more. They've managed to balance the elegance of old Europe while incorporating the modern aspects of the changing times. This city would make for the perfect destination if you're looking for some regal and delightful time. So, refer to our guide of the ideal places to visit in Batumi and plan the trip of a lifetime.
Top Places to Visit in Batumi: Explore this Coastal City for Your Dream Vacation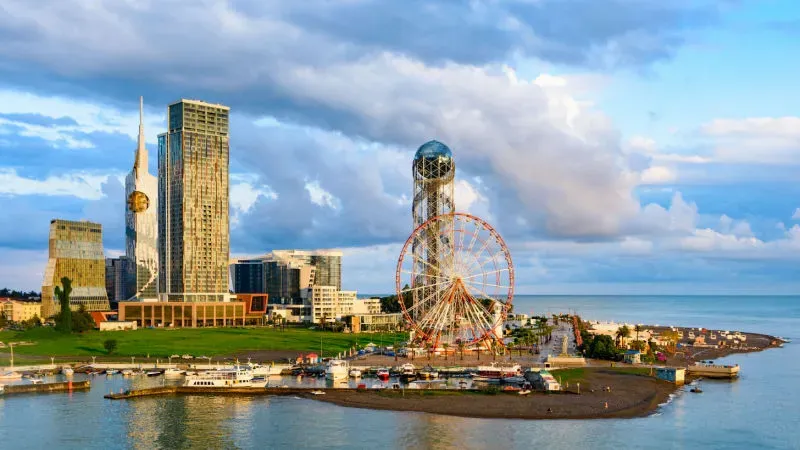 You're in for a memorable holiday to this city of wonders because there are a lot of things to do in Georgia if you visit Batumi. The beauty of its architecture, the serenity of the beach, and the historical buildings speak for themselves. Therefore, it's a famous summer retreat for every tourist. There's so much to explore that you'd be entertained the entire time, without the shadow of a doubt. Regardless of what piques your interest, you'd find something that would intrigue you and indulge your curious mind. So here are all the places to visit in Batumi that would make your vacation to this mesmerizing city worthwhile.
Batumi Botanical Garden
Statue of Ali and Nino
Ortajame Mosque
Panoramic Wheel
Piazza Square
Europe Square
Batumi Boulevard
Dolphinarium
Old Batumi
Alphabetic Tower
1. Batumi Botanical Garden: Witness the Diverse Flora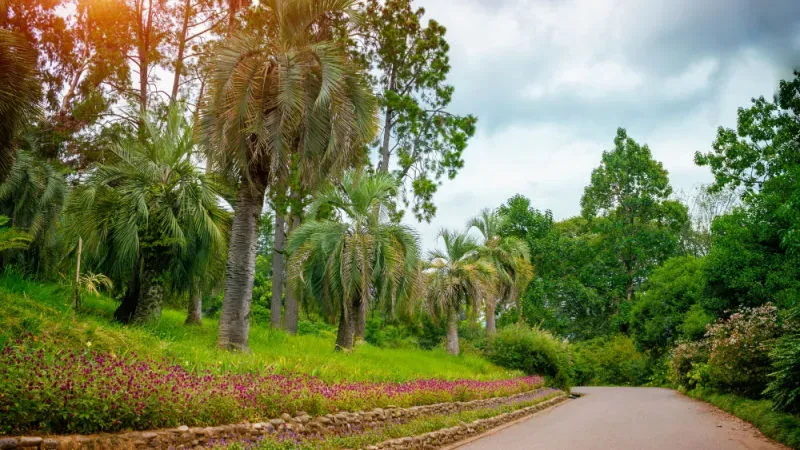 This is one of the largest botanical gardens in the world with a wide variety of plant species, which are rare and alluring. You can spend time exploring the place and appreciating the beauty of the varied flora from Sakura and palms to magnolias and so on. It houses more than 5000 species of plants that you can learn about as you leisurely walk around the 1 sq. km stretch of this garden. The vibrant and gorgeous color of the flowers would make you want to stay there for as long as you can. Once you reach the top, you'll even have a splendid view of the black sea. It'd make for a perfect start to the day, so you must add it to your list of places to see in Batumi.
Best time to visit: 8 A.M to 9 P.M
Things to do: Walk in the garden surrounded by beautiful flowers from around the world
2. Statue of Ali and Nino: A Symbol of Eternal Love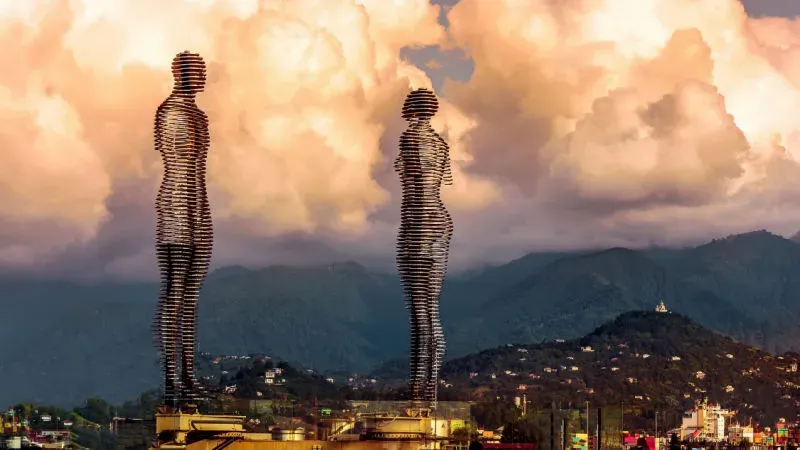 This statue is a spectacular piece of art where the two figures move towards each other and become one, and then separate after every 10 minutes. This was created by Tamara Kvesitadze, a Georgian artist. It's inspired by a book based on the romantic relationship between Azerbaijani Muslim Ali and a Christian noble's daughter. The statue is 7m high and the perfect time to view it is in the evening when it is lit up with red and blue lights. This is one of the best Batumi tourist attractions that is a crowd puller.
Best time to visit: During evening time
Things to do: Marvel at the beauty of the statues and the idea of love behind it
3. Ortajame Mosque: The Only Surviving Mosque in Batumi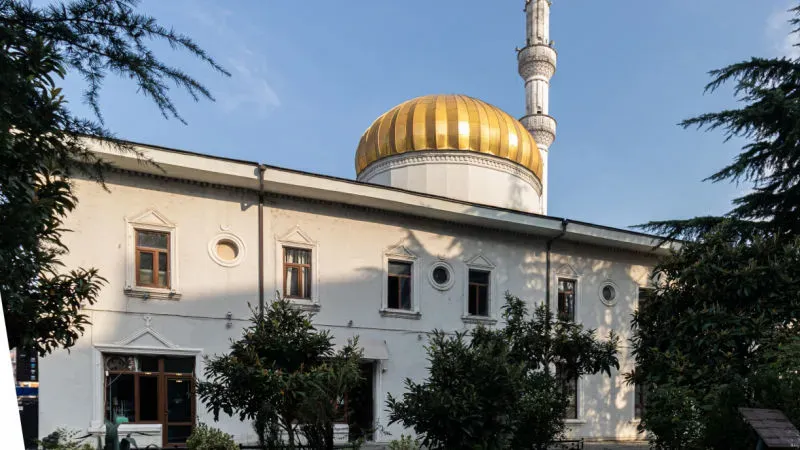 This mosque was built in the 1860s and is a magnificent white minaret with hues of pinks, greens, and blues. The detailing on the structure with wood carvings, Quranic calligraphy, and much more is what makes it a must visit place in the city. Even though it can't accommodate a lot of people at once, it's still worthwhile to visit it once to see architecture at its best. Majority of the Muslims in the city visit this mosque for prayers. This mosque represents the diversity of religion and culture in the city, making it one of the vital places to visit in Batumi.
Things to do: Connect to God, soak in the positive vibes, and admire the architecture
4. Panoramic Wheel: Get the Best View of the City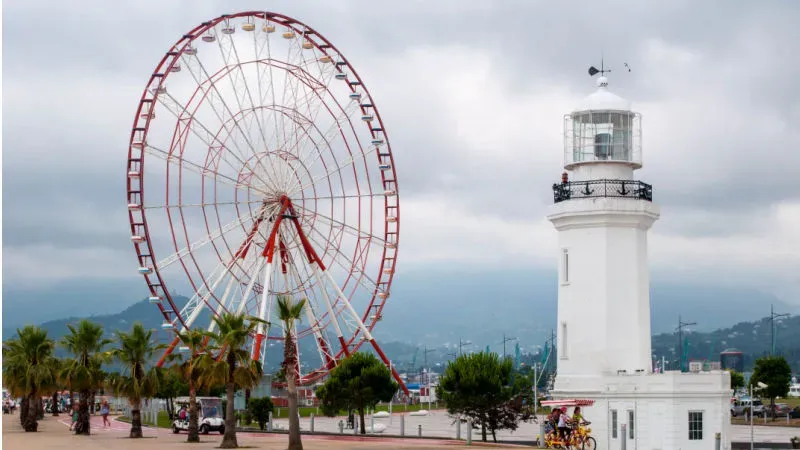 A Batumi sightseeing day is incomplete if you don't visit this attraction. Riding on a Ferris Wheel is the perfect way to view the city in all its grandeur. This wheel is in Miracle Park, near the Alphabet Tower. It'd take 15 minutes for you to view the city and come back to the ground, and it's absolutely worth it. You'll be at a height of 55 meters, and it can accommodate 250 people at once. It's a golden opportunity to make the most of your experience because the view would be a spectacular one. So don't miss out on this Panoramic Wheel for a wholesome experience when making your plans of places to visit in Batumi.
Things to do: Take in the full view of the city and enjoy the ride to the top
5. Piazza Square: For All Your Entertainment Needs
Piazza Square is your ideal spot for exploring local eateries and cafes to spend time in leisure, and it's inspired by the concept of an Italian Piazza. There's also an international entertainment venue for you to attend concerts by popular Georgian and other artists, like Sting. You can enjoy the day by sipping a drink and eating street food with your loved ones. If you want to enjoy the nightlife in Georgia, then this place is worth exploring because its real beauty is evident during the night when the entire piazza is lit up.
Best time to visit: During evening time
Things to do: Spend leisure time while eating and drinking in cafes and restaurants
6. Europe Square: Where the Old and the New World Merges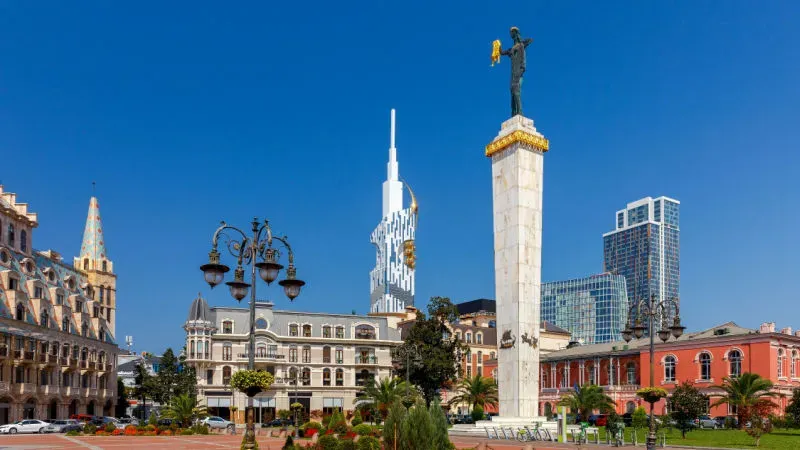 Europe Square, also known as Evropas Moedani is the largest piazza in Batumi, which is surrounded by buildings that flaunt an old and modern architectural style. You can also see the 19th century buildings in pristine condition as they've been preserved over the years to sustain. It'd feel like walking in an ancient era of Europe with its attention to detail and regality. The new buildings are built in the Belle Époque' style and you won't be able to tell the difference, that's the beauty of this place. So, you must include this in your Batumi places to visit itinerary.
Things to do: Explore the buildings and the architecture that resembles that of 19th century Europe
7. Batumi Boulevard: Take a Walk Along this 7 km Stretch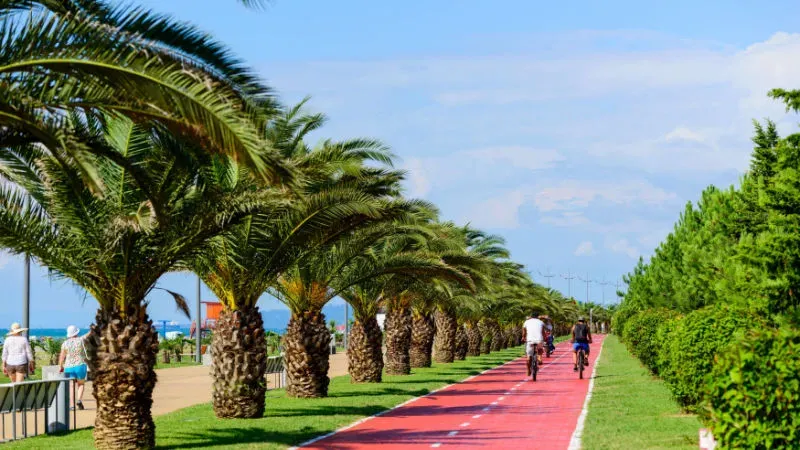 Batumi Boulevard is the heart of the city because it's one of the oldest and largest parks in Europe where you can walk or ride a bicycle. You'll also come across recreational zones and cafes. It's a place where you can spend time relaxing and walking around the path aimlessly; doing this has a beauty of its own. It'd feel almost surreal to roam around in peace and quiet, away from the hustle and bustle of the city. There's nothing extravagant about the place, but it's still counted in Batumi top attractions and that speaks for itself. You'll find sculptures, such as Ali and Nino, a Japanese style garden, and a lot more.
Things to do: Walk around or ride a cycle, explore the cafes and structures surrounding the boulevard
8. Dolphinarium: The Largest Dolphinarium in Georgia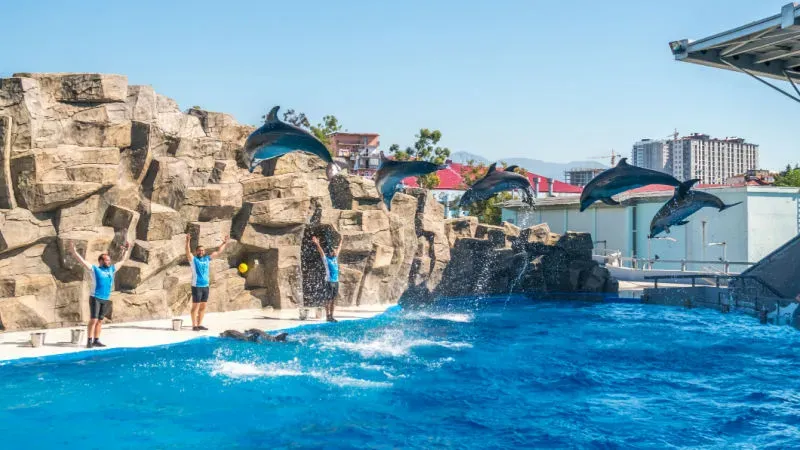 This is one of the best places to visit in Batumi because what better way to spend your time than to play with dolphins and watch them entertain you as they swim in the waters. These dolphins would perform various tricks, such as kiss, dance, hug, etc. that would leave you spellbound. The best part is that it's fun for both adults and young ones.  There's also a magnificent mosaic sculpture outside the Dolphinarium featuring dolphins and swimmers on one side and spiritual figures with dolphins on the other side. It's quite an intriguing mosaic, in my opinion.
Best time to visit: 10 A.M to 9 P.M
Things to do: Enjoy the dolphin show and play with them afterwards
9. Old Batumi: Learn the History of the Oldest City in Georgia
The charm of visiting a place is to know about its history and culture, how it was established, and this historic center in Old Batumi is the ideal place to do that. So, walk through the old city, paying attention to its architecture, the regal feels of the mansions and the buildings built during the Soviet era. You'll also come across several unique street arts, local shops, eateries, and much more that will give you a complete view of what Batumi is all about. It'd be even better to explore the alleys and corners in the streets to find hidden gems.
Things to do: View the architectural splendor of the buildings, explore the local shops and eateries, spend leisure time walking around
10. Alphabet Tower: Go Up the Alphabet Tower for a Panoramic View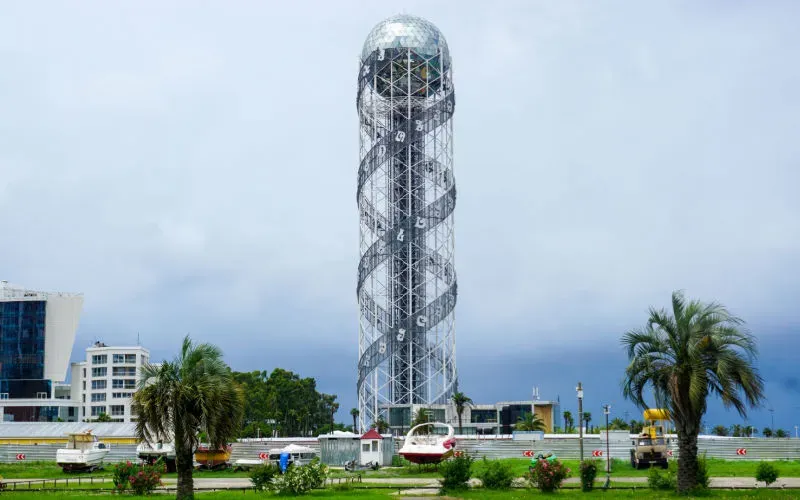 As the name suggests, this Alphabet Tower is probably one of the quirkiest Batumi tourist places because it depicts 33 Georgian alphabets wrapped around the 130-meter-tall structure. The entire tower resembles DNA and is hollow from the inside, from where you take an elevator shaft and reach the top to be greeted with a gorgeous view of the city. It's quite a fun activity to indulge in and this structure boasts of the unique Georgian script, as you'd see once you visit this place.
Things to do: Get a one-of-a-kind view of the city by reaching the top of the tower and know more about the Georgian script
If you opt for these places to visit in Batumi, then your vacation would be top-notch. Batumi is the pride of Georgia because it has so much to offer; therefore, you must explore it to your heart's content and experience it in its full glory. Learn about the history of the city, get lost in the architecture of the place and enjoy the activities it includes because these are what remain etched in our memories. This is the perfect holiday destination for you and your loved ones. So, choose our Georgia tour packages and pack your bags for a wonderful getaway.
FAQs
Q1. Is Batumi Georgia worth visiting?
Yes, Batumi is worth visiting because it's a culturally and historically rich city, and your experience of visiting Georgia is incomplete without going to this city. You can expect a fun and delightful time here with so many places to visit.
Q2. Why is Batumi famous?
Batumi is famous because there's a lot to do here and several tourist attractions to explore. There are important cities and seaports as well that make for an interesting part of the vacation, featuring architectural buildings and other structures. Therefore, it's counted as one of the most amazing places to visit in Georgia.
Q3. What are the best areas of Batumi?
There are a lot of areas in Batumi that are major tourist attractions, such as the Europe Square, Statue of Ali and Nino, Old Batumi, the Alphabet Tower, and so on.
Q4. How many days are enough for Batumi?
Two to three days are enough to explore the city of Batumi while covering all the tourist spots that are important to explore in the city. You can also spend leisure time walking down the streets, shopping, and trying out local eateries.
Q5. Which season is best in Batumi?
May to June is the best time to visit Batumi because the weather's pleasant and you can enjoy the sightseeing and exploration of the entire city.
6. What are the travel tips for Batumi?
Here are a few essentials you must keep in mind when travelling to Batumi:
Carry light weight clothes
Keep your hat and sunglasses handy
Explore the architecture of the city
Understand the history of the place for a better experience
Q7. What are the best places to admire the architecture of Batumi?
You can admire Batumi's architecture by going to Old Batumi or Europe Square. You could also visit the Ortajame Mosque for some gorgeous wood carvings and Quranic calligraphy.
8. How to get to Batumi?
It's quite easy to reach Batumi because it's well connected by trains, and you can also reach there via the Marshrutka van. The international airport here is Alexander Kartveli Batumi International Airport.
---