Are you looking for an escape to the snowy mountains and beautiful beaches? Are you interested in exploring Europe? If yes, then Georgia is the best place to start your excursion in Europe. Some of the best things to do in Georgia are trekking the majestic Caucasus mountains, exploring the extensive beauty of the country, visiting historical buildings, admiring the beautiful architecture, and trying the delicious culinary dishes. The country has also been a site of wine production since thousands of years which means that people can also visit plenty of vineyards spread all over the country.
12 Most Amazing Things to Do in Georgia: Indulge in the Thrilling Excursions and Relish the Picturesque Landscape
Georgia is quickly becoming a popular destination for travelers interested in learning about history, heritage, modern architecture, and adventure trips. If you're considering a trip to this nation on the boundary of Europe and Asia, you should know all about it. Visit the historic cities, tour the historical landmarks, and participate in a variety of activities. Here is a selection of attractions to see, things to do, and adventure activities in Georgia that you may partake in during your visit.
Trekking In the Caucasus Mountains
Visiting The Georgetti Trinity Church
Thrilling Experience at Caves of Uplistsikhe
Enjoying The Panoramic Views at Gonio Beach
Feasting On the Traditional Supra
Stargazing For a Night
Skiing In the Snowy Mountains
Shopping At the Dry Bridge Market
Hiking in Svaneti
Take a Dive in the Vani Sulfur Pool
Trekking to the Colorful Rocks and Lakes
Bird Watching at the Javakheti Plateau
1. Trekking in the Caucasus Mountains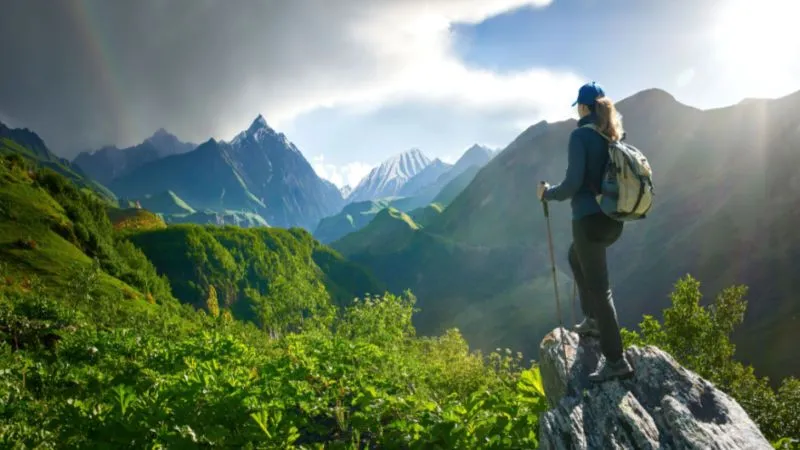 The Caucasus Mountains in Georgia are a vast expanse of wilderness, far removed from civilisation and a trekker's dream destination. There are plenty of trails to go trekking in Georgia, like Mestia that connects to the remote mountain village of Ushguli, featuring rugged mountain scenery and traditional villages. There are breath-taking views on the way, and one can also chat with the people living in these villages and learn more about their culture. Another amazing hike is between Omalo and Shatili, which takes the hikers on an adventure, passing by several ancient fortresses and a variety of terrain, from grassy meadows to rocky ridges.
If you are looking for a more thrilling trek, go to Lagodekhi National Park, a small national park with lakes and forests in the country's far east Caucasus foothills. There is a chance that one may encounter a diverse population of wildlife, including golden eagles, wild boars, chamois, or even a few brown bears and grey wolves.
Top Attractions: Adventure, scenic view
2. Visiting the Georgetti Trinity Church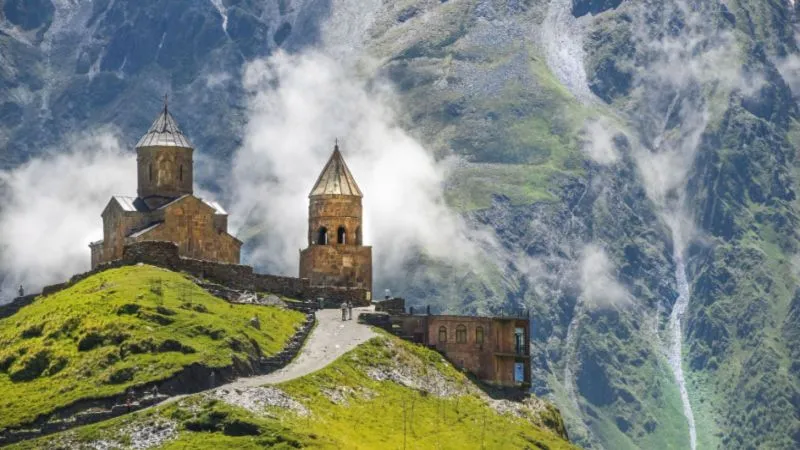 The location, the route, and the destination; a perfect combination for a person who is looking for tranquillity and calm. One of the best things to do in Georgia is to visit this 14th century Georgian Orthodox and Apostolic church. It takes less-than-two-hour hike straight up the mountainside, and you will reach the holy refuge known as Gergeti Trinity. The route is pretty easy and people with friends and family will have fun on the way up this beautiful church. After reaching, one will encounter the astounding beauty that surrounds this significant building that contrasts with elegant and serene interiors. One can sit outside the church for some time, stroll through the nearby area, or just admire the beauty of the place.
Top Attractions: hike, beautiful view, history
3. Thrilling Experience at Caves of Uplistsikhe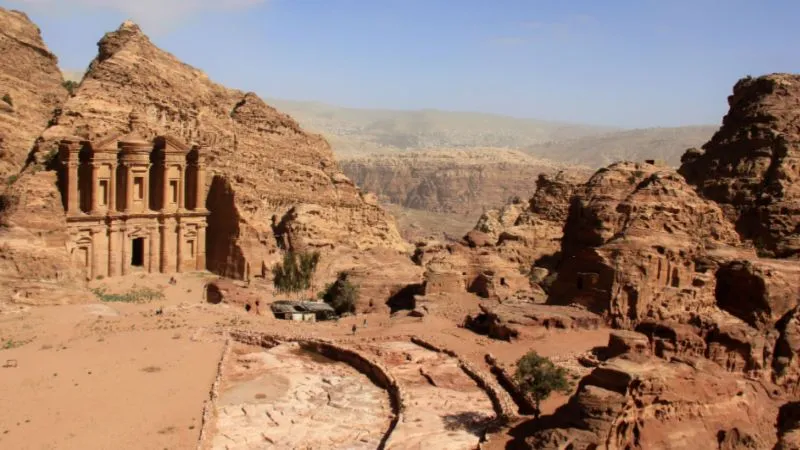 One of the things to do in Georgia is to witness about 2000 years old city, Uplistsikhe cave town in the volcanic cliff that will definitely give you goosebumps. Stroll through the living quarters and premises of this city that are connected by footways for communal purposes. But what will really catch the eyes of the tourists is the architecture in the central ensemble; a big hall with coffered tunnel-vaulted ceiling, and the palace complex. The word Uplistsikhe translates as 'the lord's fortress' in Georgian and rightfully so.
One can view the majority of the discovered artefacts of different periods, including gold, silver and bronze jewellery, and samples of ceramics and sculptures, in Tbilisi's National Museum.
Top Attractions: Thrill, history, archeology
Suggested Read: Places To Visit in Alexandria: Unveil The Bride Of The Mediterranean
4. Enjoying the Panoramic Views at Gonio Beach
This beach is the first in a string of compact but charming resorts that stretches all the way to the Turkish border. Tourists can relax and enjoy watching its pristine shoreline, crystal-clear water, stunning vistas of the mountains and the sea. One of the famous pebble beaches in Georgia, Gonio is perfect for those looking to get away from the bustling city life and escape into some peace and quiet.
One can also swim in Gonio, or just sit and chat with their family and friends while having snacks from the nearby restaurants. Tourists can rent sun loungers and umbrellas to sun bathe or take bare foot walks during the beautiful sunset.
Top Attractions: swimming, food, sunbathing, relaxing
Suggested Read: Top Lakes In Switzerland That Are An Absolute Gem To Explore in this Postcard Destination
5. Feasting on the Traditional Supra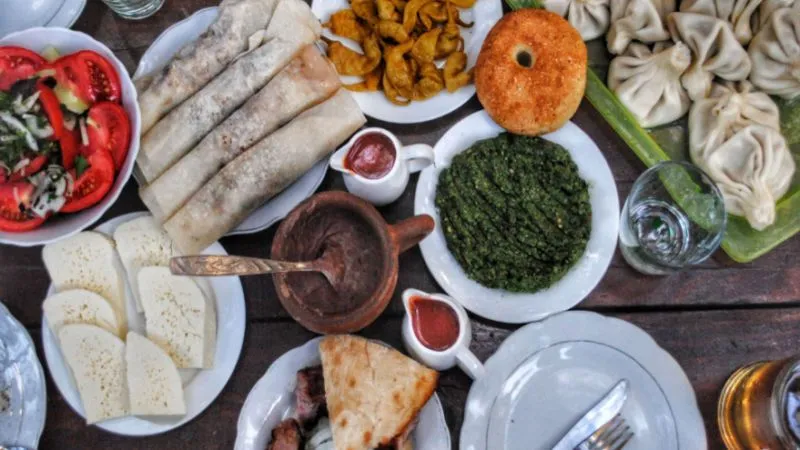 One of the fun things to do in Georgia is to mingle with the locals and get invited to the best feast of your life. A supra is a get-together of friends and family where diverse Georgian traditional meals are served with drinks and people chat, talk, and eat. It is one of the humble ways Georgians show their hospitality to the guests or tourists who have come to explore their beautiful country.
One of the rules that should be followed during a supra is that there should be a Tamada, or toast maker, who keeps cooking and serving toast to the guests, and no one else can do it. Becoming a part of a supra is one of the best ways to learn about the culture and traditions of the country.
Top Attractions: culture, food
6. Stargazing for a Night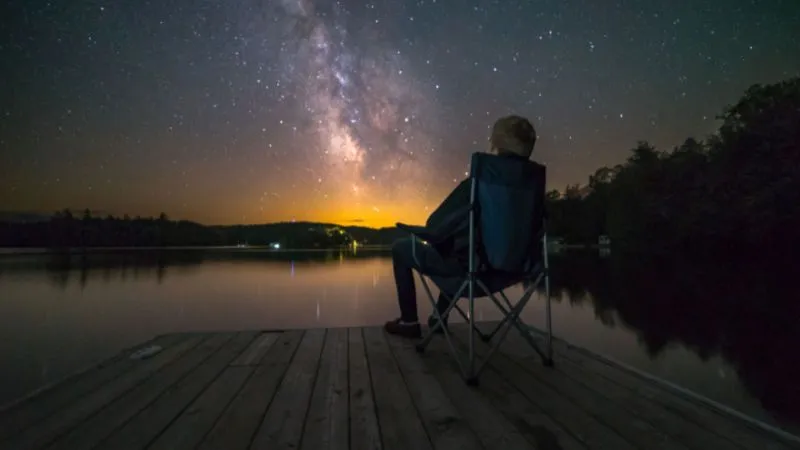 If you are an astronomer or just interested in studying stars, you are in for a treat. Georgia is located at the highest point in all of Europe, and so the stars and other celestial bodies are easily visible. One can camp in the best spots and experience the wonders of this unique world. It is a once in a lifetime experience to look up at the sky and find so many different celestial bodies glowing.
The months of autumn and winter are the best for stargazing as there is a clear sky and more magnificent celestial bodies are visible. Some of the best spots for stargazing in Georgia are Stephen C. Foster State Park, Brasstown Bald, Carters Lake, and many more. The tourists should carry binoculars or a telescope if they are too keen to read what is happening up there, otherwise one can take a peaceful spot and look up.
Top Attractions: camping, stars, scenic view
Suggested Read: Places To Visit In Interlaken That Will Leave You Intrigued by the Untouched Charm of Nature
7. Skiing in the Snowy Mountains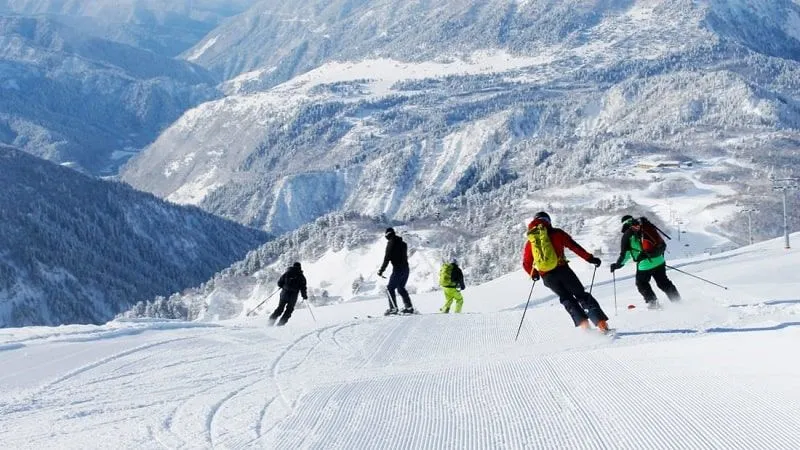 Experience the pillowy powder, non-existent lift lines, and dazzling scenery in the snow-capped mountains of Georgia. It seems about time to be among those who have had a taste of skiing and felt the thrill. Although skiing is not an easy adventure sport, there are instructors that guide the tourists through the do's and don'ts of it. There are different trails to first try and see if you can ski easily. Plus There are other ways to enjoy snow, like throwing snowballs at family members and friends, making a snowman or snow castle, sliding on the snow, and so much more.
Some of the best spots for skiing in Georgia include Gudauri, Georgia's most popular resort; Bakuriani, a popular hideaway for professional skiers; and Mestia, for those with a taste for adventure.
Top Attractions: snow, thrill, fun
Suggested Read: Beaches in Bahrain: Best Spots For Your Perfect Family Beach Day
8. Shopping at the Dry Bridge Market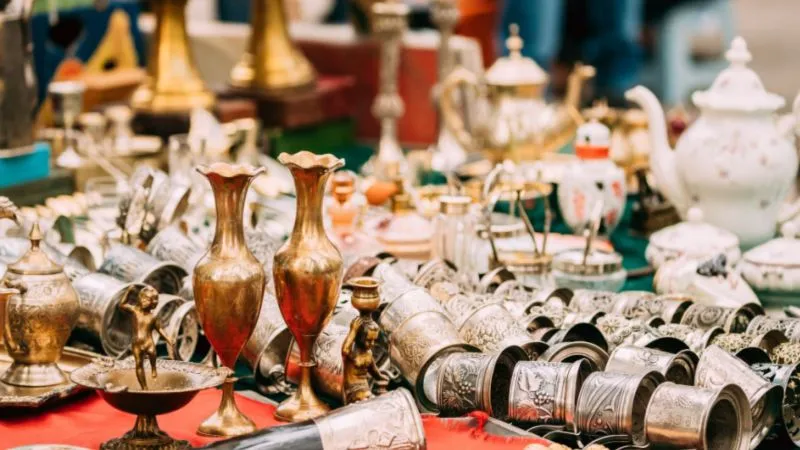 One of the things to do in Georgia is visiting this famous flea market, where one can find exhibitions and antique items on sale. Most of the items are from Soviet memorabilia like watches, cameras, Shashkas, knives, etc. People who are interested in collecting coin can visit the coin exchange market just meters away and can get some of the oldest coins.
The tourists can enjoy a nice sunny morning getting souvenirs like wooden artefacts, masks, show pieces, vintage collectibles like compasses, coal iron, handmade jewellery, old military medals, telephones, tools, old cameras, toys, rare porcelain articles to stunning paintings, historic photos and musical instruments
Top attractions: antiques, jewellery
9. Hiking in Svaneti Region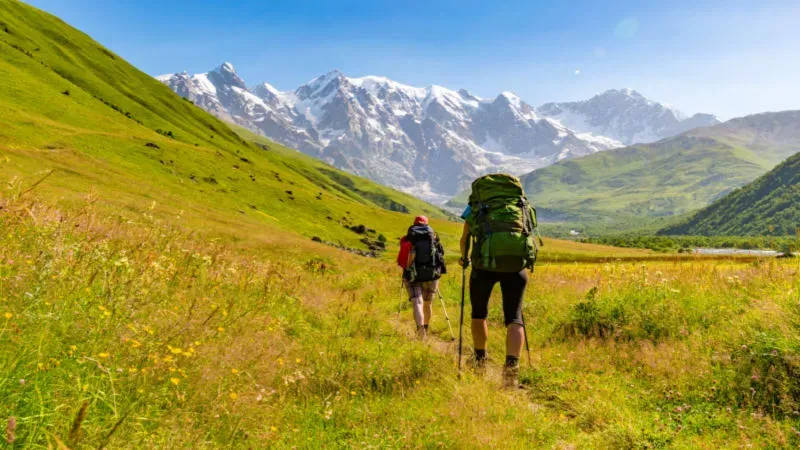 If you are looking for adventure, Georgia offers a plethora of sites and activities to offer you. Svaneti Planned National Park is one of the most well-known mountain terrains in the country, and it is available to tourists all year. Hiking is done on many levels ranging from basic day treks to expert-level multi-day excursions. For skilled hikers, the most magnificent and well-known trails are Koruldi Lakes, Chaladi Glacier, and Mount Ushba where they can go to enjoy the adventure activities in Georgia.
Svans, a formidable combatant, used to reside in tower homes in this area. These dwellings, known as Koshki in Georgia, are extremely popular with tourists. These well-preserved heritage sites may be seen on your walk to the location. As you go a little farther to the difficult terrain and reach Ushguli, which is a multi-day hike, you can see the stunning scenery, which is endowed with more than 200 towers in Chazhashi, one of the Ushguli settlements. Svaneti provides both thrills and tranquility.
Top Attractions: Hiking, World Heritage Sites
Suggested Read: Top Places to Visit in London For Witnessing the London Royalty
10. Take a Dive in the Vani Sulfur Pool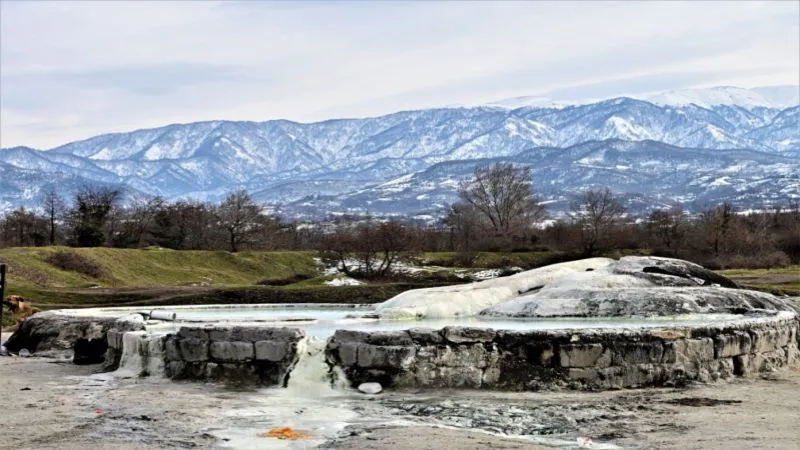 The Vani Sulfur Pool, also known as the Dikhashkho Sulfur Geyser, is an unusual geographical feature that must be seen to be believed. This natural sulphur lake erupts from the soil and is located in the center of a farmer's field near the Rioni River south of Kutaisi. It appears to have been flowing for a century or more! Diving in the Vani Sulfur Pool is undoubtedly the most fun thing to do in Georgia. These pools are naturally warm and diving in them is supposed to be healthy for your skin. The Vani Sulfur Pool's unique position is what makes it so unique. It's quite easy to discover if you're already in Vani for the Archaeological Museum.
Top Attractions: Swimming in sulfur pool
Suggested Read: Places to Visit in Qatar for The Stunning Skylines and Attractions
11. Trekking to the Colorful Rocks and Lake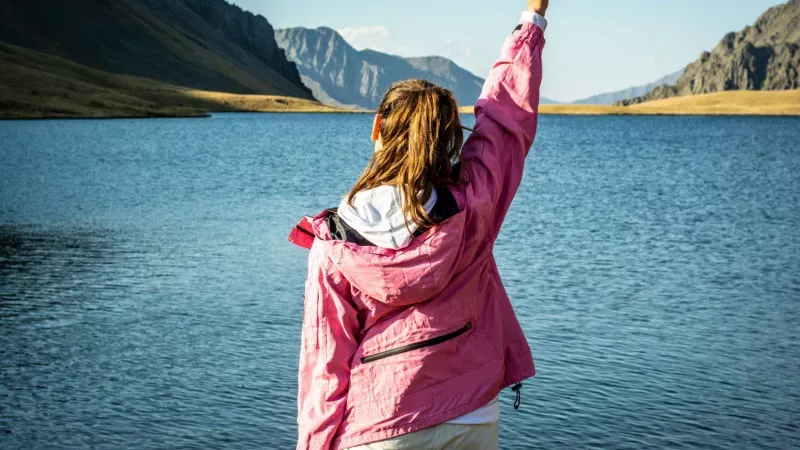 Udabno, which means "desert" in Georgian, describes the arid area that surrounds David Gareja in southern Kakheti. The colorful striations of rock caused by mineral deposits are what makes this location special and worth seeing. If you visit Udabno after a heavy rain, you'll witness foggy pink lakes that resemble large pools of strawberry milkshakes.
There is some wonderful trekking in the 'rainbow hills,' across rivulets and multicolored dirt mounds where you can go to indulge in adventure activities in Georgia. Udabno was built by the Soviet authorities in the 1980s to shelter economic migrants from the Svaneti area, and it was later used to house refugees from adjacent Azerbaijan before being abandoned. Udabno hamlet, a collection of weathered, mainly abandoned houses in the desert, is at the heart of this surreal environment.
Top Attractions: Trekking to the rainbow hills and lakes
Suggested Read: Top Things to do in Azerbaijan with Family: For a Memorable Experience for Everyone
12. Bird Watching at the Javakheti Plateau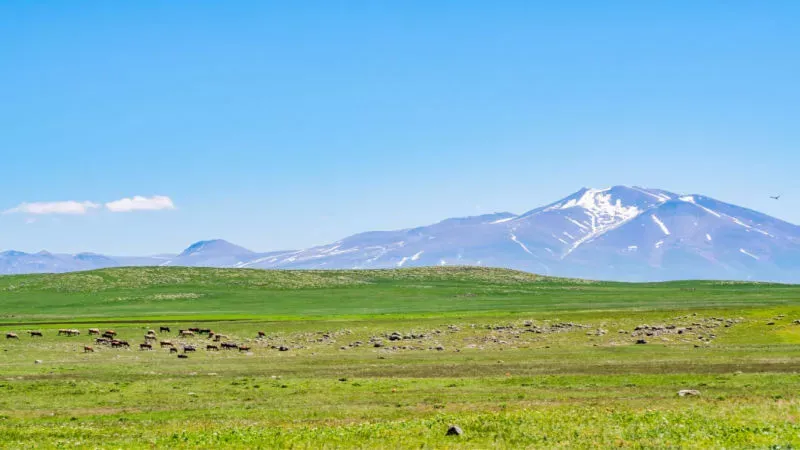 In southern Georgia, the Javakheti Protected Areas are a network of lakes and protected bird habitats. This is the country's finest birding location and ruggedly gorgeous. Because of its severe environment, Javakheti is sometimes referred to as the "Georgian Arctic". When it isn't covered in snow, the terrain is awe-inspiring, with extinct volcanoes, volcanic lakes, and never-ending grasslands.
Jump between the several lakes along Armenia's and Turkey's borders when you are looking for some amazing things to do in Georgia with family. One of the first lakes you see after leaving Tbilisi is Paravani Lake, and the lovely Poka Saint. Nino Monastery is must-see. Small hiking trails circle several of the lakes, and wild camping is permitted in many spots.
Top Attractions: Bird watching, hiking
So, if you wish to explore breath taking scenery, trek on the mountains, visit the historic buildings, walk through the beautiful terrains, and mingle with friendly locals then Georgia is the country that you should plan to visit. There are many things to do in Georgia, and it's fascinating to note that many of them will be once-in-a-lifetime experiences. When planning a vacation in this charming country, take the benefits of Georgia tour packages and discover the hidden gems of this delightful place.
FAQs
Q1. What is the name of the international airport in Georgia?
Tbilisi International airport is the main airport in Georgia. There are two more international airports in the country one in Kutaisi and other in Batumi.
Q2. What is a supra?
A supra is a traditional Georgian feast where people meet their family and friends and eat the traditional food and drinks. It is one of the best ways to learn and understand the Georgian culture. .
Q3. Is Georgia a good place to visit?
Yes, Georgia is a beautiful place to explore different terrains like snowy caucasan mountains, charming beaches, amazing churches, thrilling caves, and hospitable locals. One will return happy after having experienced the places and culture of this country.
Q4. Is it worth stargazing in Georgia?
Yes, The fact that Georgia has the highest permanent settlement in Europe gives it an advantage to be little closer to the sky than the rest of the Europe and hence the stars appear clearer with many other celestial bodies that might not be visible from other parts of Europe.
Q5. How many days should one spend in georgia?
8 to 10 days are more than enough to explore all the significant places in the country and indulge in all kinds of activities. One can also prepare an itinerary of everything that is in the country to discover.
Q6. Is skiing a safe adventure sport?
All adventure sports are quite safe as there always are people who keep an eye the newcomers. Skiing in Georgia is safe even if you are trying for the first time. Keep in mind that you are visible to the instructor at all times, so that if you need help, you get it quickly.
Q7. Can one hike in Georgia?
Yes, The Caucasian Mountains have a variety of trails for different treks and hikes lie Mestia, Omalo and Shatili. If one is looking for a small hike, they can visit places like Gergeti Trinity Church that is on a hilltop and tourists have to hike there to see it.
Q8. Where can one shop for souvenirs in Georgia?
There is a flea market called Dry Bridge market that has many things on sale. Apart from selling things from soviet militaria, the market has paintings, jewelery, historic photos, musical instruments, toys etc.
---