With access to the Black Sea, the country of Georgia enjoys the privilege of having so many beautiful beaches that are not just breathtaking but also soul-soothing and peaceful. These sun-kissed beaches with crystal-clear waters offer the perfect and most exclusive vacation breaks. The more interesting thing about the beaches in Georgia is that they have different surfaces like pebbles, black sand, golden sand, etc. So, if you are someone who likes beaches, ensure your visit to these magnificent beaches while exploring the beautiful country of Georgia.
Best Beaches in Georgia: The Beautiful Beach Holiday Destination
The beaches in Georgia offer a great way to have fun and entertainment. There is a wide range of ways to enjoy at these beaches like people can laze around or stroll through the coastline, dip their feet in frothy water, build sandcastles with children or they can spend crazy night with food, drinks and music. These beaches are the perfect way to unwind in the lap of nature with lush greenery and peace all around and forget the hustle and bustle of life.
Boulevard Beach, Batumi
Gonio Beach
Chakvi Beach
Shekvetili Beach
Sarpi Beach
Kobuleti Beach
Ureki Beach
Anaklia Beach
1. Boulevard Beach, Batumi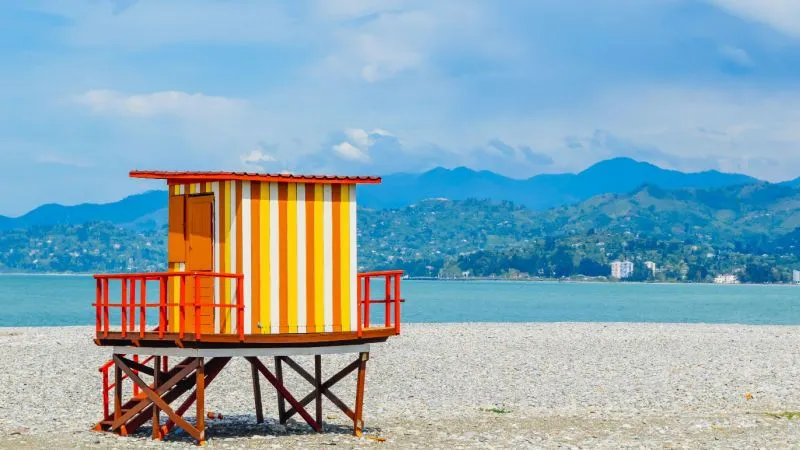 Batumi Boulevard is a combination of rocks and sand, where one can encounter marine life or play with beautiful coloured rocks with children. What makes this beach one of the best beaches in Georgia for families is that everyone can enjoy watching dolphins playing in the water a little far from the beach, can play with friends and family, make rock towers and sandcastles, and do many other interesting activities. If one is lucky enough, many jellyfish may pay a visit near the shore, and people can cautiously hold them in their hands. Other than all this, one can simply take their sun loungers and just relax while listening to the waves.
Nearby attractions: Alphabet Tower, Ali, and Nino.
Things to do: play, swim, relax
2. Gonio Beach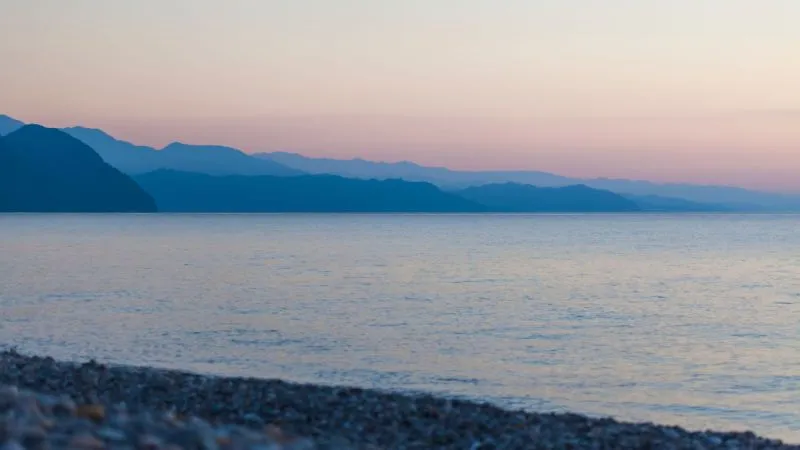 A beach with a clean coastline, clear water, and picturesque views of the mountains and sea, Gonio is one of the best beaches in Georgia and is designed for a pleasant, relaxing family holiday. Set against the beautiful forest landscape, the water at this beach stays warm, and one can go swimming or dip one's feet in the water to relax. The beach is divided into two parts, the northern part of which is secluded, where one can relax without much noise. The other is the southern part, with many restaurants and bars, where a lot of people have the time of their lives. If you are looking for some adventure, book yourself a diving experience and make lifetime memories.
Nearby attractions: ancient fortresses, seaside resorts
Things to do: diving, swimming, sunbathing
3. Chakvi Beach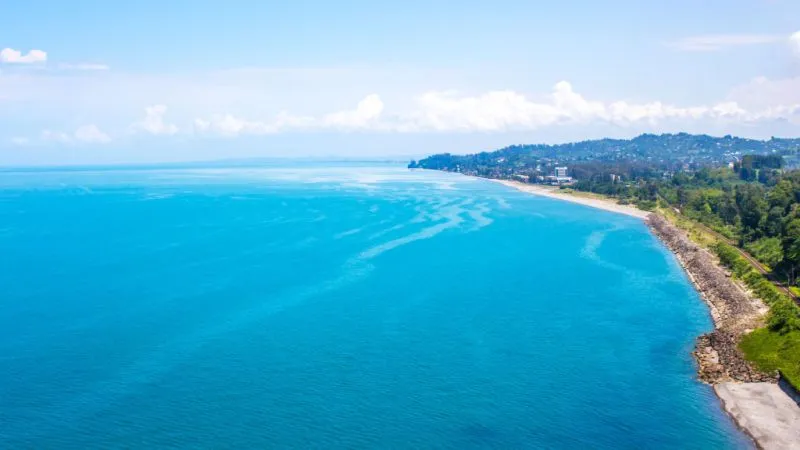 One of the interesting things to do in Georgia is to visit this seaside village and the beach in Georgia, Chakvi, to spend some days in peace and silence. The subtle aroma of the nearby Eucalyptus grove is a great addition to spending a leisurely time at this delightful beach. The beach is small with plenty of spots to put your chair, bask in the sun or go for a swim. The village of Chakvi is also known as the Georgian tea capital, so one can also visit the many tea plantations around, learn about the history of tea, try some, and get some for loved ones back home.
Nearby attractions: Giant Botanical Garden of Batumi, Peter Fortress
Things to do: relax, swim
Suggested Read: Things to Do in Interlaken: Top-Rated Activities For Adventure Seekers
4. Shekvetili Beach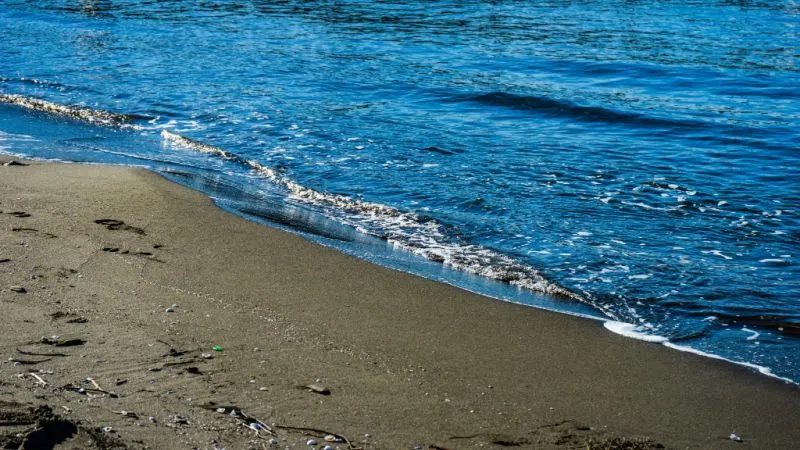 If you look for seashells at a beach, visit Shekvetili beach. With no large waves or strong winds at this beach, Shekvetili becomes one of the beaches that must be on the list of places to visit in Georgia. The beach is far different but significant from many of the other beaches in the country, simply because of its black sand and the healing properties it possesses. People from around the world visit this beach to treat diseases associated with the heart, nervous system, musculoskeletal system and other body parts. One can cover themselves in the sand and relax for some time, then wash the sand off in the ocean water. Other than that, the beach is perfect for taking a stroll at sunset.
Nearby attractions: Ureki sea resort, Shemokmedi monastry, Gomismta
Things to do: Heal with the sand, enjoy the sunset
Suggested Read: Restaurants in Dammam: Savor your Taste Buds with The Relishing Arabian Flavors
5. Sarpi Beach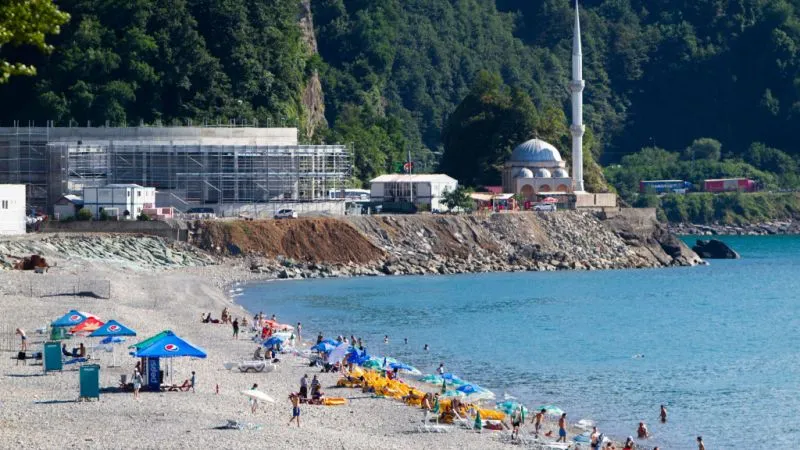 One of these pebble beaches in Georgia is among the favourite places for divers of all ages is. The beach is close to the Turkish borderline, with cliffs along the shore. The surroundings of the beach are serene and calming, which makes it a perfect place to relax and enjoy the time. Other than diving, tourists can also go for a swim or just stay on the shore and enjoy the beautiful sunset. There are plenty of eateries near the beach if one wants to have food like boiled corn, ice cream, and Georgian sweets. The encounter with marine life during the dive is something worth remembering.
Nearby attractions: Statue and Waterfall of the Apostle Andrew, Gonio Apsaros Fortress, Izmir Restaurant
Things to do: Swimming, diving, watching the sunset
6. Kobuleti Beach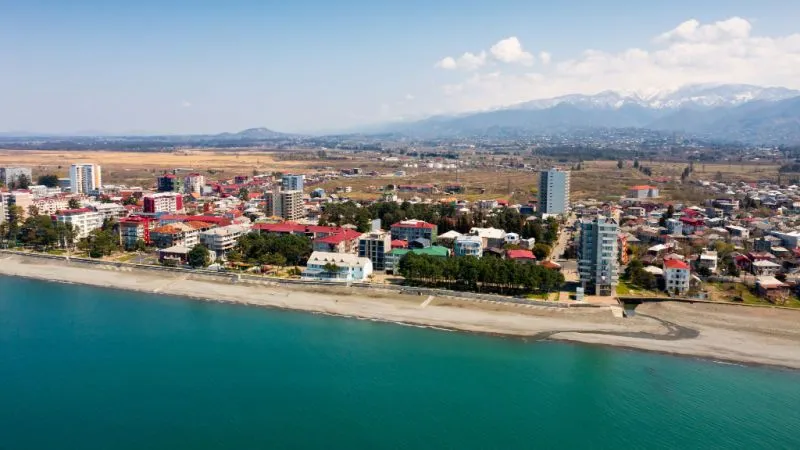 A sandy beach with small and large shingly areas. It is advised to walk on Kobuleti beach not barefoot but in special silicone shoes. At one of the top beaches in Georgia, the water waves on the beach are calm enough for even children to go for a swim. People enjoying their honeymoon in Georgia should visit this beach, pitch a tent in one of the beautiful spots, and make great memories at this beach. The beach is an amazing spot for enjoying the nightlife with many seaside resorts that are well-equipped with showers, sun loungers, umbrellas, bars, and cafes.
Nearby attractions: Batumi botanical garden, Europe Square, Piazza Square
Things to do: swim, party, camp
Suggested Read: Places To Visit In Interlaken That Will Leave You Intrigued by the Untouched Charm of Nature
7. Ureki Beach
One of the few sandy beaches in Georgia, Ureki Beach is also popular for its healing properties. The black sand of the beach has a proven physiotherapy effect. One can have therapeutic sand baths at the beach as the minerals in the sand produce the greatest effects when the sand warms up. The waters of the beach are shallow because of the gentle slope, so, one can easily swim in the warm water. People looking for thrilling water sports like jet skiing, kite surfing, parasailing, water slides, etc., can have the opportunity to try them all.
Nearby attractions: Gurieli baths, Ozurgeti gardens, Ekadia forest park
Things to do: water sports, swim, sand bath
Suggested Read: Islands In Turkey: The Golden Turkish Coasts To Relax Your Soul
8. Anaklia Beach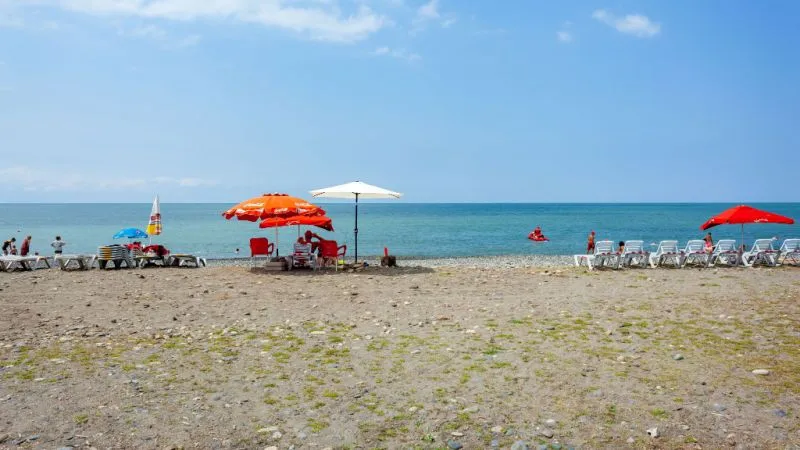 People looking for water sports in Georgia must visit this beach and enjoy participating in banana boat rides, jet ski or donut tubes, parasailing, etc. One can also rent a catamaran, kayak, or segway and explore the place through water. The beach is a classic for people looking to spend a day with family and friends doing different kinds of activities. People can swim, relax, enjoy the picture-perfect beautiful views during sunsets, or take a stroll with their loved ones on the beach.
Nearby attractions: amusement parks, resorts
Things to do: water sports, watching the sunset, relaxing
It's time to take a closer look at Georgia and plan a vacation if you've always wanted to visit a vibrant and unique place where you can mix cultural experiences with beach relaxation and outdoor activities. Wouldn't it be interesting to visit such diverse beaches in Georgia, where one of them has therapeutic capabilities in the sand and the other is where you can take a jellyfish in your palms? Of course, it would be! So, take advantage of the Georgia tour packages and experience the variety of beaches in this charming country.
FAQs
Q1. Name some of the interesting beaches in Georgia.
There are plenty of beaches to visit in Georgia and indulge in a variety of activities. Some of the amazing beaches are Chakvi beach, Shekvetili beach, Sarpi beach, Kobuleti beach, Anaklia beach, etc.
Q2. Name the main airports in Georgia?
There are three major airports in Georgia for travelling domestically and internationally. These airports are Tbilisi International Airport, Batumi International Airport, and Kopitnari Airport.
Q3. What are the beaches that have therapeutic properties in the sand?
Ureki beach and Shekvetili beach are the two beaches that have therapeutic properties in their sand that heal different diseases associated with the lungs, heart, nervous system, etc.
Q4. What are the water sports that one can participate in on the beaches of Georgia?
There are a variety of water sports that each beach offers to tourists, such as parasailing, diving, banana boat rides, jet skis, donut tubes, etc. Tourists can also rent a catamaran, a kayak, or a segway to enjoy more.
Q5. Which beach offers amazing nightlife?
Kobuleti beach has many options to experience the nightlife. There are plenty of resorts and bars, some very close to the beach, that run all night and people can party till their heart's content.
Q6. Which beach has tea plantations near it?
Chakvi beach has tea plantations near it, and one must visit these plantations to understand the process of tea making. One can also buy some authentic tea as a souvenir for loved ones.
Q7. How many days should one spend in Georgia?
It is recommended that 8 to 10 days are ideal to explore significant parts of the country and learn about the culture, tradition, and heritage of this beautiful place.
Q8. What months are the best to visit Georgia?
May, June, or September are the best months to discover the beauty of Georgia. Although one can visit the country during other months, just keep in mind the extreme hot and extreme cold weather in the country.
---