Interlaken can be rightly called the adventure hub of Switzerland, thanks to its dramatic topography, the lakes, streams, and other natural features. Perched between Lake Thun and Lake Brienz, this city is the epitome of man-made and natural wonders. Whether you plan on strolling down the streets or climbing up the hills, the enthusiasts can enjoy the many things to do in Interlaken for an undaunting experience. If Interlaken brings you the thrill of experiencing the adrenaline, there will be a pleasure also to enjoy the natural vistas and the pious vibes. Read on to find the top activities that are surely not to be missed.
Top 8 Things to Do in Interlaken For Experiencing the Thrills and Chills
Scenic Train Rides
Cruise on Lake Thun
Wine and Chocolate Tasting
Kandersteg Mountain Coaster
Explore the Caves of St Beatus Hoehlen
Bungee Jumping in Lake Hinterstocken
Discover the Fairytale-Like Beauty of Grindelwald
Capture the Bird's Eye view of Interlaken
Interlaken can be your holiday place to enjoy every leisure and adventure you want. While the Swiss city has always been famous for its untouched vistas, there is no dearth of adventure and entertainment one can enjoy in the city. We have curated a list of the best things you can enjoy to make the best out of your vacation.
1. Scenic Train Rides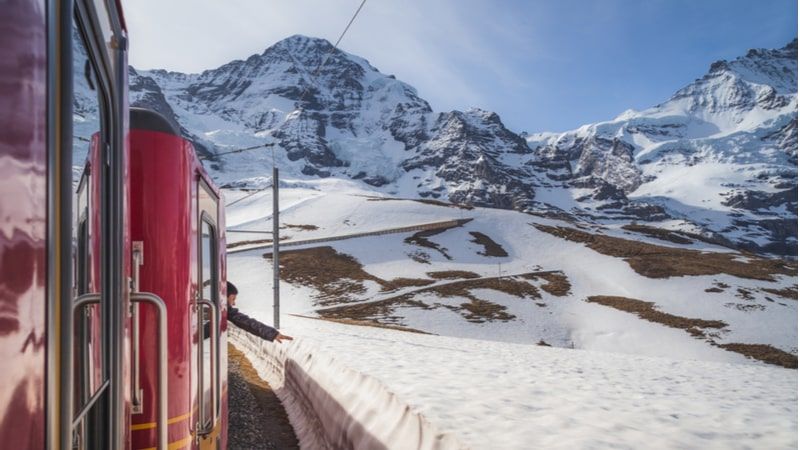 Train rides are quite common in Switzerland and when you are in Interlaken, you surely will come across the best views and scenery while enjoying a spectacular train ride. Taking a journey to Jungfraujoch – Top of Europe will let you witness the best things to see in Interlaken. Be it snow-capped mountains or the river streams flowing down the mountains. The lush green alps, or the valleys covered with a huge diversity of flora. The two-hour train journey from Interlaken Ost to Europe's highest station at 3454 m above sea level, is laced with scenic sites to leave you awe-spelled. This will not just be adventurous but also one of the best experiences.
Other scenic train routes include a journey to or from Interlaken, catching a glimpse of places like Zurich, Bern, Luzern, and more.
Location: Interlaken Ost or Interlaken East
2. Cruise on Lake Thun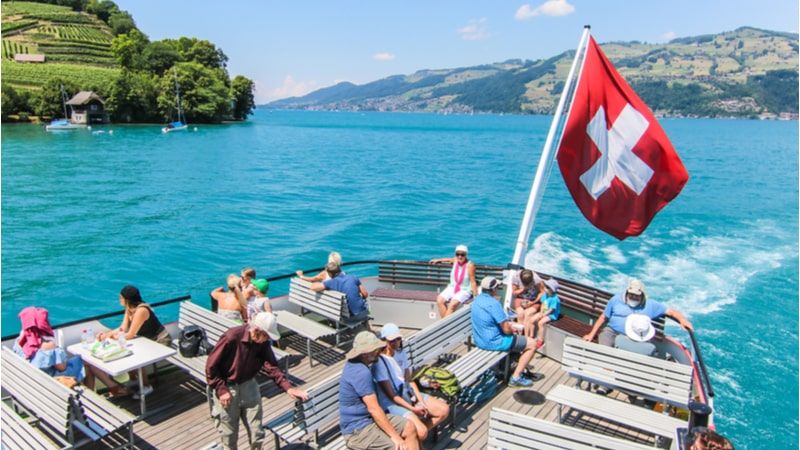 Are you on a honeymoon in Switzerland? This one is for every honeymoon of a lovebird in the city. Lake Thun is one of the most magnificent lakes in Switzerland which is just perfect for a cruise experience. While lake Thun hosts various activities to do in Interlaken, a boat ride or cruise can be equally exciting and romantic.
Located to the west of the city, this narrow lake is enclosed by captivating views of the mountains. If you are visiting in summer the entire surroundings are adorned by the aromatic and vibrant bliss of nature. The cruise usually includes refreshments and drinks for the guests, but if you are looking for something private and thrilling, get a jetty ride or boat ride. Evening, summer, and winter boat trips are very popular among tourists.
Location: Bernese Oberland, Switzerland
Suggested Read: Beaches In Switzerland: Natural Beauty and Stunning Adventures
3. Wine and Chocolate Tasting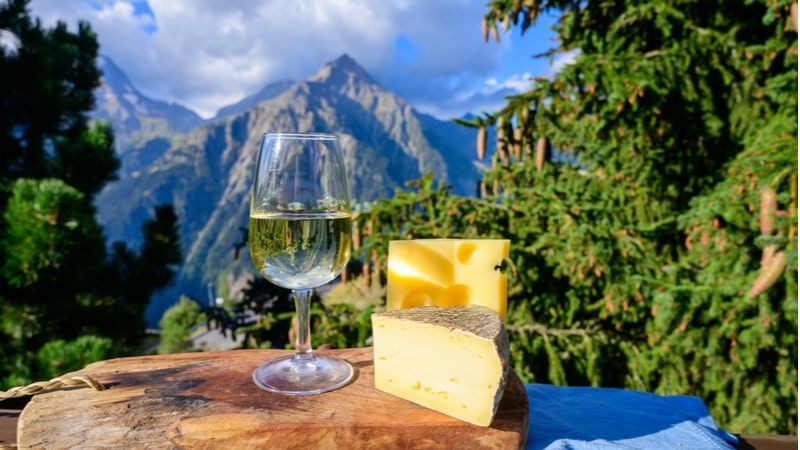 If you are shocked to find wine tasting among the Interlaken outdoor activities, well, this is something that you surely must not miss. Swiss wines and chocolates are world-famous, and no holiday can be complete without sipping some old ages or freshly brewed wines in the city. There are many vineyards and restaurants in Switzerland that organize wine tasting tours for tourists.
The Spatz is one of the best places for dining and an exclusive wine tasting tour. Serving the best Swiss wines and fresh cheese, Spatz has always been the fanciest place for dining and wine experiences. If you want to explore a vineyard, the Americana Vineyards, Lucas Vineyards, and Shepherdess Cellars are a few to name. Some cellars also offer cheese and chocolate tasting to non-drinkers, making it the best activity in Interlaken for all.
Location: There are many vine cellars in Interlaken that organize a private wine and chocolate tasting tour.
4. Kandersteg Mountain Coaster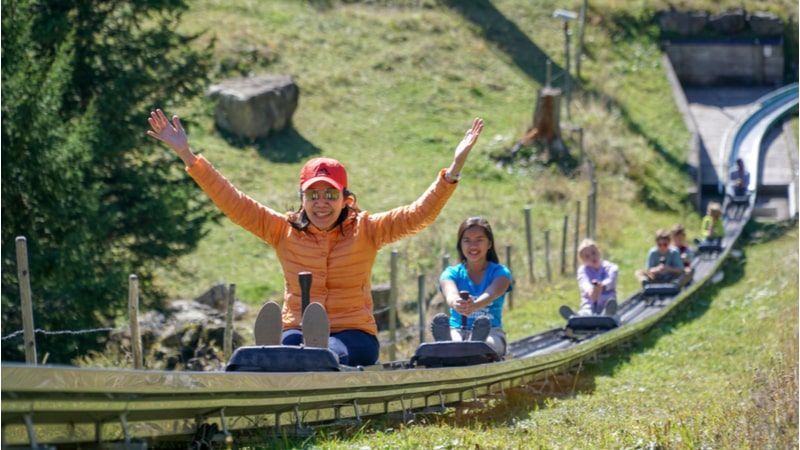 Located just 40 km from Interlaken, the town of Kandersteg is one of the best places you can visit in Switzerland. Now, this hamlet is heaven to witness the magnificent beauty of Swiss alpines and the lush valleys. Now, when it comes to trying some Interlaken outdoor activities, the Kandersteg Mountain Coaster ride is surely the best thing you can do. The coaster ride, taking you to the ups and lows of terrain will boost some adrenaline in your body. Well, if you are not that into adventure, you can still try riding down the hills on a coaster, just to witness the serene and placid beauty.
The mountain coaster ride in Interlaken is organized by Hotel Oeschinensee only between the months of May and October. And one thing to note, no videos or photos are permitted while on the ride.
Location: Hotel Oeschinensee, Kandersteg
Suggested Read: Places to Visit in Maldives for A Luxe Outing With Fam!
5. Explore the Caves of St Beatus Hoehlen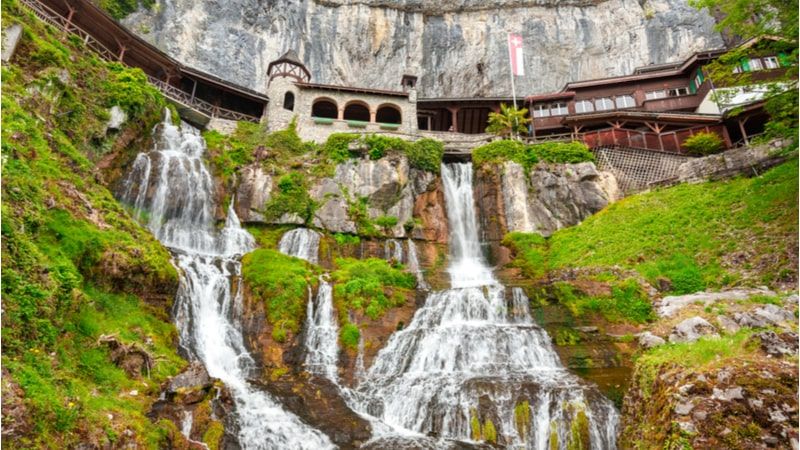 One of the best things to do in Switzerland is to explore the caves of St Beatus Hoehlen. Located a few miles from Interlaken, these caves are a panoramic wonder to explore and unravel the mysterious beauty. Perched just above Lake Thun, the caves are a real treasure to discover. You can visit the caves anytime between April to the end of October, and add more to your experience with rock brunch and other activities in Interlaken caves. Restaurants and cafés offer some of the best food and dining options with family and friends.
The caves are open to all above the age of 6 and are suitable for Families, Groups, and even couples. Well, the temperature inside the cave is somewhere between 8°C and 10°C, so, it is advised to dress accordingly.
Location: Seestrasse, Beatenberg, BE 3800
6. Bungee Jumping in Lake Hinterstocken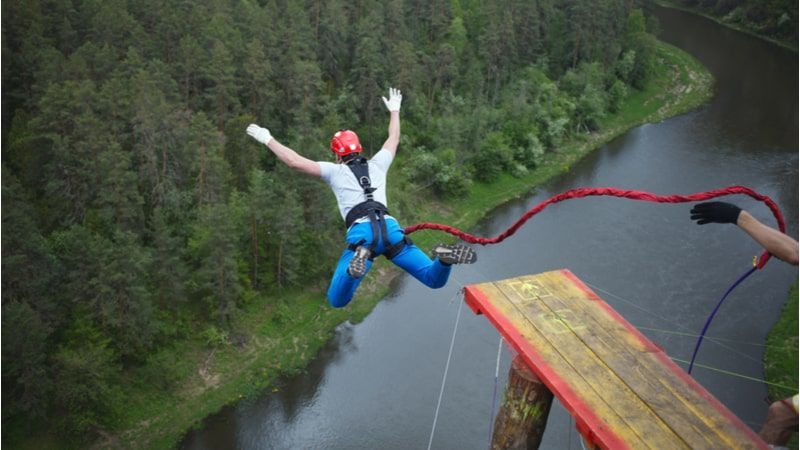 Lake Hinterstocker is one of the most interesting and serene places to visit in Interlaken that also offers extreme adventure and thrill to the adrenaline junkies. Bungee Jumping is one of the best things to do in Interlaken, which will let you feel the rush going down your veins. With a serene vista of Lake Hinterstocken, you can experience the ultimate thrill and the grandeur of alpine beauty.
You will be at a height of over 100 m above Lake Hinterstocken and the fall will let you take in the spectacular lush beauty of the valley and the fresh vibes of the lake from an inverted bird-eye view. The thrill of bungee falls is surely not for the one with faint hearts. It is something you never want to miss.
Location: 134 m over Lake Hinterstocken
Suggested Read: Places to Visit in The United Kingdom for a Grand Vacation
7. Discover the Fairytale-Like Beauty of Grindelwald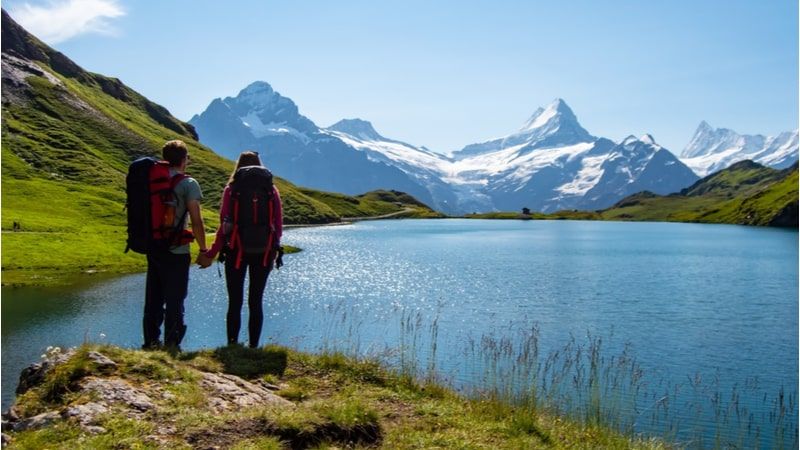 Grindelwald is a scenic city that you must add to your Switzerland holiday package. Don't get confused with Harry Potter and Gellert Grindelwald and Grindelwald are entirely different, with only one similarity, the surreal magic. With the mystical beauty of nature and undefined charm of the alps, this city is nothing less than a fairyland or a magic land that will leave you stunned. It is famous for its winter resorts and some of the best things to do in Interlaken in winter that you can only enjoy here. During winters, the hamlet is all covered with snow, letting you discover the thrill of activities like snow biking, ice skating, and more.
Grindelwald also offers scenic and enthralling gondola rides, First Flyer, First Glider, and more. Calling it an adventure hub won't be wrong as there is so much to let the adrenaline rush through your veins.
Location: Interlaken-Oberhasli
8. Capture the Bird's Eye view of Interlaken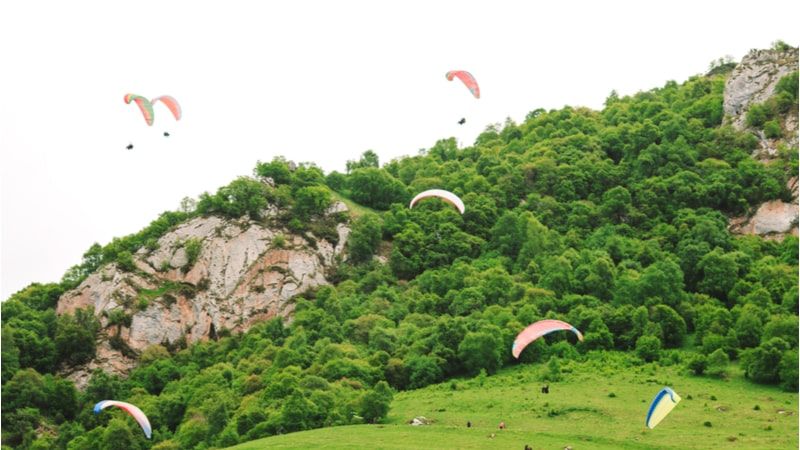 With beauty to admire, Interlaken is indeed the place that will let you enjoy the best adventures while treating the eyes with some unusual sights. There are many adventure activities in Interlaken you can add to your bucket list to experience something unreal. Try paragliding or skydiving to capture the panoramic view of Interlaken while indulging in adventures that will take your breath away.
When we say, you will have to jump from a helicopter up to 14,000 feet in the alps, it will sound scary, but the view of snow-capped hills and rushing streams will be too surreal and undefined. Similarly, moving with the hefty winds, you can paraglide and observe the majestic mountains and valleys from a closer distance.
Location: Höheweg, Grindelwald and River Range
Interlaken is a land of serenity and bliss. What makes this Swiss city, the best holiday destination is the adventure, and luxury Interlaken offers. The winter resorts and cottages in the city are surely a perfect example of comfort and leisure, but when it comes to some exciting things to do in Interlaken, the list is quite long. You can choose to add romance with a cruise or some fun with wine tasting. For those who are a real fan of adventure, the city has top activities like paragliding or ice skating. In short, a holiday in Interlaken can never be dull or ordinary. So, without having a second thought, pack your bags and get ready to let the adventure take your breath.
FAQ's
Q1. Is Interlaken the best holiday place?
Yes, Interlaken is one of the best holiday destinations as it has something for all. If you are looking for adventure, Interlaken is an adventure hub. If it is leisure and luxury, the city has no dearth of places that will let you relax and rejuvenate.
Q2. Why is Interlaken so famous?
Interlaken is famous for its unmatched beauty and breathtaking adventures. This Swiss city is blessed with lakes and river streams, mountains, and valleys that draw people from all walks of life. It is also known as the adventure capital of Switzerland and the perfect place for adrenaline junkies.
Q3. Is Grindelwald as good as Interlaken?
While Interlaken is known for its diverse beauty and endless adventures, Grindelwald is a small village near Interlaken where one can enjoy the best winter adventure. It is equally the best place near Interlaken for a holiday.
Q4. What are the best things to do in Interlaken?
Some of the best things you can do in Interlaken are:
Wine tasting tours
Explore nearby towns
Stay at a winter resort
Train rides
Cruise and boat rides on Lake Thun
Q5. What adventures can I try in Interlaken?
When you are in Interlaken, there are many things you can try like:
Cruise on Lake Thun
An adventure day at Grindelwald
Activities like skydiving and paragliding
Bungee Jumping
Cable car rides and roller coaster rides
Q6. How many days are enough in Interlaken?
You can spend around 3 to 4 days in Interlaken as the city offers the best adventures and activities. The scenic vistas and surreal beauty around you will let you experience nature at its best.
Q7. Where are the Caves of St Beatus Hoehlen?
The caves of St Beatus Hoehlen are a few miles from Interlaken, just above Lake Thun. You can visit the caves anytime between April to the end of October. The restaurants and cafés there offer some of the best food and dining options with family and friends.
Q8. Where can I enjoy Kandersteg Mountain Coaster?
The Kandersteg mountain coaster ride in Interlaken is organized by Hotel Oeschinensee only between the months of May and October. During winters, the activity is closed due to excessive snow.
---