Dammam is the fourth populous city in Saudi Arabia and is also of great importance to the country's economy as it's known for its originality and wealth, making it the pearl of the Arabian Gulf. You'll notice a touch of history in the otherwise modern developments in the city. It was also the first city to have an oil well, which produced a commercial quantity of oil, allowing Saudi Arabia to lead the global oil markets. There's a lot to know about Damman, so during your vacation in this city, you can gradually discover the hidden gems here underneath the layers of mysticism.
About Dammam: The Largest Developing City in the Arab Region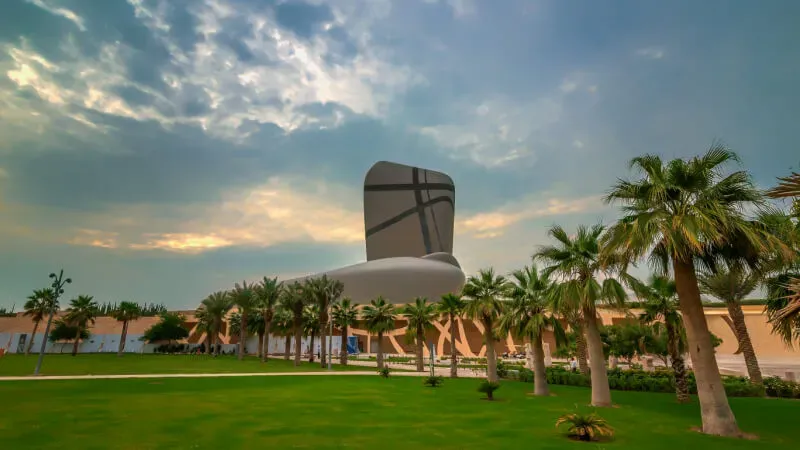 Being a major hub of the Saudi Arabia oil industry, this city has surpassed everyone's expectations with its rapid development while staying rooted to its traditions. It's the best place to delve into the country's culture, traditions, cuisines, local lifestyle, and much more. In addition to this, there are several attractions, activities, and experiences to look forward to.
It's time to experience the warm hospitality and friendly nature of the people here and to revel in the mesmerizing vibe it exudes, making it one of the best holiday destinations in Saudi Arabia. You can rest assured that your time in Dammam Saudi Arabia would be absolutely worthwhile because this emerging player in the Arab region is another feather in Saudi Arabia's cap.
Top Places to Visit in Dammam: Listen to the Tale of Dammam from its Top Attractions
Let's start with the best places to visit in Dammam because the first thing you should explore are the tourist attractions of this city. From beaches to museums, there are all sorts of places that should be on your itinerary.
Marjan Island: One of the Top Attractions in Dammam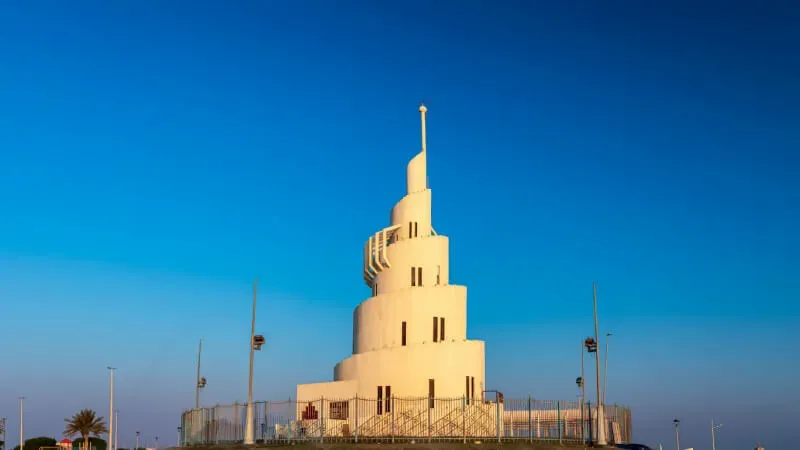 Marjan Island or Coral Island is a must-visit tourist spot because this artificial archipelago consists of four coral-shaped islands. The view of the shimmering Arabian Gulf, its lush greenery, and alluring aura is perfect for spending a relaxing time with your loved ones. You can stroll here or climb the spiral tower to get a panoramic view of the city. You can also go boating or fishing in the sea, picnic in the parks, children can enjoy outdoor activities, etc. From couples to families, it's an ideal place for all.
Address: Cornish Rd, Al-Hamra'a, Dammam
SciTech: For All the Science Enthusiasts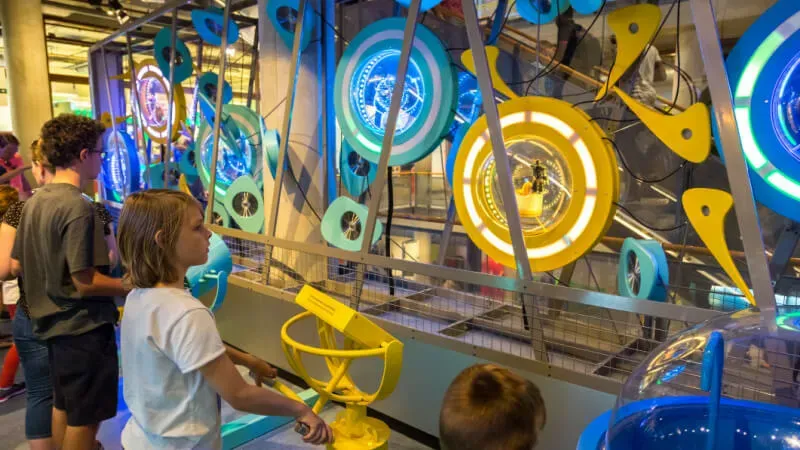 As the name suggests, this science museum is a perfect place for children and adults interested in the subject. It'll be like reminiscing about your childhood days and igniting a curiosity regarding several things in your children. There are several exhibitions and movie screening organized, wherein you'll experience everything going on in the movie and the films are based on scientific topics only, such as space, natural phenomena, etc. You can think of this place as a fun educational tour and a chance to relive the same excitement as your school days.
Address: 869H+M5V, Alkurnaish, Al Khobar 31952, Saudi Arabia
Timings: 9 A.M to 12 P.M and 4 P.M to 10 P.M (Saturday to Thursday), 4 P.M to 10 P.M (Friday)
Also Read: Best Beaches in Dammam: Sunshine and Thrilling Adventure Awaits
Dammam Corniche: A Riverside Promenade for Locals and Tourists
One of the famous Dammam attractions include this riverside promenade, overlooking the Persian Gulf. You can go for a morning run, or stroll around with scenic views surrounding you, or indulge in several watersports. There are shops lining the promenade and local eateries to satisfy your hunger after a long day. It's truly a charming place, which is quite popular among locals and tourists. The highlight though, is the natural beauty around this place, which enhances the entire appearance of this tourist spot to a whole other level.
Address: F452+2PJ, As Salam, Dammam 32416, Saudi Arabia
The Heritage Village: A Walk Down Saudi's Past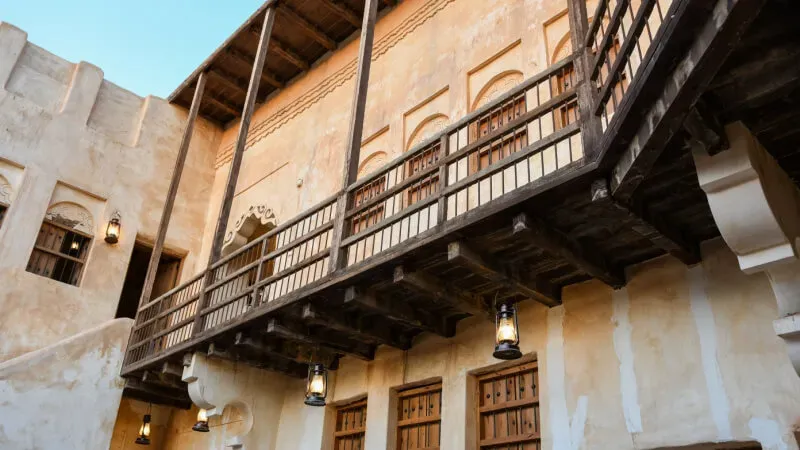 If you wish to acquaint yourself with this country's history in a fun and exciting way, then visiting the Heritage Village is the best way to go. Being one of the best historical places to visit in Saudi Arabia, this tourist attraction pays tribute to the country's past with ancient weapons, old photographs, and much more in display. You can even savor local delights here and indulge in the true essence of Saudi Arabia's culture and traditions. Walking down the alleys and streets of this village are enough to immerse yourself in this city's glorious past and civilization.
Address: Corniche Walk Way, Ash Shati Al Gharbi, Dammam 32411, Saudi Arabia
Timings: 12 P.M to 12 A.M (Saturday to Wednesday) and 12 P.M to 1 A.M (Thursday and Friday)
Also Read: Malls in Dammam: Shop for Everything Under One Roof
Things to Do in Dammam: Satisfy Your Adventurous Spirit
Since this is a rapidly developing city, you can expect several things to do in Dammam lined up for your vacation. But here are a few of them that would make the adventure junkie in you happy.
Visit Cobra Entertainment City: A Fun Time Awaits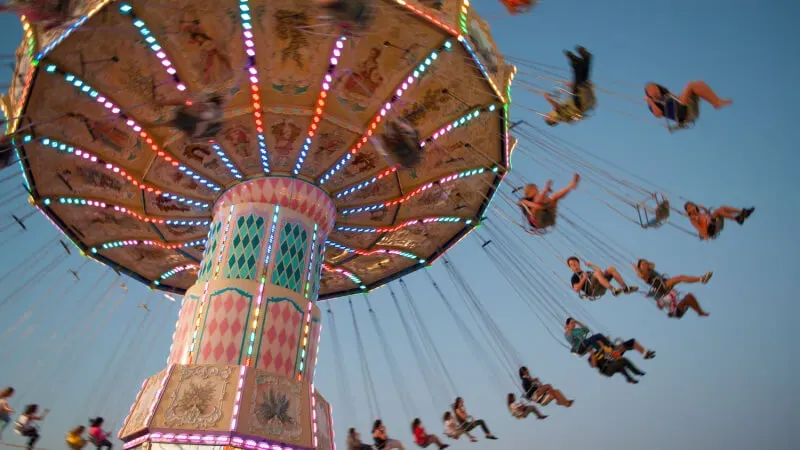 Cobra Entertainment City or Prince Mohammed bin Park Fahd Entertainment is a themed entertainment park, which is packed with amusing attractions, such as playgrounds, swimming pools, water sports, artificial waterfalls, and much more. It'll keep you entertained for hours. You can go horse riding, have fun on the roller coaster or dine at one of the restaurants here. Cobra Park Dammam is located inside King Fahd Park and is the best opportunity to indulge in some light-hearted fun.
Address: Cobra amusement park, Al Basatin, Dammam 32235, Saudi Arabia
Timings: 4 P.M to 11 P.M
Shopping: Enter the Realm of Vibrant Shops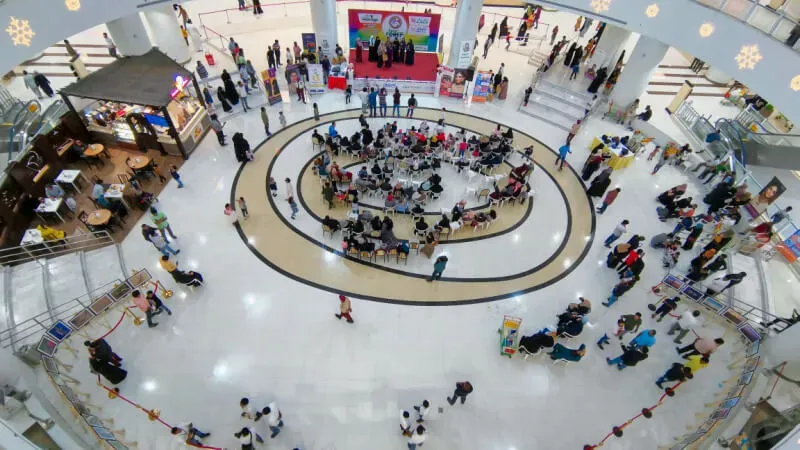 Shopping in Dammam is a must because there are several markets and malls in this city that are perfect for the shopaholic in you. You can buy souvenirs, oud perfume, spices, Saudi rugs, and much more. The best part is that all the items here are unique to the country, which makes shopping here even more fun and exciting. Here are a few markets and mall for you to explore:
Al Othaim Mall
Seiko Market
Love Market
Ibn Khaldoun Mall
Suggested Read: Top Shopping Malls in Saudi Arabia for Nonstop Shopping Spree
Indulge in Scuba Diving at Half Moon Bay: Delve into the Underwater World
Dammam Saudi Arabia is popular for scuba diving, especially in Half Moon Bay, where you can experience this once in a lifetime experience of interacting with marine life. You can dive deep into the Persian Gulf's crystal-clear water in the guidance of professional divers because this is a must-try activity in the city. This saltwater dive spot would take you on a journey inside a 6 m deep underwater museum, where you'll come across boat and car wrecks, and afterwards, you can relax on the Half Moon Beach, untouched by the tourists. Its pristine beauty and serene atmosphere are what make it the perfect place for adventure enthusiasts.
Address: Near Khobar City
Also Read: Skydiving in Saudi Arabia: Feel the Thrill of the Fall
Desert Camping: Experience Staying in the Saudi Desert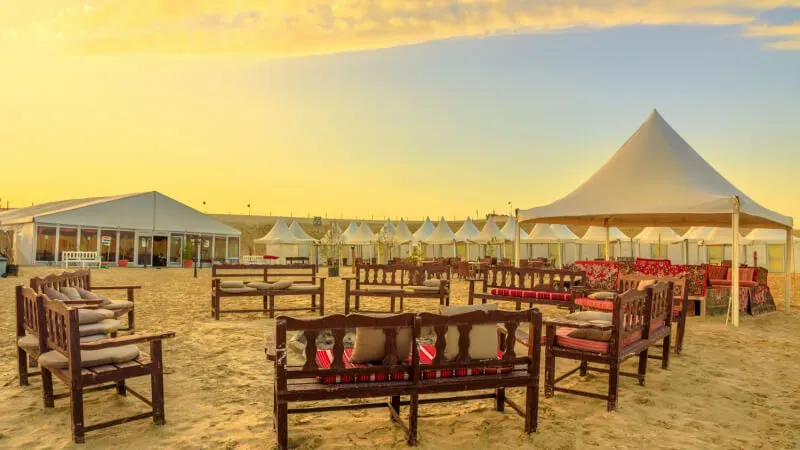 Traveling to Saudi Arabia, and not camping in the desert is like visiting Paris and not going to the Eiffel Tower. The vast expanse of golden shimmering desert decorated with Bedouin camps is the perfect way to spend your time in Dammam. These camps are equipped with top-notch facilities to make your stay comfortable and in the evening, the entertainment quotient is enhanced by bonfires, music, dance, and other activities. Lie under the starry Arabian sky in the middle of nowhere. You can also enjoy going on a camel ride and savoring delicious cuisine prepared by top chefs.
Restaurants in Dammam: Choose from an Array of Cuisines
Be it middle eastern flavors or international spices, you'll find a multitude of cuisines in Dammam to cater to all types of food preferences. So, don't worry about not finding food to your liking, because these restaurants in Dammam take care of your taste buds. Step into any of these dining places based on your mood.
Beit Misk Lebanese Restaurant: A Culinary Poetry with Middle Eastern Flavors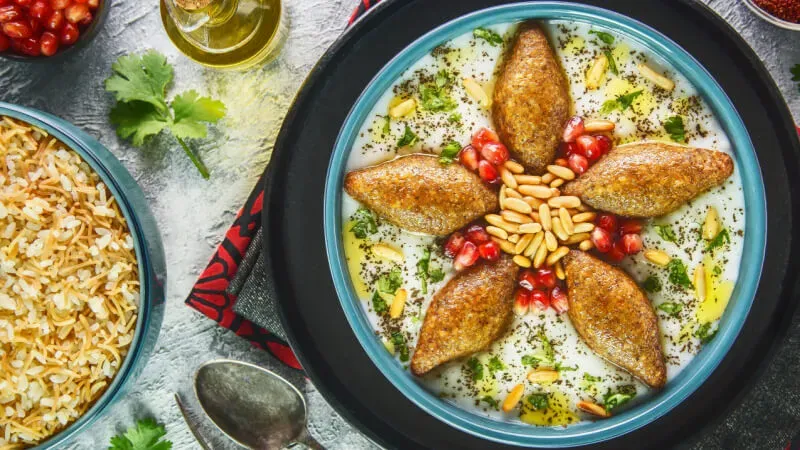 Relishing the local cuisine of a country is an important aspect of your vacation as it allows you to fully immerse yourself in the essence of the destination. Therefore, do add this restaurant in your "places to visit in Saudi Arabia" list as it serves delectable Lebanese dishes in a minimalist and charming aesthetic. The modern yet homely aura that this place exudes is what makes it a favorite of locals and tourists alike. The Lebanese architecture in this restaurant sets the right tone for enjoying local cuisine.
Address: Prince Mohammed Bin Fahd Road, Ash Shati Ash Sharqi, Dammam 32411, Saudi Arabia
Timings: 5 P.M to 12 A.M
Suggested Read: Best Places to Visit in Eastern Province of Saudi Arabia: Explore the Hidden Treasures of Eastern Most
Beach Park Restaurant and Bar: An International Culinary Affair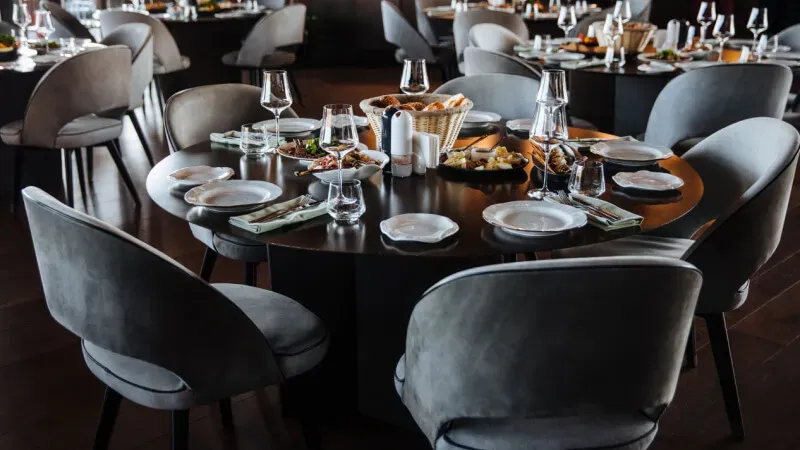 If you're in the mood for some international cuisine to feel close to home, then this restaurant is the perfect spot. A chic and modern interior accentuated by wooden furnishings and elegant décor makes this a must-visit place to dine with your family or partner. There's a charming and alluring vibe here that fulfills the romantic quotient here while also keeping it family friendly. As for the dishes, you'll find some of the most soulful dishes here that would soothe your soul in a foreign land.
Address: Prince Mohammed Bin Fahd Road, Ash Shati Ash Sharqi, Dammam 32413, Saudi Arabia
Timings: 12 P.M to 12 A.M (Sunday to Wednesday) and 12 P.M to 1 A.M (Thursday to Saturday)
Suggested Read: Saudi Arabia National Day: A Grand Celebration to Enjoy the Saudi Culture
RBG Grill Restaurant: Savor the Scrumptious Grilled Dishes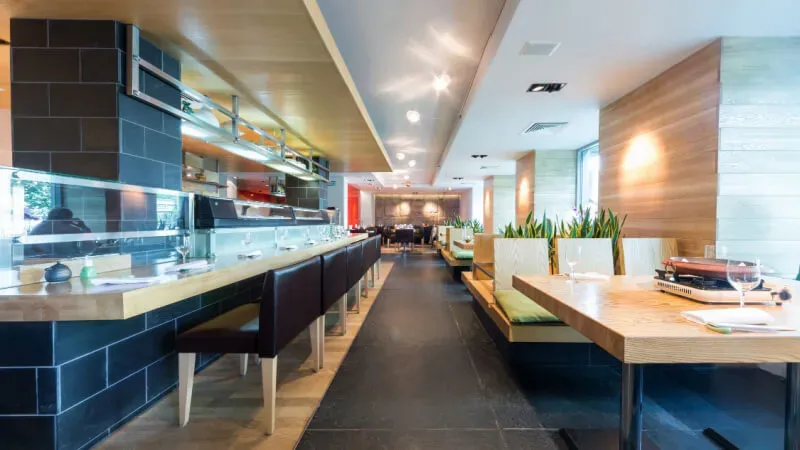 Located in Radisson Blu Hotel in Dammam, this restaurant is an ideal place to try grilled international cuisine served fresh to you. You can enjoy their breakfast buffet, and also witness the entertaining aspect of live cooking stations during lunch and dinner. The minimalist dining area is beautified with a monochrome color scheme, which contrasts beautifully with the vibrant food, and the spacious seating area points to the attention to detail in this restaurant. You're in for an exceptionally relaxed and fun time here during your visit.
Address: 67 St, Dammam 2nd Industrial City, Highway 615 Intersection, Dammam Saudi Arabia
Timings: 6:30 A.M to 10:30 A.M, 12 P.M to 3 P.M and 6 P.M to 11 P.M
Suggested Read: Largest Cities in Saudi Arabia: Reflection of Spirituality and Adventure
Horizon Restaurant: Dig into the Indian Flavors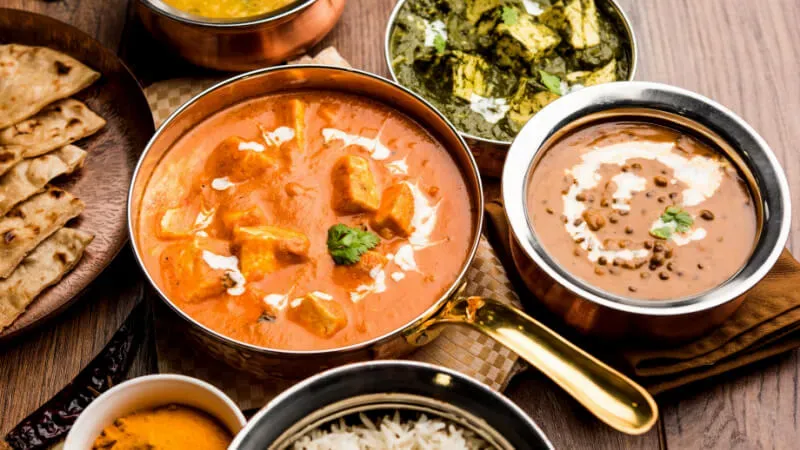 Indian food is the soul food of many; therefore, you'll find several Indian restaurants in Dammam serving authentic flavors to the customers. Horizon Restaurant is one such dining place, which is famous for its Indian cuisine and an even more Indian appearance with dim lighting and rustic interior, adding a homely feeling to it. You'll find Indians as well as foreigners dining here because of its good food and vibe. So, if you're on the lookout for some Indian food, then this is the best place to count on.
Address: 8194 Ibn Al Furat, Al Souq, Dammam 32242, Saudi Arabia
Timings: 12 P.M to 3 P.M and 6 P.M to 11:45 P.M
Also Read: Amusement Parks in Dammam: Hop in the Rides and Slides
Hotels in Dammam: Spend Your Holiday in a Comfortable Accommodation
Staying in a comfortable and luxurious accommodation is also a factor in making your holiday in Saudi Arabia memorable. Therefore, choose these hotels and resorts in Dammam to spend your vacation days.
Mena Holiday Beach Resort Half Moon: Revel in the Traditional Vibes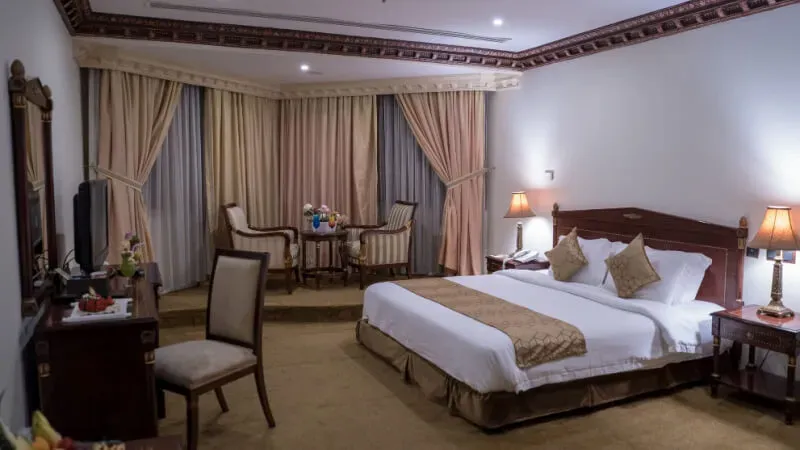 If you wish to soak in as much of the authentic vibes of this city as you can, then start by booking a room in this beach resort, which offers the perfect Middle Eastern vibes. From the hotel to the rooms, you'll get to experience the essence of this country, enriching your holiday even more. You'll have a gorgeous view of the beach from your room and direct access to it, so you can laze around all day or engage in water sports as well. It's the perfect addition to your itinerary in Dammam.
Address: Azizzia Area Half Moon Bay, Al Khobar 39246, Saudi Arabia
Also Read: Waterparks in Dammam: Float Down the Thrilling Slides
Braira Al Dammam Hotel: A Lavish Stay in the Heart of Dammam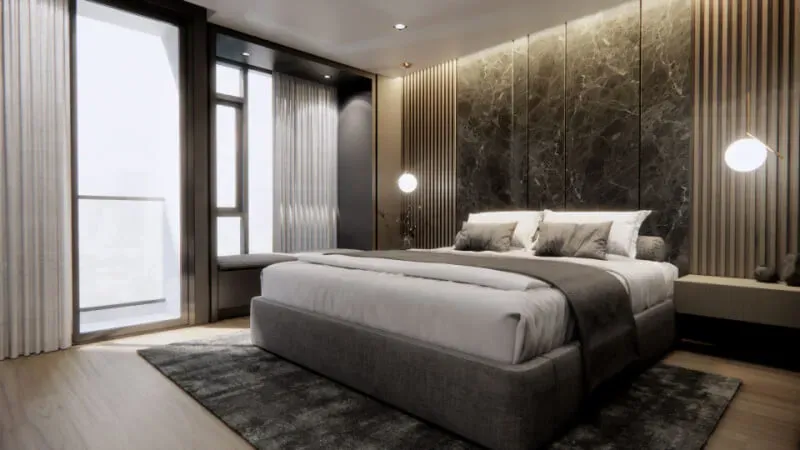 Here's a 4-star hotel, which ensures top-notch facilities and world class hospitality from the moment you step here. You can choose from the luxurious rooms available here and indulge in the finer things in life during your holiday. The strategic location of this hotel overlooking the seaside, in proximity to the central shopping area and King Fahd International Airport, makes it the perfect place to stay in. You'll find everything under the umbrella here, from restaurants to coffee shops and gym.
Address: F4CF+3R, 3509, EMAF7590, 7590 12 AH, Al Shati District, Dammam 32413, Saudi Arabia
Also Read: Umrah Guide: Let's Learn Everything About the Holy Pilgrimage
Novotel Dammam Business Park: Experience Luxurious Living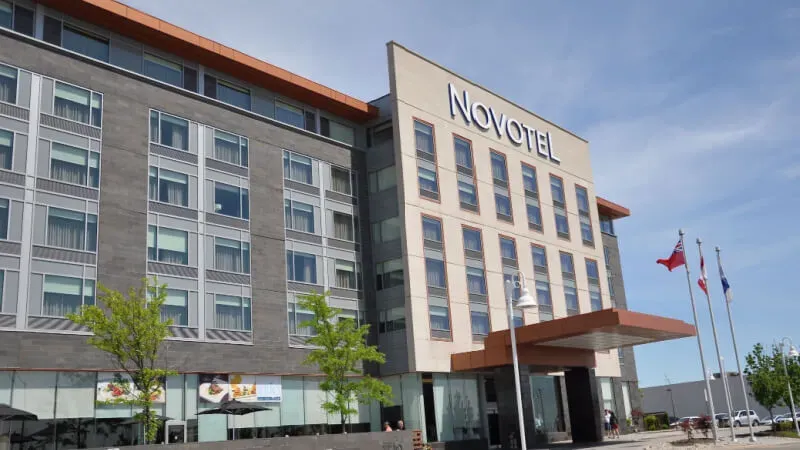 One of the best hotels in Saudi Arabia, this accommodation is the right fit for everyone because its inviting and calming aura relaxes you after a long day of exploration. You can spoil yourself with the top amenities and services available here, such as dining at the best restaurants serving a variety of cuisines to cater to the different ethnicities welcomed here. There's also a Starbucks near the hotel and other fun places to visit. This hotel is also in proximity to King Fahd International Airport, making it a convenient option to stay at.
Address: King Fahd Road, North Khalidiya District, Saudi Arabia
Also Read: Edge of the World Saudi Arabia: Get Ready for a Thrilling Tour
Wyndham Garden Dammam: Indulge in the Ultimate Comfort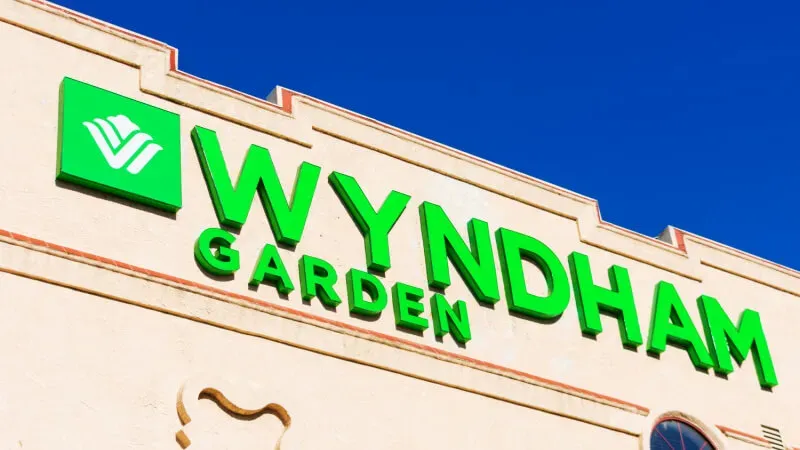 When you're staying in Wyndham Garden Dammam, you can rest assured that your holiday in this city is going to be an amazing one. With a location in the middle of everything from airport to business locations, you can enjoy a relaxing time here. Regardless of whether you're traveling for work or leisure, the attention to detail of this hotel remains the same. This hotel is also close to several places to visit in Saudi Arabia, such as the Corniche, Marjan Island, etc. that you can explore. All you need to think about is how to spend a laidback time and make the most of this opportunity.
Address: Behind LuLu Mall, 21 St, Al Adamah, Dammam 32242, Saudi Arabia
Also Read: Winter in Saudi Arabia: It's Time to Gather Golden Moments with Your Loved Ones
Dammam Travel Tips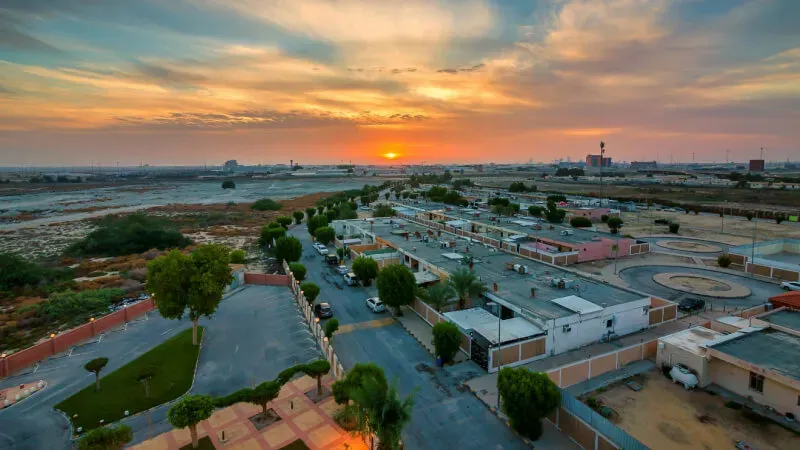 Here are a few things you must keep in mind during your vacation in Dammam.
Use public transport to travel around the city
Carry comfortable and loose clothes
Apply sunscreen frequently
Stay hydrated during the entire holiday
Try the local cuisine
Respect the culture and traditions
Shop for souvenirs in the markets
Keep cash in handy
Additional Information about Dammam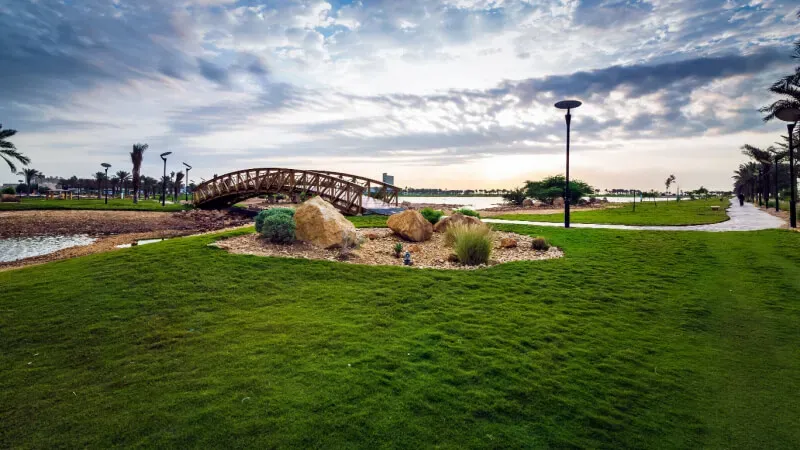 Here are a few additional things that are important for your travel plans to this city.
The best time to visit Dammam is from October to March, when the temperatures are slightly inclined towards the cool side. It'll make it easier to explore this desert city and enjoy your vacation to the fullest.
You can reach Dammam by taking a flight to King Fahd International Airport, which is the nearest airport to the city. If you're traveling from nearby cities in Saudi Arabia, then you can travel via road.
Also Read: National Museum of Saudi Arabia: A Place where Exploration Meets Curiosity
This was everything that you needed to know about Dammam before your trip. Now, you can rest assured that your vacation here would be a perfect one. Refer to our guide while traveling in this city and visit all the attractions, indulge in adventure activities, dine at famous restaurants, and much more. This infrastructurally modern city, which retains its traditional roots is a must-visit for all the tourist visiting this country. So, book our Saudi Arabia luxury tour packages for an exciting time.
Dammam Travel Guide FAQs
Q1. Why visit Dammam?
Dammam is a rapidly developing city, which will soon become the largest city in the Arab region. Its infrastructurally developed attractions and other famous tourist spots make it a must-visit.
Q2. What can I do in Dammam?
There are a variety of things that you can do in Dammam, such as scuba diving, shopping, watching a dolphin show, enjoying at the amusement park, exploring the tourist attractions, and much more.
Q3. How far is Dammam from India?
Dammam is approximately 3,006 km away from India. You can reach this city in Saudi Arabia via a flight to King Fahd International Airport.
Q4. What language is spoken in Dammam?
Arabic is the official language spoken in Dammam. However, you'll still find a several people speaking English.
Q5. What is the hottest month in Dammam?
July is the hottest month in Dammam as the average temperatures can rise up to 99 °F. It's not ideal to visit this city during this month due to the high temperature.
Q6. Is it safe to travel to Dammam?
Yes, it's absolutely safe to travel to Dammam; however, you must take basic precautions and respect the rules of the country. Avoid hurting the religious sentiments of the people or act against the law.
Q7. What is the nightlife in Dammam like?
Dammam's nightlife is a calm and serene one, where you can go for a walk along the moonlit beach, shop at the night markets or malls, or spend time relaxing in the park. It's the perfect place for a quiet time with your loved ones.
Q8. Does Dammam have a beach?
Yes, there are several beaches in Dammam that you can visit and look out at the never-ending expanse of shimmering water. You can visit Sadaf Beach, Half Moon Beach, Pearl Beach, and many more.
---