When you're planning a vacation in Saudi Arabia, one of the things that everyone must have recommended you is to shop at Mall of Arabia, Jeddah. This mall is among the most popular tourist attractions in the country because of the dynamic experience it offers the visitors. From local and international brands to a children's zone and much more, there's no dearth of activities to indulge in. The highlight is that this mall is in proximity to the airport, so it's one of the first things you see on your way to the city. Its strategic location makes it hard to resist shopping here.
Overview of Mall of Arabia, Jeddah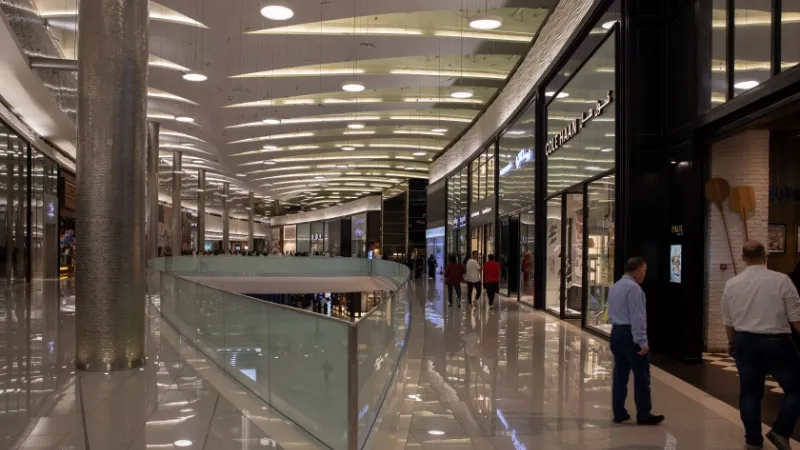 Being one of the largest malls in Saudi Arabia, this mall is spread across three floors with approximately 408 shopping outlets for accessories, apparel, sports, beauty, electronic items, and much more. It's an ideal place for families because of the huge variety of entertainment and shopping options. There are several restaurants here as well that are perfect for a scrumptious meal and to take a break from exploring the Mall of Arabia Jeddah stores.
The lively and vibrant atmosphere of this mall is enhanced by the quirky yet modern interiors. Mall of Arabia was inaugurated in 2008 and has continued to gain fame as the years passed, reaching a stage where it's a popular tourist destination.
Mall of Arabia, Jeddah opening hours: 10 A.M to 11:30 P.M (Saturday to Thursday) and 2 P.M to 11:30 P.M (Friday)
Address: Al Madinah Al Munawarah Rd, Jeddah, Saudi Arabia
Suggested Reaed: Museums in Jeddah: For A Sneak Peek Of The History And Culture
Mall of Arabia, Jeddah Shops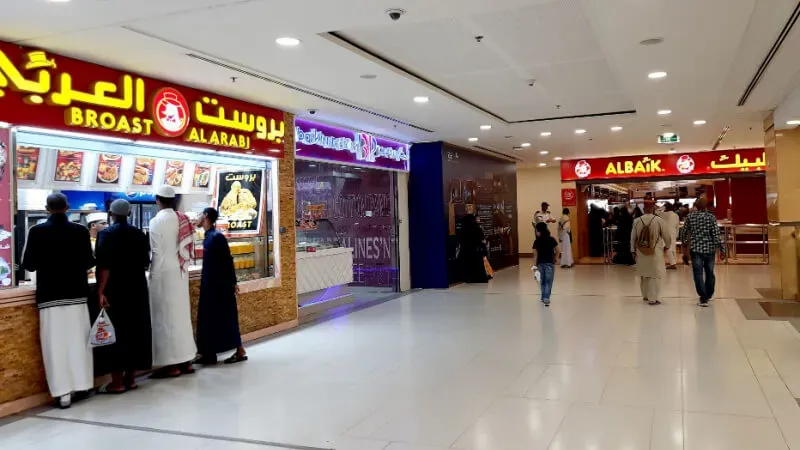 As for the 408 stores approximately that this mall houses, you can rest assured that you'll find what you're looking for and more. It's impossible to visit this mall and not splurge after seeing the variety of things available here. Regardless of what you wish to buy, you'll find stores here catering to every need of yours, so you don't have to think twice before visiting this mall.
You'll find the most famous clothing brands, such as Zara, DKNY, Mango, Michael Kors, Lacoste, Giordano, Polo Ralph Lauren, and many more. It's perfect for both men and women to shop to their heart's content.
When it comes to shoes and bags, you can step into Aldo, Clarks, Adidas, Skechers, Charlize and Keith, and so on.
Cosmetics and perfumes are a must buy from these shops: Al, Majid Al, Oud, Sephora, Faces, Natural Republic, Whites, etc.
Restaurants in Mall of Arabia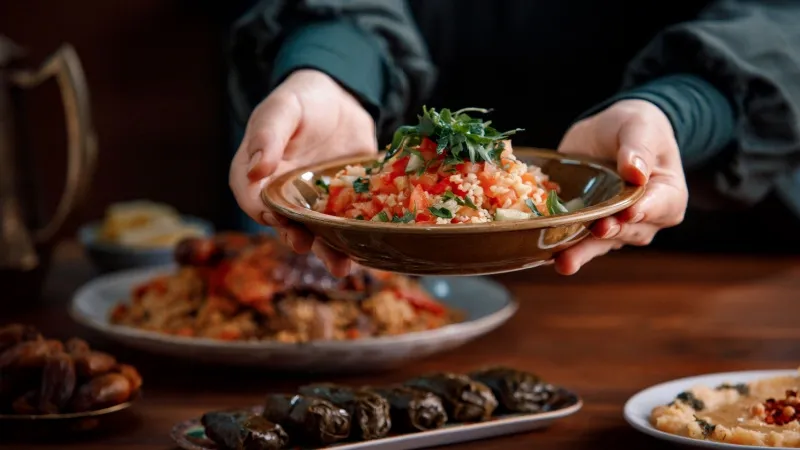 Shopping in Saudi Arabia isn't a child's play. You won't be able to stop yourself from buying the unique and luxurious items on display, but it's important to take a break and enjoy the dining experience at some of the top-notch restaurants in Jeddah.
Those who are looking for some quick snacks before resuming their shopping can visit the Barn's Café, which serves hot and cold drinks paired with delicious snacks, like Panini, Toasties, Sandwiches, and much more.
This is a must-visit restaurant in Mall of Arabia, Jeddah because of the wide variety of scrumptious dishes it offers the visitors. You can enjoy breakfast, lunch, or dinner here and acquaint yourself with the local flavors and dishes.
Nando's is famous for its Afro-Portuguese cuisine, especially their flame-grilled chicken, which is served with five levels of hot sauce. Along with that, there are various side dishes that you can order, including garlic bread, potato wedges, and much more.
Some of the other restaurants and cafes in Mall of Arabia are Coffee Concerto, Café Larica, Romawi, Sparrow, Ossi Grill, Shawarmer, and so on. You can dine at any of the restaurants in this mall for a heavenly meal, which would refuel you for the rest of the day.
Also Read: Discover The Unmissable Taste in Saudi At Some Best Restaurants in Jeddah
Entertainment Zone in Jeddah Mall of Arabia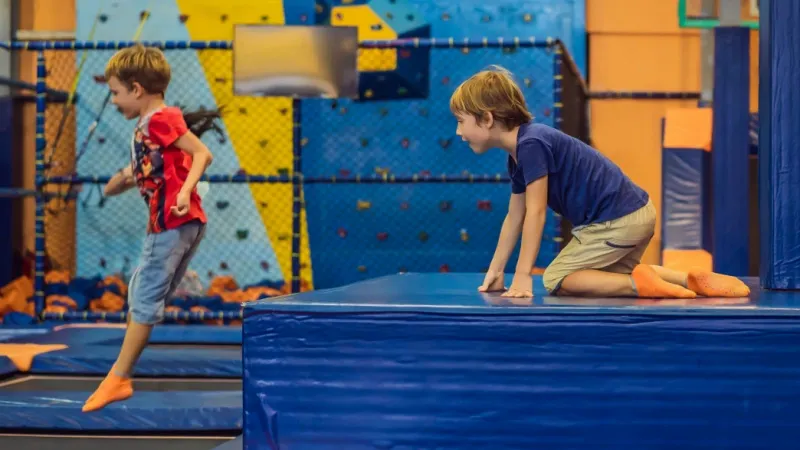 Some of the fun things to do in Jeddah are right inside this mall. You can indulge in some exciting activities and those who are shopping with their children can indulge in these entertaining things with them.
Cinema in Mall of Arabia:
If you're a movie buff, then you can't miss the chance of watching a movie in the cinema hall at Mall of Arabia. You can choose either a local movie or an international one and enjoy this unique experience in the city to make your vacation count.
Experience the winter feels at this ski lounge in the mall, which includes a large hall where you can get acquainted with the joys of ice skating. It's the perfect activity to rejuvenate yourself and to enjoy with your friends and family.
Can you imagine an amusement park inside a mall? Well, this is one of the shopping malls in Saudi Arabia that includes one of the largest indoor amusement parks. You can look forward to a fun time as you try the various activities available in this park.
This is the perfect place for children to have fun while learning important skills. The recreational activities in this zone require the child to interact, complete several fun tasks, and much more to develop their brain and personality.
Here's another amusement park, which is more than what you expect it to be. From housing water activities to thrilling rides, there's a lot for the children to keep them engaged. You must visit this park to let your kids have fun.
Facilities at Mall of Arabia, Jeddah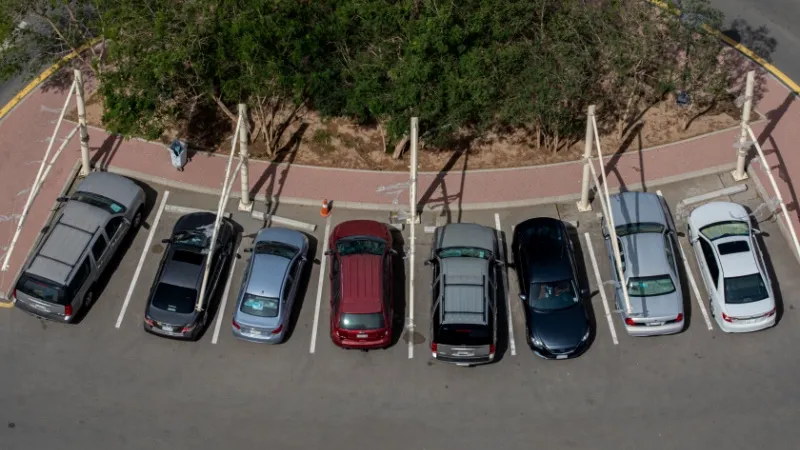 The shopping malls in Saudi Arabia are quite receptive to the needs of their customers, which is why Mall of Arabia offers various facilities that are as follows:
There's a baby changing room
Lost and found is available
Baby strollers are accessible
It includes a first aid room
Wheelchair accessible
ATM machines are available
Customer service counter
3000 parking spaces
Attractions Near Mall of Arabia, Jeddah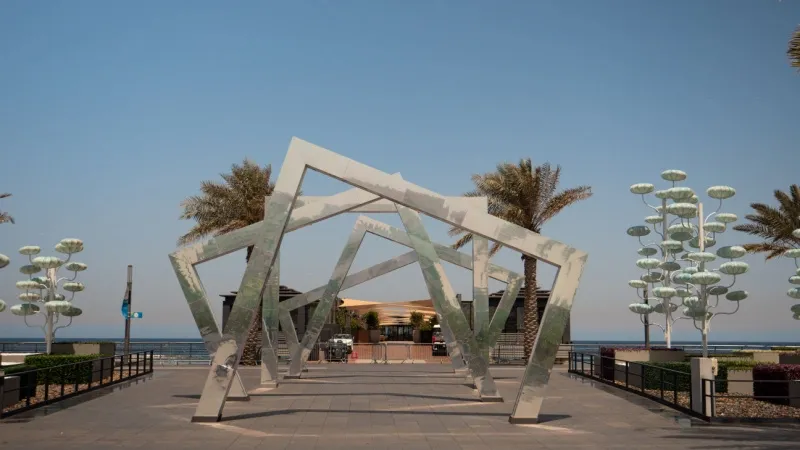 Here are some of the popular places to visit in Jeddah that are near this mall, making it easy for you to explore them as well.
Red Sea Mall
Jeddah Corniche
Al Rahma Mosque
Fakieh Aquarium
Bilal Masjid
Al Tayebat International City
Suggested Read: Top Cafes in Jeddah: To Relish Frothy Coffee and Light Snacks
How to Reach Mall of Arabia, Jeddah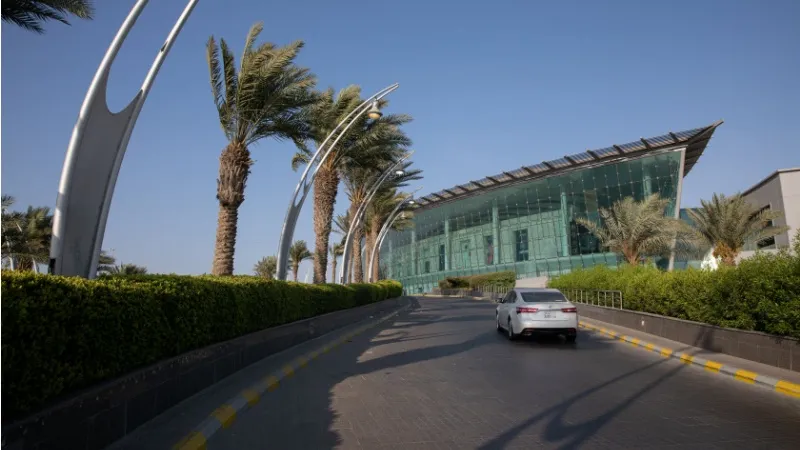 You can either travel to the mall via a taxi or a bus. Mall of Arabia is approximately 19 km away, so it'll take around 20 minutes to reach your destination. You can even walk to the mall if you're interested in sightseeing scenic locations on your way.
The popularity of Mall of Arabia, Jeddah, is the reason why several tourists flock to this place for shopping, indulging in entertaining activities and to dine at famous restaurants. Retail therapy in this city is anything but regular and you'll agree with us once you visit this mall for yourself. You'll require almost an entire day to explore this mall completely; after all, it's one of the largest malls in the country. So, book our Saudi Arabia tour packages to visit these glorious locations.
Mall of Arabia - FAQs
Q1. What brands are in Mall of Arabia?
There are several famous local and international brands in Mall of Arabia, Jeddah. Some of them are Coach, Zara, Michael Kors, Adidas, Sephora, Mango, etc.
Q2. How big is the Mall of Arabia?
Mall of Arabia is approximately 261,000 m big, making it one of the largest malls in Saudi Arabia. It spans across three floors and includes around 408 brands.
Q3. What are the timings of Mall of Arabia, Jeddah?
The Mall of Arabia is open from 10 A.M to 11:30 P.M from Saturday to Thursday and 2 P.M to 11:30 P.M on Friday. Do visit this mall during these hours for a fun retail therapy.
Q4. What are the famous restaurants in Mall of Arabia?
Some of the famous restaurants in Mall of Arabia include Nando's, Shobak Restaurant, Shawarmer, Café Larica, Barn's Café, Ossi Grill, and many more. You must dine at these restaurants and cafes for an exquisite culinary experience.
Q5. What are the things to do in Mall of Arabia?
You can indulge in shopping, watch a movie, enjoy at the amusement park, do ice skating at the Ski Hall, and much more. There are several fun activities to look forward to at this mall.
Q6. What facilities are available at Mall of Arabia?
There are numerous facilities that Mall of Arabia offers its customers to make their shopping experience a comfortable one. There are baby changing rooms, ample parking space, baby strollers are available, first aid room, and other such services.
---