There's nothing more surreal than a pilgrimage to the holy city of Medina, where the spiritual and positive aura soothes you. This radiant city is known for its mosques, museums, beaches, and many more such attractions, and being the first Islamic capital city, you won't be disappointed by it. It's the perfect place to delve into the history and heritage of this country, so when you're traveling to Saudi Arabia, you can't miss out on this absolutely stunning destination that would help you end your holiday in this country on a high note. Our Medina travel guide to the attractions and activities in Madinah would allow you to wander around this city with complete know-how.
Medina - A Sacred Link Between Devotees and Their Faith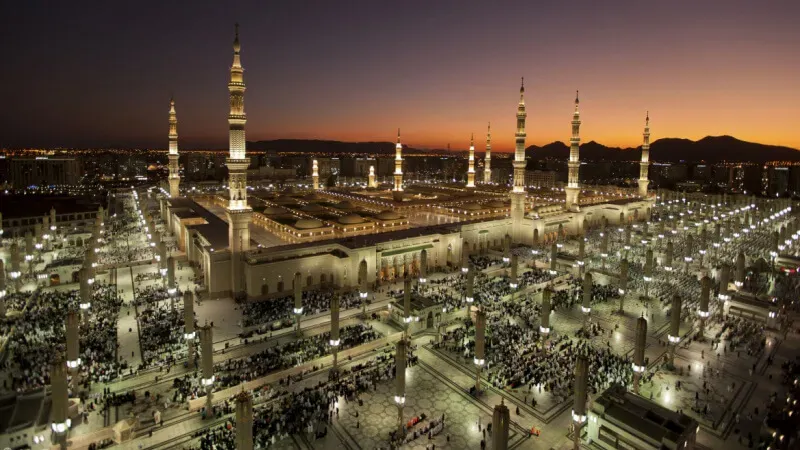 Medina, the city where Prophet Muhammad received the command to change the direction of prayer to Mecca and where his body is entombed in the chief mosque is a must-visit destination. Those who're on a spiritual path or are looking for spiritual awakening should definitely consider taking a trip to this holy place, where you'll feel the presence of Allah everywhere. Here are the tourist attractions and activities you must indulge in while visiting Madinah.
Top Places to Visit in Medina that Capture the Beauty of the Past
Here's a list of the top attractions in Medina that you should definitely visit.
Al-Baqi': One of the Top Historical Places in Madinah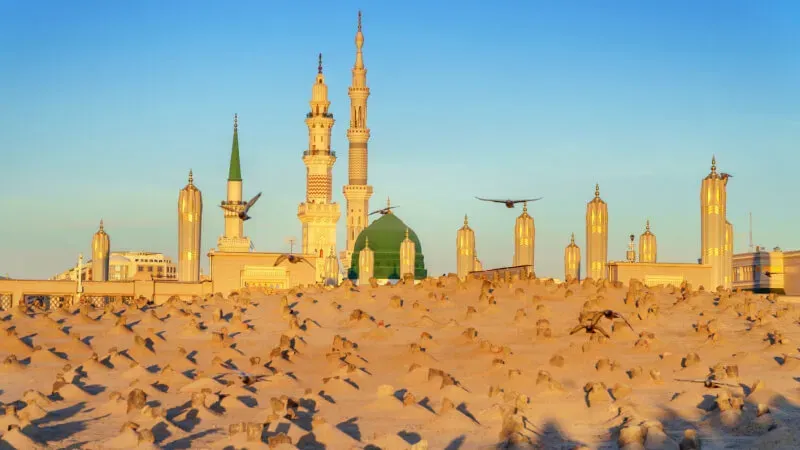 This attraction is the oldest and first cemetery in Madinah, which has the graves of Prophet Muhammad's wife and other family members. This is what makes this place one of the two holiest cemeteries in Islam. It's also known as Jannat Al-Baqi, where Al Baqi translates to a "tree garden."
Timings of Al-Baqi': 5 A.M to 8 A.M and 4:15 P.M to 5 P.M
Location: District, Sheikh Abdulaziz bin Saleh, Bani Khidrah, Al-Madinah al-Munawwarah 42313, Saudi Arabia
Dar Al Madinah Museum: Immerse Yourself in Medina's History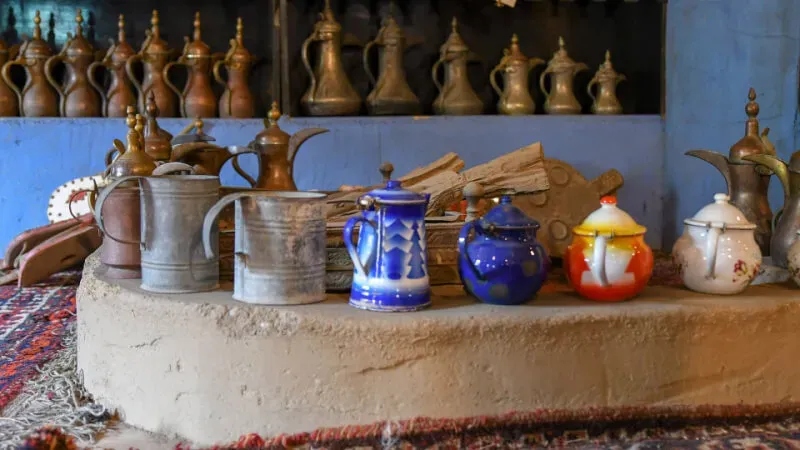 Visiting this museum is like stepping into a time warp as you'll be teleported to a bygone era through the archaeological collections, visual galleries, and much more. From ancient Quranic scriptures to clothes and cutlery, you'll find yourself getting lost in the historical aspect of it all. There are over 2000 rare artefacts here, making it one of the best places to visit in Medina.
Timings of Dar Al Madinah Museum: 11 A.M to 6 P.M, closed on Friday
Location: Safwan Ibn Malik Al Tamimi, Al Mabuth, Al-Madinah al-Munawwarah 42362, Saudi Arabia
Suggested Read: Museums in Makkah: Experience The History Of The City
Wadi E Jinn: The Legend of the Jinn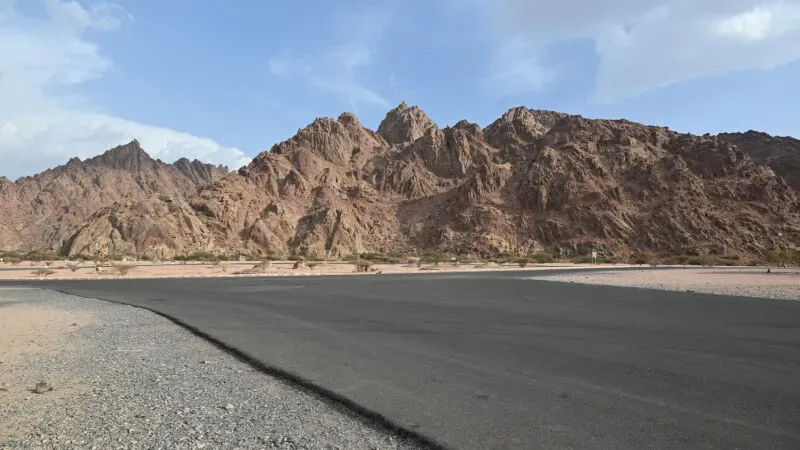 The name of this place translates to "a place where the Jinn resides" because that's what the local belief is. The unnatural occurrences of cars moving on their own even when the engines are turned off is a mystery for many. However, the scientific answer to this is the phenomenon of reverse gravity, wherein some areas of the mountains might have more magnetic pull than others.
Location: 8110, Al-Madinah al-Munawwarah Saudi Arabia
Masjid e Quba Madinah: The First Mosque in the World
This is one of the most significant mosques in Medina because it was built during the Prophet's lifetime and is the first mosque in the world, which was built on the day the Prophet emigrated to Madinah. It's one of the holiest sites in Medina city Saudi Arabia that you must visit to feel close to Allah.
Location: South of Madinah
Best Things to Do in Medina: An Adventurous Twist in the Holy Land
Add a pinch of excitement to your spiritual trip to Medina with these fun adventure activities.
Explore the Cave of Bani Haram: The Historic Battle of Trench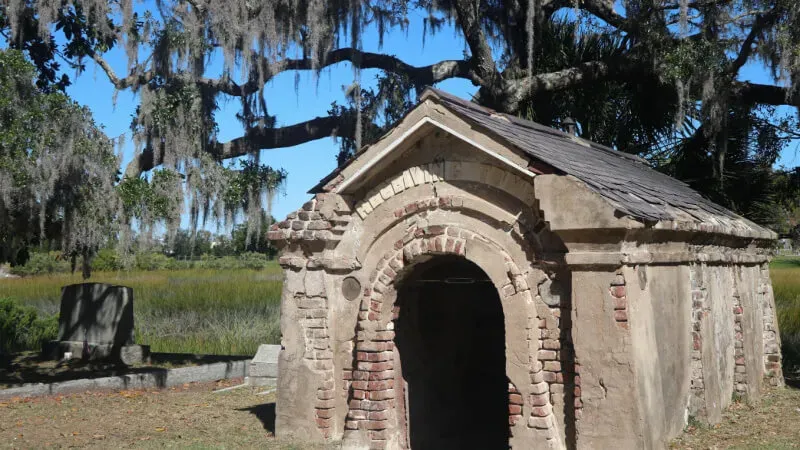 This cave near Mount Sila became famous due to the Battle of Trench that was fought here between and also because it was the resting place of the Prophet. This cave is also known as "The Cave of Prostration" because the Prophet prostrated himself after hearing from Allah. The historical and religious value of this place makes it one of the places to visit in Saudi Arabia.
Location: 6753 Abdullah bin Nafi Al-Sayegh, Al Fath, 3613, Al-Madinah al-Munawwarah 42312, Saudi Arabia
Climb Atop Mount Uhud: One of the Top Historical Sites in Madinah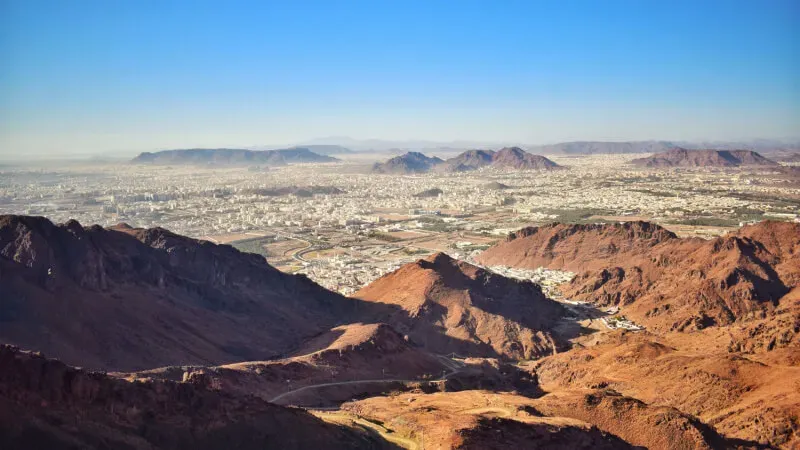 If Jabal Ayr was the gate to hell, then Mount Uhud is the gate to heaven, a place that the Prophet held dear to him. This is also one of the attractions where the Battle of Uhud took place, and there are even graves of the martyred people here. You'll feel a strong connection to Allah here, which is why climbing atop this mountain is one of the most adventurous things to do.
Location: In the Hejazi region, north of Medina
Suggested Read: Historical Places in Makkah (Mecca): Best Ancient Sites to Explore in Saudi Arabia
Shop at Al Noor Mall: One of the Popular Places in Medina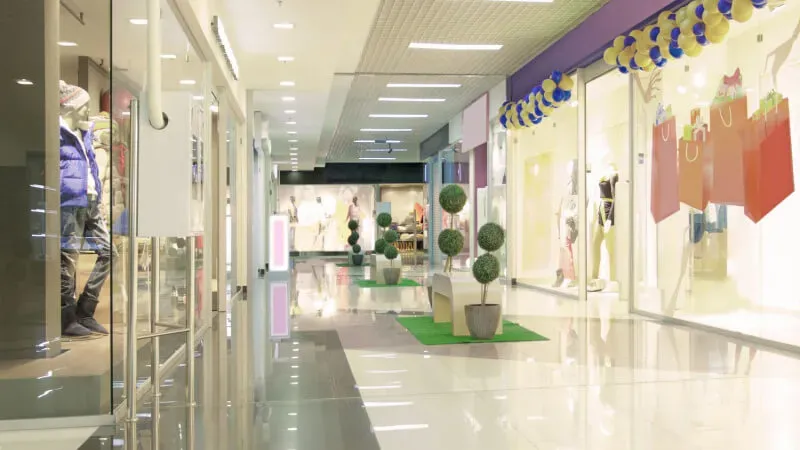 Shopping is like a lifeline for people when traveling to another country, and the Al Noor Mall is the perfect place to indulge in this activity in the city. Shopping in Medina is unlike any other experience because of the plethora of local brands, restaurants, and much more. It's an inclusive mall where you can indulge in buying authentic items unique to this city.
Timings of Al Noor Mall: 10 A.M to 11:30 P.M (Saturday to Thursday) and 2 P.M to 11:30 P.M (Friday)
Location: King Abdullah Branch Rd, Al'uyun, Al-Madinah al-Munawwarah 42331, Saudi Arabia
Also Read: Best 7 Malls in Medina: Splurge, Eat, and Chill!!
Visit the The International Fair and Museum of the Prophet's Biography and Islamic Civilization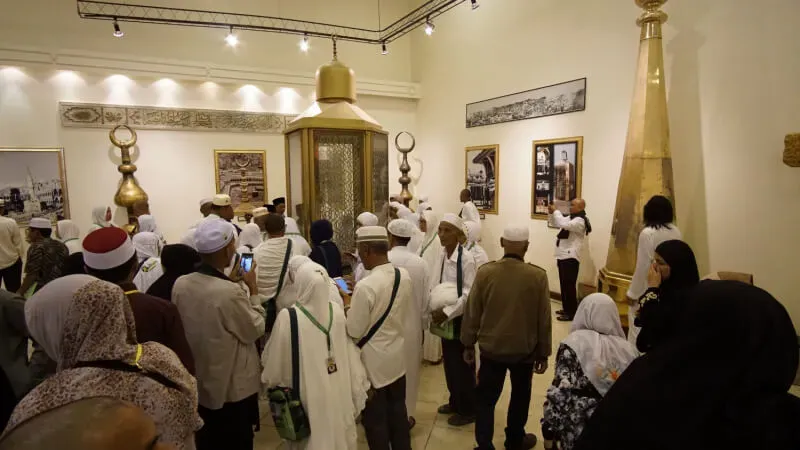 One of the many things to do in Medina is to get a deep insight into the life of Prophet Muhammad and his many accomplishments. The International Fair and Museum of the Prophet's Biography and Islamic Civilization is a place where you can take a virtual tour of the Prophet's life from birth to death. You can also delve deep into the Islamic civilization through the artefacts and other exhibits.
Timings: 4:30 A.M to 11 P.M (Sunday to Thursday), 12:30 P.M to 11 P.M (Friday) and 12:30 P.M to 10:30 P.M (Saturday)
Location: 2722 Abu Ayoub Al-Ansari, Al-Haram, Medina 42311 6295, Al-Madinah al-Munawwarah Saudi Arabia
Suggested Read: Things to Do in Makkah: Discover the Charms of the City of the Almighty
Restaurants in Medina: Dig into Mouth-Watering Delicacies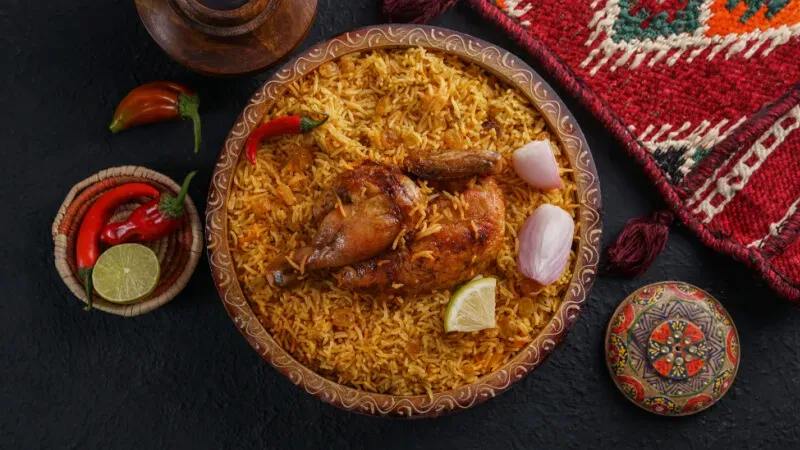 Here are a few restaurants in Medina that you must stop by for a flavorful twist to your vacation.
Shing yang Chinese restaurant
Swiss House
Al Qasr Restaurant
The Moghul Room
Hyderabad House
Toscana Italian Restaurant
Suggested Read: Restaurants in Makkah: Dine At The Next Time You're In The City
Hotels in Medina: A Luxurious Stay Guaranteed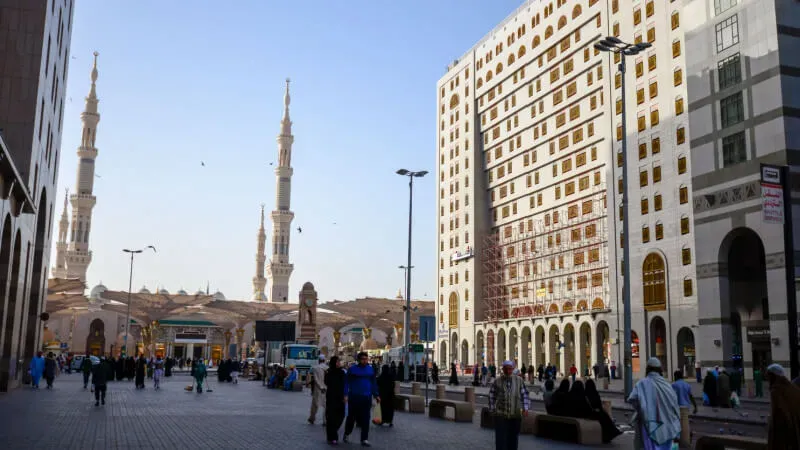 Booking a room in the right hotel is quite important for a holiday; therefore, here's a list of hotels you can stay at during your trip to Medina.
Pullman Zamzam Medina
Taiba Al Diyafah Hotel
InterContinental Dar al Hijra Madinah
Madinah Hilton
Anwar Al Madinah Movenpick Hotel
Elaf Al Taqwa Hotel
Travel Tips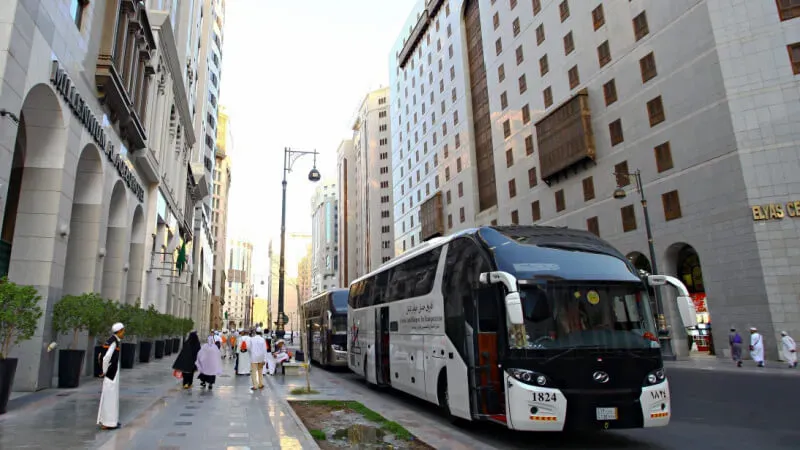 Since Medina is a sacred land, there are certain travel tips that you must remember during your visit.
Respect the religious sentiments of the people
Follow the rules and regulations in religious places
Learn basic Arabic words
Stay hydrated throughout the trip
Always carry a scarf with you to cover your head
Apply sunscreen frequently
Suggested Read: Zoos In Saudi Arabia For Their Diverse Flora and Fauna
Additional Information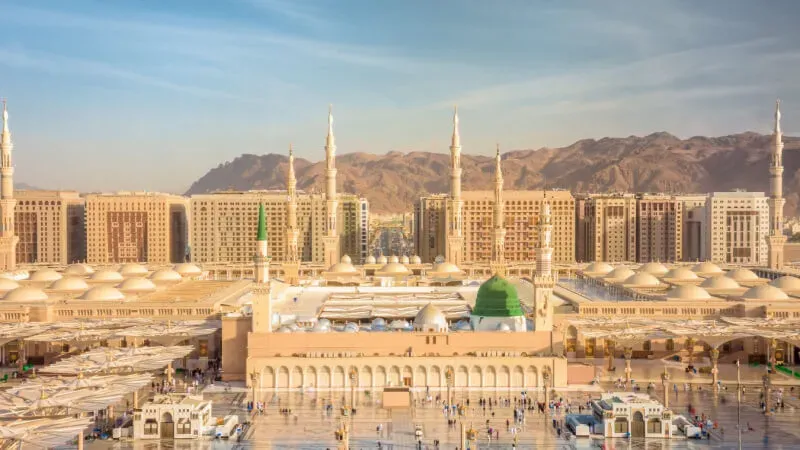 When planning a trip to any country, there are certain things you must know and consider before traveling. Here are a few of them:
Best time to visit Medina:
The best time to visit Medina is January to May or November to December because these are the colder months in the city, which will allow you to explore the destination in the best way possible.
You must either take a flight to Prince Mohammad bin Abdulaziz International Airport in Medina and then travel via cab to cover approximately 21 km to the city center.
However, if you're traveling from Jeddah, then you can take a train operated by the Saudi Railways Company that travel between Jeddah Airport and Medina every four hours.
A bus from Buraydah to Madinah is also feasible as it operates twice daily.
Suggested Read: Traditional Things To Buy While Shopping in Saudi Arabia
Our Medina travel guide has covered everything you needed to know about Medina before planning your itinerary because there's an array of things available in Medina that you don't want to miss out on. The religious and historical significance of this city on a whole other level, which is why it's one of the most sought-after pilgrimage sites for many Muslims. The moment you step into this city, you'll instantly feel close to God and all you'd want to do is soak in the spiritual and positive vibrations emanating from every nook and cranny of this city. So, don't wait any longer and book our Umrah packages to plan a pilgrimage to this sacred land.
Madinah Travel Guide FAQs
Q1. What is in Medina for Muslims?
Medina is the holy city for all Muslims because it's the city where Prophet Muhammad established the Muslim community and where he is entombed in the chief mosque. The sacred places in this city are ideal for all those who are on a pilgrimage and wish to attain spiritual awakening.
Q2. What are the places to visit in Madinah?
There are several places to visit in Medina, such as Masjid e Quba, Dar Al Madinah Museum, Wadi e Jinn, Mount Ubud, Jannatul Baqi, and many more such historic sites. All these places have a religious and historical significance, making them a must-visit destination.
Q3. Why is Medina so peaceful?
Medina's peaceful aura stems from its religious attractions and the focus on the safety and security of the people. There's a sense of calmness in the air of this city, maybe because everyone's aim is to feel a connection to God, so there's an overall positive energy here.
Q4. What is Medina best known as?
Medina is known as the second holiest city in Saudi Arabia after Mecca and is a place that preserves Islamic culture and civilization. The culture and traditions of the people here are deeply rooted in their faith.
Q5. Is Madinah a pilgrimage site?
Yes, Madinah is a pilgrimage site for thousands of Muslim devotees who visit this city to offer prayers to Allah and feel close to him. It's an important religious destination for all Muslims.
Q6. What is the old name of Medina?
Medina's old name was Yathrib; however, it was later changed to Madīnat an-Nabī. It's a sacred city that is a must-visit destination for all Muslims.
Q7. What are the things to do in Medina?
There are several things you can indulge in during your trip to this city, such as climbing atop Mount Uhud, shopping at Al Noor Mall or the Bengali Market, exploring the museums in the city, or praying at the mosques.
Q8. How many days are enough for Medina?
Even though you wouldn't want to return after staying in Medina because of its peaceful and serene aura, you can still plan a trip of around 2 to 3 days to soak in as much of this city's essence as possible.
---