Saudi Arabia is popular for being the hub of several archaeological sites, significant landmarks, picturesque landscapes, and diverse terrains. The other face of the country is providing tourists and locals with a wide range of thrilling activities like water sports, trekking, adventures in the desert, and more. Sky diving in Saudi Arabia is one of these breathtakingly amazing, but not for the faint of heart, activities. This heart-pounding adventure sport is becoming very popular in many parts of the country. Other than the thrill of falling from such a high altitude, it's the experience and the views that are worthy of reminiscing.
Skydiving in Saudi Arabia: A Little Taste of the Adrenaline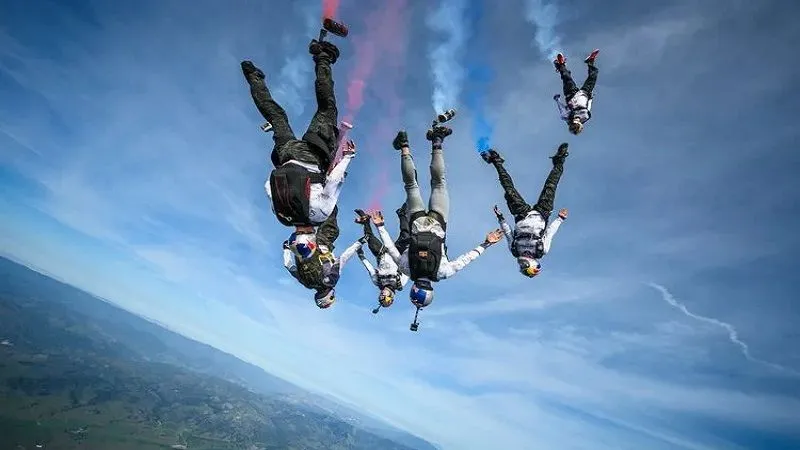 Skydiving in Saudi Arabia comprises different kinds of diving from different altitudes, and it depends on the agencies on what they want to offer. Anyone interested in experiencing this thrilling sport must undergo training for certain days before actually falling from the sky. It is an extraordinary way to overcome your fear of heights, and when you are beyond that, the views on the ground are something you must not have seen before. The sport certainly is a once-in-a-lifetime experience if you do not get hooked on the adrenaline you get while experiencing it and commit yourself to doing it after certain intervals.
Suggested Read: Moon Valley Jeddah: Discover the Wonderful Gem for an Amazing Experience
Skydiving in Saudi Arabia: Where to Dive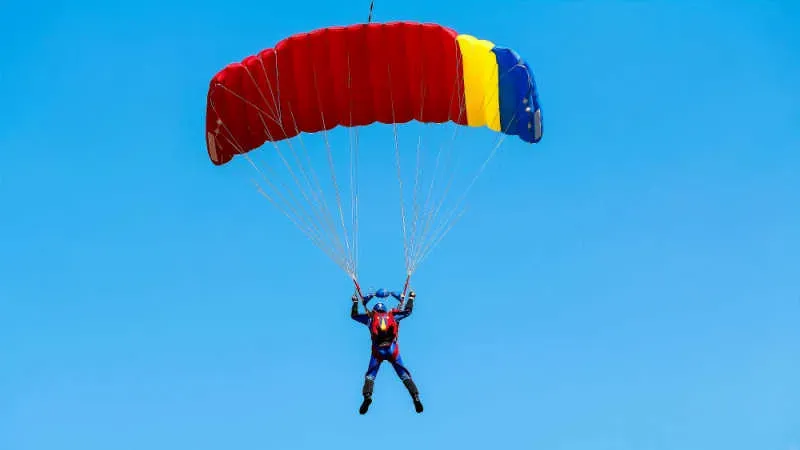 The beautiful country of Saudi Arabia is home to some of the most amazing skydiving centers. Some of the most charming places to visit in Saudi Arabia include cities like Jeddah and Riyadh, where skydiving is a popular adventure activity among locals and tourists. Let's learn about these flying schools and agencies that provide this sweet experience.
Red Bull Air Force
If you want to learn from the most accomplished and trained people in the aviation world, then visit Red Bull Air Force to train yourselves and experience the ultimate thrill of falling from the sky. One of the most thrilling things to do in Jeddah is go skydiving, and this institute is the perfect place to experience the mesmerizing views from the sky with complete safety. The competent team of professional skydivers also performs different stunts and formations during different events.
Riyadh Air Sports
This place offers a wide range of exciting and thrilling activities. The perfect place for all the adrenaline junkies out there, Riyadh Air Sports is known to be the ultimate destination for people who want to experience sky diving. You will find a well-qualified and well-mannered ground crew as well as very competent and internationally trained instructors. Skydiving in Saudi Arabia is growing as an exciting activity for both locals and tourists, where the experienced pilots help skydiving enthusiasts go home with beautiful memories of the dive.
Clouds Aviation, Dhahran
The Center for Cloud Aviation, also known as Dhahran's skydiving center, is a must-see if you're in the area. It is one of the perfect places to try such a thrilling sport. The institute comprises some of the best trained instructors and pilots who not only thrive for a perfect landing on the ground but also try to provide knowledgeable training sessions and skydiving experience to everyone who registers themselves.
Saudi Arabian Extreme Sports Federation
Established in 2020, this federation offers an incredible opportunity to adventure seekers to not only experience many thrilling activities, including sky diving, but also train to become professional sky divers. Skydiving is one of the exciting things to do in Saudi Arabia, and the federation is the perfect place to try it. There are competent trainers and instructors that provide the necessary training for all kinds of skydiving.
Location: 7051 Al Ihsa, Al Malaz, Riyadh SA, Riyadh 12836 3098
Working hours: Sunday – Thursday: 8 a.m. - 3 p.m.
Skydiving in Saudi Arabia: Learn About All the Types of Dives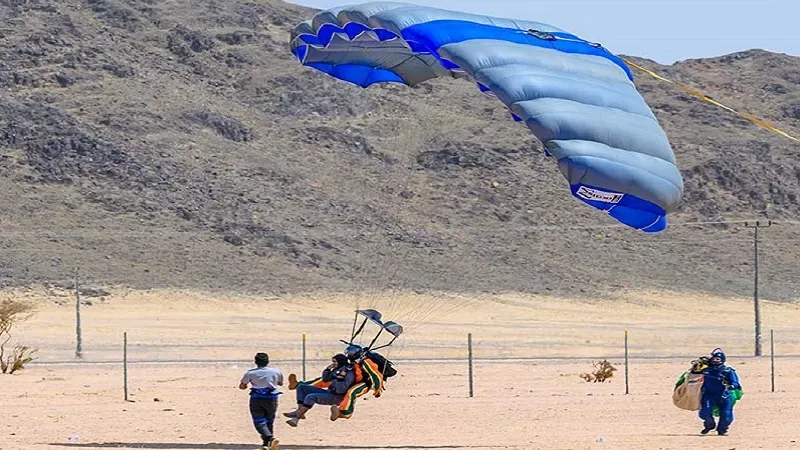 Contrary to the common belief that there is just one kind of skydiving, this adventure sport has many kinds. Sky diving in Saudi Arabia has become one of the most popular adventure activities, which is thrilling for both locals and tourists. Here are some of the most known types of skydiving.
Suggested Read: Winter in Saudi Arabia: It's Time to Gather Golden Moments with Your Loved Ones
Tandem
The safest way to experience skydiving in Saudi Arabia is a tandem dive. During this dive, it is mandatory for the diver to be connected to their instructor through a harness. It is the simplest form of diving, which is amazing, especially for first-time divers. It lets the diver enjoy the sweet taste of falling to the ground and crashing into the clouds. The diver doesn't need to be aware of opening the parachute, as all the responsibility of landing safely on the ground falls on the instructor. Tandem skydiving requires the least amount of training but is required.
Accelerated Freefall
The most competent way of experiencing and learning the rules of skydiving is AFF, or accelerated freefall. It requires proper training for several days, which would include lessons about properly flying your body, deploying your parachute efficiently, and landing on earth, as well as what should be done if things go the other way. The AFF skydiving in Saudi Arabia is not for the faint-hearted, as it requires the diver to jump from approximately 13,000 feet.
Formation Skydiving
This is the most-seen type of skydiving, where the divers fall in a belly-to-earth position and create different formations holding other divers' legs or hands. Formation skydiving in Saudi Arabia is the best way to fly safely with a group of people diving at the same time. This type of diving is done in groups of 4 or 8, and it is fun to create different formations during the fall. It is also an overwhelming experience as all your group members go through the same thrills and emotions as you.
Wing suiting
It is a popular type of skydiving in which the divers wear a suit that assists them in flying and landing on the ground. The suit makes the diver look like a squirrel flying in the air, which is why they are known as squirrel suits. Wingsuit divers typically spend more time in the air than freefall divers because they travel horizontally rather than vertically. There are several kinds of wingsuit skydiving in Saudi Arabia.
Camera Flying
If you like to capture your experience of falling from the sky, then this is the type of skydiving to go for. Skydiving is an experience that should be documented, so opting for camera flying while skydiving is the best option. There are two ways of capturing the experience. One is the instructor during the tandem skydive who makes videos and captures pictures, or another person dives along with the diver to capture their experience. Filming a video and capturing pictures is becoming a profession in the skydiving world.
Canopy Piloting
This is a part of any kind of skydiving; however, a canopy pilot must be very skilled and properly trained. Canopy piloting involves a trendy landing where, before that, the diver can swoop and travel across a larger area before touching the ground. It demands a lot of training, and divers must be confident to tackle the speedy but graceful landing.
By now, you must have learned that skydiving in Saudi Arabia is a popular adventure sport, and people from all parts of the world try it. There are several cities that are home to the institutions that provide professional training to people who are interested in falling from the sky. They get the best knowledge of flying their bodies, working with the instructor, properly unlocking the parachute, and knowing what to do when things start going the other way. The beautiful country of Saudi Arabia is home to many significant landmarks, and people can indulge in diverse activities. Take advantage of Saudi Arabia vacation packages and spend some time in the Arabian country.
FAQs
Q1. Is it worth trying skydiving in Saudi Arabia?
Yes, skydiving gives an entirely different view of the same mesmerizing landscapes, and the experience of falling from a certain altitude is worth the effort when you feel the adrenaline rush all over your body and mind.
Q2. What are the most interesting things to do in Saudi Arabia?
Here are some of the amazing activities that one must indulge in during their holiday in Saudi Arabia.
Take a desert safari
Hike through the beautiful mountains
Indulge in thrilling water sports
Enjoy a hot air balloon ride
Delve into delicious local food
Q3. Which are the agencies that provide skydiving in Saudi Arabia?
Here are the most amazing agencies that provide professional training and the ultimate skydiving experience.
Red Bull Air Force
Riyadh Air Sports
Clouds Aviation, Dhahran
Saudi Arabian Extreme Sports Federation
Q4. What is accelerated freefall?
AFF, or Accelerated Freefall, is the most proficient way to experience and learn the regulations of skydiving. It involves many days of thorough training, including instructions on how to fly your body correctly, use your parachute effectively, land on earth, and what to do if something goes wrong.
Q5. Which are the most exciting places to visit in Saudi Arabia?
One must visit the destinations mentioned in order to learn more about the rich culture of the stunning nation of Saudi Arabia.
The Al Rajhi Mosque
Qishlah Palace
Aarif Fort
Amusement Park Al Samraa
Popular Market Hail
Q6. What are the different types of skydiving?
There are numerous types of skydiving, some of which can be performed by amateurs and others only by certified divers.
Tandem
Accelerated Freefall
Formation Skydiving
Wing suiting
Camera Flying
Canopy Piloting
Q7. What are the most impressive things to do at night in Saudi Arabia?
Here are some of the most enjoyable activities to do in Saudi Arabia on a starry night.
Night camping in Saudi Arabia
At night, go to the glitzy Kingdom Tower.
Explore the splendor of King Fahd's Fountain.
Dine at magnificent restaurants in Saudi Arabia.
Take a Coffee Break at AL Massa, the World's Biggest Café
Q8. How many days are enough to spend in Saudi Arabia?
4-5 days are considered ideal to plan a holiday in the enchanting land of Saudi Arabia. One will be able to cover all the significant landmarks and indulge in exciting activities. People interested in learning about each and every place in depth can stay in the country as per their preference.
---