Saudi Arabia is one of those countries in the world that are very rarely visited by people. Although this hidden gem is least explored and waiting to be unraveled but the reason behind the veil is that Saudi Arabia is the only country that did not allow Tourist Visas. In September 2019 Saudi Arabia finally opened its doors for tourism, and since then it has been marked as one of the safest destinations in Middle East. It is like unboxing treasure chest with a lot to delve into. Despite the fact that Saudi is an ultra-conservative state, is also a country with exposure to the western culture. Since now we have got the opportunity to traverse through the boundaries lest sea what are the things to do Saudi Arabia, if you are the lucky one who has planned a trip and has also received the Tourist Visa for the Middle Eastern country.
Adventurous Things to Do in Saudi Arabian Land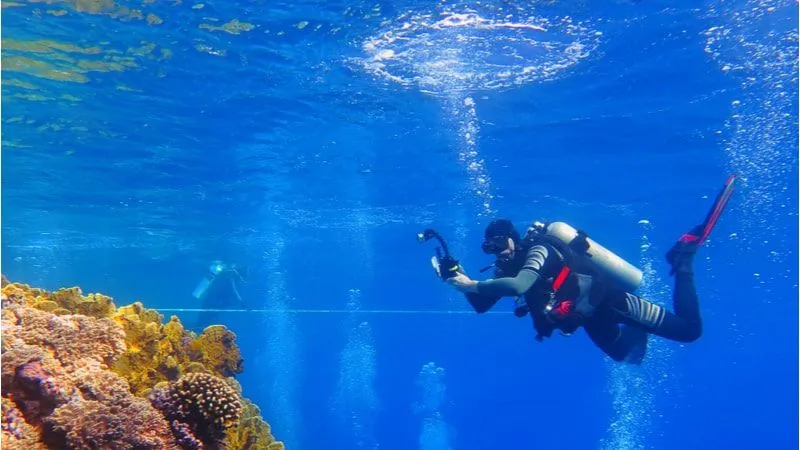 Saudi Arabia is a country that is like a pearl hidden in the shell, one has to break open the shell to get access to its beauty and charisms. The leisure travelling has just commenced in country and excursionists have already understood that the recreational ventures are an indispensable part of the countries culture. Let's dive deeper to get a glimpse of the fun things to do in Saudi Arabia with family and loved ones.
Desert Adventure in Saudi Arabia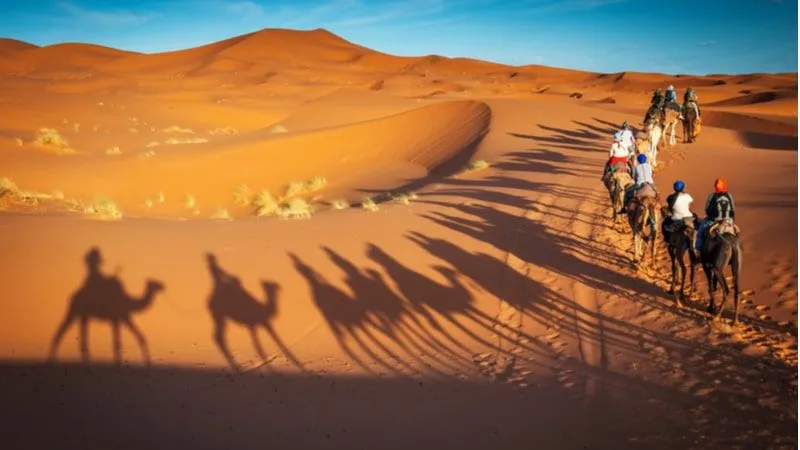 Desert is like the hand in hand companion of Saudi Arabia since, the largest desert is boasted by the country. Thus, sand is an integral part of middle eastern delight. Undeniably when tourists travel to a country, they look for certain factors and recreational activities is one of the most important factors that goes on into their mind. Considering the requirements here are few adventures in Saudi Arabia that you must try if you are travelling to the country.
Dune bashing: A thrilling off-roading adventure, popular in Saudi Arabia that requires balancing the vehicles going through the up and down the dunes.
Camel Riding: Saddle up on the Arabian camel and ride through the nearby parks, museums or go on a Bedouin camping excursion.
Arabian Camping: For a true Arabian experience, take an experience to sleep under the starts among the sand dunes.
Suggested Read: Phenomenal Places To Celebrate New year in London
Hiking Adventures in Saudi Arabia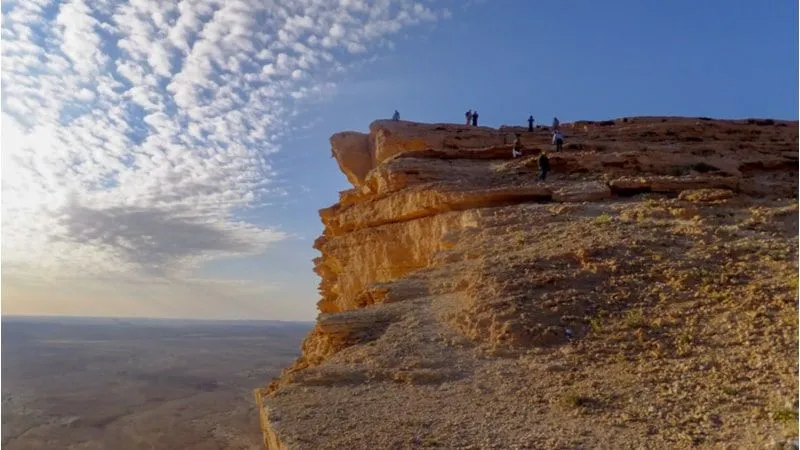 There are several places for Hiking in Saudi Arabia. If you are travelling to the country, get your backpack and set yourself for exploring the stunning places to visit in Saudi Arabia. The most popular hiking destination the located at the distance of 90 minutes from Riyadh. Climb over and fall for the adorable views of the city. Few of the most beautiful places for hiking in Saudi Arabia are:
Edge of the World: The Edge of the World (Jebel Fihrayn) is an astonishing geological wonder in nestles in Riyadh, Saudi Arabia popular among the Hikers.
Al Ahsa Oasis: Renowned as one of the greenest areas in Saudi, the Al Ahsa Oasis offers replenishing springs, canals and farmland.
Jabal Abyad: Though somewhat challenging to reach even in an all-terrain vehicle, the hike at Jabal Abyad (the white mountain) is worth the trek. Standing 2,093 meters tall, this volcano gets its name from the white ash that covers it. Explore Jabal Abyad and its nearby sister peak, Jabal Bayda.
Water Adventures in Saudi Arabia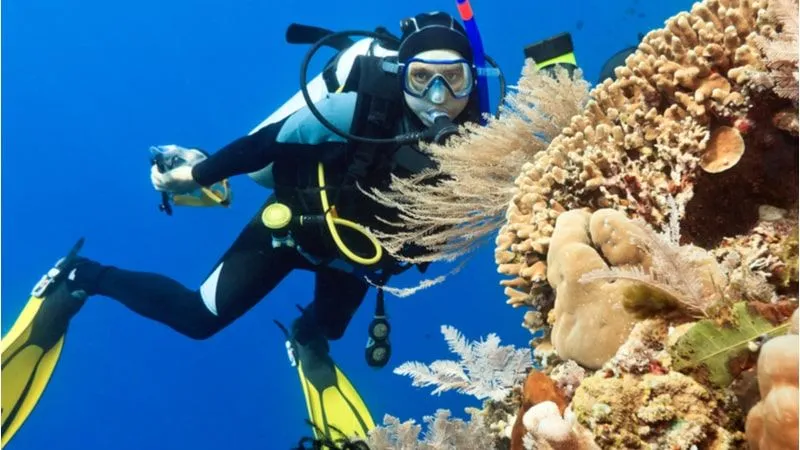 Just like other adventures water sports too are quite popular among the excursionists and the localites of Saudi Arabia. People enjoy the diving in the waves besides sailing through the waves in boats and cruises. Since the year is about to end and people across the globe are al set to bid adieu to 2021, how about planning a trip and celebrate new year on Saudi Arabia. There are mesmerizing lakes that offers water sports that are enjoyed by people during their visit to the country. Some of the options for water sports in Saudi are:
Red Sea Scuba Diving and Snorkeling: Red Sea is a stunning beach that homes more than 1200 species of fishes. The beach is claimed as pristine destination, loved by the divers. It is said that the sea has a whole world underneath.
Visiting a Desert Lake:  Also known as The Lake of Liquid Light the waterbody is deep enough to swim.  Don't miss out the Hifna Waterfall that rushes down red sand dunes. Visitors can also relax and picnic along the shore of Lake Kharrarah.
Boats and Cruises: For all the water babies out there, who love being in water and sailing over it can enjoy the rides over the deep blue waves. There are various entities that arrange cruises and boating services for the travelers.
Suggested Read: Theme Parks In Qatar For A Family-Friendly Day Outing
Go on Authentic Arabian Food Tour with Family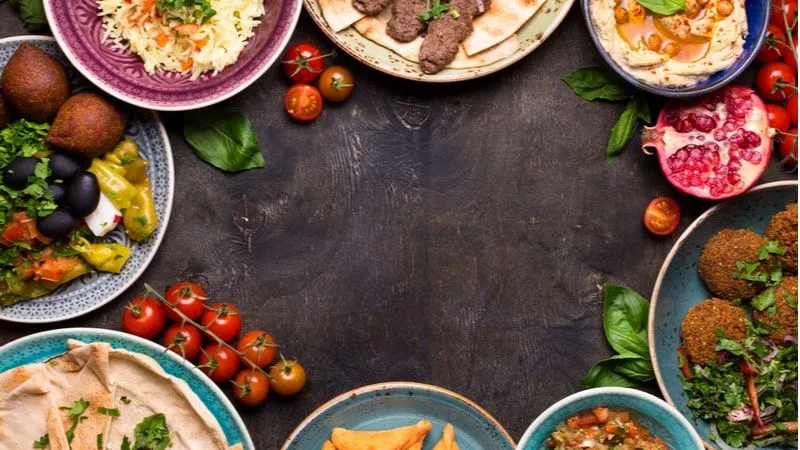 Plan a trip to Saudi Arabia and prep yourself for never disappointing food journey. Undeniably, Arabic food is no less than a feast for taste buds. If you are on a trip with your family don't waste a single moment and take them on a feast that will leave an essence forever on their tongue. If you are looking for some lip-smacking delicacies, there are some of the best restaurants in the Saudi Arabia that are unapologetically good. You can hop in and get your hands on couscous with lamb curry, hummus with tahini, and falafel, there are options from international dishes as well. While you are here looking fun things to do in Jeddah with family don't forget to visit these restaurants.
Wong solo: Located in Jeddag, it is an Indonesian restaurant close to the start of Al Balad.
Makkah Restaurant: While you are there don't forget to try their signature mutton makhni karai with freshly baked arabic flatbread, and chana dhal (split lentils).
Al Nakheel restaurants: A restaurant that serves traditional delicacies and its specialty includes the serving of fruity shisha to puff away and enjoy an evening with friends.
Suggested Read: Water Sports In Qatar You Should Not Miss
What is Adventure Khobar in Saudi Arabia?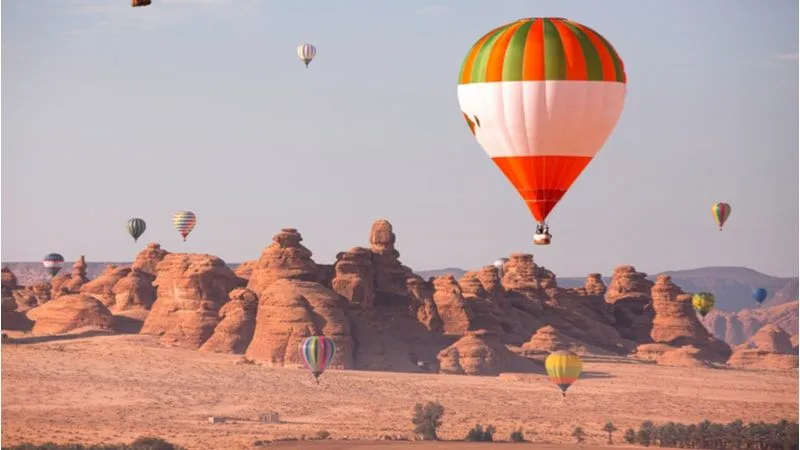 Khobar is a city in Saudi Arabia nestled on the coast of Persian Gulf. Adventure Khobar is an entity established in eastern provincial state of South Arabia. Since fun activities connect people irrespective of their caste, class and region, adventure in Khobar aims to bridge the gap between communities connecting them in the process of celebrating the nations and the activities offered by it. If you are in the city, searching for things to do in the Khobar state, here are all the recreational activities that you can enjoy with you family and friends.
Powered Parachute: If you are ready for an exhilarating experience of rising approximately 200 meters above the ground level in the safety harnesses, there could be nothing better than flying and taking the bird eye view of the ground.
Horse Riding: Get on the saddle enjoy the horse riding in the most. Visitors can also learn horse riding and can also take specialized classes for improving your skills. The dedicated staff will take care will execute all the desired activities.
Scuba Diving: Plunge in, to explore the underwater museums and take a glance at the visual beneath the turquoise layer. The best thing is you do not require any previous experience for scuba diving in Khobar.  Just carry your ID card and diving shorts, and voila!
Desert Safari to Alasfar Lake: A fun tour activity catering to all irrespective of their age group. Enroll in and get ready for the perfect way to enjoy the lake amidst the sand dunes. The surrounding encompasses trees, exclusive desert plants, and rich wildlife.
Quad Bikes: Quad bikes of all-terrain vehicles are very popular in the places that have sand in abundance. It is an extreme sport that the tried by tourists coming over. The staff trains the riders and ensure their safety through a proper protocol.
Water Sports: Dive in the turquoise wave and explore the marine life to live and experience that will imprint on your heart till eternity.
Suggested Read: 30 Things To Do In Qatar That Every Adventure Seeker Would Relish
Travelling to a place that has recently been open for travel can be really fun, as the excursionist will get to unravel the stones the have never been turned. Visit the country and discover every nook and corner, although there are certain regulations that you need to take care of. Try to abide by the laws and maintain the decorum and in return you will get a plethora of things to do in Saudi Arabia. Get the opportunity to explore the rich culture and traditions of Saudi Arabia. If you are curious, take advantage of the Saudi Arabia Vacation Packages and learn about the vast history associated with the country that will entice you to the core.
FAQs
Q1. What are the hiking spots in Saudi Arabia?
There are several places for Hiking in Saudi Arabia. If you are travelling to the country, get your backpack and set yourself for exploring Edge of the World, Al Ahsa Oasis and Jabal Abyad.
Q2. What are the best water sports in Saudi?
Just like other adventures water sports too are quite popular among the excursionists and the localites of Saudi Arabia. Scuba Diving and Snorkeling, Desert Lake and Boats and Cruises are few of the most popular water sports.
Q3. Is it safe to travel to Saudi?
Saudi Arabia is one of the safest places to visit given to low crime rates and zero terrorism. Although visitors are required to obey and respect religious rules during your visit.
Q4. What are the religious rules followed in Saudi Arabia?
If you are visiting Saudi Arabia keep the following points in mind
No Alcohol
No eating in public during Ramadan
Wearing Shorts Dresses is forbidden, women must cover their shoulders and arms
Dating Is Illegal
Do not hurt Religious sentiments
Non-Muslims must not visit Mecca
Bikinis Are Forbidden on public beaches
Q5. What are the must try food items in Saudi Arabia?
Few traditional dishes that must be relished in Saudi Arabia are:
Saudi Arabian Kabsa
Arabic flat bread
Laham Hashi
camel meat
Ma'amoul
Q6. Where is Red sea located in Saudi Arabia?
Red Sea is about 1,200 miles to the Bab el-Mandeb Strait, which connects with the Gulf of Aden and thence with the Arabian Sea.
Q7. How to travel to Saudi Arabia?
Excursionists can visit Saudi Arabia by several means. The most comfortable way is travelling by flight using the services of Saudi Arabia airlines.
Q8. How many airports are there in Saudi Arabia?
Total number of airports in Saudi Arabia are 35 out of all Jeddah Airport is one of the busiest.
---