Do you know how you can make your holiday more exciting? Well, the theme Parks in Qatar are among the best attractions where you can plan a fun day. Designed with ultra-modern technology and games boasting of rapid development, Qatar has emerged as the family-friendly holiday destination of the middle east. Hoping to entertain your family with some breathtaking adventure and fun, these theme parks bring you a range of activities and adventures. From KidzMonodo to Aqua Park or the famous Angry bird park, you can now plan the most exciting holiday with your family and feel the adrenaline.  
Top 13 Theme Parks in Qatar to Visit with Family
Gondolania Theme Park
Aqua Park Qatar
Jungle Zone
Doha Quest
Angry Bird Park
Snow Dunes Park
KidzMondo
KidZania
Bounce Freestyle Academy
Circus Land
Virtuocity
Megapolis Entertainment Centre
Baladna Park
Planning a holiday with your family in Qatar? We have listed the top theme parks in Qatar where you can indulge in some thrilling and breathtaking activities. With the interesting themes, the enthralling vibes, and engaging activities for all, these amusement parks will surely spice up your vacation mood. From fun rides to kids' entertainment and smart learning, there is a lot that can make your holiday a lifetime experience.
1. Gondolania Theme Park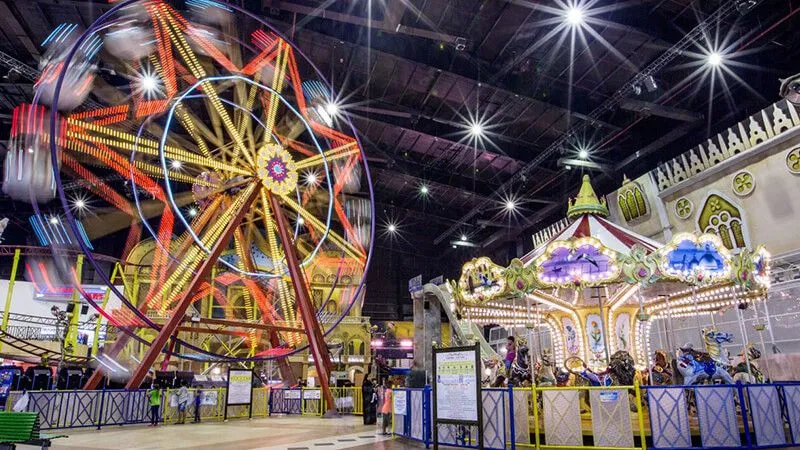 Located in the Villaggio Mall Doha, Gondolania Theme Park is one of the best amusement parks in Qatar. When it comes to spending a day filled with entertainment and fun, Gondolania offers you every interesting and enthralling activity. Inspired by Venice city, the Villaggio mall brings you every fascinating experience and with this indoor adventure park, you can get ready for the upcoming fun.
There are Gondola boat rides to enjoy while the adventure like fun rides and go-karting and more will let you experience the thrill you need. The theme park houses a vast Olympic size Gondolania ice arena, offering you every activity like ice skating or ice hockey. One thing that you won't find anywhere else in Doha, the laser war zone is most loved by every visitor. Allowing space for 34 players at a time, the laser war zone is a place where you can enjoy the best of your holiday with your folks.
Gondolania mall has listed a number of options to make your day an exciting affair for a lifetime.
Address: Gondolania Theme Park, Villaggio Mall
Opening hours:
Saturday to Thursday: 9 am to 11 pm
Friday: 1 pm to 12 am
Activities to enjoy:
Bowling
Boat ride
Ice skating and ice hockey
Fun Rides
Go-Karting
Laser War
Entry Fee: Free Entry (charges for activities and rides)
2. Aqua Park
The only water theme park in Qatar, Aqua Park is an excellent place to enjoy a family day. While Qatar experiences a hot climate, the theme park will let you kill the heat with some exciting water rides. Aqua Park can rightly be called an oasis bringing you some best adventures and activities for your family time.
The rides and water games are common but what's different and unique about this Aqua Park is its attractions and stalls. From cafes to gift shops and wave pools, the park features include everything for complete entertainment. There is a lazy river, lagoon, and slide towers that are listed on the attraction list.
How can you spend your day here? Well, we have the answer. This Doha attraction brings you a wide range of water adventure and leisure along with some best Doha cafes and kiosks. Enjoy rides like the boomerango or a ride on a space boat, stingray surfing, a jacuzzi cave, and some more adventure that comes along your trip.
Address: Salwa International Road, Doha
Timings:
Tuesday – Sunday: 10 am to 6 pm
Family Day: Saturday: 10 am to 10 pm
Monday closed
Activities to Enjoy:
Games at Giant wave pool
Ride a Space boat
Exotic village tour
Water slides on Lazy river
Leisure at Family pool
Entry Fee:
For Adults: QR 120
For Kids: QR 100
Differently Abled: QR 60
For Nannies: QR 40
3. Jungle Zone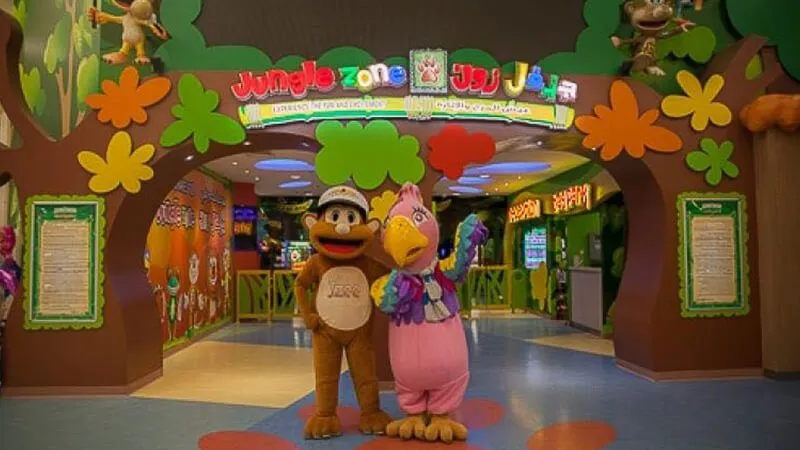 A jungle-themed park for your family day out, the jungle zone is one of the best attractions in Qatar when it comes to adventure and fun. Not just the park features some amazing rides and fun activities, the interior too is fascinating enough to lure visitors. There are animated animals, trees, and other jungle elements added to make it an experience for all. It resembles a rainforest making the ambiance more dramatic.
Coming to the adventure and fun, the theme park in Qatar has a number of interesting rides like the bumper car, candy games,7d rides, and more.
Kids here can try face painting or book a private party at a magic room to celebrate any event. From birthday parties to or private tours, the theme park has every facility listed for your entertainment.
The Jungle zone is located in Hyatt plaza, offering you fun and thrill at the same time. Activities at the Jungle Zone are categorized into different age groups so that every visitor can have the best experience of their life.
Address: Hyatt Plaza, Gate 3, Ground Floor
Operational Hours:
Mon to Wed: 9:00 AM to 10:00 PM
Thu: 9:00 AM to 12:00 AM
Fri - Sat: Closed
Sun: 9:00 AM - 10:00 PM
Activities to try:
Roller Coaster ride
Video games
Bumper cars ride
Bumper boats
Candy Bouncers
7D dark ride
Entry Fee:
For Adults: QR 120
For Kids: QR 100
Differently Abled: QR 60
For Nannies: QR 40
4. Doha Quest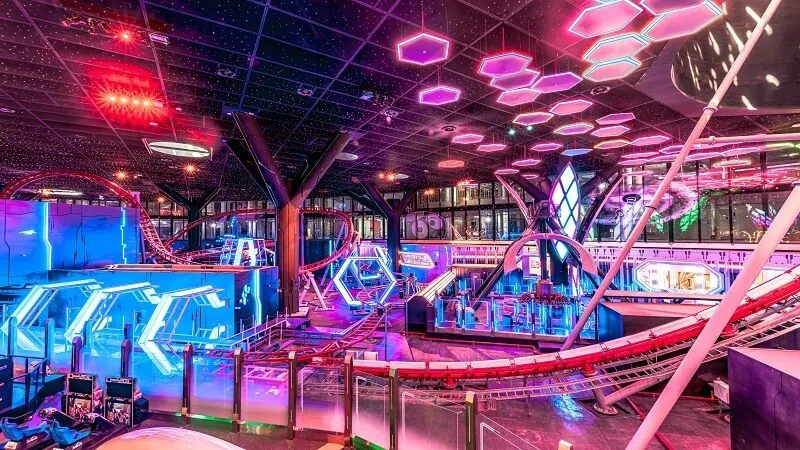 If you are planning an enthusiastic time amidst luxury, thrilling activities, delicious food, and games, without a doubt visit Doha Quest. Located within the beautiful Doha Oasis, the entertainment zone is brimmed with adrenaline-heavy thrill rides, media-controlled simulators, virtual reality experiences, and other family-friendly attractions making it one of the best theme parks in Qatar. The park's signature ride, the EpiQ Coaster is crowned as the world's tallest indoor roller coaster, and the Magma Blast, the world's tallest indoor drop tower. The story-based concept of the amusement park attracts guests from all age groups.
Designed into three theme zones, past, present and future, the park is a timeless zone offering a fascinating lifetime experience. Feel the past at 'Oryxville', the present at 'City of Imagination', and the future at 'Gravity' with numerous characters and fun-filled rides. The 32,000 sqm indoor experiential theme park with a myriad of interactive games, roller coasters, and fun activities is one of the best places to visit in Qatar with your family. One can also celebrate birthday parties here like never before. There are opulent restaurants in the park including Planet Hollywood Doha, Sarab Kiosk, Space Cantina, and Quest Café to delight your tastebuds. Indulge in a shopping spree and buy the best souvenirs from the TimeQuest Store.
Address: Doha Oasis, Al Khaleej Street, Doha, Qatar
Operational Hours:
Activities to enjoy:
Thrill rides
Family attractions
Questville
3D Experiences
Virtual Experiences
World class rides
City of imagination
Oryxville
Gravity
Tickets:
Juniors (4 -12 yo): QAR 160
Adults (13 yo+): QAR 235
Kids below 4: Free of charge
(Prices include complimentary digital memories)
For more information about the tickets visit: https://tickets.dohaquest.com/
5. ANGRY BIRDS WORLD™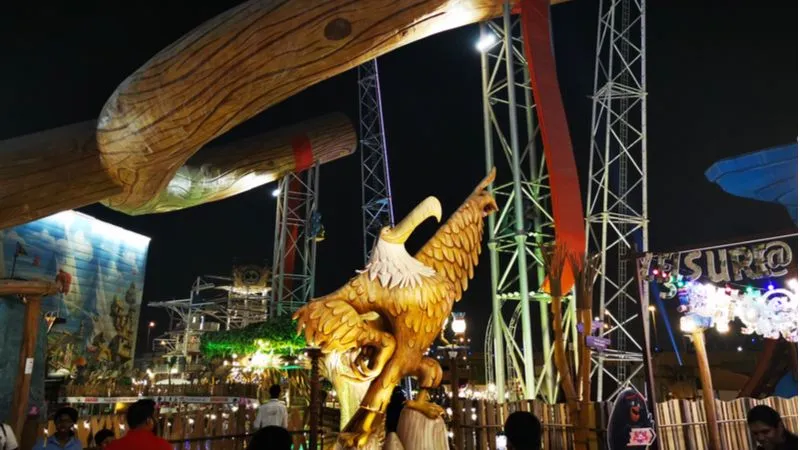 Located in Doha Festival City, the Angry Birds' World is one of Qatar's largest theme parks where you have top activities and adventures for your kids to try. This is one of the best places for kids to enjoy a day with their favorite Angry Birds characters. Opened in 2017 indoors and 2019 outdoors, the amusement park is built on an area of 17,500 square meters. Every visitor will find something interesting for their entertainment in this Angry Birds World.
Rovio Entertainment and LEISURE were behind the idea of creating a theme park based on the famous Angry Bird character. To boost tourism and give visitors a unique experience of fun and adventure, this became a new theme park in Qatar with an interesting element.
There are fun games, rides, studios, theatres, and attractions that make the Angry Birds World an ideal entertainment zone for all. There are games and rides for kids of every age like the blast bomb, go-karting, parabolic slides, roller gliders, and rope courses. Every ride at Angry Bird World promises an enthralling experience for your family's fun.
Address: Doha Festival City Mall, Qatar
Operational Hours:
Indoor:
Saturday to Wednesday: 10:00 AM – 10:00 PM
Thursday: 10:00 AM – 12:00 AM
Friday: 1:00 PM – 12:00 AM
Outdoor:
Saturday to Wednesday: 6:00 PM – 10:00 PM
Thursday to Friday: 6:00 PM – 12:00 AM
Activities to Try:
Pirate Coast
The Red Alert
The Bouncing Blues
The Blast Bomb
The Big Tree
Entry Fee: To learn more about the entry fee, please visit https://www.angrybirdsworld.qa/theme-park-tickets/
Suggested Read: Katara Beach: An Elegant And Subtle Spot In Doha
6. SNOW DUNES™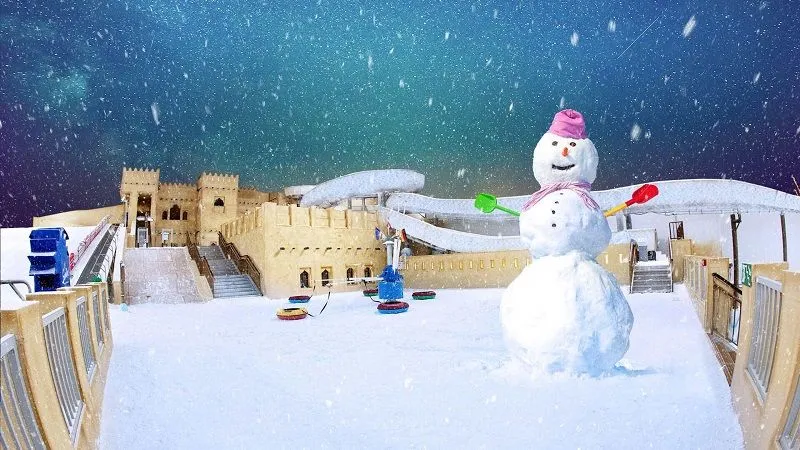 Located in Doha Festival City Mall, Snow Dunes Park is one of Qatar's best theme parks to enjoy the icy experience. The snow park is surely an attraction in Qatar that is famous for its desert activities. If you are looking for a quick escape to avoid the hot climate of Qatar, the snow park is surely the place where you can enjoy the adventure.
There are many fun rides to enjoy some enthralling activities. The Park has listed out attractions presenting the fun games at Dune Dash, Snow Mount, Snow Storm, and White Dunes.
Wondering how Snow Dunes is covered with snow while Qatar experiences extremely hot weather? Well, the Park features snow guns and a temperature under -4 degrees to keep the climatic condition under control. Now, for families who need a private space or want to organize a private party, the amusement park in Qatar has a VIP room and a magic box to let you experience the luxury. You can spend time with your family and invite 40 friends for an ice party.
Address- Doha Festival City Mall, Qatar
Operational Hours-
Saturday to Wednesday: 10:00 AM - 10:00 PM
Thursday: 10:00 AM – 12:00 AM
Friday: 1:00 PM – 12:00 AM
Activities to try:
Dune Dash
Snow Mount
Snow Storm
White Dunes
Entry Fees: To learn more about the entry fee, please visit https://www.snowdunes.qa/shop
Suggested Read: Parks In Qatar To Enjoy The World Of Nature And Serenity
7. KidzMondo Qatar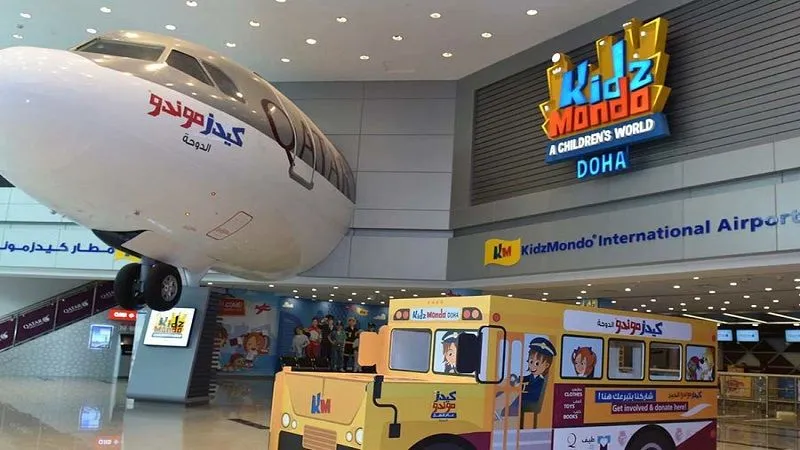 Learning will now be fun at KidzMondo that brings the best activities and fun things to do in Qatar for kids. This is not like other amusement parks because the activities here include the things that can help in the better growth of your kids. There are mind games, career challenges, and basic education on adequates and manners, they can learn while enjoying a day with their family and fellow visitors.
Located in the Mall of Qatar, this theme park is based on educational activities and games. If your kids are below 14, KidzMondo will welcome and help them to develop a better interest in learning activities that inspire them. From banking to cooking, or being a doctor, pilot and so on, they can live their dream and learn so much to make a better future.
This theme park in Qatar has more than 115 professional roles set for your child. This is a great opportunity to expose the kid to a practical world and make learning fun.
Address: Mall of Qatar, Doha Qatar
Operational Hours:
Saturday to Thursday: 10 am - 10 pm
Friday, 1 pm - 10 pm
Activities to Try:
Educational activities
Professional roles to Play
Learn Baking and More
Cooking Classes
Entry Fees:
Children 4-14: 135QR
3 and under: 90QR
Under 1 Year: FREE
Adults: 90 QAR
8. KidZania Qatar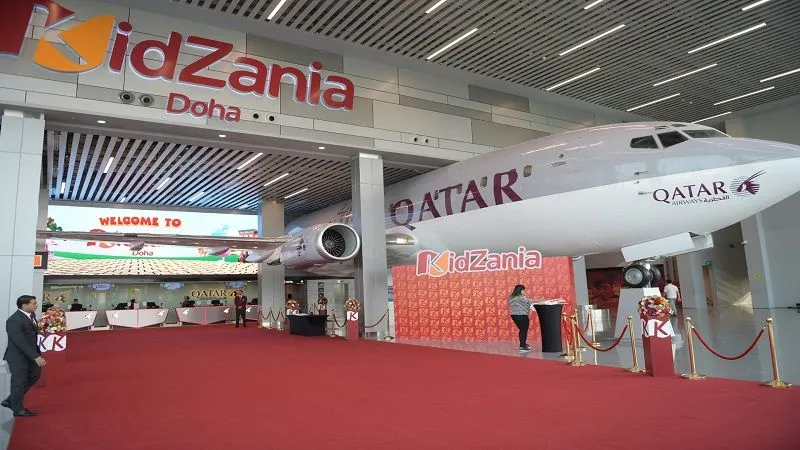 Another amusement park in Qatar, KidZania is more of an educational center that has made learning fun. Just like KidzMondo, KidZania is also offering the best opportunity to the kids to learn and develop their hobby into a passion. Now you can let your child step up and be their own mentor for the day. The activities here are not just inspiring and engaging but will help them to earn the hard work.
Understanding the need for practical knowledge, this theme park has a concept of developing hidden skills and letting the kid acknowledge the importance of knowledge and education.
KidZania is located in the Aspire Zone and built as a city where there is a bank, hospital, supermarket, airport, and other attractions. The day activity involves kids working and learning here which not just makes it entertaining but imparts the basic knowledge of smart living. For every chore, kids earn money that is based on an independent currency of Kidzania.
Location: Aspire Park, Doha, Qatar
Timings:
Monday–Friday: 2 pm to 10 pm
Saturday: 10 am to 10 pm
Sunday (closed)
Activities to Try:
Educational games
Science lab
Skill development
Theatre and TV studio
Theme activities
Entry Fee:
Baby 0-1 years: Free entry
Kids 4-16 years: 160 QAR
Adults: 95 QAR
Suggested Read:  MIA Park, Doha: A Perfect Place To Unwind, Enjoy & Indulge In Fun Activities
9. Bounce Freestyle Academy
Just as the name suggest Bounce Freestyle Academy in Doha is a place from where you can bounce off everything. From wall to floor just strike and repel. This place is a combination of more than 70 interconnected trampolines. It lets you fly into the air and allows you to execute your freestyle moves in a well-protected environment. Evoking an inclination towards athleticism, Bounce is a home for leading athletes and has been a skill development zone for the wild spirited souls of any age.
No matter what your age is, this fun center will let you embrace the inner child of yours that you might have lost somewhere or have forgotten about. All you need to do is slide into your most comfortable track pants and shoot off into the most bizarre yet fun place to be! So, while you are here, be rest assured that you would be deviated from your worries and will dive in to live a fun-packed day with your kids and families.
Address: Tawar Mall, Al Markhiya Street, Al Duhail South
Operational Hours:
Saturday to Wednesday: 10:00 AM – 10:00 PM
Thursday and Friday: 10:00 AM – 12:00 AM
Activities To Enjoy:
Free Jump
Slam Dunk
The wall
XP park
Super Tramp
Freestyle Academy
Entry Fee:
Two hours premium super pass: QAR 180
Two hours super pass: QAR 160
One-hour premium access pass: QAR 120
Junior Pass: QAR 80
General admission pass: QAR 100
10. Circus Land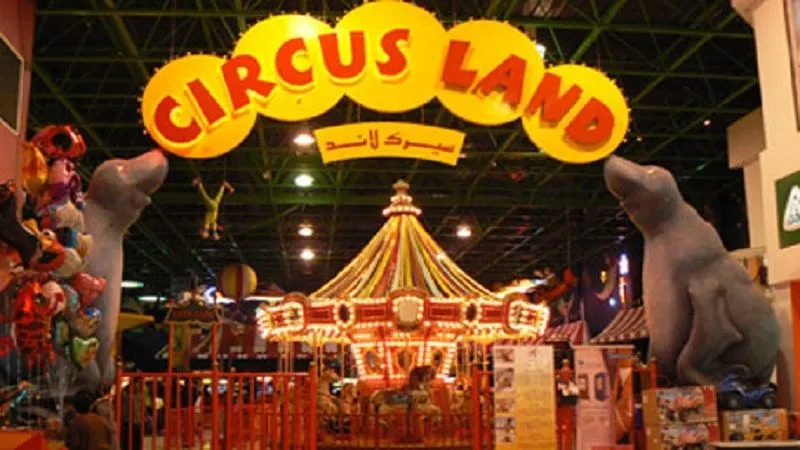 An integral part of Landmark mall, Circus land is a perfect destination for localites and visitors. It is a circus-themed amusement park catering to all the children irrespective of their age. Thus, parents can enjoy their shopping peacefully while the kids enjoy themselves at the entertainment centre. There is a large section of toys for kids and also, they have options of getting hair trimmed at the jungle salon. Children can choose their favorite section from the inflatable slide, bumper cars or 4-storey soft play area. There is a food court in Circus land for the sudden hunger that emerges while playing. Circus land in Landmark mall is no less than a Joyous merry go round for all without leaving out the children of any age.
In Qatar, Circus land is amongst the best and most famous theme parks given to its creative theme that entices kids of all ages. It serves as the perfect place to encourage a kid's personality development and introduce a sense of social behaviour.
Address: Landmark Mall
Operational Hours:
Saturday to Wednesday: 9 am- 10 pm
Thursday to Friday: 9 am– 11 pm
Activities to enjoy:
Horse Carousal
Aeroplane Flyover
Trampoline bed
Bumper Car
Four Story Soft play
Entry Fee: QAR 18
11. VIRTUOCITY™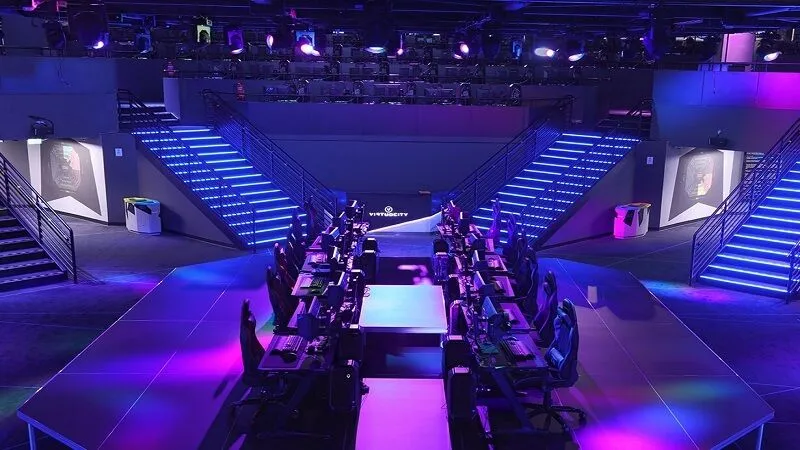 Are you a gaming enthusiast? Then, without a doubt visit Virtuocity in Qatar to indulge in a fully kitted-out egaming place with privacy and fascination. An entertainment center dedicated to arcade video games, Virtuocity is a perfect egaming amusement park for thrilling fun with your friends. The PlayStation offers eSport gaming coliseums, gaming consoles and racing simulators. If you are into Escape Rooms then there is an option of playing mystery puzzles. Gamers are given 60 minutes to solve the puzzle and break out of the mystery room. You can choose from The Cursed Tomb, Asylum, Bunker 38, The Dungeon Of Doom, Quarantined, The Experiments and The Final Match. There is a designated price list to choose from, depending upon the number of players.
Heard about the VR that Virtuocity transfers to? Its HDM headset technology – HTC Vive creates that stimulating environment that gives an experience of immersing in a 3D world. Gamers can submerge in more than 700 education and virtual reality platforms.
Address: Doha Festival City Mall, Qatar
Operational Hours:
Saturday to Wednesday: 10:00 AM – 10:00 PM
Thursday: 10:00 AM – 12:00 AM
Friday: 1:00 PM – 12:00 AM
Activities to Enjoy:
eGaming Tournaments
Private gaming rooms
Escape rooms
VR Games
Racing Games
1VR1 VR Football
Entry Fee: To learn more about the entry fee, please visit https://www.virtuocity.qa/enigma-escape-room/
12. Megapolis Entertainment Centre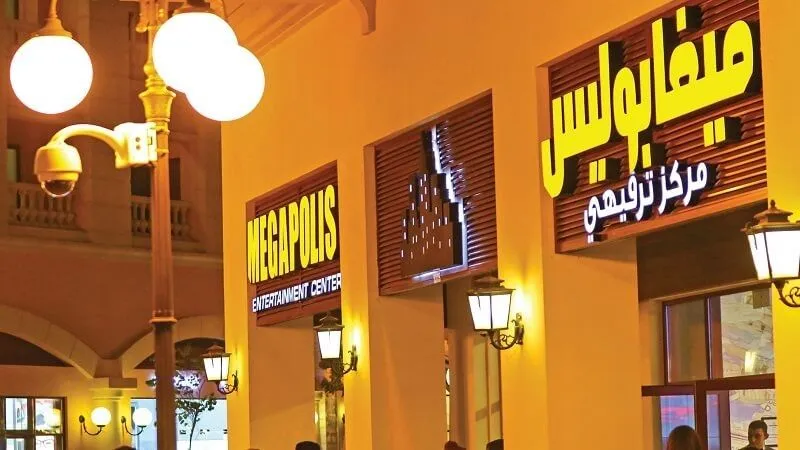 An indoor family entertainment center located in medina centrale of the Pearl Qatar. The entertainment park offers a plethora of fun activities enjoyed by all irrespective of their age and preference. Megapolis entertainment centre in Qatar is said to be one of the most famous entertainment centres in Qatar. Visitors can plan a day with family and friends for a day full of non-stop fun. The aspiring singers can try their art in the karaoke zone in megapolis centre Qatar. Few of the most famous and crowded zones are Virtual reality stations and bowling alley.
Address: Medina Centrale, Pearl Qatar
Operational Hours:
Saturday to Wednesday: 10 am to 1 am
Thursday: 10 am to 2 am
Friday: 1 pm to 2 am
Activities to enjoy:
Bowling Alley
VR stations
Formula 1 simulators
Karaoke Rooms
Arcade
Entry Fee: No entrance fee, prices vary depending on the activities or games customers choose.
Suggested Read: 18 Parks In Qatar - Enjoy The World Of Nature And Serenity
13. Baladna Park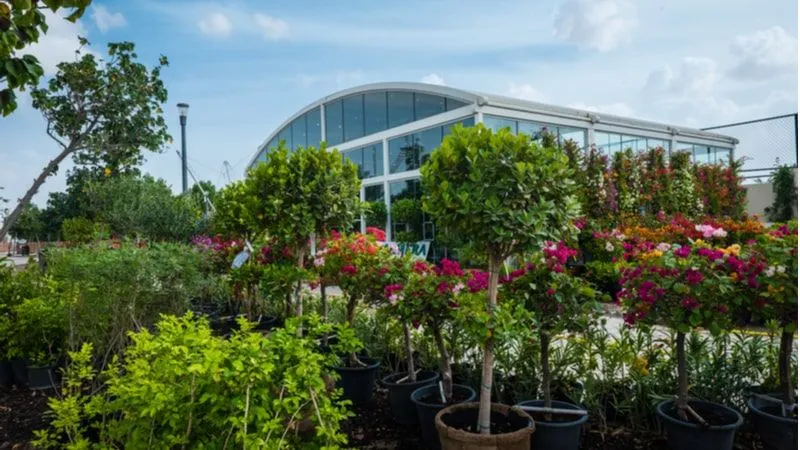 In the chaos of daily struggle, everyone deserves few moments of peace in a natural green environment. Baladna park in Doha is that solace that evokes tranquility in the truest senses. It is one of those parks in Qatar that offer a haven of freshness and serenity that lingers for few days and helps in enlightening the mind. Rendering plentitude of outdoor activities, the overall mission is to bring families closer to each other and nature in a safe environment. The few most popular outdoor activities include ziplining, rope obstacles and climbing walls. Bumper boat in the man-made pond surrounded by green areas and aquatic birds leaves a soothing impression on the mind.
Kids are taught the basics of planting trees and keeping them maintained. They learn about the different types of seeds and soil, which further brings them closer to nature. Since Baladna's animals are its beauty, the art of petting animals is also introduced to the kids. They have a wide variety of animals such as Lamas, Zebras, Ostriches, Ponies and many more.
Address: Umm Al-Hawaya Exit 44 of Shamal Road
Operational Hours:
Weekdays: 10 am to 7 pm
Friday: 12 pm to 8 pm
Saturday: 10 am to 8 pm
Activities to enjoy:
Sport zone (Ziplining, rope obstacles, etc)
Bungee trampolines
Adventure land
Pedal racing
Palmera greenhouse
Bumper boats
Entry Fee: Kids under 16 years old: QR 95, Adults: QR 65
Theme Parks in Qatar have made entertainment a bit more fun and thrilling. There is a lot to do and experience, but theme parks are the best when it comes to the family holiday. There are fun games, exciting rides, and some educational activities that make each of the amusement parks unique and a must-visit attraction. Adding these fun attractions to your itinerary will certainly add so more to your holiday experience. So, without any delay, get ready to discover fun with your family by booking Qatar flights today.
FAQs
Q1. What are the best parks in Qatar?
Qatar is a family-friendly destination where you will find the best attractions and activities. The best family park in Qatar are:
Aspire Park
MIA Park
Doha Quest
Aqua Park
Hotel Park Doha
Q2. What are the best theme parks for kids in Qatar?
Amusement parks are the best attraction for family holidays. The top theme parks in Qatar for kids are:
Angry bird world
KidzMondo
KidZania
Entertainment World Village
Aqua Park
Q3. How can I spend my day in Aqua Park?
Aquapark is one of the best attractions for locals and travelers where they can enjoy water adventure and games. The best activities you can try in this water park are:
Games at Giant wave pool
Ride a Space boat
Exotic village tour
Water slides on Lazy river
Leisure at Family pool
Q4. What are the best activities for kids to try in Jungle Zone?
Jungle Zone is among the top amusement parks for kids where there is adventure and fun. The theme park offers some of the best activities like:
Roller Coaster ride
Video games
Bumper cars ride
Bumper boats
Candy Bouncers
7D dark ride
Q5. Where is Gondolania theme park?
Gondolania is a theme park located in Villaggio Mall, one of the best malls in Qatar. The theme park is inspired by the Venice city water canals where you can enjoy Gondola rides and other adventure activities like go-karting, ice hockey, bowling, lazer war, and more.
Q6. Which is the best theme-based adventure park in Qatar?
While Qatar has a number of amusement and theme parks, there are some theme-based parks where one can enjoy fun rides and adventures. The best theme parks are:
Snow dunes Park
Angry bird world
Aqua Park
Doha Quest
Circus Land
Q7. Is there any entry fee for Snow Dunes Park?
There are packages you can book for the snow dunes park experience. The gold, platinum, and silver packages come with some additional inclusions like VIP room access or activities.
The Cost Of The Platinum Package: QAR 490
The Cost Of The Gold Package: QAR 240
The Cost Of The Silver Package: QAR 190
Q8. Is there any mall with indoor theme parks in Qatar?
Malls are one of the best spots to spend a day with family. Apart from shopping and dining, some malls offer complete entertainment with indoor theme parks.
Snow dunes in Doha Festival City
Gondolania Theme Park in Villaggio Mall
Angry Birds world in Doha Festival City
Circus Land in Landmark Mall
KidzMondo Doha in Mall of Qatar
---