Jump, bounce, climb, hang, roll, flip! Introducing everyone to the amazing and exciting trampoline parks in Qatar, where not just your kids can have fun, but you can also be a part of their day of amusement. Qatar has always been one of the Middle Eastern countries that introduces its natives and tourists to new and exciting activities to indulge in. Trampoline parks are one of the best things for people to enjoy with their family and friends. So, if you are one of those people who look for activities that provide that adrenaline rush, then you should visit these trampoline parks and make precious memories with your loved ones.
Trampoline Parks in Qatar: Where Joy Springs to Life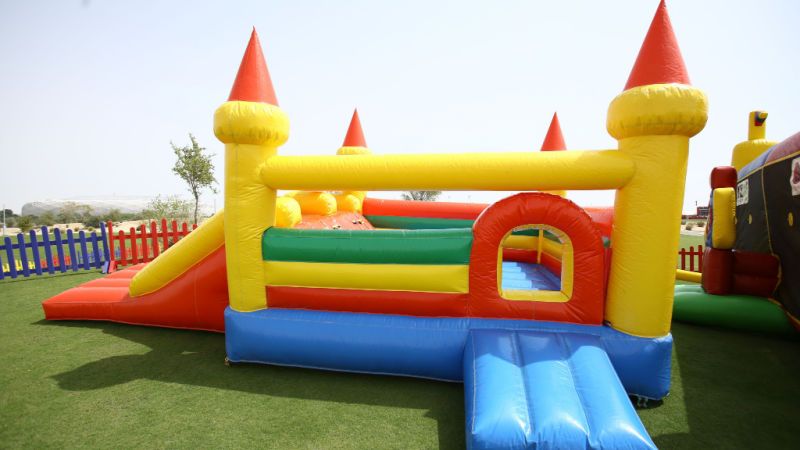 Trampoline parks in Qatar are a great way for people to get out of their houses and spend some quality time with their loved ones while having a lot of fun. Other than that, these activities are beneficial for the health and happiness of all those who visit such parks. Such parks also become a delightful place to meet new people, and it is a great way for kids to develop their social skills. Talking to people with ease and comfort plays a vital role in everyone's development and growth. Such parks also introduce kids to a lot of new activities.
Bounce Doha
Trampo Extreme Qatar
Rebound
Jump Qatar
Rush Action Park
Jumpino Trampoline Park
Trampoline Universe
1. Bounce Doha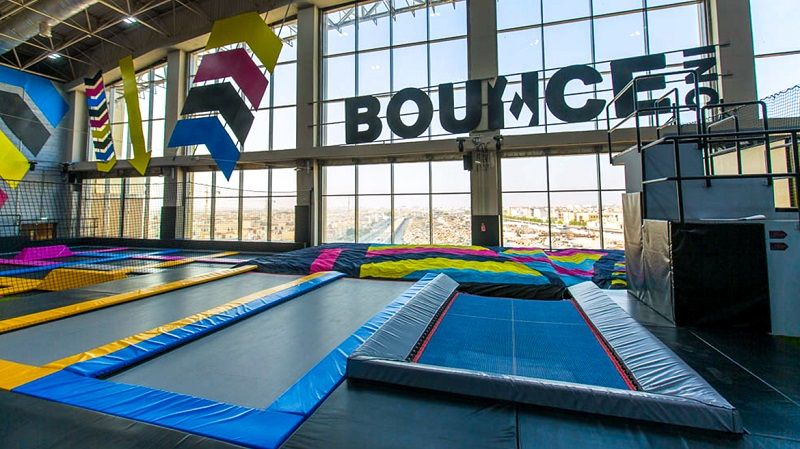 This amazing trampoline park in Doha has a lot to offer, not just to kids but also to adults. It is a freestyle playground with elements of ten different exciting activities. People can have fun either running up the wall, launching into the Big Bag, slam dunking the ball into the basket, jumping off of a balcony onto a giant air bag, or loosening up in the free-jump arena. This indoor fun zone follows all the necessary safety measures, and everyone is always on the radar of the staff, so that no one gets hurt. If you are looking for a venue to throw an awesome birthday party for your kid, you can book this place and the children will love you forever.
Location: Al Markhiya Street, Al Duhail South, in Tawar Mall Doha, 2nd floor, Doha, Qatar
Timings: Saturday – Wednesday: 2 p.m. – 10 p.m. Thursday: 2 p.m. – 11 p.m. Friday: 10 a.m. – 11 p.m. Saturday: 10 a.m. – 10 p.m.
2. Trampo Extreme Qatar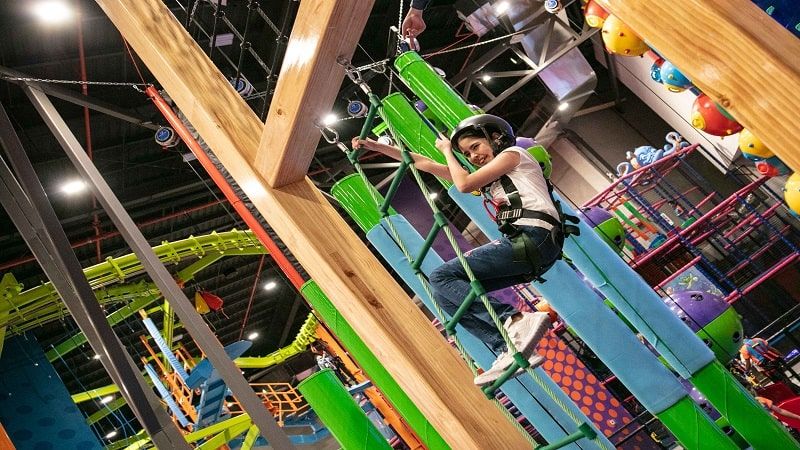 One of the most popular trampoline parks in Qatar is Trampo Extreme, which offers 4 different kinds of activities for kids and adults. There are endless rows of individual trampolines for people to jump around with their friends and have a great time. The other activities attached to the trampoline are basketball, foam pit, trapeze, dodgeball zone, swing rope, etc. The options, except for the trampoline, are the eight-meter climbing wall at Clip 'n Climb, a rope course made for kids and adults to manoeuvre their way across ropes and ladders on the enormous sky trail, followed by a thrilling ride on the zip line at the end, and amazing slides, tunnels, towers, and games for the youngest kids in the group.
Location: Aspire Park, 24439 Al Baaya St, Doha, Qatar
Timings: Sunday-Wednesday: 1 p.m.–10 p.m. Thursday & Friday: 1 p.m. – 11 p.m. Saturday: 10 a.m.–10 p.m.
3. Rebound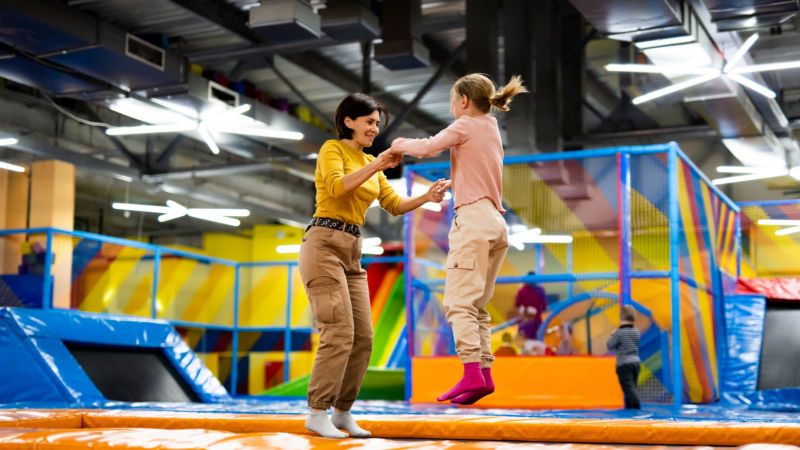 Visit one of the fun theme parks in Qatar where there are plenty of options to burn that energy not only for kids but for adults also. Bouncing on a trampoline with no worries in the world is a great way to relieve stress and spend quality time with children and family. One can also invite his friends and have fun with them. When you're done jumping on the trampoline, there are other activities to indulge in, such as a foam pit, basketball, velcro wall, zorb ball, and wall climb.It is one of the best places to visit in Qatar when you want to enjoy your day with family and friends but sightseeing is not on the cards.
Location: 1st floor, tower 2, The Gate Mall, 860 West Bay, 63 Al Shatt St, Doha, Qatar
Timings: Saturday-Thursday: 10 a.m.-10 p.m. Friday: 1 p.m. - 10 p.m.
Suggested Read: Quranic Botanical Garden in Qatar: Reflecting Islamic Architecture with Beautiful Plants
4. Jump Qatar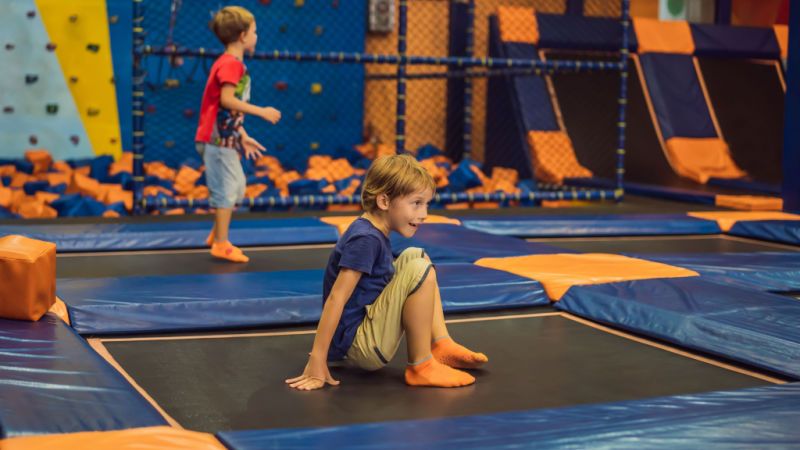 This indoor entertainment place is all about fun, family, and fitness, where people of all ages are welcome. The aim of Jump amusement park is for all the members of a family to come together and enjoy the different activities offered at Jump. People are free to choose from six play elements; free jumping, foam zone, slam dunk, velcro wall, ninja obstacle courses, and wall climbing. The place is always surrounded by members of the Jump team so that people are always safe and just enjoying their time. One can also consider Jump to be one of the kids' birthday celebration places in Qatar.
Location: Al Mirqab Mall, Mezzanine floor, Al Jadeed St, Doha, Qatar
Timings: Saturday - Thursday: 10 a.m. – 11 p.m. Friday: 1 p.m. - 11 p.m.
5. Rush Action Park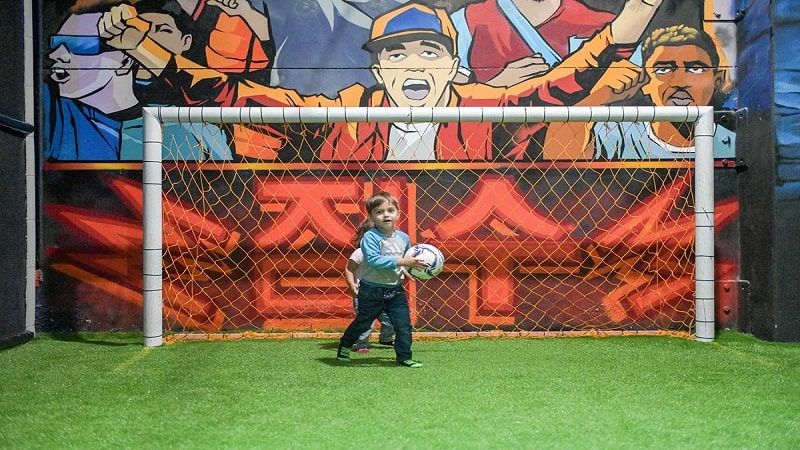 This amusing trampoline park in Qatar is a must-visit if you are exploring the country or just free on a weekend. Take your kids along and set them free to jump, bounce, and relieve all that built up energy inside them. The children have a choice to pick from activities like zipline, performance trampoline, trampoline kids' arena with a foam pit, chaser wall, roller slide, motorised ninja course, power tower, freedom arena, net course, and football cage arena. You can make videos or take photos of your children having fun bouncing from one activity to the other.
Location: First floor, West Gate 3, Mall of Qatar, Doha
Timings: N.A.
6. Jumpino Trampoline Park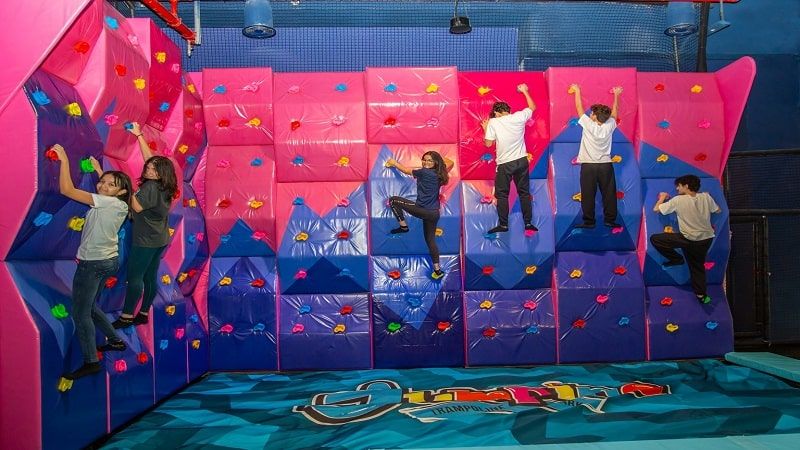 One of the best family entertainment centres, Jumpino offers an enjoyable activity to anyone who visits it, irrespective of their age. As mentioned before, there are many health benefits associated with being active, and bouncing on a trampoline and indulging in different activities once in a while would help in achieving those benefits. People can choose any of the activities that the centre offers, from 3D wall, air bags, ninja course, free jump, climbing wall, dodgeball, slam dunk, and basketball. If you want to make your kid's birthday more special by including kids' activities in Qatar, then you are in for a treat as the centre organises parties for kids with yummy food and no limits for fun and play.
Location: Second floor, Gate 1, Place Vendôme Mall, Wadi Al Gaeya, Lusail, Qatar
Timings: Sunday – Wednesday: 9 a.m. - 10 p.m. Thursday-Saturday: 9 a.m. to 12 a.m.
Suggested Read: Top Air-Conditioned Open Spaces in Doha: An Amalgamate of High-Tech Innovations and Beauty
7. Trampoline Universe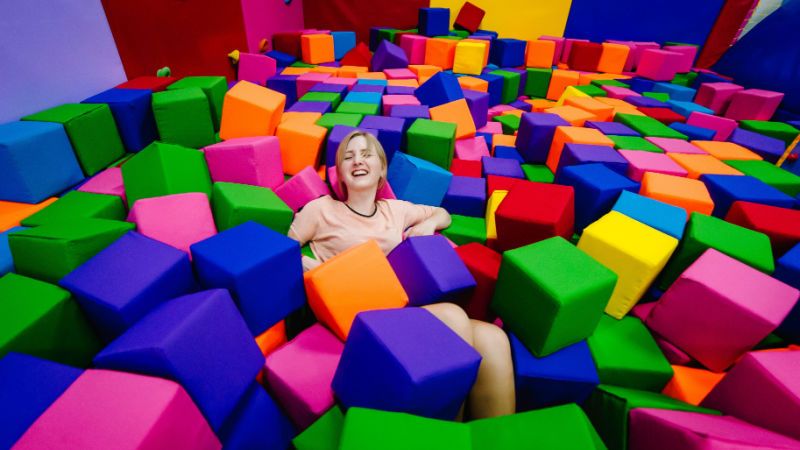 If you want to feel as light as a bird, plan a visit to this incredible indoor trampoline park in Qatar. Take your family and friends to this amazing place and bounce through all the stress and worries of life while screaming and laughing when you fall. The trampoline park is a part of this beautiful world of different activities for children and adults, like a trampoline basketball court, foam pits to jump over and into, and gravity-boosted extreme trampolines. This place can easily fit into the list of things to do in Qatar, when you are at leisure during your holiday.
Location: Angry bird's world, Doha Festival City, Al Kheesa, P.O. Box 38418, Doha, Qatar.
Timings: Saturday – Wednesday: 10 a.m. - 10 p.m. Thursday: 10 a.m. to 12 a.m. Friday: 1 p.m. to 12 a.m.
So, if you are travelling to the country or just want to do something fun on a weekend with family or friends, then without giving any second thoughts, book your place in any of the mentioned trampoline parks in Qatar and enjoy your time. Parks are not just physically beneficial for kids but also for adults, as they help to burn those calories and help you stay healthier. And with the FIFA World Cup around the corner, plan a long holiday to Qatar and avail of the Qatar holiday packages to enjoy the matches and explore the country with ease and comfort.
FAQs
Q1. What are trampoline parks?
Trampoline parks play a different role for kids and adults. For kids, it is a way to relieve that built up energy and enjoy their time jumping and playing. For adults, bouncing on a trampoline, even for a few minutes, helps burn some calories and release stress.
Q2. Which is the major airport in Qatar?
The main airport in Qatar is Hamad International Airport, serving both domestic and international flights. It is one of the important gateways for international tourists to enter Qatar.
Q3. What are the activities offered at Jumpino Trampoline Park?
The trampoline park is open for kids and adults. Other than the spacious bouncy trampoline, the park also offers activities like 3D wall, air bags, ninja course, free jump, climbing wall, dodgeball, slam dunk, and basketball.
Q4. What are some travel tips for Qatar?
Here are some important tips to keep in mind while exploring Qatar.
Keep your passport with you
Bring sunglasses and sunscreen
Wear comfortable clothes
Try all the local dishes
Q5. What months are best to visit Qatar?
The months from March to November are the best to visit the beautiful country. The weather during these months is pleasant and tourists can explore all the significant places with ease and comfort.
Q6. What are the best places to visit in Qatar?
There are many places to explore in Qatar to learn about the culture and to enjoy the beauty of the country.
Barzan Tower
Inland Sea Beach
Al Zubarah Fort
The Pearl Qatar
The Doha Desert
Q7. Which are the best trampoline parks in Qatar?
There are many amazing trampoline parks in the country that offer unlimited fun.
Bounce Doha
Trampoline Universe
Jumpino Trampoline Park
Trampo Extreme Qatar
Q8. How many days are enough to explore Qatar?
3 to 5 days are more than enough to explore all the significant places and experience all the fun activities in the country, like shopping in exotic markets, trying local dishes, visiting forts and mosques, etc.
---