Are you an adventure enthusiast? Want a break from sightseeing and cultural indulgence but don't have time for a long vacation? Well, a paradise for adventure seekers, Trampo Qatar is a fantastic place to enjoy an adventurous time with your family and friends. Located in the charming Aspire Zone, this place offers a thrilling escape into adventure and enthusiasm to surge your adrenaline for a flabbergasting experience. Scroll down the blog and get to know about all the activities, fun, and enjoyment one can enjoy here for a delightful experience.
Trampo Extreme, Qatar: A Complete Family Entertainment Hub in Doha.
Trampo Extreme in Qatar is an indoor playground where innovation meets adventure. Challenge yourselves and get ready for an immersive experience for the entire family. Whether you are a kid or an adult, this place is for you. With its branches in Kuwait, and other GCC countries for several years, this entertainment spot is now debuting at Aspire Zone in Qatar and is all set to expand in various locations with time.
The playground uses top-quality trampolines and offers a great time away from boredom. Disconnect with the world and indulge in activities like jumping, climbing, sky trail, and soft play to push your adrenaline and burn some calories. One can enjoy jumping on the connected trampolines, slam dunk some basketballs, skydive into the foam pit, race with others to the speed climbs, duck and dodge in the dodgeball zone, and maneuver your way across ropes and ladders on the enormous sky trail. It is one of the biggest middle-east attractions for complete family entertainment.
Activities to Enjoy in Trampo Qatar: For a Fun-Filled Adventurous Time
Guests can enjoy a thrilling time at Trampo Extreme Doha and indulge in various activities. Here is a glimpse of all the fun you can do in this fascinating place.
1. Jump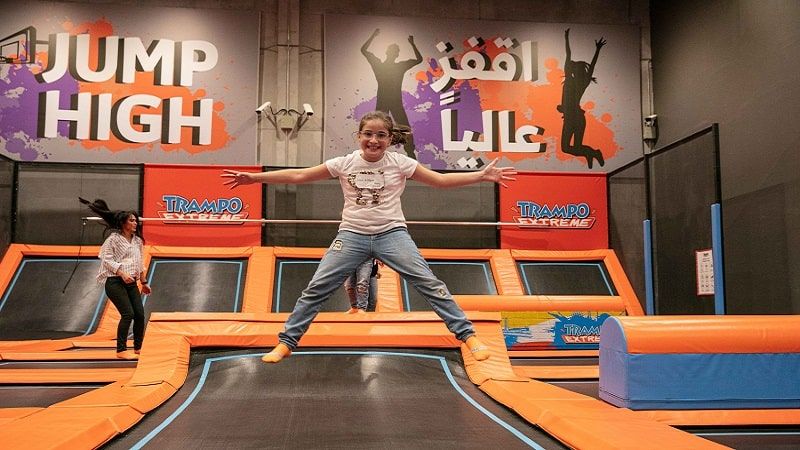 Comprising several rows of individual trampolines to jump, this amazing playground has several others sports as well. They include basketball, battle seam, foam pit, trapeze, dodgeball zone, airbag, slackline, monkey bar and swing rope. These fun activities in Trampo Qatar will make your day and help you stay active and energized.
2. Climb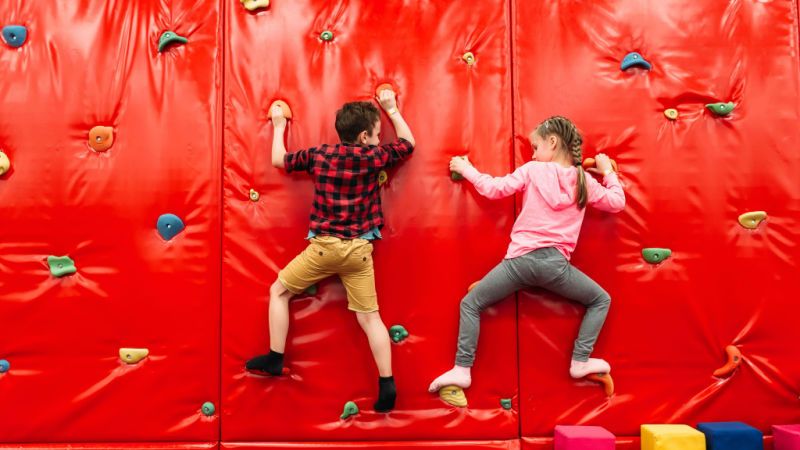 Get ready to challenge yourselves by clipping and climbing up to 8 meters of elements. Climb up to reach the walls and then do try a level 2 or 3 challenge. With a total of 18 to 30 different climbing walls, the playground will delight your mind, body, and soul. It's advised to wear closed-toe shoes for a hassle-free experience as other types of footwear are not allowed in Trampo Doha.
3. Sky Trail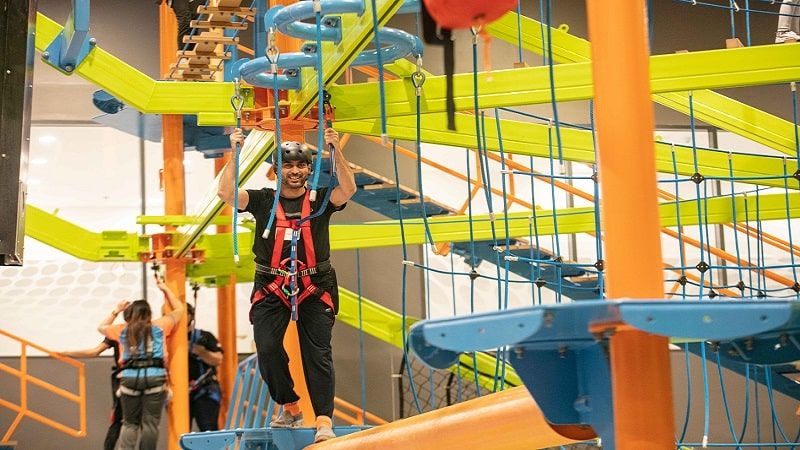 Offering an exciting experience for juniors and adults in a completely safe environment, sky trail is all set to push your adrenaline with a blend of fun like never before. The zip-lining experience will fill your heart with immense pleasure and thrill. The super safe ride has two types of trails, one for juniors with a maximum height of 122 cm and another for adults with a maximum height of 200 cm. The guests are advised to wear closed shoes only as sandals or flip-flops are not allowed.
Suggested Read: Things To Do In Al Khor, Qatar For Your Perfect Getaway In This Historical Hamlet
4. Soft Play
Offering a safe, colorful, and fun zone for kids, Trampo Extreme is one of the best places to visit in Qatar for kids. Brimming with cool slides, tunnels, towers, and games, this place is a heaven for the little ones wherein they can enjoy an amazing time with utmost safety and enthusiasm. But it's mandatory that the kids are accompanied by their parents or guardian. Also, the kids must wear Tramp Extreme jump socks for a fine experience.
Events at Trampo Extreme, Qatar
Here are all the events that one can plan at Trampo Extreme, Qatar, and enjoy a fabulous time amidst every comfort and thrill.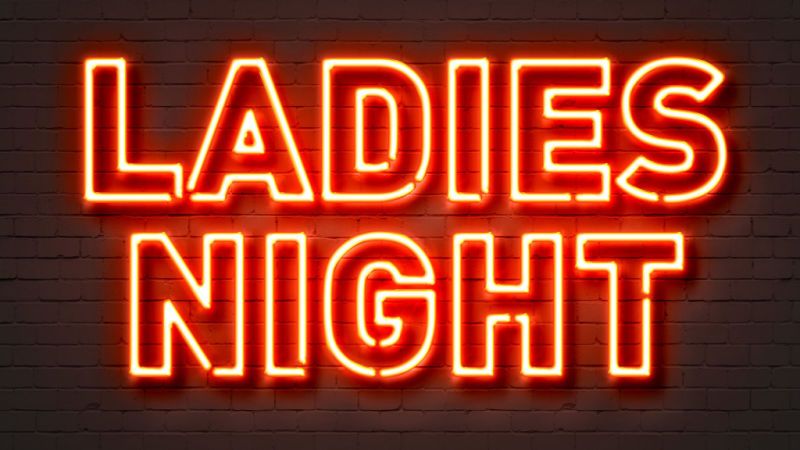 All the ladies out there! If you are planning a ladies' night full of fun and fascination, then Trampo Extreme is the right place for you. This is one of the best places to visit in Qatar for ladies and includes party rooms and fun-filled themes every Wednesday from 5 PM to 10 PM.
Suggested Read: Places To Visit In Saudi Arabia: Top Attractions To Uncover The Mystical Vibes of This Arabian Country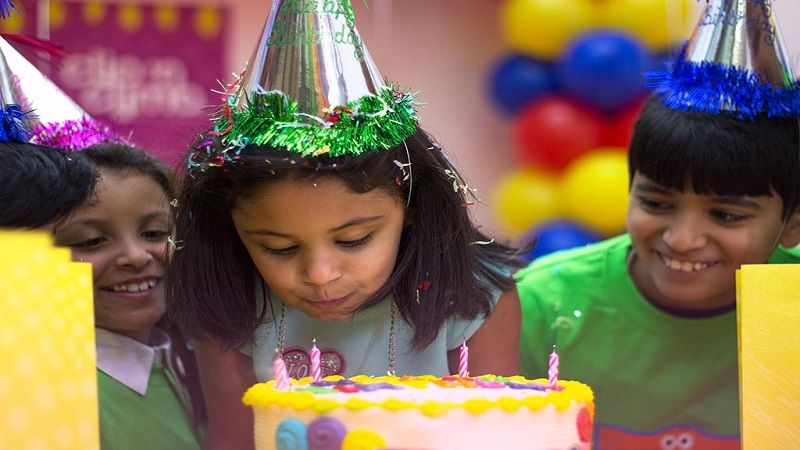 Are you looking to plan your kid's birthday party with a different theme full of fun and exciting activities? Trampo Extreme playground aims to celebrate your kid's birthday with a special gala. The jump arenas and party rooms make this one of the best places to celebrate child's birthday in Qatar.
Suggested Read: Hiking In Qatar: The Best Adventure To Challenge Your Limits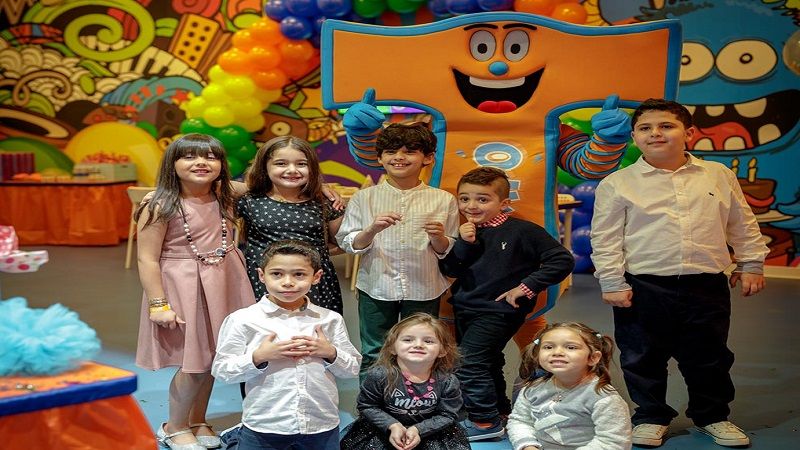 If you are planning to join the thrilling camps then this is the best place for you. They organize numerous exciting camps from time to time and focus on team-building activities that cultivate the mind, build social skills and practice good sportsmanship. Participating in Trampo Extreme camps is one of the best things to do in Qatar. You can check their official website for upcoming events that will amplify your holiday moods and uplift your weekend vibes.
Trampo Extreme for Schools and Corporate
One of the best places to plan a day in Qatar is Trampo Qatar. Be it a school trip or a corporate outing, this place is best for both. They customize everything according to your needs for a delightful experience.
Suggested Read: Sandboarding In Doha: Indulge In A Thrilling Adventure In The Heart Of Qatar
Additional Information:
Here are the location, price of the tickets, and age requirements to enjoy the activities in Trampo Extreme.
Location: Trampo Extreme, Aspire Zone, Al Waab Street, Doha, Qatar
Pricing of the Tickets:
The Trampo Extreme Qatar prices are as follows:
Jumping-Adults: 90 QAR for 60 mins
Jumping- Junior: 80 QAR for 60 mins
Skytrail: 60 QAR for 30 mins
Skytrail Junior: 50 QAR for 30 Mins
Soft Play: 70 QAR for 3 Hours
Combo Jump+ Jump: 170 QAR for 2 Hours
All Activities: 200 QAR for 2 Hours
Age Requirements for Trampoline Qatar:
Jumping- 6 Years and above or Guardian
Jumping Junior: 3 to 5 Years
The charming country of Qatar is brimmed with amazing activities for a pleasant time with your loved ones. Offering a blissful escape into a thrilling zone away from the humdrum, Trampo Qatar is a fantastic place to visit. From indulging in various activities to special areas for kids, birthday parties, ladies' night, and corporate outings, the place is pure bliss. So, pack your bags and take benefit of the best Qatar tour packages for an exciting break from the mundane routine.
FAQs
Q1. What is the best time to visit Qatar?
The best time to visit Qatar is between mid-November to mid-March. At this time the weather here is nice and considered best for numerous activities and exploring the beautiful country.
Q2. What is the main international airport in Qatar?
Hamad international airport is the main and the only international airport in Qatar connecting the country globally. It's one of the busiest airports in the world.
Q3. How many days is enough to explore Qatar?
A total of 5 to 7 days is enough to explore the majestic grandeur of Qatar. One can explore the architectural marvels, enjoy shopping, savor delicious Qatari cuisines, and enjoy witnessing the heavenly natural wonders of the country.
Q4. What are the best places to visit in Qatar?
There are many amazing places to visit in Qatar for a fun-filled holiday experience. The best places to visit in Qatar include:
Souq Waqif
Museum of Islamic Art
National Museum of Qatar
Katara Cultural Village
The Pearl-Qatar
The Corniche
Q5. Do Trampo Extreme hosts birthday parties?
Yes, Trampo Extreme Qatar hosts Birthday parties. The team can customize the activities and celebrations according to the guest's needs. One can contact the team of Trampo Extreme on their website for advance bookings.
Q6. What are the activities one can enjoy in Tramp Extreme, Qatar?
Here are the activities one can enjoy in the Trampo Extreme, Qatar for a delightful experience.
Jump
Climb
Sky trail
Soft Play
Q7. What facilities does Trampo Extreme in Qatar provide?
Trampo Extreme in Qatar provides numerous facilities including washrooms, changing rooms, lockers, costumes, and more for a hassle-free experience. There are activities both for kids and adults for a full family day out.
Q8. What is the price of tickets in Trampo Extreme, Qatar?
Here is the price of the tickets in Tramp Extreme in Qatar.
Jumping-Adults: 90 QAR for 60 mins
Jumping- Junior: 80 QAR for 60 mins
Skytrail: 60 QAR for 30 mins
Skytrail Junior: 50 QAR for 30 Mins
Soft Play: 70 QAR for 3 Hours
Combo Jump+ Jump: 170 QAR for 2 Hours
All Activities: 200 QAR for 2 Hours
---