Qatar is not only renowned for its extravagant skyline and cultural attractions but also for its stunning beaches where a myriad of adventures can be enjoyed offering a massive adrenaline rush. Not just the beach adventures but Qatar also offers some other thrilling adventures like kayaking. Kayaking in Qatar is one of the most popular activities which one shouldn't miss out on. Al Thakira Natural Reserve is one of the best places to enjoy the thrills of kayaking.
The Best Spot To Experience Kayaking In Qatar: Al Thakira Nature Reserve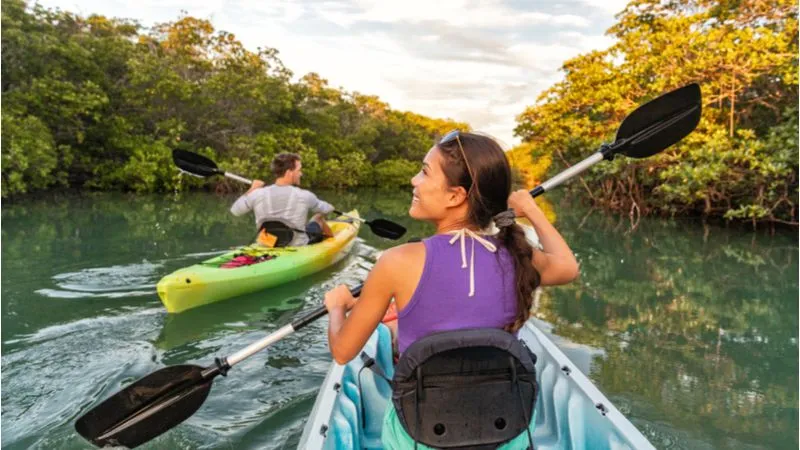 One of the best things to do in Doha is kayaking as it will bring you close to nature and will offer you with the best views. Feel different while enjoying kayaking and get mesmerized by the enthralling vistas of the landscape. Al Thakira is quite a popular place in Qatar known for its unique flora and fauna so, kayaking at this spot in Qatar is quite exhilarating and blissful at the same time. The place is brimmed with lush green mangroves and a variety of fishes and birds can be spotted here while kayaking through the mangroves.
What makes the Al Thakira Mangroves one of the favorite kayaking places in Doha is its incredible beauty. As you sail, you can explore a large expanse of natural greenery. The place is home to the rare mangrove swamps of Qatar and also home to a number of migratory birds like flamingos and herons. Located just north of the seaside city of Al Khor, one can easily reach Al Thakira via car.
Other Best Places For Kayaking Adventure in Qatar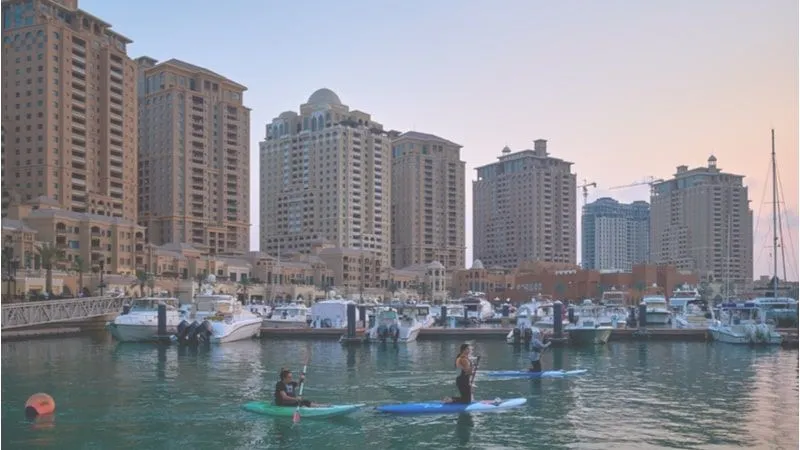 Being a famous adventure in Qatar, Kayaking is organized at multiple locations to offer endless thrill and fun. If you are planning on some fun, here are the top places to enjoy this enthralling activity.
1. Kayaking In Purple Island
Purple Island is the best place to enjoy the breathtaking experience of Kayaking. This is mostly a 2 hours long tour and is guided by professionals. Prior to the actual kayaking tour, you will be given an introductory session wherein all the details about the tour and some professional guidelines will be shared with you. The scattered mangroves and lush green scenery of the place also make the tour serene and magnificent. Overall, the Purple Island Kayaking tour will be an amazing experience wherein you will get to witness the beauty of nature while enjoying the thrills of kayaking adventure.
2. The Pearl Qatar
This magnificent artificial island in Qatar is home to luxury and comfort. Not missing out on adventure kayaking, Doha tours are also organized here under the supervision of experts. As you sail on a kayak, witness the magical skyline of Doha, its excellently built skyscrapers, and the awe-stunning beauty of Pearl Qatar. Many local tour operators organize kayaking tours and other adventures for tourists. Take in the sights and sounds of Porto Arabia, as well as the sea's dazzling blue seas. The colorful markets and cafes that line the shop make for a more delightful visit.
3. Katara Beach
Located close to the Katara Cultural Village, Katara Beach is an ideal adventure spot in the city that offers every adventure and fun. The beach has rental facilities for those who don't have a kayak or costumes. This experience of kayaking in Doha can be enhanced with the best adventures like a banana boat ride and more. The beach is a perfect family spot in Doha, where you can spend your leisure time and discover every thrilling adventure you want on your vacation.
Kayaking Tour: Some Essential Details About This Thrilling Adventure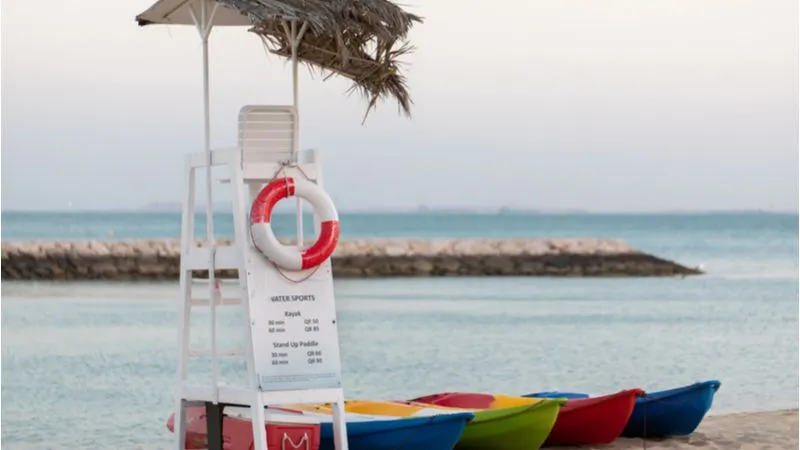 Kayaking is one of the most thrilling adventures to try in Qatar that involves paddling through the waters on a kayak without actually getting into the water. And the most fascinating part is that you can also indulge in fishing along with kayaking. If you are looking for kayaking in Qatar then its best to know some details beforehand to witness the best experience.
Essentials To Carry On A Kayaking Tour
For a hassle-free experience, one must carry these essentials which are required for a great kayaking experience.
Sunscreen with a good SPF
Comfortable shoes
Appropriate sportswear
Sunglasses
First-aid Kit
Dry bag
Snacks
Suggested Read: Best Adventure Activities In Doha To Spike Up Your Adrenaline
Best Time To Go For Kayaking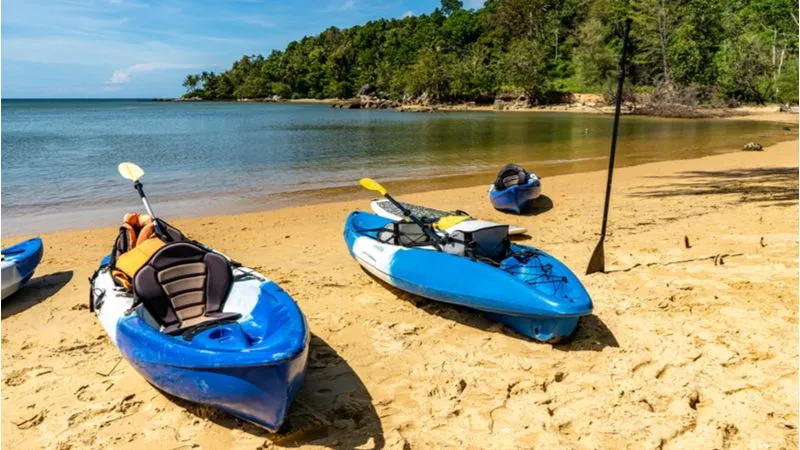 Kayaking through the mangroves and witnessing exotic species of flora and fauna is always exciting and thrilling; however, kayaking can be best experienced in Qatar from November to mid-March which is also the best time to visit Qatar when the weather is pleasant. During this time, you will also get to witness a larger variety of birds.
Suggested Read: Hiking In Qatar: The Best Adventure To Challenge Your Limits
Kayaking in Qatar is one of the best adventures, which is quite famous due to the fun and thrill. From the lush green mangroves and rich flora and fauna found at Al Thakira Island to the beauty of Katara beach and the Pearl, Qatar, you can now experience the adrenaline of kayaking whenever you want. If you are an adventure freak and nature admirer, then we suggest you to go for kayaking here to experience thrills and chills. This adventure is suitable for everyone whether you are a novice or an experienced one as it takes place under the guidance of experts. So, what are you waiting for? Get your kayaking tour booked beforehand so that you not have to wait in long queues as sometimes it gets really crowded due to the massive popularity of this activity in Qatar.
FAQs
Q1. Which is the best place for kayaking in Qatar?
The best place to experience kayaking in Qatar is Al Thakira Nature Reserve. Here, you can book for a guided tour which is mostly of 2 hours and is undertaken under the supervision of professionals.
Q2. When is the best time to go kayaking?
The best time to go for a kayaking adventure in Qatar is from November to mid-March when the weather is pleasant and also birds are found in large numbers during this time period.
Q3. How long is a kayaking tour?
Usually, a kayaking tour is 2 hours long. Adventurers will also be given an introductory session telling the essential guidelines to keep in mind before indulging in this activity.
Q4. What are some essentials to carry on a kayaking tour?
Some of the essentials to carry on a kayaking tour for a hassle-free experience are:
Sunscreen with a good SPF
Comfortable shoes
Appropriate sportswear
Sunglasses
First-aid Kit
Dry bag
Snacks
Q5. What are some of the best adventures to try in Qatar?
Some of the best adventures to try in Qatar are:
Camel rides
Rock climbing
Dune bashing
Quad biking
Wakeboarding
Kitesurfing
Skydiving
Scuba diving
Q6. How to reach Al Thakira Nature Reserve In Qatar?
Al Thakira is located in Al Khor which is located northeast of Qatar and the best way to reach the island from Doha is to hire a cab and reach here in around 1 hour as the total distance between these two places is approximately 45 km.
Q7. Which are the best islands in Qatar?
Some of the best islands to explore in Qatar are:
Banana Island
Purple Island
The Pearl-Qatar
Al Safliya Island
Old Palm Tree Island
Shura Awa Island
Q8. How many days are enough for a trip to Qatar?
Around 3 days is considered an ideal time for a trip to Qatar.
---