Doha has represented an amalgam of culture and beauty, but when it comes to adventure, the city has moved heaven and earth to let you experience the adrenaline. This capital city of Qatar has been in talks for its rich heritage, excellent architecture, urbanized features. But now, to add more to its essence, adventure activities in Doha are luring travelers into planning an exciting holiday. This epitome of tradition and art is a new holiday destination for everyone. Promising you the best thrills and frills, here are some best activities you can add to your Doha Wishlist.
Top 10 Doha Adventure Activities That Will Excite You for Life
Bashing The Desert Dunes In A SUV
Skydiving To Witness The City From Bird's Eye
Scuba Diving For a Unique Underwater Experience
Desert Safari Adventures To Kill The Heat
Kayaking Escapade For Some Fun With The Waves
Wakeboarding To Enjoy The Ultimate Thrill
Surfing The Ocean For The Real Kick
Skiing To Explore the Sprawling Beauty
Hot Air Ballooning An Exclusive Experience in Doha
Quad Biking, A Delight For The Adrenaline Junkies
Adventure can be amusing and exciting, or breathtaking and intense. The best part of any vacation is the activities that you can enjoy to boost your holiday mood. While you are on your vacation in Doha, there are loads of activities that can leave you spellbound. The beaches, land, and the desert in Doha are a hub for adventure and fun, leaving no stone unturned for the thrill you need. There are water adventures like scuba diving and air adventures like skydiving that are only meant for a strong-hearted person. So, pull up your socks and get set for some enthralling encounters with the best adventures that you must try.
1. Bashing The Desert Dunes In A SUV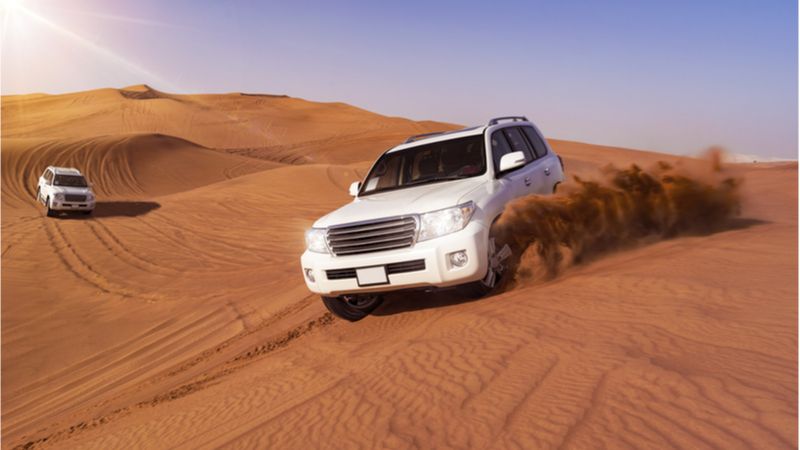 Qatar, being one of the greatest deserted regions in the Arabian Gulf, expands to a vast area with dramatic terrain. There are rolling dunes and flat surface that is covered with golden sand for miles. The uneven topography and the soft glittering sand under the vast Arabian sky not only look amazing but can be a one-stop destination for all your adventure activities in Doha. Driving up and down the dunes and sand plateaus is something that sounds fun but is a crazy adventure.
Dune bashing means off-road driving while conquering the massive dunes and the hot dazzling sun. The activity ranks on the top when it comes to desert adventures and will let you experience the thrill flowing down your veins. You can hire a 4x4 vehicle with one experienced drive and head off for the real adventure. You will be assisted by a trained driver, and you can even request for the pick/up and drop off facility.
Address: Khor Al Adaid
Duration: 45 to 50 minutes
2. Skydiving To Witness The City From Bird's Eye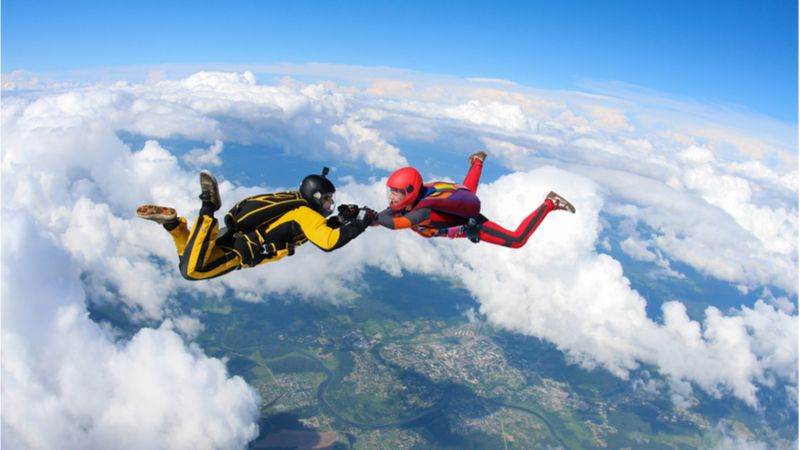 Freefalling from a height of some thousands of feet and capturing a glimpse of the city from that relative height! Skydiving brings you one of the best things to do in Doha along with the most picturesque view. Well, if you are a faint-hearted person, this activity is a strict no.
Jumping out of a plane is way more thrilling than you can think. While it is one of the most adventurous activities in the world, Skydiving can be safe with a trained instructor. You can go tandem skydiving with your expert instructor and enjoy the magnificent view of the city and the blue sky. There will be a session for basic rules and guidelines to ensure complete safety along with fun.
Do carry a Go-pro or any action camera for capturing the views of the Persian Gulf and some highlights of the futuristic city.
Address: The location is provided by the organizers at the time of booking
Opening Hours: 7:00 AM - 5:00 PM
3. Scuba Diving For Unique Underwater Experience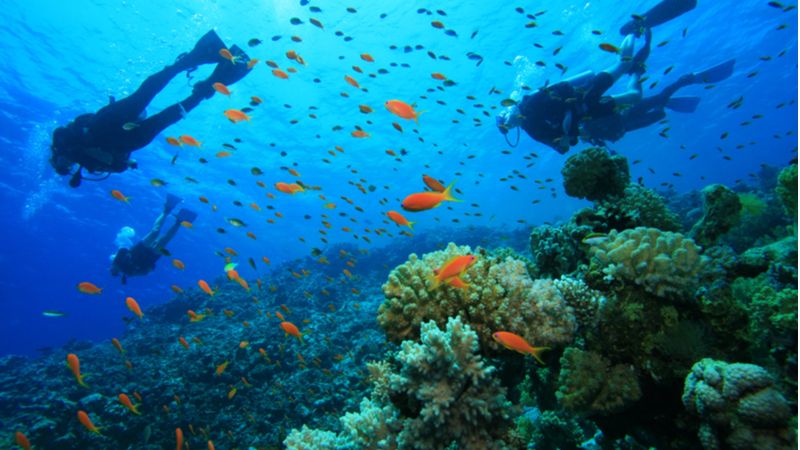 Doha, Qatar, is way more than just being a desert. The magnificent beauty of the coasts, the warm water of the gulf, and the diverse marine life have made Doha, a diving paradise for all. From the past few years, water adventure activities in Doha have become very popular among travelers, and Scuba diving is the most splendid experience you cannot afford to miss.
From Katara beach to the Poseidon Dive Center Qatar, Old Club Reef, and more, many attractions are known to be the best places for scuba diving. The Poseidon Dive Center is dedicated to training and letting the tourists experience the safest dive in Doha. The center was established in the year 2011 and is one of the best diving places in Qatar.
You can even visit the Old Club reef, which is an artificially designed diving center with submerged cars and coral reefs to magnify your experience.
Location:
Poseidon Diving Center
Old Club Reef
Katara Beach
Doha Sub Aqua Club
Qatar Scuba Center
4. Desert Safari Adventures To Kill The Heat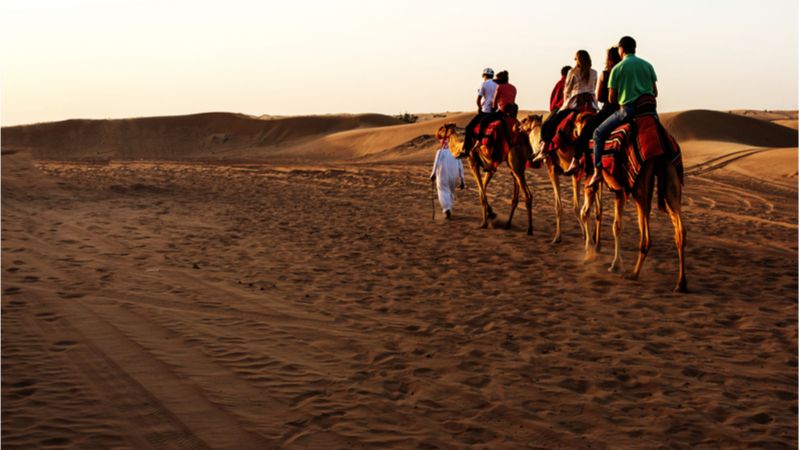 One thing that you can't miss in Doha is desert adventures and safari. The vast desert of Qatar is all about a serene landscape, splendid panorama, and some fun things to do in Doha. While the desert and the inland sea of Qatar are the major attraction for a traveler coming from faraway lands, a safari can be something that could make your experience more exciting and fascinating.
Safari tours are organized as a full day, half-day, or overnight safari. You can choose to spend a morning, a day, or a night under the vast blue sky over the desert. There are many activities like camel rides, dune bashing, sandboarding, camping, and more that come complimentary with your safari tour.
While morning or evening safari can be full of adventures and fun, an overnight safari in the desert can be a lifelong experience. Along with some exciting adventure, you can relish the taste of traditional food, cultural events, and stargazing with overnight safari in Doha.
Location: Khor Al Adaid / Inland Sea
Duration:
4 hours half day tour
Full day 9:00h to 17:00h or 14:00h to 21:00h
Suggested Read: Desert Safari In Qatar: Uncover The Undulating Sand Dunes In The Middle East
5. Kayaking Escapade For Some Fun With The Waves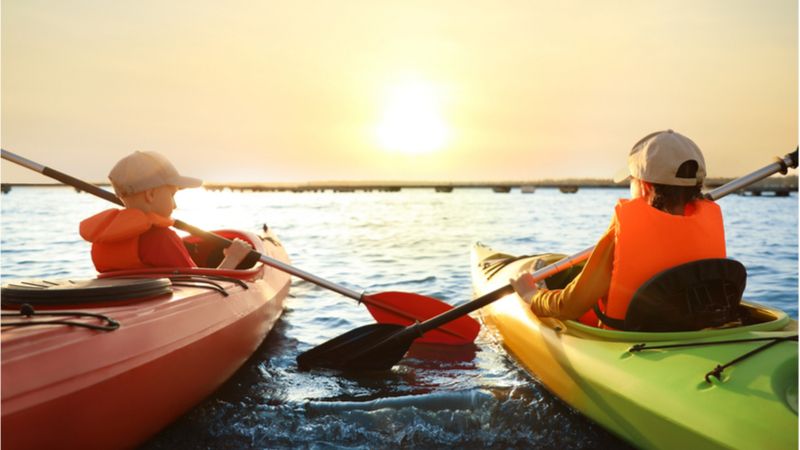 It's time to check those muscle power with some Kayaking tours. Kayaking is a challenging activity that requires strength and stamina. This can be one of your perfect weekend activities in Doha, which you can enjoy while spending time with your families.
The Banana Island, an attraction in Doha is famous for many water adventures, including Kayaking. While the island is all about a leisure escape to experience luxury and comfort, you can step out of ease and get going with the kayaking escapade. There are kayaks available at the island resort, and you can enjoy the tour for as long as you want. The scenic beauty and the pleasant water of the island make the experience exhilarating and fun.
Al Thakira beach, located a few km from Doha, is another spot in Qatar that is famous for Kayaking. This is the largest mangrove reserve in Qatar. The mangroves and the wilderness will make your experience a bit more enthralling and unique.
Location: Banana Island, Doha Qatar
Suggested Read: Kayaking In Qatar: A Great Way To Come Close To Nature
6. Wakeboarding To Enjoy The Ultimate Thrill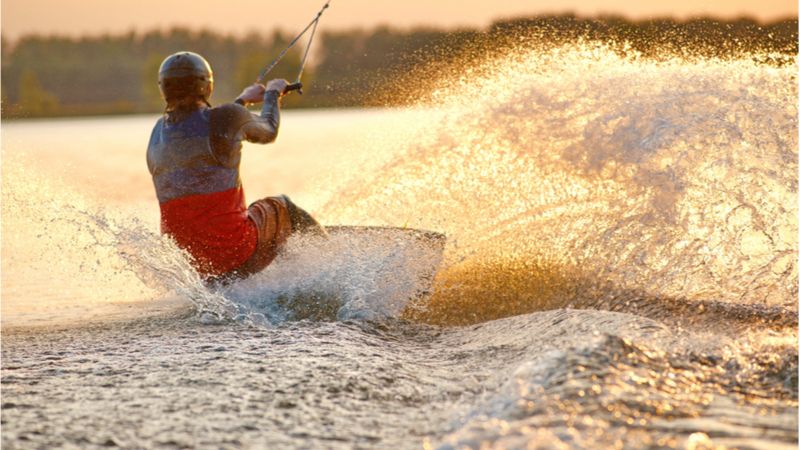 Confused about what Wakeboarding is? It's something thrilling and exciting that will lend you the ultimate adventure you are looking for. Adrenaline junkies, you can now enjoy something that brings you the fun of snowboarding and Water skiing altogether.
Where to enjoy Wakeboarding? The Diplomatic Club near Pearl Doha and Qatar Water Sport are the two famous places where you can enjoy the most exhilarating things to do in Doha. These private beach clubs in Doha have given tourists, so much to explore and experience. The best thing about Wakeboarding is that you need not to be an expert. All you need is a bit of balance, strength and mood to enjoy the adrenaline.
As you balance yourself on a wakeboard, there will be a harness attached with the speed boat to pull you and the wake. This is way more challenging than it sounds, but it is worth a try.
Location: Qatar Water Sport- InterContinental Doha
Suggested Read: InterContinental Doha: A Luxury Hotel Offering A Promising Staycation
7. Surfing The Ocean For The Real Kick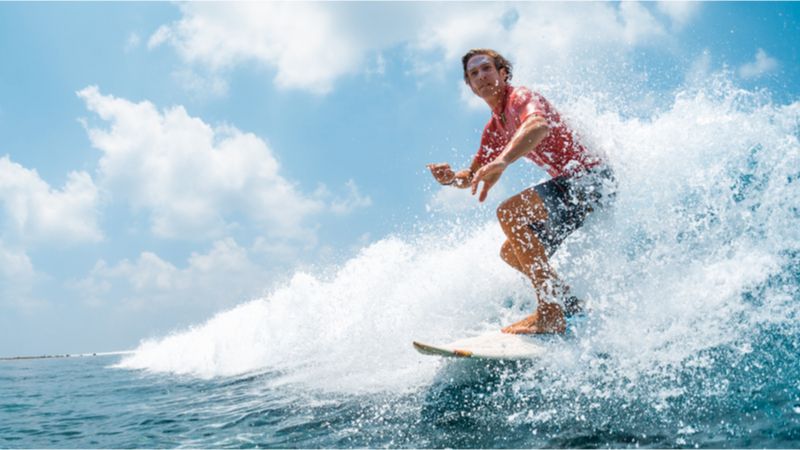 If beaches are your only love, Doha can be your love city where you have endless water adventures. From surfing to kitesurfing and windsurfing, there are abounding things to do in Doha this weekend.  
The peninsula coastline in Qatar is famous for many adventures, among which Surfing is the most popular. This action-packed sport is basically popular in tropical countries, but the experience in Doha is beyond what you have imagined. You can ride along with the wind and pass through the waves on your way to the shore. The sport usually requires great strength, but you can look out for basic guidance before setting your foot on the sea. You need to have a great balance and enthusiasm for enjoying this water activity in Qatar.
Plan a day trip to Fuwairit, located a few miles from Doha, which is considered a perfect surfing point in Doha.
Location: Fuwairit Beach, Doha Qatar
Best Season for Surfing: January to June
8. Skiing To Explore the Sprawling Beauty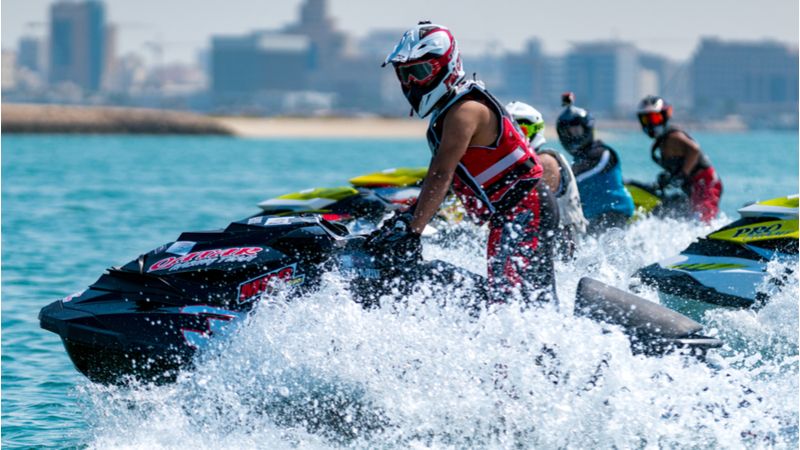 Skiing can be one of your family adventures or the best things to do in Doha with kids. Generally, skiing can either be ice-based or sand and water-based, but in Doha, you have a chance to pick the best skiing adventure you like to enjoy for the day.
The beaches in Doha have jet skiing facilities, and the island sea or the desert in Qatar is best known for sand Skiing. No matter what you choose, there will be thrills and frills everywhere.
Jet Skiing has huge popularity among international tourists. Get a jet ski from any beach, and you can share this experience with your kids. Make sure they are not too small to maintain a proper balance and face the challenging adventure. If you are on holiday with friends, go for a group skiing tour at the Doha corniche.
Now moving to Sand Skiing. It is similar to your ice skiing adventure, but here it will be over the sand. The activity is often included with safari tours so, you can add on more with your skiing experience in Qatar.
Location: Sea Line Beach
Suggested Read: Regency Sealine Camp: An Experience Of True Luxury Amidst The Desert Landscape
9. Hot Air Ballooning, An Exclusive Experience in Doha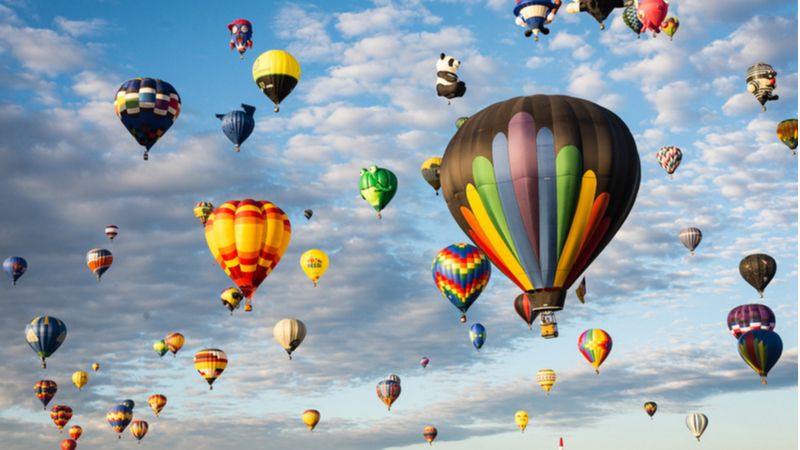 Hot air Ballooning was not something that was organized regularly like other adventure activities in Doha. Earlier in 2019, the first hot air balloon festival was organized, and another such event was announced for 2020 and 2021, and upcoming years. Now, there are some tour agencies that are organizing customized hot air ballooning rides for international guests.
You can plan your holiday accordingly to be a part of such a great fest or simply reach out to the best organizers who can help you out, planning a perfect holiday with some fun activities in Doha.
The sight from the top will not just be mesmerizing, but it will let you experience the best beauty of Qatar. There will be light snacks to make it a one-of-a-kind escapade on your vacation. Make sure you are booking either a morning slot or an evening slot for the best experience.
Location: To Be Decided at the time of Booking
Duration: Approximately 1 hour
10. Quad Biking, A Delight For The Adrenaline Junkies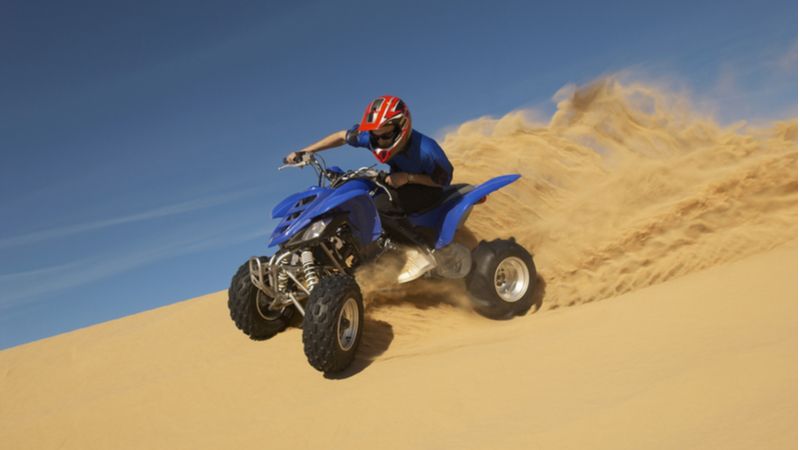 Nothing different from the Dune Bashing, but Quad Biking can be way more fun and adventurous. The major difference between both these adventures in Doha is basic i.e. Dune bashing is under the supervision of an expert 4X4 vehicle driver while quad boking is under your control.
There are ATV bikes or Quad bikes available in Doha on rents. So, if you are a professional quad biker, head off to Sealine beach without any delay, and be all set for some off-roading experience. Nothing can be more exciting and breathtaking than driving and bashing the sand with your speed on an ATV motorbike. If you are a beginner, you can still try out the activity relatively in a plain area.
Location: Sealine Beach
Suggested Read: Nightlife In Qatar: What It Holds For Travelers?
Now, as you have the best adventure activities in Doha listed for your next holiday, you can prepare yourself well for the upcoming thrill. Doha has a plethora of natural and artificial beauty that has made it the most beautiful city with a wealth of art and culture. Catering to the holiday need of every guest, Doha is now a new adventure destination where you can push your limit for a lifelong experience. Visit the museums and the galleries to magnify your experience while you indulge yourself with some adventure. So, book your Doha adventure tour package today and enjoy numerous adventure activities in the city for an exciting holiday.
FAQs
Q1. What activities can I enjoy in Doha?
Doha is one of the best holiday destinations for families where there are adventures and fun activities to try. Making your vacation memorable and exciting, here are the best things you can do in Doha:
Water adventures
Safari tours
Paragliding
Hot air ballooning
Beach tours
Q2. Are there scuba diving centers in Doha?
Yes, Scuba diving is among the popular adventures you must try in Doha. There are training centers as well for those who are looking for a basic knowledge session before going for dive.
Poseidon Diving Center
Old Club Reef
Katara Beach
Doha Sub Aqua Club
Qatar Scuba Center
Q3. What is the best time to visit Doha?
While summers can be extremely hot, winters can be the right time to plan a holiday in Doha, Qatar. The months from October till the end of April are the best time for your vacation as Doha experiences a cold and pleasant climate.
Q4. What activities are there in Desert Safari tour Doha?
Desert Safari in Doha has the best adventure activities to boost your holiday mood. Offering you a full day and a half-day package, these are some activities that come along the desert safari:
Dune Bashing
Camel Ride
Camping
Sand Boarding
Q5. Are there any beaches in Doha?
Doha is home to some magnificent beaches. The city has taken architecture to next level by introducing the most luxurious man-made beach like Katara beach or a complete Banana Island.
Q6. What are the best water adventure tours in Doha?
If you are an adventure enthusiast looking out for some water adventures in Doha, there is a lot that you can try. From kitesurfing to wakeboarding, snorkeling, and scuba diving, water adventures in Doha are too enthralling to satisfy your wanderlust.
Q7. Is skydiving Safe in Doha?
Skydiving in Doha has gained much popularity over the past few years. Talking about safety, there is Tandem Skydiving for beginners, where they will be flying off with their trained instructors.
Q8. Which is the best outdoor adventure in Doha?
For some fun and thrill, the best outdoor adventure in Doha are:
Skydiving
Paragliding and Parasailing
Camel Ride
Cruise
Rock Climbing
---