The Arabian art, Islamic religion, and ancient tradition have made Qatar, a gem of the Middle east. For ages, the country has been exhibiting its unique art and architecture and preserving beauty with artifacts and artwork. Travelers come here to explore the museums and galleries where there are remains from every era. Katara Cultural Village in Doha is one of the most popular attractions that is known for its traditional beauty. This self-styled cultural village brings you every fascinating art of Qatar and other regions. Here is a detailed guide to everything you need to know about this culturally inspired village.
Katara Cultural Village Foundation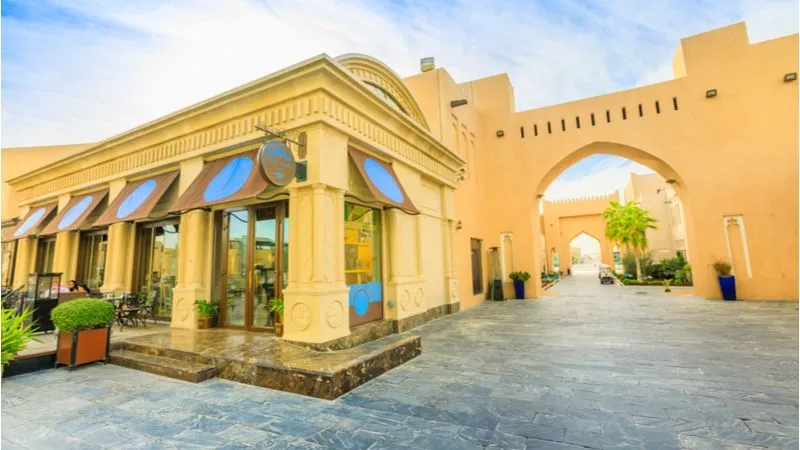 Named as the valley of culture, Katara village is among the most famous attractions for tourists. People who are keen to discover the art and heritage of Qatar, prevailing for a long time, can surely visit this impressive architectural wonder of the country. Located in the famous West Bay region of the country, the cultural village exhibits everything from the theater to the art and galleries with old artifacts.
It was back in 2010 when Katara village, Qatar, was built on coastal land as a site to preserve the value of Qatar. It was a dream project that was envisioned by the Emir of the State of Qatar, HH Sheikh Hamad Bin Khalifa Al Thani. Perched between The Pearl Qatar and the West Bay, the village has made Doha, cultural capital in the Middle East. The Katara project was worth $82 million that transformed the beauty and exhibited the rich heritage of the Arab Nations. It was built to reintroduce and replicate every aspect of Qatari culture with its excellent art and design.
The fusion of modern design with ancient techniques has added a contemporary touch to Karata. The retro romantic style and distinctive design make it stand out as the best architecture in the country. The vision behind creating this impressive piece of art was not confined to Qatar and its tradition, but to acknowledge the art and efforts of every artist in the world. The Katara Cultural village, Qatar, rightly reflects creativity and intellectual art with events, exhibitions, theater, and other activities.
The Venues and Landmarks of Qatar Cultural Village
The Cultural Village represents Qatar with the best architecture. There are many venues and landmarks built inside the village that are adding more to the excellence of its design and formation. There are heritage centers, libraries, art galleries, and other facilities to lure travelers and offer them everything they need for their exploration. The Museum facilities also include some business establishments, green areas, and information centers along with landmarks like the opera house, an amphitheater, and more to make it the best attraction in Qatar. Let us explore the best attractions of this valley of Culture.
1. The Amphitheater Inspired by Greek Architecture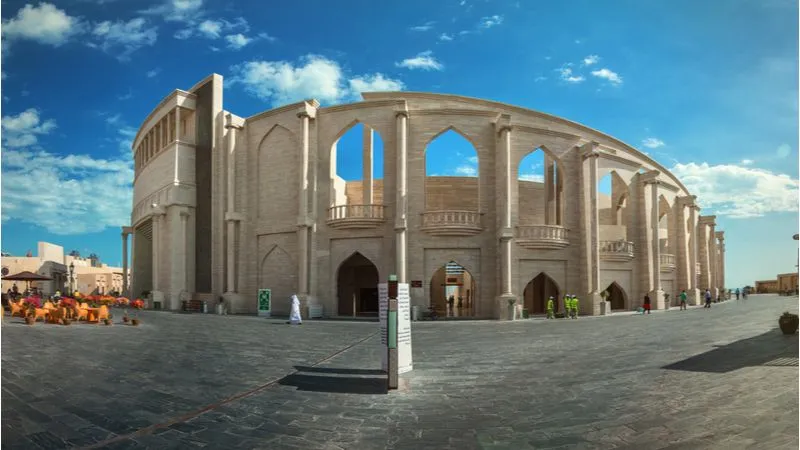 Opened on 11 December 2011, the Greek Amphitheatre will send you back to the Roman era when such theatres were used for public gatherings and events. It displays an architectural grandeur in its interesting design inspired by the Greeks. This work of art combines Islamic art with Greek architecture to create a masterpiece that overlooks the magnificent Gulf. The amphitheater is 3,275 square meters in size and can hold a huge crowd during events, allocating space to more than 5,000 people at a time. It is located in the heart of Katara village, Qatar, under the clear blue sky.
Suggested Read: Heritage Sites In Qatar Unfolding The Old Traditions and Culture
2. Drama Theater for an Open Air Experience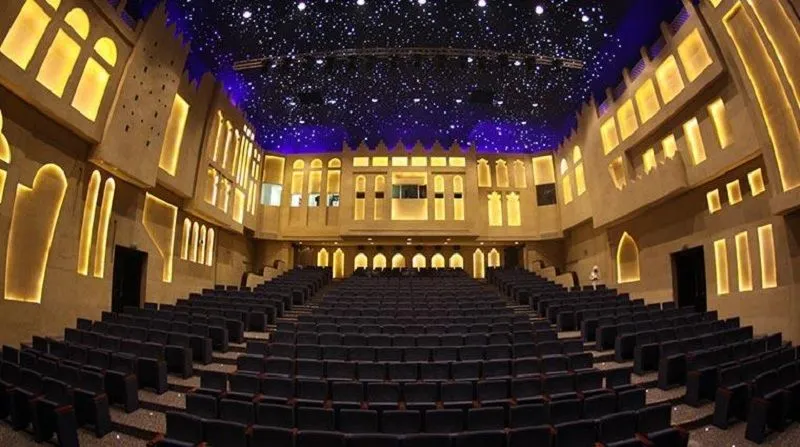 Presenting you the best entertainment, the Drama Theater is another attraction of the Katara Cultural Village in Qatar that is an inspiration of Qatar's traditional art and architecture. Bringing back the fun and excitement of drama, this indoor theater is nothing less than those open-air experiences of the past. Many events and film screenings are organized here, which makes it a real fascination for tourists. The theater is designed with a seating capacity of 430 people who can be a part of Qatari art and entertainment.
3. Halls and Galleries for Exhibition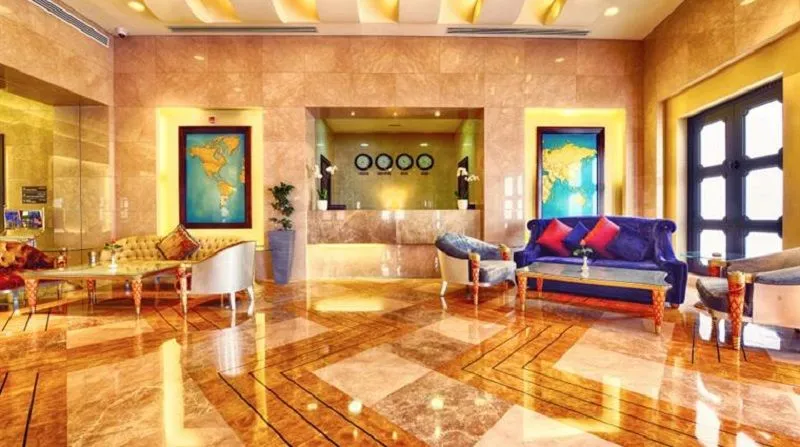 The Katara Cultural Village, Doha, hosts many seminars and cultural events promoting artists and their artwork. There are conferences and seminars, exhibitions, and cultural events in Qatar or festivals, organized regularly to offer a platform for reaching out to the vast crowd as emerging artists and ideas. There is an opera house with seating space for more than 500 people. From musical events to cultural shows, there are many options that will keep you entertained for a longer time. The opera house represents modern architecture with a blend of traditional Islamic design.
4. The Masjids to Dive into Spirituality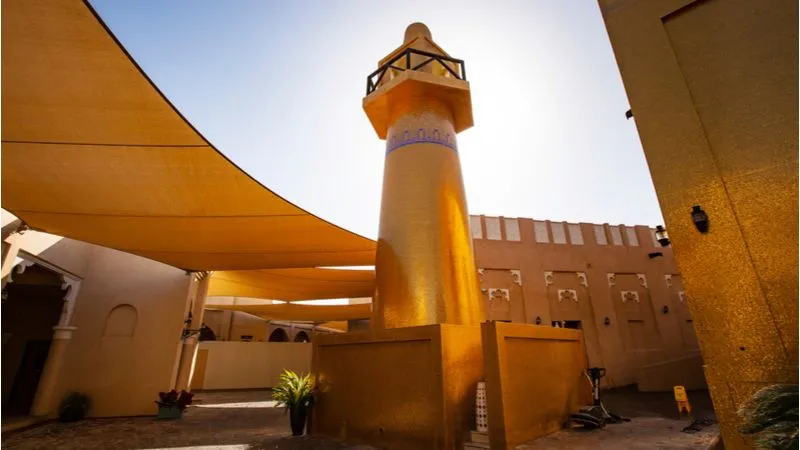 Golden Masjids and The Katara Masjid are two of the main highlights of Qatar's Katara Cultural Village representing the beauty and religious values. The Golden Masjid reflects a touch of Ottoman style and architecture, offering some religious lectures and programs. There is an advanced cultural course for children to teach them their values and the preaching of the Quran.
The Katara Masjid is another beautiful representation of Qatar's beliefs and beauty. It was designed by the Turkish designer- Zainab Fadil Oglu. The use of turquoise and purple hues in mosaic, and the splendid architecture with minarets, the dome, mihrab (prayer area), every element of the mosque shows a fusion of the best mosque in the world. The handicraft, artistic motifs, and intricate design make it an attraction in Doha.
5. Al Thuraya Planetarium To Admire The Heavenly Beauty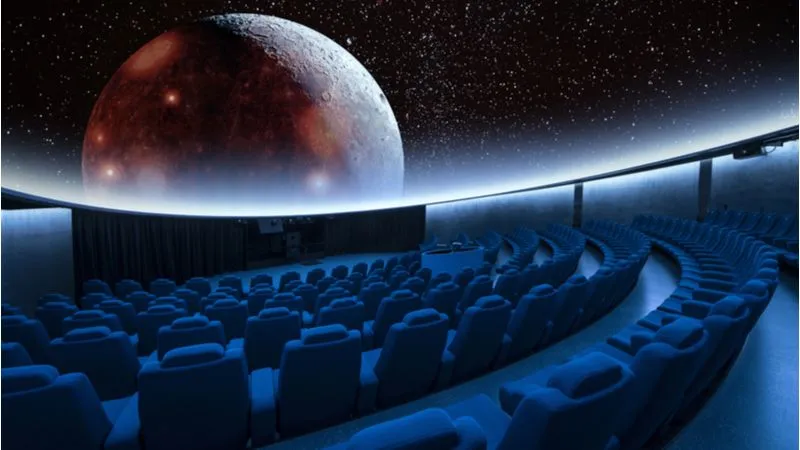 If you are traveling with kids, the Al Thuraya Planetarium is one of the well-developed and interesting attractions that brings you advanced technology for an extraordinary experience of wandering under the stars in Katara Cultural Village. Engage your kids in astronomy with this amazing digital exhibition. The Planetarium shows a detailed presentation of our universe, which contains valuable information about our solar system.
Spreading to an area of 2,240sqm area, the planetarium offers a unique experience to every visitor. The place is promoting education and entertainment at the same time. The features of this planetarium include a seating capacity of 200 people, a 22-meter screen, digital projectors for 2D and 3D tutorials, and so on.
Talking about the data and information, the planetarium has five categories divided into astronomy, atmosphere, geology, and the oceans. You can learn about more than 25 terrestrial weather and solar data.
Suggested Read: Spas In Qatar : A Lavish Yet Traditional Treatment
Famous Attraction for Tourists In Katara Village, Qatar
The Valley of Culture itself is an attraction to explore the magnificent beauty of Qatar, its culture, and architecture. While the village is offering a number of exciting and amazing options to get indulged for a day, there is more to discover. Here are some of the best attractions you can add to your day in Katara Village.
1. Katara Beach- For Ultimate Fun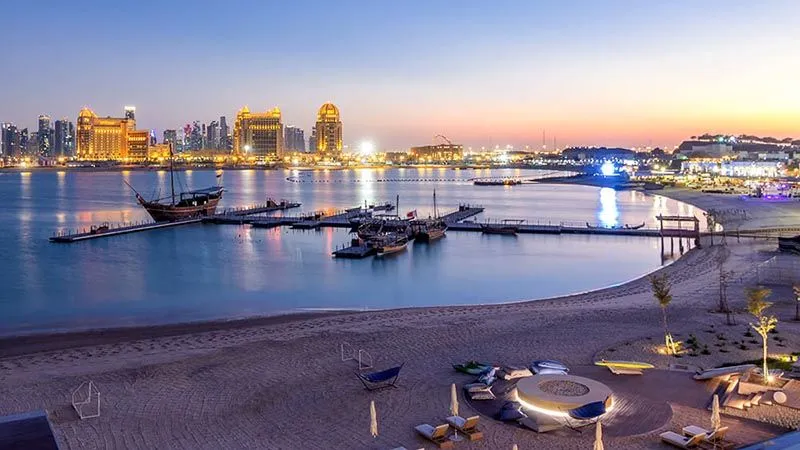 One of the best beaches in Qatar, Katara beach is the best attraction and landmark of this cultural village. Katara Beach is Doha's sole public beach, and one of the safest spots for you and your family where you can enjoy leisure and adventure. Try out different water sports, sunbathe, and participate in all of the beach activities, and believe me when I say that you will have the most adventurous and entertaining day here. From banana boat rides to water sports like jet skiing and parasailing, there are a number of activities you can try with your family.
Overlooking the beauty of the Doha skyline, the beach is a getaway from the hustle-bustle of the city. Bask in the sandy beauty of the shore or add some fun with games like volleyball and more. This is a great spot for your picnic tours and leisure after your visit to Katara village.
Katara Beach Timings For Beach Number 3: From 9:00 AM until 10:00 PM
Katara Beach Timings For Beach Number 4 & 5: From 2:00 PM until 10:00 PM
Suggested Read: Katara Beach: An Elegant And Subtle Spot In Doha
2. Katara Hills and Garden For Leisure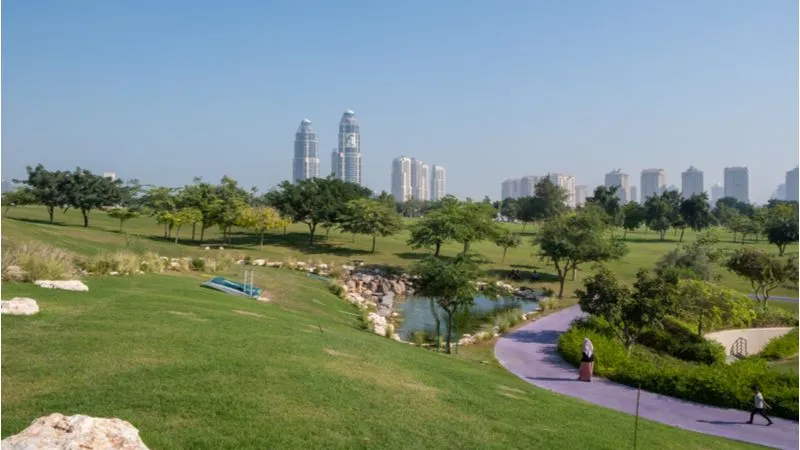 The Cultural Valley in Doha also has one of the largest parks in Qatar for public visits. With an abundance of lush green beauty and the panorama surrounding the region, the Katara hills embellish the entire area for your leisure. The Katara hills are man-made, but the greenery around adds an aesthetic touch to the region, where you can relax or stroll around during the evening or morning hours. There are rare and exotic trees with name tags that make it easier for people to recognize them. Well, picnics cannot be planned as no outside food is allowed. But there are many restaurants and cafes where you can enjoy a family brunch and more in Katara Doha. Don't forget to discover its magnificence during the hours of sunrise and sunset.
Timings:
3. 21 High st. For Luxuriating Experience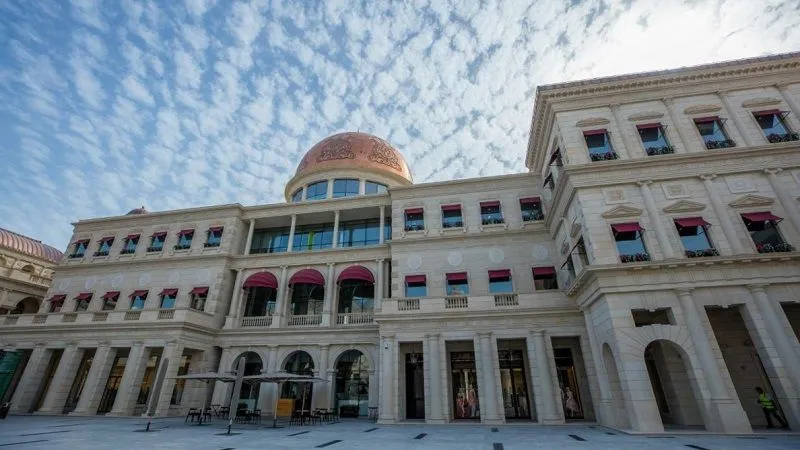 The Cultural Village in Doha, is not just about cultural Katara cultural village events and exhibitions, but there is a lot for entertainment and fun. 21 High St. In Katara brings you the luxury of shopping and dining in its vast and lavishly designed premises. This multi-dimensional project has added so much to the attraction, offering you a highlight that is nothing lesser than any mall in Doha.
It is a niche for shoppers who love discovering luxury and fashion with top brand accessories. From watches and jewelry to the luxury collections of French department stores and the Galeries Lafayette, there is a lot to upgrade your wardrobe sense. Similarly, there are best dining options serving you the taste of the best international cuisines and a delighting taste. From Novikov to Joey's café and the French-inspired menu of 974 delights, there is everything you need for a savoring experience. This is one of the unique open-air shopping destinations in Qatar, bringing you a wide range of fashion accessories, luxury goods, perfumes, cosmetics, and more.
Timings:
Thu, 10:00 am to 9:00 pm
Sun- 10:00 am to 9:00 pm
Suggested Read: Museums In Qatar For Their Exposure To Foreign Cultures
4. The Pigeon Tower, An Ancient Architecture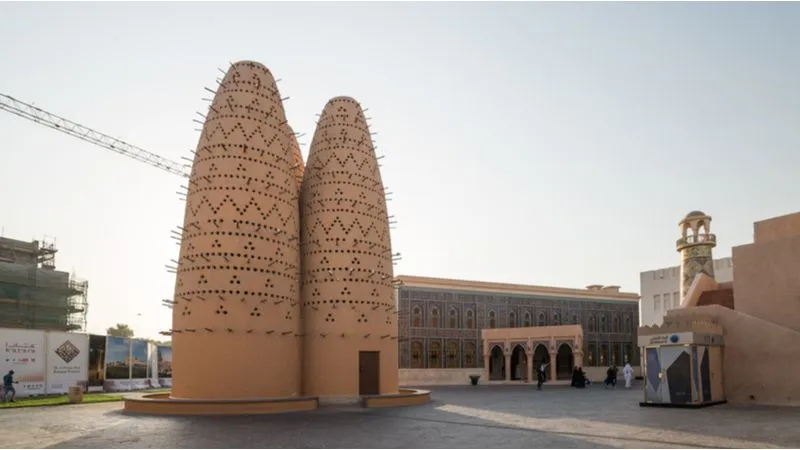 The Pigeon tower is the most magnificent architectural tower in Qatar, adding a photographic element to the village. Depicting the beauty and wonders of Qatar's culture and Islamic art. Back in the day, pigeons were the most valued and significant birds of Qatar as they were used for meat and dropped as fertilizers. The tower is built with a height of 18 meters and 10-22 meters in diameter. It can house more than 14,000 birds which makes it an iconic attraction in Katara Cultural Village Doha. The unique design of the tower is yet another factor that makes it popular.
5. The Iconic Arts and Murals at Qatar Cultural Village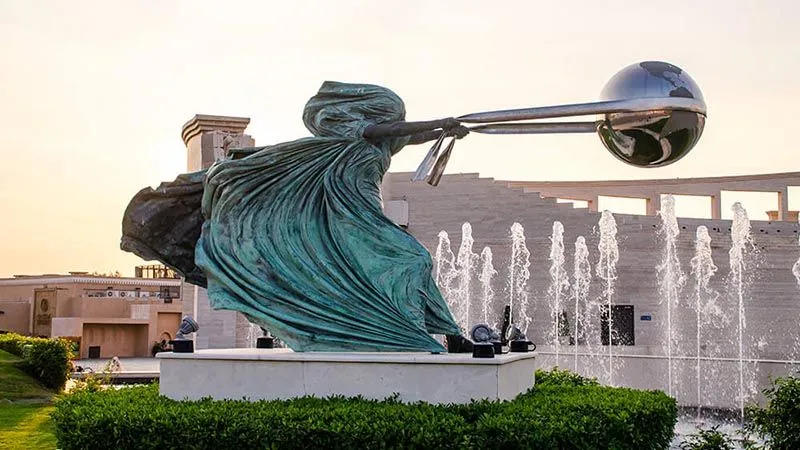 The murals and installations at Cultural Village add a significant artistic touch to the beauty of the village. There are three main installations that have made Katara village a place for art lovers. Giving space to famous creative minds in the world, Katara is promoting and respecting valuable art. Here is a brief description of the three main installations and murals.
The Force of Nature in the Katara village, Doha, is a design by Lorenzo Quinn where he is presenting the vision of the force of nature. Made of bronze and stainless steel, the sculpture presents an unyielding installation that depicts the strength and determination of a human. A storm or typhoon is being represented here, fighting the will of a human. It was installed in 2011.
Another piece of art, the Oryx Going Ahead is a masterpiece by Martin Ron, an Argentinian street artist. This 11-meter-tall installation has the national wild Oryx, with the Map of Qatar on its head. The use of 3D art, making the oryx, protruding out of the wall is what makes it quite a popular piece of art. The backdrop and the classic Doha skyline is adding more to its charm and beauty. Here, the artist is trying to present the resilience of Qatari, as nothing can stop them from overcoming the obstacles.
Gandhi's three monkeys by Indian Artist Subodh Gupta is the highlight of the place that was installed here in 2008. Inspired by the three monkeys of Gandhi, the installation is presenting the basic metaphor of life similar to the original three monkeys of Gandhi- speak no evil, see no evil, and talk no evil. The series represents three monkeys- one wearing a gas mask, one helmet, and the last in a hood of a terrorist. Bronze, steel, and other construction materials are used to add an indestructible and sturdy touch.
Suggested Read: Culture Of Qatar: A Sneak Peek Into The Traditional Lifestyle Of The Locals
Facilities and Services for Tourists at Katara Cultural Village, Qatar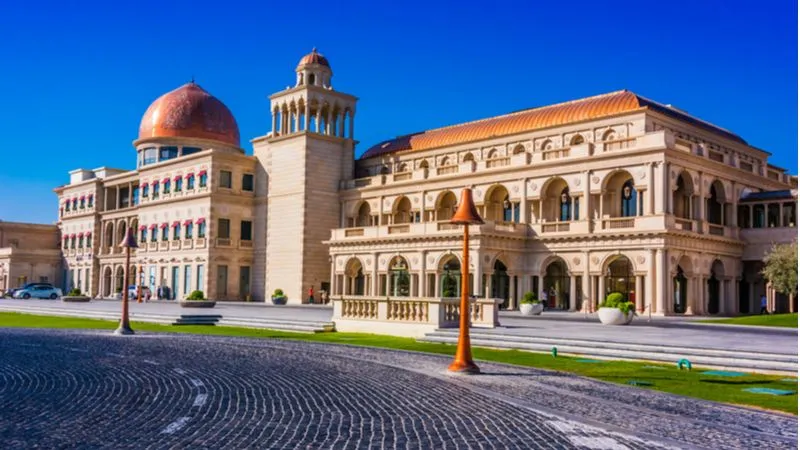 The valley of culture is a hub for tourists who are keen to discover the art, magic, and beauty of Qatar. Housing a myriad of attractions and offering the best activities to enjoy for a day, the village also has listed some necessities for public use. Let's have a look at the best features of Katara village that can possibly make your experience easy.
There are ATMs installed at the Katara Village, Doha, for any cash emergency. There are merchants that are offering online payment sources, but if you need cash for any use, you can easily withdraw anytime.
Restrooms are installed to ensure complete hygiene. There are lavatories available for the general public that is not only maintained but proper care of sterilization and health are also considered by the management.
Being a cultural center, there are worship rooms and masjid at Katara village. You can even attend the Friday prayers that are held at the Katara Masjid or the big Masjid. There are prayers held at the Golden Masjid daily.
From the best Qatar's Restaurants to top Cafes, there are eateries at Katara cultural village so that you can plan a whole day out with family. From Qatari and Arabian dishes to Italian, French, and Asian cuisine, you will find every taste you need to make your day delightful and savory.
Restaurant at Katara Cultural Village Doha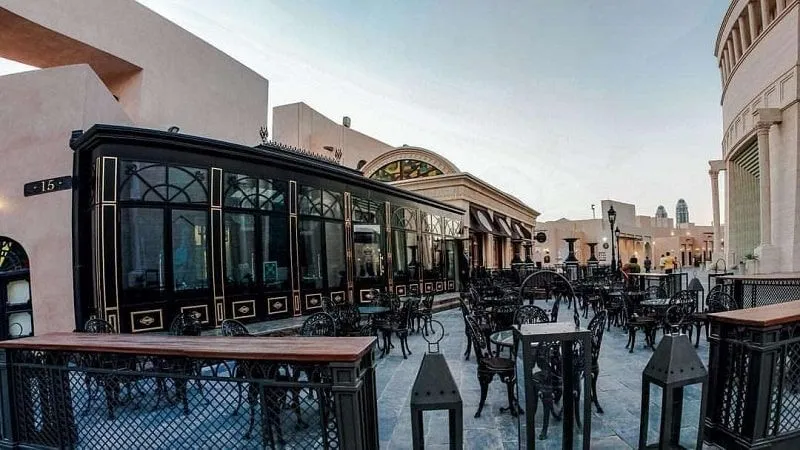 The Katara Cultural Village has amazed all with its collection of exquisite art and architecture. Preserving the rich heritage of Qatar and other nations, this valley of culture has another reason to be so famous among tourists. The cafes in Katara are listed to be the best cafes in Doha where you can relish the taste of traditional and international cuisines. Check out these famous places where you will have the best meal of the day.
1. Ard Canaan
The most luxuriating eatery in town, Ard Canaan is famous for its heartwarming Arabian hospitality and mouthwatering food. Located in Katara, Doha, this café serves you the best traditional taste of Cannan- the ancient civilization of Palestine. You will find appetizers, the traditional desserts, and every savory cuisine that will take you back in time.
Timings: 8 AM to 12:00 AM
2. Saffron Lounge
Well, you cannot miss out on the savories of Indian flavors, rich in spices and exotic herbs. The specialty of the place is its exclusive tea and other special beverages that will take you on a whole new journey. You can always customize your taste and enjoy dining with your family at Katara Qatar.
Timings: 12:00 PM to 10:00 PM
Suggested Read: Travel On A Journey To The Land Of Diversity At Saffron Lounge Doha
3. L'wzaar Seafood Market
Are you a seafood fan? The L'wzaar restaurant welcomes you to enjoy the most relishing taste of seafood, set on a 4-meter-long display. The open kitchen makes dining more interesting and scrumptious. The menu includes more than 50 dishes, all prepared with exotic seafood varieties. The food here is freshly prepared by excellent chefs to make it an unforgettable affair of your life.
Timings: 12:00 PM to 4:00 PM(Lunch)
7:00 PM to 11:30 PM(Dinner)
4. Chac'late
What about some refreshing and energizing chocolates after your tour of Katara Village? Chac'late brings you the best flavors of UK and Swiss in Qatar in its well-designed European café. The freshly baked cake, pastries, and ice creams are on top of the menu to give you a delightful experience.
Timings: 8:00 AM to 1:00 PM
5. Khan Farouk Tarab Café
A fine-dining place in Qatar, Khan Farouk Tarab Café is located in the Kartar cultural village of Doha, offering you the most relishing Arabian taste. The old-fashioned interiors and the exquisite menu of the place create an aesthetic harmony that is a treat to the senses. The restaurant has authentic decoration and well-defined outdoor and indoor spaces.
Timings: 12:00 PM to 12:00 AM
How To Reach Katara Cultural Village in Doha?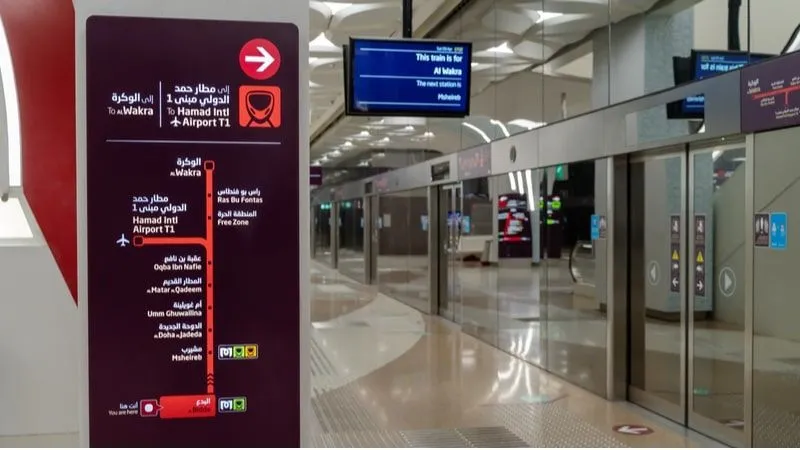 The Katara Cultural Village is quite a famous spot in Qatar, which you surely can locate easily. It is located on the eastern coast between West Bay and The Pearl, and approx. 20 km from the Hamad International airport. Open to the public with no entrance fee, the village is flooded with locals and tourists, but the weekends are closed- Friday and Saturday. You can hire a cab or taxi, or choose to drive by yourself as there is parking space available.
For those who enjoy metro and bus rides, there are bus stops and metro stations located at a distance of only a few miles. The Katara is 823 meters away, 12 min walk from the Katara village if traveling via Doha Metro.
The detailed timings are;
Mon - Thu, 10:00 am to 9:00 pm
Sun- 10:00 am to 9:00 pm
The Katara Cultural Village in Qatar is among the top places you must explore to witness the beauty and history of this enriching country. Offering you the best experience for the day sightseeing, the village is an ultimate entertainment center. You can plan a picnic at the beach, or capture the most scenic sight of Doha, try adventures like boat rides, and more available there. There are many restaurants, hotels, and much more around Katara to make it a center for every vacationer. Book your Qatar luxury tour packages today and plan a day tour of this valley for an experience of a lifetime.
FAQs
Q1. How can I reach Katara Cultural Village?
Katara cultural village is one of the most popular attractions, connected with every public and private means of transportation. You can easily get a cab or taxi for hassle-free travel. You can even board a metro.
Q2. Is there any entry fee for Katara village?
There are no entry charges for Katara Cultural Village. One might need to pay for exploring the attractions like the beach or attending the Katara cultural village events that are organized from time to time.
Q3. Where is Katara beach?
Katara Beach is located in the Katara cultural village. It is one of the safest and the most popular public beaches in Qatar, where you can enjoy the best adventures and fun activities.
Q4. What are the main attractions of Katara Village?
Apart from the galleries and the artwork, there are some attractions that have made Katara an entertaining space for every visitor. The best attractions of this cultural village in Qatar are:
Katara Beach
Katara Hills
21 HIGH St.
Pigeon Towers
Q5. What are the best things to do in Katara?
Katara village in Doha is the best attraction for tourists, offering them a number of adventure and leisure activities to try. The best things you can do here are:
Beach games like volleyball
Admire the excellent art and artwork
Spend your evening at the Katara hills
Enjoy the delicious food from the best eateries around
Q6. What are the main landmarks of Katara Cultural Village?
Katara cultural village, with its impressive architecture, brings some major highlights, or landmarks to attract the public. The main venues of the village are:
Greek amphitheater
Katara Masjid
The Golden Masjid
Al Thuraya Planetarium
Drama Theater
Q7. Are there any cafes and restaurants in Katara?
Yes, there are the best cafes and restaurants where you can enjoy a meal with your family. These restaurants are offering the best Qatari dishes and fancy cuisine from every corner of the globe. Chapati & Karak, Khan Farouk Tarab Café, Al Jazeera Café, and Novikov are the recommended restaurants to visit in Katara Village Doha.
Q8. What facilities are offered at Katara Cultural Village?
Katara cultural village is often crowded with tourists, therefore some basic facilities are introduced for the visitors like:
Restaurants
ATMs
Restrooms
Worship places
---