Fujairah City is the capital of the emirate of Fujairah in the United Arab Emirates and the seventh-largest city in UAE. It offers geographical contrast with endless beaches on one side and picturesque mountains on the other. There are several places to visit in Fujairah that are worth taking a break from the hustle and bustle of routine life. If you are looking for relaxation and tranquility, this is the place. The lavish beaches with crystal-clear waters are full of aqua life, making it a perfect destination for scuba diving and snorkeling. On the other hand, the calm mountains, stand-alone forts, and mosques bring you blissfulness and solitude.
Top Places to Visit in Fujairah: Beaches, Mountains, Mosques and More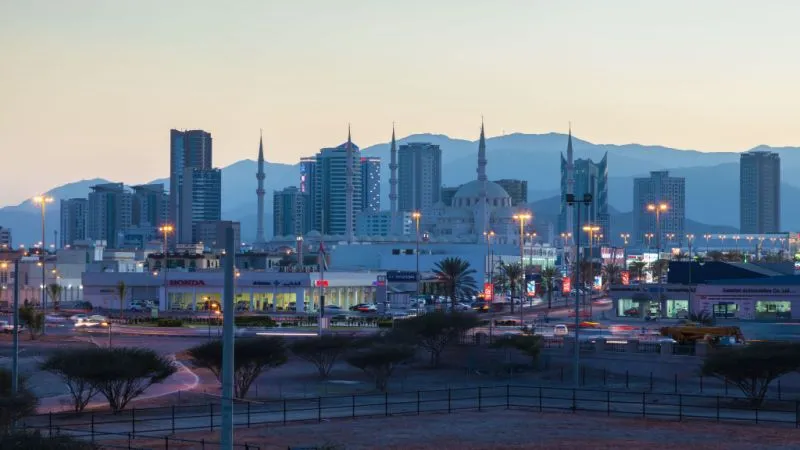 This beautiful emirate of UAE is mesmerizing with beautiful natural surroundings. One of the main reasons that led to Fujairah is the fact that this Emirate is situated at a higher altitude. Fujairah offers you the best things to do in UAE creating a bundle of adventures like hiking, trekking, camping on the mountain, water sports, and activities on the seaside. If you are more of a solo person, this place might bless you with blissfulness. One can achieve peace of mind and soul on the mountaintop. The amazing sunrise and sunset color the landscape and so is your heart. Here is a list of the best tourist places in this charming emirate for a fascinating holiday experience.
Snoopy Island
Hajar Mountains
Ain Al-Madhab Hot Spring
Masafi Market
Bithnah Fort
Fujairah City's Sheikh Zayed Mosque
Al Bidyah Mosque
Fujairah Museum
1. Snoopy Island: Marine Life and Water Sports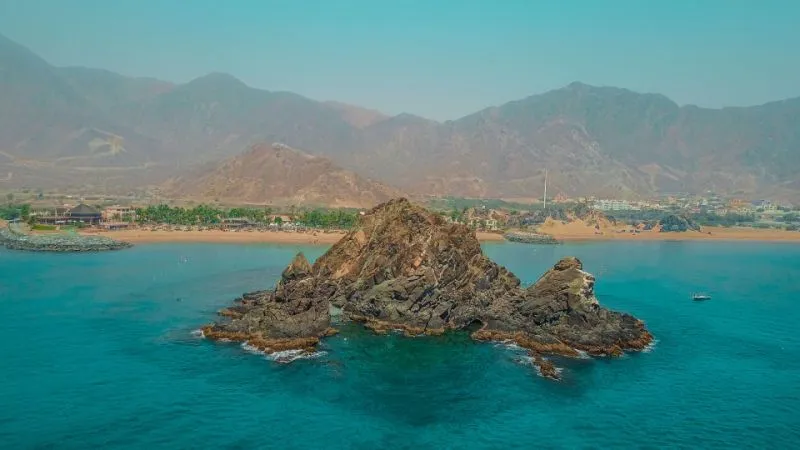 Snoopy Island lies in Fujairah on the Gulf of Oman and offers you some of the most beautiful Beaches in UAE. This place should be a choice if you are into watersports like bingo rides, fly-fish and banana boats, and kayaking. Snoopy Island is also one of the best places to dive in for snorkeling and Scooba in search of colorful fishes and corals. Apart from this Scooba Island is famous for its music festivals. One can stay at one of the sandy beach resorts or villas. This island is one of the most fascinating places to visit in Fujairah for beach camping and barbeque as it is only 1.5 hours' drive from Dubai.
Top Attractions: Water sports, water activities, camping
Location: Fujairah, Gulf of Oman
2. The Hajar Mountains: Trekking, Tranquility and You
The Hajar Mountains are the highest mountain ranges within the eastern Arabian Peninsula and one of the best tourist attractions in Fujairah, UAE. This is an ideal place for those who love off-road exploration, trekking, rock climbing, canyoning, and fresh breeze. The view from the top of the mountain is breathtaking and makes it a trip to be taken once in a lifetime. In addition to this list, this mountain is home to many historic, cultural, and geological interests. This Fujairah tourism place is famous for camping too but with a small list of instructions because the wadis quite often flood unexpectedly which makes it dangerous and adventurous for the tourists.
Top Attractions: Trekking, rock climbing, canyoning, and camping
Location: Fujairah, Eastern United Arab Emirates
Timing: Everyday 9 AM to 11 PM
3. The Ain Al Madhab Garden: Most Popular Place to Visit in Fujairah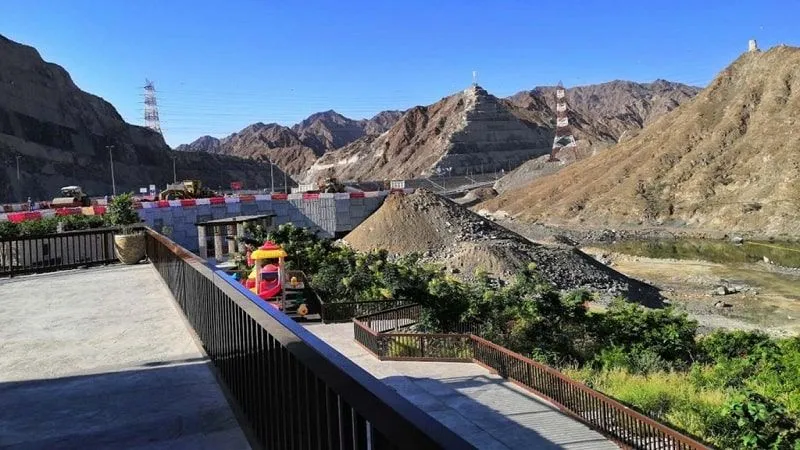 Ain Al-Madhab is located just outside of the city, which is not only a natural spa but also the house of the many remnants of Fujairah Forts and Heritage Village. This Garden houses the famous freshwater springs and warm pools that serve both men and women in two separate bathing areas. During the holidays Fujairah- enjoys traditional performances in its amphitheater. The Ain Al Madhab Garden also offers barbeque facilities and a playground for kids. The experiences this place offers make it one of the best places to visit in Fujairah. Some of the remains of the Fujairah Fort, which this place showcases are ancient farming and agricultural tools as well as fishing boats, household instruments, cooking utensils, pottery items, and so on from the past.
Top Attractions: Natural Spa, history exploration, traditional performances, kids' playground and so on
Timings:
Tuesday to Sunday- 10:00 AM to 10:00 PM
Monday- Closed
Location: Al Rimailah, Fujairah, United Arab Emirates
Suggested Read: Top Things to Do in Dubai: To Relish a Captivating Holiday in the Spectacular City
4. Masafi Market: Grilled Corn and Bag of Happiness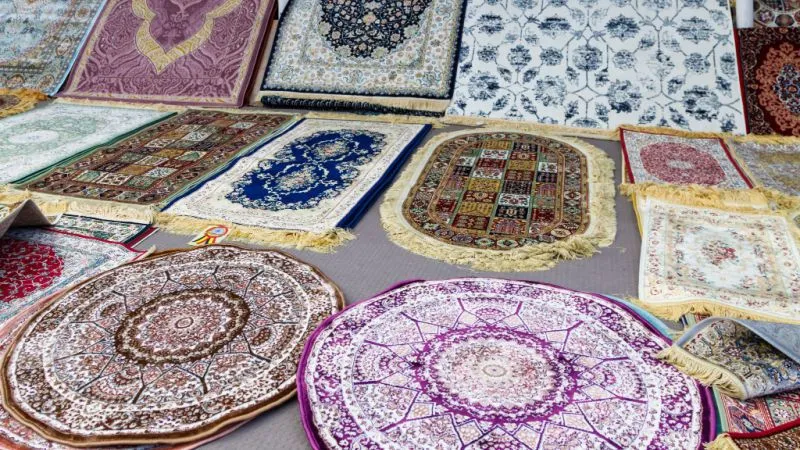 This place got its name from the Arabic word 'Masafi' which means 'pure water' as Masafi village is the largest producer of mineral water in the Gulf countries. Shopping in Masafi is one of the best things to do in Fujairah. This place is famous for its local market that offers souvenirs, carpets, fruits, vegetables, traditional furniture, colorful sets for tea and Arabic coffee, toys, etc. This market is suited the best to the people who are excellent at bargaining. After shopping, one can look out for cafeterias for karak and parathas this market serves the best boiled and grilled corn.
Top Attractions: Shopping at the market, boiled grilled corn, cafeterias
Timings: Everyday: 7 AM to 11 PM
Location: Friday Market, Fujairah
5. Bithnah Fort: Human, History and Heritage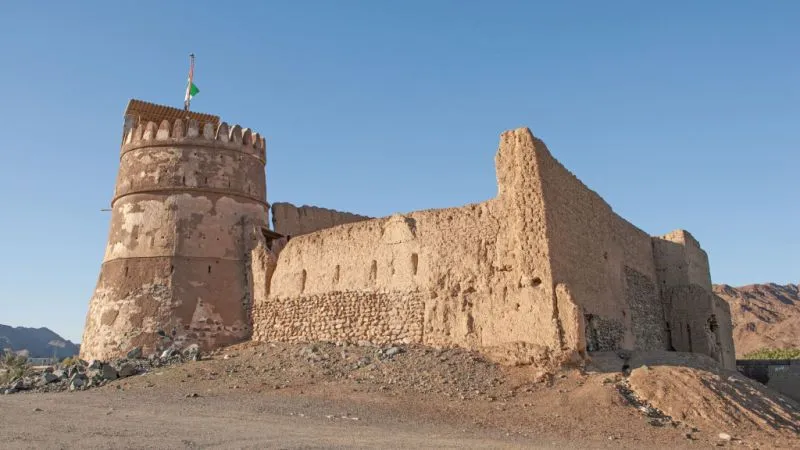 At a distance of 17 km from the city along with the Fujairah Main Highway, this is the second largest and most famous mountain fort Fujairah. The fort is constructed from stone, mud-brick, and palm-wood planking which makes it one of the most demanding tourist attractions in Fujairah. The magnificent doors inside the fort have intricate complex designs as well. The location for the fort proved to be made by thoughtful minds as it protected the inland route from Fujairah through Wadi Ham. The mountain view from the fort looks indeed spectacular and photogenic. There is no entry fee to the fort, visitors can visit and explore the fort without any tickets or charges.
Top Attractions: Historic sights, mountain views
Timings:
Saturday to Thursday- 8 AM to 5 PM
Fridays- 2:30 PM to 4:30 PM
Location: At Al Bithnah Village, Fujairah
Suggested Read: Honeymoon in Dubai: An Ideal Post-Wedding Fest
6. Sheikh Zayed Mosque: Seek the Blessings of the Almighty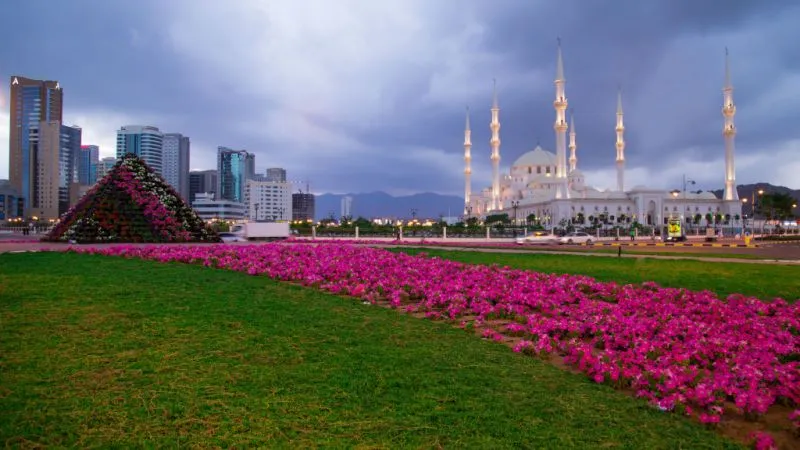 Fujairah's modern Sheikh Zayed Mosque ranked as the second-largest mosque in UAE after the more famous Sheikh Zayed Grand Mosque in Abu Dhabi. This mosque is well spread in size of 3 football fields and welcomes almost 32000 worshipers at a time. It has become a landmark of the city after its opening in 2015 making it one of the most mesmerizing Fujairah tourist places. Being a non-Muslim, won't come a visitor's way to visit this place. Saturday to Thursday is open for them to view the ornate interiors which feature grand chandeliers and Moorish-style arches between 9 AM and noon.
Attractions: The mammoth prayer hall, grand chandeliers
Timings: Everyday- 9 AM to 12 AM
Location: Mohammed Bin Matar Road, Al Ittihad Road, Fujairah City
Suggested Read: Sports Bars in Qatar: Perfect Spots to Get the Kicks and Sips
7. Al Bidyah Mosque: One of the Best Tourist Places in Fujairah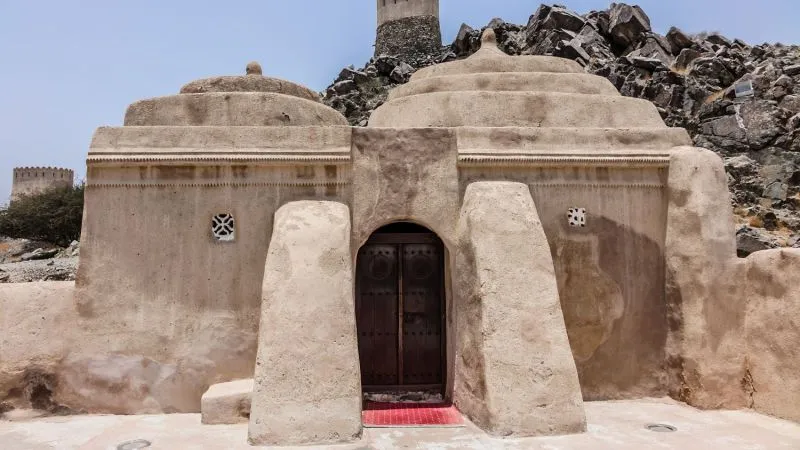 Al-Badiyah Mosque also known as the Ottoman Mosque is the oldest living mosque in the UAE built in 1446 AD. This mosque is surrounded by several other archeological sites and the whole place including the mosque is known as "Al Badiyah Archeological Mosque". If you want to witness the craftsmanship of that time and region, come and visit this mud and brick structure. The whole mosque is standing with the support of a single internal pillar. Being one of the Fujairah places to visit, non-Muslims are also allowed to visit and witness the hall inside. This museum also showcases beautiful artifacts and pottery pieces which are thought to date back at least 1000 BC and a graveyard with a vast tomb going back to the Iron Age.
Top Attractions: Central Hall, graveyard tomb, artifacts
Timings: 9:00 AM to 5:00 PM
Location: Al Bidya Mosque & Fort, Fujairah
Suggested Read: Adventure Activities in Dubai: For Non-Stop Fun and Thrilling Experiences
8. Fujairah Museum: Explore the Bronze Era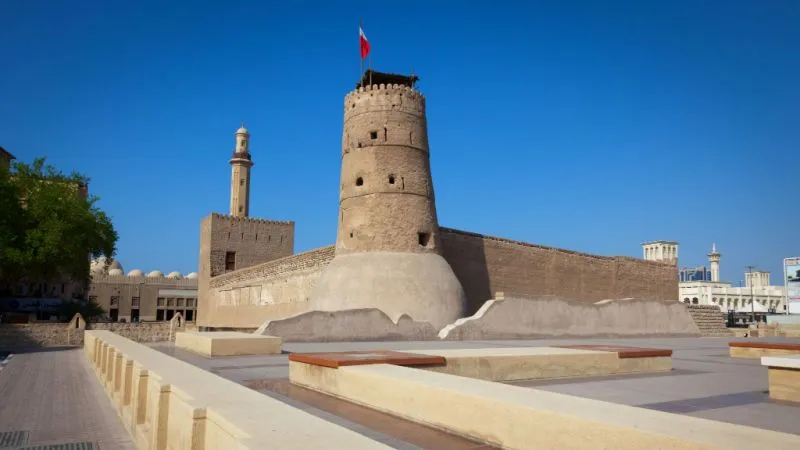 If you are fond of history and heritage, Fujairah Museum is the best place to go in Fujairah as it houses the most unique collection of archaeological findings. In fact, the museum showcases the belongings of the Bronze Age (about 4500 years old) from recent excavations of the Qidfa and Bithna sites. The very first hall of the museum is highlighted with trade, fishing, and agriculture as well as the pottery and weaving culture of the region. The second hall features ancient weapons, attires, and utensils from old times. There is an old house made of palm leaves which is one of the main Fujairah attractions. Whereas the third hall showcases antique artifacts including the 2200 years old bowl crafted with an ostrich egg that will connect you to the ancient past.
Top Attractions: Artifacts, ancient weapons
Timings:
Saturday to Thursday- 8:00 AM to 6:30 PM
Friday- 2:30 PM to 6:30 PM
Location: Al Sharyah, Fujairah City
The beautiful places to visit in Fujairah offer everything that a tourist looks for in a fantastic holiday retreat either with family, friends, or solo. From beautiful beaches, picturesque mountains, heritage sites, ancient edifices, local markets, mosques for prayer offerings etc. Fujairah is a must-visit place in UAE for a memorable vacation. The road made between Dubai and Fujairah is so smooth and hassle-free which makes the distance of 120km seem flawless. If you are an explorer and adventure seeker, what are you waiting for? Avail yourself of the best tour packages of the UAE and discover its rich natural and historic beauty for a lifetime experience.
FAQs
Q1. What is Fujairah best known for?
Fujairah is the bucket list a tourist creates to fulfill his desire to experience nature at its best. Fujairah is best known for its beautiful blue water beaches and stunning mountains. Here tourists are welcome to explore the archeological sites that exhibit the antiques and can visit local markets for shopping too.
Q2. Is Fujairah worth visiting?
If you are looking for the best picturesque location during your travel to UAE, Fujairah should be definitely on your list as it brings you the best landscape whether it's plain, mountain or sea. This is nature's own perfect creation to amaze travelers.
Q3. What are the best places to visit in Fujairah?
Fujairah is always ready to surprise visitors with a mix flavors of tourist attractions. One can dive into these places to gather lifelong memories from the places like:
Snoopy Island
Hajar Mountains
Masafi Market
Bithnah Fort
Fujairah City's Sheikh Zayed Mosque
Q4. What is the best time to visit Fujairah?
The best time to visit Fujairah is between the months of October and March. At this time, the weather turns so pleasant and helps you experience most of the city including nature and sites and activities.
Q5. What are some travel tips to visit Fujairah, UAE?
Here are some travel tips to consider while traveling to Fujairah to make your travel hassle-free.
Respect the traditions and culture of the city.
Dress decently in public places.
Remove your shoes before entering religious places.
Carry your passport along on public vehicles and while traveling to the border towards Oman.
Keep yourself hydrated and apply sunscreen.
Q6. What are the best activities to do at Snoopy Island?
One can indulge in numerous water activities like scuba diving, snorkeling, fishing, water sports, watching small sharks, beachside camping, and much more for an amazing holiday. Snoopy Island offers you to witness the best sunrise and sunset from its beaches.
Q7. What are the best heritage sites in Fujairah?
Some of the best historical places and archeological sites to visit in Fujairah are Fujairah Fort and Fort Museum, Bithnah Fort, Al-Hayl Castle, Al-Badiyah Mosque etc. These sites let you meet and greet the ancients and experience the past.
Q8. What are the best cities to visit in the UAE?
The UAE welcomes millions of tourists all year round with huge enthusiasm and serves multiple experiences to them. Many cities of the UAE that contribute to making it an ideal tourist destination include:
Dubai
Abu Dhabi
Fujairah
Ras al-Khaimah
Hatta City
---