Qatar is ready to welcome every football fan who visits the country during the FIFA World Cup 2022. All eight stadiums are dolled up and waiting to be the battlegrounds where history will be created. All of the FIFA crazed fans are either arranging for tickets or arranging to get into locations where they can gather with other football fans and cheer the loudest when their favourite team scores.Some of the most interesting places, especially for football fans, are the ever-so-amazing sports bars in Qatar that not only offer amazing drinks, food, and an experience of watching the matches but also great company of outstanding people.
Sports Bars in Qatar: The Places to Chug After Every Goal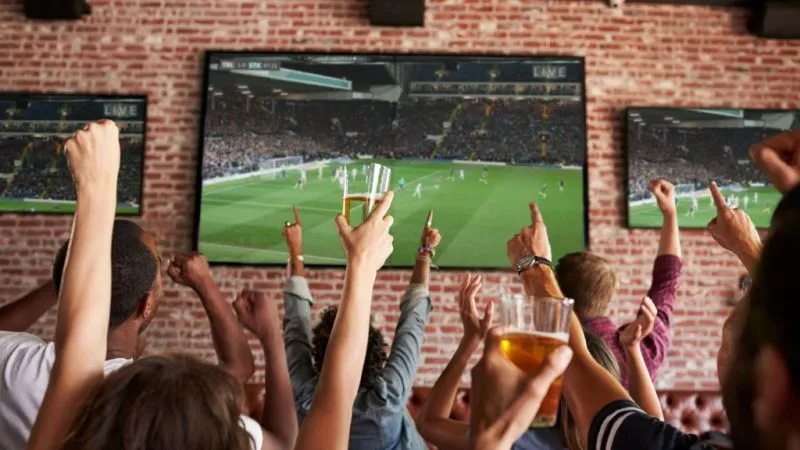 There might be many times during the FIFA World Cup that the fans won't get tickets to some of the matches. The second-best option in such times is to get into any of the amazing sports bars in Qatar and live the somewhat same experience of being in the stadium with all the crazy people screaming to watch their favorite player make the goal. These sports bars are very trendy, chic, and offer a lot of options for drinks and food. Every sports bar has a different way of showcasing the matches. Some use television screens, some have projectors, and some fix their menu boards for the matches.
Boston's
Brewskis and Grub
StrEAT Culture
The Score
Street 22 Restobar
Shots
Stock Burger Co.
Champions Sports Bar
1. Boston's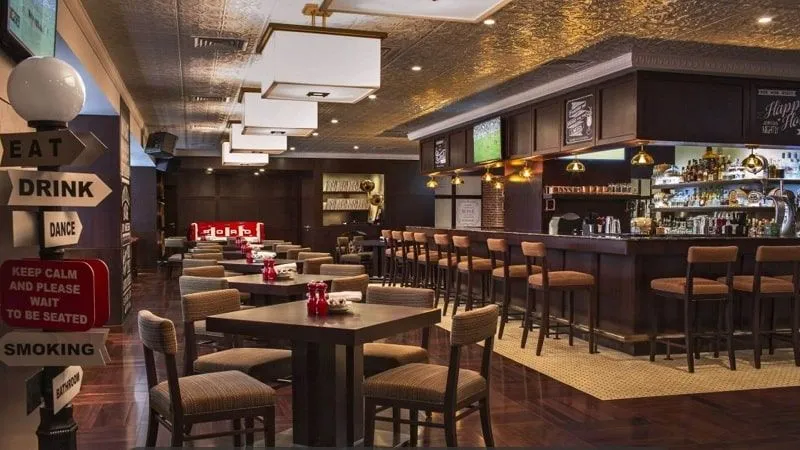 This amazing sports bar in Qatar is the perfect destination for you and your gang to hang out when you need to chow down the best tasting burgers and fries while cheering for your team to score the winning goal. With the FIFA World Cup right around the corner, the availability of tickets to the stadiums will be lower than ever, and during that time, Boston's would be the place to watch the matches live with plenty of screens spread all around the bar. What's interesting about the place is that even if you are just accompanying your football-crazy friends, you will be looking forward to enjoying Boston's sausages, which come by the metre, or the other delicious items like nachos, steak, and fish and chips.
Location: Level 1, 850 Conference Centre, Doha, Qatar
Timings: Everyday: 5 p.m. - 2 a.m.
2. Brewskis and Grub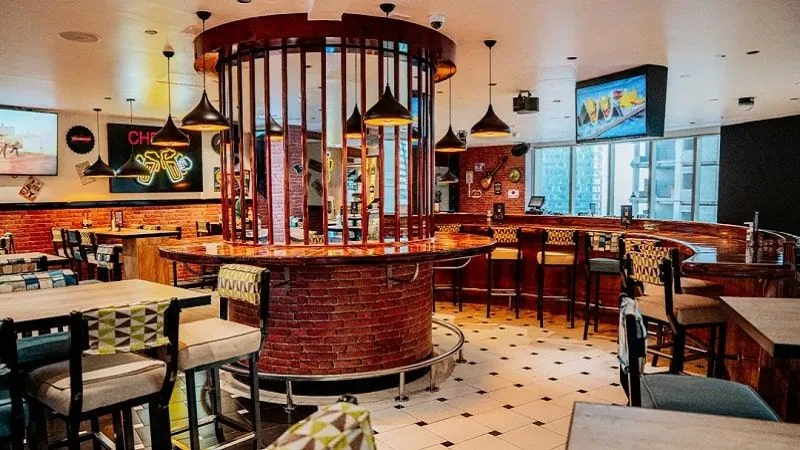 If you like watching the nerve-wracking FIFA matches on a large screen while having innumerable pints of beer with some delicious chicken wings, then this modern sports bar in Qatar is the perfect place for you to visit this winter. Brewskis and Grub's unique take on pull-your-own-pint is one of the main attractions, other than serving lip-smacking food with an astonishingly large choice for even vegetarians and vegans. The interior and décor of the bar is stylish and contemporary, with ample different seating styles ranging from sofas, chairs and booths, bar stools, to standard tables and chairs for large groups.
Location: Crowne Plaza Hotel, 5th Floor, District Zone 61, West Bay, Doha
Timings: Everyday: 5 p.m. - 2 a.m.
Suggested Read: Hayya Card for FIFA World Cup in Qatar: A Detailed Guide to Getting the Mandatory Card
3. StrEAT Culture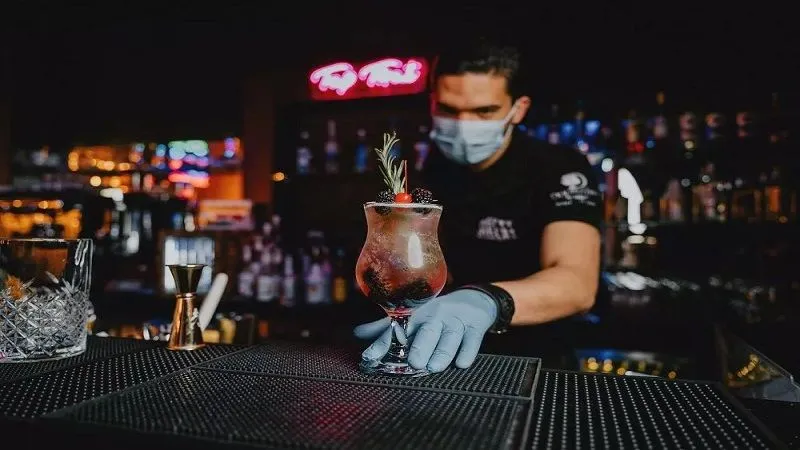 This rustic but modern sports bar in Doha is a perfect hangout spot for football-crazy fans to watch the matches. The place is beautifully decorated with witty posters and dramatic lighting. The bar serves drinks and food with global flavors, including British, German, Texan, Mexican, and Indian cuisines. Even if you are not a sports fan or plan to visit the bar during an off season, you won't be disappointed by the amazing ambiance and the delicious food. The seating style in the bar that includes chairs and booths, and classic chairs and tables is perfect for any kind of group to enjoy the upcoming FIFA World Cup in the country.
Location: DoubleTree by Hilton, Al Sadd, Doha
Timings: Everyday: 12 p.m. - 2 a.m.
4. The Score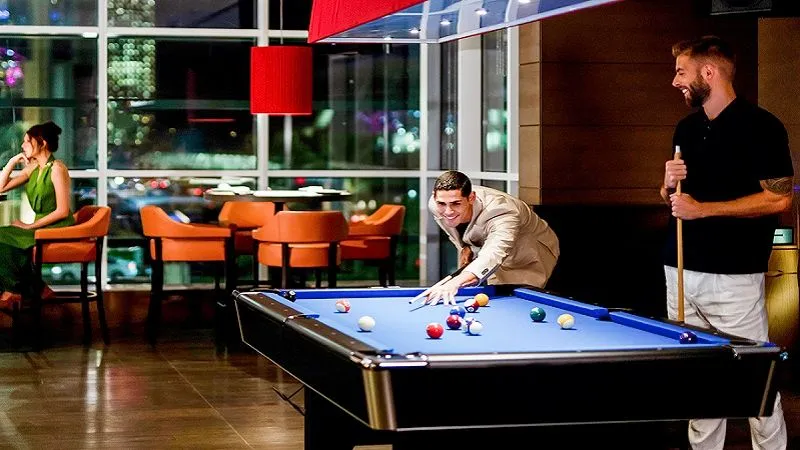 There are people who look for luxury and style while watching a neck-to-neck match of any sport. Being a stylish sports bar in Qatar, the score belongs to such people. With a trendy and chic interior and a comfortable ambiance, this bar is a marvel for people looking to experience the dazzling nightlife in Qatar. There are numerous high-definition flat screens all over the bar so that all guests have access to watch the match with ease and comfort. The bar offers premium drinks, including a wide range of delicious cocktails and mocktails. There are people who visit the bar for the American-style kitchen and the lip-smacking food that is served with elegant presentation.
Location: Excellence Tower, Unit 904, Al Shatt St, Qatar
Timings: Everyday: 5 p.m. - 2 a.m.
Suggested Read: Sports Shops in Qatar: Buy Sports Equipment & Accessories in Qatar
5. Street 22 Restobar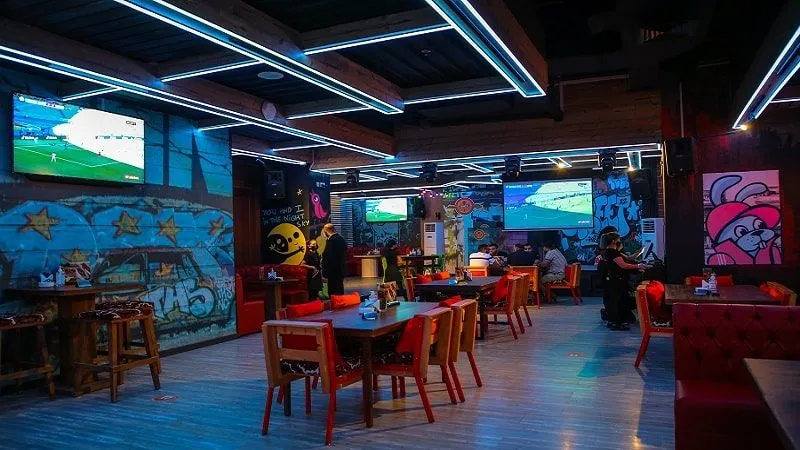 A rusty bar with creative graffiti drawn on the walls, this unique sports bar in Qatar is an amazing spot to eat, drink and cheer. Guests have the liberty to play pool while waiting for their drinks and food or when there's no live tournament going on. There are 15 full HD screens put all over the bar, which gives access to all guests to watch the matches. There is a wide range of food and drink options, from burgers, fries, and pizza, to beers and cocktails. It is one of the coolest bars in Doha to hang out even without indulging in the matches.
Location: Al Shahib Bin Abbad Road, Building 24, Street 890, Zone 26, Doha
Timings: Everyday: 3 p.m. - 12 a.m.
Suggested Read: Umluj Beach: Relish a Soothing Holiday in the Maldives of Saudi Arabia
6. Shots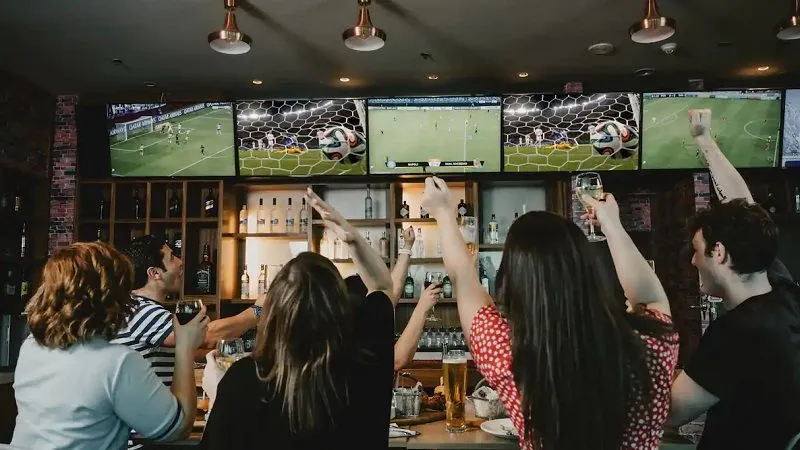 Experience a comfy and laid-back atmosphere with delicious food, from burgers, French fries to chicken wings and pizza. This beautiful sports bar in Qatar is an amazing go-to place for people who look forward to watching matches on a large high-definition projector screen. The bar offers good music, delicious drinks, and good food for a great time. The bar offers an option to sit indoors or on the terrace area, with each booth having its own screen. Shots is easily the place to watch the FIFA World Cup this winter if you don't feel like buying stadium tickets.
Location: Hilton Doha, West Bay
Timings: Everyday: 1 p.m. - 2 a.m.
7. Stock Burger Co.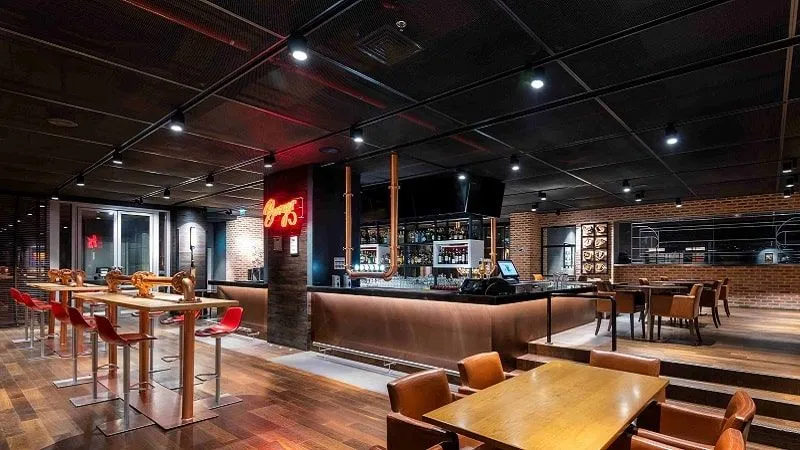 If you are a true sports fan, then you must be aware that burgers and football go hand in hand just like cheese and crackers. And with an extensive burger menu, Stock Burger Co. ranks as one of the best sports bars in Qatar. The bar is beautifully styled as a modern American sports bar with brickwork on the walls, wooden floors, and leather and booth seating. There is a giant screen hanging in a side room for those crazy sports fanatics who scream and cheer so loudly that there's no need for any background music. This sports bar in the Holiday Inn Doha displays 16 leather recliners where you can peacefully enjoy the build-your-own burger in case you don't like the regular ones. Don't miss steak day on Sunday and wings day on Wednesday.
Location: Holiday Inn Doha, the Business Park, Najma
Timings: Everyday: Noon – 2 a.m.
Suggested Read: 974 Cruises Qatar: Enjoy a Unique Houseboat Experience
8. Champions Sports Bar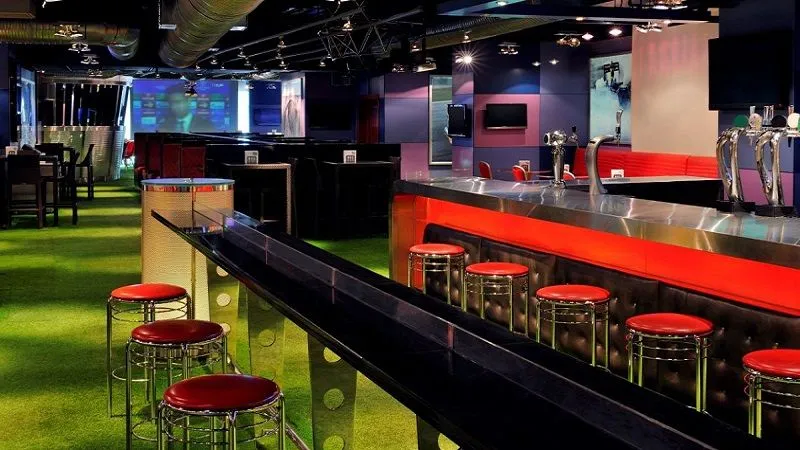 With 47 screens dotted on the walls, Champions is certainly one of the must-visit sports bars in Qatar, especially during FIFA. With no chance to miss even a single goal, the bar also offers delicious American-style food dishes like nachos, tacos, burgers, mac and cheese, etc. One of the favorites among the crowd, this bar must be on the list of places to visit in Qatar even without any tournament season. The combination of amazing food, drinks, comfortable seating and an exciting match where you never know which team will win, there's no doubt that this sports bar in the Marriott Marquis is among the best in the league.
Location: Marriott Marquis, West Bay City Center, Omar Al Mukhtar St, Doha
Timings: Everyday: 5 p.m. - 2 a.m.
Suggested Read: Best Hotels Near FIFA Stadiums in Qatar: Redefining Luxury and Leisure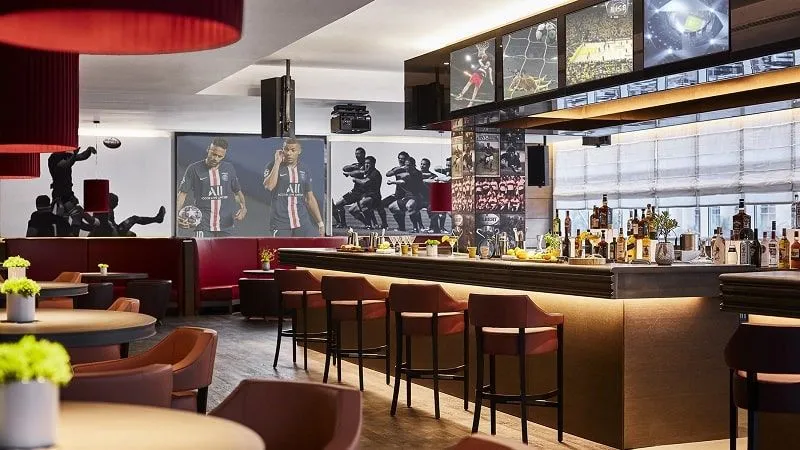 Sports bars in Qatar serve an interesting perspective on the idea of a community that comes together to cheer for the same or different teams and players while eating delicious food, drinking lots of beverages, and having the time of their lives. With the commencement of football matches under FIFA in Qatar, these sports bars will become alive and vibrant like never before. So, if you are planning your visit to the country or are a resident and do not wish to visit the stadiums to watch the matches, these bars are the perfect way to become a part of an amazing community. And you also have the option to take advantage of the Qatar holiday packages to explore more of this charming and delightful country.
FAQs
Q1. Is it worth visiting a sports bar in Qatar?
Yes, sports bars in Qatar are the best spots to enjoy a good game of cricket, rugby, or football. These bars have a positive ambiance with comfortable seating styles, delicious food, amazing drinks, and innumerable screens to ensure you do not miss anything during a good match.
Q2. Which is the main airport in Qatar?
Hamad International Airport is the major airport in Qatar. It has become a significant gateway for international travelers and tourists to enter and explore the beautiful country.
Q3. Are there any good restaurants in Qatar?
Yes, there is a wide range of restaurants in Qatar that serve traditional and international cuisine with elegant presentation and delicious flavor.
Aryaas Express
La Spiga by Paper Moon
Pearl of Beirut Al Khor
Yasmine Palace
Zengo Restaurant
Al Manchab Restaurant Doha
Novikov Doha
Nozomi Doha
Q4. What is special about Champions Sports Bar in Doha?
Champions Sports Bar is one of the top places for avid sports fans who get to enjoy good matches with fellow sports lovers. There are 47 screens dotted all around the walls of the bar for people to not miss anything. The bar serves lip-smacking food and drinks and has a comfortable seating arrangement.
Q5. What are some interesting things to do in Qatar?
There are many exciting activities to indulge in during one's stay in Qatar.
Kitesurfing at Sealine Beach
Experience the Venetian vibe at Villaggio Mall
Explore the majestic Inland Sea
Visit the Museum of Islamic Art
Learn about the culture at the Doha Festival City
Pay a visit to Lusail Stadium
Q6. What are some travel tips for Qatar?
Here are some important tips to keep in mind while exploring the beautiful places in Qatar.
Always keep your passport with you
Carry sunscreen and sunglasses
Respect tradition and culture
Don't miss trying all the traditional dishes
Q7. How many days are enough to explore Qatar?
Spending 3–5 days in the beautiful country of Qatar will be enough to satisfy the curiosity of the tourists to explore all the significant landmarks and indulge in every thrilling and exciting activity.
Q8. What is the duration of the FIFA World Cup in Qatar?
FIFA 2022 is scheduled to begin on November 21st and end on December 18th. A unique thing about this World Cup in Qatar is that it will be the shortest FIFA tournament of just 28 days since the 1978 edition.
---