Doha beholds global recognition for its immense wealth and beauty. The city has left everyone awestruck with its myriad attraction that represents the architecture, culture, and lifestyle. Villaggio Mall Qatar stands as one of the spectacular attractions that have magnified the shopping experience for all. While Doha has everything from street markets to Souqs, Villaggio Mall has changed the term "shopping" with outstanding architecture and an array of best brands and entertainment. Today Villaggio is a brand itself that is offering quality and value to every guest.
A Brief About Villaggio Mall Doha And Its Features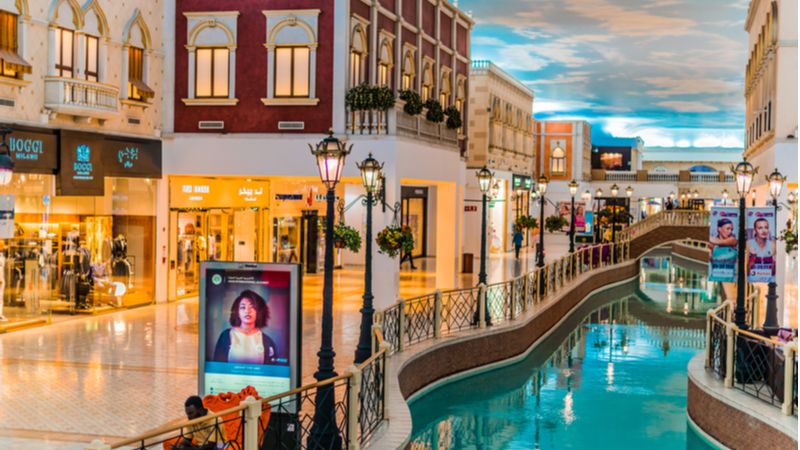 Located on Al Waab Street, Villaggio Mall is a new name for shopping and entertainment. The mall is connected with every corner of Doha, which makes it easy to reach. Built on an area of 360,000 sqm, the mall attracts more than 1.5 million people every month, which means 50,000 visitors on a daily basis. There are global brands, stores, and shopping outlets where you will find an exclusive collection of fashion and home accessories. Bringing dining, cinema, fun, thrill, and shopping under one roof, Villaggio Qatar has every striking feature that makes it the best attraction in the city.
The architecture and interiors are other features that have made it a popular spot for travelers and locals as well. The Venetian-styled interiors have combined adventure, entertainment, and leisure together, making it a great spot for your family weekend. Here are some highlights you need to know before you plan a trip.
A vast area of 360,000 sqm that offers the best shopping and other facilities
The parking area can allot more than 3300 cars at a time.
A footfall of 50,000 visitors every day makes it the most popular mall in the country.
The indoor canal inspired by Venice is a major attraction for many. It has added more fun and beauty to the ambiance. There are Gondola rides also available for the visitors to enjoy and take a tour around.
Famous brands like Gucci and Gabbana meet your daily fashion needs and best experience of shopping in Qatar.
A dedicated fun zone with activities like Go-karting, ice arena, and cinema. There is an indoor park where you can spend the best time of your vacation with your family.
Villaggio mall opening hours are as follows:
Sunday to Wednesday from 9:00 AM to 10:00 PM
Thursday & Saturday from 9:00 AM to 11:00 PM
Friday from 9:00 AM to 11:00 AM & 12:30 PM to 11:00 PM
A Shopping And Dining At Qatar Villaggio Mall
Malls in Doha are best when it comes to planning a whole day with family and friends. From complete shopping to dining, there are the best and too many options you can choose while adding more fun and entertainment to your day. Villaggio mall also offers the best shopping and dining facility for everyone who is planning to explore and shop while on a family holiday in Doha.
1. Shopping For Your Ultra Stylish Lifestyle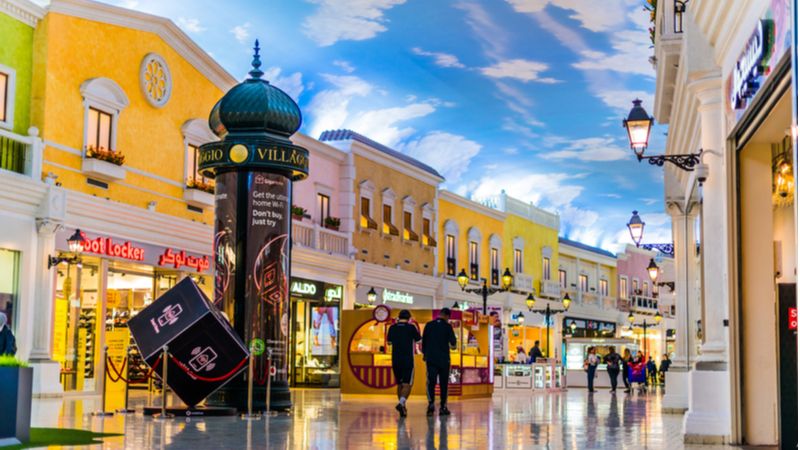 If the brands are defining what luxury means, then Villaggio Mall is the right place to go and shop. Featuring global names that are known for their excellent quality and trendy style, Villaggio shopping center has a complete list of the fashion assets that can enhance your wardrobe. Be it casual or your traditional wear, sportswear, or a special collection for kids, the mall features a huge collection of all your stylings.
There are departmental stores in Villaggio mall, offering you every amenity to upgrade your home and kitchen. Specialized in furnishing and kitchen collection, you can get items like home décor, dining, and more. The sub-category list is long but you will find every exclusive material that can upgrade your lifestyle.
Best Shops For Your Fashion Collection
Armani Exchange
Artal Perfumes
Mothercare
Decathlon
Evans
Best Shops for Home collection and Electronics
E max
Zara home
Messika
Carrefour
The One
Suggested Read: Doha Foods For The Fine Dining Experience At The Local Restaurants
2. Discover The Luxury of Via Domo At Villaggio Mall in Doha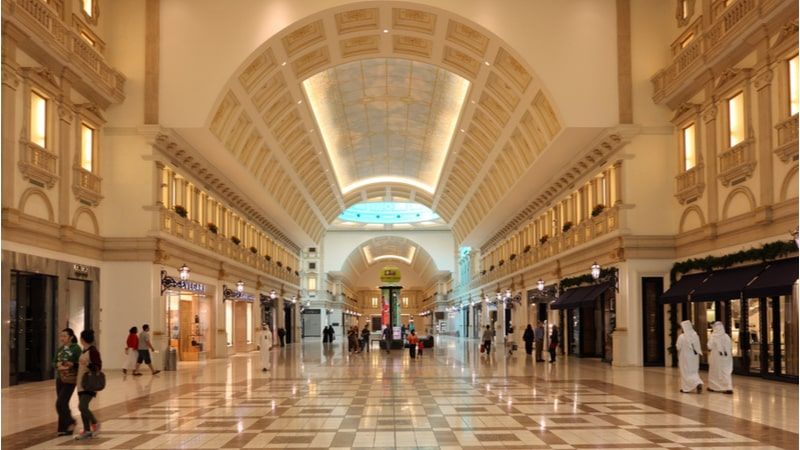 Villaggio Mall has stepped out of the box to create a whole new world of luxury and class. There is an indoor canal that takes you through the most luxuriating street, laced with top brands and quality material to upgrade your fashion style. There are gondolas that will transfer you to a different world, to one wing of the mall at the Via Domo, which is nothing less than a high-end high street offering every luxury and fashion you need for your wardrobe collection. Villaggio mall in Qatar is bringing every favorite brand of yours, be it Dior, Gucci, Dolce & Gabbana, and Fendi, Louis Vuitton, Bvlgari, and Cartier, that you can find across the hallways of Via Domo at Villaggio.
3. Dining Space At The Best Villaggio Mall Restaurant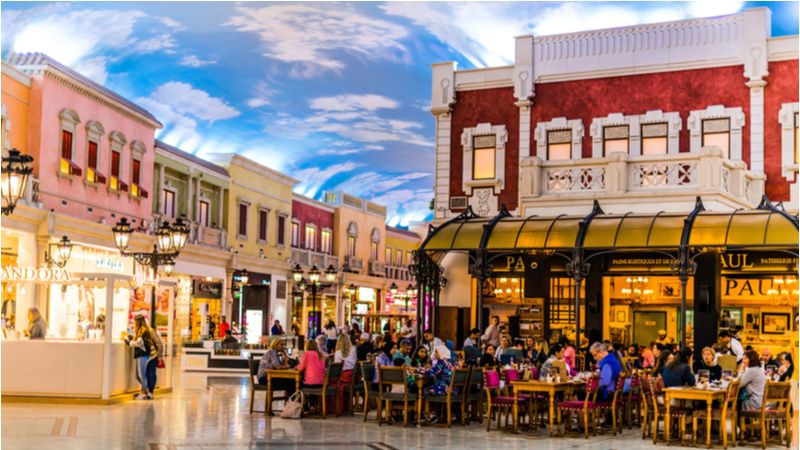 One of the most prominent features of Villaggio is the dining space. The mall houses the best restaurants in Qatar where you can enjoy the detectable cuisines and top dishes. Every restaurant here is renowned for its service and the great menu which brings you the taste from every food destination around. From cafes to the coffee house, your fine dining restaurant, or fast-food joint, Villaggio brings you the option for all your occasion and mood.
Stroll around to find the best restaurant serving traditional food and dessert, Continental Cuisine, grilled and barbecued food and so more. Here are some best eateries you will find in Villaggio Mall Doha, Qatar.
Some Top Restaurants-
Ocean Basket
The Cheesecake Factory
Romano's Macaroni Grill
P.F. Chang's
Applebee's
Some Top Coffee Shops Functioning At Villaggio Mall Doha -
Paul Café
LADUREE PARIS
Pappa Roti
December Café
EAU DE ROSE
The Best Entertainment at Villaggio Mall Qatar
More than shopping, Villaggio is famous for adventure and fun. The mall brings some of the best things to do in Doha to add adventure and fun to your holiday. This is one of the largest entertainment centers in Doha, where you can enjoy cinema or games like an ice rink, rides, and more. Let us have a look at the best entertainment option available at Villaggio Qatar.
1. Cinema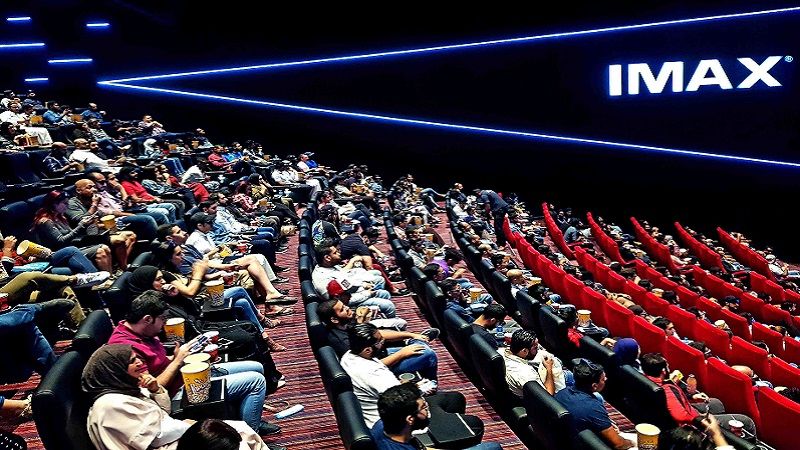 Cinema and theater experience is something that you can never miss out on while on a mall tour. Just like shopping and dining, Cinema at Villaggio Mall in Qatar can be a fun addition to your day. With the advanced screen and quality infrastructure, the cinema of Villaggio is known to be the best for any cinematic experience. Enjoy the hit Bollywood or Hollywood movies running at the theater. The hall is located on the ground floor with entrances 1 and 2.
2. Gondolania Theme Park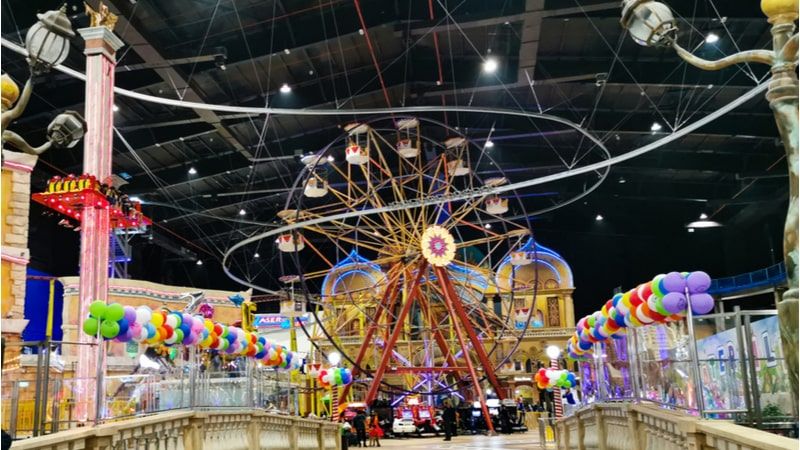 A theme park where you can spend the best of your holidays with your family, Gondola Theme park is one of the major attractions in Doha, featuring complete entertainment and thrill. There are rides, boat rides, activities like Go-Karting, and so more, to let you experience some thrill and frills. This entertainment zone at the Villaggio Mall Doha, Qatar has everything you need, from kids' activities and games to adventure for grownups shops Kiosk et., etc. Have a lot at the best fun activities you can add to your To-do-list before heading out for some thrill.
The Gondolania Ice Arena is a vast ice rink, probably Olympic size, where you can enjoy a number of activities like Ice hockey, Ice skating, and more. The arena is certified by the Ice-Skating Institute Asia, where you can enjoy, practice, and learn hockey or skating. There are championships and competitions also organized occasionally on different levels.
The indoor theme park features space for activities like Carousel, Bowling Alley, Ferris Wheel, Go-kart, a Drop Tower, Bumper Cars, Kiddie Train, and party rooms. Hang out with your gang and enjoy some fun rides or go bowling. The bowling alley has enough space for your birthday parties or league bowling. There is even a 3-D cinema theater.
If you need an adrenaline rush, the theme park has a go-karting space. Villaggio mall Doha is the best place when it comes to bowling fun. Arrive and drive at the mall to make it a thrilling experience of a lifetime. Enjoy the thrill of 200cc go-karts on a 350m long track. The track is available from Saturday to Wednesday, 10:00 AM - 10:00 PM, and it may cost QAR 70.
Looking for some entertainment and thrill, the Laser War Zone at Gondolania theme park is equipped with advanced equipment and gadgets for a laser war. You can easily plan a trip with your friends as the war zone can allot space for 34 people at a time.
Suggested Read: Gondolania Theme Park Qatar: A Perfect Entertainment Spot At Villaggio Mall
3. Gondola Boat Rides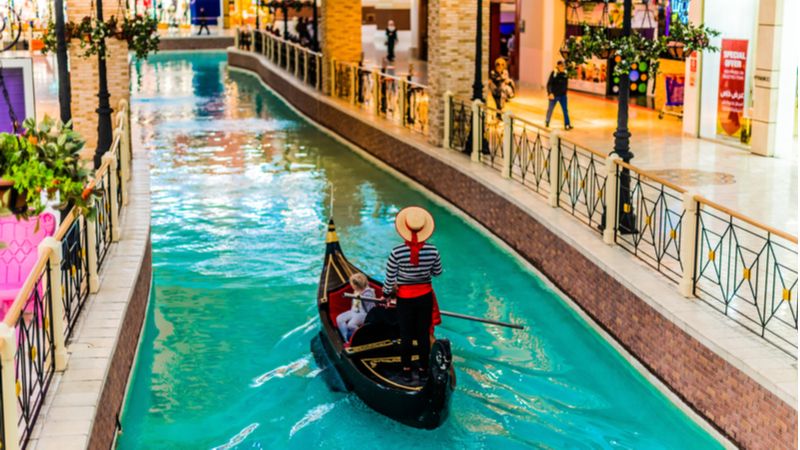 The whole Villaggio Mall in Doha is a replica of Venice city with the famous gondola rides. There are water canals in the mall with Gondola tours for you to explore every corner of this mall in Qatar. The Villaggio Mall shows that a very large area of the mall is covered with these indoor canals that are not just adding a fun element, but enhancing the beauty and architecture too. With the Venetian vibe, the ride is best for both kids and adults. A tour may cost around QAR 10 per person. The canals are on the ground floor with entrance 3.
Top Services Offered By The Villaggio Mall In Doha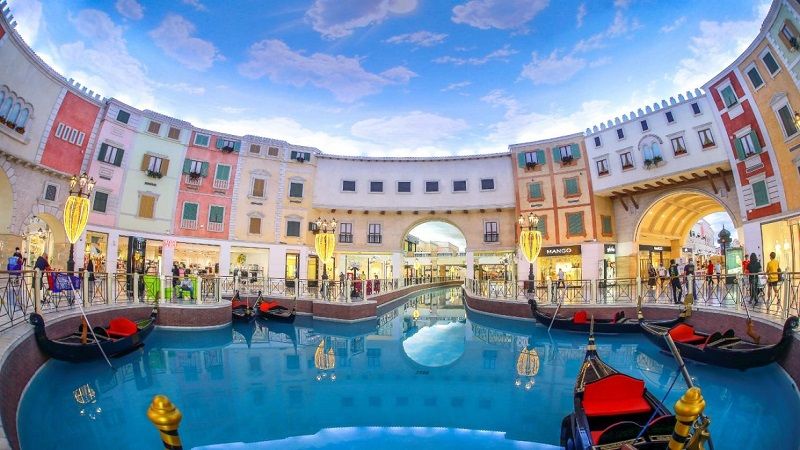 The Villaggio Mall is one of the finest places to visit in Qatar for obvious reasons and its services are a major example of that. The mall looks to ensure every type of convenience for the shoppers by offering a range of additional services to visitors. Taking care of all your needs and offering the best service, the Villaggio mall Qatar has become a hot spot in the city. You can shop, dine and enjoy, but there is a lot more to the services that make it too unique for everyone. Here's what you need to know about it.
Internet Access With Ease
One of the most assuring services of the Villaggio Mall, shoppers get easy internet access while they spend their time shopping at the mall. The Wifi facility is free to use and safe for the users.
ATM Access
When shopping at the mall, you are bound to require cash in handy, right? Well, you don't have to go too far for it at the Villaggio Mall Doha. There are ATMs from some premier banks at the mall which shoppers can use. In fact, the ATMs can be found in abundance here which allows you to shop freely without any cash shortage.
Car Washing
Ever heard about car washing at a mall? Well, the Villaggio Mall has a car cleaning facility too where shoppers can get their cars cleaned up. The best part? By the time you finish your shopping, your car is all cleaned up and ready for you.
Valet Parking  
Valet parking isn't something that is new and rarely found. Today, just about every mall and hotel in Qatar offers a valet parking facility to visitors and the Villaggio Mall is no different. Shoppers coming to the mall can avail themselves of valet parking at VIP entrances 6 and 1 of the mall.
Lost & Found  
Misplaced your belongings while shopping at Villaggio Mall? The lost and found the wing of the mall would help you find it. The wing operates from the security office of the mall and visitors can easily report their concerns here. The team is present during all working hours and will help you find anything you lose.
Digital Information Directories
Villaggio isn't a small mall by any standards and it can be tough at times to find your favorite store or spot. Well, that's where the digital information directories play their part. The directories provide all the information that one needs regarding a particular store or the mall.
Wheel Chair
Want a wheelchair for your elderly? The mall provides such a facility at no extra charge. All you need to do is to inquire at the Guest Services desk and the security personnel would help you get one wheelchair.
Prayer Rooms
We know about Qatar and the religious faith the country carries. Well, the Villaggio Mall has on-site prayer rooms for both men and women which can be used by shoppers at any time without any hassle.
Personal Assistant
Fancy shopping a bit too much? Well, how are you planning to carry all the bags? The Villaggio Mall might just have you covered. The mall provides personal assistants to shoppers who can carry all your shopping bags while you shop and go from store to store.
Suggested Read: Cinema In Qatar: World-Class Exhibitors For An Amazing Movie Experience
Top 8 Restaurants In Villaggio Mall For An Delightful Gastronomic Experience
Villagio Mall is not just about a luxury shopping experience but it is also adding on more for the visitors to offer a relishing culinary experience. Here are some of the best restaurants in Villaggio Mall in Qatar, where you can reserve a seat and enjoy a delightful meal with your family.
1. Ocean Basket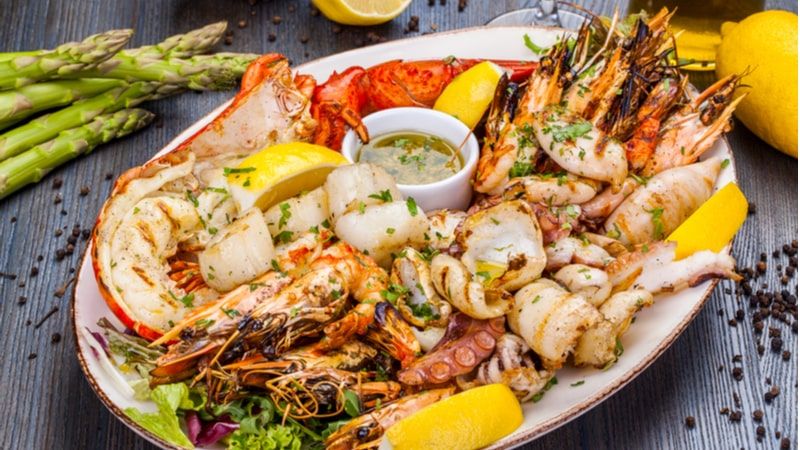 Located on the ground floor, Ocean Basket is one of the finest eateries that offer authentic South African food. This restaurant tends to share a detectable taste of freshly made cuisines for your lunch or dinner. You can choose from the seafood section, which is the specialty of every professional chef working there. Currently, the fame of Ocean Basket has spread all over the world with more than 190 global chains, but here in Villaggio Mall Doha, it is one and the only fancy eatery that would take you back to the savory zest of your kitchen.
2. Laduree Paris
Well, if you are missing the taste of Paris in Qatar, Laduree Paris is the right place you can book for the evening. This fancy restaurant in Villaggio Doha is perfect to delve into the most irresistible taste of your life. Inspired by the authentic food and culinary art of Paris, Laduree Paris has brought the legacy to Qatar. The buzzing and lively aura of the place enhance the experience of all, while the taste is something that you cannot afford to miss. Try out the French Macarons, the freshly baked croissants, and every cuisine that is listed as Must-Try on the menu.
3. P.F. Chang's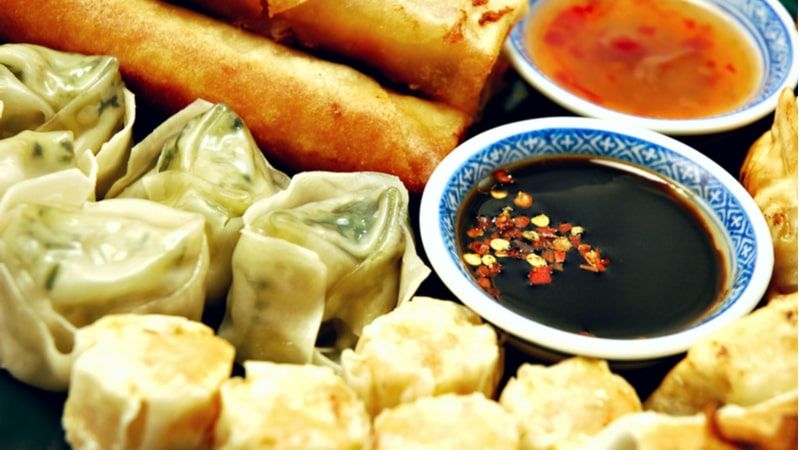 With a perfect fusion of Asian and American culinary culture, P.F. Chang's, is the most promising restaurant in Villagio Mall, Qatar, bringing you the best taste to savor your taste buds. The eatery is located on the ground floor of the mall, offering a vast menu that includes Chang's Chicken Lettuce Wraps, Mongolian Beef, Dumplings, and more. Not only the food, but the restaurant also has a lavish interior, designed with the use of intricate art and murals. The place serves exceptional dining with its intriguing menu. The use of the finest material and the excellence of chefs have added much fame to the name of this restaurant in Villagio Mall, Doha.
Suggested Read: The Taste And Flavors Of Qatari Spices At Al Manchab Restaurant Doha
4. The Cheesecake Factory
The Cheesecake Factory is not just a café, but it is bringing you the most delightful menu to savor your taste buds. Located on the ground floor of the mall, this café is a perfect place to satisfy your sweet tooth with freshly baked pastries, cakes, and every fancy food you desire. Globally the café is located at more than 200 locations, but here at Villagio, it is surely the best spot to hang out after a long tiring day. From the best-decorated interiors to the lavish space, the Cheesecake Factory is quite an impressive space.
5. Romano's Macaroni Grill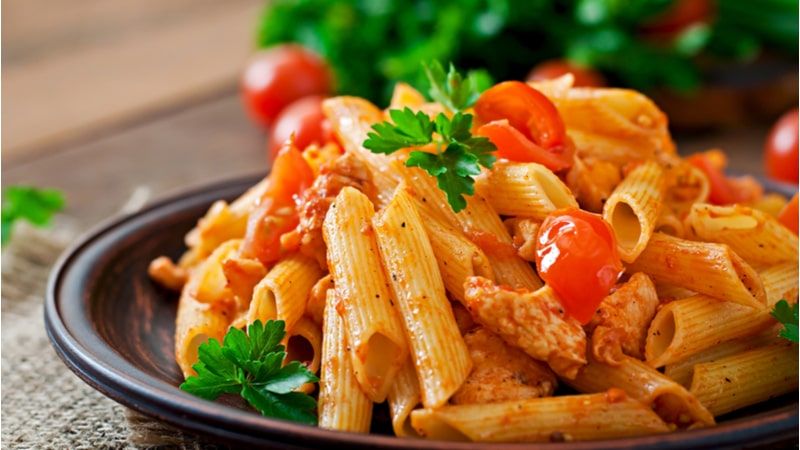 An Italian restaurant, Romano's Macaroni Grill, is a place where you can discover the most delightful flavor of the day. Located on the ground floor of Villaggio Mall in Qatar, this is an exclusive dining space at the food court. After a long day, when you are looking for a space to sit and enjoy a meal with your family, Romano's Macaroni Grill comes as an ideal casual dining place in Qatar. Try the freshly made pasta, or add some grilled food to your plate from its vast and lavish menu.
Suggested Read: Traditional Qatar Wedding: A Look At Qatari Matrimonial Culture
6. Sumo Sushi & Bunto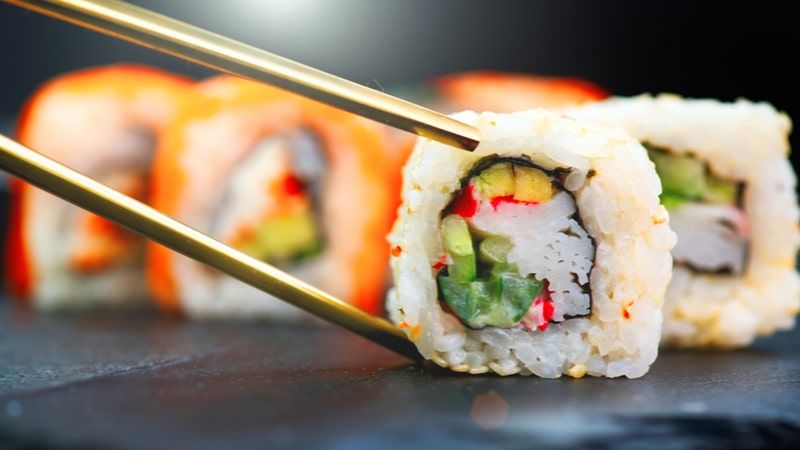 Are you a fan of Asian cuisine? Qatar can be your place to enjoy the best Japanese food at the famous Sumo Sushi & Bunto restaurant and café. This eatery located on the ground floor of the Villaggio Mall in Doha delivers the quality of taste, maintaining its authenticity. This magnificent eatery in the city has gained fame with its excellently crafted menu, lively ambiance, and warming hospitality. Try the Signature Samurai, Poke Bowls, Sushi Sandwiches, and the delicious Salmon Lovers Bento when you are planning a family dinner here at Sumo Sushi and Bunto, Qatar.
7. Asha's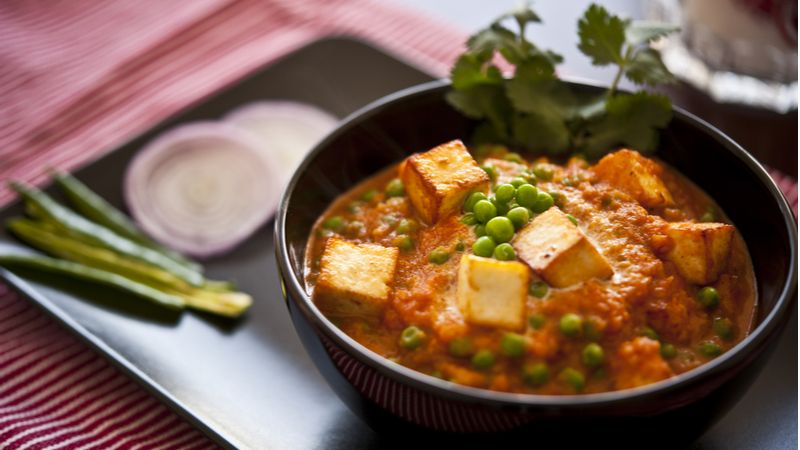 Dive into the magnificent taste of Indian cuisine at Asha's. This eatery in Villaggio Doha was established by Asha Bhosle, bringing every fascinating taste of India to Qatar. This is the international Indian restaurant group in Qatar where you can discover a menu with the best Indian flavor and aroma. The modern and fancy seating of the restaurant makes it perfect for families. The restaurant is open seven days a week, so you can easily plan out a family dinner at Asha's.
Suggested Read: Best Restaurants In Al Khor For Yummy Cuisines
8. The Butcher Shop and Grill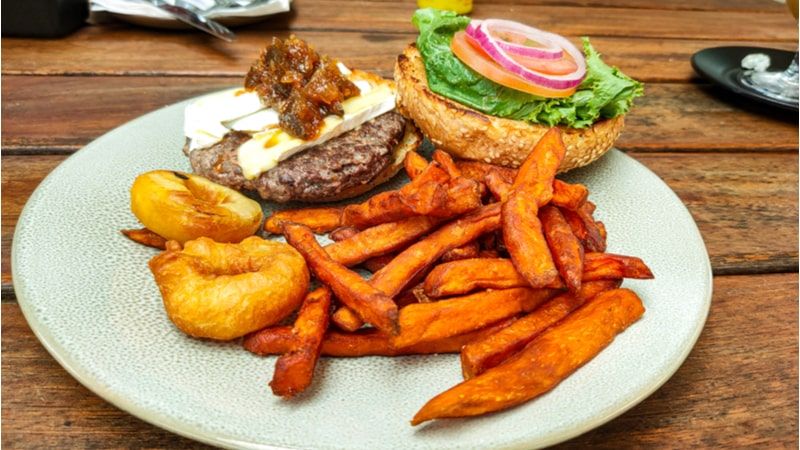 From the streets of South Africa, the Butcher Shop and Grill brings the best taste in Qatar, savoring a fresh platter of your non-veg food. This steak house is known for its unique concept of serving perfectly grilled food in a warm atmosphere. You will find every tempting dish on the menu, from local beef to grilled chicken, some exotic African wine, and every other authentic food of the country. The restaurant is located at the Food court, on the ground floor of the mall in Doha.
How to Reach Villagio Mall in Qatar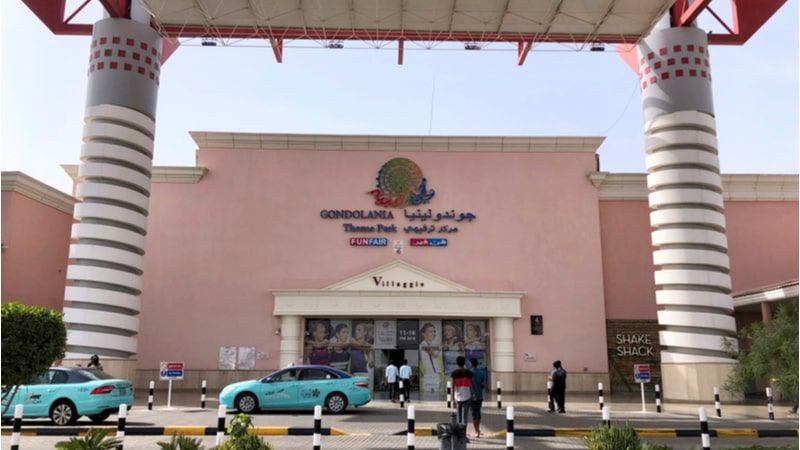 One can reach Villagio Mall in Qatar without any hassle. All credit goes to the Metro and bus services of the country. Here are the nearest stations from where you can reach the mall by metro and road.
By Metro: One can reach the Villagio Mall in Qatar by Doha Metro via Gold Line and the nearest station is the Al-Aziziyah metro station. It is located about a 14-minute walk from the mall. Traveling in a metro is always convenient and helps you to get rid of the hectic traffic on roads and save your precious time and energy.
By Bus: If you want to travel by road, you can board public buses- 136A, 301, 304, 31, 32, 40 and reach Villaggio Mall in Qatar. The nearest bus stop is 31 which is Al Ghanim Station Muaither Circular via Umm Al Dom Street and 32 which is Al Ghanim Bus Station- Al Baraha. They are located a 12-minute walk from Villaggio Mall, Qatar.
By Taxi: If you want hassle-free travel and are in no mood to travel by bus or metro, then you can hire a taxi or a cab. One can easily find a taxi that will drop you at the exact destination of the mall.
Villaggio mall Qatar has taken luxury to a different level by adding so more to the experience. The mall today stands as the best attraction for families and tourists to enjoy, shop, and spend a day at leisure. Offering a vast collection of fashion, top dining restaurants, and entertainment options, the mall has lured everyone to explore it once. So, if you are planning a holiday in Doha, make sure to add Villaggio to your itinerary for complete entertainment. Book your Qatar flights today and get ready for an exciting day.
FAQs
Q1. Where is Villaggio Mall?
The Villaggio Mall is located in the Aspire Zone in the west end of Doha, the capital city of Qatar. This is one of the best shopping places where you will find top brands and an exclusive collection of fashion and household accessories.
Q2. Why is Villaggio so famous for shopping?
Villaggio Mall in Doha is known for the best collection of fashion apparel and accessories. When it comes to shopping, the mall offers you a vast space to find the top brands and collections for home decors, sports, kitchens, or wardrobe collections.
Q3. Are there any restaurants in Villaggio Mall Doha?
Yes, Villaggio mall has the best dining space with top restaurants. From fast food to coffee shops and dining outlets, you will find the best place to enjoy the day with your family.
Q4. What are the operational hours of Villaggio Mall in Doha?
The Villaggio mall opening hours and the operational timing for the activity area may differ. You can visit the mall anytime as per the mentioned time:
Sunday to Wednesday from 9:00 AM to 10:00 PM
Thursday & Saturday from 9:00 AM to 11:00 PM
Friday from 9:00 AM to 11:00 AM & 12:30 PM to 11:00 PM
Q5. Where is Gondolania Theme Park?
Gondolania Theme Park is an indoor amusement park at Villaggio Mall in Qatar. The theme park offers the best adventure and fun for your family day. You can enjoy go-karting or ice skating, boat rides, and so much more.
Q6. What all facilities are there at Villaggio Mall?
The Villaggio Doha takes care of every need and facility the visitors need for a pleasant trip. Here are some of the best facilities offered by the mall:
Prayer Room
Personal assistance to make your shopping easy
Valet parking
Smart Internet Access
ATMs for cash emergency
Lost and Found
Q7. What are the best things to do in Villaggio Doha?
Villaggio in Doha is an entertainment center that brings you the best adventure and fun. So apart from shopping, you can enjoy a number of activities that include:
Cinema experience
Go-Karting
Bowling at Bowling alley
Gondola boat rides
Ice skating and hockey at the Gondola Ice Arena
Q8. What is the best way to reach Villaggio Mall in Qatar?
Located in Aspire Park, Villaggio is easy to reach from every corner of the city. You can look for metro or bus connectivity, and if you need hassle-free travel, there are rental cabs, and taxis easily available at the Villaggio Doha.
Q9. Which Doha Mall features a Venetian-style canal?
Villagio Mall in Qatar features the beautiful Venetian-style indoors including a canal with vintage vibes. The canal attracts numerous tourists and one can relish a Gondola Ride like in Venice with your loved ones.
Q10. What is the nearest metro station to Villagio Mall, Qatar?
The nearest metro station to Villagio Mall in Qatar is the Al-Aziziyah station which is located on the golden line about a 14-minute walk from the mall.
---