The international hub of fantastic cuisine, tourists should indulge in fine dining at the local restaurants. Sumptuous dishes like stews and mouth-watering desserts are worth pursuing while vacationing in the city. The impact of the nomadic lifestyle of the Bedouins, Indian and North African cultures are seen in the traditional local foods in Doha.
It comes as no surprise that the dishes are chock full of spices and known for their slow cooking technique. Giving your stomach and taste buds a treat to some of the delicacies will be the highlight of your trip. Tourists have to know where to find them.
12 Foods In Doha And Where To Find Them
Have you ever been on a holiday just for the food? There is always a first for everything. Doha is the one city where you can indulge in all kinds of flavors and spices, not had anywhere else in the world.
Yoghurt, cheese, olives and coffee are some of the things people have for breakfast, while lunch is either lamb or chicken stew. The last meal of the day includes a light snack, except during special occasions. The local Doha food is diverse, which is influenced by international foods.  With so much to taste, it is safe to call this holiday a food vacation for the taste buds and stomach.
1. Saloona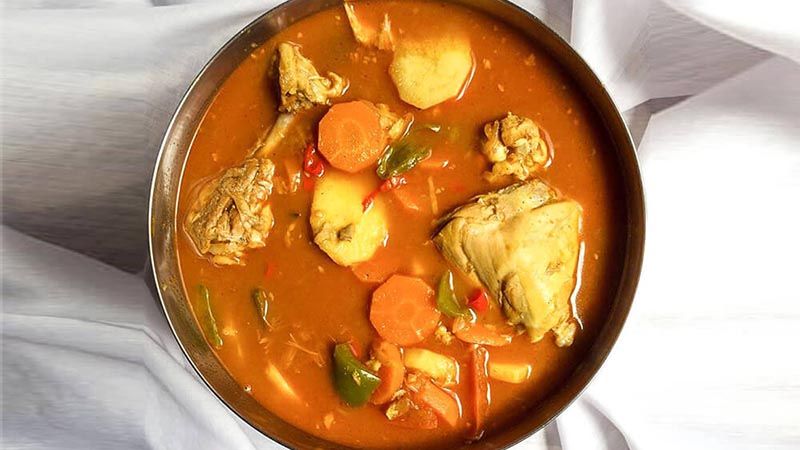 Have you ever tried middle eastern food? If you haven't yet, then you should. The flavors will be different and will immediately do a little happy dance in one's mouth. A well-known hearty Arabic stew eaten at family dinners in Doha, Saloona is made with lamb, beef or fish and vegetables, seasoned with garlic and ginger. Every often, people have the stew with a large helping of bread.
If you are craving some stew and are wondering where to get some, Walima is a restaurant for you. It is a restaurant known for its modern spin on the dish and decked with colored lambs and glasses, a Middle Eastern touch. Saloona is one of the best Arabic foods in Doha, tourists should try it at least once.
2. Warak Enab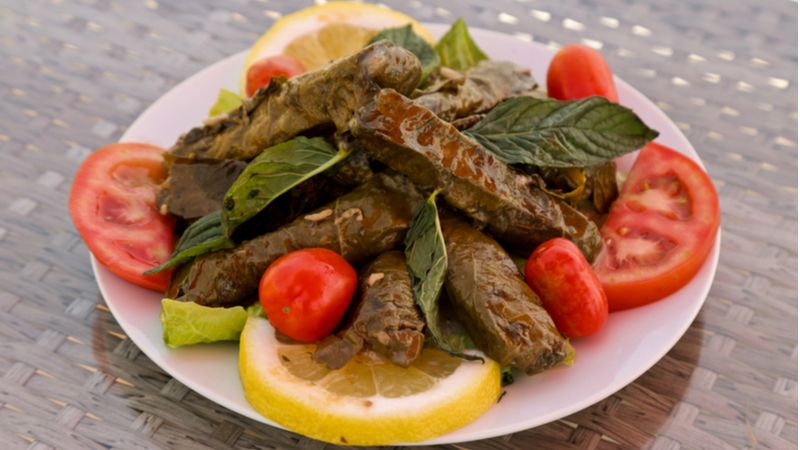 Apart from the historical sites, people have always been fascinated by food as it is the one thing they live for, especially when planning a holiday. The traditional food in Doha, Warak Enab is made with stuffed grape leaves, consumed in the Middle Eastern cuisines. Lamb, rice or minced beef are some of the ingredients used to make the cuisine, which is then seasoned with coriander, garlic, pepper and lemon. It is a dish that can be eaten any time of the day, even as a snack.
The ideal place to have this dish is the Shisa Garden, decorated with a waterfall and greenery, which gives people the feeling of stepping outside the city into a small oasis. Surrounded by such delightful sceneries, people will always want to come back for more.
Suggested Read: Malls In Qatar That Will Make Your Shopping Worthwhile
3. Majoobs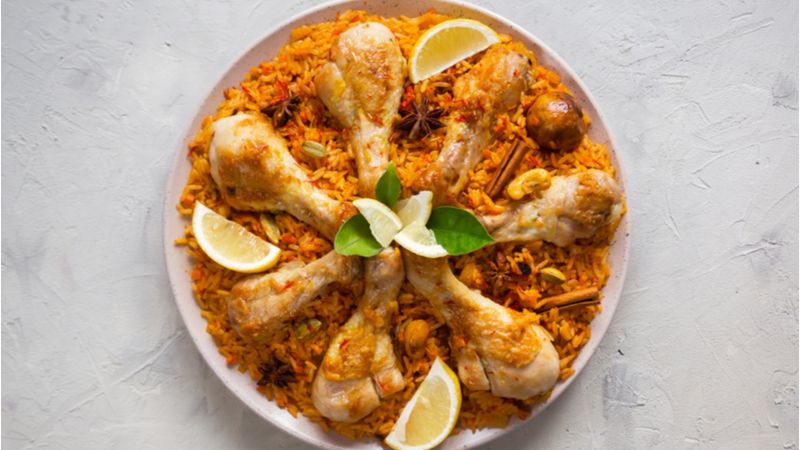 The national dish of Doha is Majboos, a must-try dish that is created with either lamb or chicken. It is slowly cooked giving it a depth of flavor and is served with rice along with salad and homemade tomato sauce. It is one of the many things to enjoy with your family and friends.
One can eat the mouthwatering dish at any time at the restaurants in Doha and enjoy the slow-cooked dish with rosemary on the top. The atmosphere of the place becomes authentic and homely with the décor and family portraits.
4. Balaleet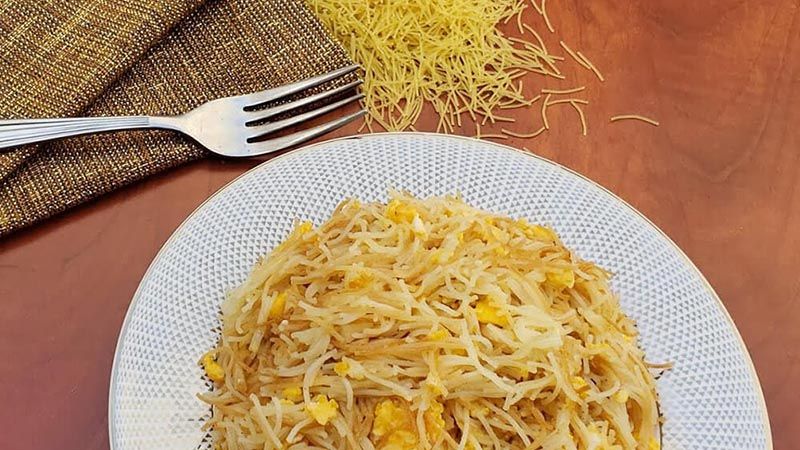 When one puts vermicelli and omelette together, to most it sounds like a strange marriage. If one hasn't tried it yet, then one wouldn't know how good it tastes. Balaleet is one of the best foods in Doha, served at breakfast during Eid- Al- Fitr. It is a pasta dish made with sugar, saffron and rose water with an omelette on top.
Hidden in the back streets of Souq Waqif, a secret gem, Al Jasra's food is cooked fresh by women who own the restaurant. The food is made with the same recipe they follow at home.  Balaleet offers a homely feeling with each bite. What more can anyone ask for with such delights?
Suggested Read: Food In Qatar That Will Leave You Drooling For More
5. Harees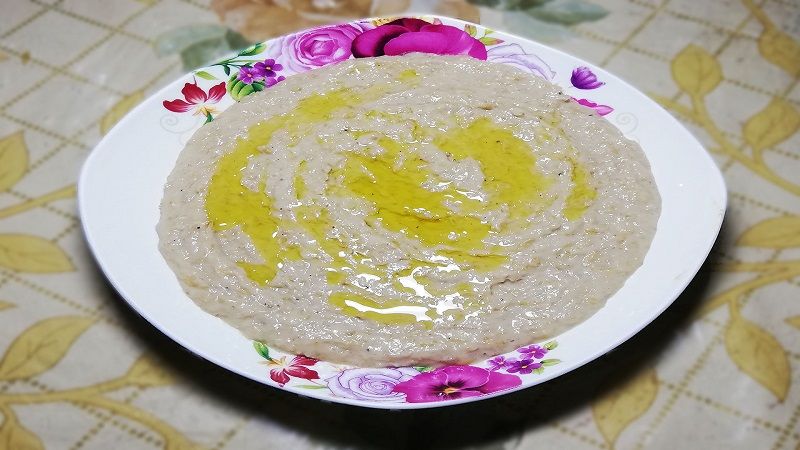 Also known as Harissa, Harees is a traditional cuisine that includes wheat mixed with meat such as lamb, chicken, or beef. It is similar in consistency to porridge, filled with flavors. It is a common dish eaten to break one's fast during Ramadan for Iftar dinner with friends and family. The best restaurant in Qatar that serves the dish is Mugalat Harees Al-Walda.
People can enjoy a peaceful evening giving their stomach a treat to one of Doha's famous food.  It is one of the most delightful experiences of a lifetime that people shouldn't miss out on.
6. Luqaimat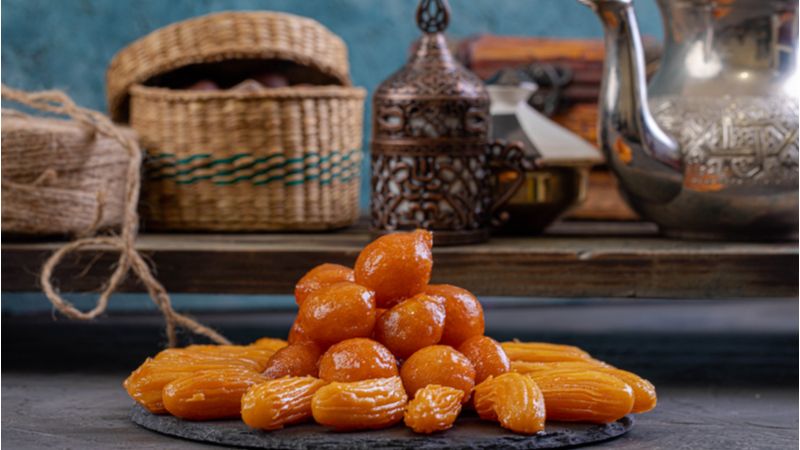 One of the best Arabic food in Doha, flavored with saffron and cardamom, luqaimat are sweet dumplings similar to donuts. It is the ideal snack, deep-fried and filled with sugar syrup that can be eaten on the go. One can find them at cafes and street stalls in the market.
So, when on vacation in Doha, people should go to Chai Habib, one of the places to visit in Qatar, for its luqaimat. What more can anyone ask for when it comes to having the best time of their lives?
7. Khanfaroosh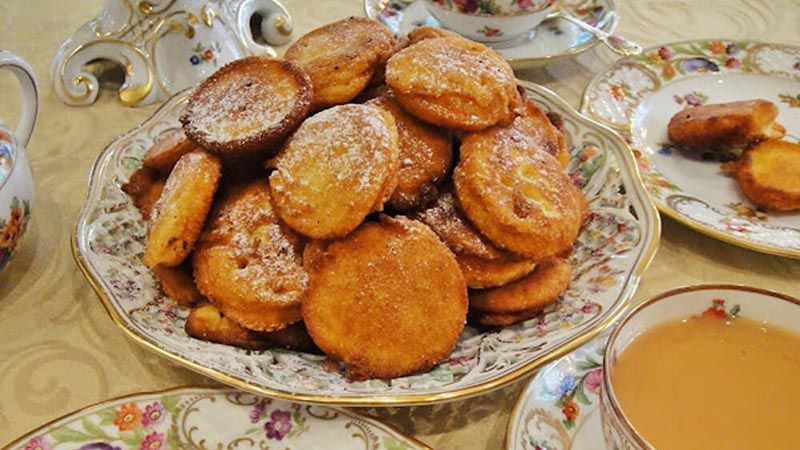 Have you ever tried a blend of a biscuit and cake? Well, Khanfaroosh is a dough made with rosewater and saffron, deep-fried and served with sugar icing or honey drizzle. The floral fragrance and delicate taste are gotten from the rosewater.
If you have a sweet tooth and have never had such a dish, then head over to Hawn Café. You can enjoy the dish by sitting next to high arched windows and watch the world go by. It will be a holiday to remember as these are certain cuisines that are only found here. Give yourself a treat to some of these delicacies and don't count those calories.
Suggested Read: Events In Qatar: Watch Out For An Eventful Year Ahead
8. Kousa Mahshi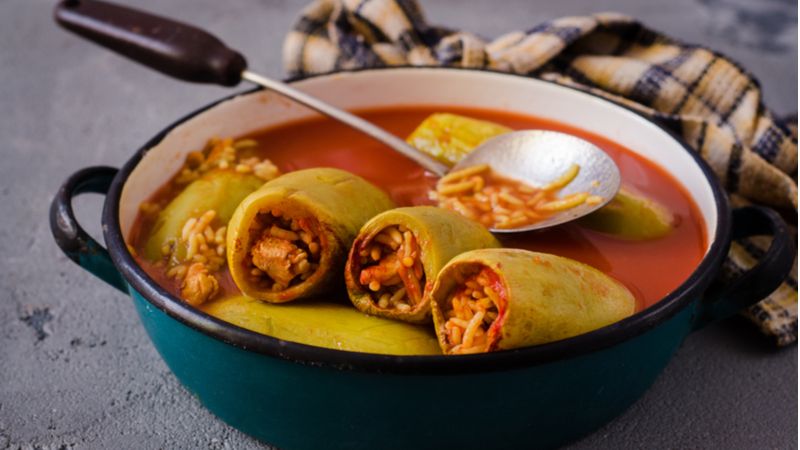 Stuffed with vegetables and minced lamb, Kousa Mahshi is a Middle Eastern courgette or zucchini flavored with mint and parsley.  It is dipped in yoghurt or tomato sauce and makes the ideal snack for a majestic Qatari meal. The chickpea version of the dish can be eaten at Al Shami Home Restaurant, designed like a Berber tent.
It is one of the most exquisite Doha dishes, not found anywhere else in the world. People will have the best dining experience here. Go ahead, pack your bags and have the best holiday of a lifetime.
Street Food in Doha: For A Different Experience
1. Crepe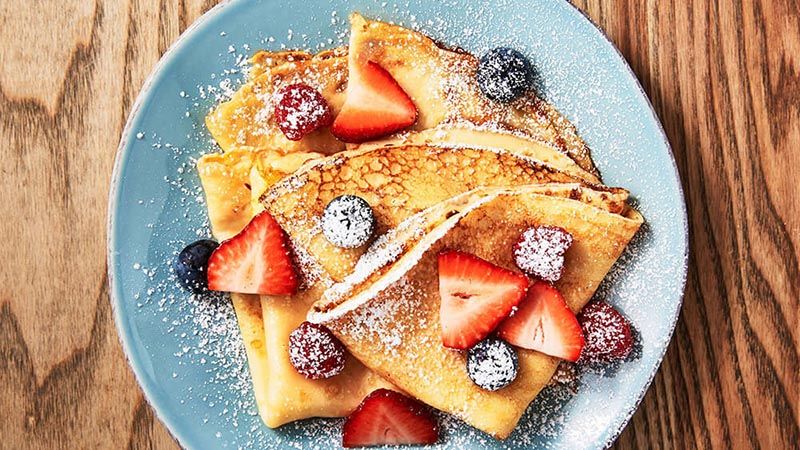 Crepe, also known as Ragag, is one of the most popular street foods among people all over the world, especially the locals. It is a food one can indulge in at cafes and street food outlets in Doha. One can have the paper-thin snack folded in a shape of a cone with a cup of tea or along with a kebab, some toppings of cheese and eggs.
Most people are fond of having a dish in Doha, Qatar with honey or thick fish paste, that brings out the flavor of the snack. Apart from the cafes, Doha is known for its food outlets that serve the best quality crepe. So, if you haven't had the dish yet, then why the wait? Go on, give your taste buds a treat and be transported into a different world.
2. Falafel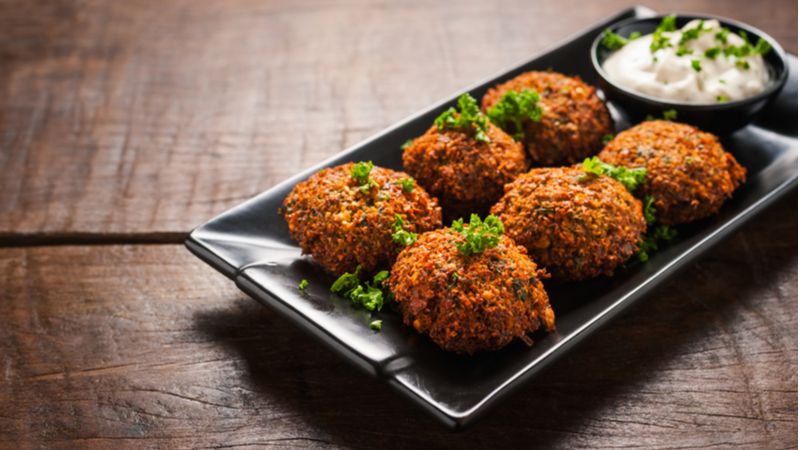 Travelers from around the world should give themselves a treat to Falafel, the street food in Doha. The vegan snack is one of the most delicious crunchy deep-fried balls or flat cutlets that is made from ground chickpeas, fava beans or both. Parsley, coriander, and tahini are flavors that make the dish even better.
If you are craving it and wondering when it to eat, then you can either have it in the morning or a snack in the evening with your tea. Even though it is not a traditional food, it is one of the most ideal snacks people can enjoy.
Suggested Read: Things To Avoid In Qatar: Tips and Advice For Travelers
3. Samboosa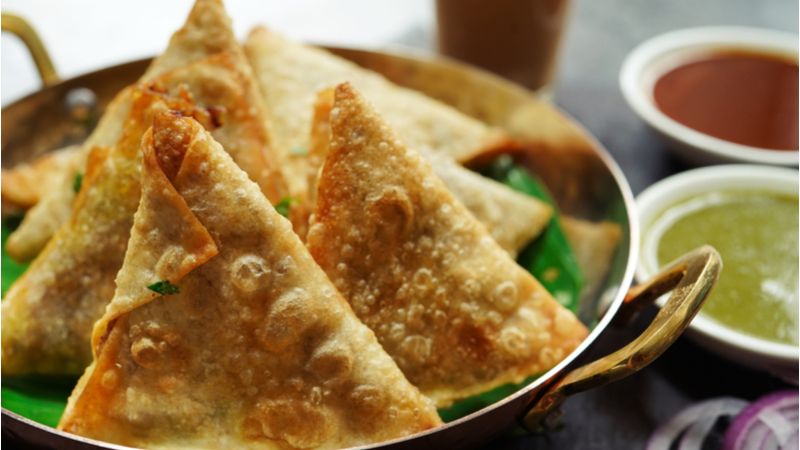 The samboosa in Doha is not the same as the samosa in India. It is what the Chinese often refer to as a stuffed fried dumpling. When roaming the streets, travelers can feed themselves this fine delicacy at one of the best joints in the city. The stuffing inside the dish includes minced meat, spinach and cheese, which is often eaten with all kinds of chutneys.
Very often, people have often questioned the Indian version and the Doha version of Samboosa. Both versions look the same and can be eaten any time of the day. One of the best tourist attractions in Doha is the food stalls on the streets, for their aroma of the cuisine.
4. Shawarma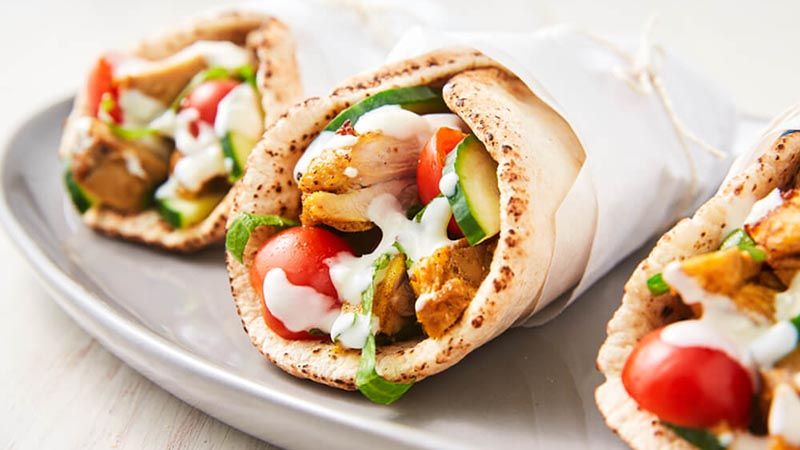 Shawarma is one of the most popular dishes people all over the world have heard of. It is a staple enjoyed by several in Doha for its tender, flavorful and juicy meat, slowly roasted over low heat for hours. The flavors of the Middle East are a treat to the taste buds which are not found anywhere else.
Eaten with pickles, fresh vegetables, tahini, French fries, and thinly sliced chicken, beef, or even lamb is mouth-watering, something people will not be able to resist. The soft Shawarma bread will burst will flavors in one's mouth and take them on a journey of happiness. The foodies will always come back for more each time they have a craving. With so much to do, people will never get bored and will always boast about delicacies all over the world.
Suggested Read: Culture Of Qatar: A Sneak Peek Into The Traditional Lifestyle Of The Locals
Doha has gained immense popularity all over the world, not just for its historical sites or attractions, but for its food as well. It is a city filled with cafes and restaurants ready to give tourists a treat to their signature dishes. Whatever the festival or occasion, millions gather outside restaurants or food stalls for the food. It is the food in Doha that brings people together, even if it's only for a couple of hours.
FAQs
Q1. What kind of food should tourists try in Doha?
Tourists from around the world will get to taste some of the most authentic local and international cuisines. Some of the cuisines they should try are Shwarma, Kousa Mahshi and Harees.
Q2. Is the food expensive in Doha?
The food prices vary in the case of restaurants, cafes and street foods. The average price is about QAR 17 a day.
Q3. How many days should one spend in Doha?
Tourists can spend at least 3 days in Doha as it gives them enough time to visit the museums, the souks, go on a desert safari; and of course, visit the restaurants and cafes.
Q4. Which are the best months to visit Doha?
Mid-November and March are said to be the best time as the weather is pleasant. There is so much to do in the city, which will leave people wanting more.
Q5. Which is the best street food tourists should try?
Samboosa is one street food dish tourists should try at least once. It is an absolute delight as the flavors are delicious.
Q6. What is Falafel?
It is crunchy deep-fried balls or flat cutlets, made from ground chickpeas, fava beans or both.
Q7. What is Samboosa?
Samboosa is a street food delicacy stuffed with minced meat, spinach and cheese, eaten with all kinds of chutneys. It is one of the most mouthwatering dishes people have to try.
Q8. Is Doha a safe place to visit?
For all its food, heritage sites and much more, Doha is a one-stop tourist destination people should visit. It is a safe place to visit.
---