Exploring the enchanting monuments or cityscapes is pure bliss, but serenity has its own charm. Closest to nature, beaches have a special magic to allure our hearts with their hypnotic aura. If you are looking for a peaceful place away from the bustling streets of Qatar, then visit Azerbaijani Beach for a soul-soothing delight. Brimmed with crystal-clear turquoise waters, soft sands, solitude, and gorgeous colorful birds, Azerbaijani Beach, Qatar is an ideal place for nature lovers. Want to know more about this hidden gem? Voila! Keep reading the blog till the end to know about this enthralling offbeat destination.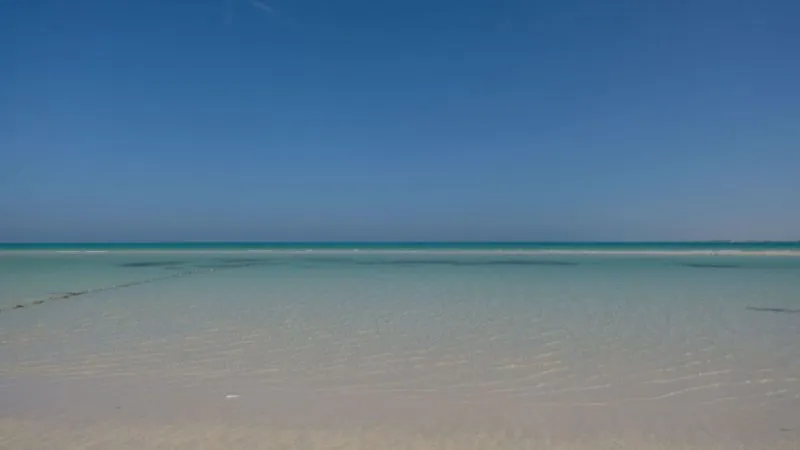 Qatar is a beautiful country with a plethora of natural and man-made wonders for a perfect retreat. The rich Qatari culture and heritage make it distinct from all of the world. But pristine beauties like Azerbaijani Beach make it a fascinating place close to nature. The smooth and fine sands, clear aquamarine waters, and the surreal landscape where the desert meets the sea, make it an idyllic picturesque to relax and spend time in the arms of nature. The absence of rock makes it a perfect destination for kids and older people wherein they can stroll around leisurely.
There are numerous beaches in Qatar, to make you enjoy some relaxed moments and plan a spellbinding evening amidst tranquility. As the beach is unspoiled and a hidden place, it is not known to many. So, if you are planning a day here with your loved ones, do remember to carry all your amenities with you. The clear starry sky with a cool breeze kissing your body makes this an ideal place for overnight camping. There are no shops, restaurants, or facilities near the beach, that's why this waterfront promenade is placid. Stroll around the gorgeous landscapes and witness the water stream on the other side of the sea and the charming mangroves for a mesmerizing experience.
Activities to Enjoy on the Azerbaijani Beach in Qatar
There is a myriad of activities one can enjoy on this scenic beach in Qatar for a blissful escape into nature's lap. Let us look at the amazing things to do in Qatar for a fantastic time on this beach.
1. Enjoy Overnight Camping: To Witness the Twinkling Stars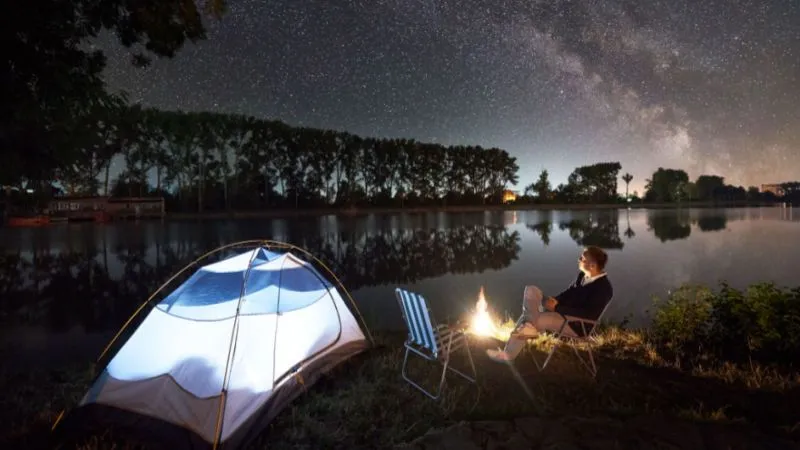 One can plan overnight camping on this enchanting coast and witness the twinkling stars. The most picturesque spot is where the desert meets the sea. One must bring a tent, food, water, an umbrella, and all your needed belongings with you. Get a chance to spend quality moments and gaze at that sparkling sky for a delightful experience.
2. Witness the Mangroves: Admire the Lush Green Beauty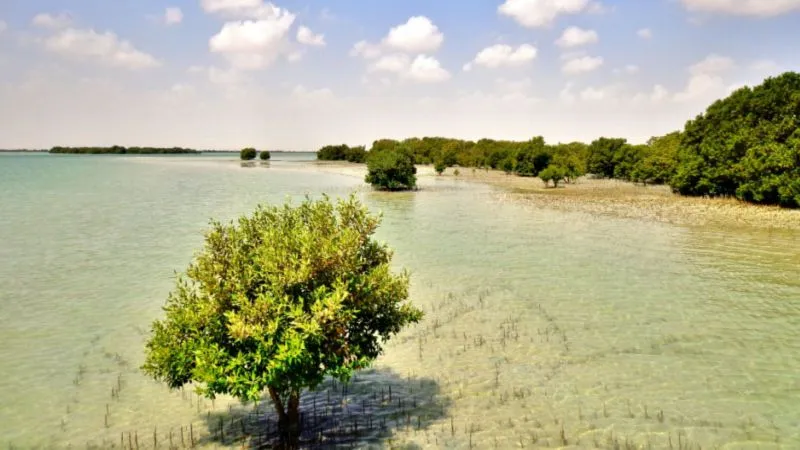 Mangroves near the beach are a treat for the eyes and soul. The beach is blessed with captivating mangroves. Get a chance to witness the lush greenery and admire the scenic beauty of nature for a delightful experience. Relax in the soothing ambiance and click panoramic photographs for lifetime memories to cherish.
Suggested Read: Islands in UAE: For The Charm And Allure Of The Country
3. View the Panoramic Sunset: Capture the Hypnotic Charm at Twilight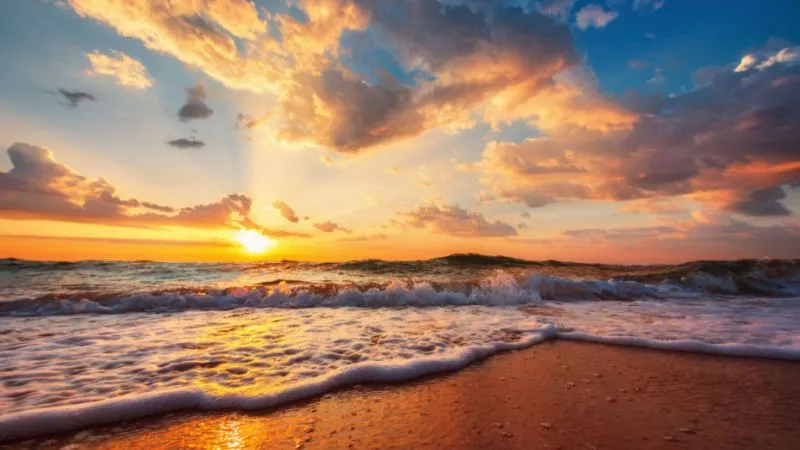 One of the best places to visit in Qatar is a beach to witness the mesmerizing sunset views at twilight. The spellbinding beauty of the orangish sun amidst the scenic blueish-grey sky will surely delight your senses. One can relax in peaceful surroundings and spend time doing meditation or yoga.
4. Enjoy Bird Watching: Witness the beauty with Your Binoculars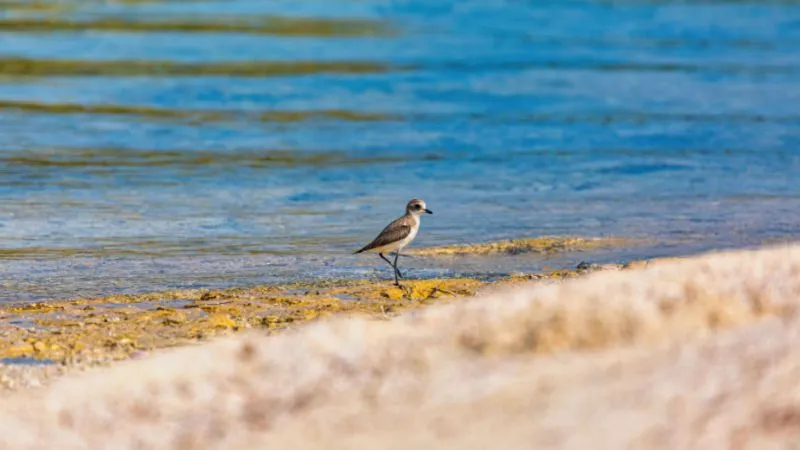 One of the best things to do on Azerbaijani beach Doha is to discover enchanting and colorful birds. Listen to the sweet chirping of the various bird species and soothe your soul. One can enjoy meditation or reach your favorite book for a relaxing day amidst natural bliss.
5. Campfire and Barbeque: Enjoy Delicious Smokey Meal Cooked on the Firewood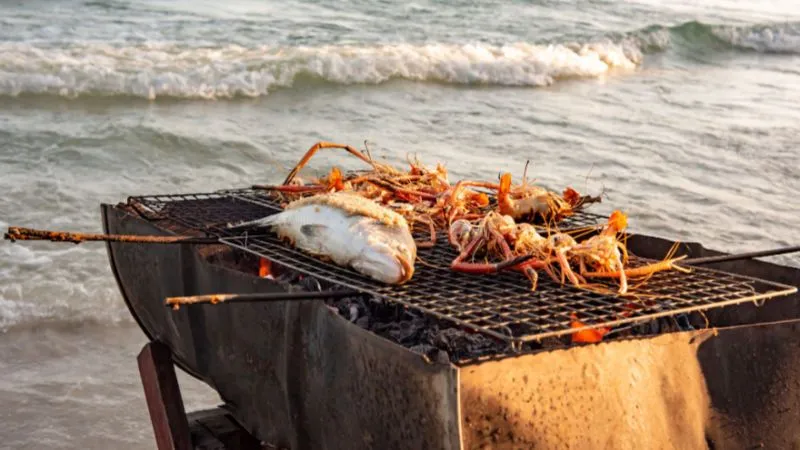 As there are no restaurants and food stalls nearby, one has to take food, water, and other stuff with you. But to make your trip more adventurous you can have a barbecue on the beach and enjoy a delicious meal amidst the blue waters and sandy shore with your loved ones.
Location and How to Reach
Azerbaijani Beach Qatar location: The beach is situated north of abal al Jasāsīyah, and southeast of Zar' al Marrūnah.
How to Reach: One can easily reach here by driving or via a taxi. It is located about 90 km from Doha on the North East coast. Follow the Q1 Freeway to Junction 72 from Doha then approx. 6km to the beach. One can also explore the amazing fort near the final beach road for a memorable experience.
Tips for Azerbaijani Beach
Carry important amenities along with you as the place is placid.
Don't litter around and keep the beach surroundings clean.
Respect the culture and dress modestly.
Don't forget to carry your sunglasses and sunscreen along.
Carry your binoculars to witness beautiful birds.
Suggested Read: Best Water Parks in Bahrain: For a Refreshing Holiday with your Loved Ones
There are many charming beaches in the majestic country of Qatar, but Azerbaijani Beach Qatar stands out as a perfect secluded place to enjoy quality time with your special ones. Adorning clear waters, white sands, pristine charm, and solitude, the beach is a fabulous destination for those who love to spend time in nature's lap away from hustle and bustle of the city. From birdwatching to barbecue and basking to witnessing the panoramic sunset views, one can relish a blissful time amidst heavenly beauty. Avail of the tour packages of Qatar and visit the pulchritudinous beach for a mesmerizing escapade.
FAQs
Q1. What is the best time to visit Qatar?
The best time to visit Doha in Qatar is from mid-November to mid-March. At this time the weather is pleasant and suitable for exploring the grandeur of the country.
Q2. What is the main international airport in Qatar?
The main airport in Qatar is the Hamad International Airport. Located in Doha, the airport connects the country to the world.
Q3. What are the activities one can enjoy on the Azerbaijani Beach in Qatar?
The Azerbaijani Beach in Qatar is a fabulous place to enjoy numerous activities. From witnessing the charming mangroves, overnight camping, bird watching, enjoying a barbecue, capturing the panoramic sunset views, and more.
Q4. Are there any shops and restaurants nearby the Azerbaijani Beach in Qatar?
No, there are no shops and restaurants nearby Azerbaijani Beach in Qatar. One should carry all the required amenities with themselves in order to have a delightful time close to nature without any hassle.
Q5. What are the best public beaches in Qatar?
Qatar is blessed with numerous charming beaches for a blissful escape in nature's arms. Adorned with crystal-clear turquoise waters, white sands, surreal beauty, and mesmerizing charm, the best public beaches in Qatar include:
Inland Sea (Khor al Adaid)
Al Maroona Beach
Fuwairit Beach
Azerbaijani Beach
Katara Beach
Q6. What are the best private beaches in Qatar?
There are many private beaches in Qatar to make you enjoy a luxurious escape into nature. One can find the best private beaches in the following hotels:
Grand Hyatt
The Intercontinental
The St Regis
Doha Marriott
Doha Hilton
Q7. What are the best places to visit in Qatar?
There is a plethora of fascinating places to visit in Qatar for a perfect holiday retreat. They include:
Souq Waqif
Museum of Islamic Art
National Museum of Qatar
Katara Cultural Village
The Pearl-Qatar
Q8. How many days are enough to explore Qatar?
A total of 7 to 8 days is required to explore the majestic beauty of Qatar. Stroll around the bustling streets, explore the monuments, and witness the natural beauty for a delightful vacation.
---