Doesn't it feel so endearing that Spain is known as the "Land of Rabbits"? Well, it was named by the Carthaginians somewhere around 300 B.C. They called it Ispania (sphan, meaning "rabbit.") Evidently, there was an abundance of rabbits that roamed the land back then. The Romans, when they arrived, decided to keep the name, calling it "Hispania".
So, are you ready to Strut your stuff in Spain this New Year Eve? Boogie!
So, New Year in Spain is known as "Noche Vieja" (Old Night). Happy New Year in Spanish is wished as "Feliz Ano Nuevo". New Year Eve in Spain is jubilated with enthusiasm and great gusto. Festivities here start right before Christmas and continue till New Year's morning. From its easy-going culture to delicious food and stunning scenery, one can unequivocally have a whale of time on the New Year's EVE.
Some Elite Spanish Traditions that will Let Your Hair Down on the New Year 2023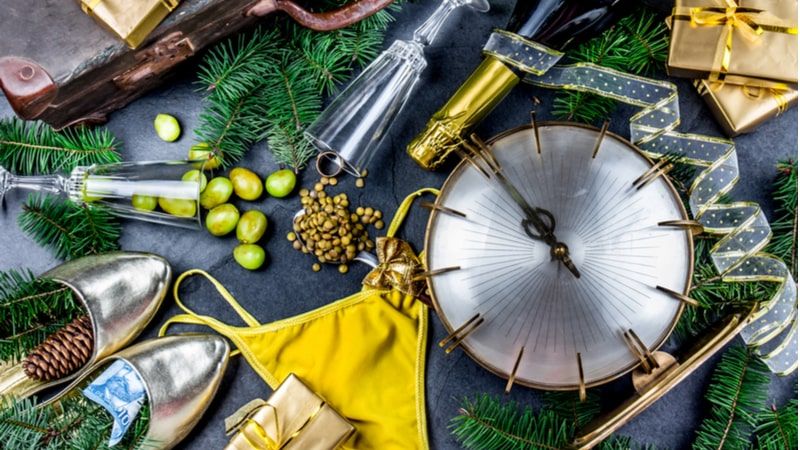 1."All about 12 grapes"- This tradition is a great fun, we are supposed to eat 12 grapes, that too one by one with the striking of the clock at midnight on 31 December. If one manages to eat all the grapes on time, voila you are in for a year of opulence, prosperity and good luck.
2. "Wearing yellow and red undercloth"- This is a funny one and obviously a superstition but yes, its celebrated with great fun! The color yellow represents good luck in many Hispanic countries, many people sport yellow undies as the new year bells ring. Some people also wear red undies which means romance awaits.
3. "Walking around the home with suitcases"- In this tradition, people walk around their houses with a suitcase in hand with hope of brighter future. They anticipate travel opportunities in the upcoming year with all hopes of fluke and twist of fate.
4. "Sipping Cava"-In Spain, many people raise a toast with cava- a sparkling traditional Spanish wine and put a gold object into the glass before drinking, to bring in wealth. People also eat fruits like strawberries and cherries to attract new love.
5. "Cleaning the House"- Very similar to grand festival of India, Diwali, it is believed that cleaning the house will pull out all old year negative energies and fill the house with those positive vibes and enliven aura of New Year. Some people even put on new clothes, and avoid wearing old ones to avoid bringing the past into the next year.
6. "Burning Munecos"- New Year in Spain is celebrated with many superstitious beliefs. In Ecuador and other places, people set up effigies (muñecos) after Christmas, and burn the doll meant to represent the old year, as a way to say good-bye to the past.
7. "Holding Money in hands"- Some people want to attract wealth, hold coins in hand, as midnight strikes. This is also supposed to bring in money and  good luck in upcoming year.
8. "Throwing water out of home"- In this tradition, throwing water out of home represents throwing out all the negativities from the past year, and starting the new year with fresh vibes.
9. "Square dancing"- You can be a part of Barcelona New Year's Eve 2022 and enjoy the dance in Plaça España. Other traditions like Cava and 12 grapes are also followed before with square dancing. People here dance till the early hours of the morning.
10. "The Right Foot Fantasy"- In this tradition, it is believed that when you start the New Year's Day in Spain with the right foot as soon as the clock strikes 12, it will attract love, fortune and good vibes.
11. "The Hot Chocolate Tattle"- Spanish love rejoicing the New year eve with some Hot chocolate and churros. This drink is full of energy, and thus it boost the energy which one requires for long celebrations.
Suggested Read: New Year In Qatar: How To Make The Most Of Your Celebrations
Top Events to Welcome New Year 2023 in Spain
Here are top events where you can jubilate and can avail yourself off in amidst of jolliness, ecstasy and tranquility.
1. Trip the Light Fantastic at Flamenco Show in Seville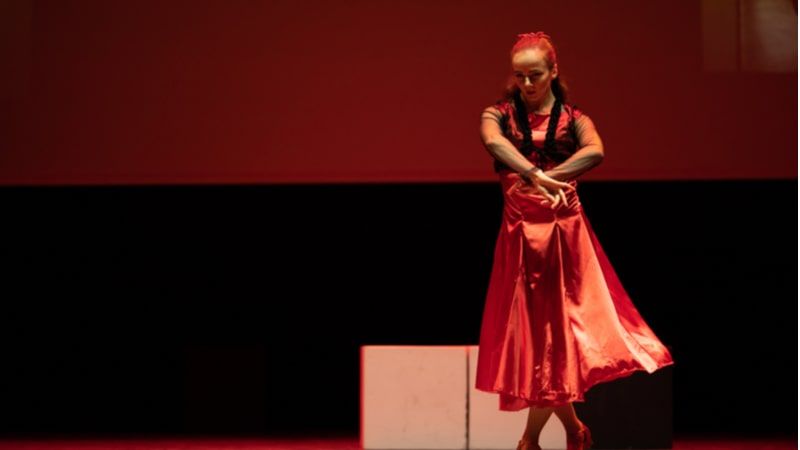 The Flamenco Show in Seville fascinates and attracts crowd every time on New Year Eve in Spain. Seville is one of those gleamed places in Europe and hosts musical shows, representing the traditional art and culture of Spain. When the whole world is busy chalking out the eve at some fancy cafes, or luxury hotels, the Flamenco show in Seville comes as a remarkable yet the best option you can plump for to make the evening enthusiastic and indelible.
Seville city is known for its exceptional beauty and charm. Seville is an absolute place to cherish New Year 2023 in Spain. The Flamenco Show in Seville exemplify the beauty of Spanish folk dance and music. Many cafes and theaters host such shows to make the event outstanding and splendid for the crowd and social gatherings are most happening to relish in.
Other manoeuvre here are Bar hopping, or some old town tours, being a part of grape eating, and the Cava toast.
Whee! So now here is an Eve counsel.
New Year Tip is on the floor - Don't forget to check out the eve special combo and promo offers on food and more.
Location: Tablao Flamenco Pura Esencia, La Casa del Flamenco and Los Gallos Tablao Flamenco
Dates: 31st Dec 2022 (Dates and times of the show may vary as per the venue.)
Suggested Read: New Year In France: Celebrating La Saint-Sylvestre with Some French Tradition
2. Romanticizing in The Old Town Vibe of Barrio del Carmen in Valencia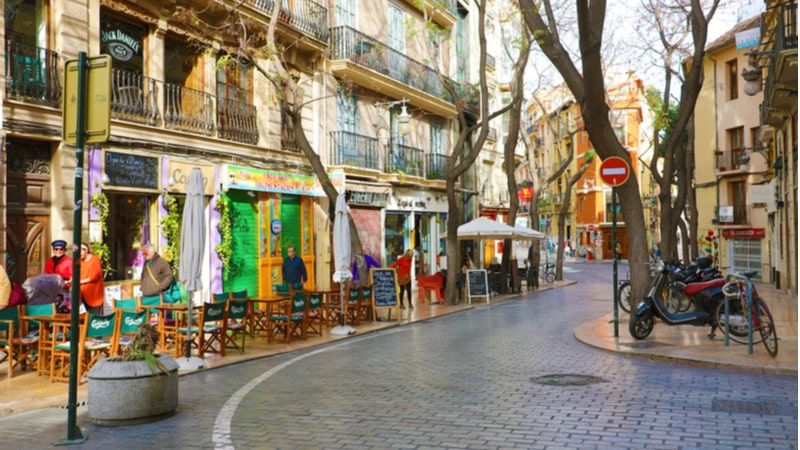 Valencia purveys your incessant way out for planning the best New Year. All credit goes to the vintage beauty and mesmerizing aura of the city. With top malls and cafes, historic attractions, and churches, this is among the top Honeymoon destinations in Spain and a splendid holiday place. From shopping to movies and music, the city celebrates the festivity with every fun and thrill. While the celebration starts from Christmas, the city enjoys every moment before and after the bell rings for the countdown of New Year in Spain.
For the party animals, the old town of Valencia, Barrio del Carmen is the most phenomenal corner where one can find the mingle of best bars and clubs to put your hair down and paint the town with sparkling fresh new year vibes. New Year here is celebrated with DJ nights, Booze, and food whose piquancy will remain in your soul forever.
Whee! So now here is an Eve counsel.
New Year Tip is on the floor - You can get a ticket for Coco Bongo Club in advance as the place gets crowded quickly for its electrifying vibes and ambiance. The beaches along the town are also renowned for firework experiences.
Location: Barrio del Carmen, Valencia
Dates: 25th Dec to 31st Dec 2022
Suggested Read: New Year in Cyprus: Getting Into The Merry Mood
3. A Sip of Sparkling Cava at Plaça Catalunya Street Party in Barcelona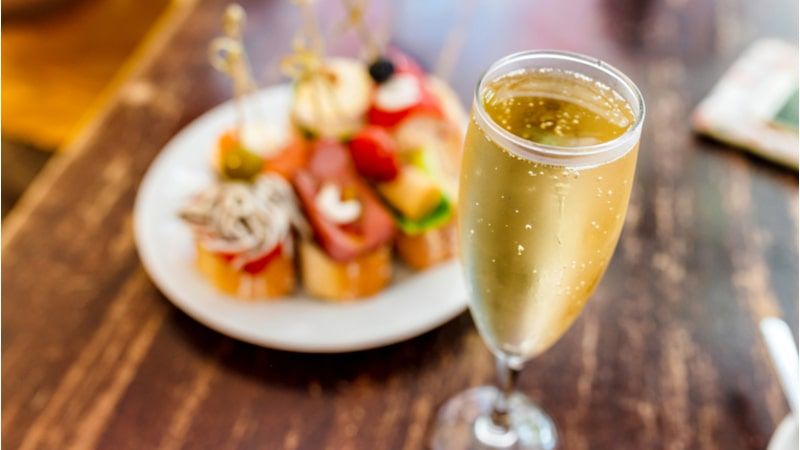 It's the world's biggest party of the year and trust that Barcelona will not disappoint when it brings the new year party in a heck of a style. Barcelona New Year Eve 2022 is an event to hold your breath and kick the party.
Barcelona, a city brimming with nightclubs, cafes, and restaurants, is one of the best destinations for New Year in Spain. The festive and enthralling vibes of the city have already made it the best honeymoon destination in the world, but New Year's Eve here is quite an experience that you must not miss.
Places like Plaza Espanya and Font Màgica de Montjuïc, known as the Magic Fountain of Montjuïc are famous for a grand celebration with the public. The street party is organized on the Eve- 31st Dec and people gather to catch the impressive sight of fireworks, laser show and more, that lasts for 30 minutes. You could see more than a thousand people standing on Avinguda de la Reina Maria Cristina between the two squares. The countdown begins as soon as the bell rings. Plaça Catalunya gets absolutely packed on New Year's Eve because of its central location. You'll find locals and tourists alike drinking cava and celebrating the new year together in a great atmosphere.
Whoopee! So now here is an Eve counsel.
New Year Tip is on the floor - The Barcelona Metro System will be running all night on New Year party in Spain, helping you move around from one party to another a lot faster. Many people will be using the metro, however, so be sure to have a flexible timetable.
If you are planning to dine out, it's recommended to reserve a table beforehand, as most decent restaurants will be fully booked on New Year's Eve in Barcelona.
Suggested Read: Qatar Balloon Festival: No Less than A Visual Retreat
4. Eating Grapes at Puerta del Sol in Madrid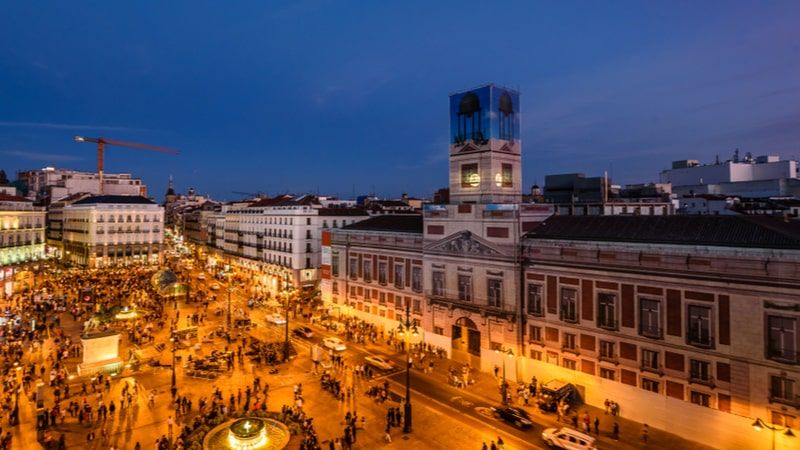 The New Year in Madrid is boisterous and a complete jamboree. People can be seen dancing and the exuberant crowd will make you fat loose and fancy-free.
On the evening of the 31st of December, all televisions in Spain light up with the image of the Puerta del Sol. Thousands of people flock to the square to usher in the New Year and eat 12 lucky grapes to the twelve chimes of the Real Casa de Correos clock. New features this year include the lighting of the Real Casa de Correos, housing the Madrid City Hall, in a light, fireworks and confetti show right after the New Year in Spain. Join the crowd in grape eating and square dance at the venue, and admire the night in its most dazzling and vibrant beauty.
Whee! So now here is an Eve counsel.
New Year Tip is on the floor- If you can't be at Puerta del Sol on New Year's Eve or want to be there twice, on 30 December there'll be a rehearsal – same time (midnight), same place.
Location: Plaza de la Puerta del Sol, Madrid, Comunidad de Madrid 28013
Date: 31st Dec 2022
Did you know- There are several theories that explain the origin of this grape-eating tradition, but the most popular one dates back to 1909, a year in which wine producers from Levante had so much surplus grapes that they decided to give them away to citizens. They claimed that eating this fruiting berry on New Year's Eve would bring them good luck, and so, over a hundred years later, this custom is still followed by all households in the country.
Suggested Read: Phenomenal Places To Celebrate New year in London
5. Listening Mellifluous Music at Majorca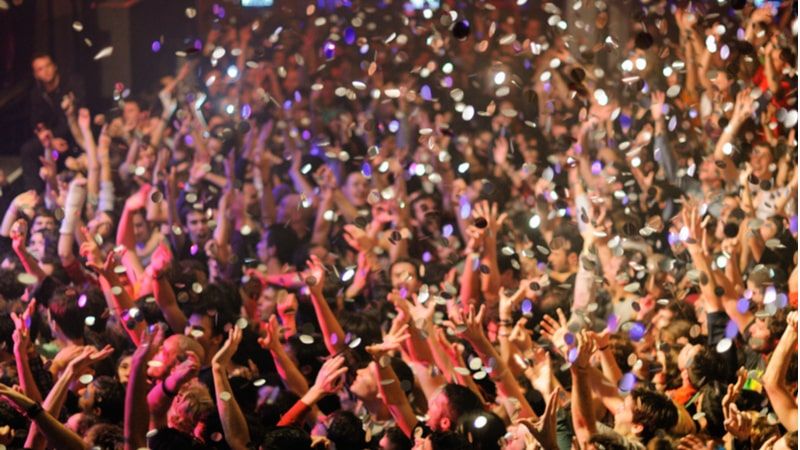 With all the New Year celebrations in Spain, Majorca serves all the barrel of laughs and make the merrymaking in full swing. You can make your New Year in Spain a bit musical and entertaining by visiting Majorca, a happening city for all festivities. Attending the magical performances and musical event night to your list of best things to do in Spain while you are in a festive mood.
There are New Year singing concerts, and some other events like comedy shows and craft workshops being planned for the New year celebration. The Mallorcans assembled at the Plaza de Cort will host these spectacular events on December 31st, to keep you engaged with the best events to celebrate the New Year 2023 in Spain. After attending the event, you can visit the square and wait for the clock to stroke and the countdown to begin. With music and lights, the New Year celebration here means immense happiness. Mallorcans are also gathered on the coast to welcome the Biblical Magi from the east, who arrive in a boat with the traditional royal cavalcade.
Location: Mallorca, Balearic Islands, Spain
Date: 31st Dec (Dates and times of the show may vary as per the venue).
Suggested Read: Places To Visit In Qatar For The Stunning Skylines And Attractions
6. Celebrate New Year at Salamanca with Plethora of Surprises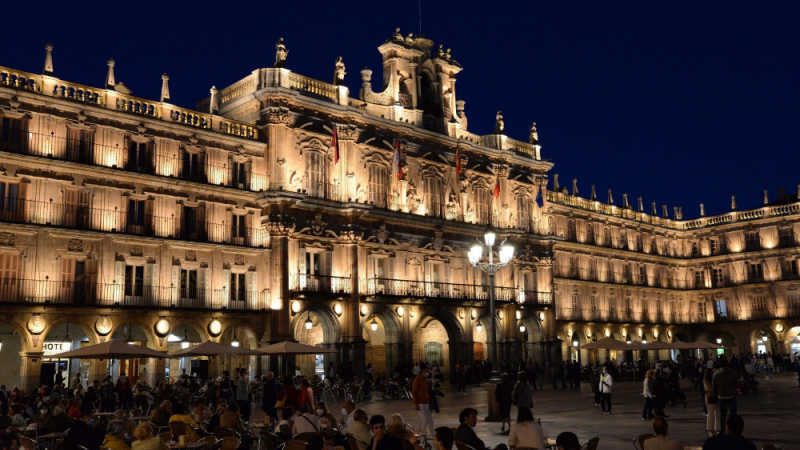 From several decades, the New Year Eve has been celebrated in Salamanca with thousands of locals and tourists. Celebrate your new year with a special gastronomic dinner in this atmospheric city. Also, while staying in the highly praised and stylish hotels here you can discover the city's beautiful architecture and rich culture and heritage. On December 31, you will get a chance to witness plethora of surprises full of festive vibes. The mind-blowing restaurants, cafes, bars and pubs here will give you a chance to celebrate your new year in an amazing festive atmosphere.
Location: The city is located in the western Spain.
Book your Spain flights today and be ready to be a part of the most fascinating New Year's Eve celebration in this European destination. The diverse beauty of Spain makes it a country of grand celebration and festivities. If you are planning a perfect New Year in Spain there are a lot of magnifique places and events that can make your evening quite épantant and special. The cities here are all set to throw a grand party for every individual, desiring to spend a day full of entertainment and fun. Not just the parties and rich cultural show, but the Spain New Year traditions are also luring travelers to be a part of their exclusive celebration.
Feliz Ano Nuevo!
FAQs
Q1. How New is Year is celebrated in Spain?
New Year in Spain is jubilated with enthusiasm and great gusto. Festivities here start right before Christmas and continue till New Year's morning. From its easy-going culture to delicious food and stunning scenery, relishing nightlife and musical evenings one can unequivocally have a whale of time on the New Year's EVE.
Q2. Is Spain a good place to visit?
Spain is known for its food, Flamenco music and dance, siesta, bullfights, horses, arts and literature, architecture, a Moorish heritage, its islands, Mediterranean beaches, wines, fruits and vegetables, and football.
Q3. What makes Madrid one of the best cities of Spain?
Madrid is known for its historical buildings, food markets, and the royals. It's also known for its renaissance and contemporary art museums, sunny blue skies, unique neighborhoods, and bustling nightlife. Madrid is a city of joy and life.
Q4. Which is the best time to visit Spain?
November to March is considered to be the best time for planning a holiday in Spain. If you want to be a part of their culture and tradition, you can plan your holiday in December and celebrate Christmas with New Year. The diverse culture, art, and music make the country famous for its festivities.
Q5. What is Cava?
Cava is a sparkling Spanish wine that is served during New Year's Eve. As per the tradition, people raise a Cava Toast and put a gold object into the glass before drinking. This is done for prosperity. You can also add a strawberry or raspberry if you are looking for love.
Q6. Is New Year Celebrated in Spain?
Yes, New Year in Spain is celebrated in a traditional manner, followed by the traditions that are believed for better fortune, a prosperous new year. From fireworks to musical events and social gatherings, the country experiences a happening night with a countdown to welcome a new year.
Q7. What are the Spanish Traditions followed in Spain on New Year?
Traditional merrymaking in Spain is something that you won't find elsewhere in the world. From raising a cava toast to popping the grapes, eating lenticels, putting the right leg first, wearing red garments, square dancing, and enjoying Hot chocolate and churros, these traditions are followed with some beliefs and superstitions.
Q8. What events are planned for New Year in Barcelona?
In Barcelona, a street party is organized on the Eve- 31st Dec and people will gather to catch the impressive sight of fireworks, laser show and more, that will last for 30 minutes. The countdown begins as soon as the bell rings. People also come with their traditionally made Cava, and after having their drink at midnight, they throw bottles into the center of the square.
---