Azerbaijan, formerly an important Silk Roadway station and now a developing commercial power, borders the Caspian Sea in the South Caucasus, at the crossroads of Eastern Europe and Western Asia. Its lengthy history and rich legacy in a strategic position have aided the republic in establishing a new tourist base. Azerbaijan is also a worthwhile and secure area to visit with children, offering intriguing, engaging, and out-of-the-ordinary cultural, historical, and natural experiences. Here's how one may make the most of your trip to the country by spending time exploring amazing things to do in Azerbaijan with family.
Top Things to do in Azerbaijan with Family: Astound Your Family with These 8 Reasons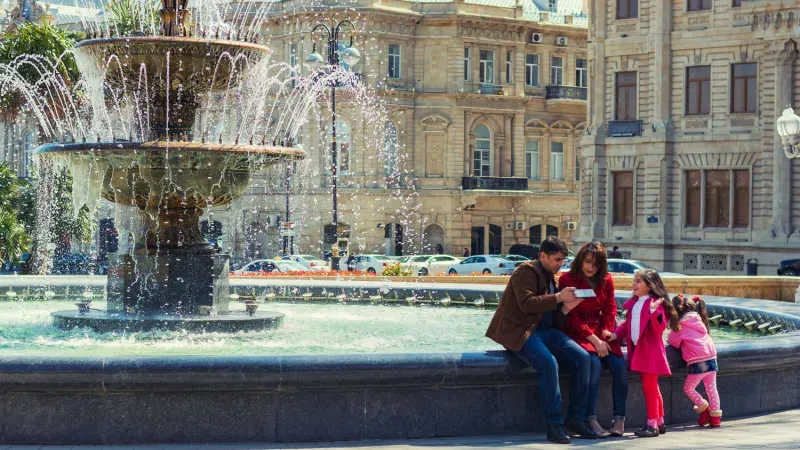 Azerbaijan is a little beautiful country spanning Asia and Europe, well known for its undiscovered beauty and age-old history. The nation is located against the magnificent Caspian Sea and offers tourists to witness the world's yesteryears. With beautiful architecture and must-see attractions, it is a wonderful getaway for families. If you want to visit a new country where you may spend quality time with your children and family, Azerbaijan should be your destination. Read along with the top things to do in Azerbaijan with family and decide whether this underappreciated gem is worth exploring.
Explore Baku's Bubbling Mud Volcano
Surprise Your Kids in Museum with Miniature Books
Take a Family Ride on the Ferries Wheel
Have Fun Rides at Gabaland Theme Park
Hit the Slopes of Caucasus
Indulge in Entertainment Activities on Sea Side
Shopping at the best market places
Savor the Azerbaijani Cuisine
1. Explore Baku's Bubbling Mud Volcano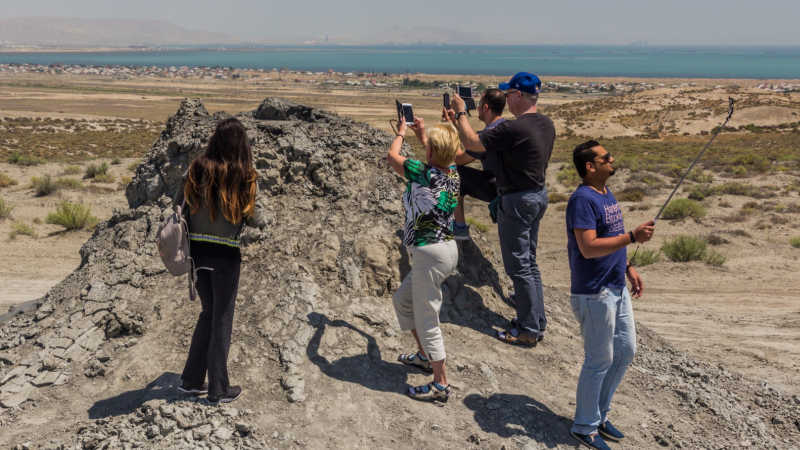 Don't be misled by the name. These unusual beauties are generally the same height as an adult human, yet some in Azerbaijan may reach 200 meters. They bubble up and send forth cold grey dirt instead of scorching lava. If you want to go to some amazing places to visit in Azerbaijan, this location is one that feels like an earth-made playground, spread out over a large expanse that resembles the moon. Not only are these "eruptions" and mud streams entertaining to see. According to locals, the minerals in it are also beneficial to your skin. Kids can play around the mud volcanos and dip their hands into the mud and get layers of mineral-rich liquid earth.
Location: Gobustan Reserve, Azerbaijan
2. Surprise Your Kids in the Museum with Miniature Book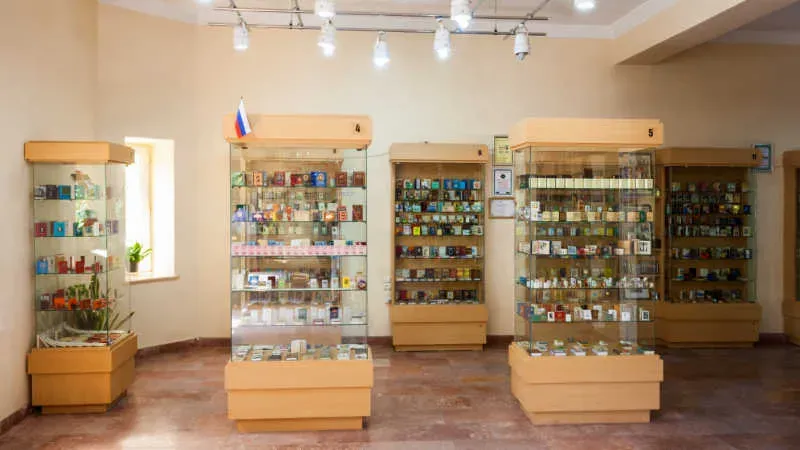 If you are in the old city of Baku with family, you have many options to explore including the amazing Miniature Book Museum. This is the largest and only one of them all and is a Guinness World Record holder. Visitors travel from all over the world to see this one-of-a-kind museum, which houses over 5000 specially constructed mini-books. Its publications include a wide range of themes, from religious writings to historical works. One of the best things to do in Baku with family is to explore this amazing spot and try your sight on the smallest book in the museum, which is a known Russian book "The Most Miraculous Thing," which can only be read by using a magnifying glass.
Location: 9R8M+G2M, Baku 1000, Azerbaijan
Timings:
Monday and Thursday- Closed
Friday to Sunday, Tuesday to Wednesday- 11 AM to 5 PM
3. Take a Family Ride on the Ferries Wheel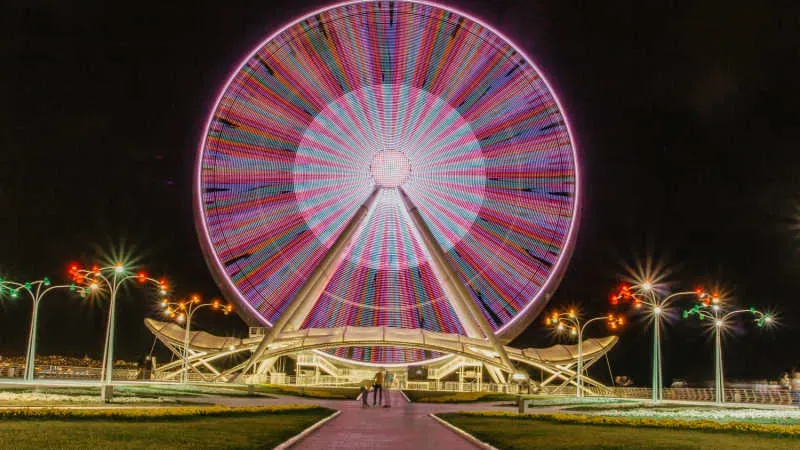 The Caspian Sea is clearly the heart and soul of Baku, as seen by the city's architecture. There is a 15-kilometer stretch of coastline where you may enjoy the sights no matter where you are in the city. There is plenty of space for kids to run around and world-class restaurants and cafes for a good time. The great attraction, of course, is the gigantic Ferris wheel that gives you a bird's-eye view over Baku. Anyone would tell you that seeing the Baku Eye is one of the top things to do in Azerbaijan. The new accommodations are air-conditioned and offer some pleasant activities in Azerbaijan with family like providing unrivaled panoramic views of the city.
Location: 9R3Q+V27, Bakı, Azerbaijan
Timings:
Monday to Saturday- 12 PM to 10:30 PM
Sunday- 6 PM to 10:30 PM
Suggested Read: Hiking in Azerbaijan: To Hug the Mesmerizing Landscapes and Kiss the Sun
4. Spend Exciting Moments at Gabaland Theme Park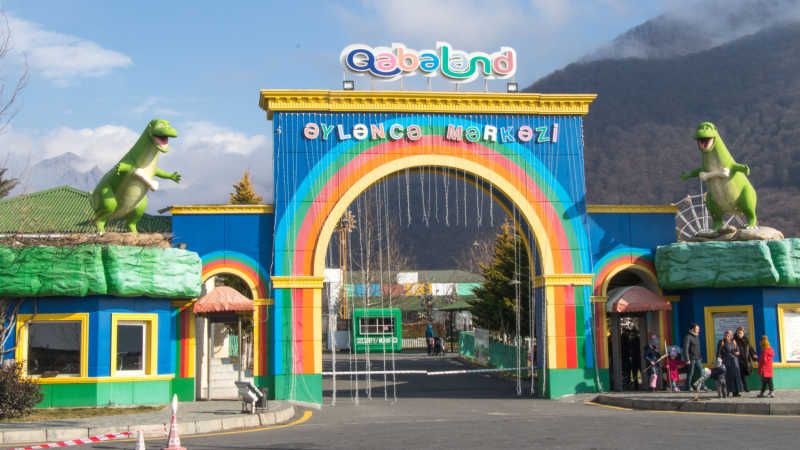 Gabaland is the largest open-air theme park in Azerbaijan and the area, and it is a popular attraction for both international visitors and locals. However, because of its location in the center of picturesque Gabala which means you get to spend the day admiring the splendor of lush green woods and jagged mountains while keeping the youngsters (and teens) entertained. This amusement park includes activities for people of all ages, like go-kart courses, water slides, and classic rides, and excellent cuisine, particularly its seafood. You may also spend time in the dense garden that gives a comforting ambiance for a family picnic in Azerbaijan.
Location: 1 Ismayil bay Gutgashinli Rd, Gebele, Azerbaijan
Timings: Everyday- 11 AM to 6 PM
Suggested Read: Nightlife in Azerbaijan: Discover the Country's Charm in a New Light
5. Hit the Slopes of Caucasus
This is the perfect place to enjoy Azerbaijan as a journey to the Caucasus would be incomplete without a trip to the mountains. Things to do in Gabala are worth mentioning while looking for exceptional experiences. Shahdag and Tufandag Mountain Resorts are ideal for a romantic getaway, and the snow in Azerbaijan enhances all outdoor activities in winter. Whether you want adventure in Azerbaijan like skiing, sledding, or just playing outside with your kids in the snow, visit this place. There are also lots of wellness options for parents who have worked hard all year. Both resorts have cafés, bars, and restaurants, and both are open in the summer, allowing tourists to take in the spectacular landscape all year and participate in outdoor adventure in Azerbaijan with family like hiking, cycling, and paragliding.
Location 1: Shahdag Mountain Resort, Qusar, Leze, Motor Road, Qusar, Azerbaijan
Timings: 24 hours
Location 2: Tufandag Mountain Resort, Duruca kəndi, Gebele 3600, Azerbaijan
Timings: 10 AM to 5 PM
6. Indulge in Entertainment Activities on Sea Shore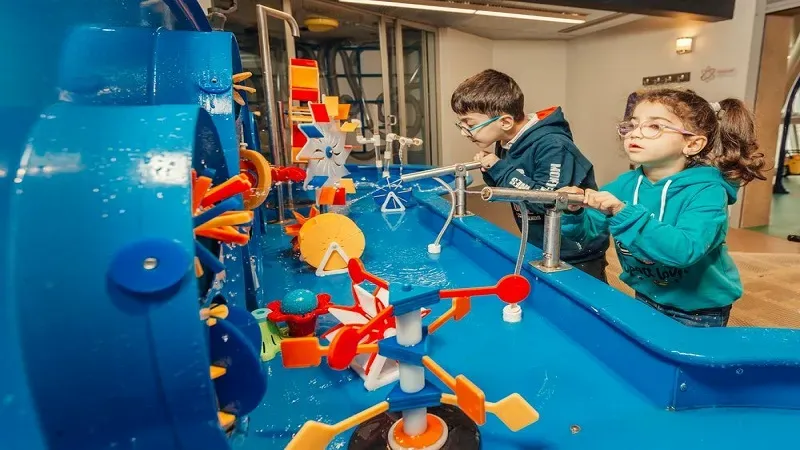 For kids, there are many places to visit in Baku and one of them is this miniature Baku that has its own currency known as Kindi and covers streets, stores, a bank, a hospital, and even an airport known as Kinderland education and entertainment center. Children experience several occupations - doctor, firefighter, policeman, pilot, cook, scientist, actor, stylist, hotel employee, travel agent, etc. - and have fun while learning about them via role-playing. Not only kids, but the entire family can have fun in the Sky Park sports and entertainment complex. Trampolining, wall climbing, ziplining, a rope park, dodgeball, and Ninja Quest are all available to adults and children alike. Kids can also have fun in a number of amusement parks in Azerbaijan like Happy Land in Deniz Mall, Park Bulvar, and Metropark shopping mall.
Location: 26A Neftchilar Ave, Baku 1000, Azerbaijan
Timings:
Monday- Closed
Tuesday to Thursday- 1 AM to 7 PM
Friday- 12 PM to 8 PM
Saturday to Sunday- 11 AM to 8 PM
Suggested Read: Winter in Azerbaijan: Escape to the Snowy Mountains this Winter
7. Shopping at the best Marketplaces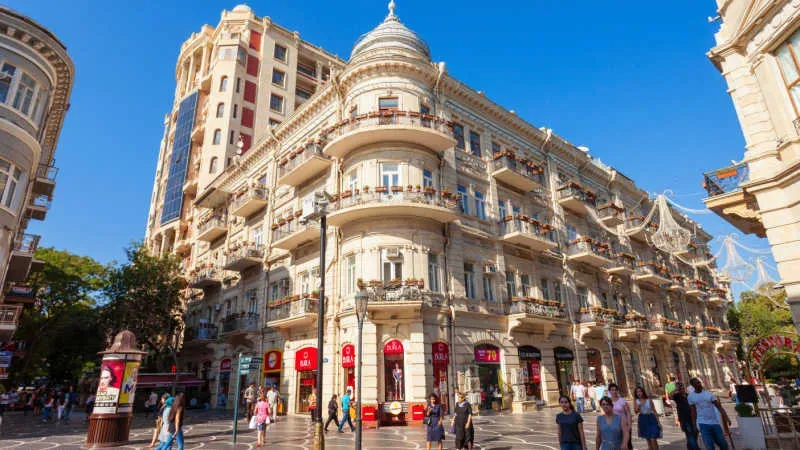 Named after a classical Persian poet Nizami Ganjavi, this is a large, expensive and rich pedestrian street for shopping in Baku. When you are here with your family, witness the embassies of many countries and the Azerbaijan State Opera. You can walk around with kids as it comes in a traffic-free segment that starts from Fountain Square and ends at Rashid Behbudov Street, known as Torgovaya (the merchant street). This spacious, elegant, and illuminated space is considered a complete shopping land with stylish local and brand shops, restaurants, and cafes. There are many opulent malls in Azerbaijan if someone wants to have a luxurious shopping experience which is one of the best things to do in Azerbaijan with family.
Location: Various
Timings: Various
Suggested Read: Honeymoon in Azerbaijan: For a Blossoming Romance Amidst a Charismatic Scenery
8. Savor the Azerbaijani Cuisine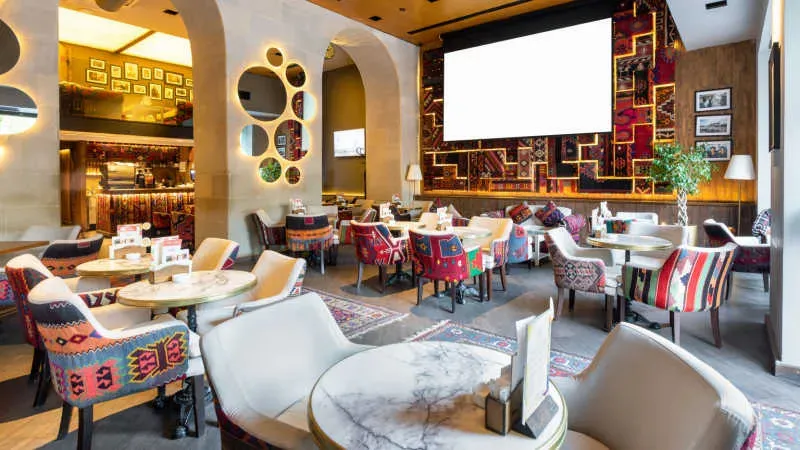 When you are traveling with your family, the two things that come to mind are staying at a good place and exploring good cuisine along with exploring places and activities. Ignoring the local cuisine can be your biggest mistake so relish the authentic Azerbaijani food in fantastic restaurants in Azerbaijan. These places are best to relish mouthwatering traditional and foreign cuisine. Cherry dumplings, mashed beef ribs with pea puree, Calamari zucchini fritti, pilafs, kebab, and Saj dinners are among the delicacies provided at the top restaurants. And if you have sweet tooth, don't miss out on Azerbaijan's famed halva.
Location: Various
Timings: Various
Azerbaijan is a magnificent nation with vast mountains, big palaces, and a skyline lined with towers that signify history. The entire nation is replete with such events that will undoubtedly provide you and your family with a lifetime experience. There are several things to do in Azerbaijan with family that will allow you to experience the actual splendor of this historical nation accompanying nature. It also provides a balance of modern and old architecture, with structures from different eras standing proudly side by side providing different kinds of fun activities to indulge in. So, avail yourself of the best Azerbaijan tour package to be part of it all.
FAQs
Q1. What is Azerbaijan known for?
Azerbaijan is a beautiful country in the Caucasus Mountain. The flaming mountain and the Flame Towers have given it the worldwide name "Land of Fire". The grand palaces, ancient mosques, glittering seaside, luxurious resorts, skyline modern towers have made Azerbaijan a worth visiting destination.
Q2. What is the best time to visit Azerbaijan?
The best time to visit Azerbaijan is between April to June and September to October. While if you want to enjoy the snow activities, come here in the month of December. March is also famous among tourists as you can celebrate the Novruz Bayrami, the Persian New Year.
Q3. What are the best places to visit in Azerbaijan?
Heydar Aliyev Cultural Center, Baku Old City, Baku Boulevard, Flame Towers, Savalan ASPI Winery, Nokhur Gel Lake, and Yeddi Gozel Waterfall are some of the prominent places to visit during your vacation to Azerbaijan.
Q4. What are the best things to do in Azerbaijan with family?
Azerbaijan is a true destination for individuals, couples, and a family holiday with numerous activities. A family can enjoy all of them-
Let the Kids Play along the Mud Volcanos
Surprise Your Kids in Museum with Miniature Books
Take a Family Ride on the Ferries Wheel
Have Fun Rides at Gabaland Theme Park
Hit the Slopes of Caucasus
Q5. What are the best local authentic cuisine to try in Azerbaijan?
Azerbaijan is not only famous for tourist attractions and adventure activities but also for Azerbaijani Cuisine. Try out these authentic traditional dishes on your tour to the country-
Plov – Traditional Rice and Meat.
Shah Plov – Traditional Rice with Fried Dough.
Dolma – Stuffed Grape Leaves.
Saj Ichi – Azerbaijanian Barbecue.
Piti – Lamb and Chickpea Soup.
Buglama – Traditional Lamb Stew.
Q6. What is the best place to do shopping in Azerbaijan?
There are many places to go shopping in Azerbaijan from luxurious malls to get high-end products to traditional bazaars for antiques and other items. Few of shopping destinations in Azerbaijan are:
Nizami Street
Yashil Bazaar
House Of Craftsmen
Port Baku Mall
Tsum Shopping Centre (MUM)
Q7. Name the best place for kids to spend time in Azerbaijan?
Kids will like Azerbaijan because of the Kinderland education and entertainment Center and the Gabaland Amusement Park. Happyland, a children's amusement center with many attractions, playgrounds, and a huge toy store, is another fantastic area for children to have fun and relax in Deniz Mall.
Q8. Where can we see the mud volcanos in Azerbaijan?
Azerbaijan is known as the "Mud Volcano Capital of the World" since it is home to over 400 mud volcanoes. Gobustan National Park in Azerbaijan has mud volcanoes and petroglyphs.
---