It would be remiss of you to plan a vacation in Thailand, but not include the lively city of Phuket in it. With its cosmopolitan vibe, dizzying pace, and upbeat energy, you'll definitely have a gala time. However, one more thing that adds to this list of Phuket's qualities is its food. The restaurants in Phuket are one of the many attractions in this city because of the assortment of dining experiences here. One of the things that you must try at the restaurants here is the seafood because the freshness of these dishes would be on a whole other level. Even the most basic food is elevated with Thai flavors, which is why this country is nothing less than the food capital of Asia. So, dig into those delicious delicacies as you dine at these restaurants.
Best Restaurants in Phuket: Delve into the Thai Food Realm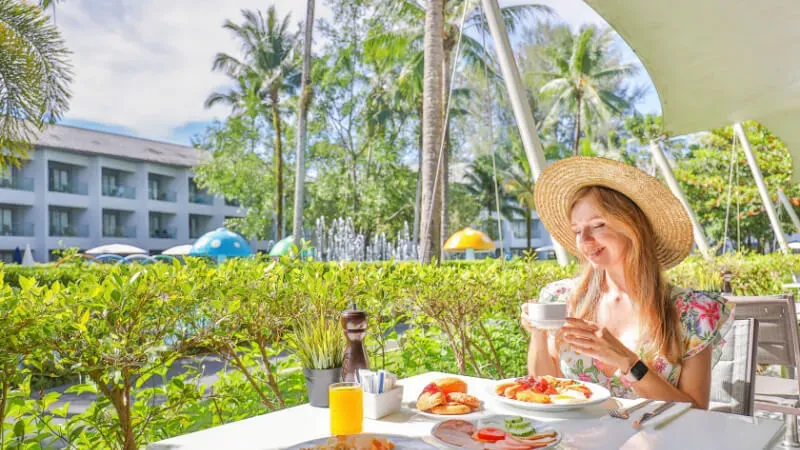 It's not a task to find an excellent restaurant in Phuket because even the restaurants you'd be least expecting to find good food in would surprise you with their lip-smacking flavors. However, we've curated a list of the best places to eat in Phuket that would undoubtedly become your go-to place for the entire trip. Let's check them out.
Mom Tri's Kitchen
Black Ginger
Three Monkeys Phuket
Mor Mu Dong
L'Arôme by the Sea
Arva
New Delhi Darbar
Semi Di Tsubu
1. Mom Tri's Kitchen: One of the Popular Phuket Restaurants
One thing that you can bet on at this restaurant is a line of scrumptious dishes back-to-back for you to try. This award-winning restaurant offers stunning views of Kata Beach and the charming vibe inside the restaurant with terracotta flooring, gorgeous artwork, and much more makes this place even more alluring. This seafood restaurant Phuket is particularly famous for its breakfast that includes a vast variety from cereals to cold cuts, and other dishes. They've even won several awards from the Wine Spectator, and you can experience this yourself as they pair your food with the best glass of wine. So, get ready for a gourmet experience like never before.
Mom Tri's Kitchen opening hours: 6:30 A.M to 10:30 A.M (breakfast) and 12 P.M to 10 P.M
Address: 12 Kata Noi Road, Kata Noi Beach, Phuket 83100 Thailand
Cuisine: Seafood
Famous food: Crab Soufflé, Calamari, Chicken Caesar Salad, Seafood Platter
2. Black Ginger: A Michelin Guide Certified Restaurant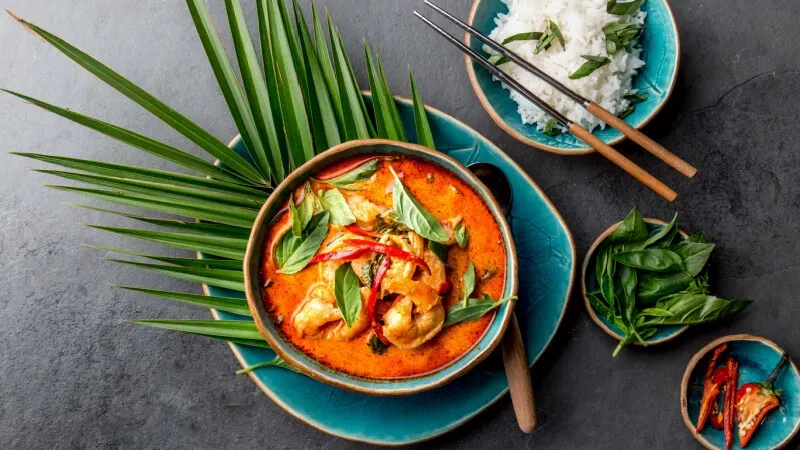 One of the first things to do in Phuket is to explore its food scene because that's an important aspect of your trip. Therefore, this restaurant located inside a traditional Thai mansion, is steeped in culture from its food to its ambiance. The highlights are the dishes that are prepared using local recipes but given a modern twist to suit your taste buds. You can only access this place via a boat as it's located in the middle of a lagoon. You can expect some traditional Thai dishes here that aren't served anywhere else and that's what makes this restaurant a cut above the rest. An imposing aura and authentic décor are the best ways to describe this dining place.
Black Ginger opening hours: 6 P.M to 11 P.M
Address: 116, Moo 1, Sakhu, Thalang, Phuket 83110, Thailand
Cuisine: Thai
Famous food: Wok Fried Prawns, Mango Sticky Rice with Coconut Ice Cream, Chicken Red Curry
Suggested Read: Top Water Parks in Phuket: Get Wet and Wild in Aquatic Paradise
3. Three Monkeys Phuket: Enjoy a Piece of the Island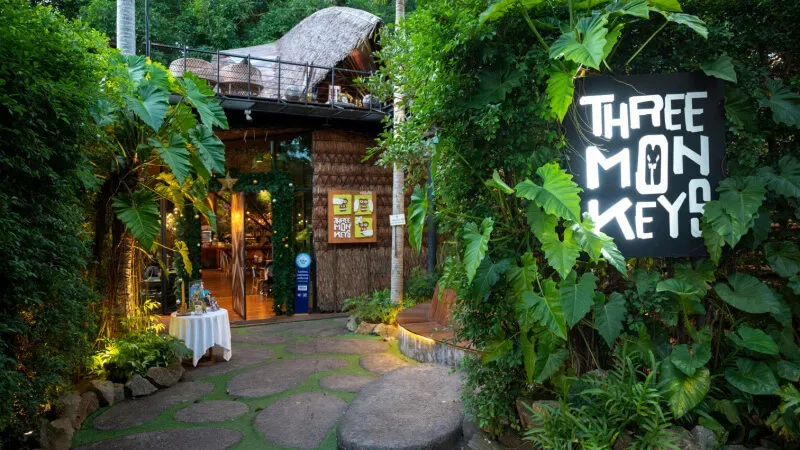 Experience dining at one of the most easy-breezy restaurants in Thailand with an eclectic vibe. Indulge in authentic Thai and Japanese cuisine or a cup of coffee in this jungle-themed dining place. With wooden furnishings paired with a splash of green everywhere, it'll feel like sitting right in the middle of the forest, setting the right tone for a delicious meal here. The elegant and rustic interior transports you to a different world altogether. As the evening light falls on the restaurant, the entire energy shifts with the live band. Therefore, you can expect only the best culinary experience at one of the top restaurants in Phuket.
Three Monkeys opening hours: 10 A.M to 11 P.M
Address: Three Monkeys Building, 105 Moo 4, Mueang Chao Fah Road, Wichit Subdistrict, Mueang Phuket District, Chang Wat Phuket 83000, Thailand
Cuisine: Southern Thai and Japanese
Famous food: Mango Sticky Rice, BBQ Spare Ribs, Steamed White Snapper, Chicken Satay
Suggested Read: Best Nightlife in Phuket: Discover the Charm of Phuket After Sunset
4. Mor Mu Dong: A Restaurant Locals Swear By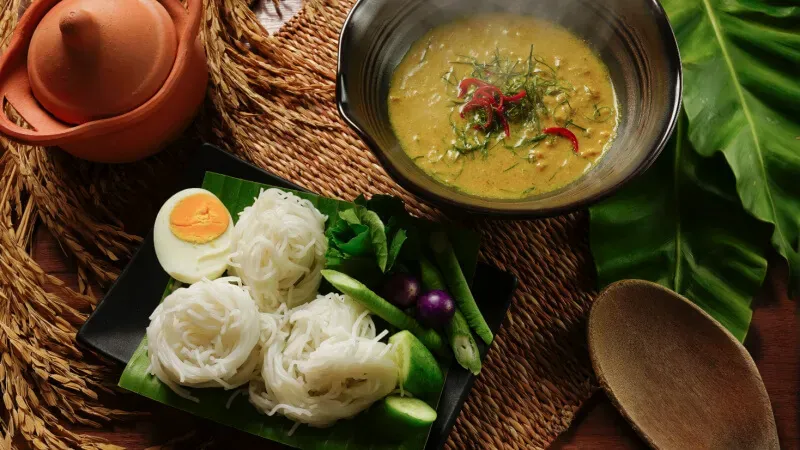 When it comes to this restaurant, it's one of the places to visit in Phuket because of its fan following among locals as well. This vibrant place with a unique seating area is a refreshing change from the other fine dining or posh restaurants you might have dined at till now. This place truly captures the essence of Thailand with its authentic food and warm hospitality. You'll always find a long line of cars parked outside this restaurant and that in itself is a testament to its popularity. You'll find locals and tourists dining here and embracing the Thai culture with full gusto.
Mor Mu Dong opening hours: 10 A.M to 9:30 P.M
Address: 9/4 Village No. 3, Soi Palai, Chao Fa Road, Chalong, Mueang Phuket District, Phuket 83130, Thailand
Cuisine: Thai
Famous food: Fried Fish Roe, Spicy Stuffed Fish, Crab Curry, Deep Fried Shrimp Cake
5. L'Arôme by the Sea: Experience Poetry in a Culinary Form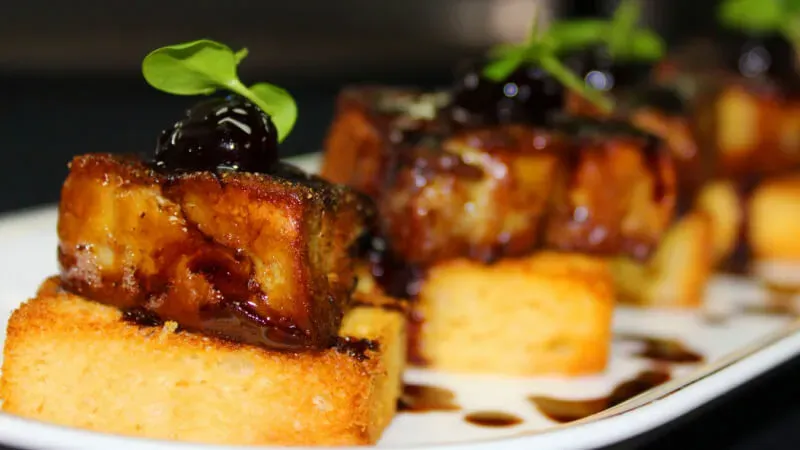 This restaurant is like a love letter to French cuisine with its sophisticated interior, a playful combination of light and blue colors, and a relaxed ambiance to make dining a complete experience. Despite the gorgeous interior and calming ambiance, the showstopper would be the food. This is one of the best restaurants in Phuket and is emerging as a strong player in the global gourmet dining scene. Their dishes incorporate a touch of Swiss Alps with ingredients imported from other countries for the most authentic flavors and taste. So, do add this dining place to your bucket list for a memorable experience.
L'Arôme by the Sea opening hours: 4 P.M to 11 P.M
Address: 247 Phrabaramee Rd, Pa Tong, Amphoe Kathu, Chang Wat Phuket 83150, Thailand
Cuisine: French
Famous food: Wild Spanish Red Prawns, Poached Brittany Cod, Pan Seared French Foie Gras
Suggested Read: Honeymoon in Phuket: Fan the Flames of Love with Your Better Half
6. Arva: Relish the Finger-Licking Italian Dishes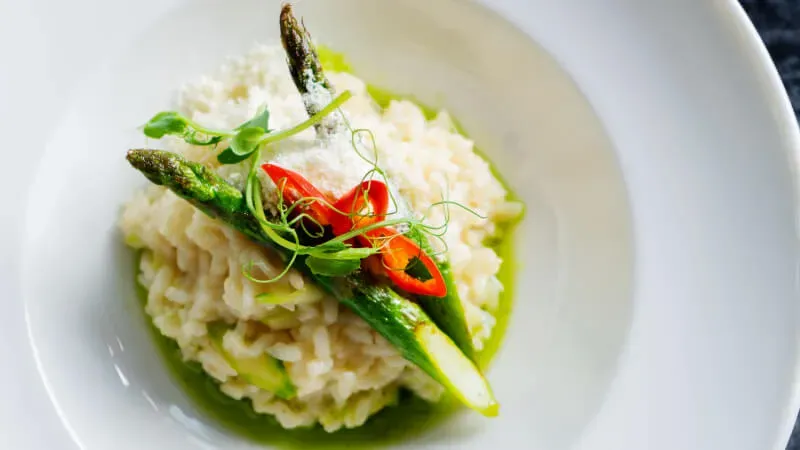 For those craving Italian cuisine, you must visit this splendid Italian restaurant Phuket in Amanpuri Resort, which is famous for its Italian flavors. Nothing can beat the warmth of classic Italian cooking and the highlight of this restaurant is that they follow the "Cucina Del Raccolto" tradition. It means that every dish is prepared with organic and authentic ingredients for the perfect flavorful explosion in your mouth. Since this place is near Pansea beach, you can enjoy gorgeous views while dining. The hearty meals served here are perfect for large groups and even a pair of two, so when you're craving earthy Italian food, don't forget to stop by this restaurant. It's undoubtedly among the top places to visit in Thailand.
Arva opening hours: 12 P.M to 3 P.M and 6:30 P.M to 11 P.M
Address: Pansea Beach, 83110 Phuket, Thailand
Cuisine: Italian
Famous food: Risotto Asparagi, Austaralian Wagyu Rib Eye, Cannolo Siciliano
Suggested Read: Best Shopping Malls in Phuket: Must-Visit Places for Shopping to Your Heart's Content
7. New Delhi Darbar: One of the Best Indian Restaurants in Phuket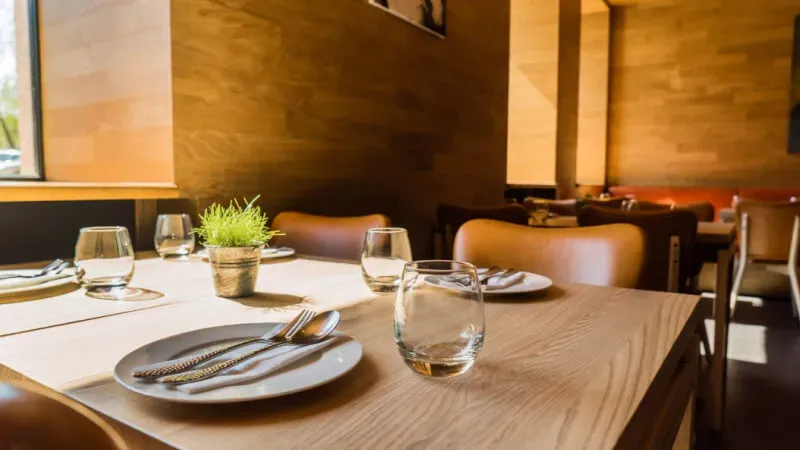 After staying in Phuket for a few days, it's inevitable for you to miss Indian food because that "ghar ka khaana" hits different. So, what if I told you that you can savor the exact flavors and dishes at this restaurant, which would remind you of the streets of Delhi? Specializing in authentic Indian cuisine, New Delhi Darbar would satisfy your hunger pangs like no other. So, dig into the delectable North Indian food here, which also caters to vegetarian and Jain population. Even the foreigners curious about Indian food should definitely try the dishes served here. It's easily one of the things to do in Phuket you can't turn your back to.
New Delhi Darbar opening hours: 11 A.M to 1 A.M
Address: The Kee Resort & Spa, 152/1 Thaveewong Road, Patong Beach, Kathu, Phuket
Cuisine: Indian
Famous food: Veg Biryani, Jeera Aloo, Gobi Paratha, Dal Makhani
Suggested Read: Hanuman World Phuket: An Adventurous Time Up in the Air
8. Semi Di Tsubu: Experience the First Itameshi Dining in Phuket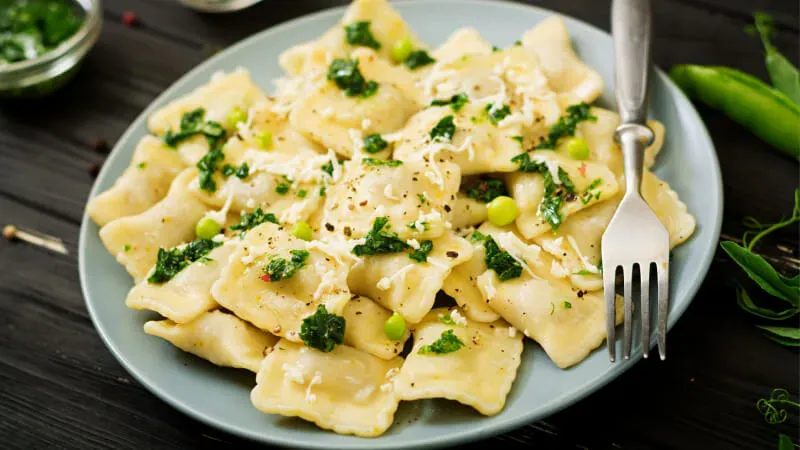 Step into a world where Japanese and Italian cuisines fuse together to create completely unique and scrumptious dishes. Being the first Itameshi dining in Phuket, it has become the talk of the town, and rightfully so. The chic and elegant vibe of the place enhanced by pastel color scheme and traditional décor adds the right note of charm to your dining experience. The interior would remind you of Japanese cherry blossoms and the Roman architecture is the perfect addition to an already stunning place. This love affair between Japanese and Italian flavors is one that would forever be etched in your memory.
Semi Di Tsubu opening hours: 5 P.M to 10 P.M, closed on Sunday
Address: 8/44 Moo3 Cherngtalay Thalang Surin, Phuket 83110, Thailand
Cuisine: Japanese and Italian fusion
Famous food: Ravioli, Lobster, Salmon, Unagi, Tiramisu
Suggested Read: Best Beaches in Phuket: Paradise Found in Thailand's Coastal Gem
You're in for an exquisite experience at these restaurants in Phuket because they ensure utmost comfort and luxury to enhance your culinary experience. From authentic Thai to Italian and Japanese fusion cuisine, you'll find a multitude of dining places in this city, waiting to serve you the best dishes. Thailand is a country, which is the mecca of food and exploring the culinary scene of this place is a dream of many. So, make the most of this opportunity on your holiday here and visit these excellent places for some soul food. Our Thailand tour packages are the perfect way to start your journey.
Restaurants in Phuket FAQs
Q1. What food is famous in Phuket?
Some of the famous food in Phuket that you must try and would find in some of the Thai restaurants as well are Mee Hokkien, Loba, Oh Tao, Moo Hong, and many more. You'll find several places serving these dishes in Phuket.
Q2. Is Black Ginger Phuket Michelin star?
Black Ginger restaurant in Phuket was certified by the Michelin Guide in 2019, 2020, 2021 and 2022. It's the perfect place to indulge in authentic Thai cuisine.
Q3. Do we get veg food in Phuket?
There are several restaurants in Phuket that serve vegetarian food. One of the best places for Indian vegetarian food is the New Delhi Darbar restaurant.
Q4. What are the best restaurants in Phuket for Thai cuisine?
You'll stumble across numerous restaurants in Phuket serving traditional Thai cuisine. Some of these restaurants include, Black Ginger, Three Monkeys, Mor Mu Dong, and many more.
Q5. Are there Indian restaurants in Phuket?
Yes, you'll find a lot of Indian restaurants in Phuket serving flavorsome dishes that remind you of home. From New Delhi Darbar and Amritsr Restaurant to Bollywood Phuket Restaurant, these are some of the top dining places serving Indian food.
Q6. What are the opening hours of Mom Tri's Kitchen?
Mom Tri's Kitchen is a seafood restaurant and is open from 6:30 A.M to 10:30 A.M (breakfast) and 12 P.M to 10 P.M. You can relish fresh seafood here along with other delicious dishes.
Q7. Where is L'Arôme by the Sea restaurant in Phuket?
L'Arôme by the Sea restaurant's address is 247 Phrabaramee Rd, Pa Tong, Amphoe Kathu, Chang Wat Phuket 83150, Thailand. It's a restaurant serving impeccable French cuisine.
Q8. What makes Semi Di Tsubu special?
Semi Di Tsubu is special because it's the first Itameshi dining in Phuket, which combines Italian and Japanese cuisine. You'll find a perfect coalescence of these two cuisines right here.
---