Being a culturally vibrant country, the places to visit in Thailand are a coalescence of lush green landscapes, adventurous landmarks, and stunning architectural ruins that adds a character to this country's personality. With breathtaking islands and a nightlife that would make even an introvert dance to the beats of the song, this country has it all. A smile in Thailand goes a long way because it communicates a lot, and the people here are a ray of sunshine with their big hearts and kind smiles. This country welcomes people from all walks of life and promises them the most fun and amazing time. So instead of sticking to the select few locations that you know, explore this country like a beginner this time and discover a whole new world right before your eyes.
Top Places to Visit in Thailand: The Most Attractive Travel Destination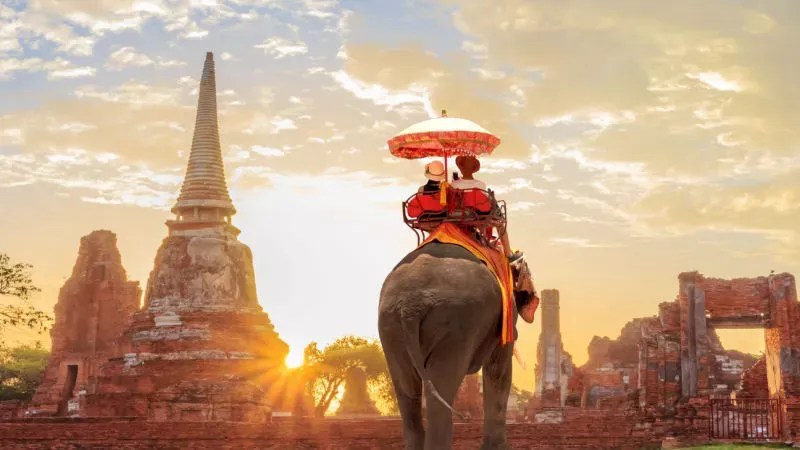 Thailand is considered one of the most sought-after travel destinations with a major tourist footfall because of its charming yet wild side that allures people from all around the world. This country is more than the few popular cities like Bangkok and Phuket, and that's exactly what should be a part of your itinerary when you visit this enthralling country. Explore the local markets, serene beaches, and the cultural attractions that make Thailand what it is. So, here are some of the top places to visit in Thailand that are yet to be explored by you.
Chiang Mai
Ayutthaya
Bangkok
Phuket
Sukhothai
Phi Phi Islands
Pattaya
Lopburi
Trang
Koh Samui
1. Chiang Mai: A Duet of Laid-Back Vibes and Lively Scenes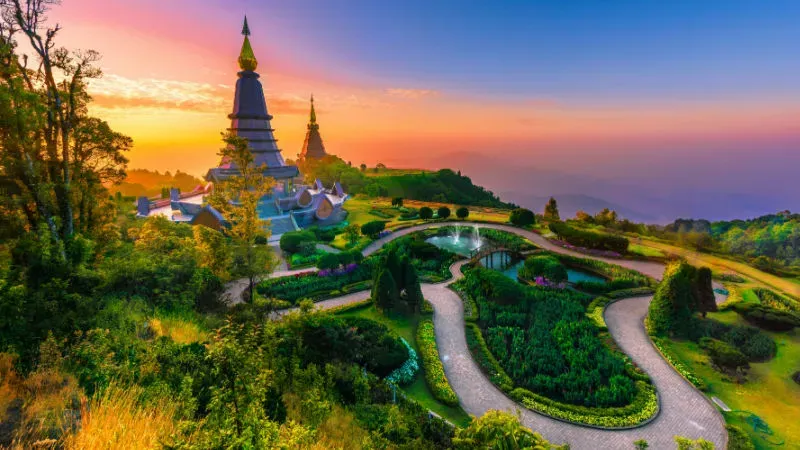 Chiang Mai is one of the most significant places to visit in Thailand, both historically and culturally. This city was once the seat of the Lanna Kingdom; therefore, you'd come across several temples and monasteries here. Wat Phra Doi Suthep and Wat Phra Singh are some of the most famous temples here. Apart from this, the night bazaar of this city is the highlight of this city, where you can buy handicrafts, souvenirs, and a lot more. This flourishing city offers a chance for indulging in several outdoor activities, such as trekking, cycling, rafting, and so on. If you're more into a relaxed and laid-back vacation, then do explore this tranquil city.
Tourist attractions: Wat Phra Doi Suthep temple, Wat Phra Singh temple, Elephant Park, Night bazaar, Chiang Mai Grand Canyon, Warorot Market, and Muay Thai Boxing Match
Best time to visit: December to February
How to reach: Take a train from Bangkok's Hua Lamphong Station to Chiang Mai station
2. Ayutthaya: Explore the Architectural Wonders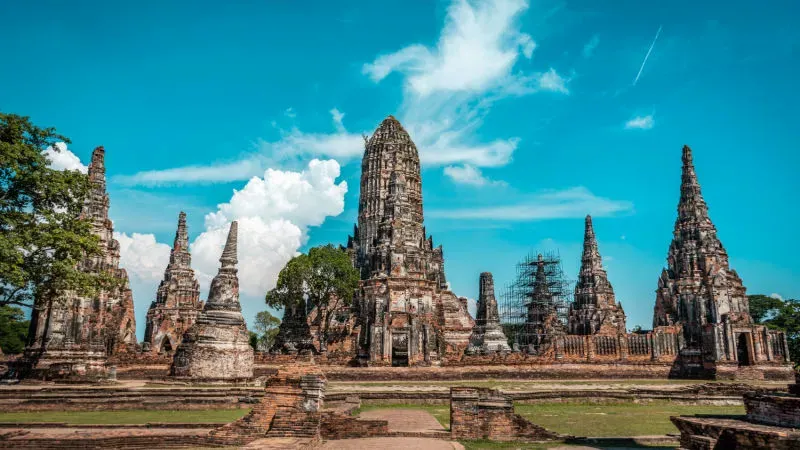 Ayutthaya has been listed as a UNESCO World Heritage City because of the archaeological sites and architectural value that this place holds. This city was also the capital of Thailand at one point in time and boasts of magnificent temples, monasteries, palaces, and a lot more. Ayutthaya was once known as the most magnificent city on Earth, and rightfully so. The historical significance behind this city and its name, which is derived from the Sanskrit version of the word Ayodhya, is a magical haven. The glorious attractions make for an excellent backdrop for pictures and it's like heaven for photographers looking to click some aesthetic pictures. This is one of the best places to visit in Thailand that feels like going back in time.
Tourist attractions: Bang Pa-In Palace, Wat Lokaya Sutha, Wat Phra Mahathat, Ayutthaya Historical Park, Elephant Stay, Krungsri Market, Ayutthaya Island, and Million Toy Museum
Best time to visit: November to February
How to reach: Board a bus from Mo Chit Station
3. Bangkok: A Bustling Cosmopolis of Diverse Culture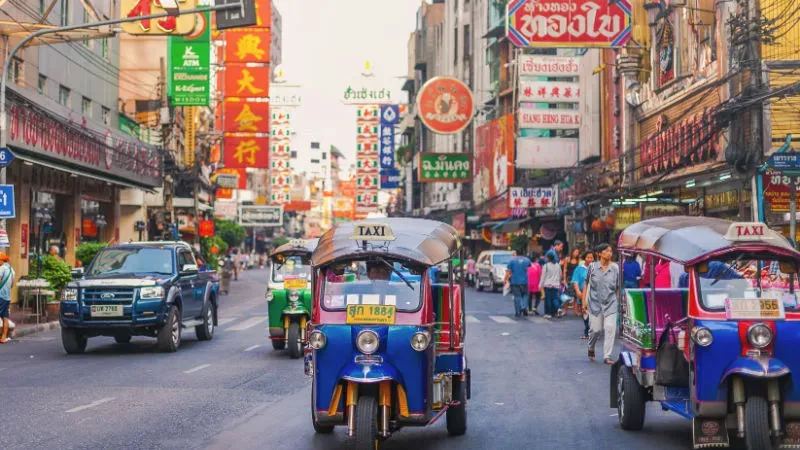 Bangkok is a city that everyone knows about, even if they haven't been there. That's the power this city holds over us and why shouldn't it? This city is what dreams are made of, and there are several things to do in Bangkok, with shopping centers, adventure activities, cultural attractions, a party vibe, and exquisite Thai cuisine. You can spend an entire day exploring this city and still not get tired of coming across new places. The nightclubs, bars, and local shops are the soul of this city. You can feel the excitement in the air; that's why this city is also known as the City of Angels. The contrast of calmness and passion beautifully merges in this wild city, and the places to visit in Bangkok are never-ending.
Tourist attractions: Khao San Road, Wat Phra Kaew, Grand Palace, Sea Life Ocean World, Chatuchak Market, Floating Market, Chao Phraya River Cruise, and Chinatown
Best time to visit: November to early December
How to reach: Take a flight directly to Bangkok or take a bus from nearby cities, such as Pattaya, Phuket, Krabi, etc.
4. Phuket: A Luxurious Paradise for Vacationers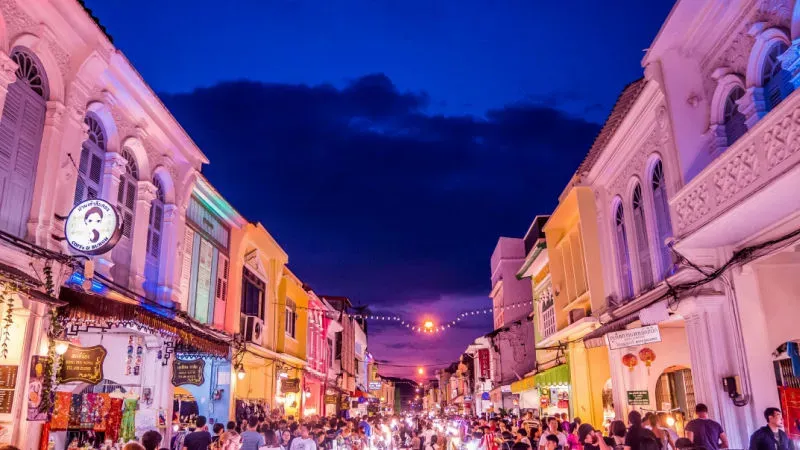 Phuket is the city of golden beaches, lively markets, relaxing spas, water sport activities, and an upbeat nightlife, in a nutshell. You can find anything and everything in this city, where tourists are amazed by the buzzing energy in the air. There are a lot of things to do in Phuket, and it's one of the leading cities in Thailand, which balances the tranquility of the blue lagoons and the boisterous nightlife. It's an ideal place for anyone looking to relax, shop, try out water sports and have the chance of observing the most picturesque views. You'd notice a heavy Chinese and Sino-Portuguese influence in this city as you wander around the historical sites here. All in all, this is one of the best Thailand places to visit that you can't miss out on.
Tourist attractions: Chalong Wat, Jui Tui Shrine, Bangla Road, Karon Viewpoint, Patong Beach, Jungle Bungy Jump, Big Buddha Statue, Green Elephant Sanctuary Park, and Phuket Weekend Market
Best time to visit: November to February
How to reach: Take a flight to the Phuket International Airport
5. Sukhothai: The Place Where It All Began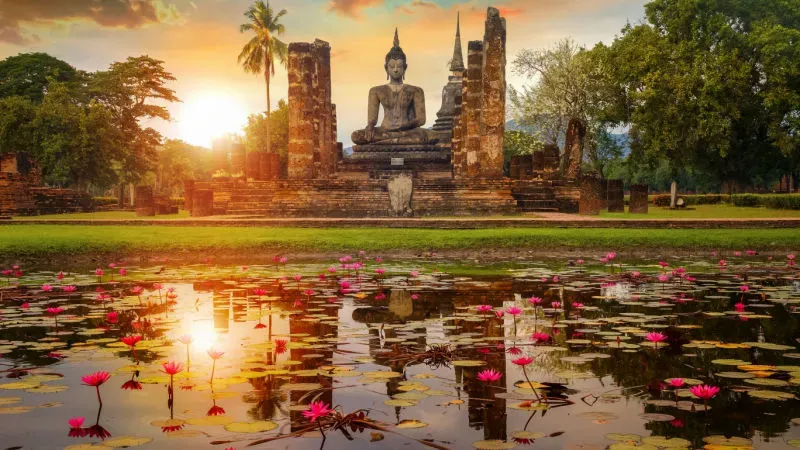 Sukhothai is from where the Thai civilization started taking roots and therefore it's one of the top 10 places in Thailand. You'll find ancient ruins and relics here that boast of the country's past and its kingdom. It's like learning about the stories of the city from its mother and understanding its growth into the sprawling city that it is today. Sukhothai is another UNESCO World Heritage Site that encompasses beauty like no other, with the temples, quaint rivers, and enchanting landscapes adorning it. Couples on their honeymoon or otherwise would also find romantic landmarks offering them privacy and making for a picture-perfect backdrop. There's a sense of peace here as you wander around the more than 200 ancient ruins that are the beauty spots of this city.
Tourist attractions: Sukhothai Historical Park, Ramkhamhaeng National Museum, Loy Krathong Festival, Phra Mae Ya Shrine, and Waterfall Trekking
Best time to visit: January to March, and November-December
How to reach: Take a train from Bangkok to Phitsanulok and then board another train from Phitsanulok to Sukhothai
6. Phi Phi Islands: A Romantic Destination for Couples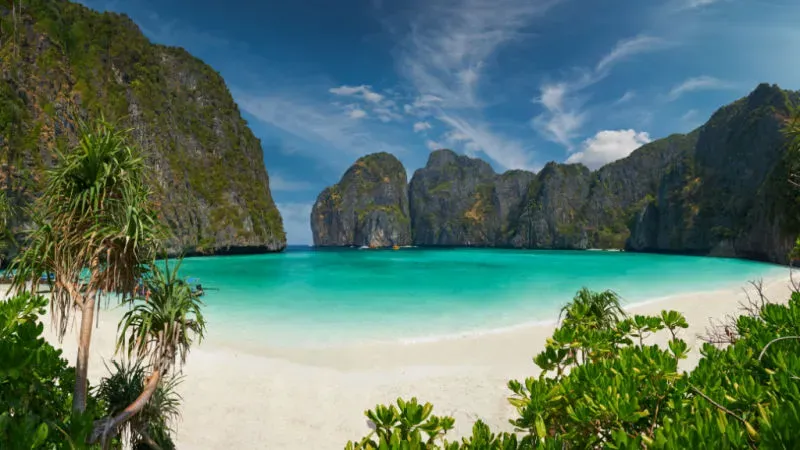 Phi Phi islands is an archipelago of six islands, out of which, two are the most popular ones; Phi Phi Leh and Phi Phi Don. This party beach features the most soothing and glorious beaches in Thailand with clear blue water and rich greenery. The idyllic vibe of these sandy stretches during the day and the loud party vibe during the night is exactly what we need when vacationing in this relaxing location. You won't find a lot of crowds here because it's secluded from the city roads and uninhabited by the locals as well. So, you can explore these islands, soak in the sun, and have a candlelight dinner with a gorgeous view around you. You can even engage in some water sport activities with your partner, such as snorkeling or diving to make it a perfect time away.
Tourist attractions: Maya Bay, Village of Tonsai, Viking Cave, Phi Phi viewpoint, Money Beach, Bamboo Island
Adventure activities: Snorkeling, diving, kayaking, rock climbing, hiking, longtail boat ride, and cliff jumping
Best time to visit: November to April
How to reach: You can take a ferry from Phuket, Koh Lanta, or Krabi
7. Pattaya: The Infamous Party Hub of Thailand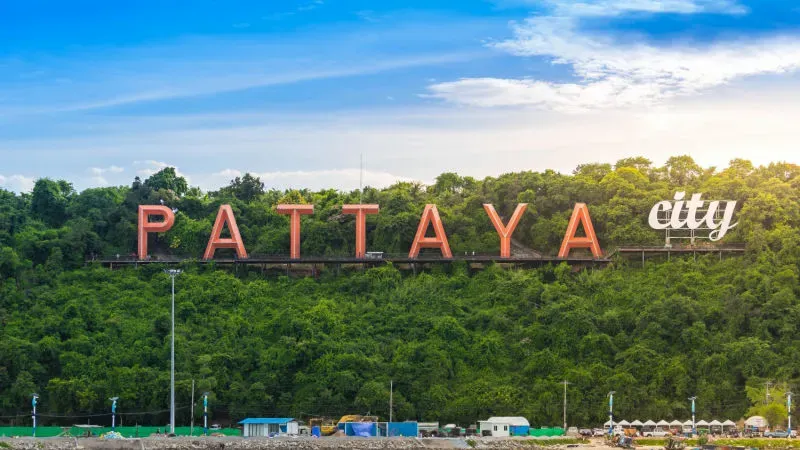 When it comes to this marvelous coastal city in Thailand, you'll be in awe of its carefree and beachy atmosphere. Known as the leading beach destination in the country, you can't imagine a holiday to Thailand without visiting this place. Those looking for peace and quiet would find it on the beaches of Pattaya, where the sound of the waves gently lulls you to a peaceful space. The watersports available here include scuba diving, parasailing, kitesurfing, and much more. But if partying is your scene, then the night is yours, when the bars and nightclubs come to life till dawn. The bright lights and crazy vibe would match your requirements of fun and amusement. The myriad of things to do in this city would make you want to include this in your places to visit in Thailand list.
Tourist attractions: Art in Paradise Museum, Pattaya Walking Street, Nong Nooch Botanical Gardens, Coral Island, Pattaya Night Bazaar, Colombia Pictures Aquaverse, and Frost Magical Ice of Siam
Adventure activities: Parasailing, kitesurfing, snorkeling, scuba diving, and wakeboarding
Best time to visit: November to February
How to reach: Either take a flight to U-Tapao Airport, which is 30 kms away from Pattaya or board a train from Bangkok
8. Lopburi: Explore Thailand's Monkey City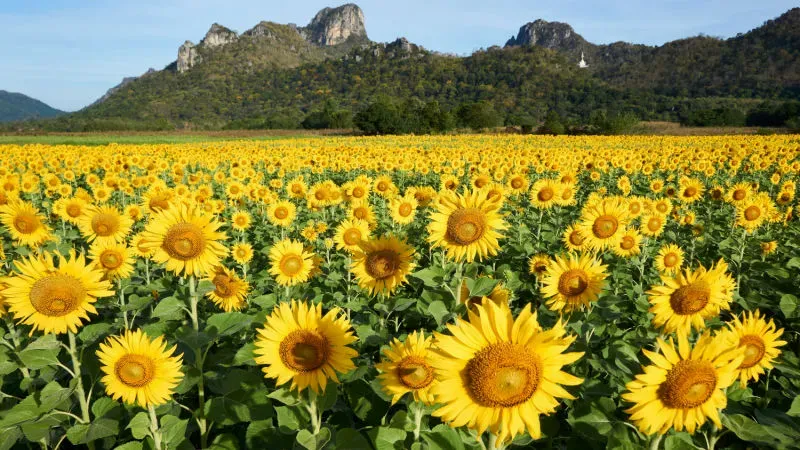 Lopburi is one of the oldest cities in the country and is also home to approximately 4000 monkeys. However, this city of monkeys is a reminder that people and animals can live together in harmony. Apart from the increasing population of monkeys, other Thailand tourist places include the ancient ruins of the Khmer empire, and the mesmerizing sunflower fields make this a must visit place in Thailand. The city's divided into old and new towns, so do explore both for a wholesome experience. The glorifying history of the country and this city is what allures tourists to venture into this uncharted territory. It's important to keep all your items safe unless you want the macaques to have a fun time playing with them. There are several outdoor activities to indulge in, such as rock climbing, trekking, and hiking.
Tourist attractions: King Narai's Palace, Lopburi zoo, Peacock temple, Sunflower fields, Ban Vichayen, and Phra Prang Sam Yot
Adventure activities: Trekking, hiking, and rock climbing
Best time to visit: May to October
How to reach: Either take a train from Bangkok or a board a bus from Mochit Bus Terminal in Bangkok
9. Trang: Leave Your Footprints on the White Sand Beaches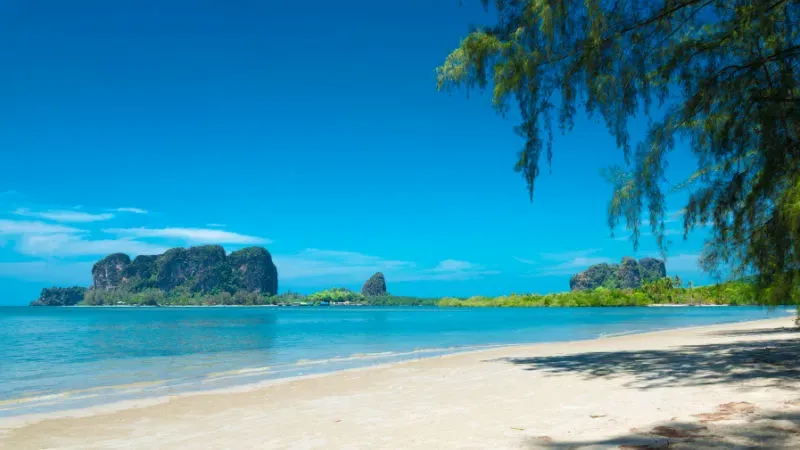 In terms of natural beauty, Trang is a gemstone. You can never recover from its exquisite white sand shores, crystal clear water, and the stunning vistas of lush green trees and mountains. This low-key place has some aesthetically charming attractions that would make you want to stay here for a few days. It's not as crowded as other popular places to visit in Thailand, so you can enjoy your private space in peace. Relax on the shore, get tanned under the sun, and sign up for water sports, such as snorkeling, swimming to a hidden cave, etc. It's an island deeply entrenched in culture and tradition, so shopping from the local markets or trying out their authentic cuisine is a must. Revel in the perfect combination of sun, sand, and water to make your day out a success.
Tourist attractions: Thing Khai Botanical Garden, Hat Chao Mai National Park, Meunram Shrine, Hat Pak Meng beach, and Wat Tantayaphirom
Best time to visit: December to March
How to reach: Board a train from Bangkok's Hua Lamphong Railway Station to Trang Railway Station
10. Koh Samui: The Life of Thailand's Beaches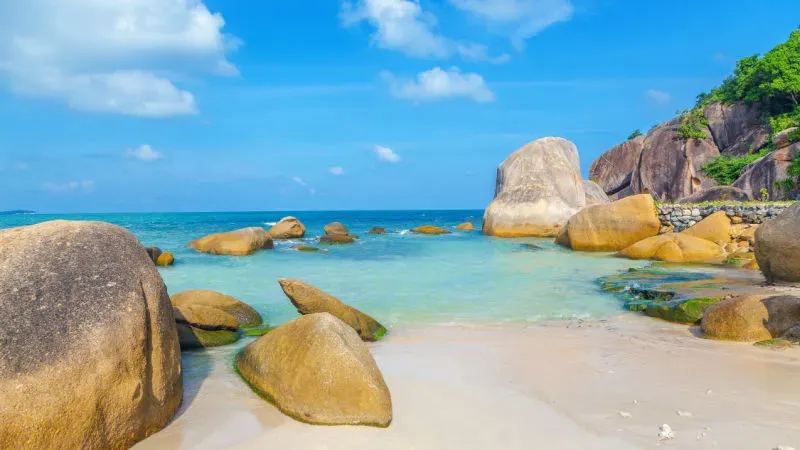 Koh Samui is one of the most popular destinations in Asia, especially because of its connectivity to the International Airport. It's the third largest island in Thailand and is frolicking with tourists having the time of their life. The best part of this island is its full moon parties and various festivals, such as Ten Stars Samui Art Party, the Buffalo Fighting Festival, and so on. You can also witness the annual Samui Regatta triathlon event, which is a global event with participants from 22 countries. The gorgeous beaches paired with dense forests offer the best location to relax and enjoy the picturesque beauty. Water sport activities are also quite famous at the beaches here. This is definitely among the Thailand best places to visit, so add this to your itinerary.
Tourist attractions: Wat Phra Yai, Ang Thong National Marine Park, Tarnim Magic Garden, Lamai Beach, Na Muang Waterfall, Lad Koh Viewpoint, Wat Khao Hua Jook, and Coral Cove Beach
Adventure activities: kitesurfing, scuba diving, snorkeling, kayaking, paddleboarding, hiking, and swimming
Best time to visit: November to April
How to reach: Either take a flight to Koh Samui International Airport or board a bus, train or ferry from Bangkok to Surat Thani and then take a ferry to Ko Samui
Now that you're aware of the places to visit in Thailand, you can plan the most fun and thrilling vacation that would make anyone green with envy. Revel in the relaxing luxuries of the island, the adventure sports, and the sprawling cities full of local markets and cultural elements. It'd be a wholesome holiday with you making memories that would forever be etched in your hearts. You can have a gala time shopping for the local gems and get into the party mood as the evening wears on. From kids to elders, there are endless things to do for everyone in this bustling country. So, plan a trip here with our Thailand tour packages and take a breather at these popular locations.
FAQs
Q1. What is the best part of Thailand to go to?
The best parts of Thailand that you should visit are Sukhothai, Pattaya, Phi Phi Islands, Chiang Mai, Ayutthaya, Bangkok, Phuket, and many more. All these places are major tourist attractions in Thailand.
Q2. Where should I go for the first time in Thailand?
People visiting this country for the first time should take a river cruise on the Chao Phraya River, explore the floating markets, shop at the Chatuchak market, visit the gorgeous beaches, such as Phi Phi Islands. You should also indulge in the local Thai food, sign up for various water sport activities, and learn about the history and culture of the country by visiting temples and ancient ruins.
Q3. Which month is the best to visit Thailand?
November to April is an ideal time to visit Thailand. The pleasant weather enhances the experience of exploring the tourist spots.
Q4. What are the adventure activities in Thailand?
You'd be delighted to know that Thailand offers some of the best adventure activities, such as wakeboarding, parasailing, kayaking, trekking, hiking, scuba diving, rock climbing, and cliff jumping. It's famous for both water sports and outdoor activities.
Q5. Why is Thailand the most popular travel destination?
Thailand is one of the most fascinating travel destinations because of its amalgamation of culture, tradition, and amusement. It's known for its delicious street food, gorgeous beaches, and cultural attractions, such as temples. This country caters to the tourists, which is why it's a popular tourist attraction.
Q6. What are the things that make Thailand famous?
Thailand's famous for its cuisine, Buddhist temples, tranquil beaches, nightlife, and shopping. These elements make this country one of the most visited countries in Southeast Asia.
Q7. What are the places to visit in Thailand with family?
Thailand is an ideal destination to visit with family as there are several beaches to relax and to indulge in water sports. You can visit the culturally rich attractions, such as Sukhothai and Ayutthaya or go shopping in Phuket or Bangkok.
Q8. Is Thailand ideal for honeymooners?
Yes, Thailand is an excellent country to go for your honeymoon as it features numerous romantic landmarks, such as Sukhothai where you can click romantic pictures. Watching the sunset at the beach is also one of the most romantic experiences.
---