Pattaya has been synonymous with food for a long time and it's time for you to explore the culinary scene of this city on your next vacation. The exciting affair of delicious flavors and aroma here would attract you to try as many of the dishes as possible, and it's better to not resist. After all, Thailand is the mecca of food for travelers. You'll have plenty of opportunities to try authentic Thai cuisine; however, you'll also stumble across several restaurants in Pattaya serving international cuisine with European food being the dominant cuisine. Therefore, traveling to Pattaya is not just a great option for sightseeing but also to indulge in its cuisine and food realm.
Top Restaurants in Pattaya: A Culinary Love Song
It's time to embrace the foodie side of Pattaya and surrender to its magical pull. From top-rated restaurants to local ones, one thing that you'll find everywhere is scrumptious cuisine, which would satisfy your hunger in the best way possible. Regardless of where you go, it's inevitable to stop by an eatery and dining at the right restaurant is as important as choosing the right destination for a holiday. Since you've already taken care of the latter, we're here to guide you to the best restaurants in Pattaya.
Royal Grill Room and Wine Cellar
Ruen Thai Restaurant
The Glass House Beachfront Restaurant and Bar
Radius Restaurant
Mum Aroi Seafood Restaurant
Rainforest Café Pattaya
Indian by Nature
Horizon Rooftop Restaurant and Bar
1. Royal Grill Room and Wine Cellar: A Fine Dining Experience Like No Other
As the name suggests, this restaurant is nothing less than royal in every sense. Be it the imposing aura it exudes, the elegant and sophisticated interiors, or the fact that it has an underground wine cellar, everything screams royalty. Located inside the Royal Cliff hotel in Pattaya, this restaurant specifically serves premium quality meats and seafood. Paired with the best glass of wine from their cellar, you can expect an exquisite dining experience. The terrace is a favorite of visitors to dine at because of the beautiful sea views from the top. So, don't miss out on this place during your trip to this city.
Royal Grill Room opening hours: 6:30 P.M to 10.30 P.M
Address: 353 Phra Tamnuk Road, Pattaya City, Amphoe Bang Lamung, Chon Buri 20150, Thailand
Cuisine: Surf and Turf
Famous food: Pan-fried Pacific Scallops, Pacific Carpaccio, Seared Hokkaido Scallops
2. Ruen Thai Restaurant: Immerse Yourself in Thai Culture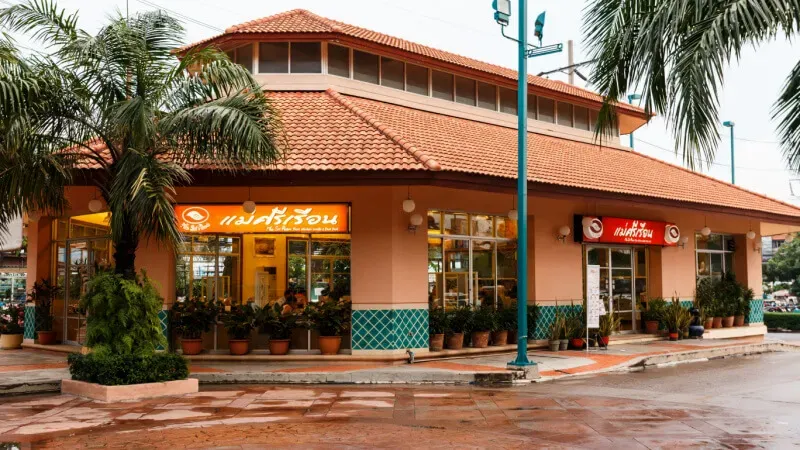 Dining at this Pattaya Thai restaurant isn't simply enjoying good food, but it's a complete experience in itself as you'll be coming face to face with Thai culture and traditions. You'll have the chance to enjoy traditional dance while relishing authentic cuisine. There's also a food carving show to celebrate the country's traditional artistry. So, dining here would turn into a long-lasting memory for you because this restaurant leaves no stone unturned in making your time here a splendid one. The spacious indoor and outdoor seating area decorated with potted plants, fairy lights, and much more adds the right amount of charm to the entire place.
Ruen Thai Restaurant opening hours: 11 A.M to 9 P.M
Address: 485 Pattaya Sai Song Rd, Muang Pattaya, Bang Lamung District, Chon Buri 20150, Thailand
Cuisine: Thai
Famous food: Thai Red Curry, Jasmine Rice, Prawns, Crab Fried Rice
Also Read: Best Water Parks in Pattaya: Slip Through the Giant Fun Slides
3. The Glass House Beachfront Restaurant and Bar: A Romantically Relaxed Affair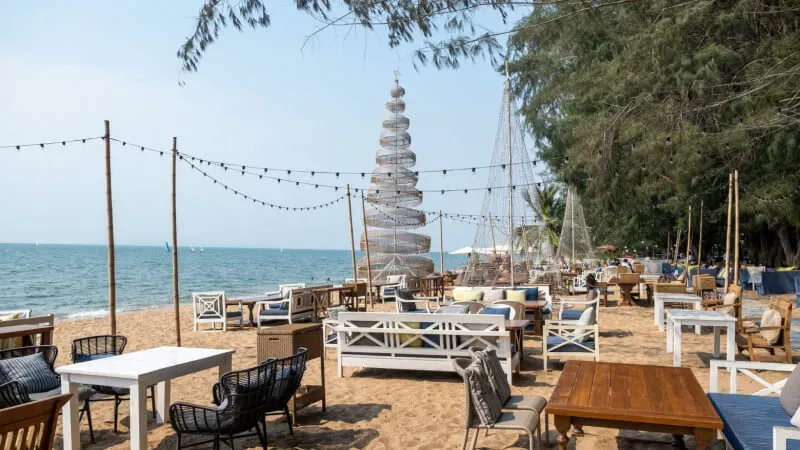 Indulge in the splendid beauty of this restaurant overlooking Jomtien Beach, where gorgeous sunsets are an everyday thing. Being a favorite of locals for special occasions and fancy events, this place has gained fame due to its glass building. The palm trees outlining the restaurant provide shade to those dining out on the patio and a beautiful view to those inside the glass house. As for the food, you can expect top-notch seafood at this place along with some other international cuisine. It's an excellent place for couples and honeymooners because of its romantic vibe. So, do add this amazing restaurant to your "places to visit in Pattaya" list.
The Glass House Restaurant opening hours: 11 A.M to 12 A.M
Address: 5/22 Moo 2 Soi Najomtien 10 Tambon Najomtien Sattahip District, Chon Buri 20250, Thailand
Cuisine: Thai
Famous food: Chinese Broccoli with Oyster Sauce, Tom Yum Soup, Hojicha Ice Cream
4. Radius Restaurant: All Shades of Italy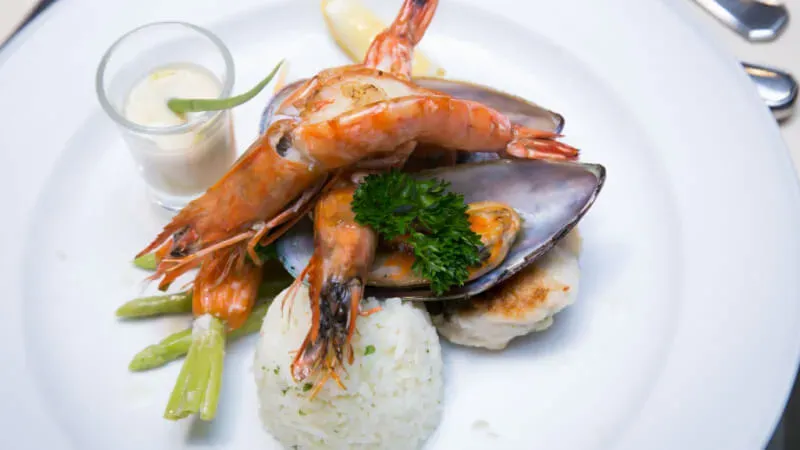 It's time to dine at the best Italian restaurant Pattaya that offers open air dining and a charming view of the Pattaya Bay. Located in the Cape Dara Resort, this all-day dining restaurant serves Asian and European cuisine in a romantic and cozy setting. The feeling of enjoying your meal with such great views ahead of you are the catalysts for turning a holiday into a memorable one. With wooden furnishing and a monochrome color scheme, this restaurant exudes chic and elegant vibes, and the view adds a touch of romance to the whole place, making it the ideal place for dining here with your partner.
Radius Restaurant opening hours: 6 A.M to 11 P.M
Address: 256, 189 Na Kluea 20 Alley, Pattaya City, Bang Lamung District, Chon Buri 20150, Thailand
Cuisine: Italian
Famous food: NZ Oyster, Australian Sirloin, Signature Pizza
Also Read: Nightlife in Pattaya: Experience One Blur of a Vacation in Thailand
5. Mum Aroi Seafood Restaurant: One of the Best Places for Seafood Pattaya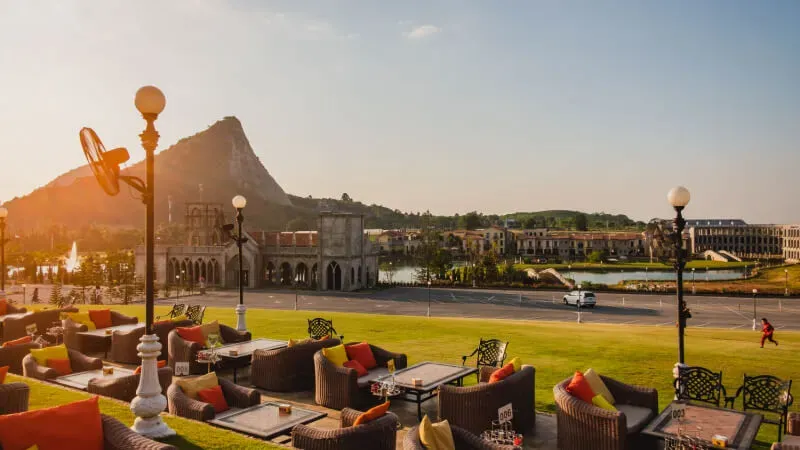 One of the things to do in Pattaya the next time you're there is to visit this restaurant famous for its Thai cuisine. With a cozy and comfortable setting accentuated by the seafront view, it makes this one of the most sought-after places for dining. You can choose between indoor and outdoor seating but rest assured that you'll have the same view from either seating areas. You can listen to the waves of the ocean as you dine here and since this restaurant is close to a fishing community, therefore, you can expect the best seafood here. It's also one of the biggest seafood restaurant Pattaya with over 100 seats and you can enjoy live music evenings here at times to completely lose yourself in the beauty of this city.
Mum Aroi Restaurant opening hours: 10:30 A.M to 9:30 P.M
Address: 83/4 Moo 2 Na Kluea 4 Alley, Muang Pattaya, Bang Lamung District, Chon Buri 20150, Thailand
Cuisine: Seafood
Famous food: Oysters, Shrimp, Fish Fritters, Crab Curry, Grilled Sea Bass
Also Read: Best Beaches in Pattaya: Unwind and Soak up the Sun in Thai Paradise
6. Rain Forest Café Pattaya: Love at First Bite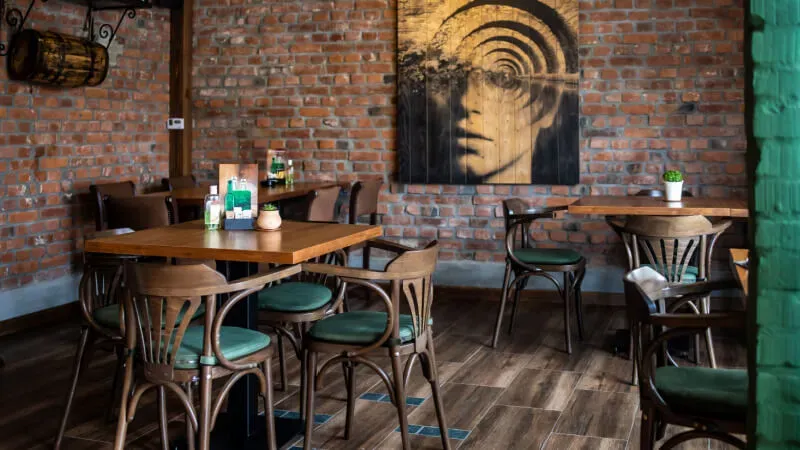 There's nothing more laid-back and casual than a café, and this café in Pattaya is an absolute gem. The symphony of rustic and modern ambiance is the perfect way to describe this place and the cozy seating is the cherry on top. The wall hangings, potted plants, koi pond, and framed photographs add a touch of familiarity and a homely vibe to the entire place. So, all these factors act as a catalyst for an easy flow of conversations, making it one of the famous restaurants in Pattaya to hang out at. Do visit this place at night when the lighting here adds a magical charm to it and the soft Thai music completes the experience.
Rain Forest Café opening hours: 11 A.M to 11 P.M, closed on Tuesday
Address: 383 Sukhumvit Road, Muang Pattaya, Bang Lamung District, Chon Buri 20150, Thailand
Cuisine: Café
Famous food: Phat Ka Pao, Bamboo Shoot Salad, Salami Pizza, Spaghetti with Salmon
Suggested Read: Best Restaurants in Phuket: Where All Food Lovers Unite
7. Indian by Nature: An Innovative Touch to Traditional Cuisine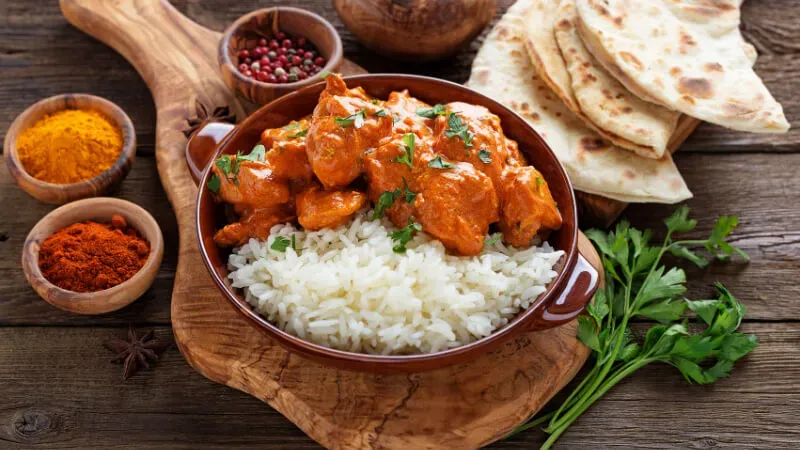 Being the best Indian restaurant Pattaya, you can expect the most authentic dishes served here that are an ode to the flavors of Indian cuisine. A spacious dining area beautified by wooden furnishings and white color scheme make the entire restaurant appear regal. However, there's a homely touch to it, which is why it's among the popular family restaurants in Thailand. So, if you're feeling homesick or if you simply wish to try Indian food in Thailand, then this is the perfect place for you to stop by. The highlight of this restaurant is that it adds a touch of innovation to every dish, so you'll find classic dishes here but with a modern twist.
Indian by Nature opening hours: 5:30 P.M to 11 P.M
Address: 306, Towards Jomtein, Chateau Dale Complex, 64-68 Thappraya Rd, Pattaya City, Amphoe Bang Lamung, Chon Buri 20150, Thailand
Cuisine: Indian
Famous food: Pizza Naan, Veggie Thali, Butter Chicken, Chicken Madras
Suggested Read: Restaurants in Bangkok: Lose Yourself in Bangkok's Symphony with Food
8. Horizon Rooftop Restaurant and Bar: The Perfect Place for a Night Out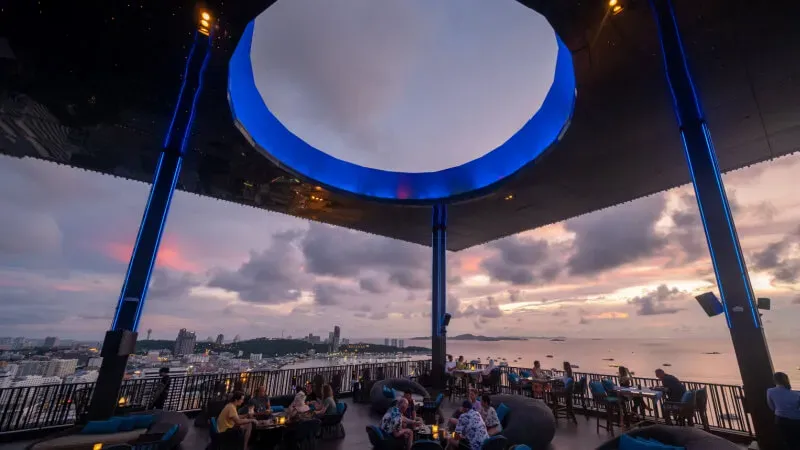 You can't go wrong with this stunning restaurant in Pattaya, which comes alive during the after-dark hours. It's undoubtedly one of the top places to visit in Thailand because of its popularity among tourists. It captures the true essence of Pattaya's nightlife and offers some of the most breathtaking views of the city's skyline. Choose the outdoor seating area on the terrace to enjoy the panoramic views from the 34th floor as you relish the refreshing cocktails and delicious food. The neon lights and comfortable seating arrangement lets you get into a relaxed state of mind, where you can completely revel in the trippy vibes of this place. This hideaway in the Hilton Pattaya Hotel is a must visit for everyone.
Horizon Rooftop Restaurant opening hours: 4 P.M to 1 A.M
Address: Thailand, Chon Buri, Bang Lamung District, 101, Floor 34
Cuisine: International
Famous food: Sourdough Bread, Chicken Wings, Grilled Salmon, Deep Fried Squid
Suggested Read: Best Restaurants in Bali: Start Your Food-Oriented Journey from this Island
Your food guide for the best restaurants in Pattaya is now complete and you can entirely trust these places to offer you the most amazing time in the city. It'll be an unforgettable dining experience regardless of which restaurant you choose, and this list was only the tip of the iceberg because there are several more restaurants waiting for you to explore them. So, do visit these must-visit dining places for a taste of your choice of cuisine and enrich your holiday experience even more. Our Thailand tour packages are the perfect way to indulge in these simple pleasures of life.
Restaurants in Pattaya FAQs
Q1. What are the best restaurants in Pattaya?
Among the many top restaurants in Pattaya, some of the most famous ones are The Royal Grill Room, The Glass House, Rain Forest Café, and many more. These restaurants are a must-visit for tourists.
Q2. Which restaurants in Pattaya are ideal for couples?
Couples or honeymooners can dine at The Glass House or Horizon Rooftop Restaurant and Bar for a romantic time. The gorgeous views and inside out are perfect for spending quality time with your partner.
Q3. Are there Indian restaurants in Pattaya?
Yes, there are several Indian restaurants in Pattaya; however, Indian by Nature is one of the best places for you to try Indian cuisine. It adds a modern touch to classic dishes, enhancing their taste to a whole other level.
Q4. What are the famous Thai dishes to try at restaurants in Pattaya?
If you wish to try authentic Thai dishes at Pattaya restaurants, then Pad Thai, Jasmine Rice, Thai Red Curry, Mango Sticky Rice, etc. are some of the must-try dishes. You'll come across numerous Thai restaurants in the city serving these.
Q5. What are the best family restaurants in Pattaya?
Pattaya is home to a lot of family restaurants, including The Royal Grill Room, Mum Aroi Seafood Restaurant, Indian by Nature, and many more. These dining places are best enjoyed with a large group of people.
Q6. What are the timings of Ruen Thai Restaurant in Pattaya?
You can visit Ruen Thai Restaurant from 11 A.M to 9 P.M. It's a restaurant serving authentic Thai cuisine to the visitors.
Q7. Which restaurants in Pattaya overlook the beach?
Dining at a restaurant near the beach is a beautiful feeling, so visit the Glass House Restaurant and Royal Grill Room offering mesmerizing views of the sea.
Q8. Which restaurants in Pattaya are perfect for enjoying the city's nightlife?
Horizon Restaurant and Bar is the best place for enjoying Pattaya's nightlife. It's located on 34th floor of the Hilton Pattaya Hotel with a gorgeous city skyline in your sight.
---