Pattaya is the land of beaches, as we all know, but there's more to it than meets the eye. There are a lot of enthralling places to visit in Pattaya that would make your jaw drop. Apart from its beaches, you'll get to acquaint yourself with several other tourist spots that are full of life. The moment you step into the city, there'd be a spring in your step and a zest in your soul to discover attractive locations and to indulge in once in a lifetime experiences. So, what are we waiting for? Let's divulge the most amazing places in this sensational city in Thailand.
Top 10 Places to Visit in Pattaya: Welcome to this Beguiling City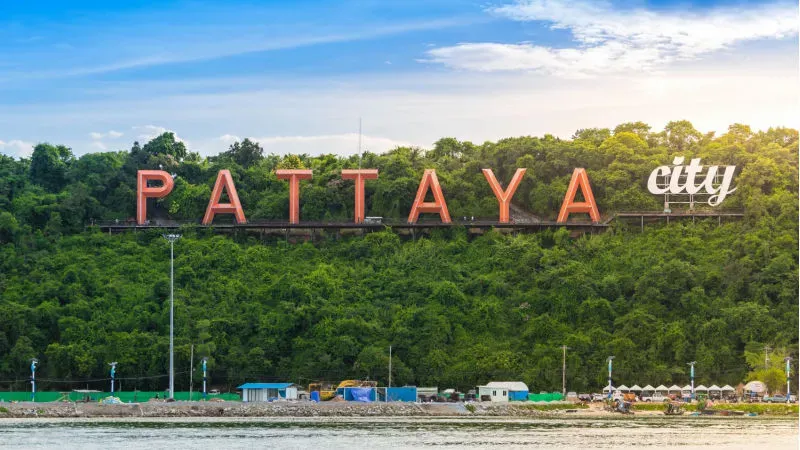 When it comes to Thailand, Pattaya is a city that always comes to mind because of the brand name it has created for itself as a major tourist destination. Your vacation to Thailand is incomplete without going to this power-packed city, which is family friendly, and welcomes solo travelers, couples, and friends alike. So regardless of with whom you're visiting these Pattaya tourist places, it's vital to explore this city and make the most of this opportunity.
Art in Paradise
Underwater World
Nooch Botanical Gardens
Sanctuary of Truth
Jomtien Beach
Jomtien Night Market
Wat Yanasangwararam
Koh Samet Island
Khao Kheow Open Zoo
Pattaya Beach
1. Art in Paradise Museum: Be a Part of this 3D Lifelike Art Gallery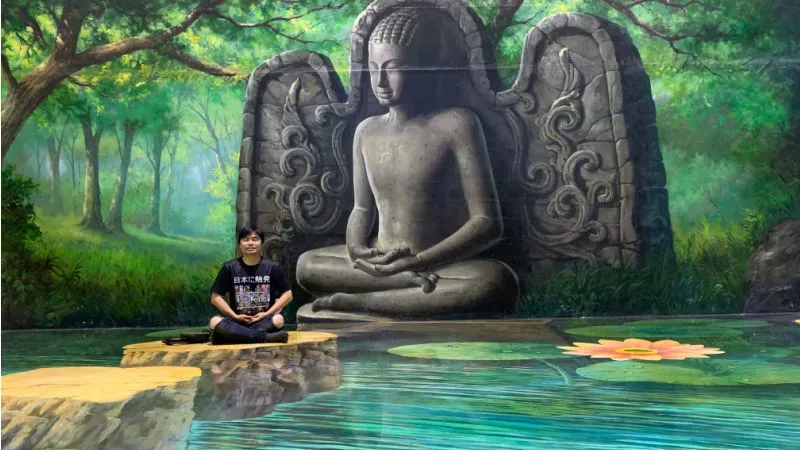 Not a lot of us plan on counting an art gallery as one of the places to visit in Pattaya when on vacation, but this art gallery is based on a unique concept where lifelike artwork is displayed. You'd come across mind-blowing works, which would look real because of their 3D-effect. It's truly a surreal feeling to visit this place and you can even click pictures making yourself a part of that art. There are 10 themed zones in which this gallery is divided with 100+ paintings for you to check out. Unlike normal art galleries, this one would excite you beyond all means.
Best time to visit: 9 A.M to 9 P.M
Things to do: Click pictures by being a part of the painting itself, feel amazed at the talented artworks, and let the child in you come forth
Nearby restaurants: Fat Belly Pattaya, The Coffee Club, The Big Fish
Nearby hotels: Golden Tulip, Grande Centre Point, Mercure Pattaya Ocean Resort
2. Underwater World: Witness Marine Life Like Never Before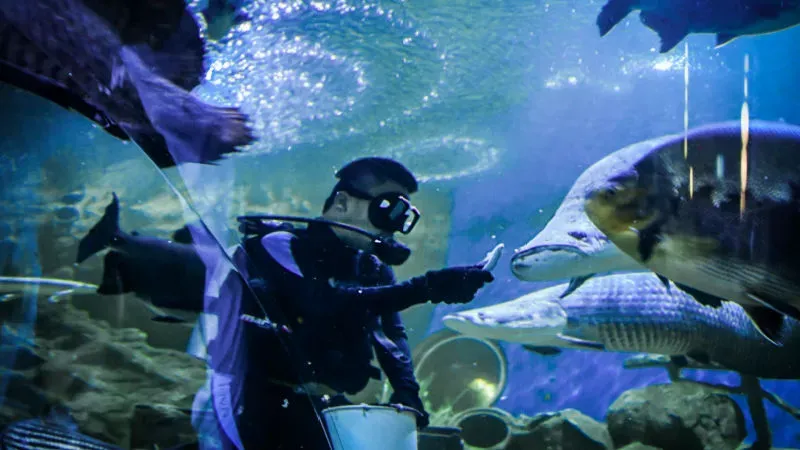 Let's talk about one of the best things to see in Pattaya, which is the Underwater World with a vast array of marine life. You can walk in an underwater tunnel with aquatic animals surrounding you behind a glass wall. You can view all kinds of species here, and diving with sharks and sting rays is the highlight of this place. You can have the full view of these aquatic animals from big to small, such as starfish, sharks, turtles, lobsters, and so on. It'd be a worthwhile activity to indulge in. There's also a live feeding show that you should check out to interact with these animals.
Best time to visit: 9 A.M to 6 P.M
Things to do: Admire the vast variety of marine life, dive in with sharks and stingrays, feed the turtles, and click pictures (without flash)
Nearby restaurants: The Beachfront Restaurant, Made in Italy, Livv Finest Food and Drinks
Nearby hotels: Tevan Jomtien, Avila Resort, Gulf Siam Hotel and Resort
3. Nong Nooch Botanical Gardens: Surround Yourself with Gorgeous Flora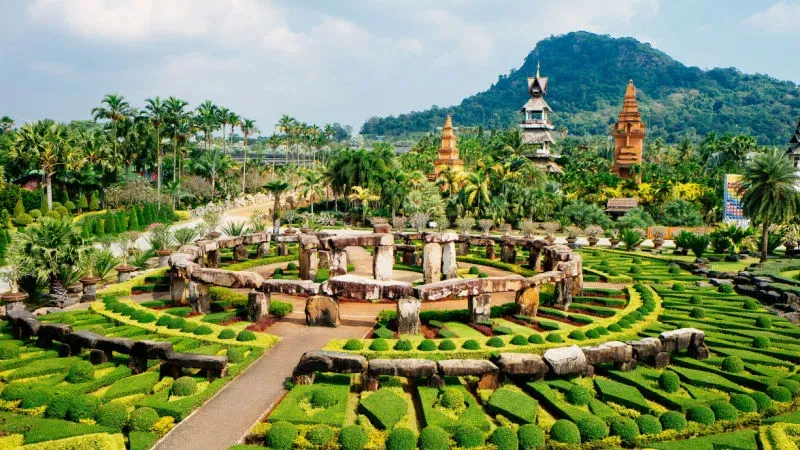 Nong Nooch is a village with well-maintained manicured gardens with a wide variety of plants, including orchids, bonsais, cacti, palms, ferns, colored pineapples, and a lot more. Apart from this, there's a Stonehenge Garden, which is inspired from the prehistoric and medieval era, an elephant show, a Thai boxing match and theatre performances as well depicting the Thai culture. You can even rent a cycle to explore the entire place. The vibrant themed gardens are just the start, there's a lot more in this small village that you cannot miss out on. That's why it's one of the best places to visit in Pattaya.
Best time to visit: 8 A.M to 6 P.M
Things to do: Marvel at the colorful flora surrounding you, click insta-worthy pictures, explore the nearby attractions, like the elephant show, boxing match, etc.
Nearby restaurants: Alexa Beach Club, 609 Kitchen, Pebbles Bar and Grill
Nearby hotels: U Pattaya, Mason, Sand Dollar Boutique Hotel
Suggested Read: Nightlife in Ankara, Turkey: A Peek into the Magnificence of the Starry City
4. Sanctuary of Truth: Get a Reality Check at this Iconic Monument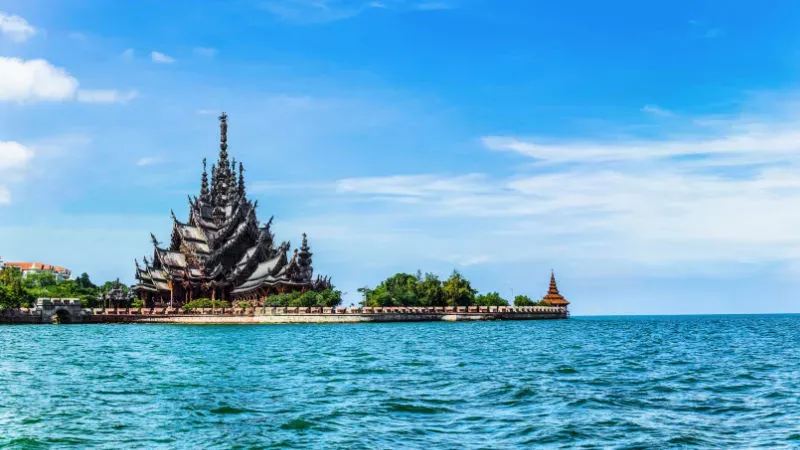 The Sanctuary of Truth is a significant monument, which is a major Pattaya tourist attraction. It's an unfinished temple, which preaches the significance of religion, art and philosophy. It also emphasizes the consequences of neglecting morality. It's a reminder of why it's important to be good as a person. Apart from this, the intricate carvings and detailed designs make it an exemplary example of architecture. This temple is made entirely of teak and is the abode of Hindu and Buddhist Gods. It'll resemble a palace from outside, but it's actually a temple. As soon as you step into this temple, you'll be greeted with a peaceful and serene environment.
Best time to visit: 8 A.M to 5 P.M
Things to do: Learn about the philosophy behind the temple and admire the wood carvings and intricate designs
Nearby restaurants: Wine Cellar, Cafe Summer, Longhorn Steakhouse & Grill
Nearby hotels: Golden Tulip Pattaya Beach Resort, Pattaya Modus Beachfront Resort, Garden Cliff Resort and Spa
5. Jomtien Beach: Where Relaxation and Adventure Come Together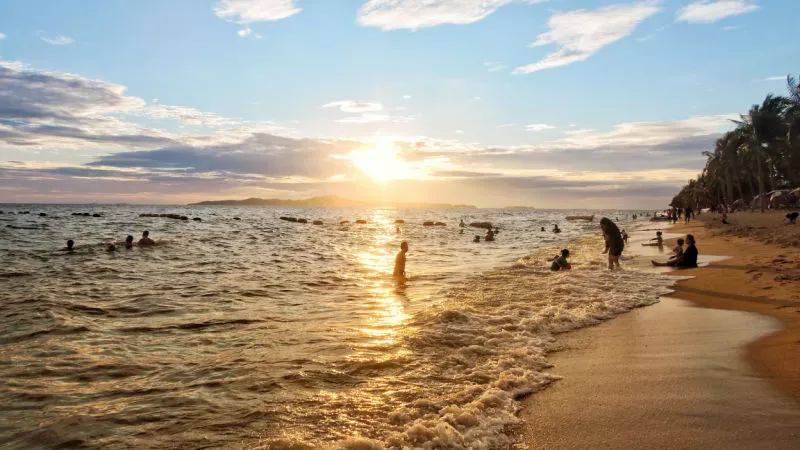 If you wish to visit paradise in this bustling city, then this is the place for you. With calm blue waters, sandy stretches, and pine trees, this beach is the perfect definition of beach vibes. You can lie on your beach blanket, soak in the sun, and feel the cool breeze on your face. If not this, then you can also indulge in watersports, such as jet skiing, parasailing, windsurfing, kitesurfing, and so on. There are several restaurants and shacks lining the beach where you can munch on exquisite Thai cuisine and refreshing drinks. This is what describes a perfect day at the beach.
Best time to visit: All year round
Things to do: Relax on the beach, enjoy the watersport activities, and eat delicious Thai food
Adventure activities: Jet skiing, parasailing, windsurfing, kitesurfing, swimming
Nearby restaurants: Alexa Beach Club, Moonlight Fine Dining, MAYs Pattaya
Nearby hotels: U Jomtien, Veranda Resort Pattaya Na Jomtien, Pinnacle Grand Jomtien Resort
Suggested Read: Top Beaches in Azerbaijan: For a Soothing Sunkissed Experience
6. Jomtien Night Market: Feel the Excitement in the Air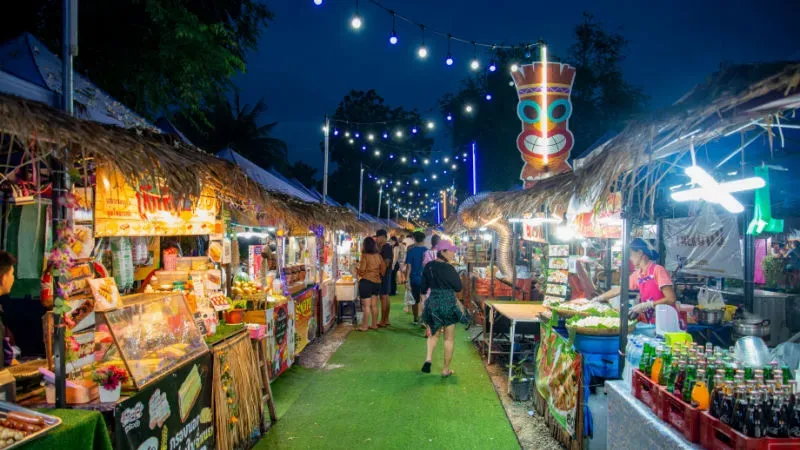 This night market would give you a glimpse of what the nightlife of Pattaya is like. You can buy several items from here, such as trinkets, local handicrafts, hats, beachwear, souvenirs, and much more. However, along with shopping, you can also enjoy the loud music and drinks because that's a real crowd puller. Shopping has never been this exciting. It'd truly feel like retail therapy once you visit this market. Vibrant lights and happy people make for the best combination here, that's why add this to your Pattaya places to visit itinerary.
Best time to visit: 5 P.M to 11 P.M
Things to do: Shop as much as you want, listen to loud music, and enjoy refreshing drinks
What to buy: Handicrafts, beachwear, souvenirs, accessories
Nearby restaurants: Oregano, Wombat and Kiwi Bar, Longhorn Steakhouse and Grill
Nearby hotels: Jomtien Palm Beach Hotel and Resort, Grand Jomtien Palace Hotel, Costa Village Pattaya
7. Wat Yanasangwararam: Marvel at the Thai Culture and Architecture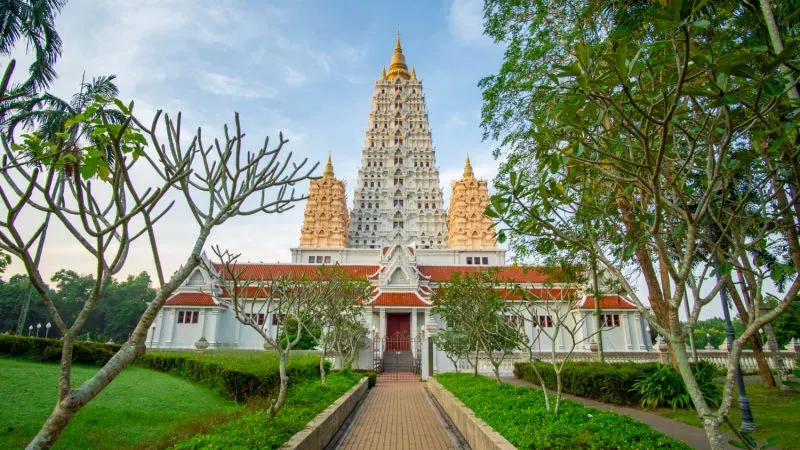 This temple is beauty personified. If you want to learn about Thai culture, then Wat Yanasangwararam should be at the top of your "Pattaya sightseeing places" list. With magnificent architecture incorporating various styles, this temple is one of the largest Buddhist temples in Thailand. It consists of gardens, lakes, and many more attractions, and there are 299 stairs to reach the top. You can even see the replica of Buddha's footprints in the modop, which is a sight to behold. Built in 1976, in honor of the then Supreme Patriarch, this temple still stands strong and is a major tourist attraction.
Best time to visit: 9 A.M to 6 P.M
Things to do: Marvel at the magnificent structure and its architecture and explore the attractions inside the temple
Nearby restaurants: Da Marco, Praneat Seafood, Preecha Seafood Restaurant
Nearby hotels: Ambassador City Jomtien, Sea Two Pool Villa, Savotel
Suggested Read: Places to Travel in Mauritius: Where Thrill and Leisure Come Together
8. Koh Samet Island: Spark Romance at this Beauty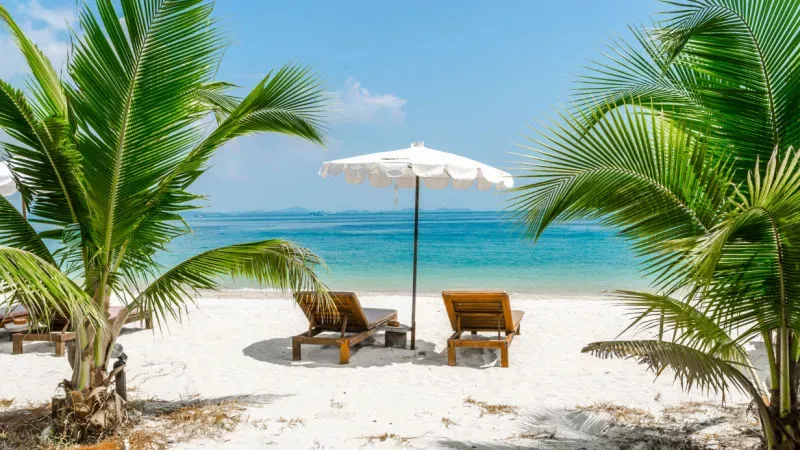 Koh Samet is one of the most romantic places to visit in Pattaya because of its azure waters, sandy shores, and rich greenery. You can walk along the shore and dip your toes in the water and view a gorgeous sunset. As night falls, you can visit the beach bars and enjoy the nightlife with party music and dancing all night. It's the perfect getaway for couples and even those traveling with families because this location guarantees everyone a good time. You can also participate in adventure activities in Pattaya, such as diving, swimming, snorkeling, and so on for a thrilling day out.
Best time to visit: November to February
Things to do: Unwind on the beach, party all night, and indulge in watersports
Adventure activities: Swimming, diving, snorkeling
Nightlife: Party till dawn, dance to the musical beats, eat delicious food
Nearby restaurants: Banana Bar, Noina's Mystic Mountain, Jump at Sea
Nearby hotels: Sai Kaew Beach Resort, Samed Villa Resort, Le Vimarn Cottages and Spa
9. Khao Kheow Open Zoo: Spend Time Amongst Wild Animals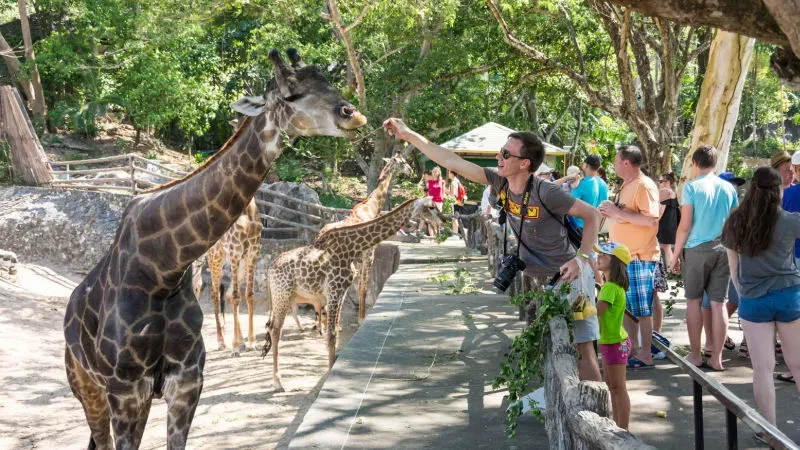 Zoos have always been a fascinating part of every vacation because of the unique experience they offer you. Every zoo has something new for the tourists to explore, and similarly the Khao Kheow Open Zoo allows you to be around animals and interact with them. You can feed them and watch them in their natural habitat. The best part is that this zoo focuses on creating a natural environment for every species based on their needs. You'll come across snakes, rhinos, tigers, hippos, giraffes, hyena, and many more such exquisite species. You can either walk around, drive your own car or hire an electric car to tour the entire place. It's one of the worthwhile places to see in Pattaya on your vacation.
Best time to visit: 9 A.M to 6 P.M
Things to do: Enjoy the company of the animals, interact with them, and click pictures
Nearby restaurants: Mum Aroi, California Steak Restaurant, Swensens
Nearby hotels: Balcony Seaside Sriracha Hotel, Citadines Grand Central Sriracha, Oakwood Hotel and Residence
Suggested Read: Things to do in Pattaya: Prepare for an Entertaining Vacation
10. Pattaya Beach: Visit the Ultimate Beach in Pattaya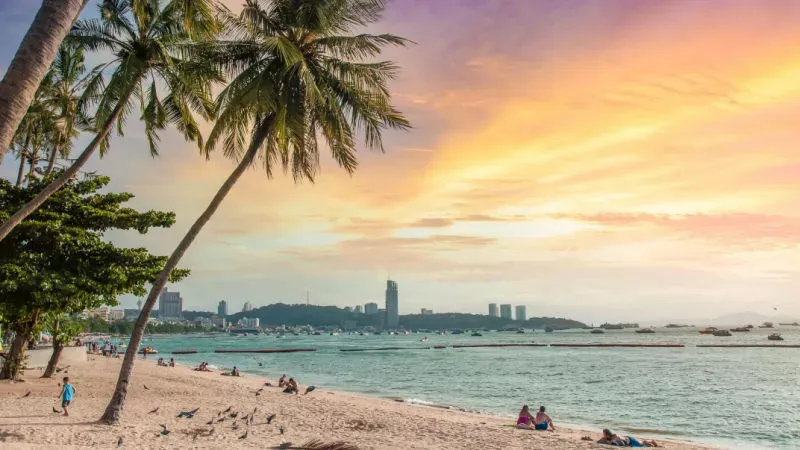 If you're looking for an excellent time, then head to Pattaya Beach, which comes under the amazing things to do in Thailand list. This sunny beach is perfect for getting tanned, reading a book, swimming in the sea and walking along the shore. There are even water activities to entertain you, like snorkeling. The local shops and cafes dotting the shore are perfect for having something to eat while you relax or to shop a little while enjoying the beachy vibes. Regardless of where you go in Thailand, this is one of the places to visit in Pattaya that you can't miss out on.
Best time to visit: November to February
Things to do: Enjoy some pleasant downtime at the beach, shop in the market, enjoy Thai cuisine, and dive into the water for some watersports
Adventure activities: Swimming and snorkeling
Nightlife: Groovy music, dancing, vibrant beach bars, and scrumptious drinks and food
Nearby restaurants: The King's Table, Fat Belly, Robin Hood Tavern
Nearby hotels: Golden Tulip Pattaya Beach Resort, Holiday Inn Express Pattaya Central, Amethyst Hotel
Unlike our list, the places to visit in Pattaya are never-ending. You can expect a fun filled, thrilling vacation here, which would be full of sunny vibes, picturesque views, tranquil locations, and adventures. After all, you can't expect a holiday without all these elements. Visiting Pattaya would relieve you of all the stress and let you escape into a dreamy land. So, if you're ready to plan a trip to this action-packed city, then book our Thailand tour packages and leave all your problems behind.
Pattaya FAQs
Q1. What is famous in Pattaya?
Pattaya is famous for its beach life, but there's a lot more in this city to explore. The cultural beauty, traditions, adventurous activities, and hidden gems like the Nong Nooch Botanical Gardens are famous tourist attractions.
Q2. Where to hang out in Pattaya?
There are a lot of places in Pattaya where you can hang out with your friends and family. For instance, you can visit Walking Street, Pattaya Beach, Jomtien Night Market, etc.
Q3. What is Pattaya nightlife famous for?
Pattaya's nightlife is famous for its crazy and wild nightlife with loud music, and bright surroundings. The beach bars and clubs offer scrumptious Thai delicacies and refreshing drinks; it's when the entire city becomes lively and vibrant.
Q4. Is Pattaya good for couples?
Yes, Pattaya's an excellent destination for couples because of the various locations in it, which are heavenly for couples. The pristine beaches, gardens, temples, and the nightlife of this city is perfect for a cozy time.
Q5. What are the best places in Pattaya?
Pattaya is full of impressive places for you to visit, including
Jomtien beach
Koh Samet Island
Wat Yanasangwararam
Art in Paradise Museum
Q6. Which are the best places in Pattaya to visit with your family?
Pattaya is a family friendly city and there are several locations for you and your family to visit. You can visit the Underwater World, the Sanctuary of Truth, Art in Paradise, Pattaya Beach, etc.
Q7. What are the popular beaches in Pattaya?
Beaches are the highlight of your vacation in Pattaya. The beaches here, such as Pattaya Beach, Koh Samet Island, Jomtien Beach, and so on, are excellent locations.
Q8. What are some exciting activities to do in Pattaya?
Pattaya's all about adventure and thrill. So, you can indulge in several thrilling activities, such as snorkeling, parasailing, kayaking, jet skiing, and a lot more.
---