Mauritius is the complete package if you're planning on a getaway to relax and unwind in the cool breeze of the sea or maybe an adventurous vacation with activities ranging from surfing to skydiving. Mauritius welcomes honeymooners, adventurers, introverts, and every other person in the spectrum as it includes something for each one of them. There's no place better to visit than Mauritius because a good time is guaranteed here. It's a highly rated destination and you'll only agree once you visit. So, consider these 10 best places to visit in Mauritius as your holy grail when going to this charming and mesmerizing holiday destination to blow off some steam.
Best Places to Visit in Mauritius: Breathtaking Locations to Leave You Mesmerized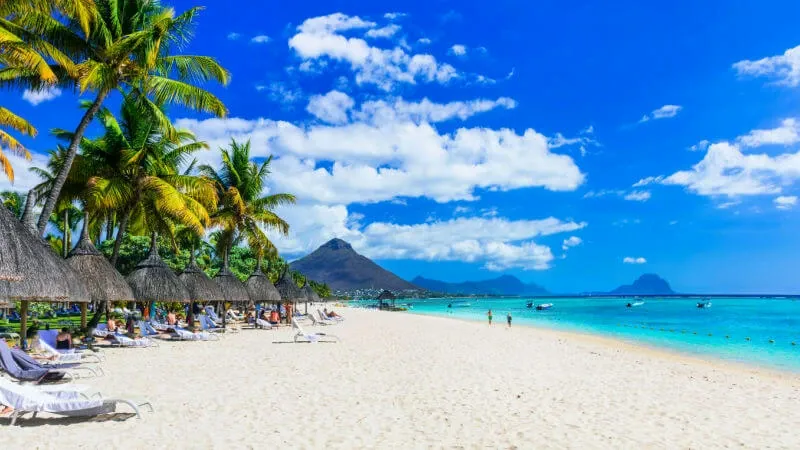 There are so many attractions in Mauritius that it's hard to keep track of which one's are worth visiting. You can't afford to miss out on any of them because the FOMO would be worse. So, to ensure that you have the perfect vacation, here's a list mentioned below of some of the tourist destinations that you'd regret not visiting; after all, it's not every day that one visits the land of beaches and mountains, and everything in between.
Ile Aux Cerfs Island
Grand Bassin
Port Louis
Underwater Waterfall
Casela World of Adventures
Citadel Fort
Grand Baie
Chamarel Waterfall and Seven Colored Earth
Mauritius Botanical Garden
Blue Penny Museum
1. Ile Aux Cerfs Island: Island with the Perfect Combination of Sun and Sand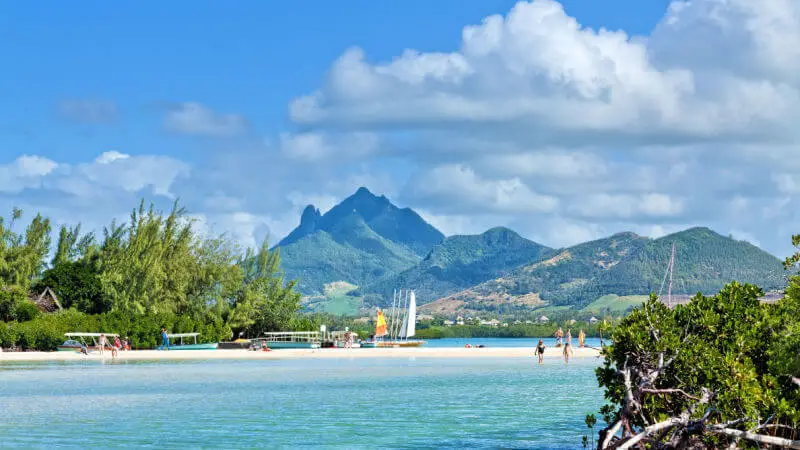 Ile Aux Cerfs is popular for its white sandy beaches, adventurous water sports, and greenery adding a beautiful touch of color everywhere. The white of the sand mixing with the blue of the sea would leave you in awe of nature's miracles. You can relax on the beach under the sun or go snorkeling, scuba diving, sit in glass bottom boats, and much more. This place is also referred to as the Deer Island, but don't expect to find deer lurking around here anymore. There are also restaurants serving delicious food and an 18-hole championship golf course, so you can be assured that you'd undoubtedly find something here that excites you.
How to reach: You can take a taxi boat from Trou D'Eau Douce
Things to do: Snorkeling, water skiing, swimming, and other water sports
Best time to visit: May to August
2. Grand Bassin: Where Religion Meets Beauty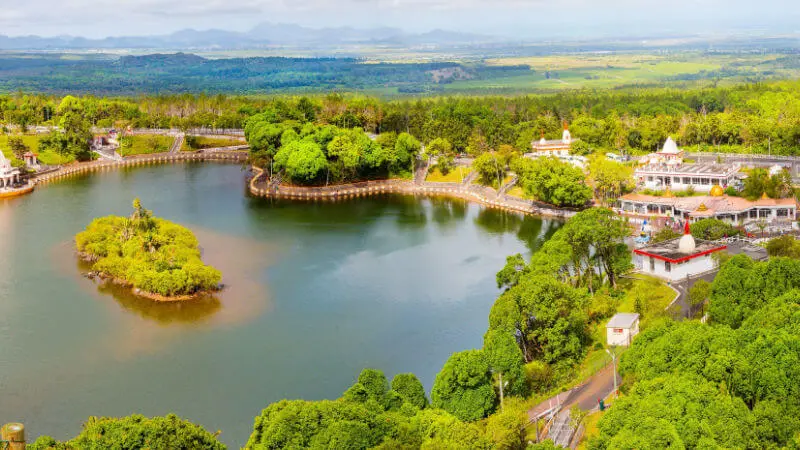 Those who are into exploring religious places would find this location one of a kind because of its ethereal quality to mesmerize people. Located in the heart of Mauritius, near Port Louis, this temple is dedicated to Lord Shiva and has been a major tourist attraction amongst the Hindus. You'll also find temples of Hanuman and Laxmi here to seek their blessings and to soak in the tranquil vibes of this place. The temple of Lord Shiva is situated 1800 ft above sea level and is surrounded by a gorgeous lake, which adds to its beauty, making it top the list of places to visit in Mauritius.
How to reach: You can either take a cab or drive on your own from the airport to reach here
Things to do: Soak in the positive aura and the serenity and attend prayers that are done twice a day
Best time to visit: All year round
3. Port Louis Waterfront: Shopaholics Gather!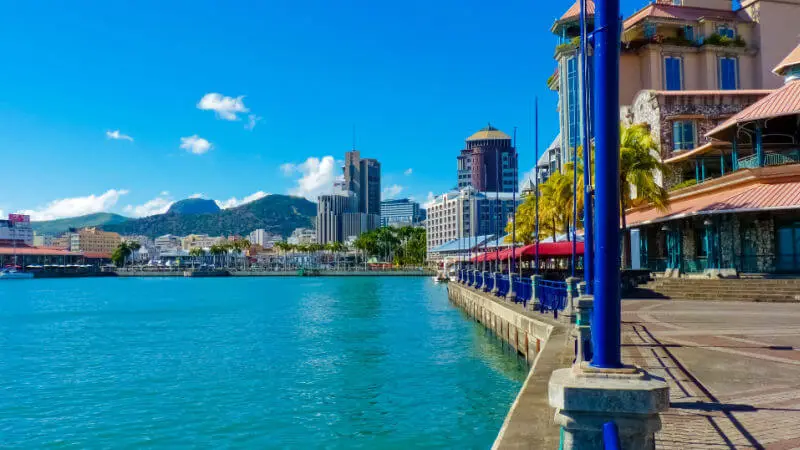 This is one of the Mauritius tourist attractions that is perfect for a day out if you want to shop and buy from local artists, eat in local eateries, and so on. For our night owls, this location offers casinos to keep them entertained. You can do all this while appreciating the calm waters that add to this place's excellent ambiance. You cannot think of going to Mauritius and resist shopping, right? So, indulge in some fun time while exploring the shops and malls in Mauritius and local eateries for a full experience of this place.
How to reach: You can take a bus to the Victoria Bus Terminal and then take a cab to the waterfront
Things to do: Shop in stores, buy from local artists, try out local food, and play in casinos
Best time to visit: May to December
4. Underwater Waterfall: An Illusion of the Eyes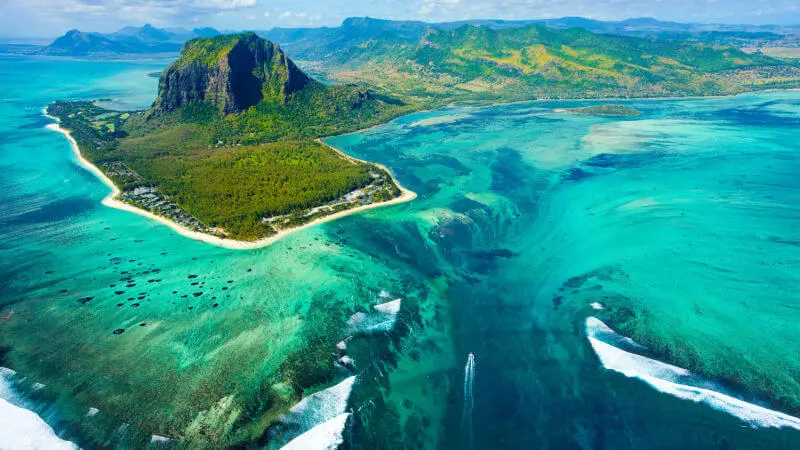 When it comes to this marvel of nature, nothing can stand against it. You might have seen regular waterfalls, but what you won't expect here is that the waterfall is flowing under the sea. It's located in Riviere Noire and one can truly appreciate its beauty from a helicopter or plane. There's nothing more intriguing than when things defy the laws of nature, and this is one of the places that would leave you spellbound. The sand and water create an illusion that makes it appear like a waterfall, which is why your Mauritius sightseeing itinerary should include this.
How to reach: You can book a helicopter, plane or boat ride for a 360-degree view
Things to do: View nature's miracle in the best way possible
Best time to visit: All year round
5. Casela World of Adventures: Add an Adventurous Page to Your Vacation
If you aren't afraid of a little adventure in the forest, then the Casela World of Adventures is for you. From safari and elephant rides to watching tigers and other animals, this would be the perfect way to spend a day in Mauritius. You can even feed and play with tiger cubs, drive an ATV, and make unforgettable memories for when you return home. Apart from this, you can enjoy the gorgeous scenery that makes for an excellent sight. There are a lot of activities that you can indulge in when adding this adventure land to the places to visit in Mauritius list.
How to Reach: Take a bus or a cab from Sir Seewoosagur International Airport
Things to do: Wildlife safari, watch animals in their natural habitat, play with tiger cubs, and drive an ATV
Best time to visit: All year round
6. Citadel Fort: Get Ready to be in Awe of this Historical Monument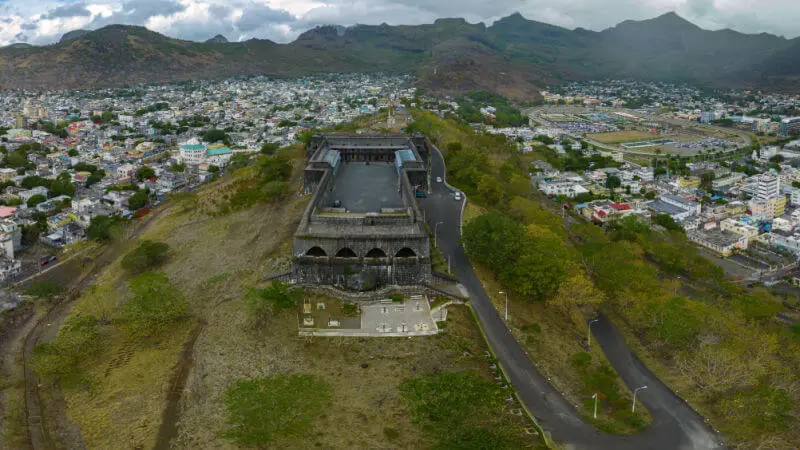 It's a rite of passage to visit historical locations when visiting any new destination, and Mauritius boasts of this magnificent beauty, which is an age-old structure in the hills, surrounded by greenery, valleys, and alluring backdrops. Its architecture is what makes it unique with distinct wall carvings. This fort gives the best view of the town and the markets but book an entire day for exploring this place, and it'll be worth it. It even has an intriguing history that makes it one of the best Mauritius tourist places.
How to reach – You can take a car and drive uphill via Suffren St. Allow or take a bus from Port Louis' Taj Mahal bus stop
Things to do – Learn about the history of the fort and click insta-worthy pictures
Best time to visit: May to December
7. Grand Baie: It's Time to Swim in the Emerald Waters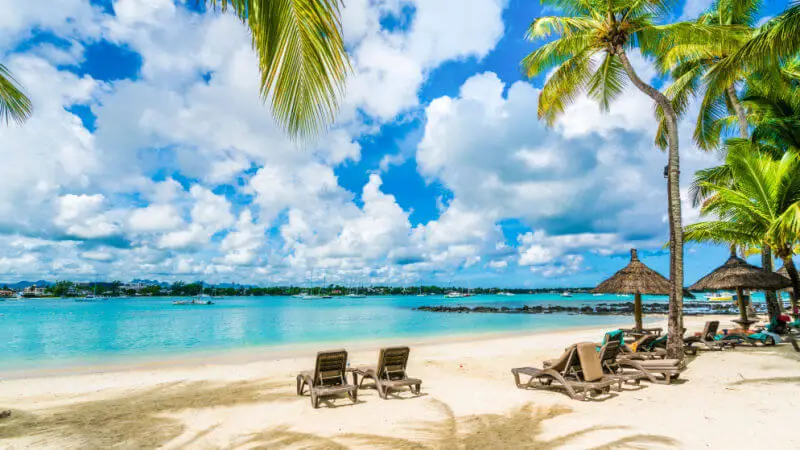 Grand Baie isn't just a beach, but an entire experience. You can lie under the sun, swim in the sea, go snorkeling or diving, and much more. This place is a real crowd puller, which you'd see once you visit it because no one can resist the charm of those emerald waters and the seaside village. You can shop, eat, and relax while enjoying the sound of the waves. You can even buy souvenirs from the market to remember Mauritius forever. Grand Baie is also popular for its nightlife because of the clubs and bars here. You can even experience a once in a lifetime opportunity by going for a submarine excursion or by riding an underwater scooter. All this is reason enough to count it in the places to visit in Mauritius.
How to reach: It's only 9 minutes away from the Port Louis hotels, so you can walk there
Things to do: Shopping, water sports, deep sea fishing, boat excursion, underwater sea walk, visit nightclubs and bars
Best time to visit: November to April
8. Chamarel Waterfall and Seven Colored Earth: Witness the Largest Waterfall and Multicolored Earth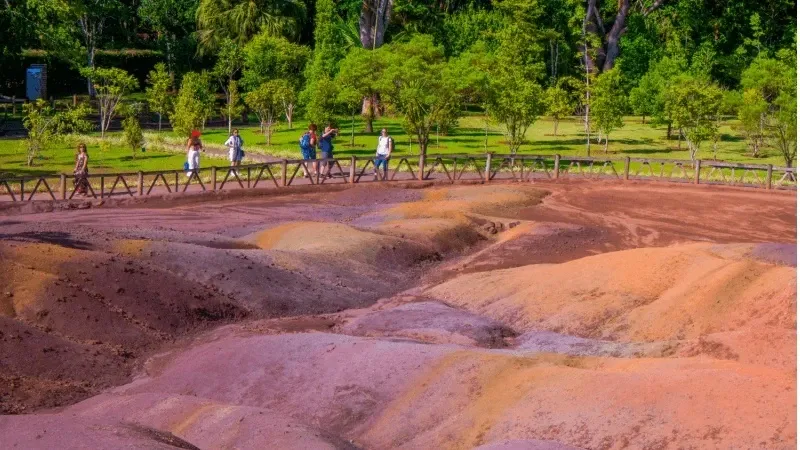 Chamarel is popular for being home to one of the largest waterfalls in Mauritius, and its beauty is accentuated by the rich vegetation surrounding it. This waterfall is at a height of 272 feet and falls into Black River Gorge, and it's a sight like no other. Apart from this scenic waterfall, you'll also come across the seven colored earth, which is a natural phenomenon. The color of the Earth would be in shades of red, brown, violet, purple, green, blue, and yellow. Another highlight is that you'd even find large tortoises roaming around this place; however, you'd have to view them from outside the fence. You'll see nature at its best here and this is one of the places to visit in October for an amazing experience.
How to reach: You can reach the Chamarel village via cab and from there you can reach the waterfall, which is a short distance
Things to do: Admire the beauty of the waterfall and the seven colored earth while enjoying the sight of giant tortoises
Best time to visit: October to February
9. Mauritius Botanical Garden: Most Visited Botanical Garden by the Tourists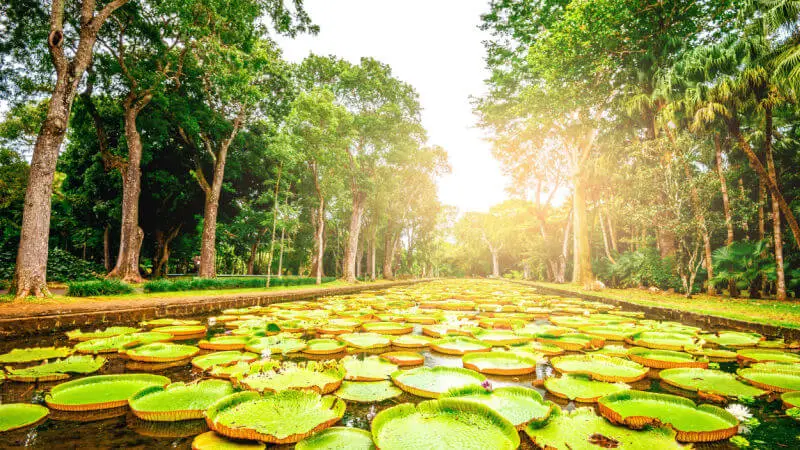 The Mauritius Botanical Garden, also known as Sir Seewoosagur or Pamplemousses Botanical Garden should definitely be on your Mauritius places to visit bucket list. It houses more than 650 unique species of plants and has French roots as it was established by a French Governor 300 years ago. The historical significance of this place is increased even more due to the presence of an old colonial castle "Chateau Mon Plaisir" and several international dignitaries, including Nelson Mandela, Indira Gandhi, etc. have planted trees here. You'll even find birds and other animals such as deer and turtles here.
How to reach: You can take a cab or a private car to reach here
Things to do: View rare plant species, such as the Talipot Palm and watch rare species of birds and animals, like the Java deers
Best time to visit: All year round
10. Blue Penny Museum: For All the History Buffs Out There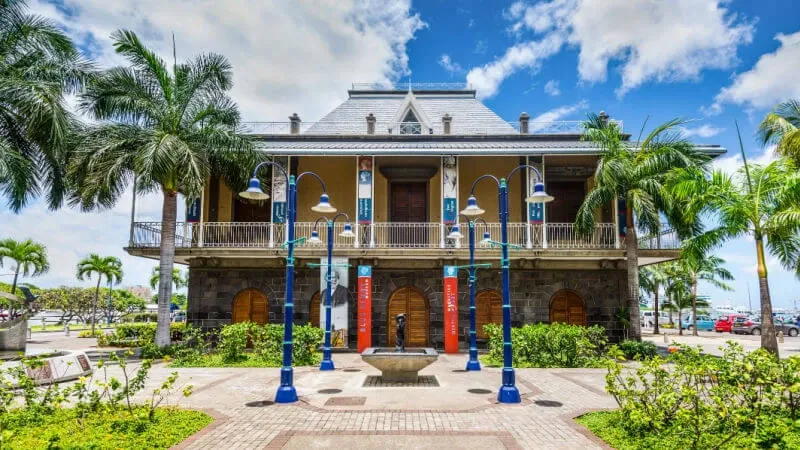 The Blue Penny Museum in Port Louis is where the past and the present come together as you'll get a glimpse of how Mauritius evolved to the place it is currently. This museum has been preserved for years by lighting it up only for 10 minutes at once. They also safeguard the historical stamps, like the two penny stamps from 1847 on the first floor. You can also learn about the Paul and Virginie legend, which is quite an exciting myth. There's a lot for you to explore and if you're looking for places to visit in Mauritius, then this one tops the list.
How to reach: A taxi is the best way to reach this museum in Port Louis
Things to do: Marvel at the history of Mauritius, learn about their national treasure, and listen to the legendary myths
Best time to visit: Visit during morning hours
There are more such exciting places to visit in Mauritius, but these are some of the best ones that would make your journey to this fun filled place an absolute success. There's nothing that this destination doesn't offer, from commercial activities like shopping to adventurous ones, such as safari and water sports, you can experience it all only in Mauritius. It's the perfect place to rejuvenate and unwind from your hectic schedule and enjoy the luxuries of doing nothing, so book your Mauritius tour packages right away.
FAQs
Q1. What is the most beautiful spot in Mauritius?
There are several beautiful spots in Mauritius, such as Grand Baie, Casela World of Adventures, Seven Colored Earth, and many more. All these places are breathtaking and are top tourist attractions.
Q2. Which month is best to visit Mauritius?
The best time to visit Mauritius is from April to June and September to December, so that you can experience a pleasant weather without extreme summer or winter.
Q3. How many days is enough for Mauritius?
7 to 10 days are enough to explore Mauritius without leaving out anything. You can visit all the famous destinations in this time and enjoy leisure activities as well like lying on the beach, reading a book, or sipping a glass of margarita.
Q4. What adventure activities can I enjoy in Mauritius?
There are several water sport activities, such as water skiing, snorkeling, underwater scooter. You can also enjoy elephant rides, go for safari, drive an ATV, play with tiger cubs, and much more.
Q5. What are the travel tips for Mauritius?
Here's what you must keep in mind while travelling to Mauritius:
Keep hats and sunglasses handy
Respect the history and culture of the place
Try out local eateries and shops
Don't forget to carry your passport everywhere
Wear sunscreen
Q6. Is Mauritius worth visiting?
Mauritius is ideal for a getaway either solo or with your loved ones because it's the perfect place to enjoy leisure and adventurous activities. It also boasts of its beauty through its various tourist attractions. You'll always be entertained when staying here because there are a lot of things to do in Mauritius if you plan on having fun.
Q7. What are the best shopping places in Mauritius?
If you're planning on shopping from local artists and brands, then Port Louis and Grand Baie are the best places to visit for this purpose because of the numerous shops that it houses, and you can even enjoy local food for a more enriched experience. You can buy souvenirs as well to remember this place by.
Q8. What is Grand Baie famous for?
Grand Baie is one of the most popular beaches in Mauritius and you'll always find this place packed with tourists because of its charming and serene vibe. There are shops and local eateries in the seaside village as well to explore and the nightclubs and bars are ideal for those looking for a fun night.
Q9. What is the nightlife of Mauritius like?
Mauritius' nightlife is lively and fun with casinos, nightclubs, and bars open for everyone to indulge in some delightful time, solo or with friends and loved ones.
---