Bangkok is a charming city in Thailand, one that is considered an ideal destination for couples and honeymooners. The romantic attractions and activities here, such as exploring the shopping streets, relaxing at the beaches, delving into the vibrant nightlife, and much more make your trip a memorable one. So, if you're also someone who's planning a honeymoon in Bangkok, then you must follow this guide to start your marriage in the best way possible. You're in for a holiday, which will be full of love and entertainment, so let's get right to it.
Honeymoon in Bangkok: Explore this City Hand in Hand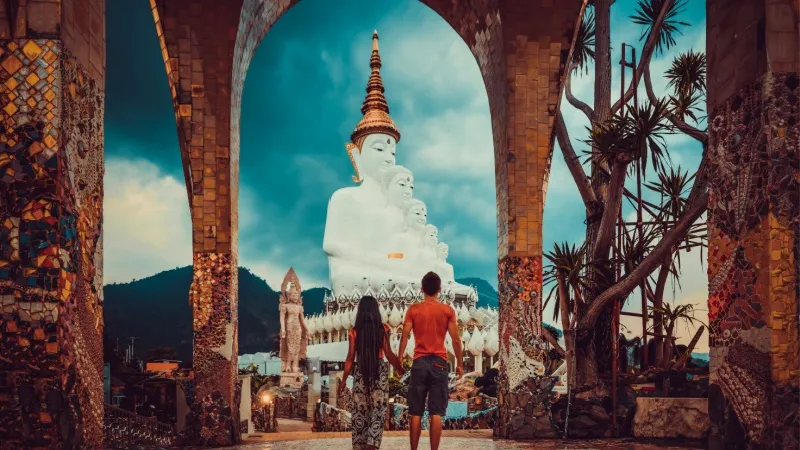 When it comes to vacationing in Bangkok, you can expect to see several other couples and honeymooners exploring this city. After all, Bangkok and romance goes hand in hand. From the serene beaches and mesmerizing viewpoints to the fun activities and cruises, love is in the air. So, planning a honeymoon in Bangkok, Thailand would be the best choice you make. Let's look at all the places you can explore and the activities you can indulge in.
Top Romantic Places in Bangkok for Couples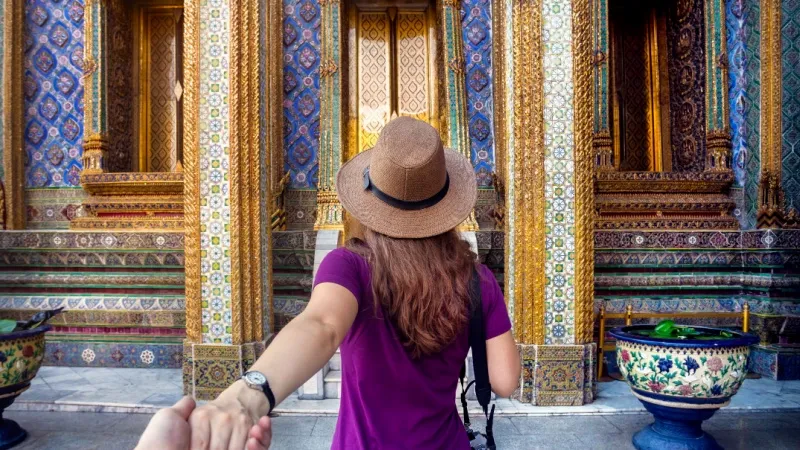 There are several places to visit in Bangkok that spell love like no other. So, explore these attractions with your partner and spend some quality time with them.
Grand Palace
Chinatown
Lumpini Park
Muang Boran
Elephant Nature Park
1. Grand Palace: Marvel at the Beauty of this Sacred Monument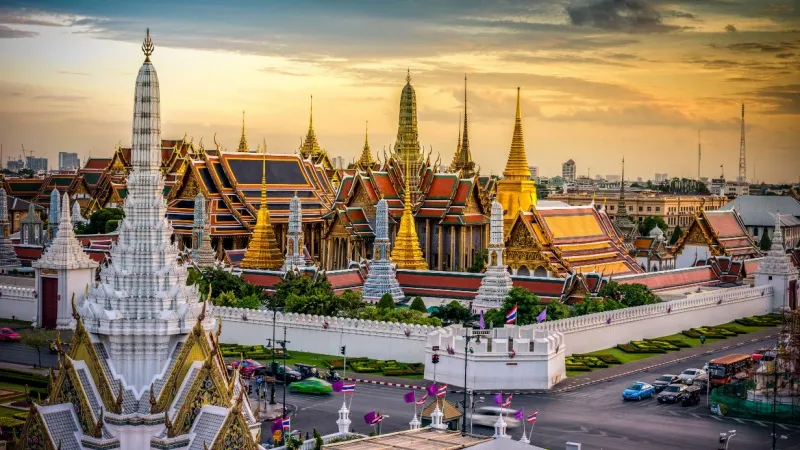 One of the first honeymoon places in Bangkok on our list is the Grand Palace, which was once the residence of the royal family, but is now being used for ceremonial purposes. The magnificence of this palace would leave you spellbound and exploring it with your loved one is the best way to go about it. The regal vibes and breathtaking architecture combined create a magical atmosphere, which is why this is one of the major tourist attractions in the city. The highlight of this place is the emerald Buddha statue, though, so don't miss that out.
Grand Palace timings: 8:30 A.M to 3:30 P.M
Restaurants near the Grand Palace: Krua OV, Ama, Rongros Bangkok, Tang Heng Kee
Hotels near the Grand Palace: Riva Surya Bangkok, Baan Wanglang Riverside, Theatre Residence
Attractions near the Grand Palace: Wat Arun, Musuem of Siam, Saranrom Park, City Pillar Shrine
Travel tips:
Wear modest clothes covering your shoulders and ankles
Respect the culture and traditions
Keep cash handy
Wear socks as footwear isn't allowed inside
Also Read: Honeymoon in Bali: Embark on a Fascinating Journey of Love
2. Chinatown: Achieve the Ultimate Comfort Level by Eating Together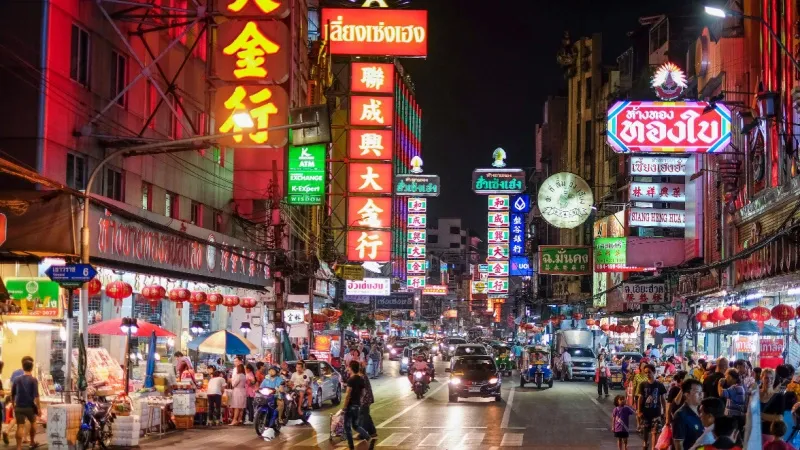 Chinatown is the hub of shopping and a paradise for foodies because of the various stalls here. Therefore, it's also among the popular attractions in Thailand. You can shop for beachy clothes, souvenirs, etc. while relishing the delicious Thai cuisine from the street vendors. It's ideal to visit this place at night because that's when it comes alive with vibrant lights and the hustle and bustle among the people. If you wish to see the true essence of this city, then there's no place better than this for a romantic honeymoon trip to Bangkok. So, wander around the streets of Chinatown with your partner, trying a variety of Thai dishes.
Chinatown timings: Open 24 hours
Restaurants in Chinatown: 57th Street, Nang Gin Kui, Red Rose Chinese Restaurant
Hotels near Chinatown: ASAI Bangkok Chinatown, The Quarter Chaophraya by UHG The Quarter Hualamphong
Attractions near Chinatown: The Grand Palace, Wat Arun, The Temple of the Emerald Buddha
Famous food to eat in Chinatown: Odeon Noodles, Khao Tom Hoy Nangrom, Shrimp Dumpling
Travel tips:
Wear comfortable walking shoes
Visit during the night, if possible
Dress up in comfortable clothes
3. Lumpini Park: Feel the Romantic Vibes of this Tourist Spot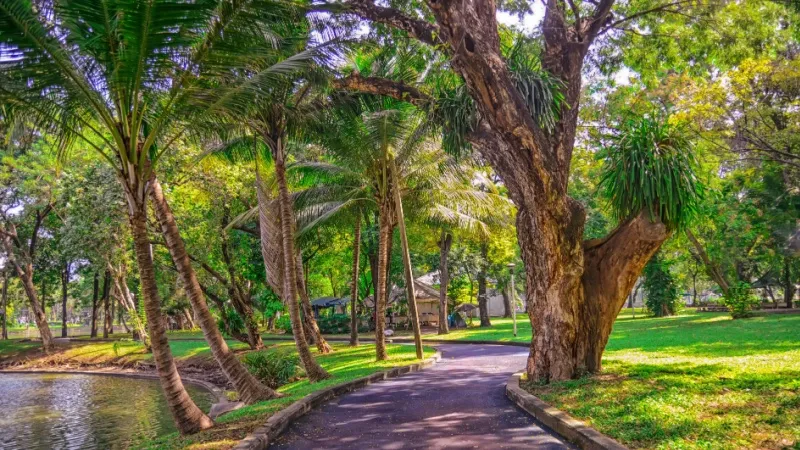 Lumpini Park is one of the places to visit in Bangkok for honeymoon because of the secluded and serene atmosphere. The lush greenery, the tall trees forming a canopy, the tranquil lakes, they all add up to exude a romantic vibe that is perfect for couples. You can spend hours sitting under the shade of the tree, doing mundane things, paddle boating in the lake, and much more. It gives you a chance to have some peaceful time to get to know more about each other. A picnic in this park sounds incredibly good, so do consider this place as a must-visit location.
Lumpini Park timings: 4:30 A.M to 9 P.M
Restaurants near Lumpini Park: Pastel Rooftop Bar, Short Cuts Deli, Suikin Japanese Restaurant
Hotels near Lumpini Park: Montien Hotel Surawong, The Quarter Silom, Siri Sathorn Bangkok
Attractions near Lumpini Park: Madame Tussauds Museum, Grand Palace, Baiyoke Sky Tower
Things to do in Lumpini Park: Paddle boating, cycling, picnic, stroll around the park
Also Read: Romantic Honeymoon in Sri Lanka: Start Your Blissful Journey of Love
4. Muang Boran: Explore the World's Largest Open-Air Museum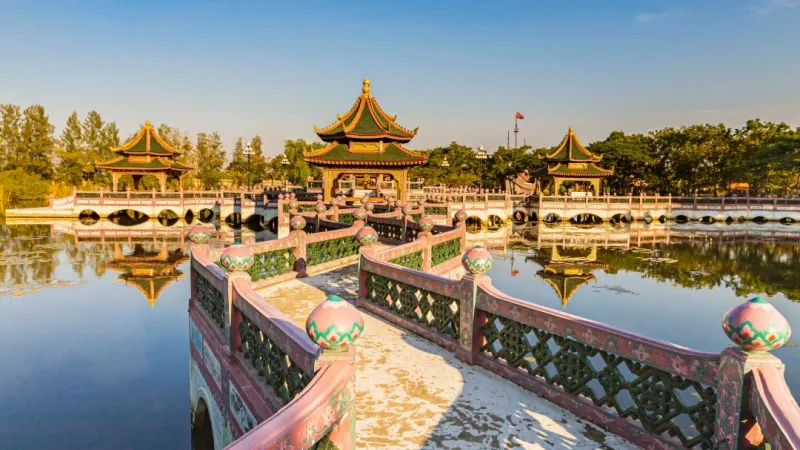 It's time to immerse yourself in the cultural and historical scenes of the city by visiting this open-air museum in Muang Boran. You'd be awestruck by the magnanimity of this place as it includes sculpture gardens, mini museums, and would give you a tour of the Thai empires till date. It's an ideal location to stroll around, marvel at the glorious history of the city and admire the marvelous treasures hidden in it on your honeymoon in Bangkok.
Muang Boran timings: 8 A.M to 5 P.M
Restaurants near Muang Boran: LAVA Asian Fire Grill, Sailom Bangpu Restaurant, Baanchidlom Bangpu
Hotels near Muang Boran: Koon Hotel, Lee's Mark Residence, Clef Hotel
Attractions near Muang Boran: Sumeru Mountain, Wat Asokaram, Bangpu Recreation Center
5. Elephant Nature Park: Interact with these Giant Babies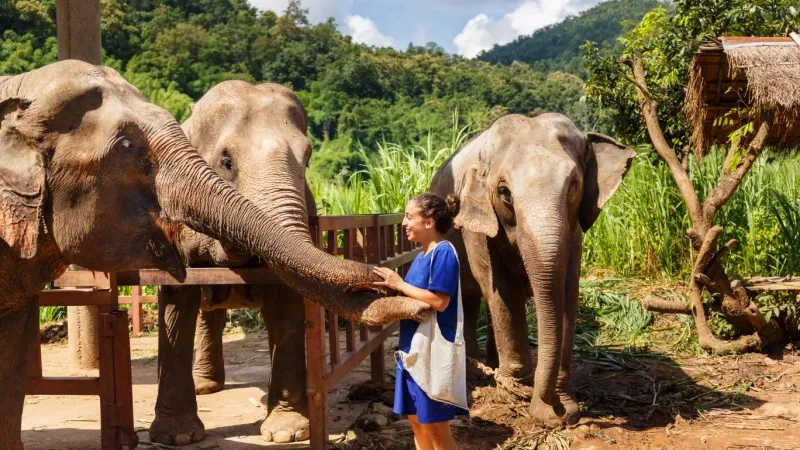 Visiting an Elephant Sanctuary is the best way to spend your honeymoon. Show your animal loving, kind side to your partner and have a gala time interacting with these animals. You can feed them, bathe them, and just spend time in their company. It's one of the most fulfilling things to do in Thailand, to be around these adorable creatures. This park allows elephants to be in their natural habitat, away from any harmful activity; therefore, riding on these elephants is also not allowed. You'll get to see how happy these rescued or orphaned giants are here, and you can become a part of that happiness.
Elephant Nature Park timings: 7 A.M to 5 P.M
Restaurants near Elephant Nature Park: Moonatic Shack, Pai-Doi-Coffee, Café in Wild
Hotels near Elephant Nature Park: Sibsan Resort and Spa, Country Retreat, Huan Chiang Dao Resort
Things to do in Elephant Nature Park: Feed the elephants, prepare food for them, help them bathe, and spend time with them
Travel tips:
Do not harm the animals in any way
Riding on the elephants isn't allowed
Romantic Things to Do in Bangkok: Experience the Joys of this City
There are several things that you can indulge in with your partner in this city, from adventure activities to leisure time. Here's what you can do in the vibrant city of Bangkok.
Cruise on the Chao Phraya River
Shop in the Floating Markets
Go Cycling on Bang Kra Jao Trails
Ride on the Asiatique Ferris Wheel
Enjoy in Siam Park City
1. Cruise on the Chao Phraya River: Enjoy a Fairytale Experience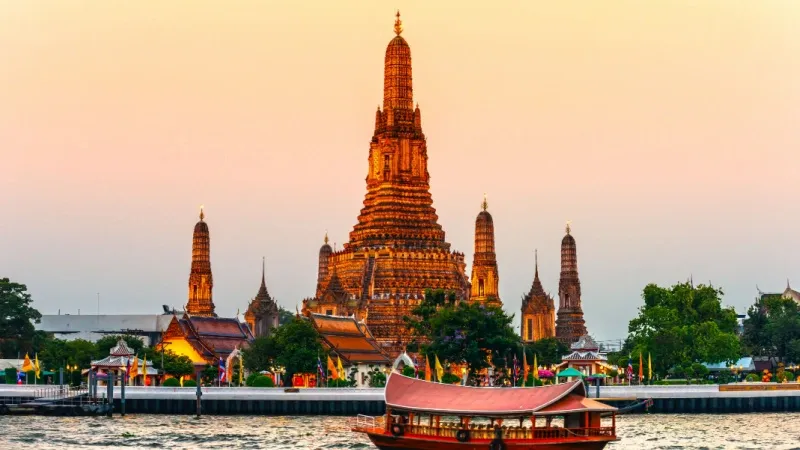 Since Bangkok is located on the Chao Phraya River, it's imperative that you include a river cruise as one of the things to do in Bangkok for honeymoon. A luxurious experience with fun and romance being the primary aspects of it as you cruise through the idyllic river. The ideal time to indulge in this activity is during sunset because the magnificent views of the sun setting, and the entire city illuminating is a sight to behold. Going on a cruise is a complete package, including entertainment, sightseeing, and charming beauty all around you. Couples love this activity, so you should definitely add this to your itinerary.
Best time to go for a Chao Phraya Cruise: During sunset
Highlights:
A breathtaking view of the sunset
Witness the nightlife of the city
Sightsee tourist attractions from a different vantage point
Marvelous scenic beauty to charm you
Suggested Read: Cruise in Turkey: For Thrilling Excursions Creating Lifetime Memories
2. Shop in the Floating Markets: Indulge in Retail Therapy in a Unique Way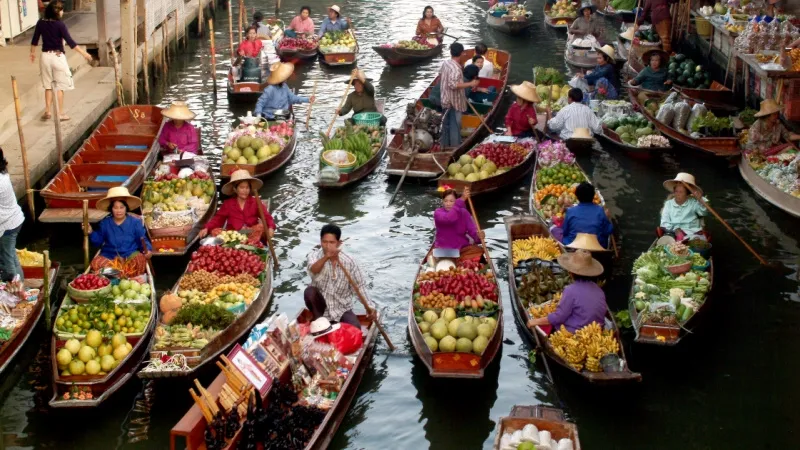 Floating markets are the most famous attraction in Bangkok because of the absolutely unique experience they offer the tourists. Imagine shopping from a boat on a river, how amazing is that? Therefore, it's one of the things to do in Bangkok that every tourist, especially couples, indulge in. After all, you need a partner who can keep up with your shopping, so this is a great way to know that. There are several floating markets in the city, but Damnoen Saduak Floating Market is the most popular one. You can buy fresh flowers, fruits, and other items from the sellers while enjoying the pleasures of boating.
Floating Markets in Bangkok: Damnoen Saduak Floating Market, Amphawa Floating Market, Khlong Lat Mayom Floating Market
Floating Markets timings:
Damnoen Saduak: 7 A.M to 5 P.M
Amphawa: Friday to Sunday – 11 A.M to 9:30 P.M
Khlong Lat Mayon: Saturday & Sunday – 8 A.M to 5 P.M
3. Go Cycling on Bang Kra Jao Trails: Spend Leisure Time with Your Better Half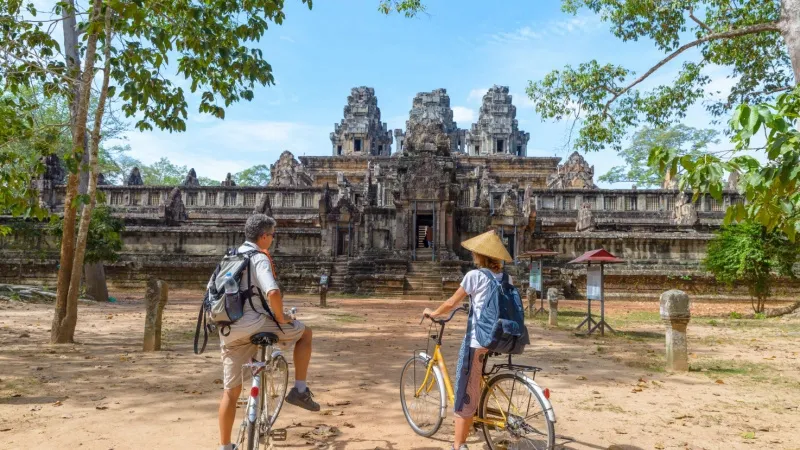 Bang Kra Jao is a secluded wilderness in Bangkok, which is ideal for cycling. An adventure activity with your partner is the perfect way to strengthen your bond and to have some fun. The gorgeous scenery, serene canals, and other beautiful attractions along the way make your cycling adventure even more enriching. However, you'd have to take a ferry ride through the Chao Phraya River to reach the other side for this location. It'll be worth traveling to because it'll be a memory that you'll always cherish.
Highlights:
Verdant greenery
Picturesque views
Gorgeous cycling trails
4. Ride on the Asiatique Ferris Wheel: Witness Panoramic Views of the City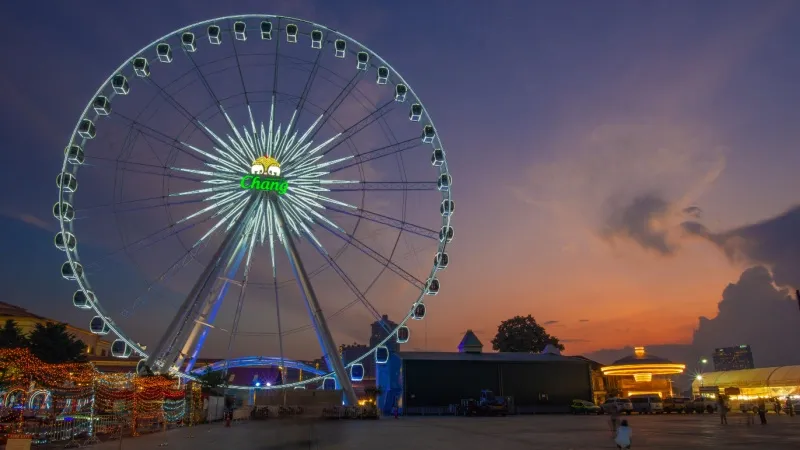 There's nothing more romantic than riding on a ferris wheel. The movies and books have romanticized this activity to a whole other level, but we aren't complaining. The Asiatique Ferris Wheel is 60 m high and is the highest landmark in Bangkok. These amazing attractions are what make a honeymoon in Thailand worthwhile. The ferris wheel takes 3 to 4 rotations offering you a different view of the city every time. There are a lot of other things to do here as well, such as shop in the stores or savor delicious food, watch a theatrical production, and so on. You'll undoubtedly have an amazing time here, spending quality time with your partner.
5. Enjoy in Siam Park City: Adventure Awaits at this Amusement Park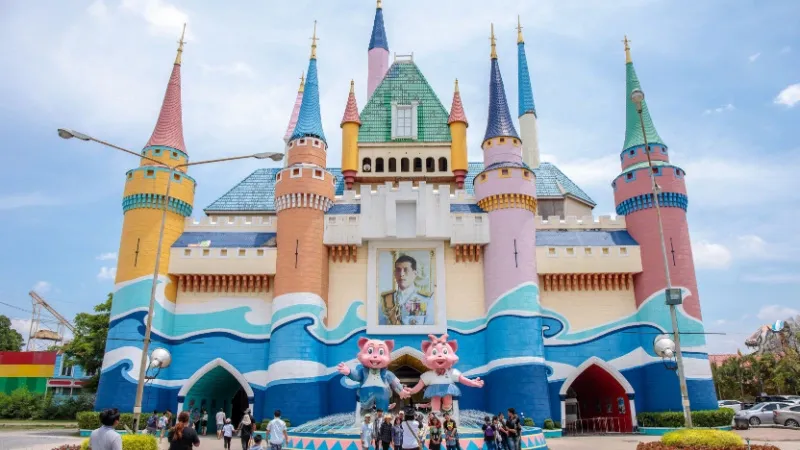 Siam Park City is one of the most popular amusement parks in Bangkok because of the variety of rides it offers you. It's not just an amusement park, but also a water park, so you can benefit from the pleasure of indulging in both. Having fun together is what a marriage should be all about and a honeymoon in Bangkok is the ideal time to start following that. The water park here has the largest wave pool, which set a Guinness World Record as well and the roller coasters here aren't for the faint hearted. It's the perfect time to grab a hold of your partner's hand and go through these adventures together.
Siam Park City timings:
Water Park – 10 A.M to 5 P.M
Amusement Park – 11 A.M to 6 P.M
Restaurants near Siam Park City: Coffee House, Hob and Coff Café, Baan Somtun Ramindra
Hotels near Siam Park City: The Park Nine Suvarnabhumi, The Grand Fourwings Convention Hotel, The Silver Palm Wellness Resort
Attractions near Siam Park City: Safari World, Dream World, Sea Life Bangkok Ocean World
Travel tips:
Follow the safety guidelines for the rides
Carry a swimwear for the waterpark
Keep your personal belongings in the locker
Take a shower before heading in the water
Don't carry food or beverages inside the park
Also Read: Top 8 Honeymoon Places in the Maldives: Romancing in the Mesmerizing Charm of Nature
A honeymoon in Bangkok seems right out of a fairytale because of the romantic landmarks, scenic beauty, and couple things to do that you can indulge in. This city is couple-friendly, which is why you'd find several other couples or honeymooners here. These are just some of the places you can visit and activities you can do, but there's a lot more for you to explore. So don't hesitate in planning a honeymoon in this city with our Bangkok honeymoon packages.
FAQs
Q1. Is Bangkok good place for honeymoon?
Yes, Bangkok is an amazing place for honeymoon because of the breathtaking attractions, romantic vibe and activities to do with your partner. This vibrant city has a lot in store for honeymooners.
Q2. What are the romantic attractions in Bangkok?
There are several romantic places to visit in Bangkok, such as
Grand Palace
Lumpini Park
Wat Arun
Chinatown
Q3. What is the ideal time to visit Bangkok for honeymoon?
November to February is the best time to visit Bangkok because the winter season allows you to explore the city in a relaxed way.
Q4. What are the famous beaches in Bangkok for honeymooners?
Beaches also had a charming vibe, perfect for a honeymooner. You can visit Hua Hin beach, Jomtien Beach, Pattaya Beach for some romantic quality time.
Q5. What activities to do in Bangkok with your partner?
You can go cycling in Bang Kra Jao, sign up for a Thai cooking class, shop in Chinatown, boat in the lakes of Lumpini Park, and a lot more.
Q6. What is the Bangkok nightlife for couples?
Bangkok's vibrant nightlife is perfect for couples as they can go clubbing, visit gorgeous restaurants, go on a dinner cruise to watch the illuminated city, take a ride on the ferris wheel for a panoramic view of the city's nightlife, etc.
Q7. How many days are enough for a honeymoon in Bangkok?
4 to 5 days are sufficient for a honeymoon trip to Bangkok because you can explore all the romantic attractions, indulge in fun activities and spend quality time together in this period.
Q8. Is Bangkok good for couples?
Bangkok is definitely a couple-friendly city, and you'd find several places to explore and things to try here that would strengthen your bond and give your married life an amazing start.
---