Imagine you and your spouse standing hand in hand on a pristine Bali beach as the sun gently sets on the horizon, sending pink and orange colors across the sky. The calm air delivers the aroma of exotic flowers as well as the rhythmic sound of breaking waves, this is nothing but a small glimpse of your honeymoon in Bali. Every moment is packed with love and magic, from touring verdant rice terraces to savoring exquisite candlelit meals by the shore. Time appears to stand still in Bali as you make memories that last a lifetime while honoring your love.
Honeymoon in Bali: Explore the Charismatic Island with Your Beloved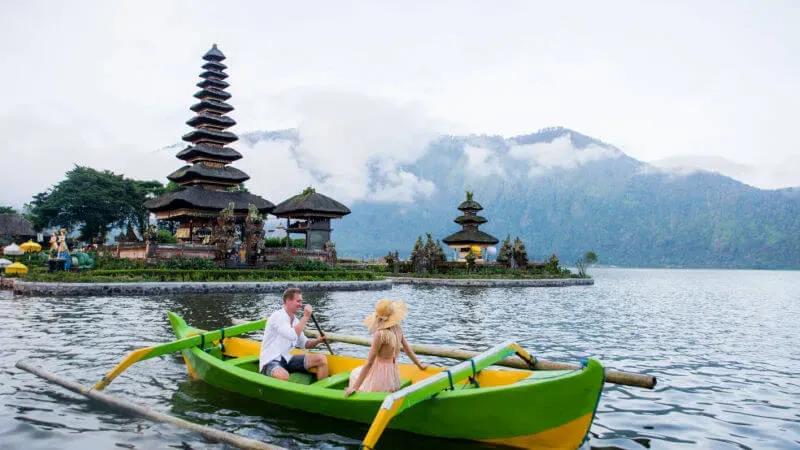 Bali is a romantic oasis, where desire sparks and love blooms against a backdrop of spectacular natural beauty. You are met with a sense of privacy and elegance as you enter your own home, which is decked with fragrant flowers and surrounded by beautiful tropical gardens on your honeymoon in Bali. Imagine having a romantic dinner and in the background, Balinese music serenades you, setting the tone for an evening of love and connection. From couples' spa treatments overlooking flowing waterfalls to a romantic sunset cruise, Bali has a variety of activities that can strengthen your love on this journey filled with love whispers, and secret kisses, making your honeymoon unforgettable.
Top 6 Places to Visit in Bali on Honeymoon
Casting a warm glow on the golden sand, Bali reveals itself as a paradise for honeymooners. With its lush landscapes, vibrant culture, and romantic ambiance, this Indonesian island offers a dreamlike setting for newlyweds to embark on their journey of love. Allow me to list the 5 best places to visit in Bali on your honeymoon:
1. A Journey to the Romantic Hideaway Ubud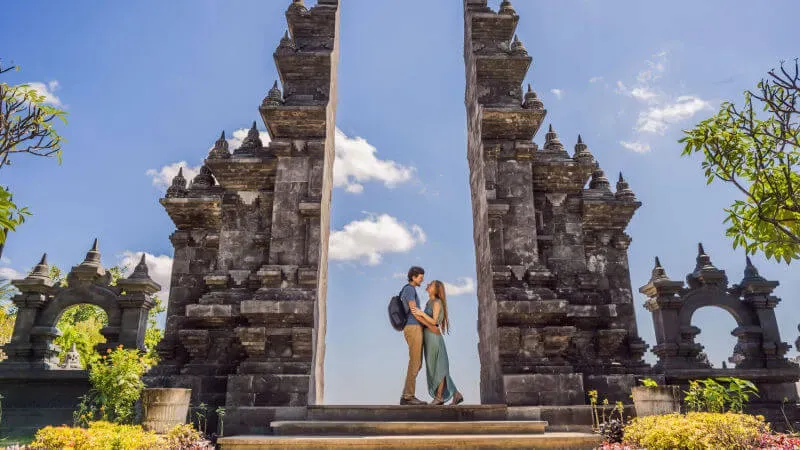 In the heart of Bali, nestled amidst lush greenery, lies the captivating town of Ubud, which is among the best places to visit in Bali for a honeymoon. As you and your beloved stroll hand in hand through its vibrant streets, a sense of tranquility washes over you. Ubud is renowned for its emerald rice terraces, where the symphony of nature captivates your senses. Lose yourselves in the spiritual temples and immerse yourself in the rich Balinese culture, where intricate art and traditional performances mesmerize you. Ubud is among the most famous place to visit in Bali to deepen your connection and embark on a soul-stirring adventure.
Best Time to Go: April to June, and September to November
Things to Do: Explore the temples, visit Sacred Monkey Forest Sanctuary, Shopping at Ubud Art Market, Visit an Art Museum or Gallery, Go on Campuhan Ridge Walk, Treat yourself to spa treatments
How to Reach: Go to the Denpasar Bali Airport, which is located at Bali's southern point. You may either rent a vehicle or take a bus to Ubud from there.
Famous Attractions: Ubud Monkey Forest, Tegallalang Rice Terrace, Goa Gajah (Elephant Cave), Puri Saren Agung (Ubud Royal Palace), Campuhan Ridge Walk, Ubud Art Market, Blanco Renaissance Museum, Taman Saraswati Temple, Tegenungan Waterfall
2. Treat Yourself to Luxury in Seminyak
For couples seeking a blend of luxury and seclusion, Seminyak is a haven of tranquility. This coastal paradise boasts pristine beaches, upscale resorts, and world-class restaurants. Imagine yourself savoring delicious cocktails while watching the sunset and taking moonlit strolls along the powdery sand on one of the beautiful Bali places to visit for your honeymoon. Pamper yourselves with couples' spa treatments or escape to one of the private villas with their pools, where you can bask in each other's love in complete privacy.
Best Time to Go: April to October
Things to Do: Enjoy at Potato head beach club, indulge in Spa Massage, Shopping at souvenir stores, Visit Pura Petitenget Temple, Night party at Ku De Ta, Surfing, Water sports, shop at Seminyak Night Market, Visit Masceti Temple
How to Reach: Seminyak is around 30 to 45 minutes or 11 km from the Rai International Airport, Depending on the traffic
Famous Attractions: Nyaman Art Gallery, Seminyak Square, Masceti Temple, Purpa Fine Art Gallery, The Samaya Seminyak Bali
Famous Beaches: Double Six Beach, Batu Belig Beach, Berawa Beach, Kelan Beach, and Sanur Beach.
Also Read: Honeymoon in Georgia: The Perfect Destination to Brew the Romance
3. Feel the Absolute Bliss in Nusa Dua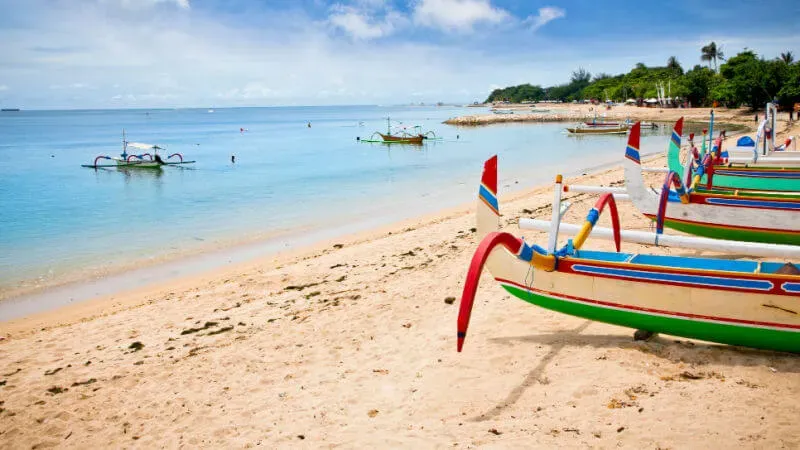 If your idea of a perfect honeymoon involves sprawling beaches in Bali with silvery sand and turquoise waters, Nusa Dua is the place for you. This exclusive enclave offers a wealth of luxurious resorts that cater to every romantic whim. On this one of the best beaches in Bali for a honeymoon, indulge in water sports, embark on a romantic boat cruise, or simply unwind in your private cabana, hand in hand. Nusa Dua promises a slice of paradise that will leave you spellbound.
Best Time to Go: April to November
Things to Do on Nusa Dua Beach: Swimming, water parasailing, boating, scuba diving, snorkeling, jet skiing, sunbathing
How to Reach:
By Air: The nearest airport to Nusa Dua Beach is Bali's Ngurah Rai International Airport, which is well-connected to all major cities across the world.
By Road: Nusa Dua Beach is 40 km south of Denpasar, Bali's provincial capital. You may also hire a scooter and make your way to the beach.
Nearby Attractions: Pasifika Museum
Famous Beaches: Nusa Dua Beach
4. Welcome to the Sunset Serenade Jimbaran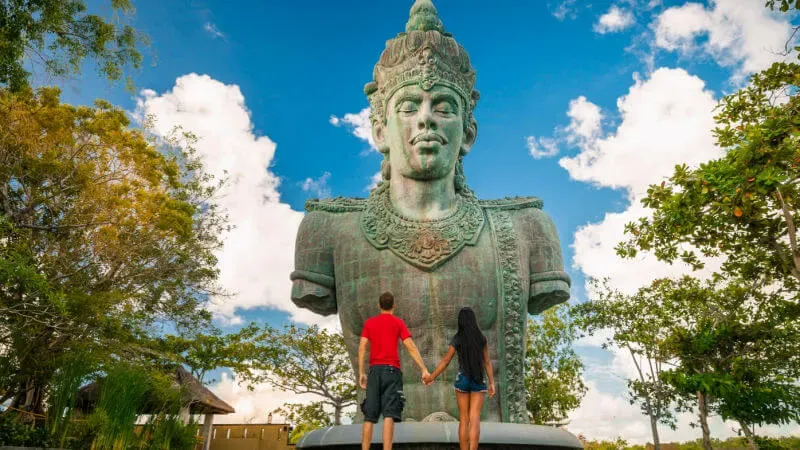 Jimbaran Bay beckons with its postcard-perfect sunsets and a romantic ambiance that will steal your heart. Dine on freshly caught seafood at one of the beachside restaurants as the sun dips below the horizon, casting a kaleidoscope of colors across the sky. Walk hand in hand along the soft sands, serenaded by the gentle waves. For an added touch of romance, consider a candlelit dinner on the beach, where you can savor exquisite cuisine while reveling in the beauty of the ocean.
Best Time to Go: April to October
Things to Do: Visit temples, Beach activities, Surf on Suluban and Dreamland Beach, Leisure Walk at Padang Padang Beach, Undertake Spa Treatment, Indulge in Water Sports
How to Reach: Jimbaran's nearest airport is Ngurah Rai (DPS), which is 3.2 km away. Lombok (LOP) (121 km) is another airport close to it.
Famous Attractions: Uluwatu Temple, Jimbaran Beach, Garuda Wisnu Kencana Cultural Park, Samasta Lifestyle Village, Jimbaran's Pura Ulun Siwi temple
Famous Beaches: Jimbaran Beach, Sanur Beach, PandawaBeach, Balangan Beach, Dreamland Beach, Bingin Beach, Tuban Beach, Tegal Wangi Beach, Padang Beach, kedonganan Beach
5. Bask in Tropical Oasis, Gili Islands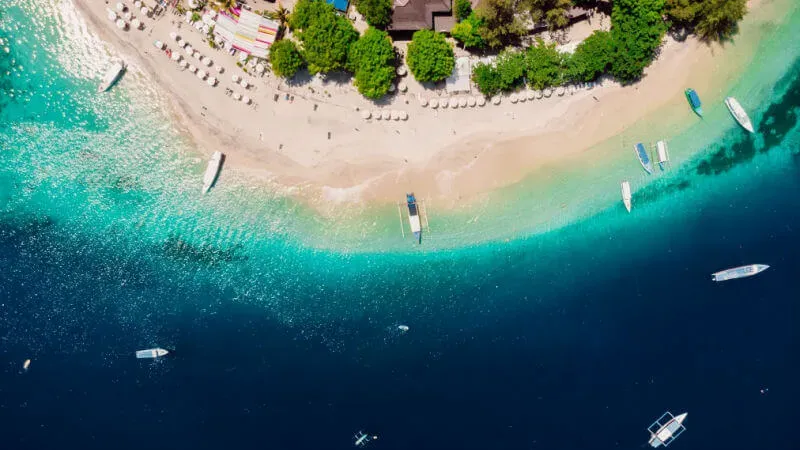 Escape to the secluded and idyllic Bali honeymoon places, the Gili Islands, a trio of paradise isles fringed by pristine white sand beaches and vibrant coral reefs. The three isles: Gili Trawangan, Gili Meno, and Gili Air offer a peaceful retreat for couples seeking solitude and natural beauty. All that you need to do is to dive into the crystal-clear waters hand in hand, explore the underwater wonders, or simply bask in the serenity of the palm-fringed shores. With no motorized vehicles allowed, these islands create an intimate setting where you can lose yourselves in each other's company.
Best Time to Go: July to August and December to January
Things to Do: Lounge on the beaches, go scuba diving, learn to surf, Visit the sea turtles, Bike ride, Snorkeling, Party on Trawangan, Kayaking, Enjoy live Reggae music at Sama Sama, Yoga classes, Horseback riding
How to Reach: Fly to Bali or Lombok, then transfer to a port and take the ferry there
Famous Attractions: Hotel Ombal Sunset for Ocean Swing, Trawangan Night Market, Turtle Conservation Gili Trawangan, Trawangan Hill, Shark Point, Gili Meno Salt Lake, Jiggy Boat
Famous Beaches: Coral Beach, Gili Trawangan Beach, Northeast Beach, Sunset Beach, Malibu Beach, Good Heart Beach
6. Visit Tanah Lot Temple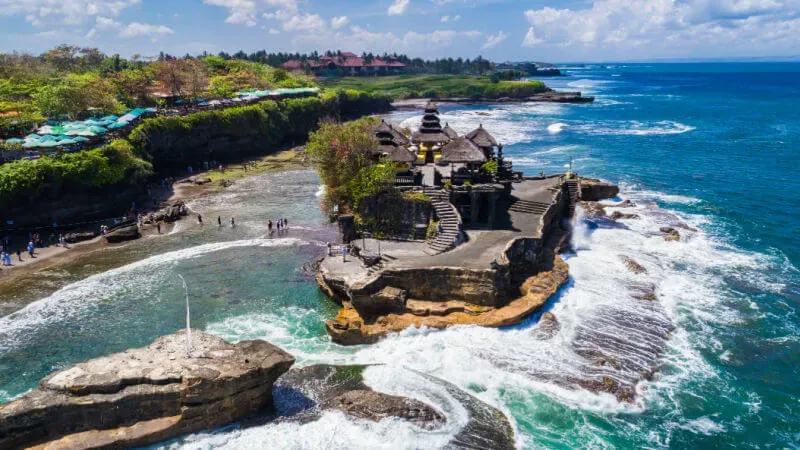 No honeymoon in Bali is complete without a visit to the iconic Tanah Lot Temple. Perched dramatically on a rocky outcrop, this sacred temple is a testament to the island's spiritual heritage. As you and your beloved approach, you will be awestruck by its architectural beauty, accentuated by the hues of the setting sun. Witness the waves gently caressing the base of the temple, adding an ethereal touch to the experience. Let the tranquil ambiance envelop you as you explore the temple grounds, and marvel at the deep connection between nature and spirituality.
Location: Beraban, Kediri, Tabanan Regency, Bali 82121, Indonesia
Opening Hours: 6 am to 7 pm
Things to Do: Prayer, Sightseeing, Exploration of the architecture, Photography
Proximate Entry Charge: INR 335
How to Reach:
From Kuta, take Jalan Sunset Road north, then Jalan Raya Kerobokan till you reach the temple
From Seminyak: The journey to Tanah Lot Temple from Seminyak is identical to Kuta
You may either take a cab or hire a driver for the 45-minute to hour-long trek
Most Romantic Things to Do on Honeymoon in Bali
When you know about the above-mentioned hypnotic places to visit in Bali on honeymoon, you must know the captivating things to do in Bali as well. So, here I am listing a few must-do enthralling activities to indulge in Bali with your beloved.
1. Relax on the Beaches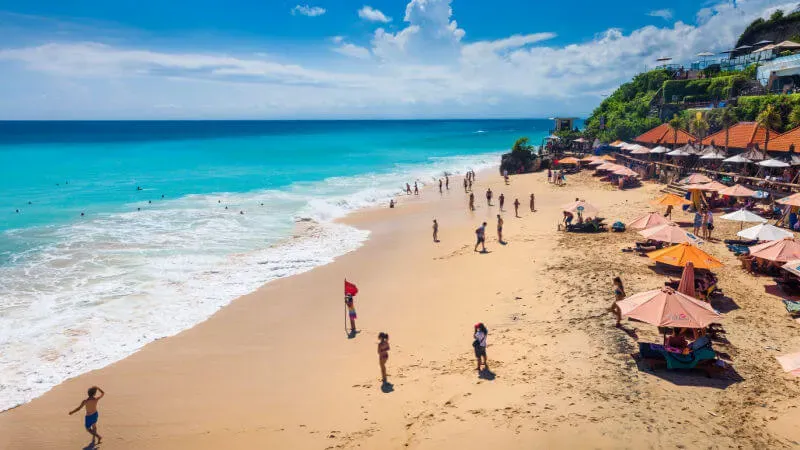 Bali is blessed with an array of stunning beaches that beckon you to unwind and create cherished memories as newlyweds. Start your romantic Bali activities on beach escapades at the vibrant Kuta Beach, where golden sands meet crashing waves, offering the perfect spot for sunbathing and leisurely walks along the shoreline. For a touch of sophistication, you can head to the glamorous Seminyak Beach, to relish the romantic beachfront dining, or Sundowner at Ku De Ta Beach Club, which is one of the best experiences of nightlife in Bali. Finally, find blissful seclusion at Nusa Dua Beach, with its pristine waters and secluded coves, creating an intimate oasis where you can revel in each other's company.
Location: Seminyak Beach, Nusa Dua Beach, Kuta Beach
Things to Do: Beachfront dinner, beach party, water sports, beach sports
2. Take a Romantic Cruise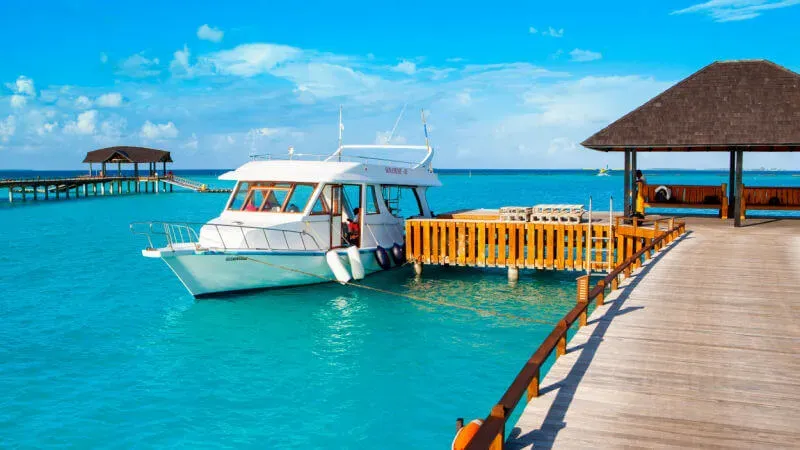 Indulge in a dreamy escape with a romantic cruise on Bali's sparkling waters, where you can embrace your love with the gentle sea breeze. Bali honeymoon destinations can be covered by stepping aboard the Serenity Cruise and being whisked away on a voyage of love and luxury. Sail into the sunset, savoring delectable cuisine, and toasting to a future filled with shared adventures. Another option available for cruising adventure is the Paradise Yacht, exploring hidden coves and deserted islands as the sun casts its golden glow upon the horizon. Let the magic of the open sea ignite the flame of romance in your hearts.
Famous Cruises: Serenity Cruise, Paradise Yacht
Proximate Charges: N/A
Opening Hours for Dinner: 5:45 pm to 8:45 pm
Main attractions: Sightseeing, Live Performances, Part,ies and Dinner cruise
3. Enjoy Water Sports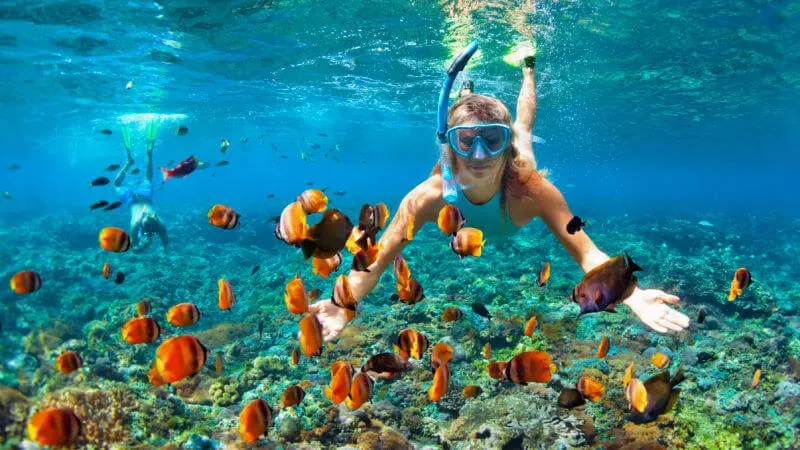 Dive hand in hand into a world of exhilarating water sports, the best things to do in Bali invite you to create memories filled with laughter and pure bliss. Feel the rush of adrenaline as you surf the waves, paddleboard along the stunning coastline, or embark on an unforgettable snorkeling or scuba diving adventure. Immerse yourselves in the vibrant marine life, discovering a hidden realm beneath the surface, where your love grows as deep as the ocean. Let the exhilaration of water sports ignite the spark of romance as you share unforgettable moments in Bali'sAzuree playground.
Location: Tanjung Benoa Beach
Proximate Charges: INR 1500
Best Season: April and September
Location: Sanur, Menjangan Island, Blue Lagoon, Tulamben & Amed, Nusa Lembongan
Proximate Charges: INR 2560
Best Season: December to March
Location: Sanur, Menjangan Island, Amed, Tulamben, and Tanjung Benoa
Proximate Charges: INR 1600
Best Season: December to March
Location: Tanjung Benoa
Proximate Charges: INR 600
Best Season: April and September
Location: Canggu, Kuta, Nusa Dua, and Legian
Proximate Charges: INR 200
Best Season: December to March
4. A Stroll through Ubud's Rice Terraces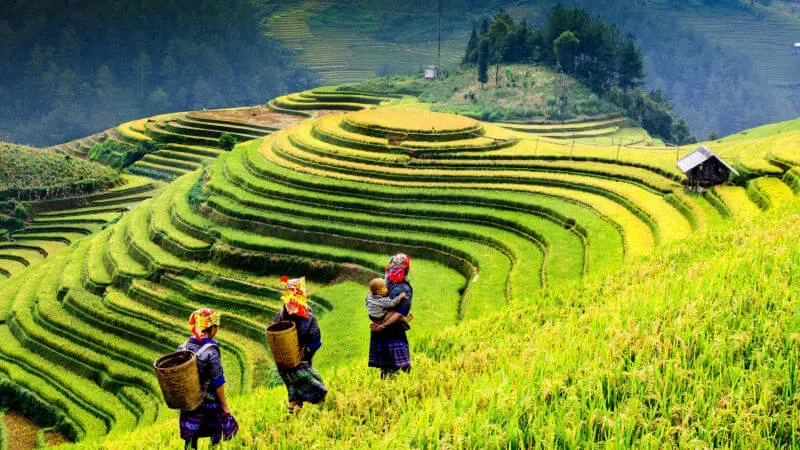 Escape to the lush green landscapes of Ubud, where terraced rice fields create a romantic haven. Take a stroll hand in hand through the emerald-green paddies, immersed in the symphony of nature. Witness the farmers at work, connecting with the simplicity of traditional life. Ubud's rice terraces are the best places to visit in Bali for couples as you can witness the most gorgeous golden hue of the sun at sunset which gives the most serene spot to pause and let the beauty of this picturesque paradise wash over you.
Location: Jl. Raya Tegallalang, Tegallalang, Kabupaten Gianyar, Bali
Proximate Charges: INR 85
Opening Hours: 7 am to 6 pm
Also Read: Honeymoon in Thailand: Two Hearts, One Adventure!
5. Pampering Spa Retreats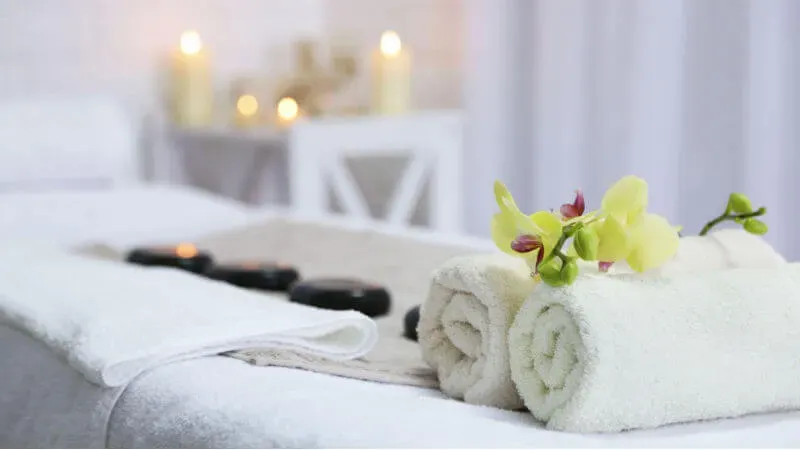 Indulge in a blissful spa retreat in Bali for couples, embracing Bali's renowned wellness traditions. All that you need to do is book a session to rejuvenate your senses with a couple's massage or a romantic flower bath, surrounded by candlelight and soft music. Experience the healing touch of skilled therapists, melting away any remnants of stress and tension, leaving you both in a state of pure bliss and relaxation.
Location: Br Begawan, Desa Melinggih Kelod, , 80571 Payangan, Indonesia
Location: Jl. Desa Sawangan, Kelurahan Benoa, Kec. Kuta Selatan, Badung Bali, 80361 Nusa Dua, Indonesia
Location: Banjar Adat Baturning, Mambal, Bali, 80352 Ubud, Indonesia
Location: Jalan Pantai Batu Mejan, 80361 Canggu, Indonesia
Bagus Jati Health & Wellbeing Retreat
Location: Banjar Jati, Desa Sebatu, Kecamatan Tegallang, Bali, 80561 Tegalalang, Indonesia
6. Explore the Sacred Temples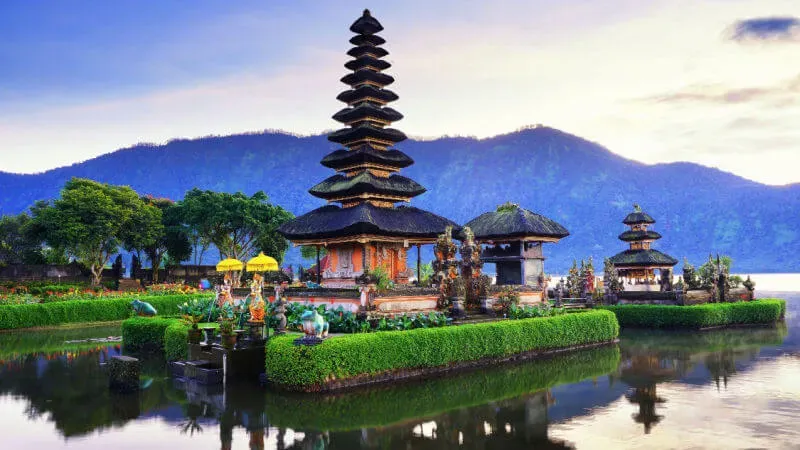 Immerse yourselves in Bali's rich cultural heritage by visiting the best temples in Bali. Begin with the iconic Tanah Lot Temple, perched on a rocky outcrop overlooking the sea, and witness the spectacle of the sun setting behind its silhouette. Continue your journey of new beginnings with a visit to the majestic Uluwatu Temple, where you can witness the famous Kecak dance performance, a mesmerizing display of traditional Balinese art. Overwhelm yourself with the spiritual ambiance of many other temples like Ulun Danu Beratan Temple, Taman Ayun Temple, and many more to ignite a sense of wonder and unity in your heart.
Famous Temples in Bali and Their Locations:
Tanah Lot Temple: Beraban, Kediri, Tabanan Regency, Bali 82121, Indonesia
Uluwatu Temple: Pecatu, South Kuta, Badung Regency, Bali, Indonesia
Ulun Danu Beratan Temple: Jl. Bedugul – Singaraja, Candikuning, Baturiti, Candikuning, Baturiti, Kabupaten Tabanan, Bali
Besakih Temple: Desa Besakih, Rendang, Besakih, Rendang, Kabupaten Karangasem, Bali
Taman Ayun Temple: Jalan Ayodya No.10, Mengwi, Kabupaten Badung, Bali
Goa Lawah Temple: Jl. Raya Goa Lawah, Pesinggahan, Klunkung, Kabupaten Klungkung, Bali
Opening Hours of the Above Temples:
Tanah Lot Temple: 6 am to 7 pm
Uluwatu Temple: 7 am to 7 pm
Ulun Danu Beratan Temple: 8 am to 6 pm
Besakih Temple: 8 am to 6 pm
Taman Ayun Temple: 9 am to 4 pm
Goa Lawah Temple: 8 am to 6 pm
7. Sunrise Trek to Mount Batur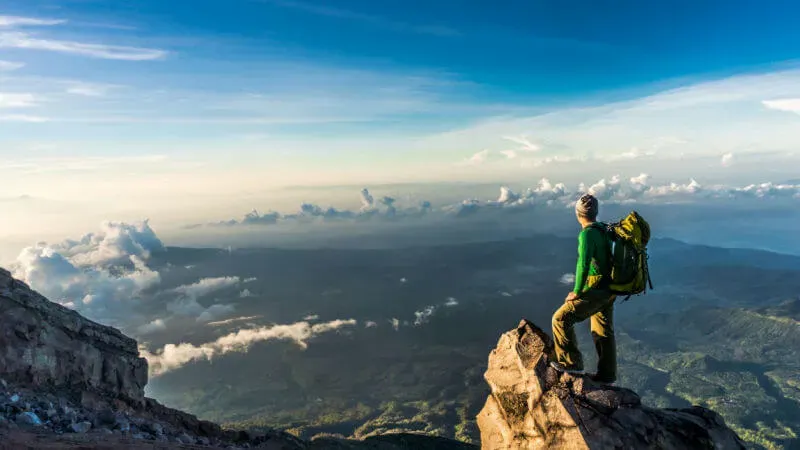 Embark on an awe-inspiring adventure by taking an early morning trek to one of the best places to visit in Bali for honeymoon, Mount Batur, Bali's active volcano. Imagine yourself with your beloved witnessing the breathtaking sunrise view from the mountaintop, painting the sky in hues of orange and pink. As you stand together in this ethereal moment, the world awakening before you, you'll feel an indescribable sense of connection and awe. Believe me, this shared experience will create an unforgettable memory for you two.
Location: Batur village, Kintamani district
How to Reach: Hire a cab, which will take around 2 hours and 30 minutes to arrive. It's best to secure a hotel near Mount Batur because tour providers normally arrange collection and drop-off.
Opening Hours: 3 am to 8 am
Also Read: Top 8 Honeymoon Places in the Maldives: Romancing in the Mesmerizing Charm of Nature
8. Enjoy Heart Thumping Bali Swing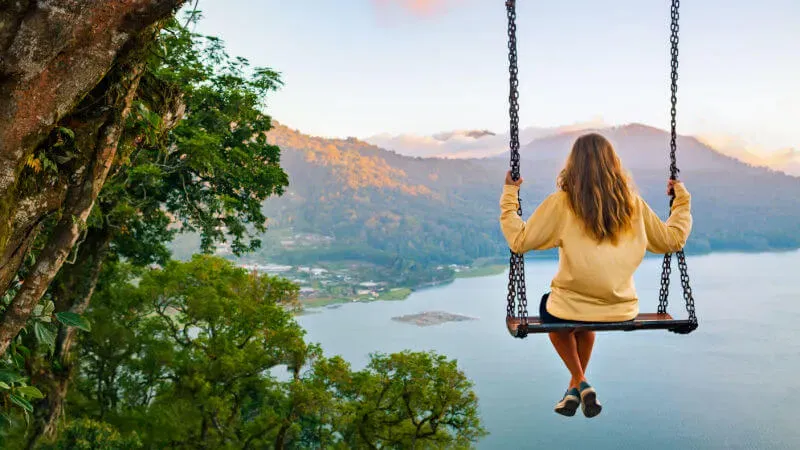 The Bali swing is one of the most popular honeymoon attractions in Bali, breaking all popularity records. When you're on your honeymoon in Bali, imagine yourself as Krishna for the Radha in your life, swaying on the blossoming swing, utterly immersed in the bliss of love. Soak in dangling over the cliff's edge, 80 meters above the forested valley, for a once-in-a-lifetime adventure that would look great on Instagram.
Location: Jl. Dewi Saraswati No.7, Bongkasa Pertiwi, Kec. Abiansemal, Kabupaten Badung, Bali 80352, Indonesia
Proximate Charges: INR 5400
Opening Hours: 8 am to 5 pm
Additional Information for Tempting Honeymoon Vacation in Bali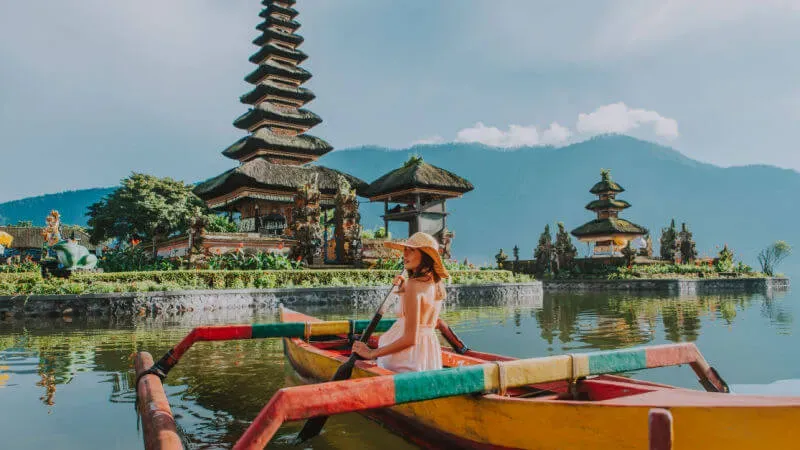 This blog must have created a desire of planning your honeymoon in Bali, here's more information for you to make a hassle-free vacation in Bali:
How to Reach Bali:
By air: Ngurah Rai International Airport (Denpasar International Airport)
By water: Cruise ships or ferries from neighboring islands
By road: Well-connected Road network within Bali and from other parts of Indonesia
Where to Stay: Seminyak, Ubud, Kuta Nusa Dua, Jimbaran, Canggu
Best Hotels and Resorts in Bali: Ulun Ubud Resort, Adiwana Monkey Forest, B Saya Villas, The Stones, Ize Seminyak, Theanna Eco Villa and Spa, Canggu, Rimba Jimbaran Bali by Ayana, Anantara Uluwatu Bali Resort, The Laguna, Tandjung Sari Hotel
Best Restaurants: Swept Away at The Samaya Ubud, Metis Restaurant and Gallery, The Warung at Alila Villas Uluwatu
Best Food to Eat: Nasi Goreng (Indonesian fried rice), Babi Guling (Balinese roasted suckling pig), Satay (skewered and grilled meat)
Best Beaches: Nusa Dua Beach, Jimbaran Beach, Padang Padang Beach
Best Things to Do: Visit Tegalalang Rice Terraces in Ubud, experience a couple's spa treatment, and Take a romantic sunset horseback ride
Best Markets for Shopping: Sukawati Art Market, Nusa Dua Night Market, Ubud Art Market, Badung Market, Guwang Art Market, Pancasari Market, Sanur Night Market, Kuta Art Market, Bedugul Traditional Market, Tegallalang Market, The Seminyak Fle Market
Best Historical Places: Uluwatu Temple, Tanah Lot Temple
Best Adventure Activities in Bali on Honeymoon: White-water rafting in Ayung River, Scuba diving, or snorkeling on Menjangan Island, Sunrise trek to Mount Batur
Things to Keep in Mind Before Leaving for Bali Honeymoon Vacation:
Check the validity of your passport and the visa requirements for your country
Research the ideal time to visit Bali to assure pleasant weather conditions
Plan and book hotels and flights ahead of time for stress-free travel
Pack lightweight, breathable apparel for the tropical temperature, such as swimwear and cotton clothes
Remember to observe local customs and cultural manners
Make travel insurance arrangements
Stay updated on health and vaccination requirements
Exchange currency or carry sufficient cash as some places may not accept credit cards
Always create a flexible itinerary and leave room for spontaneous adventures and relaxation
Bali, with its alluring combination of natural beauty and dynamic culture, sets the atmosphere for a wonderful honeymoon.  Allow the romantic attractions and soul-stirring activities of this tropical paradise to entice you on your honeymoon in Bali. You can treat yourself to a huge line of choices of wonderful places to kindle your passion and create cherished memories. Take advantage of the best honeymoon packages and rejoice in the cultural sanctuary, the romantic retreat, the beachside paradise, the sunset serenade, or the tropical oasis Islands.
FAQs
Q1. When is the ideal time to go on a honeymoon to Bali?
The dry season, which runs from April to October, is the finest time to visit Bali for a honeymoon.
Q2. What are the must-see Bali beaches for honeymooners?
Nusa Dua Beach, Jimbaran Beach, and Padang Beach are three must-see beaches in Bali for honeymooners.
Q3. Are there any romantic restaurants in Bali?
Yes, there are many romantic eating alternatives in Bali, such as beachside restaurants, cliffside dining, and intimate candlelit meals.
Q4. Are there any adventurous activities in Bali for couples?
White-water rafting, volcano trekking, and scuba diving are just a few of the adventurous activities available in Bali for couples.
Q5. What are the most popular Bali spas and wellness retreats?
COMO Shambhala Retreat, Fivelements Retreat, and Ayana Spa are among the most popular spa and health retreats in Bali.
Q6. Are there any shopping options in Bali for honeymooners?
Yes, Bali has lively markets and boutique stores where honeymooners may buy one-of-a-kind souvenirs, apparel, and handicrafts.
Q7. What should I bring on my honeymoon to Bali?
Pack light, breathable clothing, swimsuits, sunscreen, bug repellent, comfy shoes, and an adapter for your gadgets.
Q8. Are there any cultural experiences available in Bali for honeymooners?
Yes, honeymooners may immerse themselves in Bali's rich culture by visiting temples, seeing traditional dance performances, and purchasing local arts and crafts.
---