A perfect honeymoon destination is so important for the newly wedded couple to bond over and start understanding each other more. If you are a couple who is not looking for that quintessential honeymoon but also wants to delve into various adventure activities in an exotic place, then you must choose to spend your honeymoon in Georgia. The country offers several 'romantic' activities like strolling through Tbilisi, tasting wine, having sulfur baths, and more; it equally has the other side for those looking for some thrill and that adrenaline rush.
Honeymoon in Georgia: The Land of Ultimate Wonders
Georgia's landscapes range from the chilly Caucasus to the warm Black Sea shoreline, with a long and rich history, an extraordinary legacy, and vibrant communities. Celebrating your honeymoon in Georgia is where romance meets thrill, and it has to be the best kind of holiday. Talking about the thrill side of the holiday, Georgia offers a lot of such activities, from skiing on a snow mountain, trekking to eastern Samegrelo, paddling a kayak through a canyon and more.
Enjoy the romantic hot air balloon ride at Mukhrani Valley.
Have a Romantic Evening Tasting Wine in Kakheti with Your Soulmate
Paddle a Kayak Together Through the Martvili Canyon
Trek to the Foothills of Eastern Samegrelo
Rejuvenate Yourselves by Applying the Magical Sand of Shekvetili Beach
Explore the Exotic Town and Food of Tblisi
Lose Yourself in the Medieval Land of Svaneti
Experience the Famous Abanotubani Sulfur Baths
1. Enjoy the Romantic Hot Air Balloon Ride at Mukhrani Valley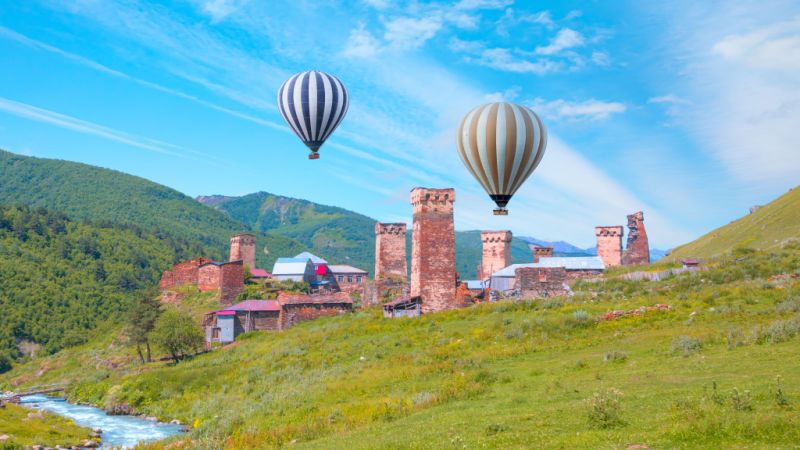 One of the most romantic things to do for your partner is to surprise them with a hot air balloon ride during sunset, with the magical view of the Mukhrani Valley up above from the sky. It is almost a silent attraction in the country which is not visited by many tourists because they are unaware of this beautiful experience. This once in a lifetime experience of floating through the sky with your better half by your side can't be missed if you are planning your honeymoon in Georgia.
Top Attractions: Balloon Ride, Panoramic View
Things to do: Appreciate the views
2. Have a Romantic Evening Tasting Wine in Kakheti with Your Soulmate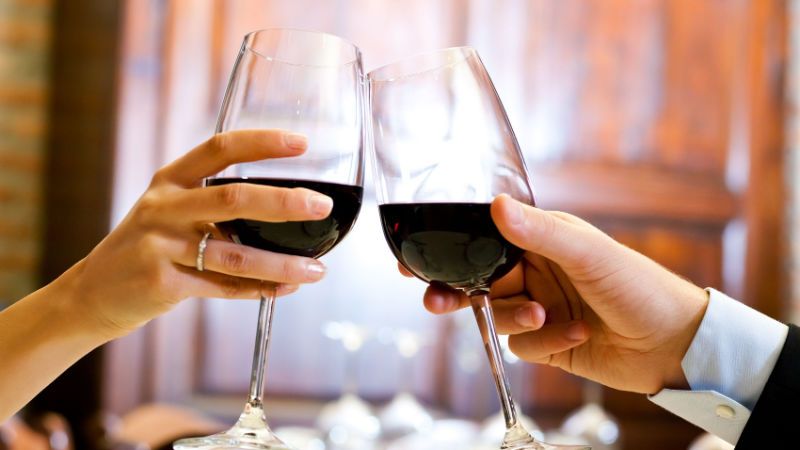 If you and your partner like drinking wine, then you will both be happy to know that Georgia has thousands of years of history of making different flavored wines. Tourists from all over the world visit Georgia to attend some of the best wine tastings in the world and take plenty of it back home to savor. Akido, Giuaani Winery, Vakho Oqruashvili Wine Cellar, Friends' Cellar, Ghvardzelashvili's Marani, Kvareli Wine Cave, and many more are some of the family wineries that produce their own wines and sell them. You can spend the day hopping from celler to celler, bonding over the best beverage available in the country, and then hitting some amazing clubs to experience the amazing nightlife in Georgia.
Top Attractions: different cellars, vineries,
Things to do: taste wine, have local food
3. Paddle a Kayak Together Through the Martvili Canyon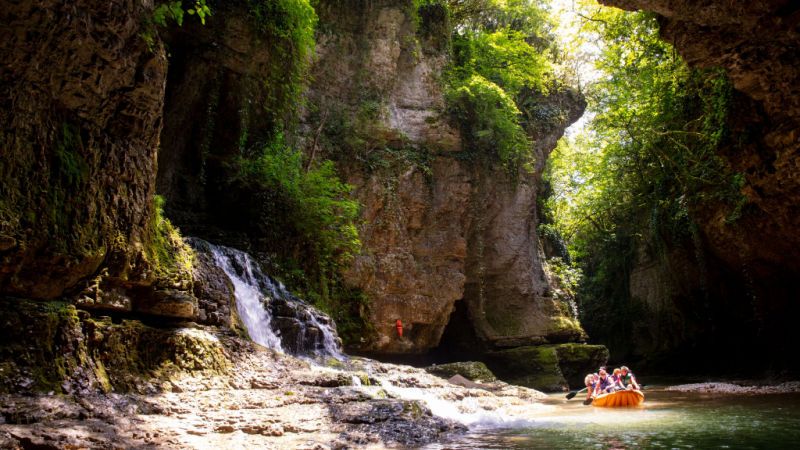 One of the most visited places in Georgia, paddling a kayak through the enigmatic charm of this canyon can't be missed, especially if you and your lover can experience it together. Floating through this unique landscape, with slender tree trunks, spindly branches, and huge boulders covered in moss hanging over sparkling turquoise-blue waters, is an experience that you will have goosebumps reminiscing. The delightful ride and your soulmate by your side make this thrilling activity more of an opportunity to get to know each other better. And it's not all mysterious and spooky, the ride offers picturesque views of the Fur Bridge, Dadiani's bath, and a cascading waterfall.
Top Attractions: lush greenery, blue water, canyon
Things to do: kayak, enjoy the experience
Suggested Read: Top Shopping Malls in Saudi Arabia for Nonstop Shopping Spree
4. Trek to the Foothills of Eastern Samegrelo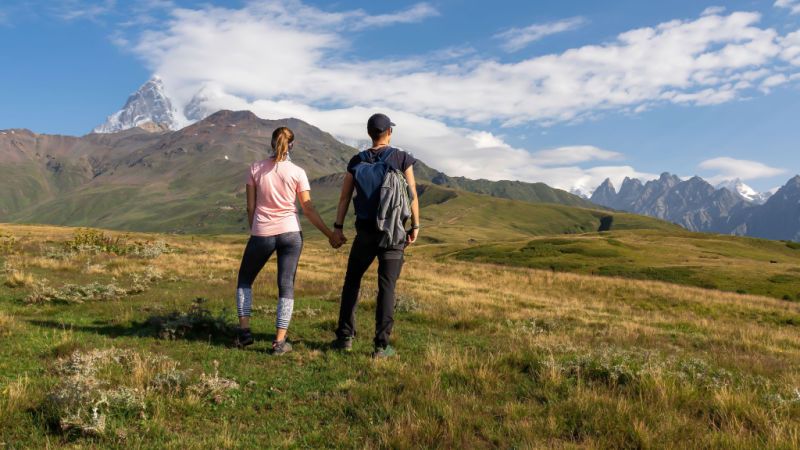 If you and your better half are avid trekkers and are ardent admirers of canyons, caves, and waterfalls, then one of the perfect honeymoon destinations for you both is the foothills of eastern Samegrelo. The trek is not very difficult, and the magnificent views with your partner by your side will make the hike more romantic than an adventurous one. There are several routes to the destination; you can trek along rocky mountain trails or through wet and humid forest. There are several beautiful sights that you and your spouse will encounter while moving up, like Balda canyon, Oniore waterfall, Toba First Man Cave, Toba waterfall, Jortsku cave, Kaghu waterfall, and Motena.
Top Attractions: Toba First Man Cave, Toba waterfall, Jortsku cave, scenic view
Things to do: trek, explore the area
Suggested Read: Top Uniquely Exciting Things To Do in Turkey!
5. Rejuvenate Yourselves by Applying the Magical Sand of Shekvetili Beach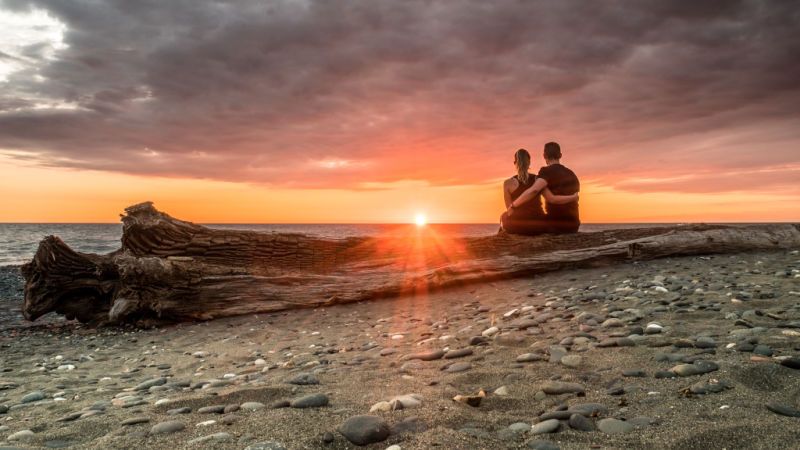 One of the best honeymoon spots in Georgia is this beach, standing tall with its healing magical sand, which is black in colour due to the presence of magnetite in it. The dark blue water in contrast with the black sand creates a charming view that can't be missed while you and your spouse are busy exploring serene beaches in Georgia. There are no big waves or strong winds, which makes the beach the perfect place to relax and bask under the sun or enjoy a small picnic with your soulmate. Speaking about the magical powers of black sand, you can apply it to your body to relieve joint pains or cardiovascular problems, or just to lightly scrub your skin.
Top Attractions: black sand, blue water, beautiful view
Things to do: scrub the sand, bask in the sun, water sports
6. Explore the Exotic Town and Food of Tblisi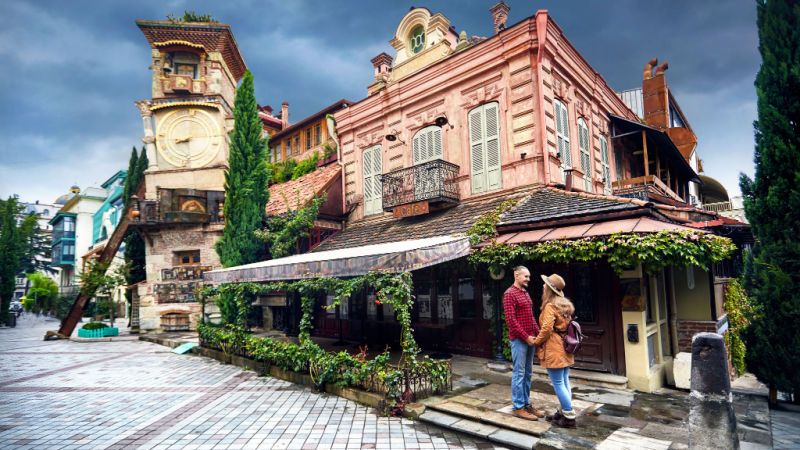 The best way to explore Tbilisi is by taking a stroll through the old city while holding the hands of your beloved and trying some snacks on the way.  There is a wide variety of amazing restaurants in Georgia that follow the traditional Georgian cuisine, borrowing from the best culinary traditions of the Middle East, Europe, and Western Asia. Of course, the country's diverse climate, varied topography, and incredible ethnic and regional diversity come into play while understanding the flavors of Georgian food.
Top Attractions: local dishes, restaurants
Things to do: Try traditional food
Suggested Read: Beaches in Beirut: Soak in The Balmy Weather of Lebanon At These Pristine Coastal Ends
7. Lose Yourself in the Medieval Land of Svaneti
This landlocked region in Georgia has been through a tough journey of thriving through the hits of several invaders. It is one of the best places to visit in Georgia for a newly married couple to understand the importance of being together through the thick and thin of life just like the natives of this land have. The couple can observe the village where the people have not just protected themselves but have also sustained using their centuries-old language, their livestock, their houses, and their community. The picture-worthy and wild land is a paradise for trekkers and lovers of mountain scenery alike. The married couple also have the option to mingle with the villagers and learn more about their lifestyle.
Top Attractions: the beautiful village, scenic views
Things to do: mingle with villagers, learn about history
Suggested Read: Places To Visit In Interlaken That Will Leave You Intrigued by the Untouched Charm of Nature
8. Experience the Famous Abanotubani Sulfur Baths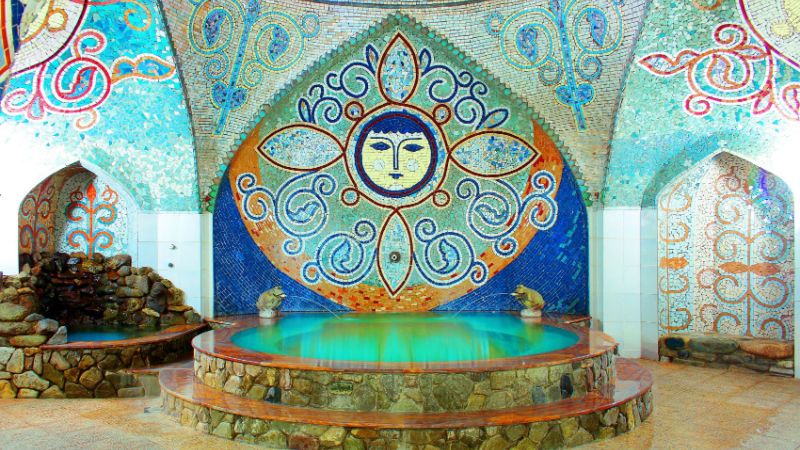 When in Georgia, do what a Georgian does, and the Georgian takes a sulfur bath to feel refreshed and energetic. One of the interesting things to do in Georgia while you are on your honeymoon is to take the Sulfur bath, which is an integral part of the Georgian tradition, and as a newly married couple you will enjoy it more. The thermal springs that feed these baths have medicinal properties to relieve people from several diseases and pains. Although the couple won't have a choice but to go to different bath areas, they can certainly choose between a public bath and a private bath. Some of these baths also offer treatments like the famous kisi (kisa) exfoliation scrub or different kinds of massages, much like in a Turkish hammam.
Top Attractions: Sulfur Bath
Things to do: massages, exfoliation scrubs, relax
So, if you and your partner are looking for a honeymoon destination that combines beauty and adventure, consider planning your honeymoon in Georgia. There are a lot of things to do in some beautiful and thrilling places, which will mark the perfect beginning of your adventurous married life together. Take advantage of the Georgia holiday packages and spend the most special days of your life with the most special someone in one of the most charming countries in the world.
FAQs
Q1. What is the best time to visit Georgia?
The months of May, June, or September are ideal for visiting this beautiful country. The weather during these months is moderate, and tourists can easily explore the places and take in the adventures that the country offers.
Q2. What are some of the places to visit in Georgia during your honeymoon?
There are plenty of places in Georgia to make one's honeymoon memorable and special.
Svaneti
Tblisi
Shekvetili Beach
Samegrelo
Q3. Which is the nearest airport in Georgia?
Tbilisi (TBS) Airport is the nearest airport in Georgia. Some of the other airports are Kutaisi (KUT), Erevan, and Beslan. People from all over the world can travel via the flights that operate to and from these airports.
Q4. What is the significance of Svaneti?
This is part of Georgia is known as the medieval land where the natives of the villages have survived the invasion of many rulers from thousands of years and they still have succeeded in preserving their age-old language and customs.
Q5. What are the travel tips for Georgia?
Here are some important tips you should keep in mind while enjoying your holiday in Georgia.
Always keep your passport with you
Get a local SIM card for easy access to the internet
Always carry some cash
Respect the culture
Q6. How many days are enough to explore Georgia?
8 to 10 days is more than enough to explore the whole country and visit all the significant places. There are some places that are closed some day and you wouldn't want to miss the sight of anything beautiful.
Q7. Is Georgia a good honeymoon destination?
Yes, the country has a wide variety of places and activities to offer to newly married couples. The enigmatic beauty of the country adds to the romance brewing between the happy couple.
Q8. Are there vineries around Georgia?
Yes, Georgia has plenty of vineries and there are numerous cellars where people can participate in wine tastings. It is a part of the culture in Georgia
---