Thailand is such a mesmerizing place that tops the list of honeymooners as there are a plethora of things that is offered to the lovebirds on their honeymoon in Thailand. You will enjoy being on the beaches of Thailand, delicious seafood, exciting water sports, refreshing Ayurvedic spa, historical temples, and much more.  Fall in love with the warm sun and 1,500 miles of coastline that will never fail to amaze you. The culture of this beautiful destination will leave you amazed. It offers a wide range of paradise islands. We've curated a list of the best places that have captured the imagination of honeymooners around the world.  So, Keep on following to know more.
Top 10  Places to Enjoy Honeymoon in Thailand: Sunkissed with Love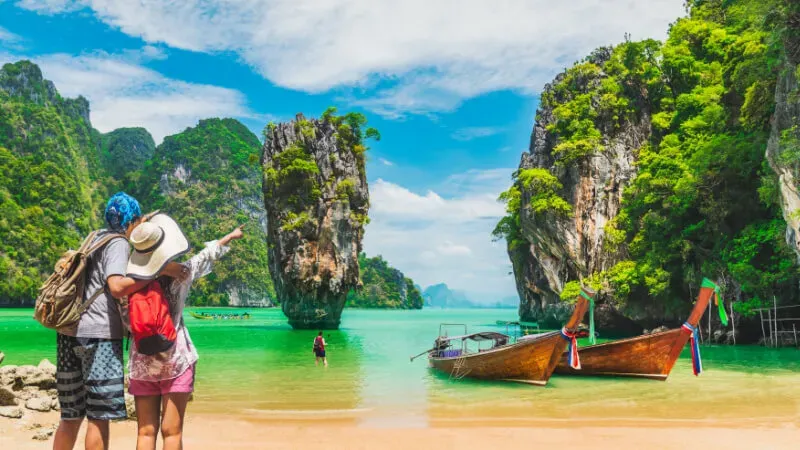 Thailand is a country with many contrasting aspects, with wonderful beaches as well as forests, jungles, and mountains. Whether you want to swim, sunbathe or explore the wildlife, a family holiday in top Thailand honeymoon destinations is never boring. If you're looking for coastal relaxation, visit Phuket's Hat Karon beaches and bay with its dunes and palm trees. Ko Tao Island has coral reefs and is the place to be if you want to learn to dive, but you can also go mountain biking or just sunbathe on the beach. The National Royal Barge Museum in Bangkok has several barges built for Thai kings the beautifully detailed carving is quite impressive. Doi Suthep-Doi Pui National Park in Chiang Mai is rich in flowering plants and ferns and three hundred species of birds.
Phuket: For the Happily Ever After
Krabi: Tranquil Islands of Paradise
Koh Samui: Biggest Beach Party Awaits
Hua Hin: Get Lost in Paradise
Chiang Mai: A Beautiful Heaven
Bangkok: What Happens in Bangkok Stays in Bangkok
Pattaya: The Magnificient Architecture
Phi Phi Islands: Perfect for Leisure Holiday
Koh Tao: The Best of Thailand
Koh Phangan: Views of Tranquil Beaches
1. Phuket: For the Happily Ever After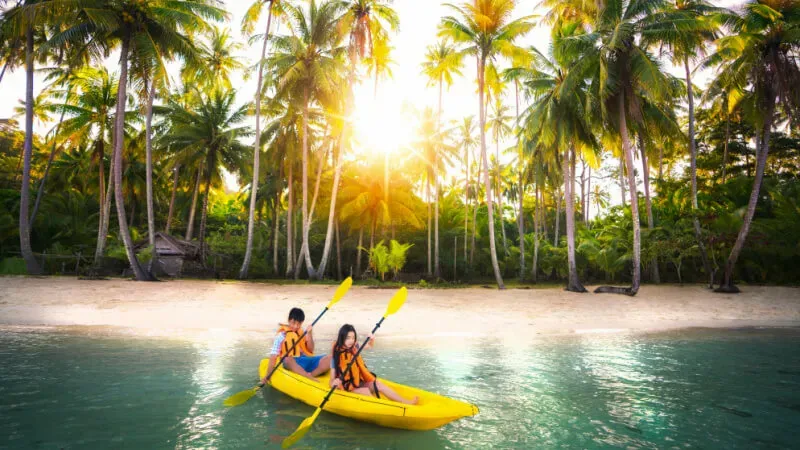 Phuket is one of the best places for a romantic honeymoon in Thailand. Blessed with crystal clear beaches and palm-fringed coastline,  it is a perfect and romantic getaway with many places to visit in Phuket for your honeymoon. Laze in shacks or stroll along the beach hand in hand with your loved one in Phuket without spending too much on Phuket Thailand honeymoon, If you wish, you can also go on a romantic tour on Phuket cruises, from which enchanting views of the entire city will appear in front of your eyes.
Major Airport: Phuket International Airport is an international airport serving the Phuket Province of Thailand.
Best time to visit: The  tourist season is from November to February, when it is cool and dry, after which it remains quite warm until May
Ideal for: Couples, Honeymooners, Groups
Popular Restaurants: One Chun Cafe, Mor Mudong, Bang Pae Seafood
Suggested Read: Top Things to do in Phuket: A Marvelous City to Rejuvenate Your Soul
2. Krabi: Tranquil Islands of Paradise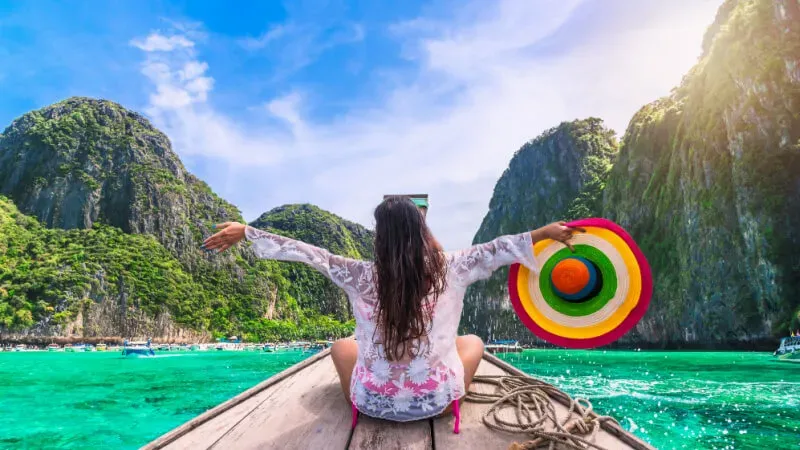 One of the most romantic Thailand honeymoon destinations is the group of 130 secluded and peaceful islands, enough to turn the globe into a paradise for couples in love. Krabi is a paradise with picturesque landscapes, caves, coral reefs, and pristine beaches, making it one of the best honeymoon destinations for honeymoon in Thailand. Go to Krabi to watch the amazing sunset and enjoy the bliss of love.
Ideal for: Honeymooners, Groups, Solo travelers, Couples
Popular Hotels: Phulay Bay, A Ritz Carlton Reserve, Centara Grand Beach Resort & Villa, Aonang Clidd Beach Resort
How to reach: Find direct buses to Krabi that operate daily from the Southern Bus Terminal of Bangkok and take up to 10 hours to reach Krabi.
Best time to visit: November to March
Popular Restaurants: The Hilltop, Lae Lay Grill, Sa-ing Restaurant And Bar
3. Koh Samui: Biggest Beach Party Awaits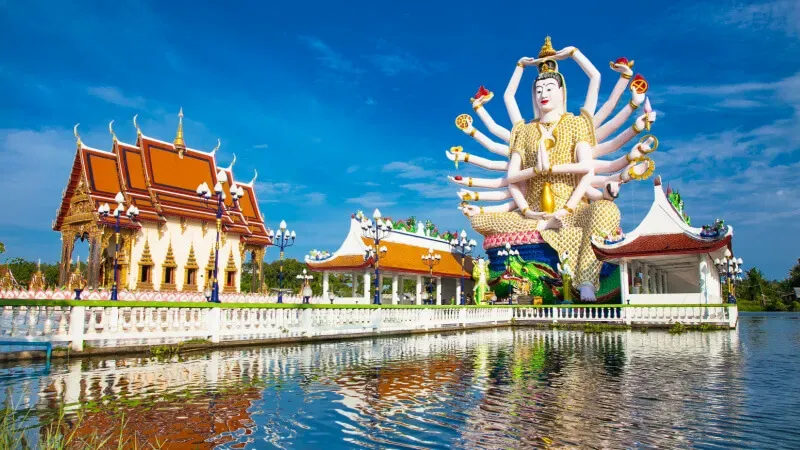 Spend an exotic Thailand honeymoon in one of the most romantic destinations here. Koh Samui is one of the best romantic spots in Thailand, known for its memorable full moon parties. Some of the biggest beach parties take place on Koh Samui and last all night. Enjoy and rejoice with your better half on the sand on your Koh Samui honeymoon. Visit the Great Buddha Shrine and receive blessings. Have fun at the amazing Namuang Falls. Head to Ang Thong National Marine Park, home to rare marine and wildlife.
Hotels: Four Seasons Resort, Buri Rasa Village, The Kala Samui
How to reach: The most convenient way to get to Koh Samui is flying with Bangkok Airways either from Bangkok itself or from Phuket or Pattaya.
Best time to visit: December to April
Popular Restaurants: Emporio Cafe, The Boudoir, Oyster Bar
Suggested Read: 10 Best Places to Visit in Thailand: A Dreamy Escapade to the Picture-Perfect Country
4. Hua Hin: Get Lost in Paradise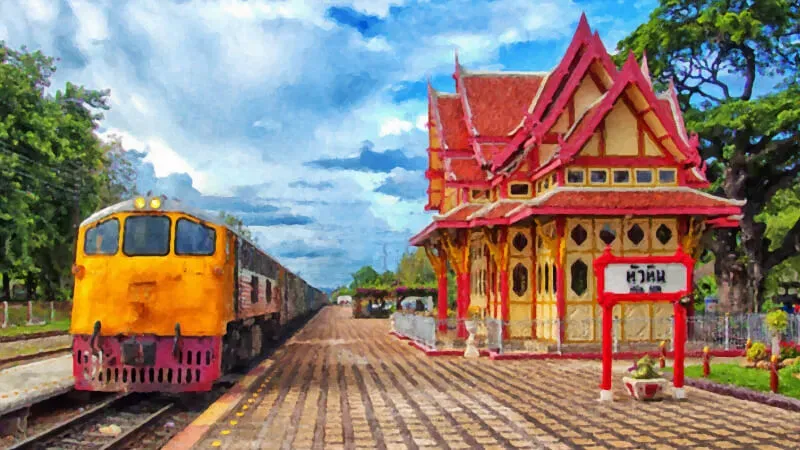 Hua Hin is one of the most perfect honeymoon destinations in Thailand. Hua Hin has several beach resorts that offer the most romantic atmosphere for all types of budgets and is home to popular seaside golf resorts. Buy a variety of souvenirs for your loved one at the night market. Head to the magnificent Khao Sam Roi Yot National Park, one of Thailand's top attractions, and explore the unique sandstone caves. The national park is a visual delight on a remote island in the middle of the sea.
Nearby Restaurants: Amber Kitchen, Vana Nava Sky Bar, And Restaurant, Siam Bakery
How to reach: Hua Hin can be easily reached by train, bus, or mini-van from the city. Air-conditioned buses leave for the three-hour journey to Hua Hin from the Southern Bus Terminal on Sai Tai Mai.
Best time to visit: November to February
Nearby Hotels: V Villas Hua Hin, Devasom Hua Hin Resort, Anastasia by the Sea
5. Chiang Mai: A Beautiful Heaven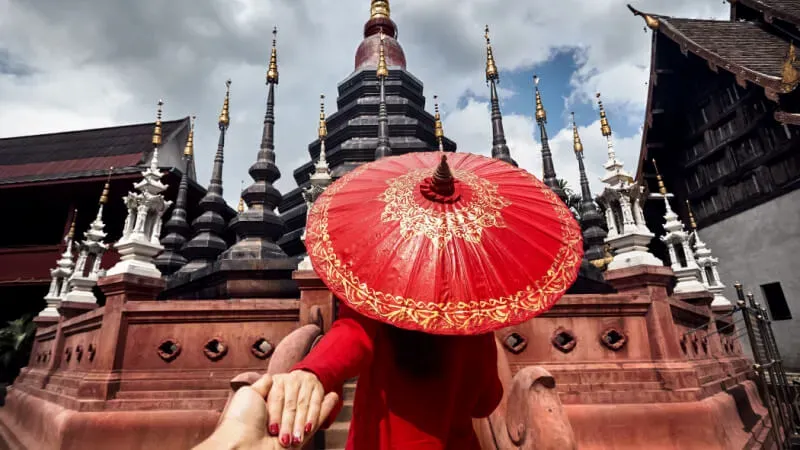 Chiang Mai is one of the most beautiful and best places in Thailand with its high mountain ranges and tribal villages. Located in northern Thailand, Chiang Mai is a beautiful honeymoon destination. The greenery in Chiang Mai is abundant and the mountains are amazing to witness, making this place one of the best honeymoon destinations in Thailand. Doi Inthanon National Park is a protected beauty at the top of Thailand. Visit this hidden gem to witness the surreal beauty of nature and fall in love with your beloved partner. Wiang Kum Kam is another must-see attraction.
How to reach: Chiang Mai International Airport serves both domestic and international flights. Taxis, buses, and other local means of transport are available for travel.
Best time to visit: October to April
Places to eat at: David's Kitchen, B Samcook Home 16, Italics & Rise
Nearby Hotels: The Dhara Dhevi Chiang Mai, Puripunn Baby Grand Boutique Hotel,
Zensala Resort
Also Read: Thrilling Things to do in Thailand: An Adventure Seeker's Paradise
6. Bangkok: The Vibrant Streets of the Paradise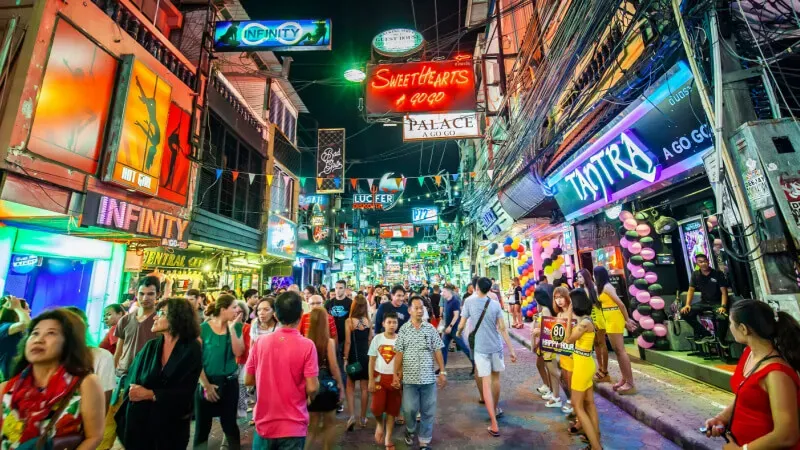 Spoil your loved ones with a shopping spree. There are many attractions to explore such as the Temple of the Reclining Buddha, the Grand Palace, and many Buddhist temples. You can also dine at some of the best rooftop restaurants in the world, making it one of the best honeymoon destinations in Thailand.
Bangkok is one of the best honeymoon destinations in Thailand for couples in a cosmopolitan and luxurious environment. Thanks to affordable prices and many options, Bangkok is the fourth most visited city in the world. Whether you're on a cruise or dining in a fine restaurant, Bangkok offers everything from one-stop shops to lovebirds arriving in Thailand for their Bangkok honeymoon.
Popular Attractions: Wat Phra Chetuphon, BTS Skytrain, Temple Of Dawn, Chatuchak Weekend Market, The Grand Palace
Major Airport: Suvarnabhumi International Airport
Things to do: Chao Phraya River Boat Cruise, Floating Market in Bangkok, Swim with Sharks at Siam Ocean World, Ride the Sky Train, Wat Pho The Reclining Buddha.
7. Pattaya: A Luxury Honeymoon in Thailand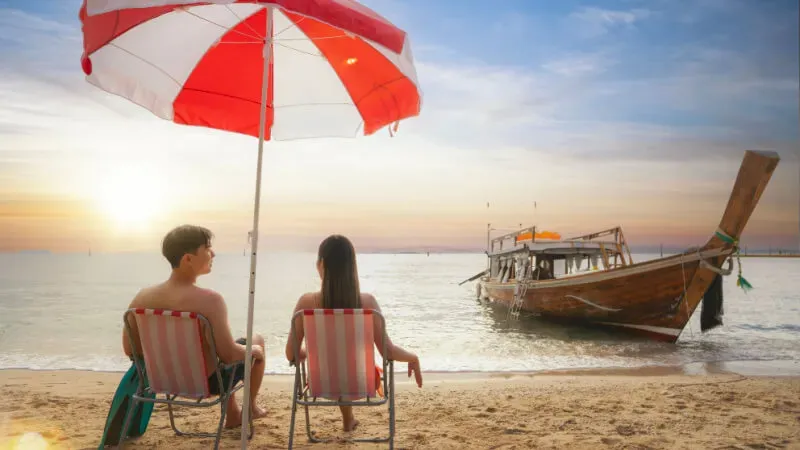 Wondering what other places to visit in Thailand on your honeymoon? Visit the city of Pattaya, located on the eastern coast of the Persian Gulf. Its beaches are as big an attraction as its high-rise apartments and shopping malls. If you visit this place on your Thailand honeymoon, we think you'll have the time of your life! Explore the famous beaches and then head to Walking Street to experience Thai nightlife at its best. During the day visit the Sriracha Tiger Zoo, Sanctuary of Truth, and other attractions.
Popular Attractions: The Sanctuary Of Truth, Big Buddha Temple, Walking Street Pattaya, Koh Larn, CentralFestival Pattaya Beach
Major Airport: U-Tapao–Rayong–Pattaya International Airport
Things to do: Marvel at Walking Street, Visit Sanctuary of Truth, Shopping at Pattaya Floating Market, Nong Nooch Tropical Botanic Garden, Jomtien Beach
Also Read: Incredible Places to Visit in Pattaya: A Scintillating Affair of Calm & Chaos
8. Phi Phi Islands: Perfect for Leisure Holiday
There is no better place than Phi Phi Islands, one of the most exotic places in Thailand. In addition to stunning beaches,  exotic Thai honeymoon destinations and villas add to the luxury, tranquility, and comfort that couples will experience while vacationing here. Go on an island trip with your loved one and capture beautiful memories. Don't forget to try some water sports in the famous Maya Bay.
Popular Attractions: Maya Bay, Loh Samah Bay, Pileh Lagoon, Viking Cave, and Palong Bay
Major Airport: Krabi International Airport
Things to do:  swimming, snorkeling, cruising, rock climbing, and cliff-hanging
9. Koh Tao: The Best of Thailand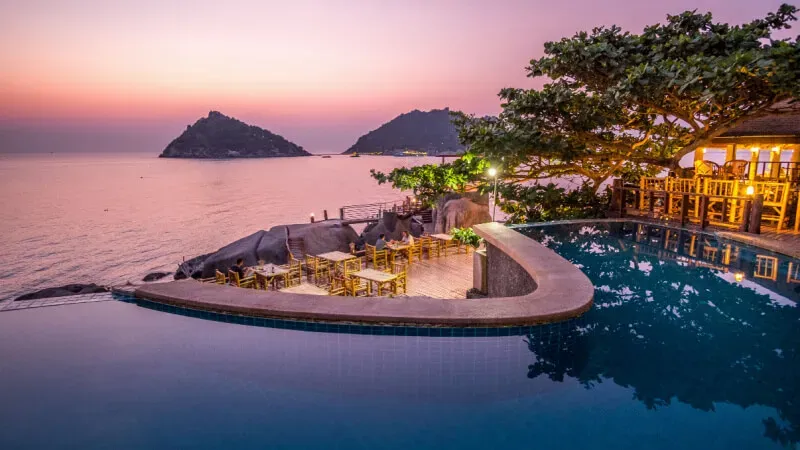 Of all the honeymoon destinations in Thailand, Koh Tao is one of the best islands and one of the best attractions in Thailand for couples who love to experience the best of both worlds. After the most adventurous experiences, the island offers the opportunity to enjoy a romantic dinner like never before and create unique memories that you can cherish for a lifetime! Spend some romantic time together at Sairee Beach, take a breather, and watch the sunset together before the day ends.
Popular Attractions: Koh Nang Yuan, Ao Tanot Bay, John Suwan View Point, Shark Island, Sairee Beach, Sai Nuan Beach
Major Airport: Samui Airport
Things to do: Relax on the beaches of Koh Tao, Discover the underwater world while snorkeling,  Do a scooter tour over the island
Also Read: Top 10 Beaches in Thailand: Explore the Palm-Fringed Sandy Stretches
10. Koh Phangan: Views of Tranquil Beaches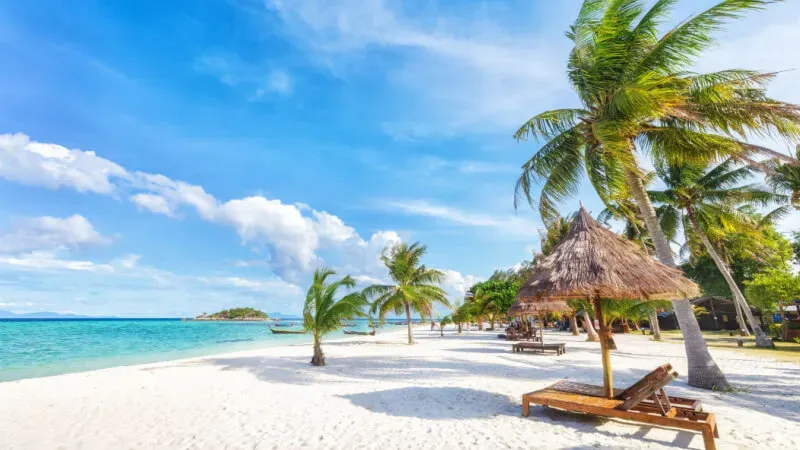 The place near  Koh Samui is another perfect place for an extraordinary honeymoon. Also popular as one of the best honeymoon destinations in Thailand, the relaxed atmosphere creates a sense of calm. Enjoy popular full moon parties and attractions such as Sadet-Ko Pha Ngan National Park, Ao Nai Wok, and Phaeng Waterfall to ensure you have the best vacation here! Come have a great splash on the beach together and let your hair down too as you partake in the famous full moon party here. Don't forget to visit Sunrise Beach and make memories.
Popular Attractions: Thong Sala night market, Ban Tai Beach, Thong Nai Pan Noi, Thong Nai Pan Yai
Nearest Airport: Samui International Airport
The "Vegas of the East" is a highly sought-after country famous for its nightlife which can be availed with Thailand Couple Tour Packages. Thailand is the perfect honeymoon package to satisfy all your fantasies - stunning scenery, blissful beaches, luxury resorts right on the beach, great places to bring out the adventurer in you, delicious food to tempt your taste buds, memorable fun all-night swing party. - Name it and get it!
Honeymoon in Thailand - FAQs
Q.1 Where can we enjoy the best nightlife in Thailand?
Patpong in Bangkok is an area with more than 20 go-go bars, nightclubs, and bars where visitors can enjoy the best nightlife in Thailand.
Q.2 Why is Pattaya famous?
Pattaya is popularly known as the "Hawaii of the East" which offers a plethora of sunshine, beautiful beaches, and scrumptious seafood. The coastlines here have crystal clear water, making it a popular attraction for beachgoers from all around the world.
Q.3 What is the best time to visit Thailand?
The best season to visit Thailand is from November to early April. This is when the heavens are no longer pouring and the sky clears up.
Q.4 Which month is the cheapest in Thailand?
The cheapest month to fly to Thailand is usually June and October due to the rainy season in Thailand.
Q.5 What is Thailand's famous food?
Pad Thai, Tom yum goong, Som tum, Tom kha kai, Gaeng Daeng, etc are some of the popular mouth-watering delicacies of Thailand.
Q.6 Why is Koh Phangan famous?
Koh Phangan is popular for full moon parties and attractions such as Sadet-Ko Pha Ngan National Park, Ao Nai Wok, and Phaeng Waterfall which ensures that you have the best vacation here!
Q.7 What is the ideal duration for experiencing the best honeymoon in Thailand?
Ideally, 5-7 days are enough to explore the most famous spots of Thailand and participate in some entertaining activities.
Q.8 What can I take as a souvenir from Thailand?
Thai Silk, Thai Spices, Wooden Carvings, Spa Products, Silver Jewelry, Snacks, and Coconut Crafts are some of the popular products that you should take to home from Thailand.
---