A vacation to Thailand is incomplete without visiting Hanuman World, Phuket. This destination is a paradise for all the adventure junkies out there, and it draws its inspiration from Lord Hanuman who was an adventurer at heart. Nature lovers would also find this place an excellent location to spend time amidst greenery. The zipline adventures here would make your day in Phuket an exciting and thrilling one. So, are you ready for the fun to begin?
Hanuman World Phuket Overview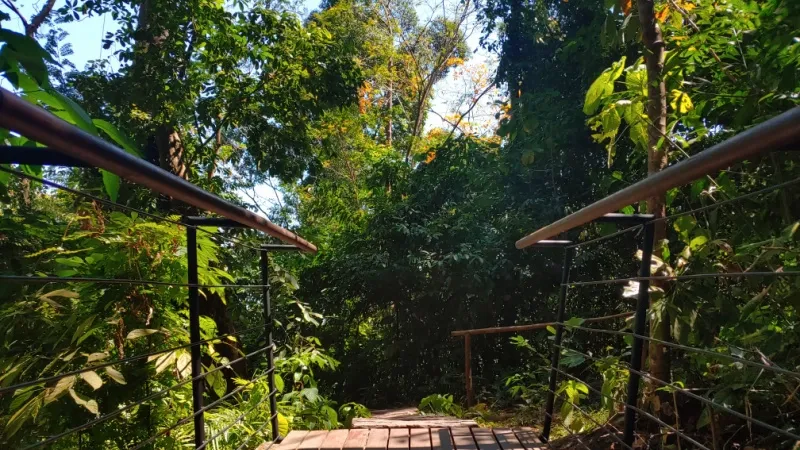 Here are a few things worth noting before taking a trip to Phuket Hanuman World.
Opening hours: 8 A.M to 5 P.M
Best time to visit: November to February or March to May
Address: 89/16 Moo 6, Soi Namtok Kathu, Wichitsongkram Road, Kathu, Kathu, Phuket
Ticket price:
32 platforms – Around THB 2,900 per person
18 platforms – Around THB 2,200 per person
10 platforms – Around THB 1,500 per person
Roller Zipline – Around THB 1,000 per person
Skywalk – Around THB 500 per person
How to reach:
Air: Take a flight to Phuket International Airport and then take a cab or taxi to Hanuman World
Road: You can take a bus to Kathu and then hire a taxi or a cab to this adventure hub via the Phuket Wake Park
Nearby restaurants: Coffee Talk, Three Monkeys Restaurant, Wanon Restaurant, Hong Bao Ramada Phuket
Nearby hotels: Villa Zolitude Resort and Spa, Seabed Grand Hotel Phuket, The Memory at On On Hotel, Travelodge Phuket Town
Highlights of Hanuman Zipline Phuket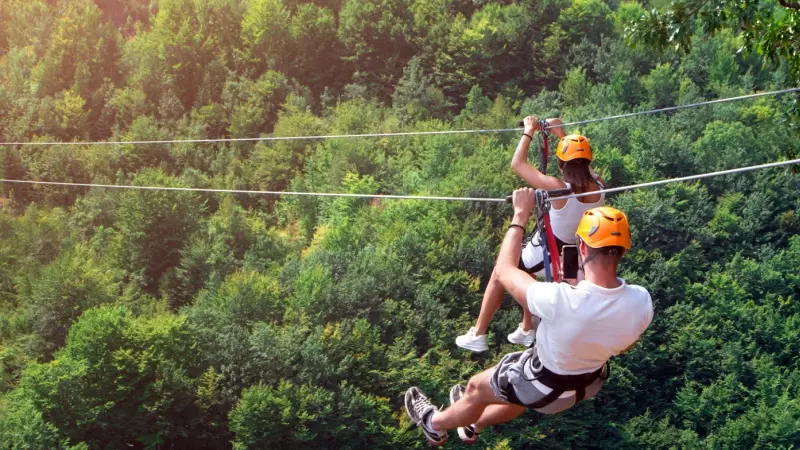 There are a lot of exciting things that this adventure hub offers to the visitors, which is why it's considered among the famous places to visit in Phuket. You should look forward to the following things.
It's an environment friendly place ideal for nature aficionados
Children to adults, everyone can enjoy the activities here
The adventure activities include zipline, skywalk, spiral stairways, and so on
International safety standards are followed
They offer highly trained professionals and guides
This place includes Thailand's longest and fastest ziplines
You'll learn to appreciate the beauty of the rainforest as you zipline over it
Also Read: Phuket FantaSea: Escape to this Cultural Theme Park for an Exciting Day
Types of Adventure Activities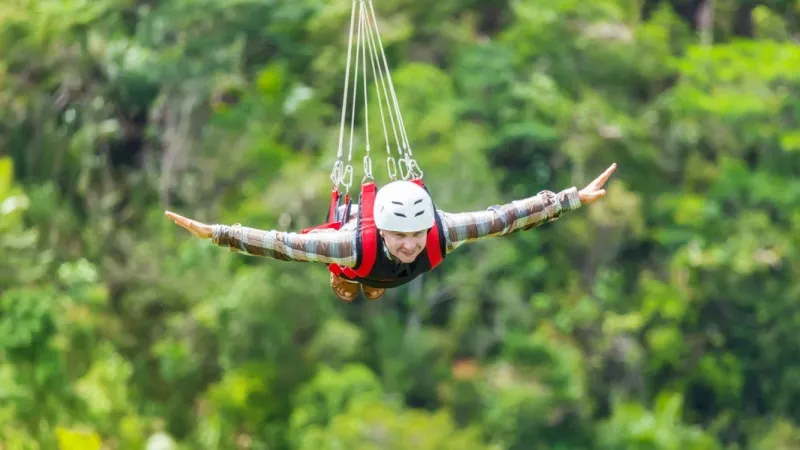 Hanuman World in Phuket offers a variety of activities and each one offers something unique than the other. Regardless of what you indulge in when exploring this city, this is one of the most exciting things to do in Phuket that you can't miss out on.
10 Platforms: This is an approximately 45-minute-long ziplining activity, which is suitable for people aged 4 to 70 years. The ideal weight to do this activity should be 120 kg or 264 lbs, and it's better to reach the location half an hour early. The timings for this 500 m long zipline activity are 8 A.M, 10 A.M 1 P.M and 3 P.M.
18 Platforms: When it comes to this zipline, it's 300 m long and takes approximately 1 hour to complete. People of 4 to 7 years of age can try this activity and their weight shouldn't exceed 120 kg or 264 lbs. The timings are: 8 A.M, 10 A.M, 1 P.M and 3 P.M.
32 Platforms: This 400 m long zipline is ideal for people aged 4 to 70 years with a weight less than 120 kg or 264 lbs. This 2-hour long zipline activity is operated at 8 A.M, 10 A.M, 1 P.M and 3 P.M.
Roller Zipline: You can consider this one of the shortest but fastest zipline here of 800 m and it takes 3 to 5 minutes to complete it. It travels at a speed of 40 km/hour. You can try it any time from 8 A.M to 5 P.M and your video will also be captured using GoPro HD quality and you can buy that video for a price. After all, a memory of such thrilling activity, which is among the adventurous things to do in Thailand should be captured.
Skywalk – This 30-minute-long activity involves you walking on a bridge that is up in the air. You can marvel at the beauty of nature as you walk amidst it. It's available from 8 A.M to 5 P.M. The highlight is that it's the longest skywalk in Thailand.
Adventure Packages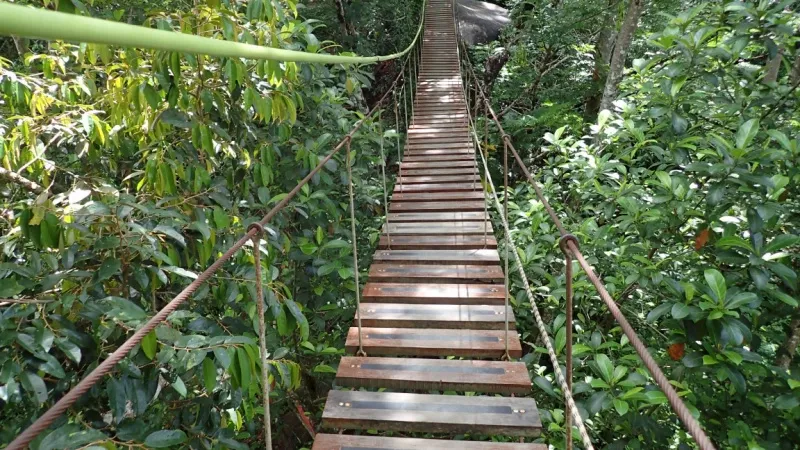 There are adventure packages as well that Hanuman Park Phuket offers, which includes a combination of activities, so you can try booking these as well.
Combine WA+ - The first package includes 400 m zipline with 32 platforms, a roller zipline, and skywalk activities as well. It's a 3-hour long package and includes a free meal and transport from and to the hotel. People aged 4 to 70 years with a weight not exceeding 120 kg or 264 lbs can do this activity. The timings for this are 8 A.M, 10 A.M, 1 P.M, and 3 P.M. It costs around THB 3,490/-.
Combine WB+ - This is a 2-hour long package with 300 m zipline, a roller zipline, and skywalk activity included. Ages 4 to 70 years can enjoy this activity and their weight should be less than 120 kg or 264 lbs. A free meal and round-trip transport to the hotel is included in the package costing approx. THB 2,990/-, and it's operated at 8 A.M, 10 A.M, 1 P.M and 3 P.M.
Combine WC+ - You can experience a 500 m long zipline, a roller zipline, and skywalk in this 1.5-hour package that costs around THB 2,490/-. It also includes a free meal and transport to and from the hotel, and people aged 4 to 70 years can try it. The maximum weight limit is 120 kg or 264 lbs and the operating hours are 8 A.M, 10 A.M, 1 P.M, and 3 P.M.
Suggested Read: Phi Phi Islands: Explore the Adventure Land in Phuket
Travel Tips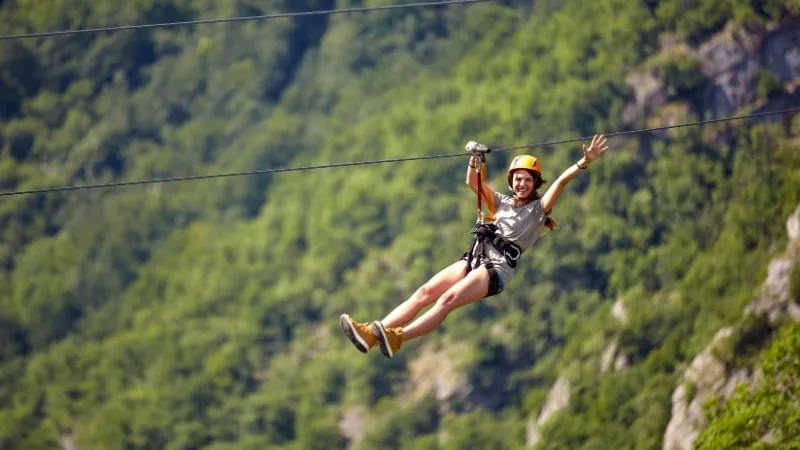 There are certain tips that you must adhere to for a fun but safe time in this adventurous location.
These activities aren't ideal for people with back problems, heart problems, pregnant ladies, or those with other serious medical conditions
Carry a valid identity proof
Foreign Nationals must share their passport and visa details at the entry
Minimum age for the activities is 4 years and maximum age is 70 years
The maximum weight limit for the activities is 120 kg or 264 lbs
Suggested Read: 10 Best Beaches in Phuket: Paradise Found in Thailand's Coastal Gem
Now you know why a trip to Hanuman World, Phuket is of utmost importance when traveling to this city. The adrenaline rush you'll feel before each activity would make the entire experience worth it. The best part is that it's inclusive of people from all walks of life and offers a variety of activities that you can indulge in. It's the perfect combination of beauty and thrill, so don't wait any longer and book our Thailand tour packages for an exciting time here.
FAQs
Q1. How long is the zipline in Hanuman world?
There are different lengths of ziplines in Hanuman World, Phuket. These include 500 m, 400 m, and 300 m long ziplines.
Q2. How much is Hanuman Zipline Phuket?
The cost of ziplining in Hanuman Park depends on the zipline you choose. However, the cost would range from around THB 1000 to THB 3000.
Q3. What is the weight limit for Hanuman world?
The weight limit for Hanuman World is 120 kg or 264 lbs. Those who are suitable to this weight limit can enjoy the activities in the adventure hub.
Q4. Is Hanuman World safe?
Yes, Hanuman World is safe as they follow international safety standards and have trained professionals and guides to help you.
Q5. How far is Hanuman World from Phuket International Airport?
Hanuman World is around 36 km away from Phuket International Airport, so it'll take approx. 1 hour to reach there.
Q6. What is special about Hanuman World Phuket?
Hanuman World Phuket is famous for its adventure activities while also being an eco-friendly destination. The rainforests and lush greenery here make it a special place for nature lovers and adventurers.
Q7. Is it allowed to use our camera while ziplining?
Yes, it's allowed to bring your own camera as you zipline from one end to another. Since the beauty of this place is worth capturing, you can record yourself doing this activity.
Q8. What is the age limit for doing adventure activities at Hanuman World?
The age limit is 4 to 70 years. Also, people with medical conditions, such as back problems or heart problems and pregnant ladies aren't allowed to try these activities.
---