A sense of calm sweeps over the Mauritius islands as the sun sets below the horizon, coloring the sky with orange and pink colors. Get ready to embark on a voyage of discovery of the best islands in Mauritius with this blog, uncovering the hidden jewels that embellish these tropical sanctuaries. Prepare to be baffled by the rhythmic dance of palm trees, the soft lullaby of waves, and the warm Mauritian sun on your skin. Whether you're looking for a relaxing getaway or an exciting adventure, these islands offer a variety of experiences that promise to expand your senses and soothe your soul.
Best Islands of Mauritius: Mauritius Retreats for the Soul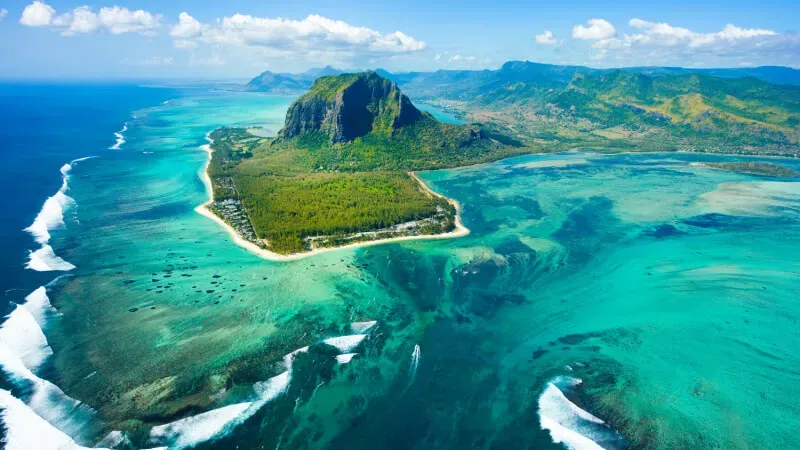 Mauritius' islands are more than natural wonders, they are also intertwined with myths, stories, and narratives reflecting the inhabitants' rich cultural past. The best islands to visit in Mauritius offer a symphony of experiences that resonate with every traveler's heart, from bustling markets where local artisans showcase their work to peaceful lagoons where time seems to stand still. Join us on a photographic journey that reveals the breathtaking beauty and unmistakable charm of Mauritius' islands one frame at a time.
Here are the top 10 Islands that you need to explore in Mauritius:
Rodrigues Island
Agalega and St. Brandon Island
Ile des Deux Cocos
Le Morne Brabant
Le Souffleur
Ilot Sancho
Ile De La Passe
Ile Aux Flamants
Gunner's Quoin
Ile D'Ambre
1. Rodrigues Island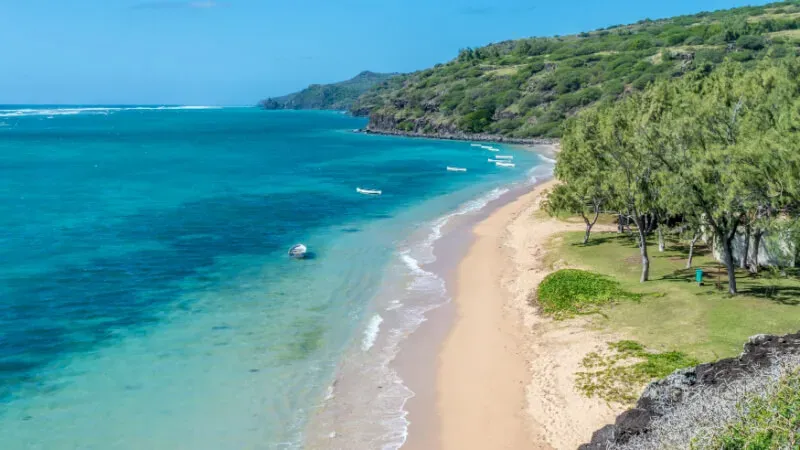 Rodrigues has a variety of thrilling watersports for anyone looking for an adrenaline rush. Feel the wind surge through your hair while participating in heart-pounding activities such as wind and kite surfing on one of the largest islands in Mauritius. Experience the thrill of ziplining across lush landscapes or immerse yourself in the colorful underwater world with enthralling scuba diving experiences. Rodrigues entices you with its untainted beauty and numerous recreational activities, allowing you to immerse yourself in a symphony of natural beauties and thrilling adventures.
Famous for: 80 km coastline with water sports, Home to more than 3,000 tortoises
Ideal for: Adventure seeker
Also Read: Top Places to Visit in Mauritius: Where Thrill and Leisure Come Together
2. Agalega and St. Brandon Island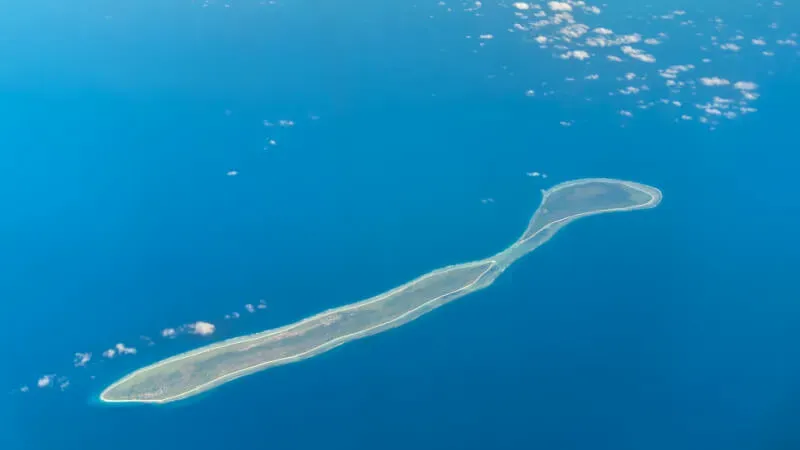 Immerse yourself in the clear seas, snorkelling with majestic sharks, beautiful tortoises, and a diverse array of marine life. Explore the rich tapestry of shattered coral islands and wander across pure white sand flats, each corner a tribute to nature's beauty. Witness the mesmerizing spectacle of nesting tortoises and seize the opportunity to interact with the island's thriving ecosystem. This magnificent tour reveals a world of wonder, capturing the essence of Mauritius' most extraordinary islands. Agalega and St. Brandon Island beckon with unspoiled beauty and promise a remarkable voyage for those seeking the extraordinary.
Famous for: Snorkelling
How to reach Agalega and St. Brandon Island: Take a flight from Mauritius airport
3. Ile des Deux Cocos
A multitude of experiences awaits you amid the tranquil beauty of this 'Coconut Haven,' beckoning you to explore the wonders of both land and water. Prepare for a thrilling journey across Blue Bay's sparkling waters, gliding atop a glass-bottom boat that displays the mesmerizing aquatic realm beneath to enjoy the nightlife in Mauritius. A variety of water sports await adventurers, including snorkeling, diving, fishing, solarium lounging, and scuba diving, providing a variety of opportunities to engage with the marine beauties. Dive into the enchantment of the Blue Bay Maritime Reserve, an underwater refuge filled with magnificent corals and a kaleidoscope of bright marine animals that paints a unique portrayal of aquatic life.
Famous for: Snorkelling, diving, fishing, solarium, scuba diving, etc
How to reach Ile des Deux Cocos, Mauritius: You can reach Ile des Deux Cocos from Port Louis by bus, car, or even a ferry.
Suggested Read: Top 10 Beaches in Mauritius: Leave Your Footprints in the White Sands
4. Le Morne Brabant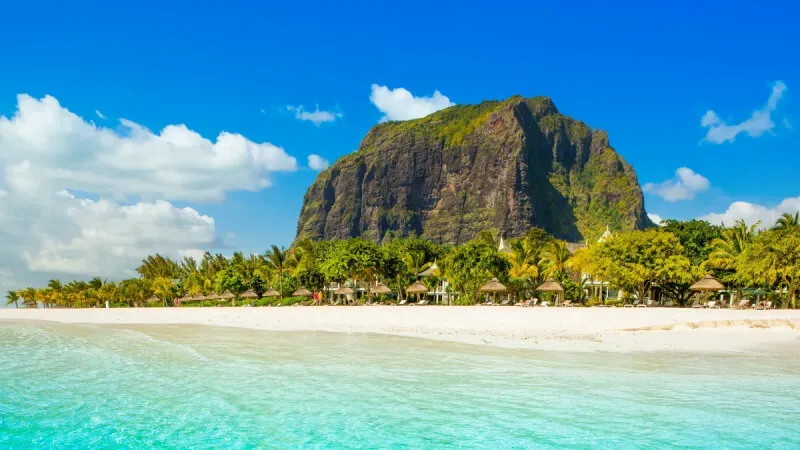 Le Morne Brabant appears as a mesmerizing masterpiece, nestled amid Mauritius' best islands and proudly wearing the UNESCO World Heritage designation. Its unique peninsular structures, capped by a dominating basaltic peak 556 meters above sea level, stand as a steadfast protector against nature's powers. This extraordinary island is known for its rugged beauty, with steep slopes studded with fascinating caverns that weave age-old tales. Le Morne Brabant, one of Mauritius' most prestigious islands, invites you to embark on a journey of exploration and discovery, where history, nature, and wonder collide to offer an experience unlike any other.
Famous for:  556 m high basaltic peninsular formations,  underwater waterfall
How to reach:  You can take a bus or drive down to Le Morne Brabant and then take a boat ride or ferry.
5. Le Souffleur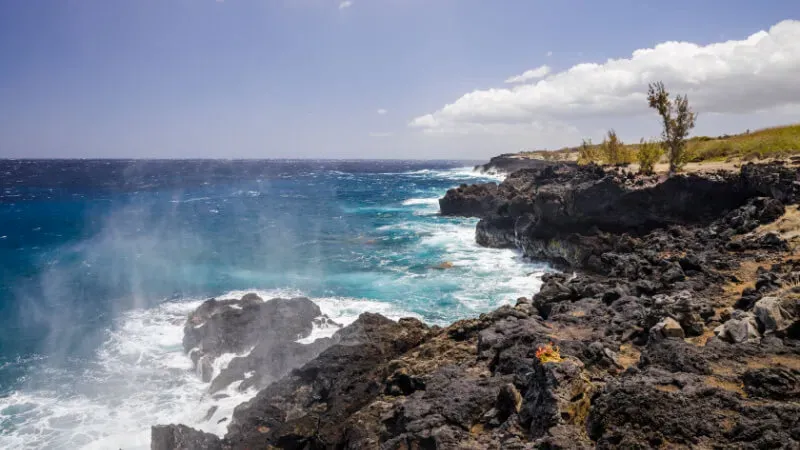 Le Souffleur, a landscape produced from the wild dance of roaring waves and molten lava, emerges as a tribute to nature's raw strength, tailored for travelers in quest of untamed beauty. This island is a canvas of rough splendor, formed by the collision of the intensity of the ocean with burning cliffs. Le Souffleur, lush with the gift of natural springs that embellish its terrain, conceals hidden gems within its embrace making it a perfect location to enjoy a honeymoon in Mauritius. A half-forged cavernous wonder hides a fascinating secret: a natural geyser fountain that delicately shoots water skyward, reaching heights of up to 20 meters. This enthralling spectacle is the apex of the sweeping panoramas presented by the unique tapestry of Mauritius islands.
Famous for: Natural springs and geyser fountain, Naturally formed bridge
How to reach Le Souffleur, Mauritius:  You can drive down or take a bus and then take a boat ride or ferry to reach Le Souffler from Port Louis.
6. Ilot Sancho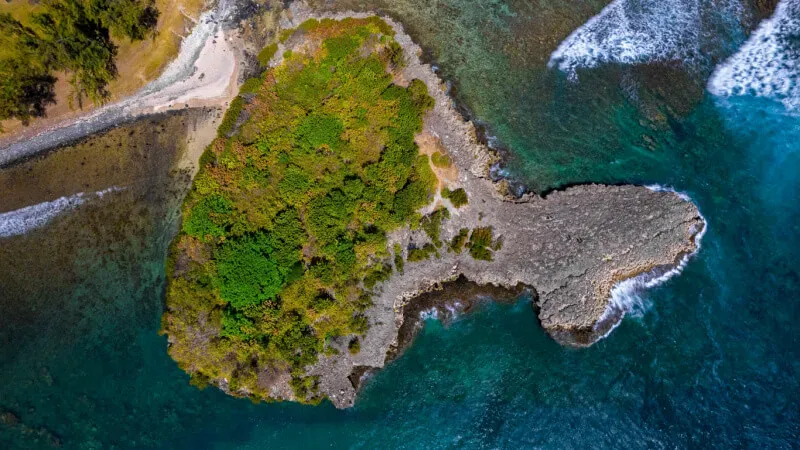 With the passage of time, Ilot Sancho's link with the mainland ebbs and flows. A tidal passage connects this interesting island to the beach, offering a fanciful experience that opens when the tide recedes, making it a delightful site to explore. Ilot Sancho develops as a treasured retreat for surf fans in the southern region, harmoniously blending the realms of history and environment. Its waves entice avid surfers, and its historic past adds to its attractiveness. Panoramic views of the island's splendor and the spectacular sea beyond are available as you gaze out over the great expanse of the ocean.
Famous for: surfing spot, picnicking
How to reach: You can drive down to Ilot Sancho from Port Louis or take a bus and then take a boat ride or ferry
Suggested Read: Top Things to do in Mauritius: The Most Desired Destination for Recreational Activities
7. Ile De La Passe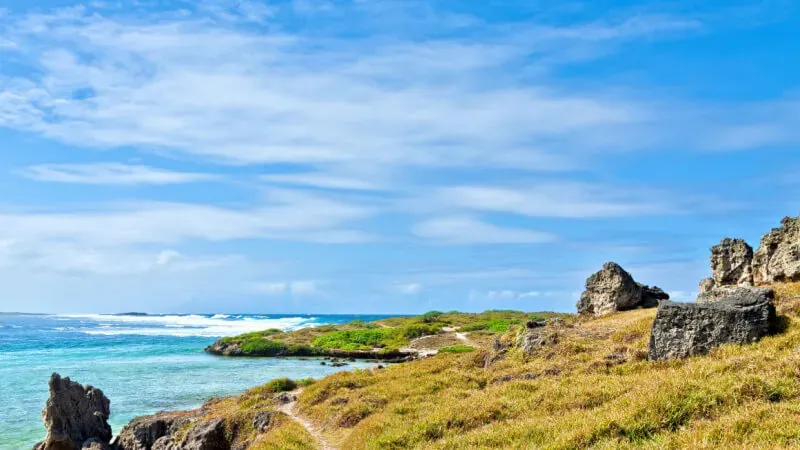 Ile de la Passe, a delight for history buffs, reveals a patchwork of ruins, each one a chapter in the island's fascinating past. Echoes from bygone centuries resound across time here, tempting you to walk around the remnants of a strategic fortress making it one of the famous islands around Mauritius. Explore the essence of the island's historical significance by immersing yourself in the captivating narrative woven within these worn walls. Ile de la Passe offers a variety of interesting activities and sites for those drawn to the enchantment of the past. A graffiti wall filled with the names of these heroic individuals serves as a melancholy homage to the troops who once frequented this island, etching their memories into the very fabric of the island.
Famous for: Wall graffiti, Historically significant.
How to reach Ile De La Passe, Mauritius: You can drive down or take a bus and then take a boat ride or ferry to Ile de la Passe from Port Louis
8. Ile Aux Flamants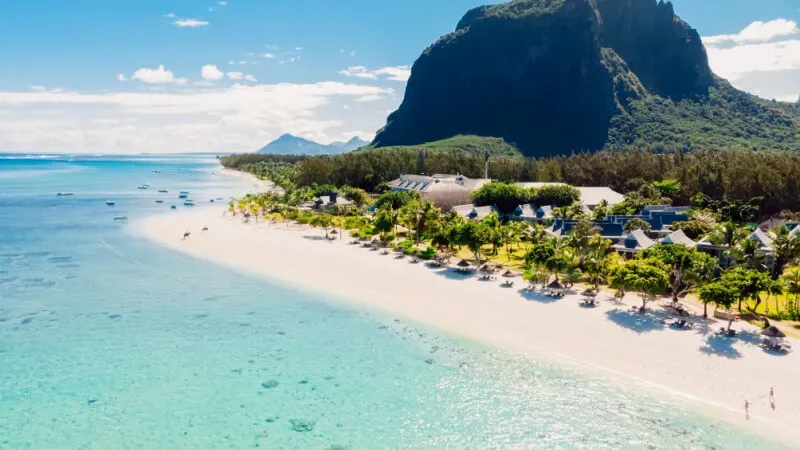 Ile aux Flamants beckons as an idyllic haven, where nature's artistry and modern comforts unite to offer a swift yet immersive respite, leaving you with cherished moments and a rejuvenated spirit. For a truly indulgent escapade, traverse the tranquil waters surrounding Ile aux Flamants aboard opulent catamarans, a luxurious voyage that ensures your journey is as extraordinary as the destination itself.
How to reach Ile Aux Flamant, Mauritius: You can drive down or take a bus and then take a boat ride or ferry to get to Ile Aux Flamants from Port Louis.
Suggested Read: Best Islands in Thailand: A Guide to Exotic Getaways
9. Gunner's Quoin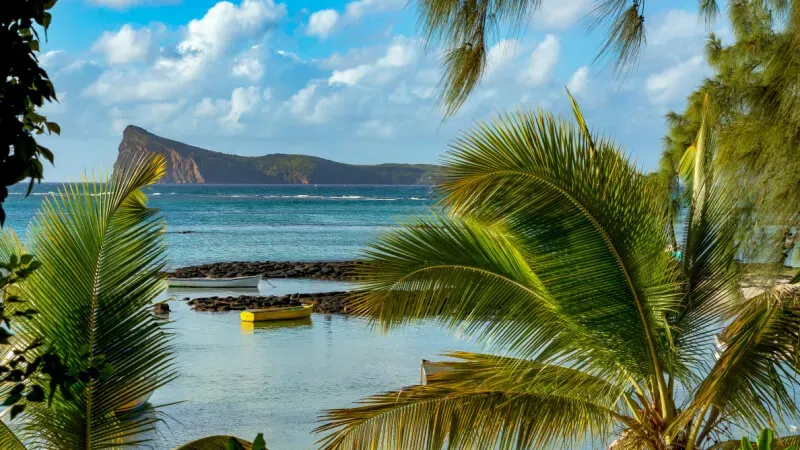 As you venture into Gunner's Quoin's aquatic realm, you're embraced by a symphony of marine life that unfolds before your eyes, a captivating ballet of creatures that call these waters home. A highlight of this extraordinary island is the frequent and awe-inspiring sightings of whales, a testament to the rich marine ecosystem that flourishes in these waters. Gunner's Quoin stands as an enchanting testament to the majesty of Mauritius' natural beauty, offering an invitation to explore and engage with its aquatic wonders, a privilege reserved for those who seek a truly unique and unforgettable journey.
Famous for: Snorkelling, underwater diving, wonderful marine life, spot sharks
How to reach: You can reach Gunner's Quoin from Port Louis by ferry or a boat ride.
10. Ile D'Ambre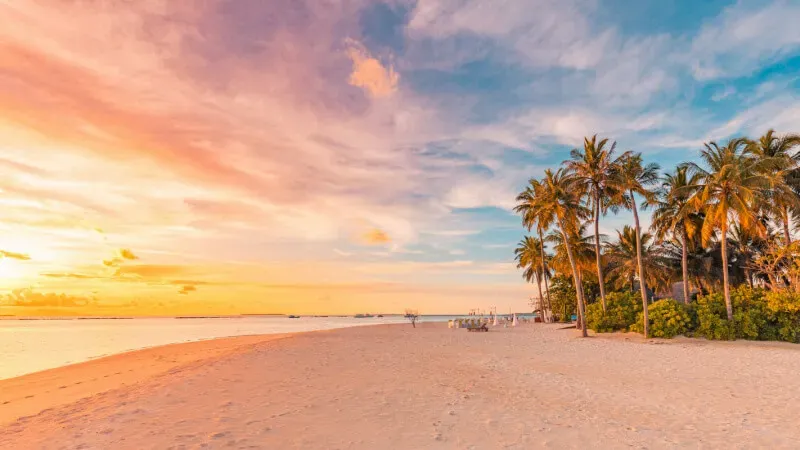 Standing as one of the most expansive and captivating islands to explore in Mauritius, Ile d'Ambre boasts an abundance of enticing activities that promise an enriching experience. From serene lagoons to meticulously groomed nature trails, this island offers a wealth of opportunities to immerse yourself in its beauty. With idyllic picnic spots and ample chances for kayaking, every moment spent here becomes a cherished memory. The island is embraced by a tapestry of diverse vegetation, enhancing its natural allure and offering a picturesque backdrop to your adventures. The lagoons that encircle Ile d'Ambre are an absolute delight, inviting you to partake in their tranquil splendor. A journey into the heart of the Mangrove forests reveals an enchanting ecosystem that adds depth to the island's allure.
Famous for: Kayaking here, Beautiful lagoons, and Mangrove forests.
How to reach: You can drive down or take a bus and then take a boat ride or ferry to Ile d'Ambre from Port Louis.
Suggested Read: Islands In Qatar That Present A Blend Of Luxury & Natural Wonders
In conclusion, the enchanting islands of Mauritius offer a captivating blend of natural beauty, cultural diversity, and unforgettable experiences that can be lived with Mauritius tour packages. From the pristine white sands and turquoise waters surrounding these islands to its people's warm hospitality, Mauritius truly stands as a gem in the Indian Ocean. The unique geography and geology of the islands have shaped a paradise where lush rainforests, cascading waterfalls, and vibrant coral reefs coexist in harmony.
Islands in Mauritius FAQs
Q.1 What are the must-visit islands in Mauritius?
Discover the top islands to explore, from the famous Île aux Cerfs to the lesser-known Rodrigues and Île aux Aigrettes.
Q.2 How do I get to the islands in Mauritius?
Learn about transportation options, including boat trips, ferries, and helicopter transfers, to reach these stunning island destinations.
Q.3 What water activities can I enjoy around the islands?
Explore the thrilling water sports and aquatic adventures available, such as snorkeling, scuba diving, kayaking, and deep-sea fishing.
Q.4 Are the islands suitable for a family vacation?
Find out if the islands offer family-friendly activities, accommodations, and amenities for an unforgettable getaway with your loved ones.
Q.5 What cultural experiences can I have on the islands?
Delve into the local culture by attending traditional festivals, tasting authentic Mauritian cuisine, and interacting with the island's friendly residents.
Q.6 When is the best time to visit the islands in Mauritius?
Learn about the ideal seasons for a visit, considering factors like weather, marine life, and crowd levels, to make the most of your trip.
Q.7 What unique flora and fauna can I encounter on these islands?
Get insights into the diverse plant and animal species that inhabit the islands, including rare birds, endemic plants, and marine life.
Q.8 What are the different islands in Mauritius?
Rodrigues Island, Agalega and St. Brandon Island, Ile des Deux Cocos, Le Morne Brabant, Le Souffleur, Ilot Sancho, Ile De La Passe, Ile Aux Flamants, etc are some popular islands of Mauritius.
---