Mauritius is the energy hub of the city, and you can feel the buzzing excitement in the air. This is because of the incredibly vast array of adventurous things to do in Mauritius. The adrenaline pumping activities are enough to make your heart leap out of your chest and your soul to feel rejuvenated. Mauritius was voted as Indian Ocean's Leading Adventure Tourism Destination and rightfully so. This activity central has a lot to offer, including watersports, outdoor pursuits, such as safari, helicopter ride, and much more. When visiting this bustling city, your spirits would automatically soar high, so discover Mauritius solo, with family, or friends because it welcomes you all.
Exciting Things to do in Mauritius: A Holiday with a Multitude of Experiences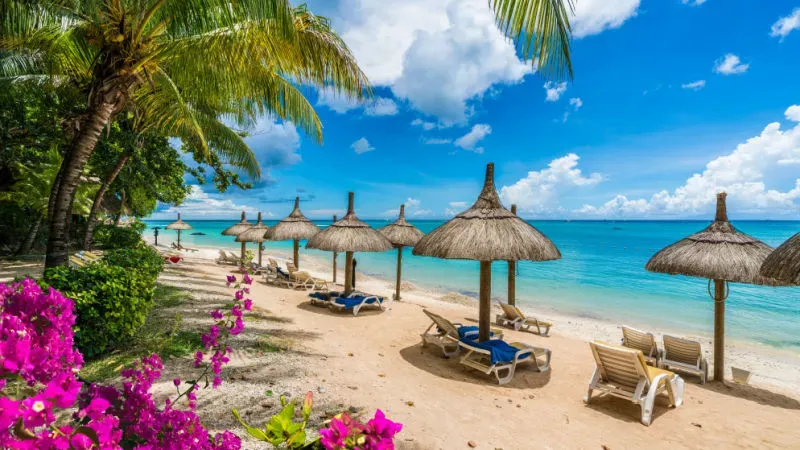 The vibrancy of this city is evident in the people's smile, the mundane activities, and the top things to do in Mauritius. You're in for a spectacularly memorable vacation where new experiences await you. You can feel alive again by doing once in a lifetime adventures that would make you feel surreal. Mauritius is a place where you must keep your fears aside and venture into uncharted territory because that's what you'll take as a souvenir once you return. So, explore this city with the hunger of a globetrotter and the heart of an adventurer to truly experience the joys of this city. Let's see some of the most mind-blowing activities for you to indulge in.
Scuba Dive at the Belle Mare Beach
Walk with the King of Jungle at Casela Park
Take a Helicopter Ride to the Underwater Waterfall
Watch Dolphins and Whales from Up-Close
Enjoy the Nightlife of Mauritius
Go to Triolet Shivala in Triolet Village
Take a Breather at the Beaches
Visit the Bois Cheri Tea Plantation
Sign Up for a Catamaran Cruise
Try Parasailing at Ile Aux Cerfs
1. Scuba Dive at the Belle Mare Beach: Witness the Diverse Marine Life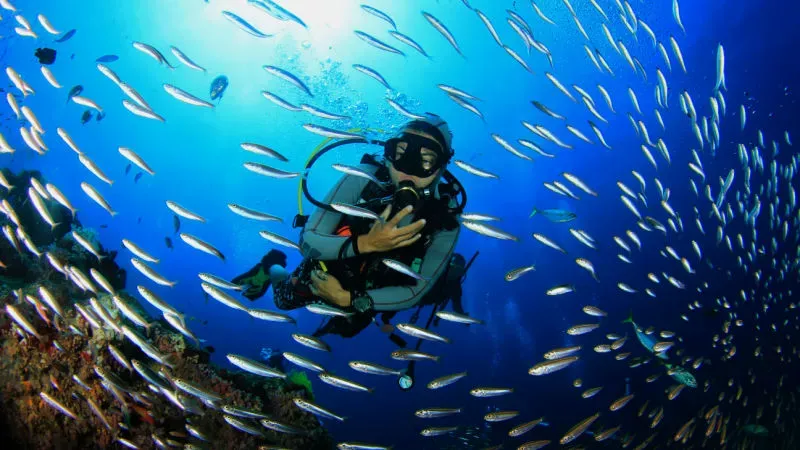 Mauritius is popular for its beaches and islands, which is why watersports, such as Scuba Diving is a must do thing. Watching the underwater world and the marine life at proximity is a whole other experience. The calmness of the sea and crystal-clear water makes scuba diving one of the best adventure activities in Mauritius. After all, it'd be a shame to visit a city full of islands and not explore it from a closer vantage point. Belle Mare is a top-notch beach with sandy stretches and a lively beach vibe. So, take a dive into the deep blue sea and overwhelm your senses with this memorable journey underwater.
Best time to visit: March to April
Things to do: Explore the underwater world, go into the depths of the sea, have a calming experience
2. Walk with the King of Jungle at Casela Park: Experience the Height of Adventure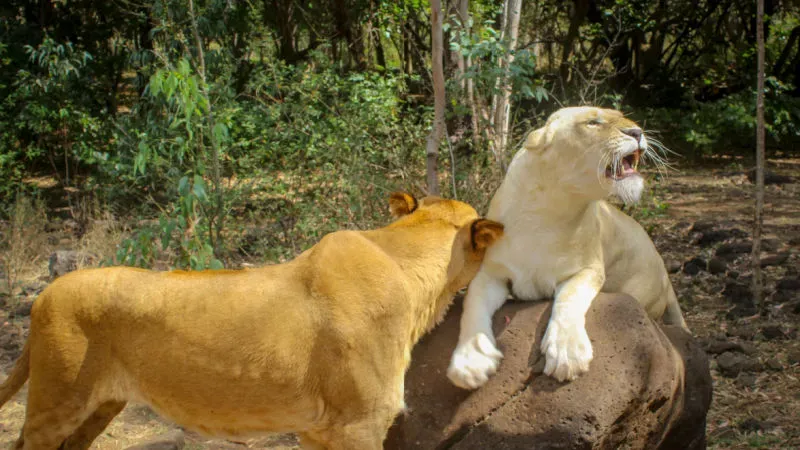 Casela World of Adventures is an amusement park, which offers various adventurous activities for you to participate in. Never in your wildest dreams would you have imagined walking with a Lion, but it's possible right here. Apart from this surreal experience, you can also enjoy zip lining, wall climbing, quad biking Mauritius, etc. and get a chance to view exotic birds and animal species, such as wild boars, macaques, java deer, etc. You can rest assured that your desire to have an adrenaline filled vacation will come true at this amusement park. October is the best time to visit this park, since the weather's pleasant during that time. In fact, there are a lot of places to visit in October in the world due to the same reason.
Best time to visit: 9 A.M to 5 P.M
Things to do: Zip lining, quad biking, walking with a lion, watching rare species of plants and animals
3. Take a Helicopter Ride to the Underwater Waterfall: Watch Nature at its Finest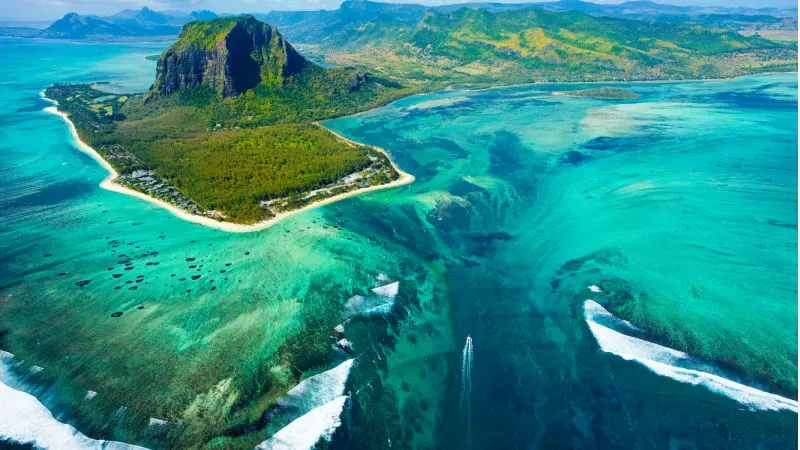 The underwater waterfall is a natural phenomenon, which would leave you mesmerized, to say the least. The sand and silt on the ocean floor slips away and gives the illusion of a waterfall. The best way to take in this view is by taking a helicopter ride to this place near Le Morne Brabant. You'll get to experience two things while doing so: the joys of riding in a helicopter, and a 360-degree view of the waterfall. An aerial view of this natural beauty would be etched in your memory forever. The vistas of lush greenery and turquoise blue water make for an excellent adventure in Mauritius that you cannot miss out on.
Best time to visit: 6 A.M to 6 P.M
Things to do: Soak in the magnificent view of the underwater waterfall and enjoy a helicopter ride
Suggested Read: Best Places to Visit in Al Ahsa: Discover the Timeless Charm and Rich Heritage of Al Ahsa
4. Watch Dolphins and Whales Up-Close: Feel the Surge of Excitement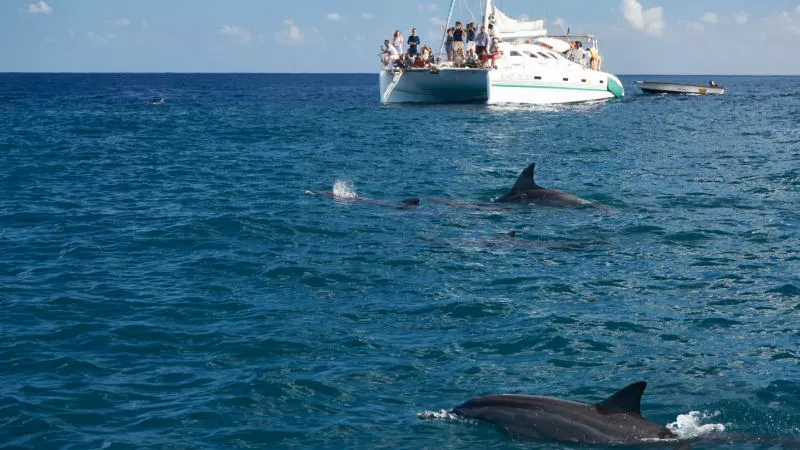 Who would want to miss out on an up-close experience to watch the giant of the underwater world and the adorably friendly species? As you take a cruise or a boat tour into the sea, you'll come across Spinner and Bottlenose dolphins and as for the whales, you can witness the Sperm whale, the Beaked Gray whale, and the Dwarf Sperm whale. However, it entirely depends on the weather and sea conditions. It's an exquisite feeling to spot these aquatic animals from a close distance. So, make this one of the things to do in Mauritius that is absolutely necessary for you to experience.
Best time to visit: 7:30 A.M to 1 P.M
Things to do: Admire these gorgeous marine species, enjoy the view of the vast sea and click insta-worthy pictures
5. Enjoy the Nightlife of Mauritius: Step into the Chaotic and Wild Side of Mauritius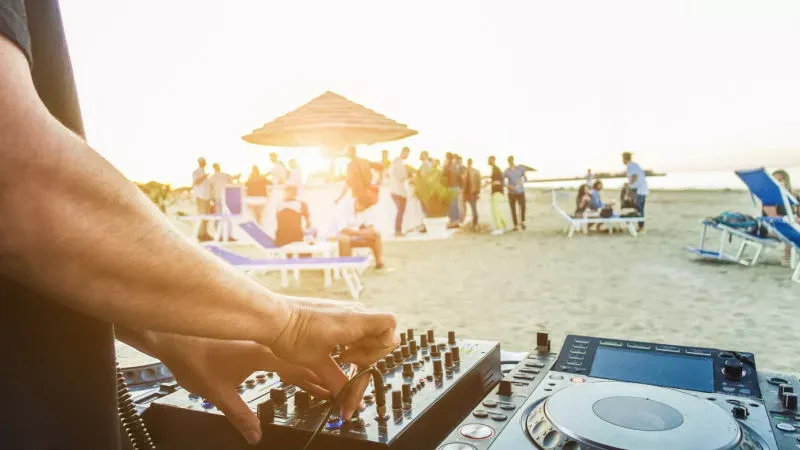 Mauritius is a city that perfectly balances the calm and chaos. Once you've seen its serene side during the day, it's time to witness its wild side at night, which is even more fun. There are a lot of beaches in the city that turn into party hubs during the night, where you can party till dawn. It's a city that never sleeps and to gain the full experience, you must indulge in its nightlife and enjoy the beats of the music, the delicious food, and refreshing drinks. Some of the most popular beach bars include Kenzi Bar, Banana Beach Club, The Irish, and so on. After all, a vacation is meant to be where you can let go and be carefree, with no restrictions. So, make the most of this time away and add this activity as one of things to do in Mauritius at night, because that's when the real fun begins.
Best time to visit: Nighttime
Things to do: Dance all night, click pictures, eat scrumptious food, and have the time of your life
Suggested Read: Shopping in Egypt: Best Shopping Destinations in the Land of Majestic Pharaohs
6. Go to Triolet Shivala in Triolet Village: A Culturally Rich Addition to Your Itinerary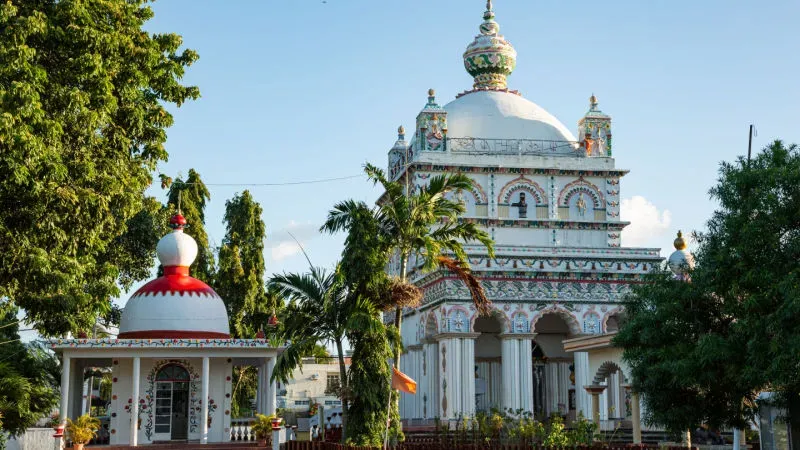 You can't know the depth of Mauritius' culture and tradition unless you visit such tourist attractions like Triolet Shivala. It's one of the biggest Hindu Temple in the country, and is the abode of Lord Shiva, Krishna, Ganesha, Vishnu, Murugan, and Brahma. This temple's located in Triolet Village, which is the longest village in the country. You'll feel the calmness and tranquility by visiting this place that would transport you into a spiritual trance. It'll help you take a breather from all the adventurous activities and the city's hustle and bustle. It's a glimpse into the diverse culture of Mauritius, which is why it's one of the best things to do in Mauritius.
Best time to visit: 6 A.M to 6 P.M
Things to do: Pray to the gods and soak in the positive and spiritual vibes
7. Take a Breather at the Beaches: Take a Stroll Where the Land Meets the Sea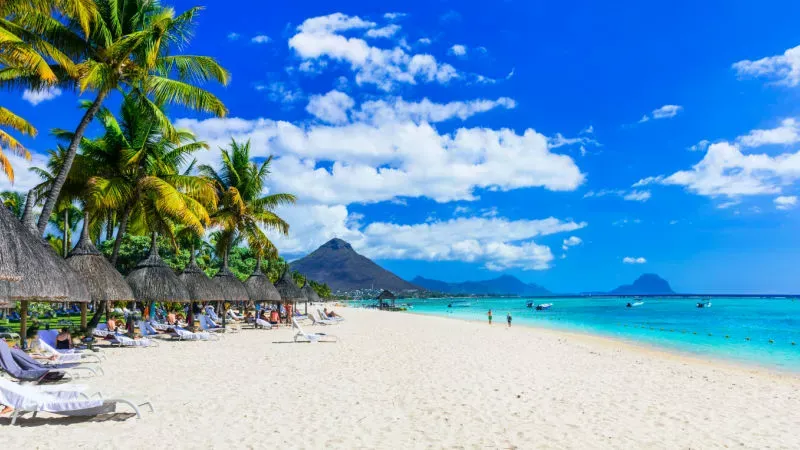 As I mentioned earlier, Mauritius is a popular destination for someone who wants to relax at the beach under the sun and enjoy the simple pleasures of life. Not doing anything is the best part of a vacation and this city understands it perfectly. So, visit the picturesque beaches in Mauritius, and spend time lying on your beach blanket and walking on the sandy stretches. Some of the beaches like Flic en Flac, Belle Mare, Ile Aux Cerfs, etc. are a major tourist attraction. The beauty of the beaches would lure you to spend time there, so there is no point resisting. Infact, there are a lot of things to do in Grand Baie as well, such as watersports, exploring the nearby market, munching on local delicacies, etc.
Best time to visit: May to December
Things to do: Explore the beauty of the emerald waters, get tanned under the sun, walk along the shore, and shop from local markets
Suggested Read: Best Bahrain Restaurants: Enjoy a Culinary Adventure on a Small Island
8. Visit the Bois Cheri Tea Plantation: Taste the Tea of Mauritius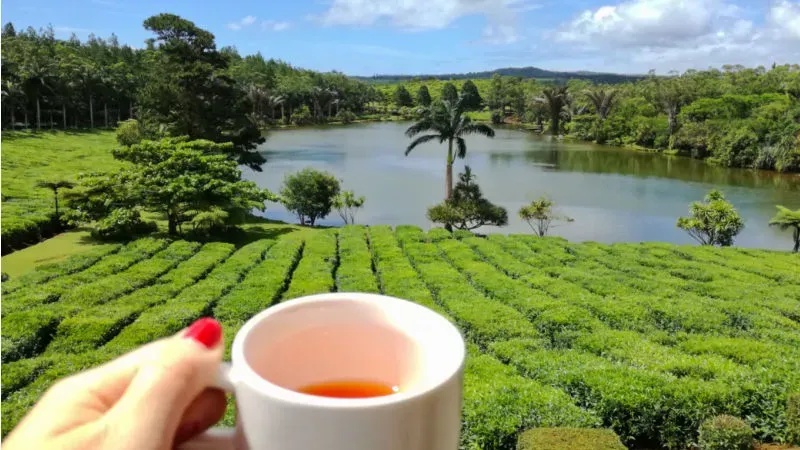 Mauritius isn't just about adventure activities and serene baches; there's also a historical and cultural side to it. A village in South Mauritius is home to a large tea factory, which is a symbol of the Mauritius' people's love for tea. You can take a tour of the entire plantation, along with the museum where you'll learn the history of tea and how it's made. There's also the tea tasting part of the tour, which is the most fascinating one because you get to taste a variety of tea along with waffles or pancakes. You can also visit the nearby restaurant that offers a beautiful view of the Southern coast of the city. It's one of the most exciting places to visit in Mauritius with family.
Best time to visit:
Monday: 8:30 A.M to 12:30 P.M
Tuesday to Saturday: 8:30 A.M to 1:30 P.M
Sunday/Public Holidays: 9 A.M to 5 P.M
Things to do: Explore the tea plantation, taste a variety of teas, and learn about the history of tea in the city
9. Sign Up for a Catamaran Cruise: A Romantic Getaway in the Blue Waters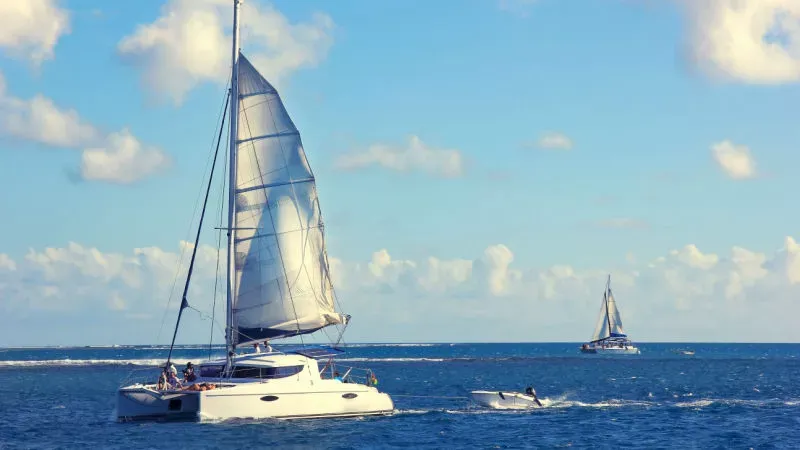 There are a lot of things to do in Mauritius for couples, which is why it's also a top-notch destination for honeymooners. You can sign up for a catamaran cruise to sightsee this marvelous city, while enjoying the beauty of the sea. It's a heavenly way to explore the place and to spend time with your partner. This cruise would take you to West coast, Gabriel Island, Ile Aux Cerfs and Flat Island in Mauritius and trust me, it'd be an unforgettable experience. The lull of the sea paired with the lively vibe of the city makes for the perfect combination, and what could be more romantic than a cruise?
Best time to visit: 8:30 A.M to 4 P.M
Things to do: Explore the 4 major locations of the city, marvel at the view of the sea and have a gala time
Suggested Read: Top Islands in Kuwait: For a Perfect Family Vacation
10. Try Parasailing at Ile Aux Cerfs: Satisfy the Adventurer in You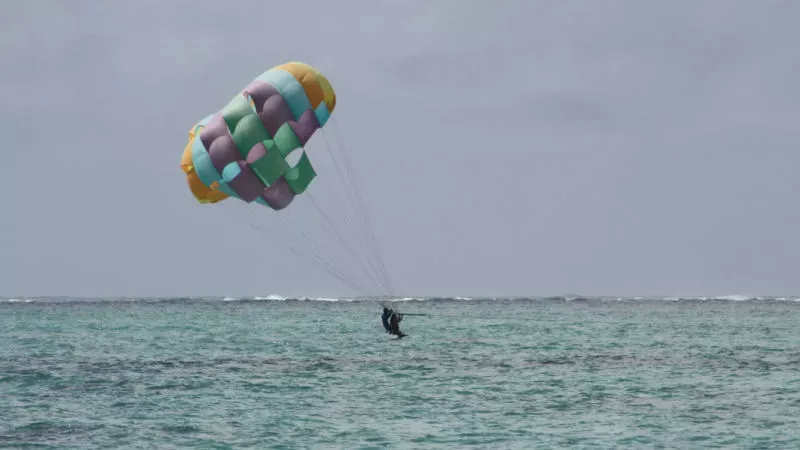 Parasailing is an extremely fun and thrilling things to do in Mauritius because it gives you the best view of the sea, the lagoons, and the sandy stretches. Ile Aux Cerfs is one such beach where this activity would make you want to touch the clouds and give you a bird's eye view of the entire place. There are other beaches as well where you can indulge in this activity, such as Belle Mare and Grand Baie. The calm waters here make for the perfect conditions to enjoy this fun activity, so give it a try and invoke the daredevil in you.
Best time to visit: December to April
Things to do: Go for parasailing and get a complete view of the beach
Our list of things to do in Mauritius comes to an end, but there's still a lot more for you to explore in this paradise. This city is the perfect combination of thrill and calmness, which is what makes it a go-to destination for everyone around the world. From its enthralling beaches to its lively nightlife, what's not to love? Regardless of how many times you visit this city, it'll always surprise you in the best way possible. You might get tired of exploring this place, but the tourist attractions and the things to do here would never end. This city welcomes everyone, from beach bums to adventure seekers. So, plan a trip to this exotic land with our Mauritius tour packages right now for a fun filled vacation.
Mauritius FAQs
Q1. What is Mauritius best known for?
Mauritius is known for its pristine beaches, upbeat nightlife, and adventure activities. You can relax on the beaches, try out various watersports, such as snorkeling, scuba diving, etc., and dance till your feet hurt.
Q2. What are the adventure activities to indulge in Mauritius?
There are plenty of adventure activities that would make your vacation a thrilling one. From walking with the lions and diving into the deep blue sea to parasailing and taking a helicopter ride to the Underwater Waterfalls; there's a lot to do in this city.
Q3. What is the nightlife of Mauritius like?
Mauritius' nightlife is a happening one with music, dance, mouthwatering food and refreshing drinks. You can spend the whole night partying because that's when the city comes to life.
Q4. What is the best time to visit Mauritius?
October to December is the ideal time to visit this city when the weather's neither too hot nor too cold. It gives you a chance to travel the city with ease.
Q5. What are the things to do in Mauritius on honeymoon?
Mauritius is a famous destination for honeymooners because of its picturesque views. Couples would find various romantic things to do like relaxing on a cruise, walking along the shore of the beach, or trying out new things together.
Q6. Is Mauritius an ideal place to visit with family?
Yes, Mauritius is an ideal place to visit with family because there are several cultural landmarks and activities to do with families. You can try out watersports, visit the tea plantation, explore the various temples, and so on.
Q7. How many days is enough for Mauritius?
7 to 10 days are enough to visit this incredible city, which has a lot to offer to its visitors. Exploring the local markets, trying the local cuisine, signing up for adventurous activities, and lying on the gorgeous beaches would require you to plan a long trip.
Q8. Is Mauritius worth visiting?
Mauritius is definitely worth visiting because who can say no to exquisite views of the sandy beaches and azure waters, the enthusiastic nightlife, and the adrenaline pumping activities. In simple words, there's more to Mauritius than meets the eye.
---