Shopping has healing powers, is something that everyone enjoys, and everyone loves to explore the markets more or less. Except for a few exceptions people always look for new shopping destinations. When you visit a new city or even nation, the excitement of shopping rises to new heights to buy something as a memory of that place. In the case of Egypt, a country with tremendous historical and cultural significance, it is difficult to avoid the marketplaces and locations for shopping in Egypt that provide a true glimpse of the country with a wide range of things.
Shopping in Egypt: Top 8 Places for Shopaholics
Shopping in Egypt is like being in a dream where all the beautiful natural and man-made artifacts are in your reach. If you are visiting Egypt, be prepared to explore the markets for souvenirs and other traditional crafts such as jewelry, glassware, textiles, leatherwork, copperware, and brass. Cairo is the epicenter of all Egyptian shopping. Egypt is well-known for its essences, which are often employed by world-class belly dance costumes and French perfumers. If you are more interested in carpets and rugs, make sure you acquire an Egyptian kilim. So, now if you are planning to visit the country, here is the list of markets to explore and do shopping in Egypt.
Attareen Antique Market
Nomad
Khan Al Khalili Market
Souk Al Fustat Market
Senzo Mall
Mall of Arabia
Sami Amim
Sharia As Souq (Aswan Souk)
1. Attareen Antique Market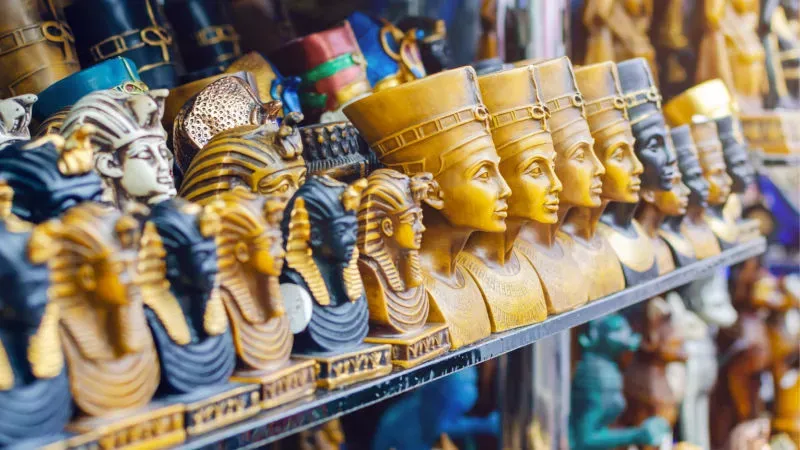 If you're looking for antiques for your house or junk jewelry, the Attareen Antique Market in Alexandria is the best place for shopping in Egypt. You will be mesmerized by the things available here as you delve through the vibrant jumble of this fascinating market's shadowy backstreets and lanes. From European upper-class goods to Egyptian traditional works, there is an antique piece for everyone in these lanes. This site is even more beautiful at night when the market is filled up with lights flashing over these gleaming ancient materials. Best places for shopping in Egypt
Location: Sharia Attareen, Alexandria, Egypt.
Operating Hours: 10 AM onwards
Known for: This gorgeous market is best known for its antiques and junk jewelry
2. Nomad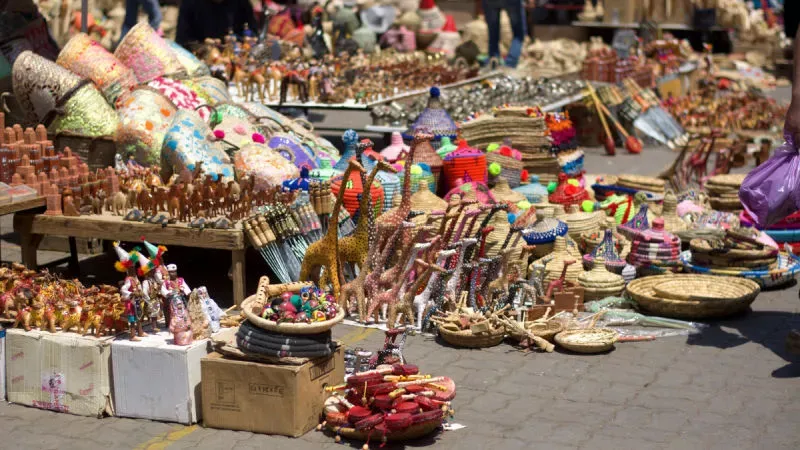 Nomad is an ideal destination for all the gorgeous things you can discover in Egypt, specializing in authentic Bedouin costumes, crafts, and jewelry. This shop sells stunning tablecloths, pillow covers, woven baskets, oases-spun garments, and big silver oxidized jewelry. This location is everything a lady has ever desired to purchase for all of her outfits. This location preserves authentic Egyptian art and artisan culture. Though it will take some time to get here, the effort will be worthwhile. It's also a great spot to get mementos for your family and friends.
Location: First floor, 14 Sharia Saray Al Gezira, opposite Squash Court of Gezira Club, Zamalek, Cairo, Egypt.
Operating Hours: Everyday 9 AM to 8 PM
Known for: This place is best known for all kinds of traditional Bedouin Egyptian arts and artefacts.
Suggested Read: Honeymoon in Cairo: Spark Your Romance Amidst the Enthusiastic Egyptian Aura
3. Khan Al Khalili Market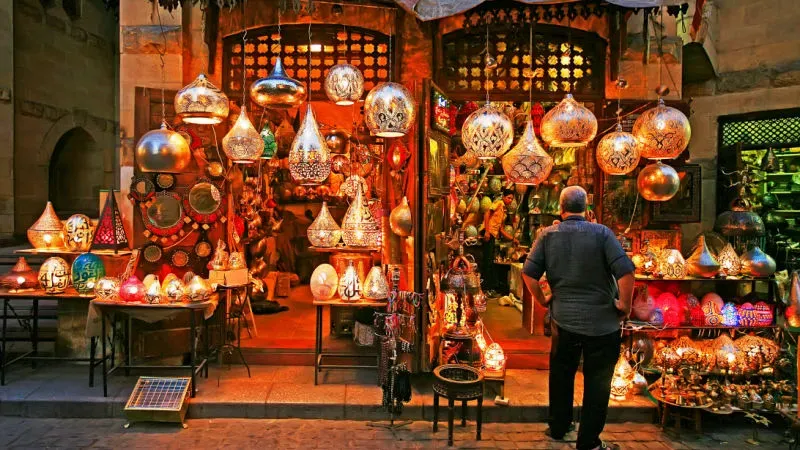 This centuries-old market in the heart of ancient Cairo city is a must among the places to visit in Cairo for everyone who enjoys strolling around and shopping. Even if you don't like shopping, you may wonder about this market to get a sense of the rush and bustle of this wonderful Arab city. Keep your wallets full of cash and practice haggling beforehand, since that ability will come in handy at this location. Probably the greatest store in town to buy unusual T-shirts, small bottles of colored sand with camel drawings, and incredible gifts with your name printed in hieroglyphics, and ancient Egyptian script are the best things to buy from Egypt.
Location: El-Gamaleya, El Gamaliya, Cairo Governorate 4331302, Egypt
Operating Hours: Everyday 9:30 AM to 11 PM
Known for: Gold and jewelry, Silver, copper, brassware, Shisha water pipes, and Leather goods
4. Souk Al Fustat Market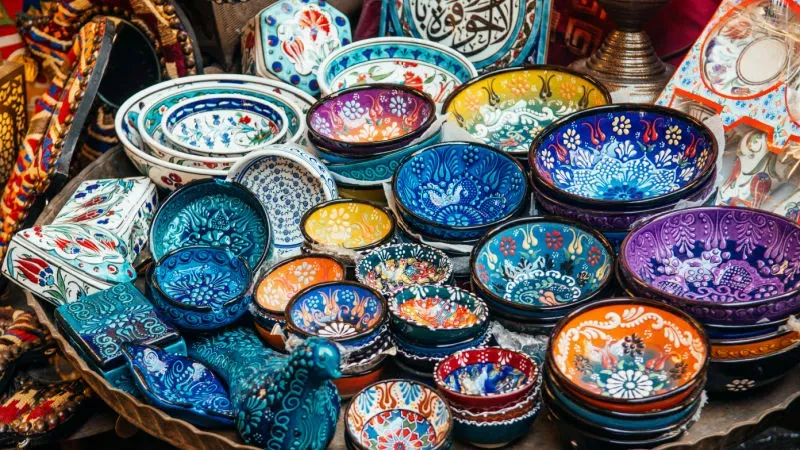 This souk is located in a building immediately north of Coptic city, near the Mar Girgis metro station. It's a cozy and tidy shopping place in Egypt, where you can get extremely excellent, handcrafted Egyptian goods from all throughout Egypt. You'll discover fixed prices on the things, which means you won't have to waste time bargaining or feeling duped. Beautiful Bedouin work on pillowcases and apparel, woodwork, paintings, ceramic objects, and traditional, bright metal cups, bowls, trays, and so forth are all available. The Souq is certainly worth a visit! It's an excellent idea to combine a visit to the Souq with a tour of old Cairo (Coptic Cairo) and the hanging church, both of which are located just adjacent to the market.
Location: 265J+JHF, Al Kafour, Old Cairo, Cairo Governorate 4244010, Egypt
Operating Hours:
Thursday to Sunday: 10 AM to 7 PM
Monday to Wednesday: 10 AM to 5 PM
Known for: Wonderful Bedouin work on pillowcases, colorful metal cups, woodwork, paintings, traditional, bowls, trays, ceramic products, etc.
Suggested Read: Nightlife in Cairo To Discover A Traditional Egyptian Night
5. Senzo Mall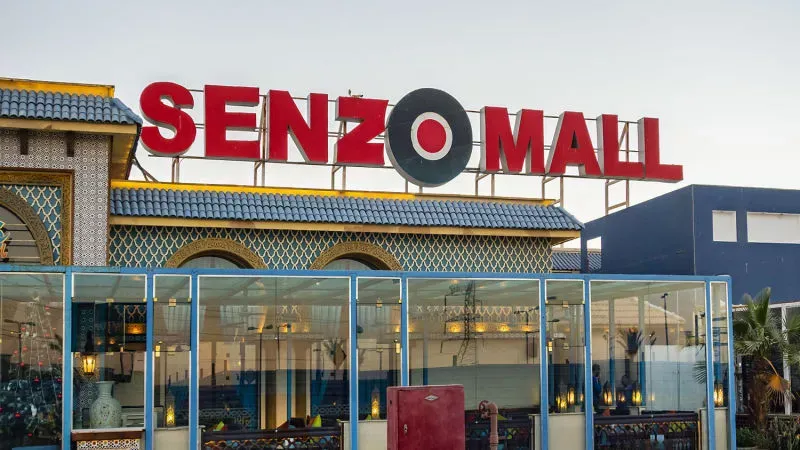 Since its inception, Hurghada's first "true" shopping mall has become a popular location for people seeking to escape the city rush. Fresh and savory delicacies will give a welcome breather for all guests, providing extra energy for Senzo Mall's all-day pleasure. You may spend your leisure time here with your loved one, family, or friends. Children are cared for at the Kidzo, the largest indoor kid's park in the Red Sea Area, while their parents do shopping. This is the perfect place for visitors looking for shopping, relax, and socialize. It is the only one of its kind shopping malls in Egypt, including several international and local brand stores, a variety of food courts, an indoor children's amusement park, and a hypermarket.
Location: Hurghada, Red Sea 1961530, Egypt
Operating Hours: Everyday- 10 AM to 11:30 PM
Known for: Local and International Brands of Clothing and Accessories, food courts, indoor kid's park, etc.
Suggested Read: 55 Places to Visit in Qatar for The Stunning Skylines and Attractions
6. Mall of Arabia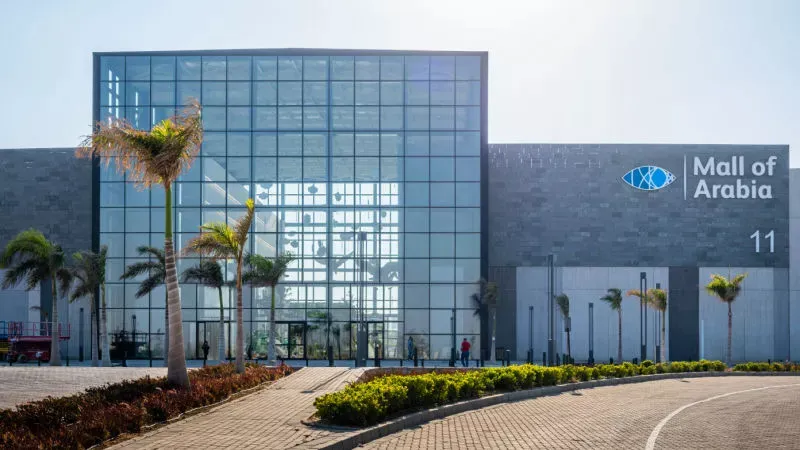 Mall of Arabia is the biggest mall in Egypt and boasts of having a huge number of retail stores of international brands. This mall has Introduced a new shopping environment including great local and international brands all under one roof. The mall caters to everyone's needs and features some of the world's biggest brands including Zara, Virgin, Timberland, GAP, Centrepoint, Mango, and much more.  Mall of Arabia is an amazing place to visit in Egypt that is envisioned as a family destination and a great chance for social interaction in the Mall's Park, provides an unequaled selection of culinary delights, an entertaining cinema-plex, as well as Billy Beez, Flip-out, and Bricks City for youngsters to play securely while parents shop or dine.
Location: Al Giza Desert, Giza Governorate 3236020, Egypt
Operating Hours:
Sunday to Thursday- 9 AM to 10 PM
Friday- Saturday- 9 AM to 11 PM
Known for: Renowned international brands, Park, Brick city for kids and movie-plex, etc.
7. Sami Amim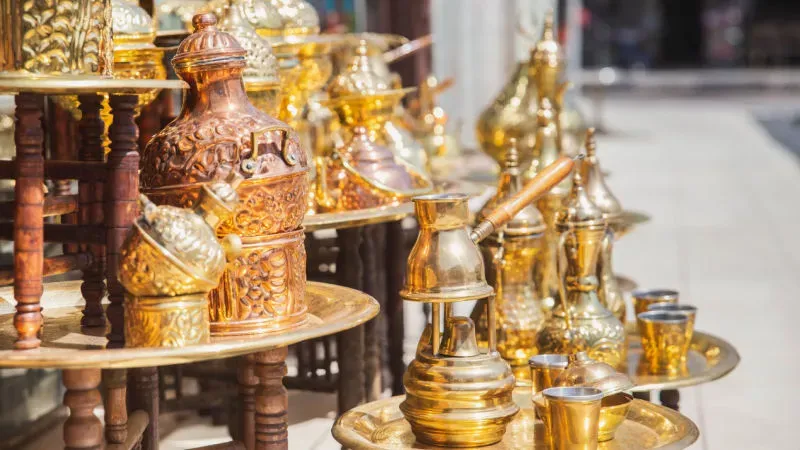 This magnificent store, located on the streets of number 13, sells all types of belts, leather purses, and other accessories engraved with stunning tribal patterns. All of Sami Amin's items are handcrafted by skilled artisans and are competitively priced. Aside from this, they also sell a good selection of homewares and jewelry made of brass and enamel to give your home or yourself that bohemian flair. Buying fascinating junk jewelry and metal photo frames, as well as some stylish mirror frames that will give a touch of opulence to your home is the most interesting thing to do in Cairo. This tranquil spot down the street is unquestionably one of the nicest spots in Egypt to buy trendy accessories and houseware. This lovely shop in Cairo is all kinds of lovely, with a touch of Egyptian culture.
Location: 15A Sharia Mansour Mohammed, Off 26 of July Street, Zamalek, Cairo, Egypt
Operating Hours:
Monday to Saturday- 10:30 AM to 10 PM
Sunday- Closed
Known for: This place is primarily known for brass and enamel jewelry and various other homewares.
Suggested Read: Honeymoon in Switzerland: Enjoy A Romantic Holiday in The Sublime Beauty of Swiss
8. Sharia As Souq (Aswan Souk)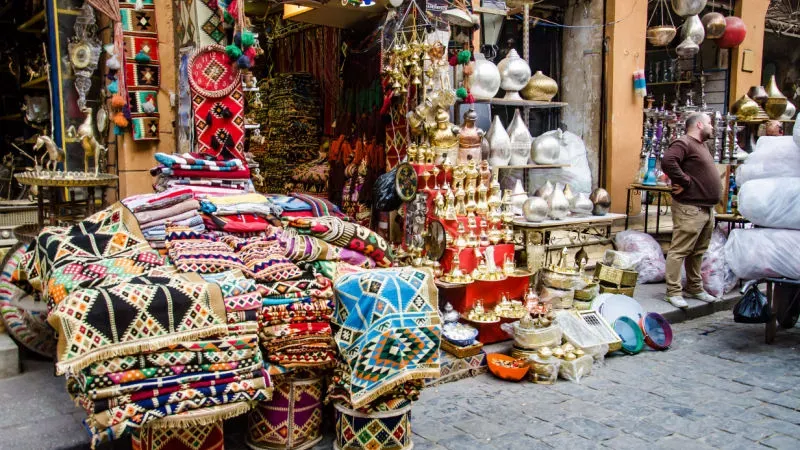 Starting from the southern end, Sharia As Souq looks like a tourist market. It is the most efficient and reasonable spot to buy souvenirs in Aswan. The Aswan Souk is a vibrant market that sells things from Egypt and Africa. The bazaar, which is about four blocks from the Nile and extends for about seven blocks parallel to the river, is filled with Egyptian and African items. Perfumes, peanuts, henna powder, dried hibiscus flowers, spices, colored sand, T-shirts, and souvenirs manufactured to order in the manner of Ancient Egypt are just a few of the things sold by traders. In back alleyways, you may find vendors selling Sudanese swords, spices, and rugs, as well as stuffed animals like crocodiles and Nubian artifacts like skullcaps, talismans, and baskets.
Location: Sheyakhah Thalethah, Qism Aswan, Aswan Governorate 1242822, Egypt
Operating Hours: Everyday- 6:30 AM to 11 PM
Known For: Egyptian and African items, Houseware, Jewelry, Instruments, Hookahs, Clothing, Scarfs, Islamic fragrances, dry fruits, spices and etc.
Egypt has two unique characters. Its streets are steeped in history and endowed with an age-old culture, having been founded in the 10th century. On the other hand, there are many cities including the capital Cairo, which is one of Africa's most cosmopolitan and progressive urban metropolises showing the modern face of the country. This contradiction is reflected in the local shopping culture as well, with excellent locations to spend your time and money. Shopping in Egypt is ranging from historic souks dating back hundreds of years to posh designer shops and gleaming contemporary malls. If you are a history buff and like Egyptian antiques, avail yourself of the best Egypt tour package to experience it all.
FAQs
Q1. Is Egypt a good place to shop?
While you may buy almost anything in Egypt, the markets feature a variety of traditional items that make excellent mementos, ranging from djellabas to jewelry, fragrances to papyrus, and antiques.
Q2. What are the best places to buy brass and glassware in Egypt?
Sami Amim is the best store for buying brassware. They sell a good selection of homewares and jewelry made of brass and enamel to give your home or yourself that bohemian flair. Khan Al Khalili is also a good market to buy Brass and glassware.
Q3. From where can we buy best international brands in Egypt?
Egypt is a country of contrasting characters; one is ancient and the other is modern. On one hand, you will see old souks and other modern malls with world-class brands. You can visit the Mall of Arabia, Mall of Egypt, The First Mall, etc for buying international brands in Egypt.
Q4. Where can we buy antiques in Egypt?
There are many famous markets for the handicraft and antiques in Egypt. Some of them are;
Attareen Antique Market
Nomad
Khan Al Khalili Market
Souk Al Fustat Market
Sharia As Souq (Aswan Souk)
Q5. What is the best time to visit Egypt?
The best time to visit Egypt is between the month of October to April as it is the time when the temperature is colder. The peak season is from December to January but Egypt gets overcrowded then.
Q6. What are the best places to visit in Egypt?
The Great Sphinx of Giza, Giza Necropolis, Egyptian Museum, Valley of the Kings, Luxor temple, Karnak, Philae, and Abu Simbel temples are some of the best places to visit in Egypt.
Q7. What are the greatest items to buy in Egypt?
While in Egypt, you may purchase for novelty T-shirts, souvenirs with your name written in hieroglyphics, a kind of ancient Egyptian writing, pillows, miniature bottles of colored sand, colorful metal cups, woodwork, paintings, antiques, bowls, trays, ceramic items, and so on.
Q8. What are the greatest Egypt souvenirs to buy?
When you visit Egypt, be sure to bring plenty of mementos for your friends and family. Here is a list of Egyptian souvenirs you may buy:
Miniature Pyramids
Mini Shisha
Sand-filled camels
Papyrus scrolls
Alabaster vase or sculpture
Belly dancing outfit
Gold jewelry
Scarab
Khartouche
---