Mauritius is truly a treasure trove of wonders! Not only are there breathtaking beaches, but there's also a mesmerizing underwater waterfall to discover. It's like a hidden gem, creating a whimsical illusion of a waterfall beneath the ocean's surface. Just imagine the awe-inspiring sight of water cascading down into the depths. It's like a dream come true! Exploring the Mauritius underwater waterfall is one of the best places to visit in Mauritius. It is like embarking on a magical journey where reality and fantasy intertwine. Prepare to be enchanted!
About Mauritius Underwater Waterfall: Experience the Illusion of a Lifetime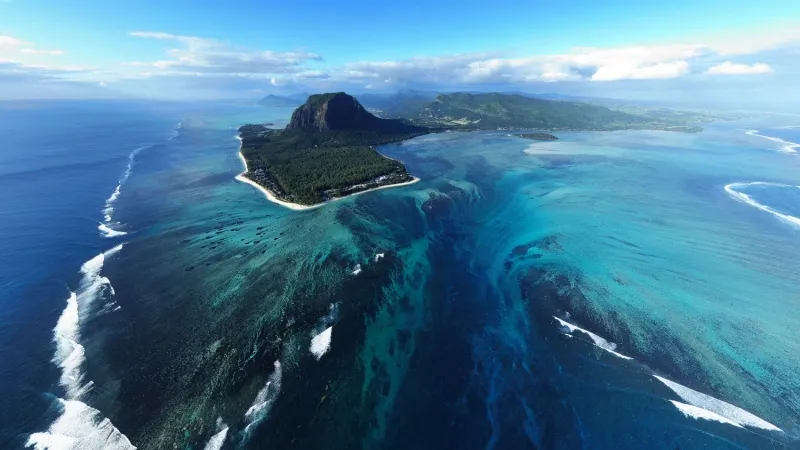 The Mauritius underwater waterfall is a mesmerizing natural phenomenon that captivates all who witness it. Located off the coast of Mauritius, this optical illusion gives the impression of a hanging waterfall beneath the blue waters of the Indian Ocean. The underwater waterfall is actually an illusion created by the movement of sand and silt deposits, shaped by ocean currents and tides. As the sand and silt flow down the steep underwater slope, it creates a stunning visual effect that resembles a majestic waterfall plunging into the depths. Swimming or diving near the Mauritius underwater waterfall is a unique and unforgettable experience. The clear waters allow you to witness this breathtaking spectacle up close, as if you were diving into a magical depth. Mauritius underwater waterfall is a must-see attraction that will leave you in awe of its beauty.
Things to Do at Mauritius Underwater Waterfall: Discover the Untold Beauty of Mauritius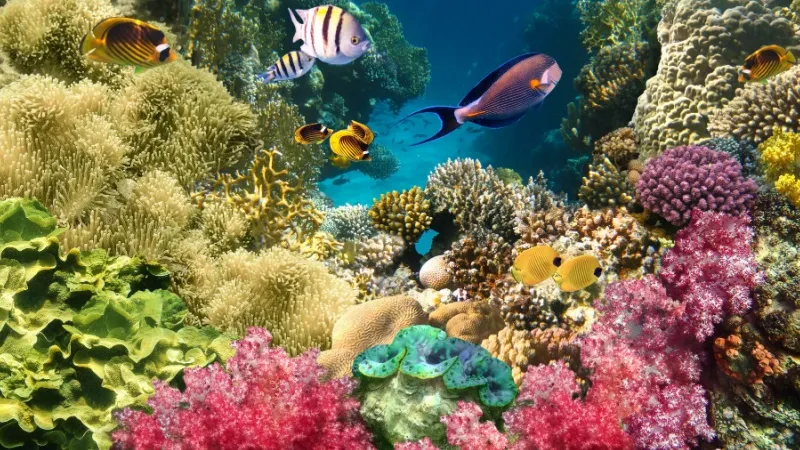 Mauritius offers a wealth of experiences beyond the underwater waterfall, ensuring an incredible vacation filled with adventure and relaxation
While the Mauritius underwater waterfall is a stunning sight to behold, it's important to note that it is not an actual waterfall where you can engage in specific activities.
You can explore the beautiful beaches in Mauritius island waterfall
Indulge in water sports like snorkeling or scuba diving
Go on a boat tour to discover the surrounding islands
Simply relax and soak up the sun
Don't miss the opportunity to immerse yourself in the vibrant culture
Try delicious local cuisine and visit iconic landmarks like the Seven Colored Earths or Black River Gorges National Park
Also Read: Top Places to Visit in Mauritius: Where Thrill and Leisure Come Together
Ignite Your Curiosity with These Fun Facts About Mauritius Underwater Waterfall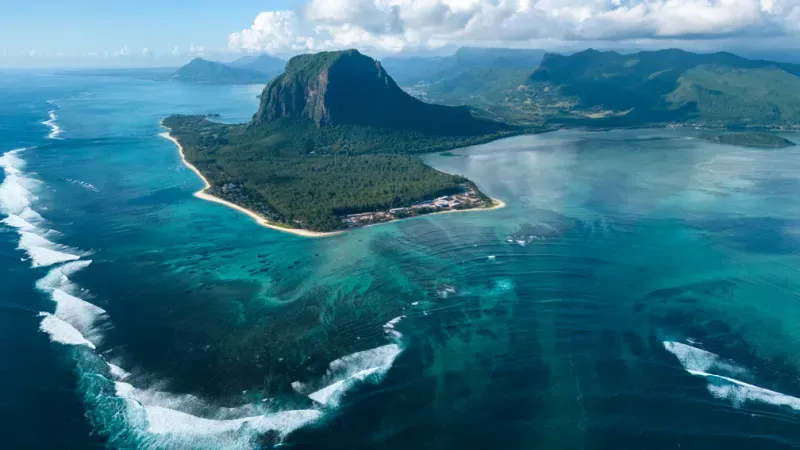 The underwater falls Mauritius is not actually a real waterfall, but an optical illusion caused by sand and sediment deposits
The illusion is best viewed from above, either by helicopter
The underwater waterfall illusion is most visible during high tide when the currents are stronger
The optical illusion has become an iconic symbol of Mauritius, attracting visitors from around the world
The underwater waterfall illusion is a reminder of the power and artistry of nature
Suggested Read: Top Beaches in Mauritius: Leave Your Footprints in the White Sands
Navigate Your Way to Mauritius Underwater Waterfall with Our 'How to Reach' Guide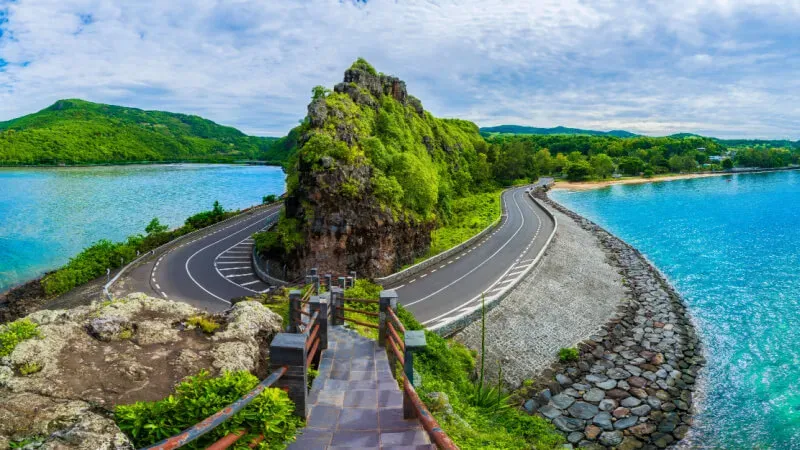 To reach the underwater waterfall Mauritius island, you'll need to take a boat tour or a helicopter ride. Boat tours are a popular option as they allow you to enjoy the scenic views of the coastline and the surrounding ocean. You can find various tour operators offering boat trips specifically designed to showcase the underwater waterfall.
By Airways: Book a flight to Sir Seewoosagur Ramgoolam International Airport in Mauritius. From the airport, hire a taxi or rent a car to reach the southwestern coast of the island. Follow the directions to Le Morne Brabant, where the underwater waterfall illusion is located.
By Roadways: If you're already in Mauritius, you can drive to the southwestern coast. Use GPS or follow road signs to reach Le Morne Brabant. There are parking areas near the viewpoint where you can leave your vehicle.
By Waterways: You can also reach the underwater waterfall by booking a boat tour or chartering a private boat. Several tour operators offer boat trips from various coastal areas in Mauritius. Enjoy the scenic journey along the coastline until you reach the underwater waterfall viewpoint.
Don't Miss Out on These Highlights while Visiting Mauritius Underwater Waterfall
Imagine standing in awe at the breathtaking beauty of a Mauritius Island waterfall. The crystal-clear water cascades down the rocks, creating a mesmerizing display of nature's power and elegance. The lush green surroundings add to the enchantment, making it a truly magical experience. While visiting Mauritius waterfall don't forget to experience these things!
Swim with Dolphins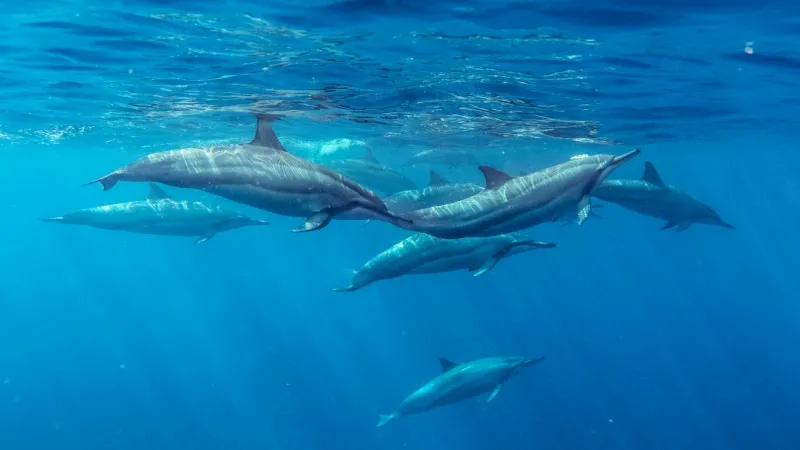 The water here is filled with cute dolphins. If you like snorkeling, this place is like paradise. When you go snorkeling, you can get really close to the adorable dolphins. You can even swim next to them. It's an amazing experience!
An Experience to Watch Whales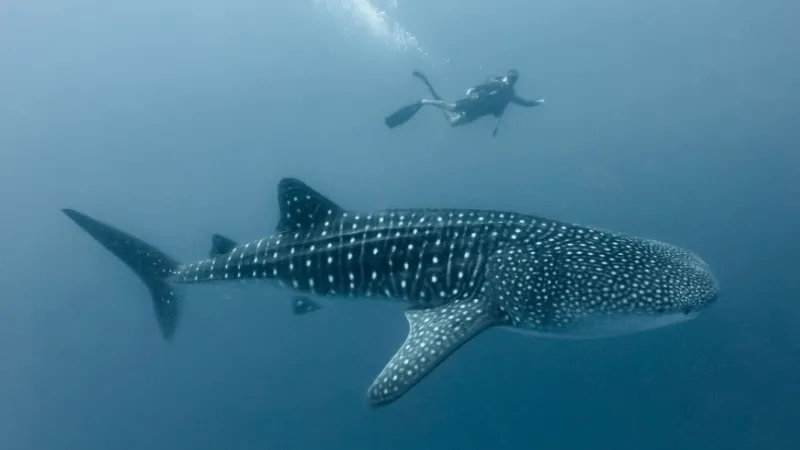 Apart from dolphins, there are many big whales in the ocean here too. You can book a fast boat ride and go to faraway places in the sea. Once you're there, you'll see these enormous whales in their natural habitat. And guess what? You'll also get to hear their loud humpback sounds. Sounds super exciting, doesn't it?
Enjoy the Catamaran Cruise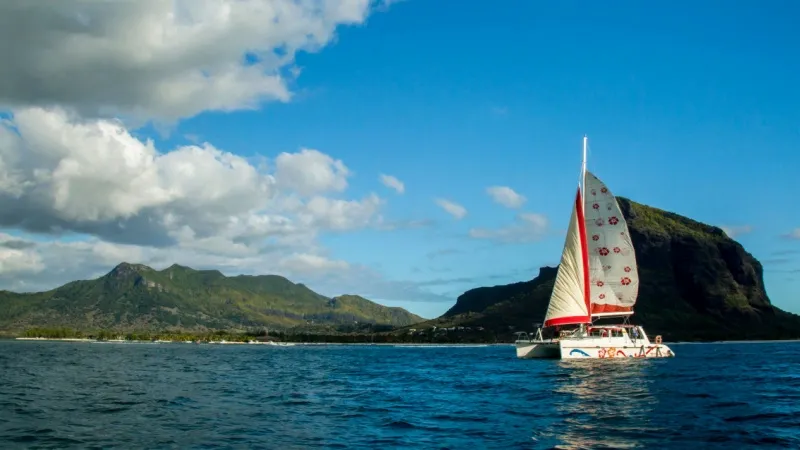 You should definitely try going on a catamaran cruise! It's an amazing experience that you can try at your honeymoon in Mauritius and won't forget. You'll sail along the beautiful Indian Ocean, on the northern shore. You can choose between a two-hour cruise or spend the whole day on the catamaran. During the cruise, you'll also get to visit Gunner's Coin and Coin de Mire. It's a once-in-a-lifetime opportunity!
Explore the Le Morne Beach
Le Morne Beach is like a paradise for tourists! It is one of the best things to do in Mauritius, you can swim, take a leisurely walk, surf, or even go horseback riding. And don't miss the breathtaking sunsets - they're absolutely stunning! Make sure you don't miss out on experiencing the beauty of this beach.
Suggested Read: Nightlife in Mauritius: Become the Star of the Night at these Party Places
Helicopter Ride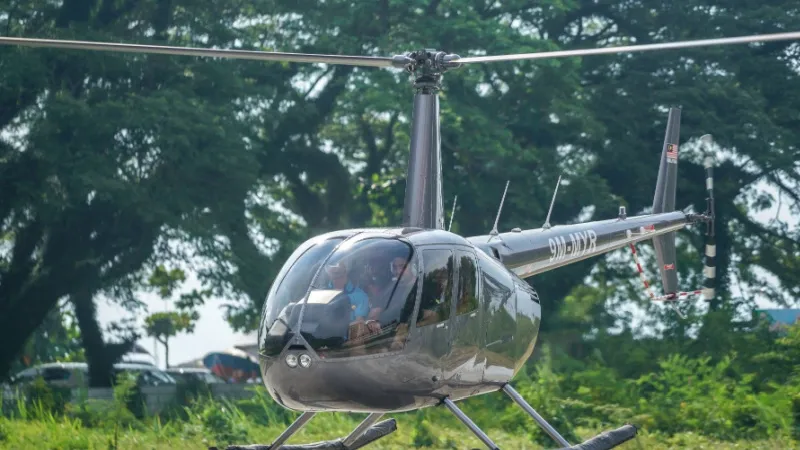 Helicopter tours provide a unique opportunity to witness the underwater waterfall from above, offering a breathtaking panoramic view of the illusion. Additionally, it's recommended to book your boat tour or helicopter ride in advance to secure your spot and ensure a smooth and enjoyable experience. Remember to bring your camera or smartphone to capture the incredible moments and share them with your friends and family. Enjoy the journey and the beauty of the Mauritius underwater waterfall
Famous Restaurants Near Mauritius Underwater Waterfall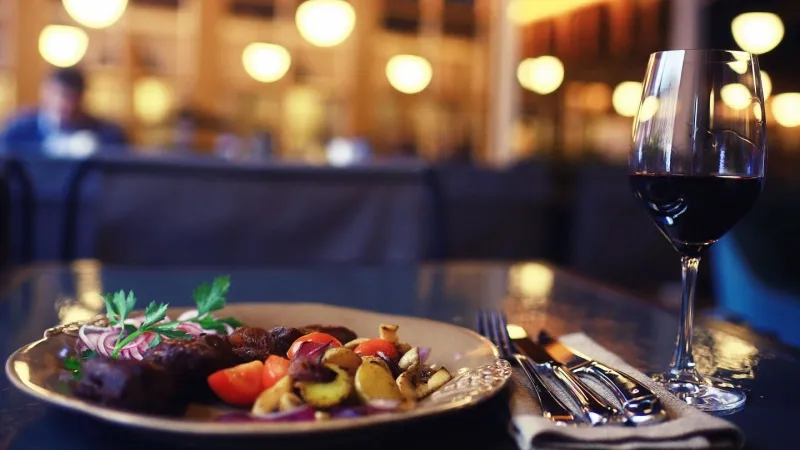 1. Le Chamarel Restaurant: Located in Chamarel, this restaurant offers stunning views of the surrounding mountains and serves delicious Mauritian cuisine. It's a great place to enjoy local flavors while enjoying the beautiful scenery.
Famous for: Mauritian cuisine
2. The Beach House: Situated in Flic-en-Flac, this beachfront restaurant offers a relaxed and laid-back atmosphere. They specialize in seafood dishes and have a wide variety of options to choose from. Don't miss the sunset views while dining here!
Famous for: Sea food
3. La Table du Château: Located in Bel Ombre, this elegant restaurant is set within a colonial-style mansion. They offer a fine dining experience with a focus on French and Mauritian cuisine. The beautiful surroundings and impeccable service make it a memorable dining destination.
Famous for: French and Mauritian cuisine
4. The Boathouse Grill & Bar: Situated in Black River, this restaurant offers a unique dining experience on a boat. Enjoy delicious grilled seafood and other dishes while floating on the water. The maritime ambiance and stunning views make it a must-visit spot. Please note that specific information such as opening hours and reservations may vary, so it's always a good idea to check their websites or contact them directly for the most up-to-date information.
Famous for: Grilled seafood
Suggested Read: Top Islands in Mauritius: For a Rejuvenating Holiday Experience
The Mauritius Underwater Waterfall is truly a captivating natural phenomenon. While it may not be a real waterfall, the illusion it creates is nothing short of mesmerizing. It's an optical illusion that sparks wonder and amazement. Visiting the Mauritius Underwater Waterfall is a unique experience that should not be missed. Whether you choose to admire it from the coast or take a helicopter or boat tour, the sight is guaranteed to leave you in awe. There is no shortage of natural wonders to discover in this beautiful part of Mauritius. Ready to embark on an unforgettable adventure? Plan your trip to Mauritius and experience the awe-inspiring Mauritius Underwater Waterfall firsthand. Don't miss out on this incredible natural wonder - book your Mauritius tour packages now!
Mauritius Underwater Waterfall FAQs
Q1. Is the Mauritius Underwater Waterfall real?
No, the Mauritius Underwater Waterfall is not a real waterfall. It is an optical illusion created by sand and sediment flowing off the underwater shelf.
Q2. How can I see the Mauritius Underwater Waterfall?
You can view the Mauritius Underwater Waterfall from a high vantage point on the coast or by taking a helicopter or boat tour.
Q3. Can I swim in the Mauritius Underwater Waterfall?
No, swimming in the Mauritius Underwater Waterfall is not possible as it is an illusion. It is best to admire it from a safe distance.
Q4. Is it safe to visit the Mauritius Underwater Waterfall?
Yes, it is safe to visit the Mauritius Underwater Waterfall. Just be cautious when visiting the coastal areas and follow any safety guidelines provided by tour operators.
Q5. How far is the Mauritius Underwater Waterfall from the nearest town?
The Mauritius Underwater Waterfall is located off the southwestern coast of Mauritius, near Le Morne Brabant. The exact distance may vary depending on your starting point.
Q6. What is the best time to visit the Mauritius Underwater Waterfall?
The best time to visit the Mauritius Underwater Waterfall is during the dry season, which typically runs from May to November. The weather is usually clear, and you'll have better visibility of the illusion.
Q7. Are there any other attractions near the Mauritius Underwater Waterfall?
Yes, there are several other attractions near the Mauritius Underwater Waterfall, such as Le Morne Brabant, Black River Gorges National Park, and Chamarel Seven Colored Earth.
Q8. Can I take photos of the Mauritius Underwater Waterfall?
Yes, you can take photos of the Mauritius Underwater Waterfall. It's a unique and picturesque sight, so don't forget to capture the moment
---