A crescent of Golden Beach, overlooking the grandeur of deep blue water and the dazzling skyline, the Banana Island Qatar is a luxury escape. This holiday retreat, located close to the capital city of Doha, offers travelers a scenic experience on their holidays. The island brings you the pleasure of staying in a surreal environment, where there is an extravagant beauty and a romanticized aura. Sprawling to an area of 2 hectares, this island turned resort has enlisted every luxury and leisure to make it a picture-perfect destination for a holiday.
Banana Island Resort Doha by Anantara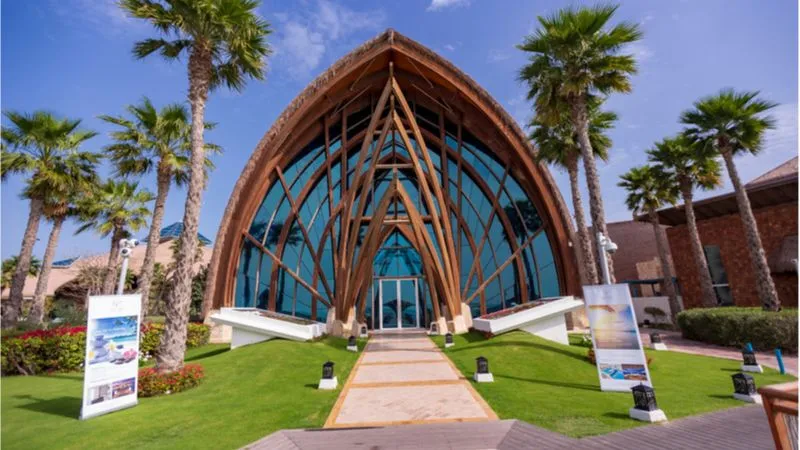 Imagine living on a scheduled island, possessing peace, luxury, and bliss to relax and unwind your soul! The Banana island resort is one of the perfect places that welcome every traveler to seek the leisure they need. The resort, with magnificent architecture and heartwarming hospitality, has redefined luxury and added more to your experience.
This island is a private Qatar island, allowing guests to dive into its charm. While the island is a piece of beauty and elegance, the resort enhances each of its features, making it nothing lesser than a wonder. There is an essence of Arabian art and modern furnishing to add a contemporary touch to its style and look. The Qatar Banana Island, a Resort Doha by Anantara, therefore, has made itself a promising staycation to find comfort and solitude.
Now, if you have planned a stay to observe the luxuriating ambiance of this private beach resort, well, here is all you need to know to give it a perfect start.
1. Well-Appointed Accommodating Units To Discover the Comfort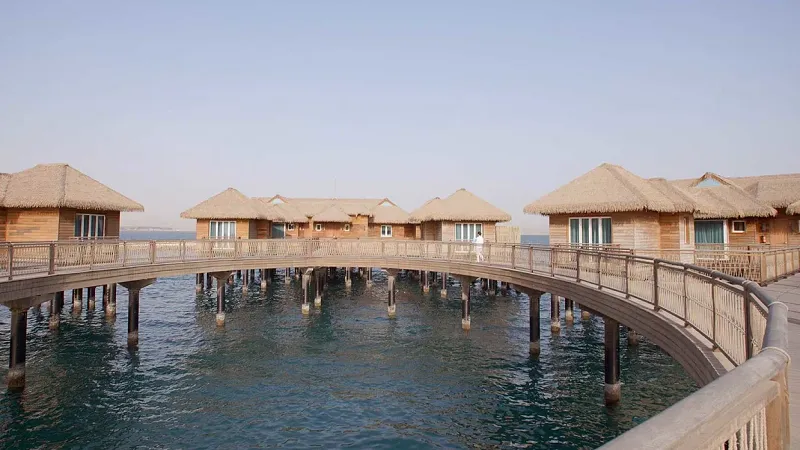 Do you often plan a vacation reserving your stay in a huge villa with every fancy feature, luxurious interiors, and opulence of beauty? The Banana island Qatar has made every dream of yours, come true. With 141 sea view rooms, suites, beach, and overwater pool villas, located just next to the 800 m golden shoreline, the private island resort in Qatar is a paradise.
There are 9 distinct categories of rooms and suites that are designed with one perspective- to make it lavish and grand. No matter where you choose to spend your vacation, every accommodating space has its own feature and facility to make it a leisure spot. Uncover the bliss as you escape in a completely different world of Anantara, which will magnify your experience. The resort has added some basic and exclusive amenities in each living area. Making it a bit easier, here is a brief idea of what these villas and suites of Banana Island Resort offer, with their unwinding beauty.
Premier Sea View Room offers Sea and lagoon pool views, a private balcony or terrace with a lounging area
Deluxe Sea View Room offers Serene Arabian Gulf views with a private terrace and lounging area
Junior Suite comes with a separate living area, sea and lagoon pool views Private balcony or terrace with lounging area
Anantara Sea View Suite has a separate living area with serene Arabian Gulf views and a private terrace with a lounging area
There are one-to-five-bedroom villas with separate dining area
Each of the accommodating units brings you its own comfort and facility. While most of the rooms at Banana Island in Qatar have an overlooking deck, or balcony, terrace, and window, you can observe the panorama and admire the serenity around.
Something is there for all. Room assistance and certain amenities are available for each guest irrespective of the accommodation category you choose. Ensuring comfort and ease, here is what you will get to feel the comfort of your home.
flat-screen TV
Separate Bathrooms
Minibar
Private seating Area
Lounge
Villa hosts in each villa
Suggested Read: Spas In Qatar A The Lavish Yet Traditional Treatment
2. Spa At Banana Island Qatar To Make It A Lifetime Experience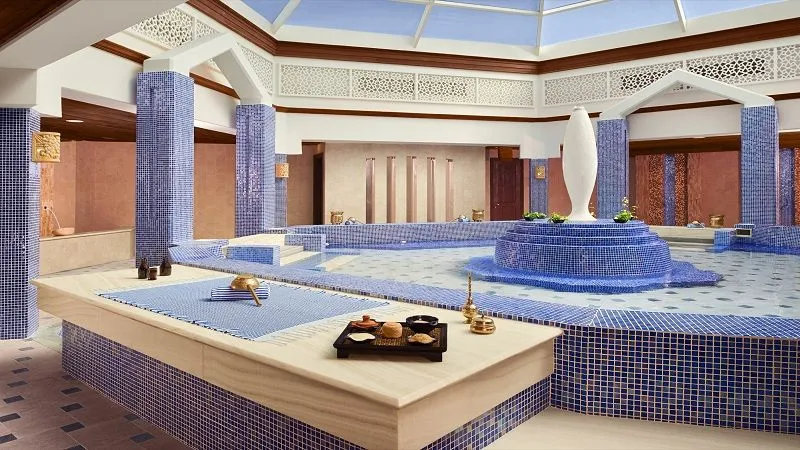 What is your definition of a perfect stay?
The banana island in Doha brings every captivating experience to make it more pleasant and memorable. There are spa facilities to compliment the staycation, enhance your leisure and comfort. The practice of traditional Arabian spa techniques and wellness facilities have made it a retreat to unravel yourself in its tranquility.
The Balance Wellness by Anantara and Anantara Spa are the two major highlights that have made this place one of the best hotels in Qatar to seek the utmost comfort. There is an authentic and distinct range of holistic healing techniques that will help you uncover your essence and rejuvenate. The spa and wellness facility of Anantara banana island is about creating a world to discover peace and unwind with the recreational experience. Embrace the ease and comfort of Middle eastern hospitality with some diverse techniques inspired by Thai Healing and other traditional methods of services. Here are the top three signature facilities that will make you relax a bit from your hectic schedule.
The Anantara Majestic Replenishment encourages cell regeneration and adds moisture to the skin. The use of salt scrub nourishes the skin by removing the dead cells and at the same time, using nourishing ingredients and the rich detox, boost healthy growth of the skin cells. The replenishment therapy focuses on the use of effective message methods, essential oils, and hydrotherapy.

Get the best banana island deals by booking your session for signature Hydra Facial. This spa and massage therapy is best to provide hydration and boost the growth of skin cells, collagen, and elastin. The therapy includes a gentle exfoliation and the use of essential oils.
The Island's signature Hammam is the most surreal experience. Hammam has always been a part of Arabian culture, and the signature spa therapy includes indigenous techniques and materials.
3. Other Facilities Of Anantara Banana Island Qatar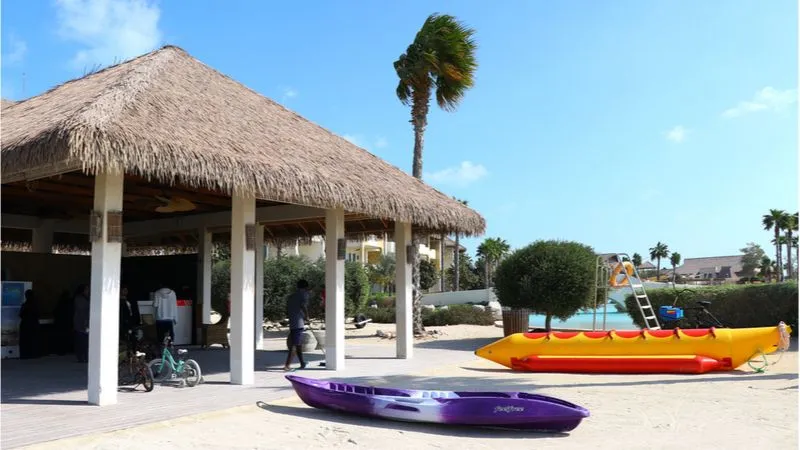 The Banana Island is a perfect staycation for all. Whether you are on a family holiday, honeymoon, or business trip, the resort has listed every facility to make it an experience for all. This island resort is among the most expensive resorts and hotels in Doha where you can discover the comfort and ease of a perfect vacation.
Talking about the amenities and facilities, the resort not just offers a perfect accommodating space, but a wide range of features too. From meeting space to the pool, private beach, and recreational activities, here is everything you can expect from this private island resort.
Meeting rooms and halls- Your business trip can never get more fascinating. The banana island Resort has meeting space with a visionary design that not only offers a space to carry on with your business work but also a serene view to enhance the ambiance. There are majlis-style meeting rooms with exquisite interiors, furnishing, modern technology, and a light soothing environment. The meeting rooms and halls of the resort have free WI-FI connectivity.
The golf course and Tennis court at this island resort have magnified the experience of all. Keeping you engaged with something you love, the resort has a space for your golfing hobby and games like tennis. The nine-hole golf course is open for every guest with programs for beginners as well as professionals.
Kids and Teens club, a place where your kids can enjoy while you discover leisure at Qatar Banana Island. There are games and books for kids, a babysitting service for infants and toddlers, and other activities available for the children.
Surf Pool, lounge pool, Kids pool and kids water park are additional attractions and entertainment centers of the resort that makes it a perfect family hotel in Qatar. From surfing to diving, pool dining, and water adventure, there is so much entertainment and adventure to enjoy.
Guests in this Island resort can request some additional tours and activities too. There are bicycles and Segway available for rent for your beach tour.
Top Restaurants For A Savoring Experience at Banana Island Qatar
From relishing the taste of the most authentic Qatari dishes to the international cuisines, the resort offers you some of the top cafes and restaurants in Doha. The diverse menu and the heartwarming hospitality of these eateries have made this Anantara resort, a perfect place for an unforgettable gastronomic experience. From Italian to Chinese, Asian, European, and Mediterranean taste, restaurants and cafes at the Banana Island resort serve you a delightful platter.
Dining here is not just unique, but it is exceptional and too mesmerizing. From private dining space to in-room dining and floating restaurants, the Qatar Banana Island has everything to make it a once-in-a-lifetime experience for all.
The Anantara Island resort in Qatar also offers an exotic and private dining experience. While you enjoy the stay at your luxury villa, the resort offers you the facility of in-villa dining. Each villa of the resort has a separate dining area, which is nothing less than a splendid 5-star restaurant. But if you need a perfect restaurant with all those cozy vibes and fancy settings, there are many options to choose from.
Suggested Read: Pearl Qatar: Discovering The Man- Made Island With The Naked Eye
Top Eateries At Banana Island Resort Doha by Anantara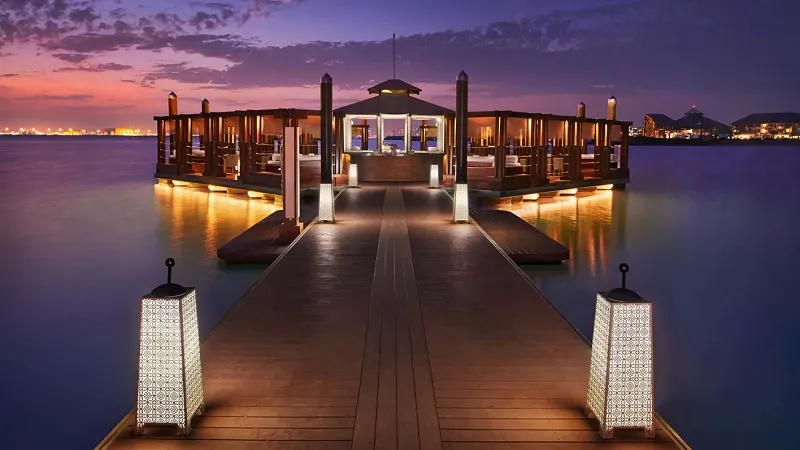 Banana Island is a paradise for epicures and offers numerous cuisines to savor for a world-class culinary experience. Presenting you a list of opulent restaurants on the Island to delight your senses.
Q Lounge and Restaurant is a spot for all-day dining and relaxing amidst the scenic pool. The lounge not only serves refreshing beverages but an authentic taste of Indian dishes. The menu includes exotic salads and freshly made seafood. There is indoor and outdoor seating available to suit your comfort.
Ted's is a perfect place to experience dining in a retro style, inspired by the American culture of 1960. Ted's is among the top restaurants of Banana Island in Doha, designed with cool interiors and a sophisticated ambiance. The menu is crafted well with every Fast Food option and the main course to make it a place for everyone.
What about taking a break from everything to enjoy a lazy pool day and enjoy the best food in Qatar. Tanzania is an ideal spot for you to discover the relishing taste of every exotic dish served here. The café not just brings you the quality of taste, but a perfect mood to relax and enjoy the holidays.
Spice Spoons serve the best Arabian Cuisines, prepared by the use of authentic species. The aroma and the taste of every dish served will take you back to the time when these dishes were prepared to mark any occasion. The menu even includes some Italian fantasies to create a fusion of distinct flavors. You will feel the touch of spices and herbs in every bite.
Azraq, for your classic and stylish dining experience in Banana Island Doha, Qatar. The menu here is crafted with every delicious Middle Eastern food, Asian cuisines, and other delicious food items that are world-famous. This restaurant in Island resort by Anantara has a La-Carte menu and buffet theme to serve you the best.
You can embrace the beauty of the surroundings while enjoying the best food at Al Nahham. This is one of the finest dining restaurants in Qatar where you can relish the taste of traditional meals served. The restaurant boasts a well-styled interior with thatched pavilions and a serene view of the Gulf.
If you love Italian, book your seats at Riva. The place is closed on Sundays but operates from Monday to Saturday, serving you the finest Italian platter. Apart from the menu, it is the interior of the place that makes it so popular among the guests living there. You can dine indoors or book your seat at the terrace, offering you a magical view of the island.
Zest brings you a sweet and savory experience with its fascinating menu. This is the only café and bakery in Qatar Banana Island that has some tempting desserts, cakes, and baked food to satisfy your sweet tooth. If you are planning for a celebration, you can have this venue fixed.
How about dining in an Arabian cabana around the splendid beauty of the island? Dining by Design is the place to enjoy private dining at this luxury Island. Be it any small occasion or a grand celebration, the resort sets up an ideal spot that will have every service and facility to make it the best meal of your life.
Suggested Read: Ravishing Things To do in Saudi Arabia to Explore the Kingdom Closely
Activities To Enjoy At Banana Island Resort Doha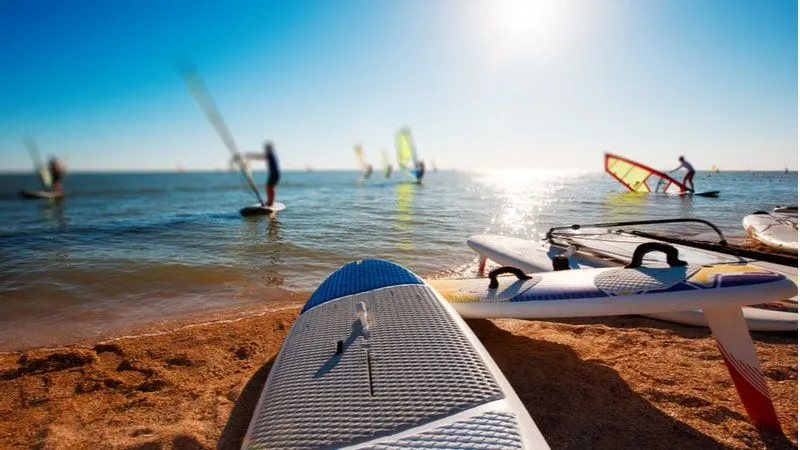 The resort by Anantara in Qatar is not just a leisure spot but offers many activities to enjoy the holiday. The resort has listed every adventure and leisure thing to do in Qatar that could spice up your vacation mood and add much fun. There are separate activities for kids and adults, indulging them in something exciting and interesting. Here are some best things you can try while you plan to stay at this luxury resort.
The Banana Island in Qatar offers cooking classes and themed dinners with an additional charge. You can learn to cook some authentic dishes and plan a romantic dinner during your stay.
Explore the highlights of the island with a bike tour. The resort offers biking gear and cycles on rent and arranges the tour at an additional cost.
Try your hands on some sports like tennis or mini-golf and bowling. There is a separate area for gaming and sports on the island.
On-site water sports in Qatar is a part of activities you can enjoy at Banana Island resort. There are additional charges for activities like Snorkeling, Diving, Windsurfing, Canoeing, and more.
The resort has activities for kids where they can try new adventures. From Outdoor play equipment to an indoor play area or some Board games and Puzzles, there is a lot to engage kids on holidays.
Sprauncy Abodes in Banana Island Qatar
Banana island is a perfect blend that includes everything that an excursionist desire for on a vacation. All the villas give an access to a mesmerizing view of the gulf. Check out the accommodation option in this Island Resort of Doha to experience royal luxury.
Premier Sea View Room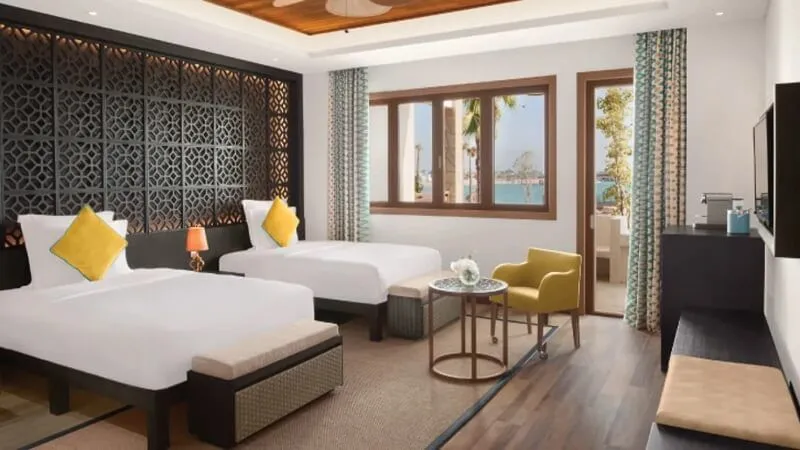 A private pool villa that renders an ultimate vacation with utmost leisure. Each villa in Banana Island Resort overviews the expansive Arabian gulf. The two-bedroom Sea View pool villa is amongst the famous pick of the Resort. One of the best features of the abode is its sea and lagoon view. The private pool right Infront of the room and the accessible spare area provide a liberty of lazing around and playing with kids. Yet another astounding feature is its private balcony and lounging area. The total floor area of the entire villa is 55 sqm. Each room has a separate bath and shower facility. The room has additional facilities such as high-speed internet connectivity.
Highlighted Features of Premier Sea View
Arabina Gulf View
24x7 internect connectivity
Terrace and Lounging Area
Coffee Machine
Separate shower and bath Tub
Deluxe Sea View Room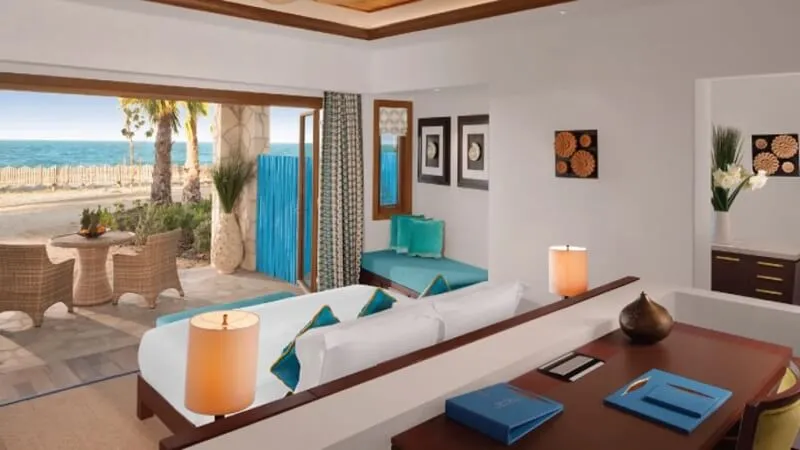 The premiere sea view rooms in Banana Island Qatar are vibrant and lively with the space of around 46sqm Gulf view makes it more enchanting for the occupants living in the room. The private lounging area can be a perfect space for a self-organized romantic dinner. Exclusive outdoor seating area provides ample opportunities for a lonesome time in the lap of surreal view. For a movie night in a romantic set up, the room has 24x7 high speed internet connectivity so just download your favorite movie and start binging.
Highlighted Features of Deluxe Sea View Room
Sea and Lagoon View
Lounging area & private Terrace
24x7 wifi connectivity
Coffee Machine
Rain Shower and soaking tub
Junior Suite
The junior suite has a total floor area of approximately 85 sqm and accommodate 2 adults. There is a separate living room in the center with an amazing view of the pool and lagoon. The room is equipped with a comforting king size bed accompanied with a luxurious room with ceiling-to-floor windows that overview the horizons. The villa has an open-plan area that keeps the occupant from the sense of congestion. For those who are looking for perfect staycation know the importance of private balcony or terrace, and its significance of turning into a boon for lazing around.
Highlighted Features of Junior Suites
Sea view
Separate living area
A private balcony and terrace
Individual bath tub
Coffee/Tea maker
Additional Closet
Anantara Sea View Suite
Located on the tranquil stretch of the beach, facing towards the wide gulf. The room is a treasure of freshness with the sea breeze that brings an essence of freedom and rejoice with it. The suite is a perfect blend of luxury and comfort providing a blast of rejuvenation. If you are someone who is looking for a place to enjoy leisure and adventure, you must visit the Banana Island in Qatar. In the Anantara Sea view suite, you can get the, one in a lifetime opportunity of soaking into the luxurious tub fringed with a private lush garden. Take a stroll around or enjoy basking on the twin lounger in the open space the choice is yours.
Highlighted Features Anantara Sea View Suite
King Size comfy bed
Coffee/Tea maker
Walk in Closet
Gulf View
Private terrace and lounging area
Two Bedroom Sea View Pool Villa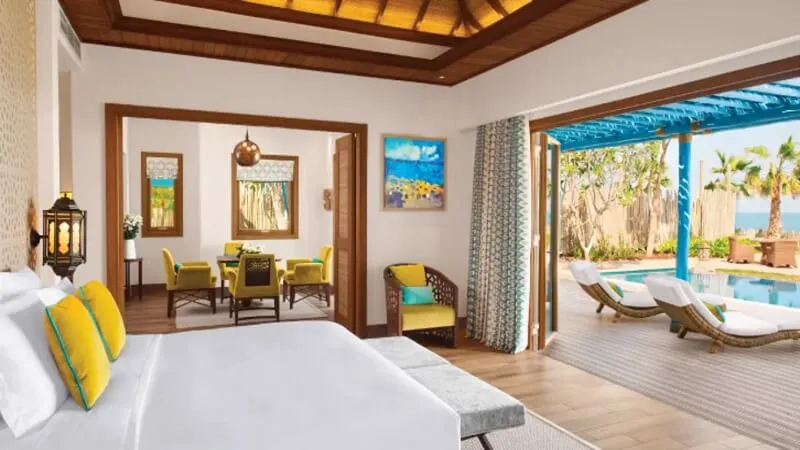 Looking for a beach time bliss with family or friends? Who doesn't dream of a beach staycation with a private pool? Well Two-bedroom Sea view pool villa is one such family suit that can accommodate 4 adults. With the total space of 100sqm the villa is set with the king beds and twin beds for maintaining the sufficiency. The sea view in villa in Banana Island resort has plethora of options to hang out with family, such as a leisure time in pool, pool side games, outdoor shower and sunbathing on floating loungers. You can also organize a small party in your private pool.
Highlighted Features of Two Bedroom Sea View Pool Villa
Villa Host
Outdoor shower
Private pool
High speed wifi
Tes/Coffee machine
Two Bedroom Luxury Sea View Pool Villa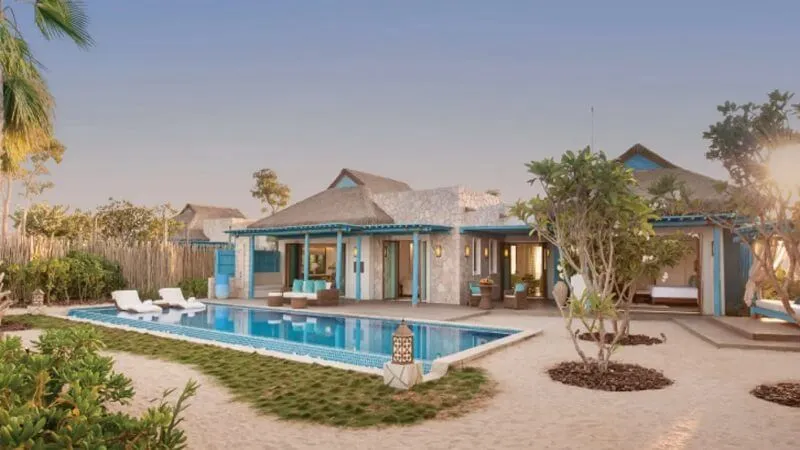 Get ready to experience the opulence right from the moment you step into the space. This luxurious villa Banana Island Qatar has extra indoor space for a royal feel. The rooms are connected to separate dining area and living room. No matter in which corner of the villa you are standing, the sea facing villa will render a mesmerizing overview of the gulf. Dive in the private pool or just relax in the cabana beside the pool execute whatever suites your body and soothes your mind. If you are an ardent reader, what could be better place to re-read your favorite book in the ambience, tranquil to such great extent.
Highlighted features of Two Bedroom Luxury Sea View Pool Villa
Arabian Gulf View
Private pool
Poolside cabana
Villa host
24x7 Wifi
Three Bedroom Sea View Pool Villa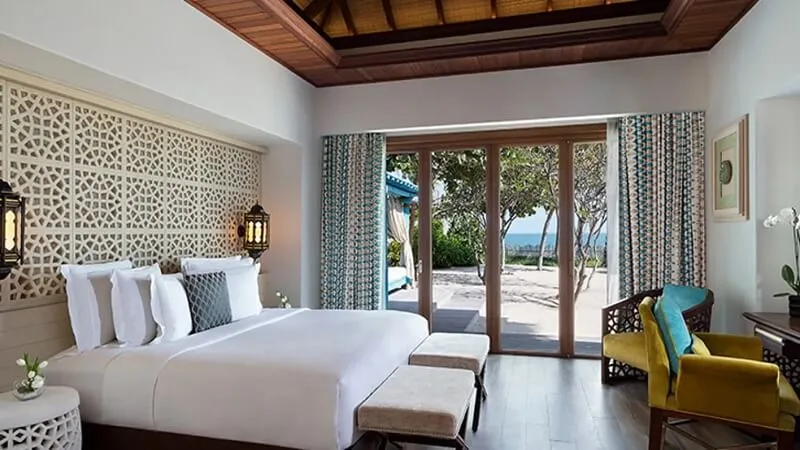 One of the most spacious beach villas on the banana island, the three-bedroom sea view pool villa can accommodate six adults. The villa offers two comfy king-size beds and one twin bed, ensuring the perfect stay for a big family or a group of friends. All the rooms have exclusive magnificence in terms of space, comfort and luxury. Guests don't have to share any of the amenities since all the rooms have their personal ensuite with separate tub, shower and toiletries. Enjoy in the tranquil atmosphere with your Favorite set of people.
Highlighted Features of Three Bedroom Sea View Pool Villa
Beverage machine
Separate dining and living room
Private pool
Poolside cabana
Arabian Gulf View
Villa host
24x7 Wifi
Three Bedroom Over Water Villa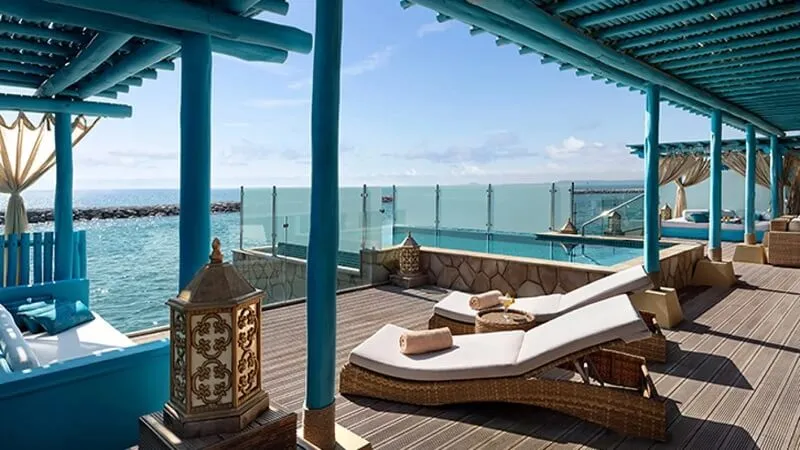 With a total floor area of 220 sqm, the villaat Banana Island Qatar is perfect for six adults. With all the chaos city dwellers undergo, few tranquil moments are much needed to maintain sanity. The luxury pool villa boasts a well-designed vibrant accommodation along with some space to self-organize recreational activities. The view of the skyline brilliantly contributes to the charismatic appeal of the overwater villa on Banana Island.
Highlighted Features of Three Bedroom Over Water Villa
Separate dining and living room
Private pool
Poolside cabana
Arabian Gulf View
Villa host
Highspeed internet connectivity
Five Bedroom Anantara Over Water Villa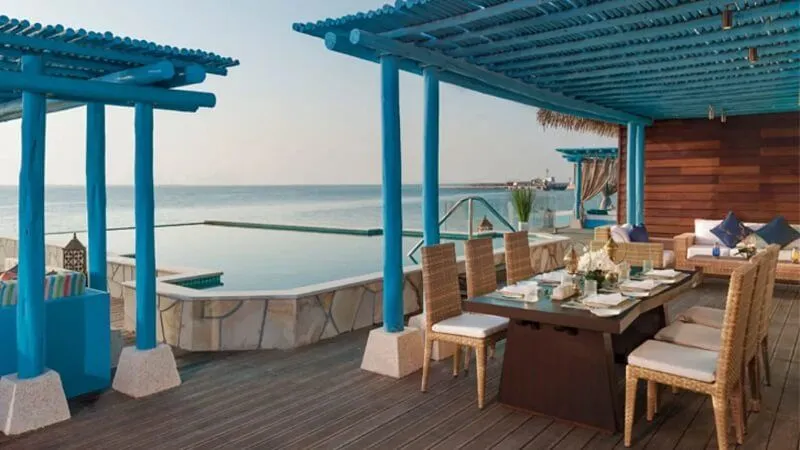 The luxurious villa is the largest of all the overwater villas on the island, giving an experience of the cerulean water. It offers comfortable king-size and twin beds for accommodating ten adults, so if you have a big group of friends and a big family living together, this could be an appropriate abode for you. You are free to enjoy the luxury of the thatch roofed overwater bungalow and frolic till the edge of the infinity pool.
Highlighted Features of Anantara Over Water Villa
Beverage machine
Separate dining and living room
Private pool
Poolside cabana
Arabian Gulf View
Villa host
24x7 Wifi
How To Reach Banana Island Resort Qatar?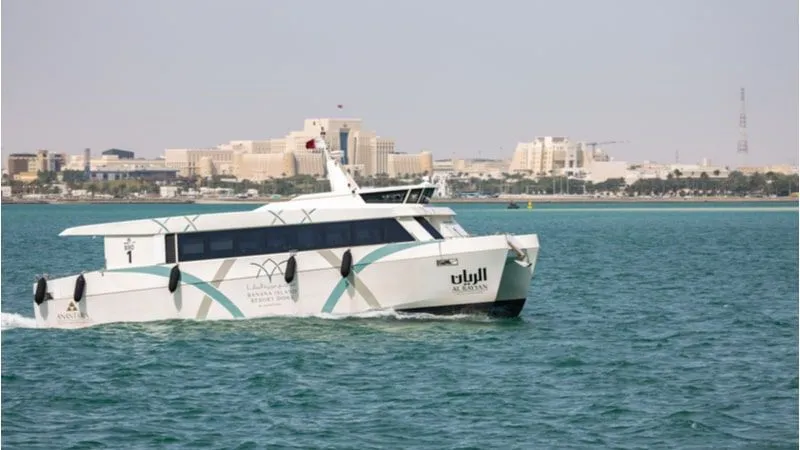 Banana Island is one of the most scenic and magnificent attractions in Qatar where you can discover nature's beauty. The island not only boasts of a serene beach, luxuriating accommodations, and facilities, but it brings you every comfort and leisure. Every year the island welcomes thousands of tourists to spend a leisure holiday amidst its sublime beauty.
The Banana Island resort in Qatar is located at a distance of 9.8 km from Hamad international. Being the only international airport in Qatar, there are regular and connecting flights operating daily in every major country. As you reach Qatar, the resort offers luxury limousine services on-demand, making it easier for the guest to arrive hassle-free. The limousine will drop you off at the Private Al Shyoukh Terminal from where you can hop on to a Catamaran ferry. It will take approximately 20 min to reach Banana Island Doha from the Hamad International airport, Qatar. Shuttle and cabs are also an option to reach the terminal. Saving more time on your travel, there are helicopter rides also available to reach this luxury island in Qatar from the airport.
If you are traveling from Doha, you can board the metro to reach Souq Waqif metro station or the fishing port station. Ferries operate throughout the day, connecting the island to the city.
Banana Island Qatar is the best luxury resort for your holiday when you need an escape from the chaos of city life. This private island resort offers you splendid scenery and utmost leisure to discover peace and comfort. The resort offers adventures and activities, spacious villas, and accommodations that are so designed to make you feel at home. From Spa to meeting space and gastronomic experiences, there is a lot to make your staycation in Banana Island Resort Doha by Anantara, a memory of a lifetime. Reserve your nights today and get your Qatar flight tickets for a perfect staycation.
FAQs
Q1. Where is Banana Island in Qatar?
The Banana Island is located off the coast of downtown Doha. It is a private island in Qatar that offers a luxury stay and the best facilities to tourists on holidays. The Island is famous for its luxury resort by Anantara.
Q2. Are there islands in Qatar?
Qatar has some of the most beautiful natural and man-made islands that make it a perfect holiday spot. The top islands in Qatar are:
Banana Island Doha
The Pearl Qatar
Al Safliya Island
Al Aaliya Island
Ishat Island
Q3. How long can I stay on Banana Island?
Your stay in Banana Island depends on your holiday plan. While there is nothing much to explore but for a luxury vacation, the Island is the best place in Qatar. For the best experience, you can book at least 2 nights here.
Q4. How can I reach the banana island from Doha's Hamad International Airport?
If you are arriving from the international airport, there is a shuttle service provided by the resort. You can even get a catamaran ferry ride from Al Shuyukh Terminal. The Catamaran operates every hour and can allot space for 45 passengers.
Q5. Is there any restaurant at Banana Island resort?
There are a number of restaurants and cafes that are serving every international and authentic dish. You can choose in-villa dining or enjoy food at these restaurants.
Azraq
Q Lounge & Restaurant
Riva
Ted's
Al Nahham
Q6. What accommodations are there to choose from in Banana Island resort?
Depending on your budget and holiday type, the Island resort in Qatar has a number of accommodations available to choose the best. You can pick an ideal stay from:
Premier Sea View Room
Deluxe Sea View Room
Junior Suite
Anantara Sea View Suite
One to five-bedroom Villa
Q7. How can I spend my holiday at Banana Island?
The Banana Island Resort Doha by Anantara not only offers luxury accommodation and facilities but also activities to enjoy the holiday. Here are some of the best activities you can enjoy:
Surfing
Bowling
Beach tour
Tennis and sports
Kids Water Park
Q8. What facilities are there at Banana Island resort?
The island resort in Qatar has every luxuriating facility and service that can make your stay pleasant and comforting. There are restaurants and café, activities, a spa and wellness center, meeting rooms, and more to meet all your demands.
---