The reason shopping is also known as retail therapy is because of the therapeutic effects it has on us. Indulging in shopping, especially for yourself, is one of the best ways to uplift your spirits, and when it comes to shopping in Bangkok, how can anyone resist? Being in this charming city has its perks, and its luxurious malls are one of them. So, let's check out the shopping malls in Bangkok that you should definitely visit to understand the fashion scene of this city.
Shopping Malls in Bangkok: Time for Some Retail Therapy
There's no denying that shopping is one of the major reasons for an increase in our dopamine levels. These "feel good" hormones are activated even at the hint of shopping. When you're in a new city, it's a rite of passage to go shopping and to explore the different brands, clothes, and other things offered there.
So, here's a list of the best malls in Bangkok for shopping
Central World
Siam Paragon
Icon Siam
MBK Center
Siam Discovery
Terminal 21
Asiatique
River City Mall
1. Central World: Enter the Luxurious World of Shopping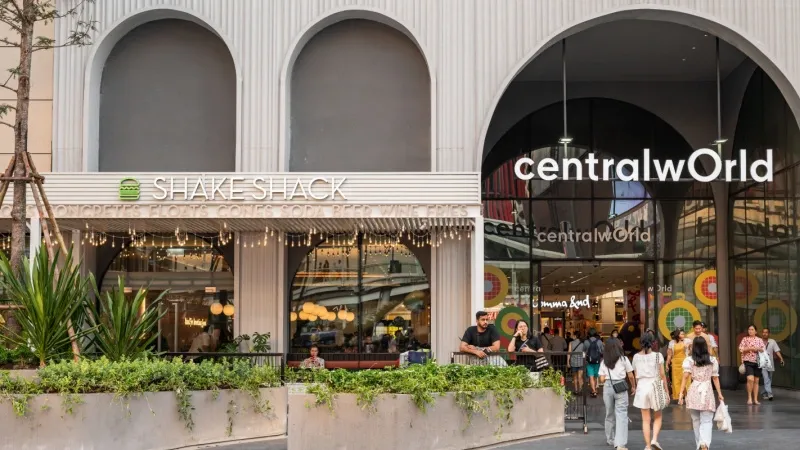 Being the biggest mall in Bangkok and the 11th largest mall in the world, you can rest assured that your experience here will be top-notch. This mall was earlier famous as "World Trade Center," and the highlight is the shopping street concept it has chosen, which helps the people view all the shops at a glance. In fact, this mall is a complete package with entertainment centers, more than 500 shops, a hotel, cafes, and a lot more. Once you step foot inside this shopping mall, all your needs will be taken care of. There are even movie theatres here, so you can watch a movie to pass the time. Parents traveling with kids can leave them at the Thailand Knowledge Park or the Genius Planet Zone and continue with your shopping. Now you know why this mall is considered the best in this city.
Opening hours: 10 A.M to 10 P.M
Famous shops in Central World: SuperSports, B2S, Toys 'R' U, Central Food Hall, Isetan department store
Highlights:
One of the largest malls in Asia
You'll find luxurious and budget stores here
The mall hosts several live events
There's a 15 screen SF World Cinema
It includes more than 500 shops
How to reach Central World Mall: You can take a BTS train to Chit Lom Station and take exit 1 to the skywalk. From the skywalk, the mall's at a walking distance of around 5 minutes. You could also take the BTS train to Siam Center Station, take exit 5 to the skywalk, and walk for approx. 10 minutes to reach the mall.
Also Read: Honeymoon in Bangkok: Experience the Joys of Sun, Sand, and Love
2. Siam Paragon: Step into Bangkok's Mega Mall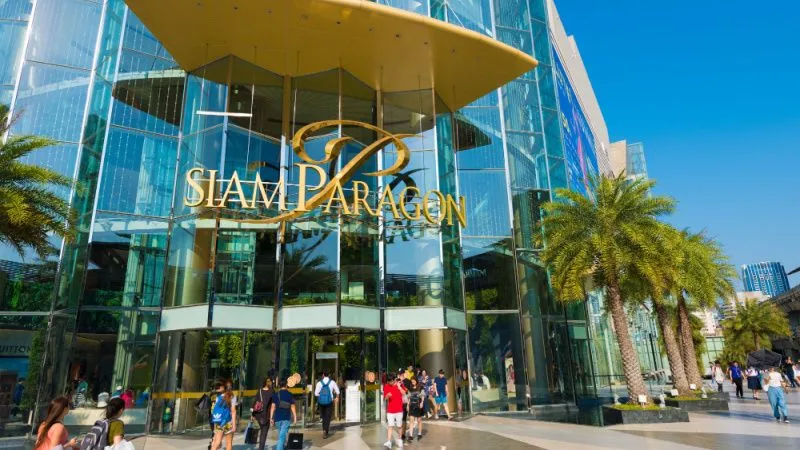 If you're traveling to Bangkok, then you must have definitely heard about this grand shopping mall. It's on everyone's bucket list because of the attractions it houses, such as the largest aquarium in Southeast Asia, a 16-screen cineplex, and world-class brands. Out of the 250 shops here, you'll come across brands, like Jimmy Choo, Prada, Louis Vuitton, Mont Blanc, and so on. The glass and steel building of this mall screams luxury and eliteness, which would allure you to explore it. You can consider this place as the mecca for all the shopaholics; however, there's a lot to look forward to apart from shopping, like watching a movie, eating at the food court, watching the Broadway style musicals, and playing in the bowling alley.
Opening hours: 10 A.M to 10 P.M
Famous shops in Siam Paragon: Rolex, Jimmy Choo, Prada, Louis Vuitton, Pucci, Mont Blanc, Maserati dealership
Highlights:
It houses the largest aquarium in Southeast Asia
Flag stores of international brands
There are several entertainment zones
It includes more than 250 shops
This mall's Asia's biggest diamond trading center
How to reach Siam Paragon: You can reach there via the BTS Skytrain. Board a green or dark green line from the station towards Siam Station. Take exit 3 or 5 and you'll come find the mall.
3. Icon Siam: Delve into this Entertainment Center Plus Mall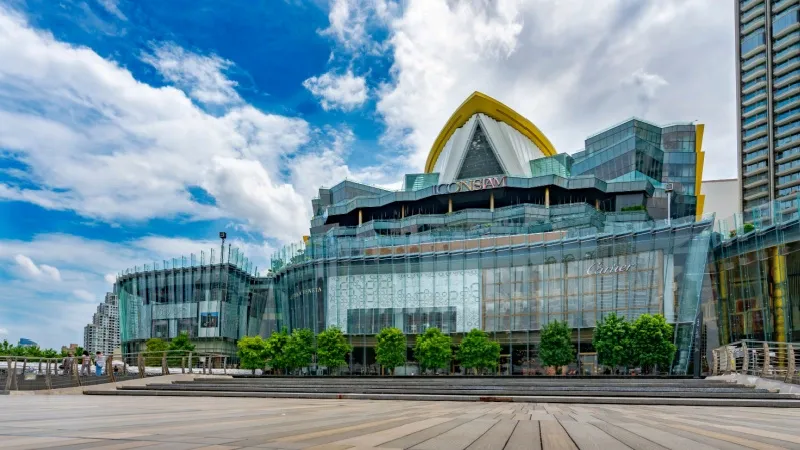 Icon Siam isn't one of the regular shopping malls in Bangkok, instead it's an entertainment center that also includes around 500 shops. You can spend an entire day here indulging in the various activities it offers. There's an indoor floating market here, art gallery, an exhibition center, a museum, and almost 100 restaurants. Another feather in its cap is the riverside location of this mall. The breathtaking view from here is reason enough to visit this place. The pier in front of the mall is ideal for clicking pictures and spending some quality time with your loved ones. Therefore, it's one of the places to visit in Bangkok that would leave you in awe of its magnificence.
Opening hours: 10 A.M to 10 P.M
Famous shops in Icon Siam: Tiffany, Dior, Cartier, Dolce & Gabbana, Fendi, Versace
Highlights:
It's an entertainment center and a shopping mall
It includes a floating market, art gallery, museum, etc.
The mall's riverside location is ideal for clicking pictures
How to reach Icon Siam: Take a BTS train to Saphan Taksin station, then leave from exit 2 and board the Icon Siam free shuttle boat or ferry to reach the mall.
Also Read: Dream World Bangkok: Experience a Dose of Fun at the World of Happiness
4. MBK Center: The Elite Version of a Street Market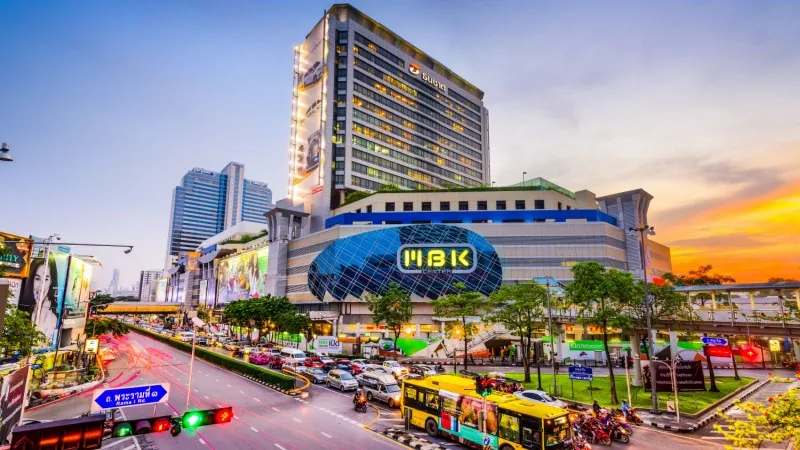 If you're not into luxury brands, then you'll love shopping at MBK Center. This mall feels like a luxurious version of street markets. You'll find budgeted and affordable shops here that sell a variety of items, such as leather bags, mobile phones, perfumes, accessories, art and crafts, furniture, and so on. There are approximately 2000 shops in this seven-storey building, and it's the only mall where you can bargain for prices. The vibe of this place resembles that of the Chatuchak Market and it's a fun way to shop. You won't just find clothes here, but everything, ranging from electronics to cosmetics; however, there won't be any high-end brands here. It's for those who wish to feel the vibe of shopping in a mall, but in an affordable manner.
Opening hours: 10 A.M to 9 P.M
Highlights:
There are approx. 2000 shops here
It sells electronic items, clothes, cosmetics, etc.
Everything's at an affordable price
How to reach MBK Center: Take the BTS train to National Stadium Station, and once you exit, you'll come across the mall.
Suggested Read: Thrilling Things to do in Thailand: An Adventure Seeker's Paradise
5. Siam Discovery: Immerse Yourself in this Japanese-Inspired Mall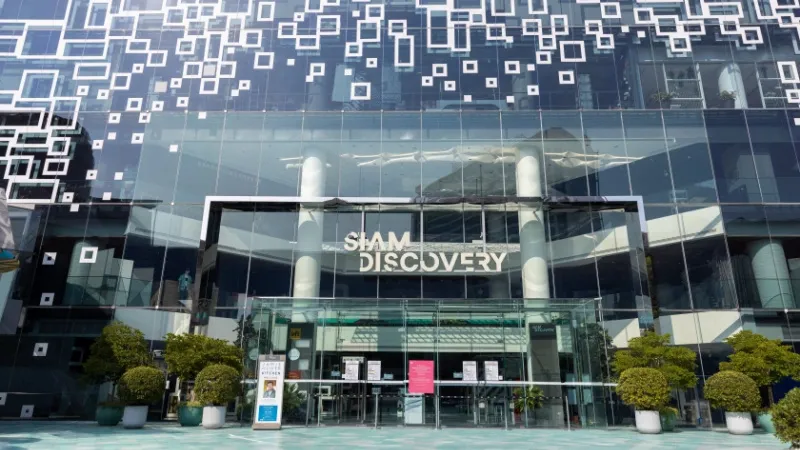 The diversity in Bangkok is evident through this mall, which is the best shopping mall in Bangkok. Its design is inspired by a Japanese design that was introduced here by a Japanese company, Nendo. In fact, this entire mall follows the Japanese concept of shopping, so when you enter the mall, you'll find items lying around like at home for a more personalized feeling. Instead of floors, there are labs, so the "Her Lab" includes Japanese boutiques like Beautiful People, Tsumori Chisato, etc. On the other hand, the "His Lab" includes brands like Yohji Yamamoto, Calvin Klein, etc. Every floor or lab has a different theme. There's even Madame Tussauds Wax Museum, fitness center, food court, and much more for you to explore.
Opening hours: 10 A.M to 10 P.M
Famous shops in Siam Discovery: Beautiful People, Yohji, Yamamoto, Paul Smith, Tsumori Chisato
Highlights:
A Japanese-inspired mall
Each floor follows a different theme
This mall won the International Council of Shopping Centers award for its unique design
How to reach Siam Discovery: Board a BTS train to Siam Station and walk to the mall after exiting the station.
6. Terminal 21: Shop at this Exotic Themed Mall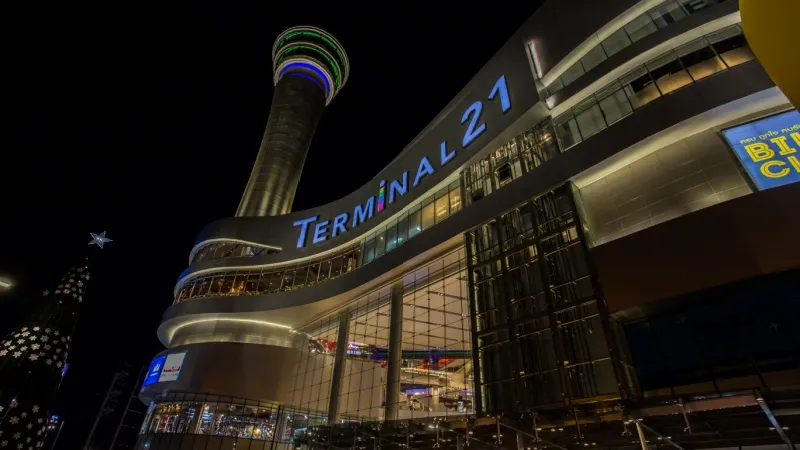 You'll not find a better mall than this in this country, even if you explore all the places to visit in Thailand. As the name suggests, this mall is airport-themed with each floor depicting a different country. This mall has incorporated this theme beautifully by adding signboards with flight details, receptionists dressed as air hostesses, and so on. You'll truly feel like you've been transported to some other country as you explore this place. The Rome and Paris floors include brands like Nike, Adidas, etc. Home décor, jewelry, cosmetics, and other such sections are available on the Istanbul floor, and for delicious food, you can visit the San Francisco floor. There's even a Golden Gate Bridge in the middle of the food court for a wholesome feel. Shopping here is an experience in itself.
Opening hours: 10 A.M to 10 P.M
Famous shops in Terminal 21: Adidas, Jaspal, Nike, American Eagle, Victoria Secret, H&M
Highlights:
It's an airport-themed mall
Each floor is dedicated to a different country
It feels like shopping in a Middle Eastern Souk
How to reach Terminal 21: You can board a BTS train to Asok BTS Skytrain Station and reach the mall via the skywalk.
Suggested Read: Honeymoon in Thailand: Two Hearts, One Adventure!
7. Asiatique: Venture into this Fun Night Bazaar & Mall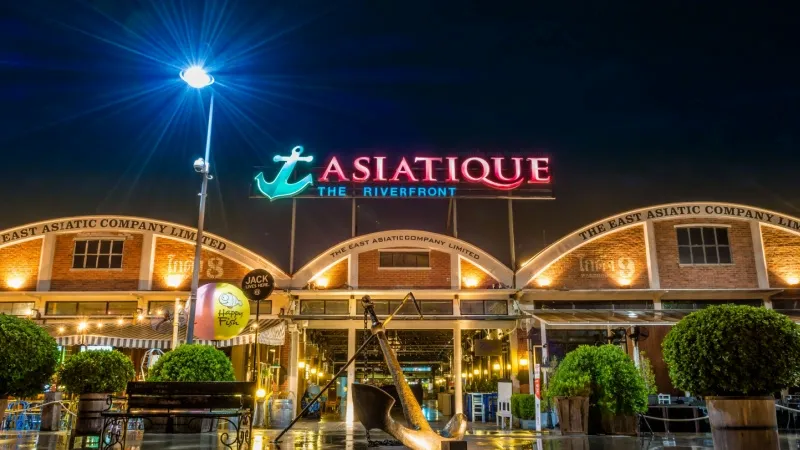 When it comes to Asiatique, you'll witness how it's a combination of night bazaar and mall. So, you'll get the best of both worlds. This place is an entertainment center and a shopping complex, plus the riverfront location makes shopping here one of the popular things to do in Bangkok. There are around 1500 shops here selling handicrafts, clothes, souvenirs, and much more. There's even a Ferris Wheel that offers you a panoramic view of the entire city. Shopping here is quite fun as it'll feel like street shopping, which is the best kind. You can savor street food, shop till your feet hurt while soaking in the gorgeous views.
Opening hours: 11 A.M to midnight
Highlights:
It's a combo of night bazaar and mall
It houses almost 1500 shops
The riverfront view is mesmerizing
How to reach Asiatique: You must take a boat from the Saphan Taksin dock to reach the shopping complex. You can also reach there via a cab or tuk tuk.
8. River City Mall: Shop While Admiring the River View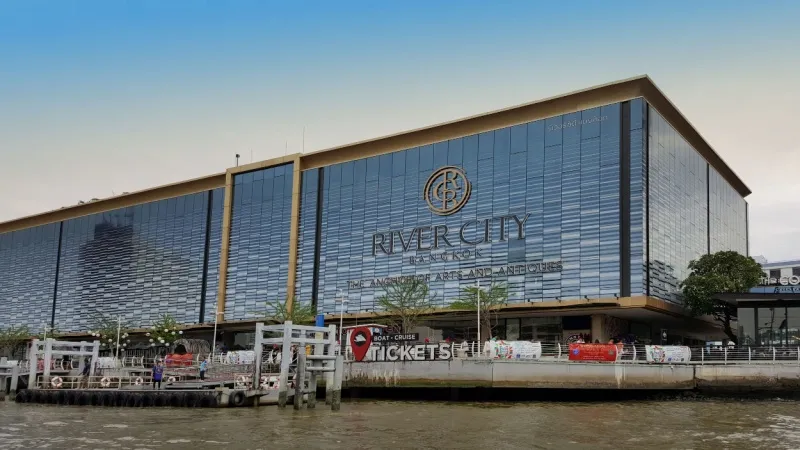 It's evident by the name of this mall that it overlooks the Chao Phraya River, offering captivating views of the river. It's one of the shopping malls in Thailand that organizes on-site and online auctions for the people. You can buy antiques and collectables from here as that's what this mall specializes in. This four-storey mall retains a hint of traditional and simplistic vibe through the items it sells. Clicking pictures here is also quite popular with the river as the backdrop. The best part is that the stores would even ship your items back home to make shopping convenient for you. When you're exploring the nightlife in Bangkok, don't miss out on visiting this place because its true beauty is evident only when it's illuminated.
Opening hours: 10 A.M to 10 P.M
Highlights:
This mall overlooks the Chao Phraya River
Nighttime is the best time to visit this place
It organizes on-site and online auctions
How to reach River City Mall: You can take a boat from Sathorn Central Pier beside Saphan Taksin Skytrain Station. From there, you can board a shuttle service to the mall.
Suggested Read: Shopping In Qatar: A True Reflection Of The Country's Tradition
Shopping in this city is a wholesome and exciting experience because of the variety of shopping malls in Bangkok. Each one offers a completely new way of shopping, so we recommend exploring several of these malls to buy unique items to remember this place by. There aren't a lot of things that are as fulfilling as shopping, so do indulge in this guilty pleasure of yours because it gives you a better sense of the city. Now, book our Bangkok tour packages to take a trip to these luxurious malls.  
FAQs
Q1. What is the main shopping belt in Bangkok?
The main shopping belts in Bangkok include:
MBK Center
Siam Paragon
Central World
Terminal 21
Icon Siam
Q2. What is the most famous shopping mall in Thailand?
Central World in Bangkok is the most famous shopping mall in this country. It's the 11th largest mall in the world.
Q3. Which brands to buy in Bangkok?
There are certain brands that are quite famous in this city, such as Greyhound, The Only Son, Tathata Brand, and so on.
Q4. What is the number one mall in Bangkok?
Siam Paragon is the number one mall in Bangkok. It's also one of Asia's largest malls.
Q5. Which mall in Bangkok is called the mother of all malls?
Icon Siam is popular in Bangkok as the mother of all malls because of its size and popularity.
Q6. What is the largest shopping mall in Bangkok?
Central World is one of the largest shopping malls in Bangkok and Asia with a size of 550,000 square meters of shopping mall.
Q7. Does Bangkok have high end shopping malls?
Yes, Bangkok has some of the most famous high-end shopping malls, such as Siam Paragon, Terminal 21, Central World, and so on. These malls include luxury brands, like Jimmy Choo, Prada, Victoria Secret, etc.
Q8. Which malls in Bangkok offer a riverfront view?
River City Mall and Asiatique are two such malls in the city that offer a gorgeous riverfront view to the visitors.
---