The honeymoon hotels in Qatar ensure couples enjoy the comfort and luxury of the Arabian hospitality. Tourists have always been attracted to the vibrant traditions, the heritage and fusion of the Arabian and Western art culture of the Middle East.
Couples can have the most amazing time on tranquil beaches with the stunning view of the skyline. To match your comfort levels, the luxury properties have redefined the comforts and facilities. On the other hand, if people have come on a holiday, they can enjoy the deserts, the islands and architecture of the country. These are attractions that will ensure people make Qatar a destination they visit each year.
12 Honeymoon Hotels In Qatar To Rekindle The Romance
Regency Sealine Camp
Sharq Village & Spa, A Ritz-carlton Hotel
Sheraton Grand Doha Resort & Convention Hotel
Marsa Malaz Kempinski, The Pearl - Doha
The St. Regis Doha
Four Seasons Hotel Doha
Mondrian Doha
Mandarin Oriental Doha
Intercontinental Doha
Ritz Carlton Doha
Dusit Doha Hotel
Souq Al Wakra Hotel Qatar By Tivoli
Embrace and enjoy the luxurious Qatari Hospitality on your honeymoon. Recreational options, unmatched comforts and experiences are some of the things the honeymoon hotels in Qatar offer honeymooners. Relive every minute of your love life and breathe life into your vacation while enjoy the most comfortable stay at the hotels and resorts.
1. Regency Sealine Camp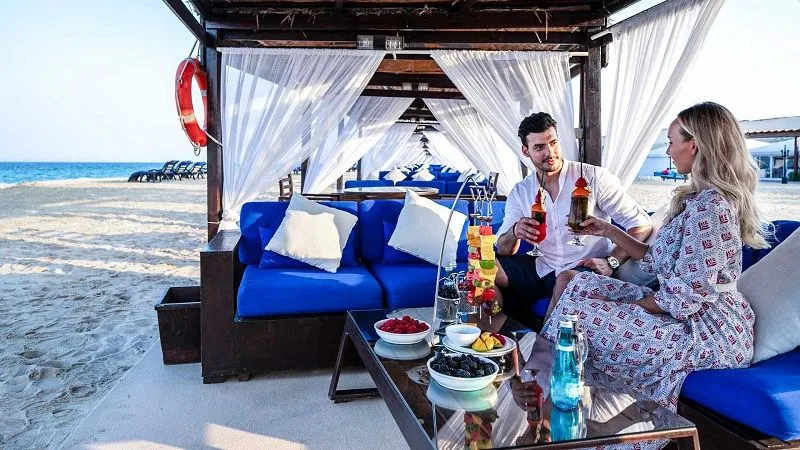 Regency Sealine Camp is located on one of the best beaches in Qatar which is Inland Sea and offers breathtaking views of the sun, sand and sea. The contemporary charm of the Regency Camp meets the Arabian culture thus promising a great stay to couples who are seeking a pleasant time in the lap of nature. November to March is considered an ideal time to spend a pleasant time at Regency Sealine Camp with your partner. The camp rooms are fully furnished with air-conditioners, private bathrooms, slippers, and other facilities which makes it an ideal option for a comfortable stay amidst sea and desert.
Couples here can also indulge in several exciting adventures here like candlelight dinner, dune bashing, camel riding and quad biking which makes it one of the best honeymoon hotels in Qatar. Enjoy a hearty gastronomic experience at the camp where the menu features different Asian, international and Arabian delicacies. Chinese & Italian live food stations are also available here serving freshly prepared dishes with authentic flavors to guests.
Address: Inland Sea Off Rd, Qatar
Rating: 4.5
We love it for: Modern camps, desert adventures, candlelight dinners
2. Sharq Village And Spa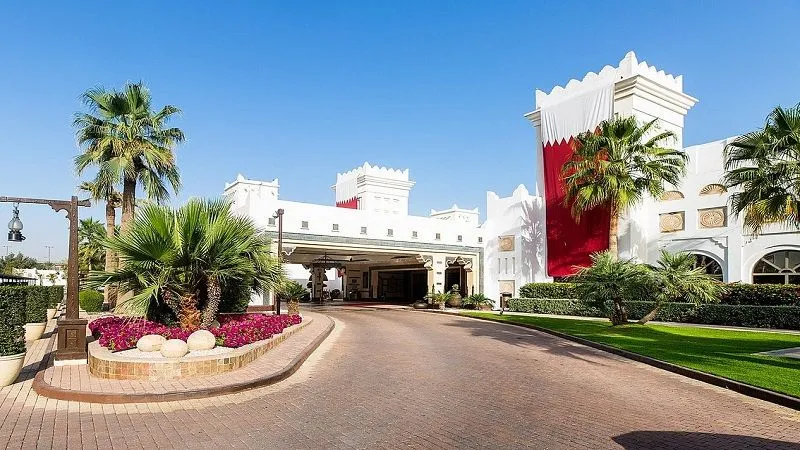 A village-inspired architecture with contemporary touches and lavish comforts, Sharq Village and Spa is one of the best luxury honeymoon hotels in Qatar where couples can enjoy a peaceful stay. Unwind and relax at the manicured gardens of the hotel or bask in the sun on the private sandy shoreline while enjoying enthralling views of the landscape around. The hotel houses 174 stylish rooms and suites with all the modern comforts, floor-to-ceiling windows offering eye-catching views and a private balcony.
Witness the best spa experience at 23 treatment rooms that are designed keeping in mind the wellness culture of Qatar. The beach resort also offers a range of activities like pool, beach access, watersports and others to enjoy leisure and recreational time. Couples can also enjoy a fancy and a romantic candlelight dinner by the pool at Dhow Terrace or enjoy fine-dining at inhouse restaurants like Parisa, Iris Doha and others.
Address: Ras Abu Abboud St, Doha, Qatar
Rating: 4.5
We love it for: Private beach, pool, restaurants like Parisa and Iris Doha, Idyllic setting
3. Sheraton Grand Doha Resort and Convention Hotel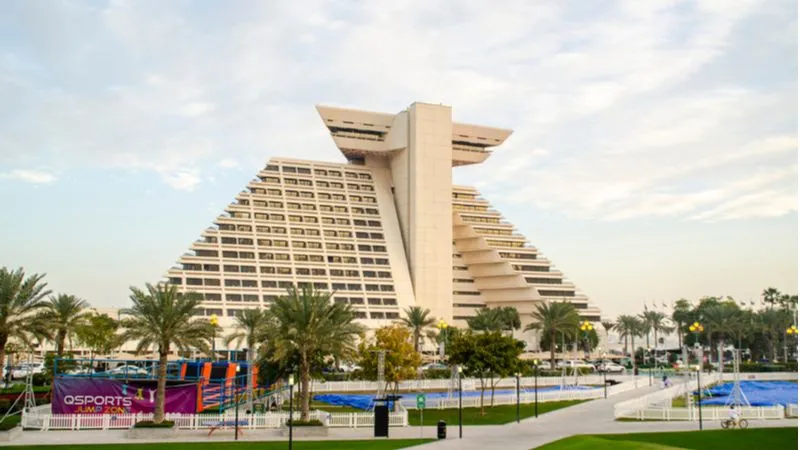 Escape discovering tranquility and luxury while you are on a romantic holiday. Sheraton Grand Doha Resort and Convention Hotel, the 5-star property in Doha, is one of the best honeymoon hotels in Qatar, offering you a romantic staycation.
Enclosed by the serene land space and overlooking the beautiful gulf, Sheraton Grand Doha reflects a romantic beauty. There are facilities to make you relax and unwind while spending a luxurious and leisurely holiday. The rooms of this grand honeymoon hotel are so designed with a balcony that they open up to the Corniche view. Enhancing the experience, every accommodating unit of Sheraton Grand Doha has the most stylish and fancy interiors. From bedding to furnishing, separate bathrooms, and room assistance, the hotel offers the utmost comfort and ease to all.
There are additional facilities to magnify your honeymoon experience. There are dining halls and restaurants, a swimming pool, spa, and sauna service for complete rejuvenation.
Address: Al Corniche Street, Doha, QA-DA
Rating: 4.0
We love it for: Spa and Fitness, Meeting Space, Restaurants, Private Balcony
Suggested Read: Shopping In Qatar: A True Reflection Of The Country's Tradition
4. Marsa Malaz Kempinski, The Pearl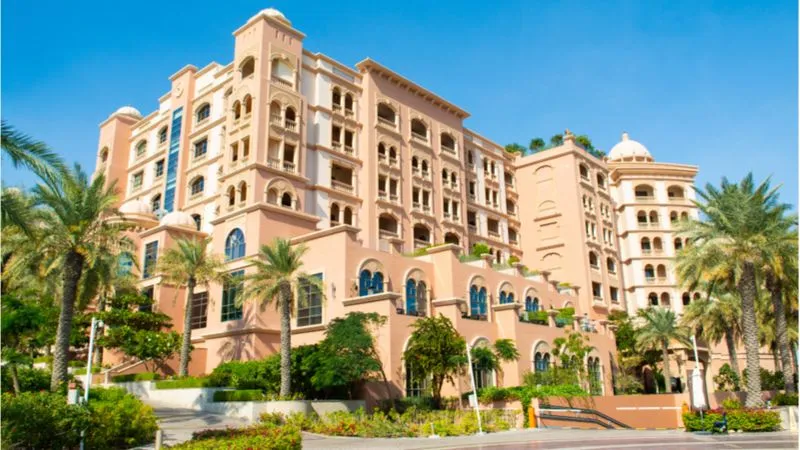 Located in the Pearl-Qatar, Marsa Malaz Kempinski is one of the top honeymoon hotels in Qatar due to its stunning architecture and top-of-the-line facilities. The serene and romantic ambience of Marsa Malaz offering pristine views of the Arabian Gulf will delight your senses in every way. With a stunning private shoreline and water sports facilities, Marsa Malaz Kempinski ensure a pleasant time to couples. Also, this resort takes you on a fancy culinary experience as it houses seven top restaurants and four bars with an enchanting ambience. This resort also features an award-winning spa center where guests can indulge in some revitalizing spa treatments. The 282 stylishly designed rooms and suites of Marsa Malaz promises dreamy views of the gulf and are well-equipped with all the modern amenities. Enjoy access to some of the facilities offered to guests here like health club, beach & pools, padel court and tennis court.
Address: The Pearl - Doha, Costa Malaz Bay, Doha, Qatar
Rating: 4.5
We love it for: Ideal location, spa, top restaurants and bars
5. The St. Regis Doha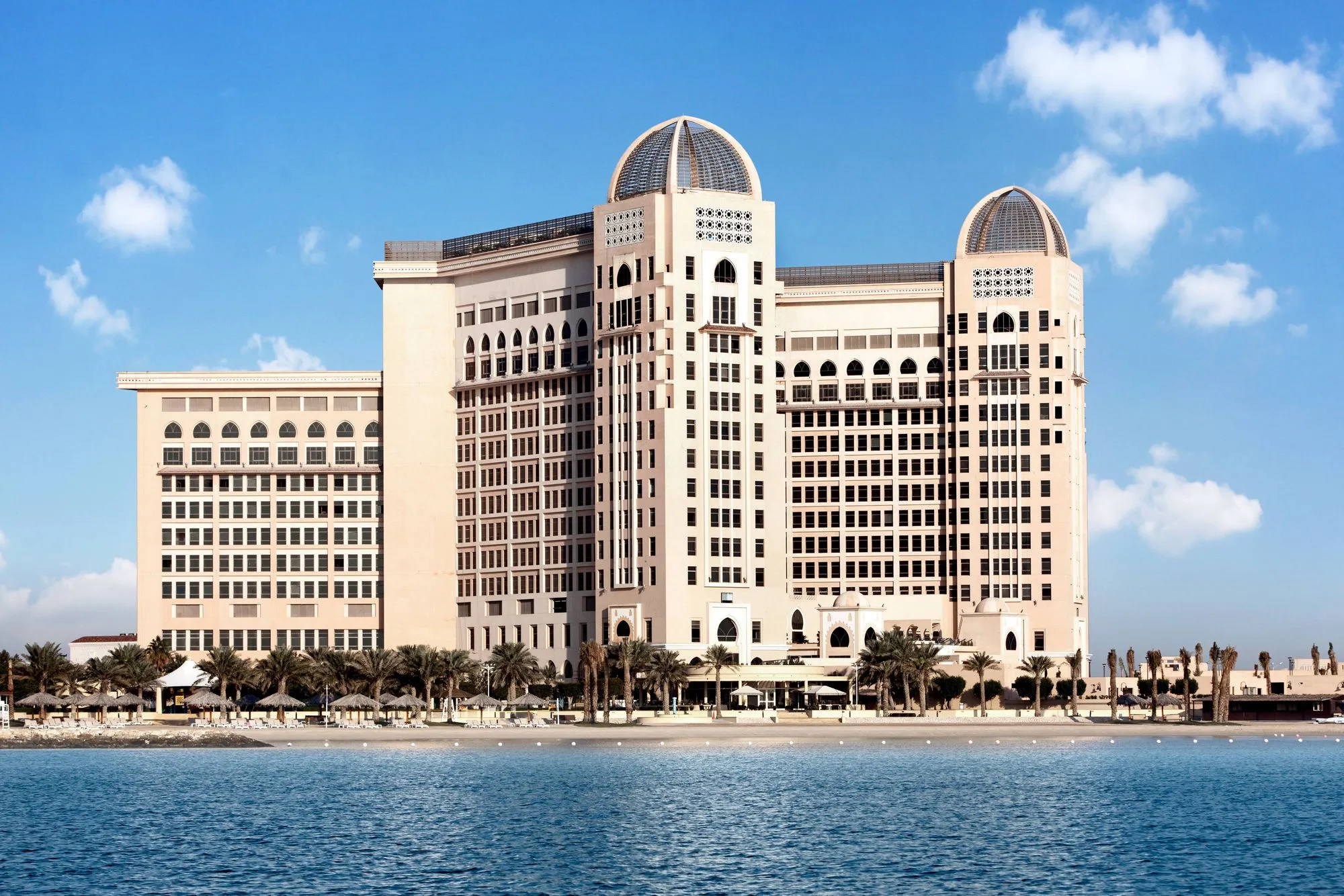 What makes the St. Regis Doha, the ultimate honeymoon hotel in Qatar is its lavish beauty and luxuriating facilities. Located in the West Bay, the hotel is enclosed within the captivating view of the Arabian Gulf, the glittering dunes, and the vast skyline of Doha.
What makes it a perfect accommodation for honeymooners? The facility list is quite vast and long and includes a number of recreational and fascinating activities. As a couple, you can get a slot at Remède Spa. There are restaurants to enjoy a romantic candlelight dinner or the nightlife of Qatar. The fancy eateries at the hotel serve the most delightful taste.
When it comes to choosing the best-accommodating unit with some exclusive facilities and exquisite interiors, The St. Regis Doha offers 266 luxury rooms and suites. The ambiance and the interior of the room reflect a charismatic touch of modern and Arabian-influenced décor.
Address: Doha West Bay, Doha, QA-DA
Rating: 4.5
We love it for: International Restaurants, relaxing spa, spacious rooms, luxury interiors
6. Four Season Hotel Doha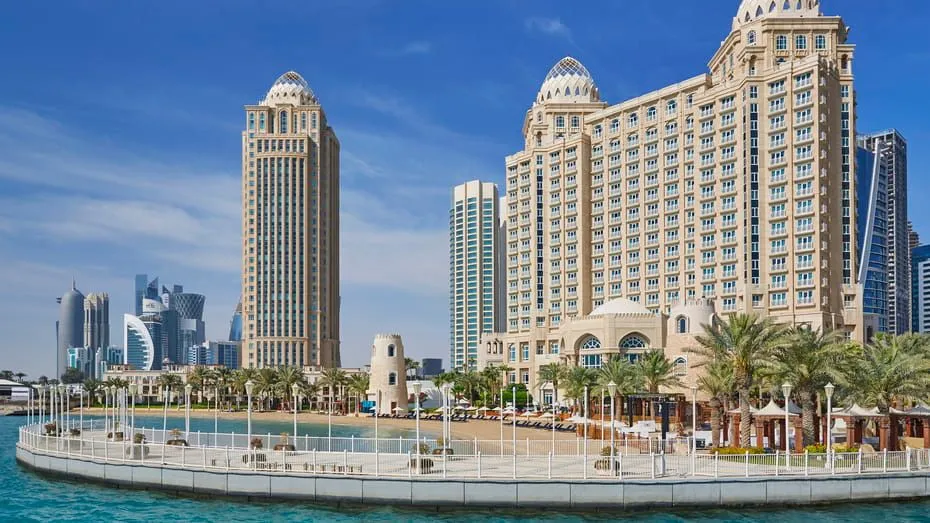 Elegance and comfort go hand in hand while you stay at the luxury Four season Hotel Doha. Flaunting its modern and classic grandeur with the best facilities and heartwarming services, the hotel is an ideal hotel for honeymooners in Qatar. Nestled along the scenic coast, this seaside property has everything from restaurants to the pool, spacious rooms, and amenities.
Every room of the hotel is designed to grant a lavish stay with a touch of sophistication and comfort. There are categories to choose the best unit featuring everything you need for leisure and romantic stay. What's so unique and special about the Four Season hotel Doha is the gastronomic experience. You will have some of the best restaurants in Doha for a perfect romantic dinner. Later, you can spend quality time at the Pool Grill of the Marina Terrace, savoring the best mocktail or cocktail of the night.
Address: The Corniche, Doha, Doha P.O. Box 24665
Rating: 4.5
We love it for: Poolside restaurant and Bar, Majlis style room, wedding space, Private beach
Suggested Read: Places To Visit In Interlaken That Will Leave You Intrigued by the Untouched Charm of Nature
7. Mondrian Doha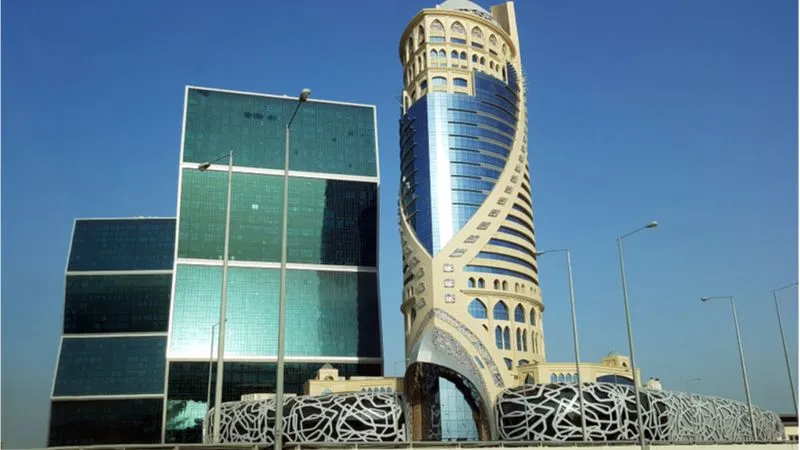 Mondrian Doha is located in the bustling shopping district housing so many good malls of Qatar and features great architecture with lavish interiors. Guests can make a choice from a wide selection of rooms and suites like sky house, loft suite, penthouse, deluxe two-bedroom suite, superior room, superior terrace room, and many more. Couples can enjoy a romantic candlelight dinner at Rise, a rooftop bar in the hotel that offers striking views of the Doha skyline and the entire city which makes it one of the top honeymoon hotels in Qatar. Smoke and Mirrors and Walima restaurant are two other options available here where great food can be relished. The hotel also features 12 treatment rooms with glistening mosaic walls where an unforgettable spa and wellness treatment can be enjoyed for a soothing experience.
Address: Doha, Qatar
Rating: 5
We love it for: Rooftop bar, 12 treatment rooms, restaurants
8. Mandarin Oriental Doha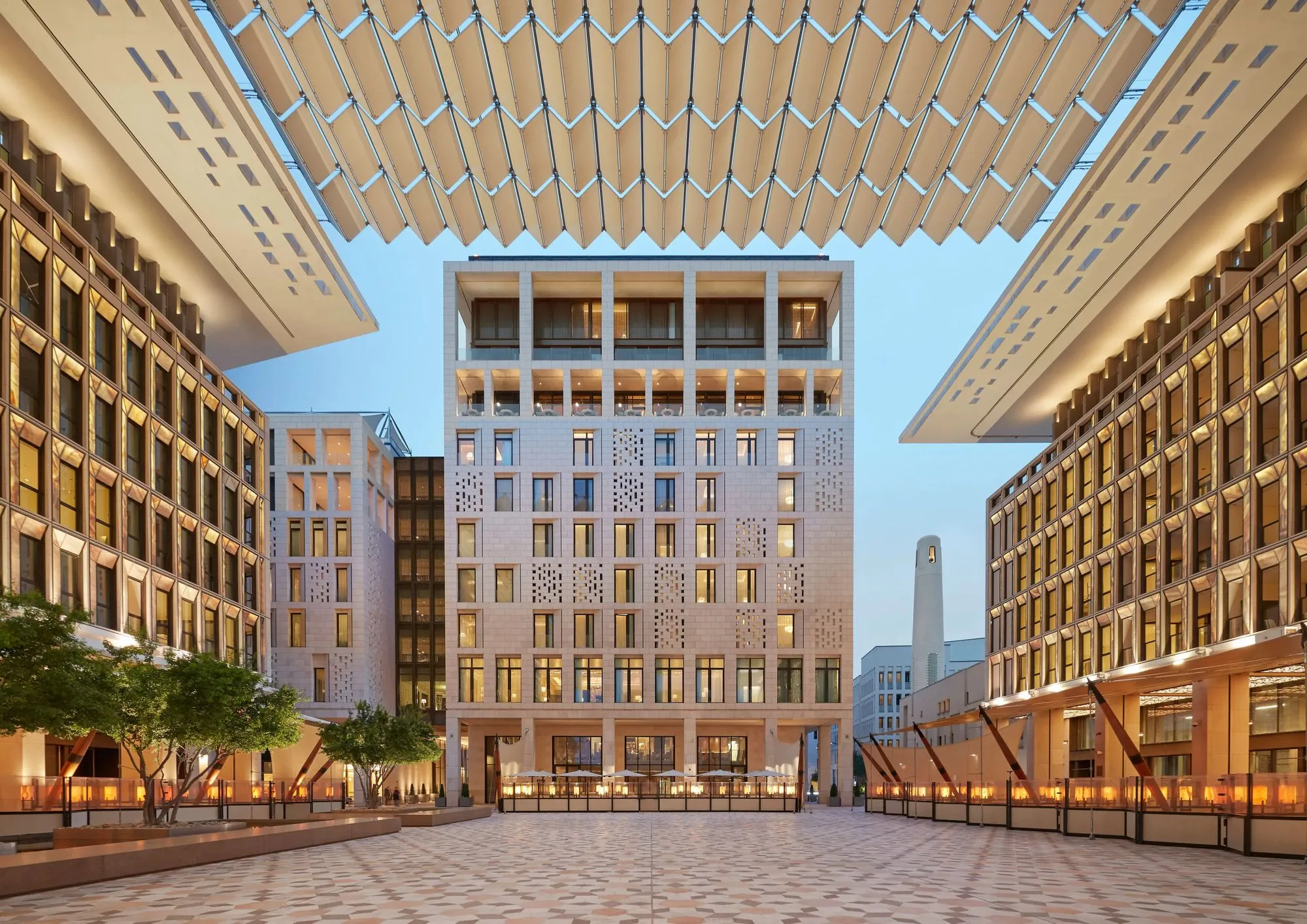 Indulge in luxury and comfort at the most romantic honeymoon hotel in Qatar. The Mandarin Oriental Doha is located ideally close to the major attractions in the famous Msheireb downtown Doha. This luxury hotel is just 30 min drive from the Hamad international airport, 10 min walk to Souq waqif and other attractions in Doha.
Offering you the best style and design to enhance the experience, every room at Mandarin Oriental Doha has an urban style. The design reflects comfort, sophistication, and a cozy feel to make it the best honeymoon in Qatar. You can choose from service apartments, suites, and luxury rooms that overlook the effortless beauty of the city.
Spa at Mandarin helps guests to seek leisure and unwind their souls. While a honeymoon can be the best time to enjoy a vacation, you can add a bit of leisure and ease to your experience with the spa and wellness facility at Mandarin Oriental Doha. There are nine treatment rooms with separate spaces for men and women.
Address: Barahat Msheireb Street, Msheireb Downtown Doha, Doha, DA
Rating: 4.5
We love it for: Service apartments, Spa and Wellness, Restaurants and cafes
Suggested Read: Swimming Pools In Qatar: Top Spots To Beat The Scorching Heat
9. InterContinental Doha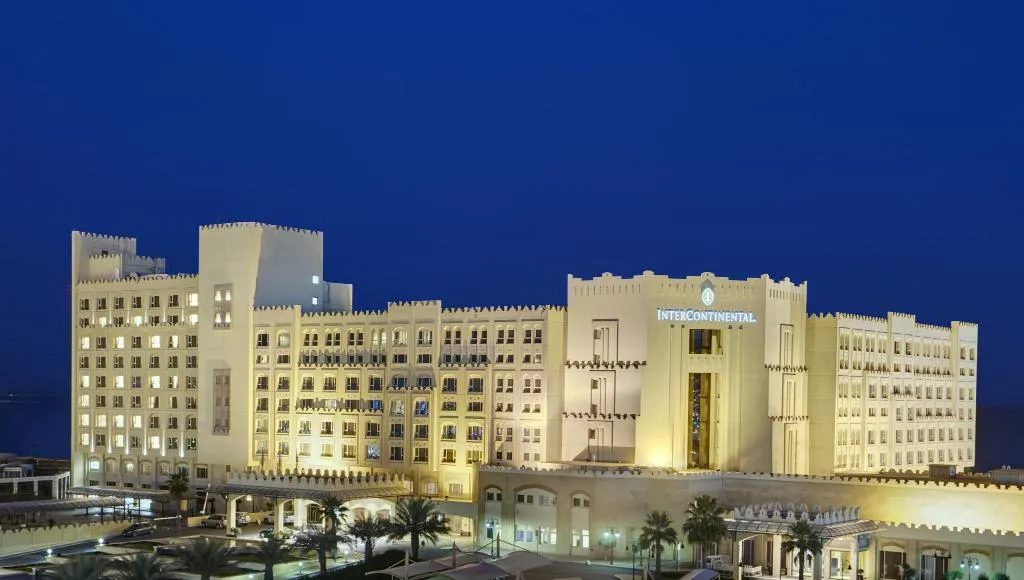 InterContinental Doha has taken luxury and style to a next level offering every romantic and leisure experience to honeymooners. This 5-star property is the most beautifully designed honeymoon hotel, Qatar that has sophistication in its elegance and charm.
There is food and nightlife, meeting space, and a complete spa and wellness service.
Rooms are spacious and comfortable enough to make you feel at home. Every room of the hotel features a modern style and contemporary design along with a lavish and royal interior to enhance the experience. There is 24x7 assistance available for the guest living at InterContinental Doha.
Coming to the culinary experience, this Qatar honeymoon hotel has the finest restaurants serving the best food in Qatar. Dine in with style while relishing the taste of every delicious meal served for the night.
Adding on to the features that make it the most romantic honeymoon hotel in Doha, Qatar, InterContinental has the best Spa, pool, and every feature for delivering everything you need for a rejuvenating holiday.
Address: Street 900, Bldg. No. 25, Zone 61, al Dafna, West Bay, Doha, State of Qatar, Doha, Doha
Rating: 4.5
We love it for: Rejuvenating spa, restaurants and bar, Swimming Pool, Luxury accommodation and private beach.
10. Ritz Cartlon Doha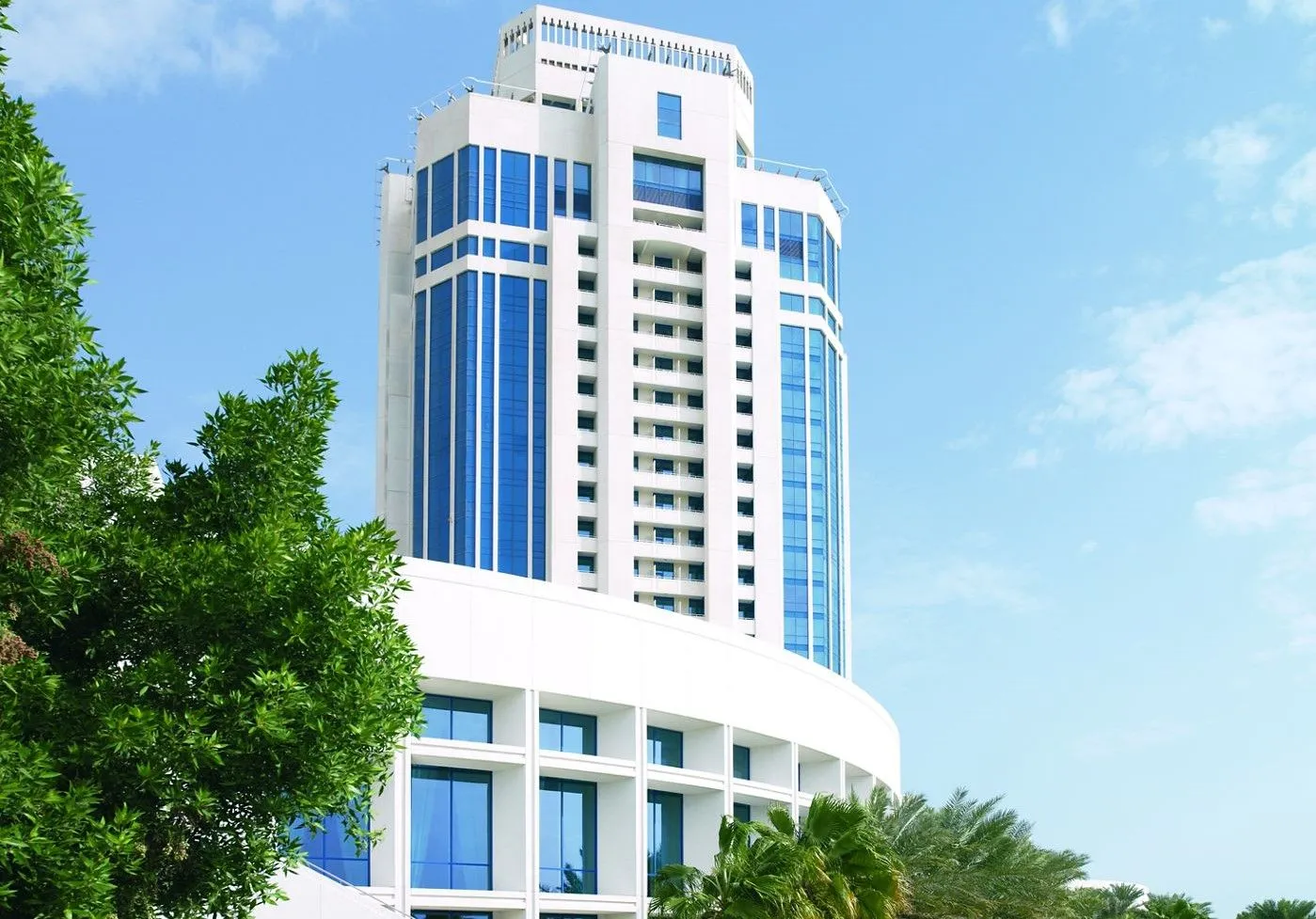 Set on a pristine Qatar island, Ritz Carlton Doha is the best honeymoon hotel in Qatar for a romantic holiday. The hotel brings out the best staycation experience offering you a number of facilities and a welcoming service. The influence of Qatari hospitality and culture has made it a perfect accommodating option for tourists. There is a perfect blend of traditional and modern art, which makes it a perfect piece of contemporary architecture.
There are374 well-appointed guest rooms overlooking the Arabian Gulf. You can choose from the 61 luxury suites and 42 club rooms equipped with every amenity. The rooms are designed with modern décor, using Tuscan marble, French Oak, and other quality materials.
Plan a romantic evening with your spouse and enjoy waterfront dining. At Ritz Carlton, you can relish the taste of every tempting Arabian and international cuisine. There are the best restaurants and cafes in Doha that make the hotel a premium property for a romantic stay.
Address: West Bay Lagoon, West Bay Lagoon, Doha, QA-DA
Rating: 4.5
We love it for: Fitness center, Restaurant, and Cafe, SPA, Activity Area
Suggested Read: Nightlife In Turkey: Experience the Buzzing Streets After Sun Goes Down
11. Dusit Doha Hotel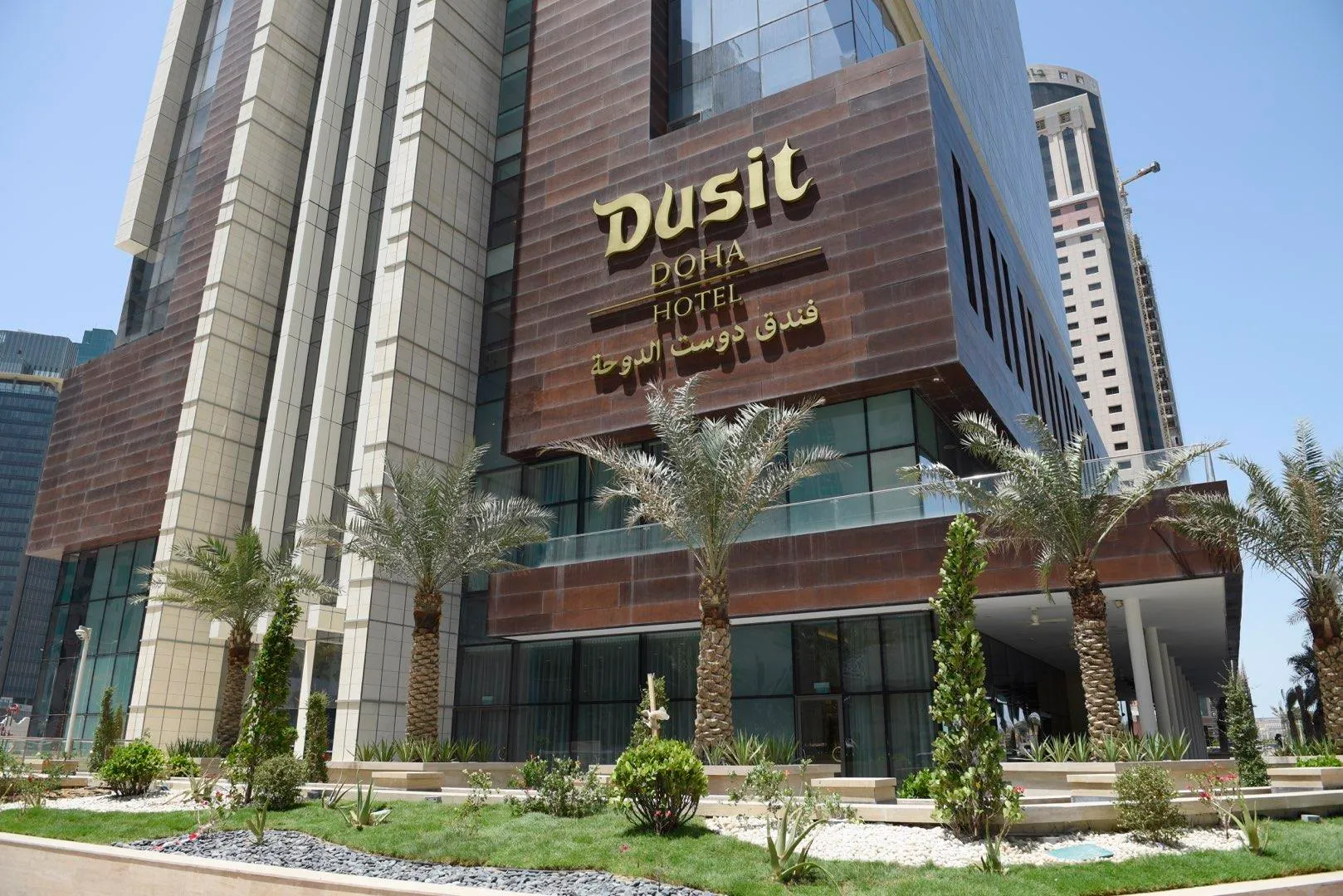 Blend with the rich and royal beauty of Qatar with a romantic stay at the Dusit Doha Hotel. Being one of the best Qatar honeymoon hotels, Dusit Doha welcomes honeymooners to discover peace and luxury. Located in the West Bay Diplomatic Area, the hotel not just features some best accommodating units but every amenity to add more comfort.
The living rooms of the hotel are designed with floor-to-ceiling windows that overlook the vibrancy of the city. Modern furniture and quality design are some features to ensure complete leisure.
What makes Dusit best for your honeymoon experience is the service. The hotel has some fancy cafes and restaurants with the best Qatar attractions nearby where you can spend quality time. Dining comes with a diverse taste from almost every international food destination. From the French Platter to the Chinese and authentic Arabian food, you can dive into the delighting flavor of all your favorite dishes.
Address: West Bay Diplomatic Area, Doha, QA-DA
Rating: 4.5
We love it for: Fitness center, Restaurant and Cafe, Activity Area, Outdoor swimming pool
Suggested Read: Bars In Doha For The Memorable Drinking Experience
12. Souq Al Wakra Hotel Qatar By Tivoli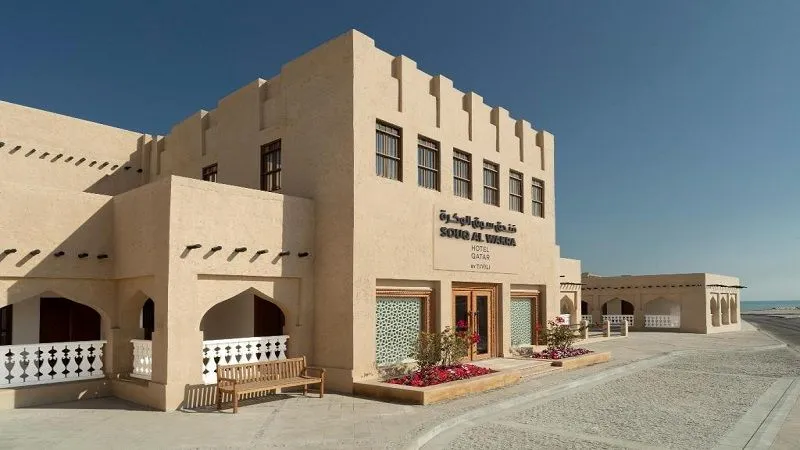 Another in the list of 5-star honeymoon hotels in Qatar, Souq Al Wakra Hotel Qatar By Tivoli is a perfect amalgamation of traditional aesthetics with modern touches. The 101 rooms and suites here preserve the old heritage time and have thatched roof with motifs inspired by sea and sand that depicts the history and culture of Al Wakra. The personalized services and high-end facilities offered here makes it one of the best hotels in Qatar. Enjoy a timeless spa experience at Tivoli spa where you can enjoy relaxing spa treatments along with Vichy showers that have been inspired by thermal hot springs in France. Delight your taste buds at in-house restaurants of this hotel where signature dining, buffet and intimate dinner can be enjoyed. Emshoot, Jarnen, Markhan and Mahaadeg are some of the dining options available here.
Address: Street 891 Al Loulou, Doha, Qatar
Rating: 4.5
We love it for: Private beach, restaurants, Tivoli spa
Suggested Read: Things To Do In Qatar That Every Adventure Seeker Would Relish
Qatar is not very well known as a honeymoon destination but we are sure if you plan your honeymoon in this country, you'll be awestruck and full of memorable experiences. From beach activities to island hopping, shopping to desert adventures, romantic candlelight dinners to a lavish stay at the best honeymoon hotels in Qatar, a honeymoon in Qatar is something unusual and delightful at the same time. Do consider this list of best honeymoon accommodations the next time you plan your honeymoon in Qatar.
FAQs
Q1. Which are the best places to visit in Qatar on a honeymoon?
Q2. When is the best time to visit Qatar on a honeymoon?
November to mid-March is considered the best time to visit Qatar on a honeymoon when the weather is pleasant and ideal for beach strolls, sightseeing, adventures and a lot of other activities.
Q3. Which are the best beach hotels in Qatar ideal for a honeymoon?
Some of the best places to visit in Qatar on a honeymoon are:
Doha Corniche
Katara Beach
Souq Waqif
Dhow cruise
Inland Sea
The Pearl-Qatar
Q4. Which are the best restaurants for a romantic dinner in Qatar?
Some of the best restaurants for a romantic dinner in Qatar are:
W Café
Toro Toro Doha
Liquidity Pool Lounge
Parisa Souq Waqif
Sora
Riva
La Spiga by Paper Moon
Q5. How long should one stay in Qatar on a honeymoon?
One should stay for at least 3 to 4 days in Qatar on a honeymoon to explore all of its major attractions, beaches, islands, public parks, romantic restaurants and a lot more.
Q6. What are the best things to do in Qatar on a honeymoon?
Couples can indulge in a variety of experiences in Qatar on a honeymoon like:
Go on for a romantic walk on Inland Sea
Stroll through the traditional Souq Waqif market
Enjoy a thrilling desert safari experience
Indulge in different water sports
Witness a romantic candlelight dinner at any of the rooftop restaurants
Q7. What is there to eat in Qatar?
Qatar is very famous for its culinary delights like Saloona, Balaleet, Majboos, Kousa Mahshi, Umm Ali and Rogag.
Q8. Is Doha worth visiting?
Doha is one of the best and also the safest cities to visit in the Middle East where myriad of experiences can be enjoyed like desert adventures, shopping, water sports, and a lot more.
---