Featuring around 336 luxurious designed rooms and suites, St. Regis Doha is located in an ideal location in the heart of West Bay. The hotel promises a comfortable stay to everyone through its top-notch services and warm hospitality. It is an ideal place for family stays and honeymooners as the hotel boasts of restaurants, bars and lounges, a signature spa at its 22 private treatment rooms and mesmerizing views of the West Bay. The lavish interiors with all the high-end facilities and complimentary services make St. Regis Doha one of the best 5-star accommodations in Doha. Stroll through this blog guide to know more about this luxurious stay option in Qatar.
St. Regis Hotel Doha: A Take On Its Lavish Accommodation Options
Different rooms and suites of the St. Regis Hotel boast intricate details and contemporary designs offering stunning views of the Arabian Gulf or the Pearl Island. There are a total of 336 rooms and suites in the hotel for different budget types and requirements. Some of the main accommodation types offered by the hotel are given below.
1. Presidential Suites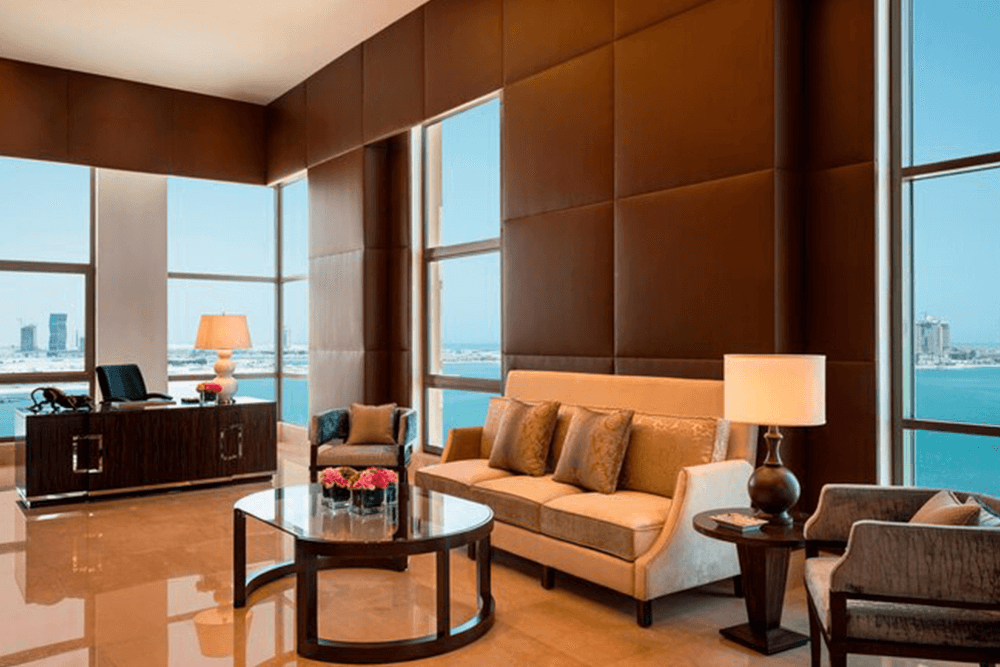 Walk into luxury and ultimate sophistication at 3- or 2-bedrooms presidential suites offered by St. Regis Hotel Doha. This suite type features Middle-eastern inspired décor with contemporary touches and all the high-end facilities. The oversized windows of the suite offer enthralling views of the gorgeous Arabian Gulf. The private terrace area that comes attached to the suite offers unreal views of the sunrise and sunset which are just soothing to the mind and senses. The hotel takes care of the comfort of the guests thus, one can find the suite well-equipped with all the state-of-the-art facilities like cordless telephone, 42 inches television with DVD player, armchair, kitchen and a separate dining room that can accommodate around 8 people.
2. Empire Suites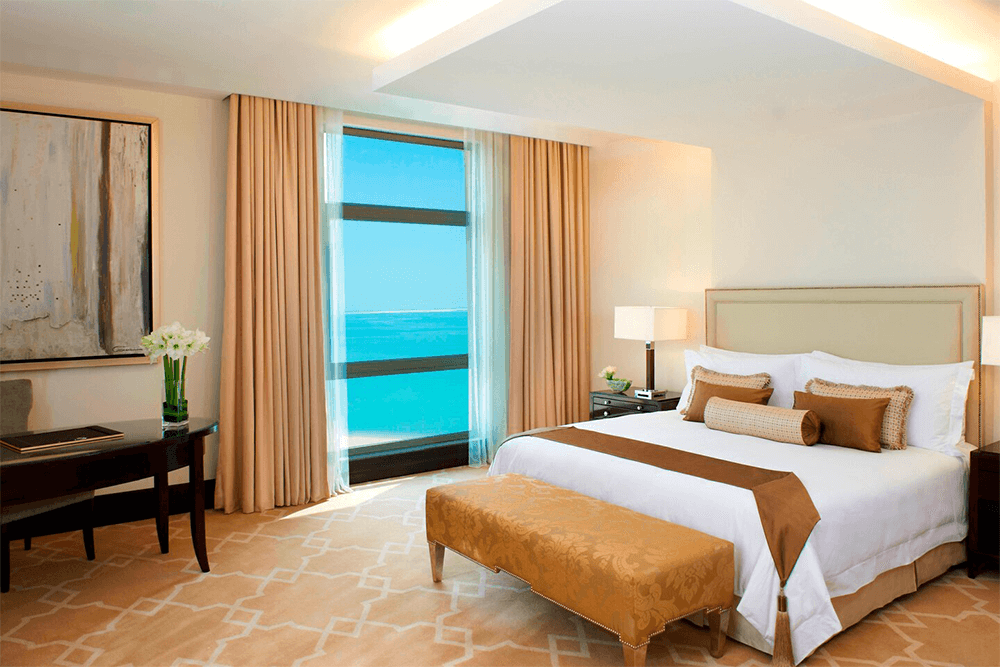 The gorgeous interiors of the empire suite bespoke sophistication and luxury in every detail. From wooden flooring to rich textiles, a stay at St. Regis's Empire Suite will offer you a delightful experience. The spacious living room with a large dining table and spectacular views of the Arabian Gulf just makes up for the perfect ambience to enjoy a romantic candlelight dinner with your loved one. The suite is fully furnished with amenities like an iPod docking station, 42-inches LCD television with DVD Player, high-speed internet access, bookshelves and a lot more for the comfort of the guests.
3. John Jacob Suites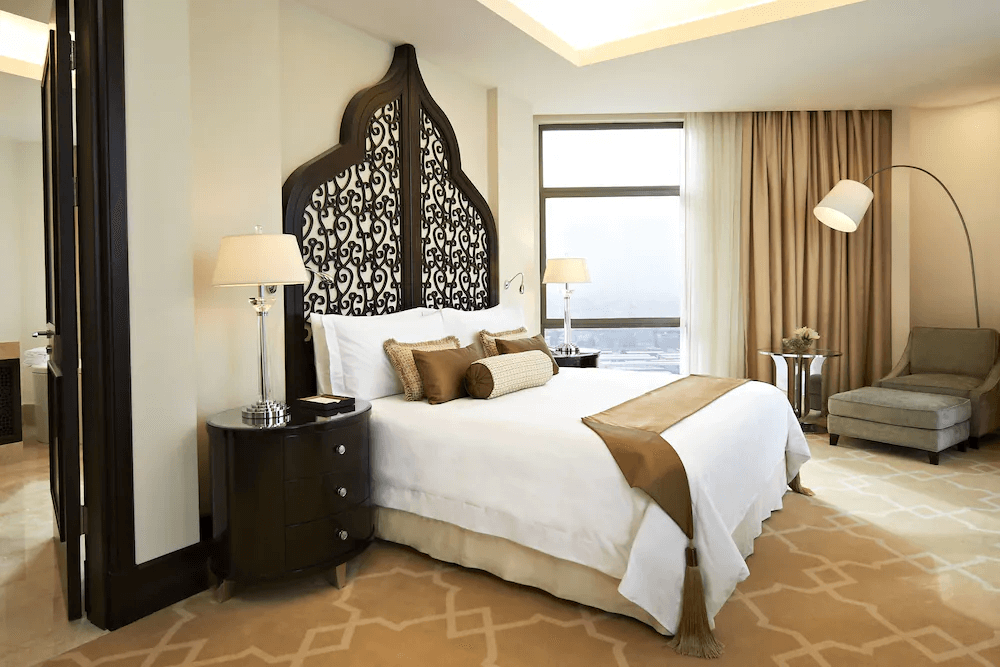 There are two suites included in this category which are Jacob Astor Suite and Caroline Astor Suite which features warm desert hues through its interiors along with dark wooden aesthetics and rich combinations of elite fabrics. The Arabian-influenced décor with modern touches just looks appealing to the eyes and offer lavish comforts. John Jacon Suite features several high-class facilities like iPod docking station, mini bar, 42 inches LCD television with DVD player, high-speed internet access, on-call butler service and several other services. Opulent fabric, Italian marble bathroom, and 300 thread count bed linens give an elite touch to all the suites that come under this category.
Suggested Read: Honeymoon Hotels In Qatar Known For The Intimate Surroundings & Signature Facilities
4. Astor Rooms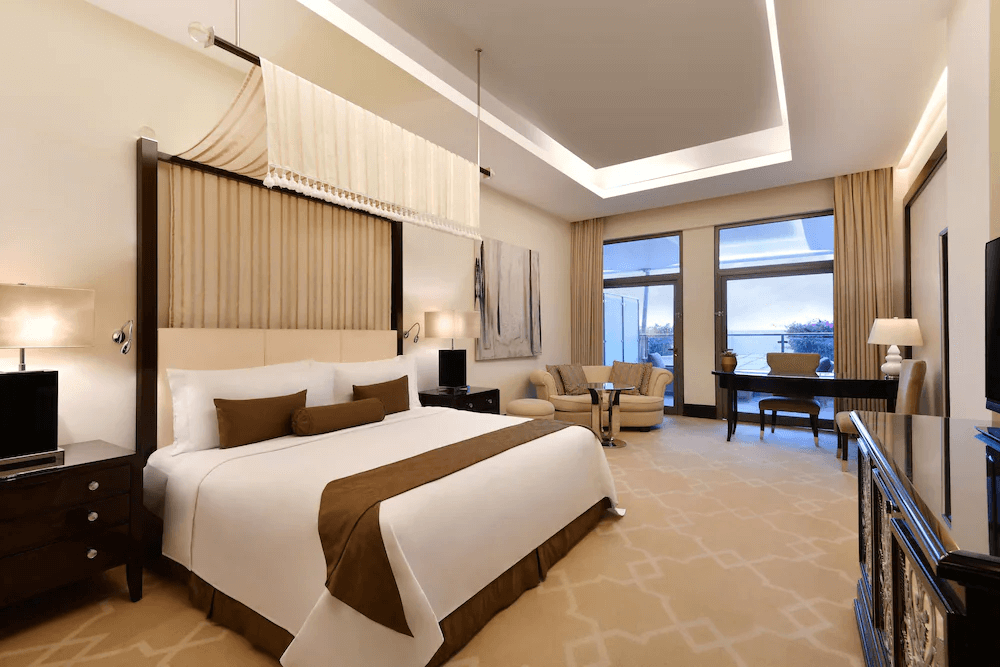 Astor rooms are spacious and boast Arabian inspired décor with modern abstract art, a color-palette inspired by the desert theme and high ceilings. Guests also get access to the private terrace when they book a stay at Astor room from where gorgeous views of the hotel's rooftop garden can be admired along with views of Doha's horizon. A stay at Astor room also gives access to the living room that features a moon-shaped sofa, complimentary coffee and tea and a coffee table where guests can enjoy some peaceful time sipping in coffee. All of the rooms in this category are well-equipped by 42 inches LCD television, signature linens, walk-in wardrobe, bathrobes, Remède Spa bath amenities and a lot more.
5. Grand Deluxe Rooms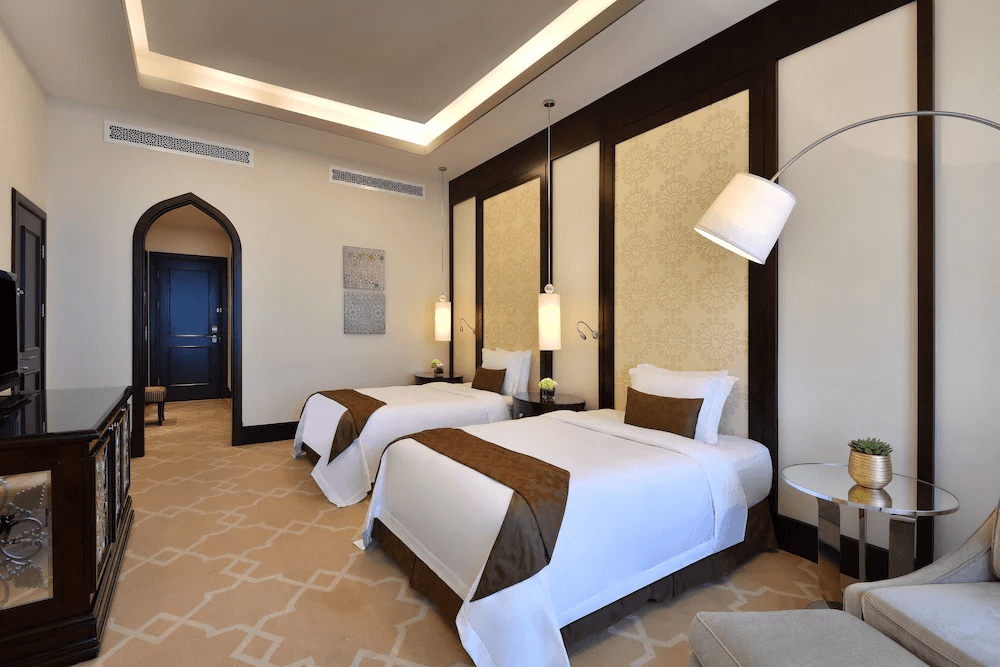 High ceiling, warm color palette, opulent décor, and an exquisite fusion of Middle-eastern inspired décor with contemporary designs. Golden carpet, moon-shaped sofa with a coffee table, and ancient architecture give a subtle touch to the ambience of Grand Deluxe Rooms. Some of the rooms in this category also comes with a private terrace from where enchanting views of the Pearl Qatar Island or Arabian Gulf can be admired. All of the rooms in this category are well-equipped with high-speed internet, LCD television with DVD player, clock radio, iPod docking station and a lot more.
St. Regis Doha: Relish Local & International Flavors At These Dining Options
St. Regis houses some of the best restaurants in Qatar where you can enjoy a soothing ambience along with delectable delights. There are ten destination restaurants located here reflecting the rich culture and heritage of the country while serving the best of local and international flavors prepared by world-renowned chefs. From fine-dining restaurants to bars and lounges, you will find everything here. Let's have a look at what all options are available at this 5-star hotel in Doha.
1. Vine Restaurant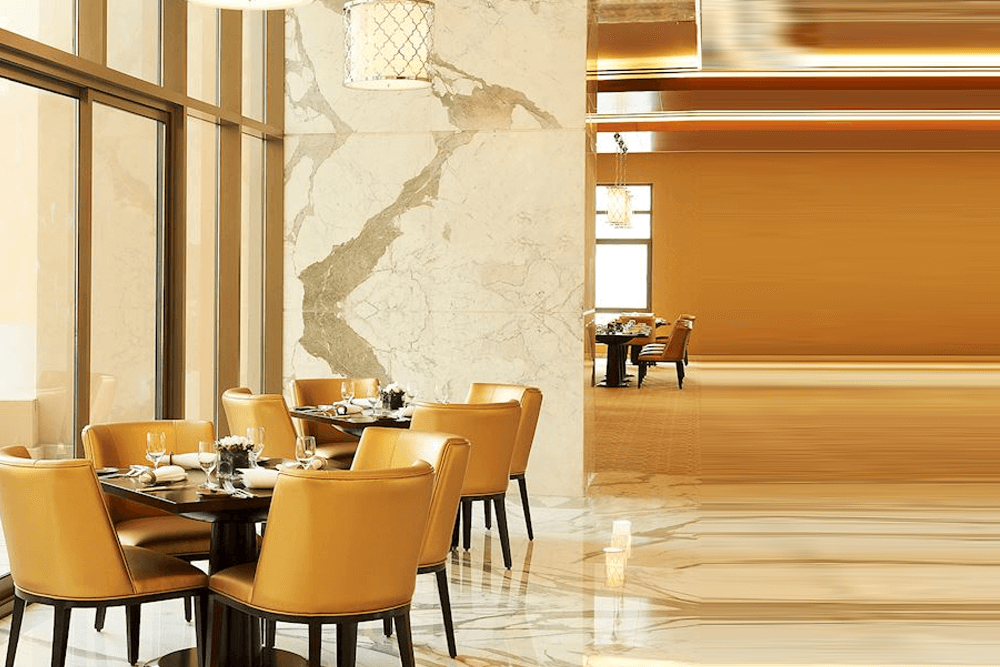 Vine Restaurant is known to add Californian flavors to its local and international dishes. The interiors here have been designed by Wilson and Associates who have given a sophisticated touch to the restaurant by using a warm color palette comprising of natural hues, golden walls with white marble floors. The leather chairs are comfortable with polished dark wood tables where guests can sit for hours and relish great food. The restaurant makes for a perfect ambience with live soothing music, serving scrumptious Californian- and Mediterranean-inspired cuisine along with live food stations.
Timings:
Saturday to Thursday: 06:00 am to 11:00 am and 06:00 pm to 11:00 pm
Friday: 06:00 am to 11:00 am and 06:30 pm to 11:00 pm
2. Astor Grill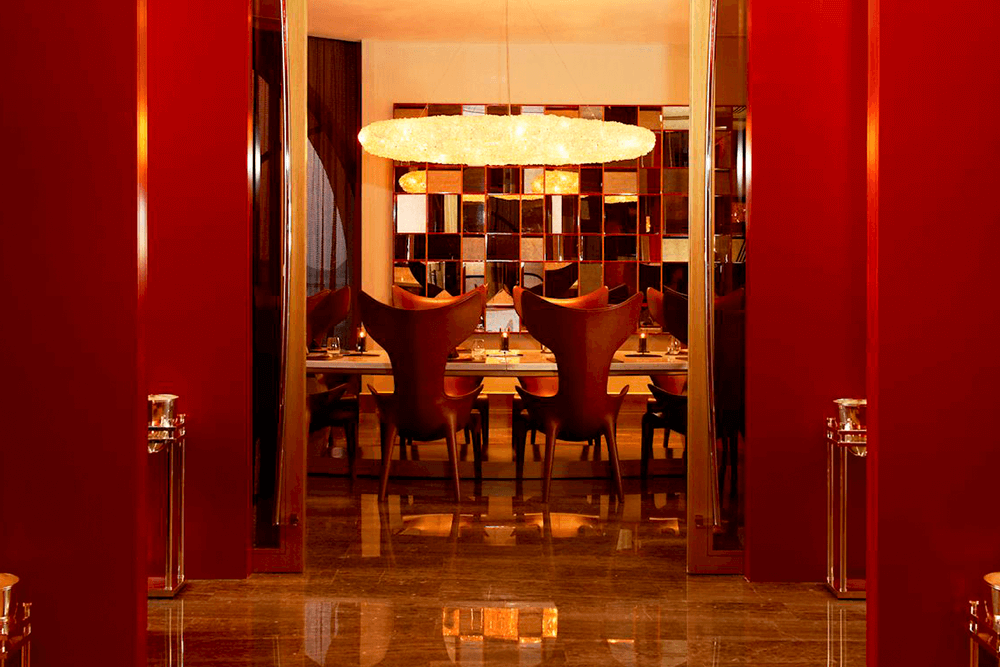 Relish the best flavors inspired by New York heritage steakhouses at Astor Grill. The restaurant boasts modern décor and a menu that is not only limited to steakhouses but also the freshest variety of fishes, seafood and charcoal-grilled beef. Sip in the quality wine here amidst an elevated atmosphere which is exclusively available only at Astor Grill and not found anywhere else. Tantalize your taste buds with the finest variety of fish and meat that is cooked here in the open kitchen by world-renowned chefs.
Timings: Monday to Sunday: 12:00 pm to 11:30 pm
Suggested Read: Food In Qatar That Will Leave You Drooling For More
3. Hakkasan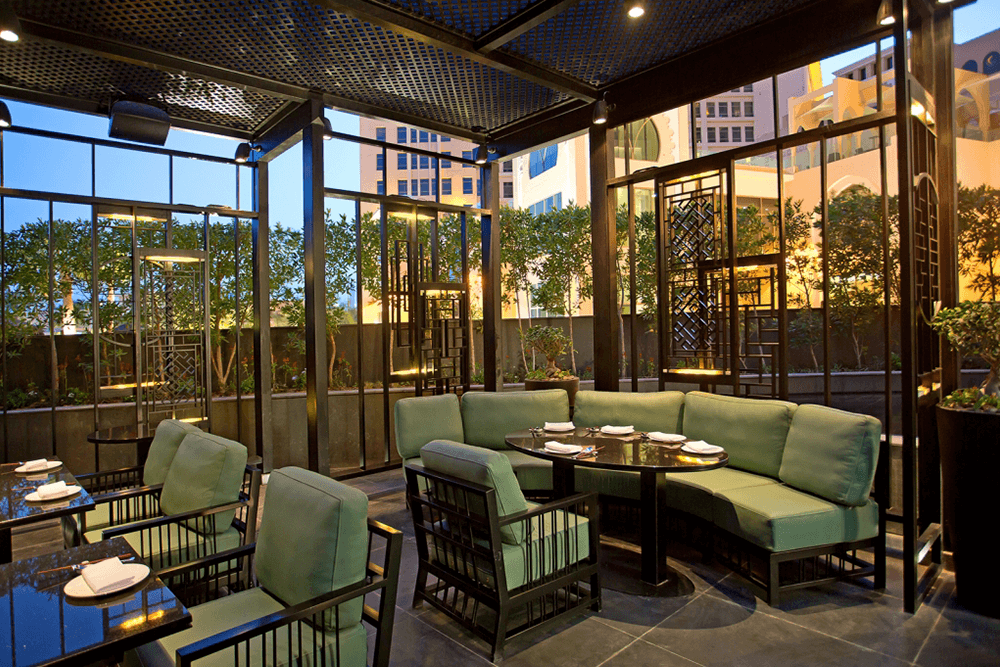 Hakkasan is considered one of the best restaurants in Doha as it offers its award-winning menu amidst an elegant setting. The restaurant features a spacious terrace, terrace lounge and Ling Ling lounge with top-notch interiors and stunning views of the surrounding area. Friday brunch in Hakkasan is quite famous as it is based on the theme of "five blessings" which signifies happiness, harmony and long life promising all the guests a soul-satisfying dining experience. The Shou menu of the Friday brunch features delectable dishes like fried and grilled dim sums, signature Peking duck, Hakka noodle, Mongolian style venison, cocktails and signature desserts. Saturday's dim sum focused lunch is all about famous Cantonese dish dim sums along with other scrumptious dishes.
Timings:
Sunday to Friday: 06:00 pm to 01:00 am
Saturday: 01:00 pm to 04:00 pm; 06:00 pm to 01:00 am
4. Sarab Lounge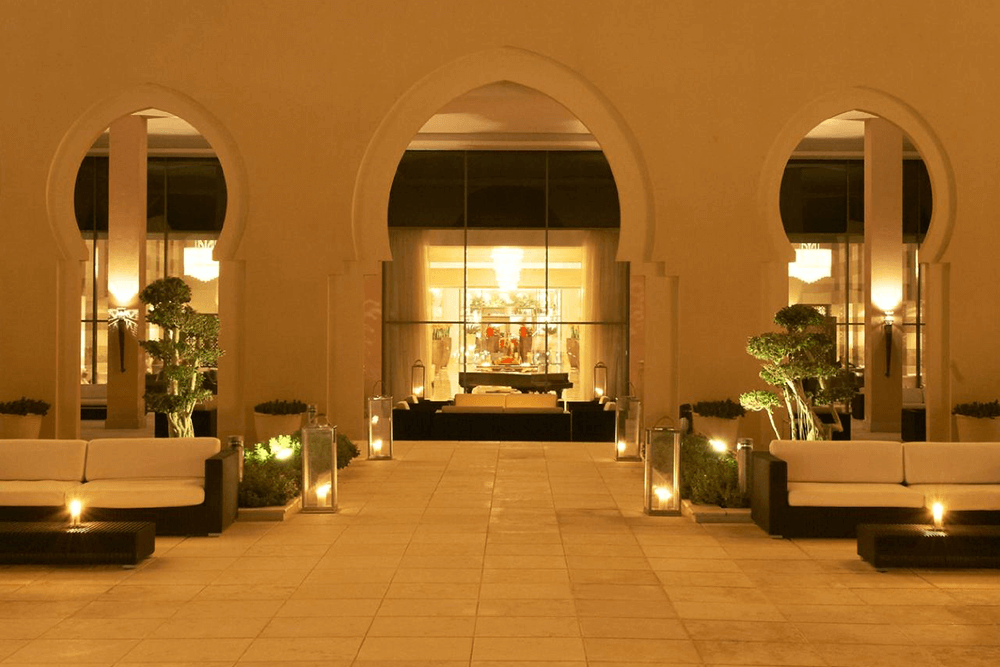 Located on the first floor of the St. Regis Doha, Sarab Lounge has been inspired by Middle-Eastern culture infused with contemporary touches that give this place an eye-pleasing ambience. The soft and plush sofas, illuminated chandelier, and relaxing armchairs further make this lounge a rich and sophisticated place to enjoy drinks and snacks. The lounge also features alfresco dining with mesmerizing views of the Arabian Gulf and a hotel pool that gives an extra effect to the overall ambience of this place. If you want extra privacy then, there are private spaces separated from the main area by Mosharabia screens where a private dining experience can be enjoyed.
Timings: Monday to Sunday: 08:00 am to 11:59 pm
Suggested Read: Fine Dining Restaurants In Doha: Hop-On To This Delightful Culinary Adventure
5. Si Restaurant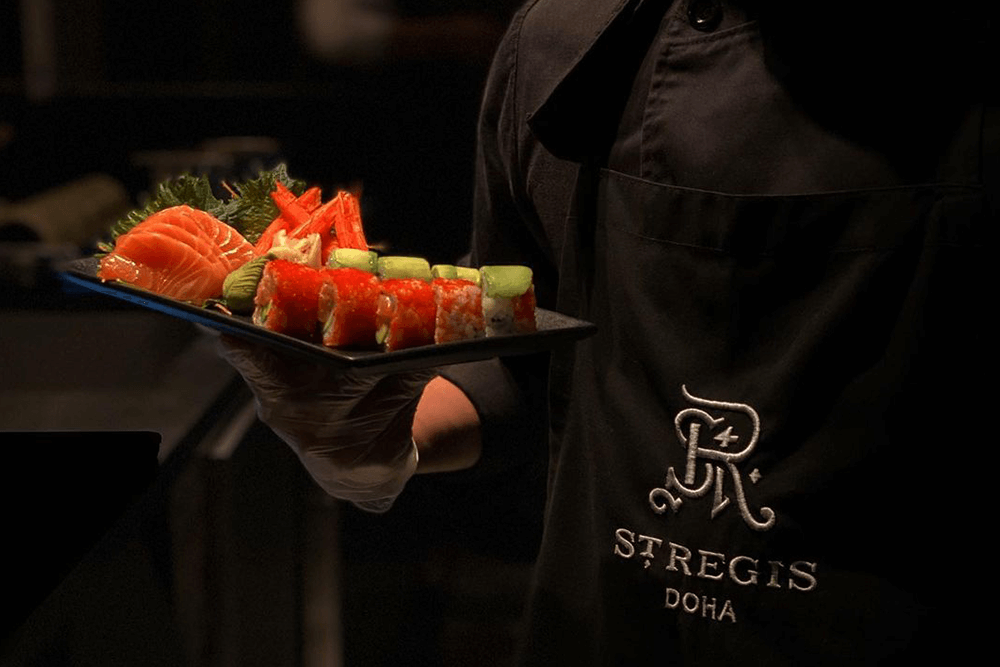 Bringing the scrumptious Mediterranean flavors from Lebanon, Italy and Spain to Qatar, Si Restaurant is a newly opened restaurant at St. Regis. It is a perfect place to enjoy casual dining with friends or family or a business lunch with colleagues. The outdoor terrace of the restaurant offers surreal views of the Arabian Gulf and an exquisite ambience which is just ideal for a heaty dining experience. Paella Orzotto, honey glazed wagyu short ribs, Iberian Gazpacho are some of the famous dishes to order from Si Restaurant's menu.
Timings: Monday to Sunday: 12:00 pm to 04:30 pm; 06:00 pm to 11:30 pm
6. Al-Sultan Brahim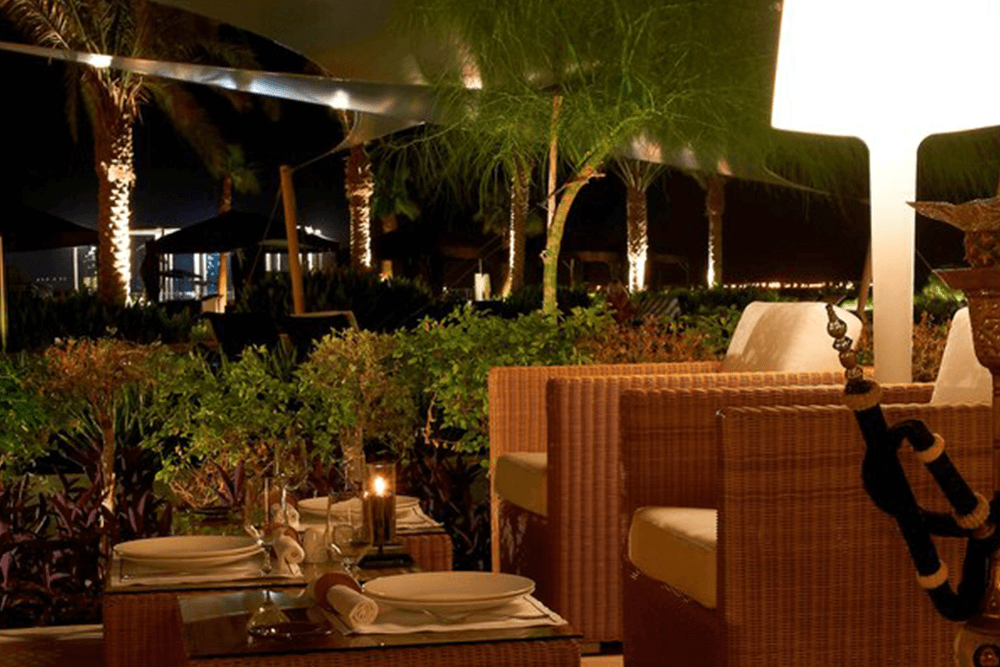 Al-Sultan Brahim is one of the finest Lebanese restaurants in Doha that is known for its exotic flavors and nice dining ambience. The first-ever Al-Sultan Brahim Restaurant was opened in Beirut by three El-Ramy brothers who wanted to offer value, taste and quality food to the residents of Beirut. In its Doha branch, a private dining room is available where a great gastronomic experience can be enjoyed. The restaurant is primarily famous for seafood which is freshly made using selective ingredients by a team of renowned chefs. Fish teriyaki, grilled calamari, fish kibbeh, shrimps, oysters are some of the best dishes to order from Al-Sultan's menu.
Timings: Monday to Sunday: 12:00 pm to 04:30 pm; 06:00 pm to 11:30 pm
Suggested Read: Spas In Qatar : A Lavish Yet Traditional Treatment
7. Vintage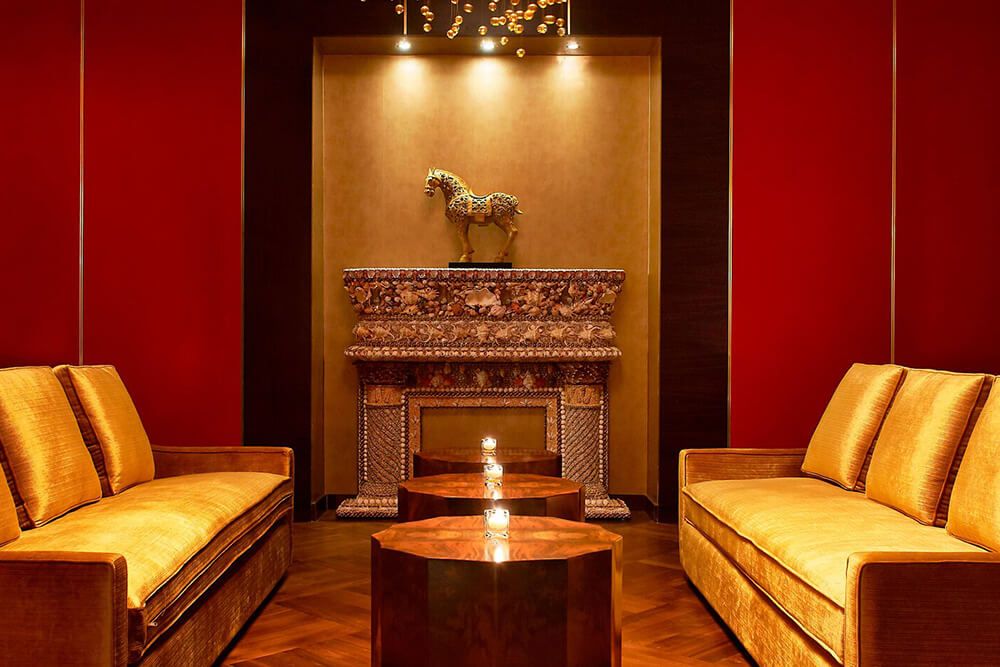 Sitting in the St. Regis Hotel Doha, Vintage Doha is a magnificent restaurant that welcomes you to meet the tradition of the city. Offering a cozy and private setting, this eatery is often considered as a gentlemen's club. As the name suggests, this is one of the finest spots in the country for vintage wines, plus the delicious dishes act as a cherry on the top. Oh my god, Vintage is not just about food and wines, the interior decor is top of the line as well. The furnishing is classic and the lightning is set in a contemporary era, together it gives you an ideal aura for fine dining. Not, just that, it gives an ideal ambiance which is great for a blend of personal or group / official gatherings. Exciting, right? Then, why wait? Plan a trip to this beautiful and vintage eatery.
Timings – Monday to Sunday – 5: 00 PM to 2: 00 AM
Timings – Monday to Sunday – 5: 00 PM to 2: 00 AM
8. The Rooftop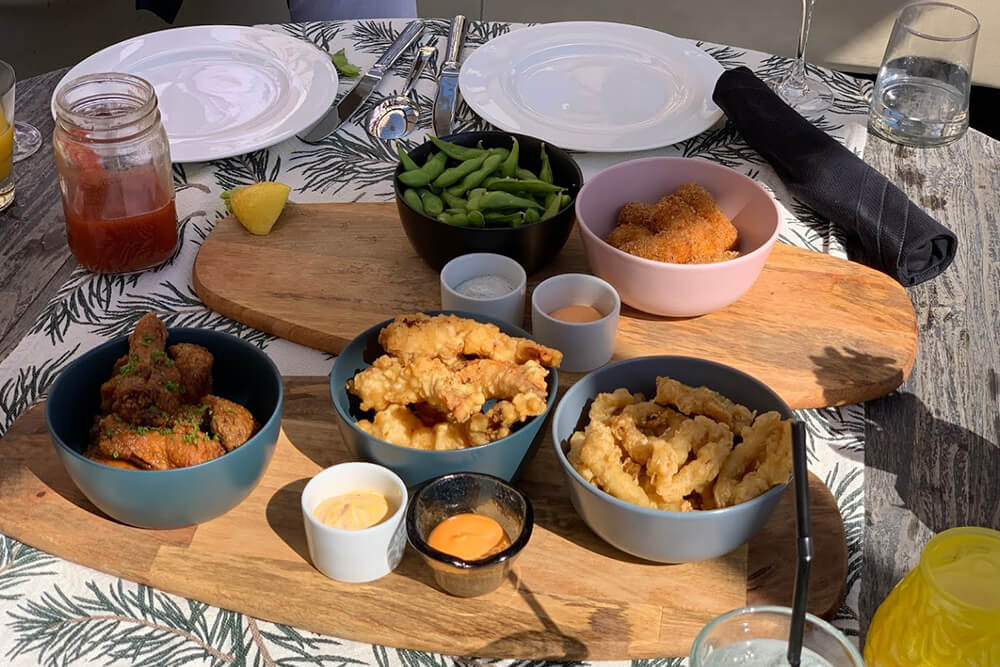 Looking for a place that is iconic as well gives you a resigned experience? Well then, you should head to Doha's legendary rooftop bar. You get to enjoy theleisure of a bar, without ever leaving the hotel, you may enjoy a lively dining and social scene. This chic bar serves specialized artisan cocktails and local brews, as well as a private event area with a photogenic view. Doha's most elevated lounge experience, plus the amazing views of the breathtaking patio enjoy artfully created cocktails and light appetize
Timings - Tuesday to Saturday – 7: 00 PM to 2: 00 AM
The St. Regis Doha: Indulge In An Exotic Spa Treatment & A Healthy Workout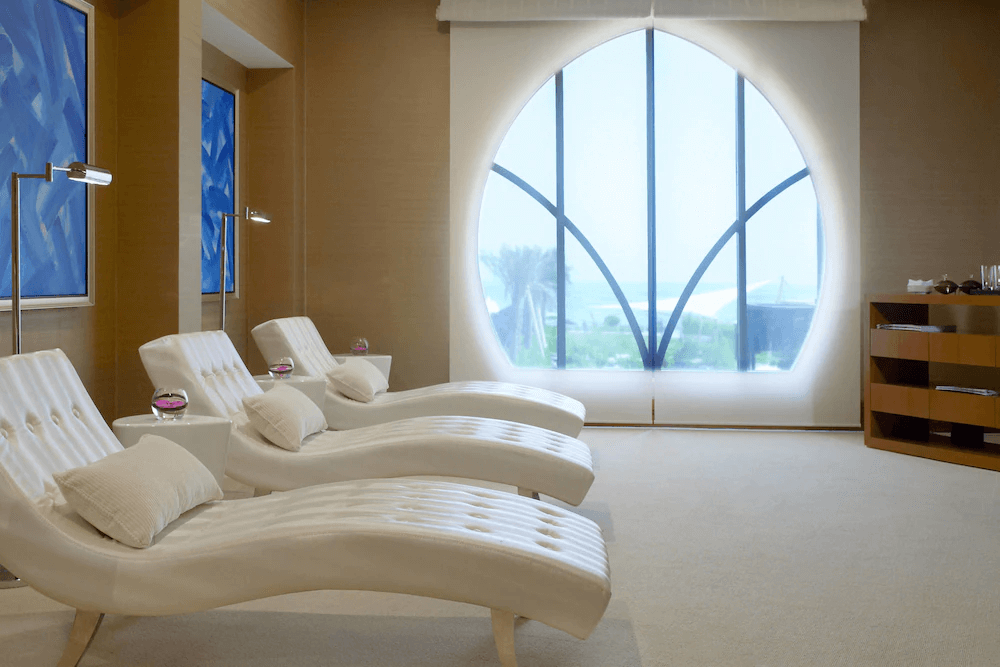 The St. Regis Doha features a luxurious spa center called the Remede Spa which has a total of 22 private treatment rooms, pre and post-treatment rooms. The trained and professional staff ensures that the guests feel rejuvenated and relaxed while undergoing a spa treatment here that will enhance their overall wellness. Personalized and organic treatments are offered to guests as per their needs. There are steam and sauna rooms, hydro-massage relaxation pools and manicure/pedicure studios where you can relax your mind, body and soul. The spa is open every day from 10:00 am to 10:00 pm.
The hotel also features an exercise room for all the fitness freaks who can't compromise with their workout regime even for a day. The fitness center is 300 square meters in space and is well-equipped with all the state-of-the-art equipment and technology. The interiors of the fitness studio are also exquisite and lavish just like the other corners of the hotel with facilities like iPod docking station, cardiovascular monitor, Cybex treadmills, separate locker rooms for males and females, stretching room, shower rooms and many other facilities. Yoga, Pilates and Power Plate classes can also be availed here which are given by their professional and trained staff.
St. Regis Hotel Doha: Make Your Events and Meetings Even More Charismatic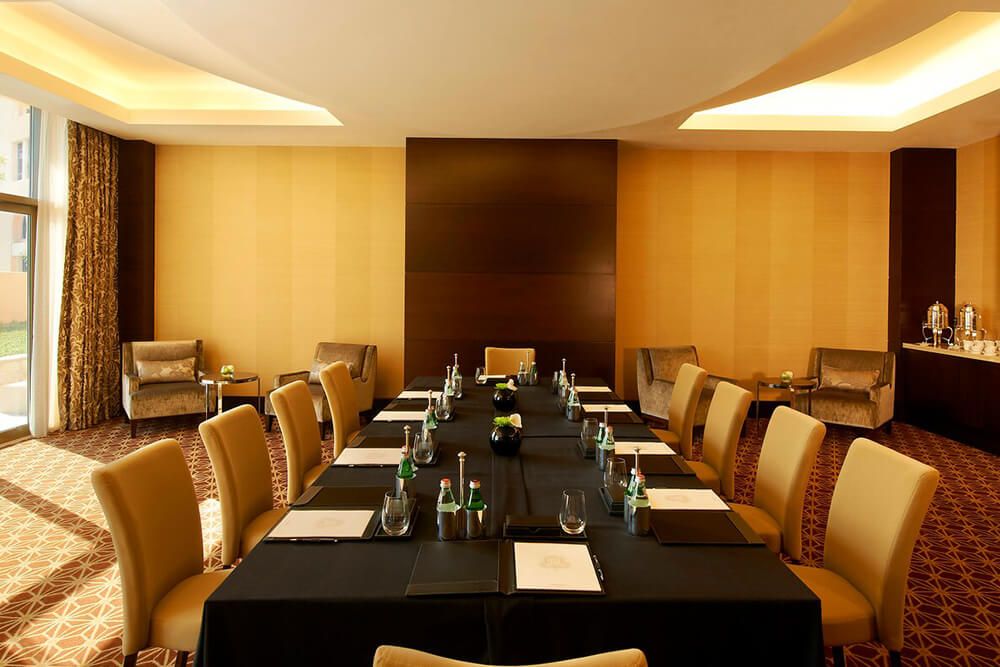 The hotel offers spectacular meetings and events venues, which include seven meeting rooms and the Grand Ballroom, which are exquisitely outfitted with superior technology and amenities, and further enhanced by the unwavering help of the event professionals. This beautiful facility, Doha's largest ballroom with natural light, also includes a stunning foyer and huge terrace with expansive views of the Arabian Gulf.
The elegant event venues, designed by Wilson and Associates, provide a memorable background to any occasion, from a once-in-a-lifetime celebration to a global conference to a small board meeting. The premier, full-service catering ensures a spectacular celebration, whether it's a corporate event or a local gathering. St. Regis Hotel Doha offers Michelin-starred cuisine in the form of personalized menus for parties of up to 12 people, as well as bespoke flower arrangements and butler services.
The hotel also provides tailored meals for bigger business meetings, weddings, or afternoon tea parties of up to 200 guests, which, along with the outstanding locations, harken back to the founding age of St. Regis, when sumptuous parties and lavish entertainment defined the prestigious social milieu. Plus, they also offer guests to enjoy great beverages based on the sommelier's recommendation or personal taste at all events.
Abalone Room/ Amber Room/ Awabi Room/ Baroque Room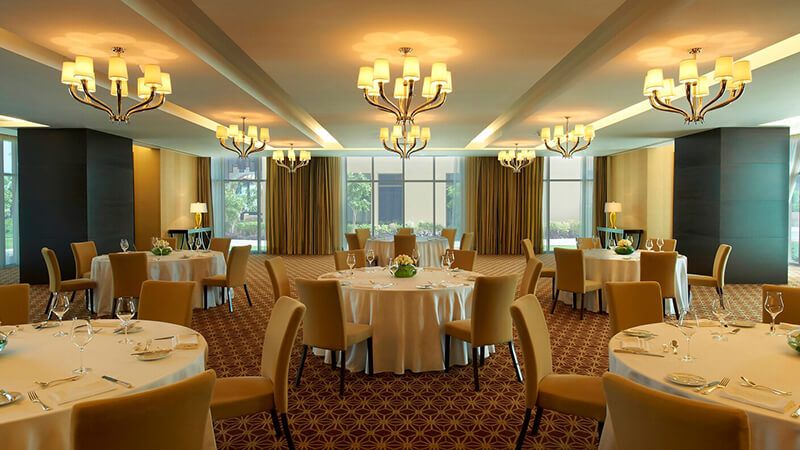 Conference alternatives include Amber, Awabi, Baroque, and Abalone. The Baroque room, which has an intimate terrace, is excellent for smaller boardroom meetings of up to 12 people, while the Awabi and Amber rooms, which are nearly identical and have enough daylight and a terrace, can accommodate up to 24 people. Meanwhile, the Abalone room easily accommodates up to 100 people and features huge windows, natural light, and a lobby.
Grand Ballroom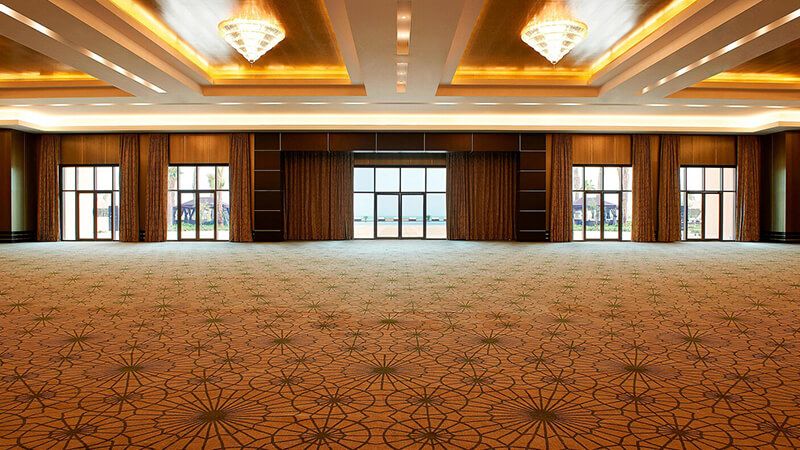 The Grand Ballroom, Qatar's largest five-star ballroom with natural light, can accommodate up to 1,800 guests in a theater-style setup, but it may also be divided into three equally sized sections for more intimate meetings.
St. Regis is a lavish 5-star hotel in Doha that offers a warm hospitality and access to myriad of services to its guests. From spa rejuvenation, fitness studio to dining and pools, there are so many facilities and services that the hotel promises to its guests. Admire the lavish interiors with a touch or traditional aesthetics by booking a stay at the St. Regis in Doha. The ideal location of the hotel in the heart of West Bay offers enthralling views of the Arabian Gulf. If you are someone who loves comfort and luxury then, we recommend you to book a stay here.
FAQs
Q1. Which are the best-rated hotels in Qatar?
The best-rated hotels in Qatar are W Doha, Hilton Doha, Marsa Malaz Kempinski, The Pearl – Doha, Sheraton Grand Doha Resort & Convention Hotel, JW Marriott Marquis City Center Doha, The Westin Doha Hotel & Spa, Mondrian Doha, and City Centre Rotana Doha
Q2. Where is St. Regis hotel in Qatar?
The address is - Doha West Bay, Doha 14435, Qatar. St. Regis is located in the heart of West Bay in Doha, Qatar. The location is easily accessible and is at a convenient distance from the man airport in Qatar.
Q3. What are the facilities available at St. Regis Hotel Doha?
St. Regis Hotel is one of the finest staycation spots in Qatar that offer concierge services and food deliveries to the room. The facilities offered to guests at this hotel are: -
Parking
Foreign Exchange
Car Rentals
Limousine Services
Meeting and event services
Amber Room (for business meetings and conferences)
Grand ballroom
Swimming pools
Spa - Remede Spa
Fitness center
Restaurants, bar, and lounge
Q4. Are there any dining options at St Regis hotel?
Yes, there are dining options available at St Regis Hotel. The best ones to choose from are Astor Grill, Rooftop, Si Restaurant, Sarab Lounge, Vine Restaurant, Hakkasan, Oyster Bay & Bar, Al-Sultan Brahim, and Vintage. You should definitely try out these eateries if planning on staying at this hotel.
Q5. Which room options are available at the St. Regis Hotel?
St. Regis Doha features around 336 rooms and suites with all the top-notch facilities and luxury comforts. The room and suites options available are Grand Deluxe, Astor Room, Larger Guest room, Caroline Astor, 1 Bedroom Executive Suite, John Jacob Suite, and Empire Suite with 2 Bedroom Presidential Suite
Q6. Are there any attractions near the hotel?
Yes, there are some very popular attractions near the St. Regis hotel, the best ones that you should pay a visit to are: -
Souq Waqif
National Museum of Qatar
Aspire Park
Villaggio
The Pearl-Qatar
Doha Corniche
Museum of Islamic Arts
Q7. How far is St. Regis from Doha Airport?
The total distance between St. Regis Hotel Doha and Doha Airport is approximately 13 km and it takes about 20 to 25 minutes to cover this distance by taxi. Visitors can choose the conveyance of their own choice. You can also choose to rent a car (the service is available at Doha Airport).
Q8. Is St. Regis ideal for honeymooners?
Yes, St. Regis is an ideal place for couples on their honeymoon, The hotels host several services that are specially designed for the new couples.
---