Qatar reflects a perfect blend of traditionalistic beauty and heritage with modern art and style in its magnificent architecture. The premium luxury of Qatar has made it a destination for all where one can witness the lavishness and beauty prevailing in every corner. The charism and splendor of Qatar have added much to its popularity attracting travelers from almost every foreign land. Being so popular among vacationers the country offers a classic range of accommodation to make the holidays fun and leisurely. The Sharq Village & Spa, A Ritz-Carlton Hotel, is one of the best hotels to provide you a luxury staycation and Qatari hospitality. Here is a detailed guide on this outstanding property you need to know before your trip.
Sharq Village & Spa: A Village Inspired Staycation For Your Family
Inspired by the ancient architectural look and design, the Sharq Village is an ultimate beachfront resort that is offering you the perfect place to stay and relax. Located in the thriving city of Doha, this 5-star hotel and resort is an amalgamation of modern interiors and facilities in traditional architecture. Reflecting the elegance and a touch of luxury, the resort is a facade of grandeur, with magical beauty.
Built over an expansive space, Sharq Village reflects every romanticized and luxuriating feature.
Witness the enthralling beauty of Doha Skyline as you choose to stay at any of the luxury rooms of this impressive resort in Doha. To magnify your experience, the resort has a myriad of features and facilities, which include a private pool, beach, garden, dining area and so more. Have a look at the best features that will come complimentary with your holiday stay at Sharq Village and Spa Resort in Doha.
A spa that offers the most relaxing and rejuvenating healing therapies
From Dine-In, Room Dining to Buffet-style dining presentation at the best restaurant.
A multi culinary menu serving the best dishes
Rooms, suites, and villas of the resort overlooking the sea, garden, or pool
Royal Villa, with a private indoor pool, gym, balcony, and chef's kitchen
Venu for weddings and celebrations
Souq Waqif, located close to the resort with distinct settings
The Best Accommodation at Ritz Carlton Sharq Village
Holidays bring more luxury and leisure, and if you are wondering how you can make your vacation all about leisure, well, the Sharq village in Doha has it all. This resort is a luxury gateway where you can fill your soul with the most ravishing beauty and home-like comfort. Being one of the best hotels in Doha, this property has listed every dreamy space to make it the best accommodation option in the city. There are 174 luxury accommodations featuring the top amenity and decor. Apart from exquisite furnishing and impressive interiors, let us have a look at what categories and room options are there to suit your living style.
1. The Royal Villas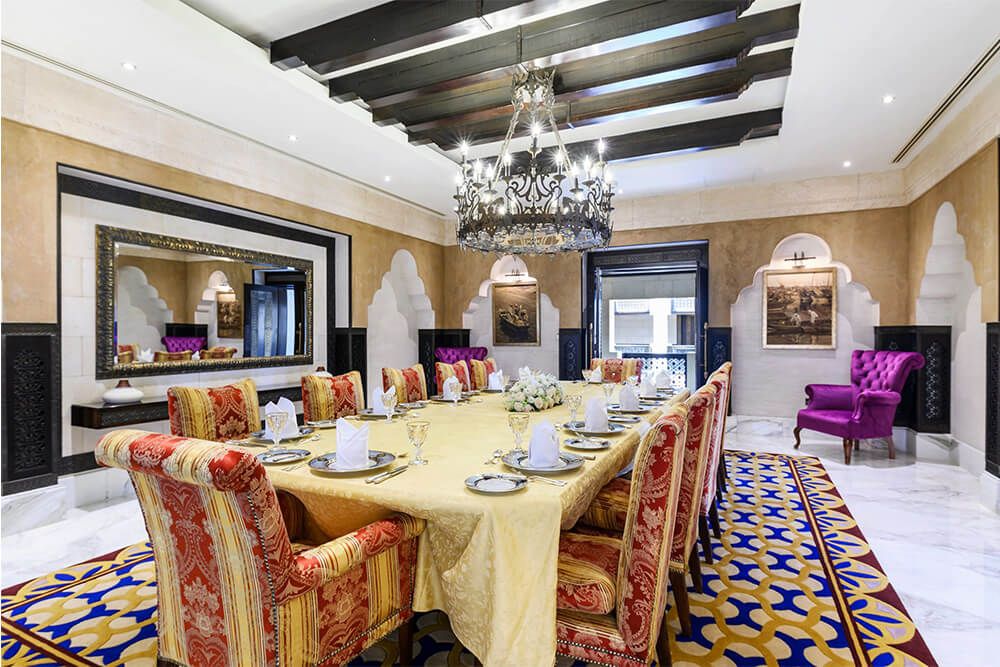 Spreading to an area of 2100 sq. meters, the royal villa offers a range of services like a lavish bathroom, dining room, sea or pool view, and so on. While the rooms are elegant with space enough to accommodate 10 adults. The room features an outdoor Majlis, study room, private balcony, and access to spa and wellness center. The Gazebo at the pool or beach is also reserved for the guests living at the royal villas.
2. The Royal Suite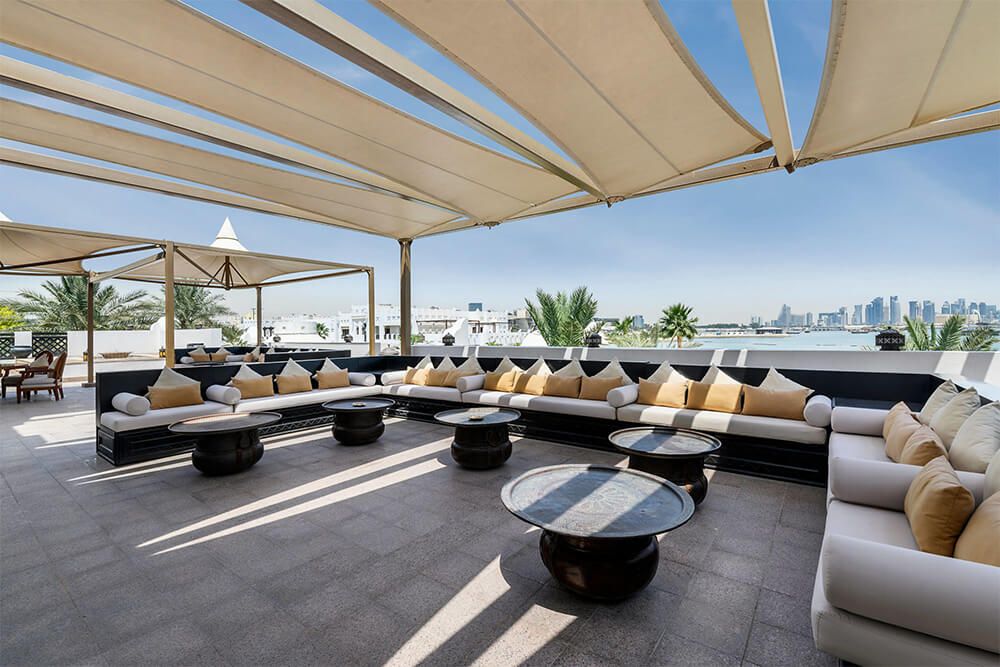 A perfect accommodating unit for a small family, the Royal Suite is designed on an area of 106 sq. meters, overlooking the sea and the bay. The room has a minibar and an espresso machine, jacuzzi, bathtub, and separate showers, which makes it perfect for honeymooners. Enjoy the panoramic beauty of the city from an extensive veranda of this best honeymoon hotel in Qatar, overlooking the bay. There is a Floor-to-ceiling window, making the room more spacious and beautiful.
3. Suites With Panoramic View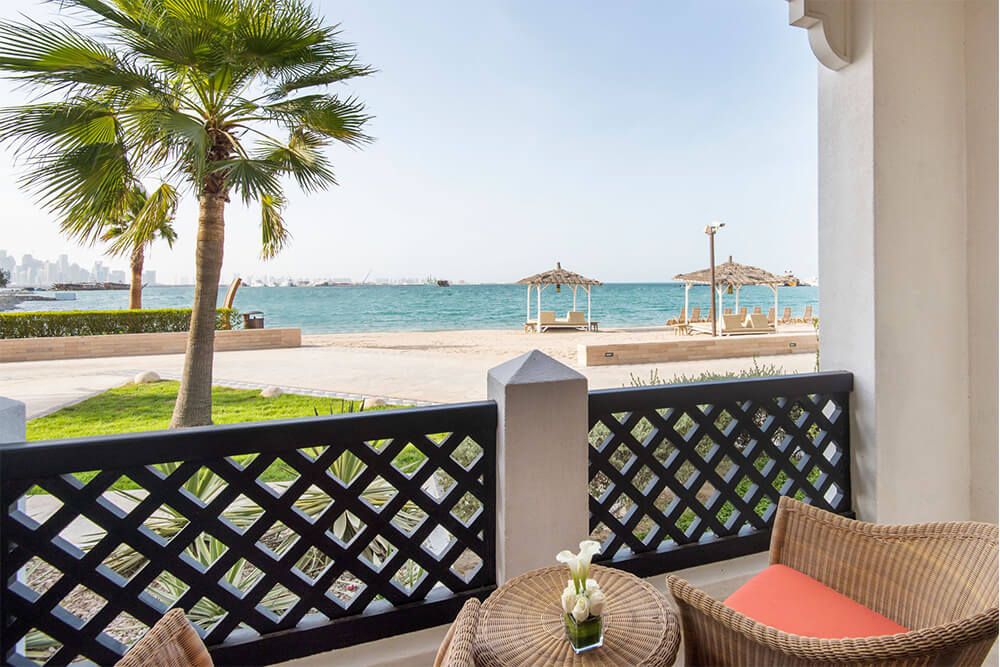 Sharq Village & Spa, A Ritz Carlton Hotel has the best suites for your luxury and leisure stay. From the sea view to the resort view and family two-bedroom suite, you can choose the stay with the best features depending on your needs and comfort. Each of the suites will have specific inclusions and amenities, but the subtle interiors and modern decor will make them best for your luxury stay. Here are the categories offered by the Royal Suites
Suite with resort view
Features:
Guest will get Separate living room
There will be a furnished balcony with a resort view
Overlooking Floor-to-ceiling windows to admire the views
Suites with Sea view
Features:
The suites offer separate living room
There will be a Sea-view balcony
The room includes a standalone tub and rainforest shower
Two Bedroom Suites
Features:
This is two bedrooms and two full bathrooms accommodation
There will be two balconies with water views
The living area has a large dining table for four
4. Rooms Offering Top Services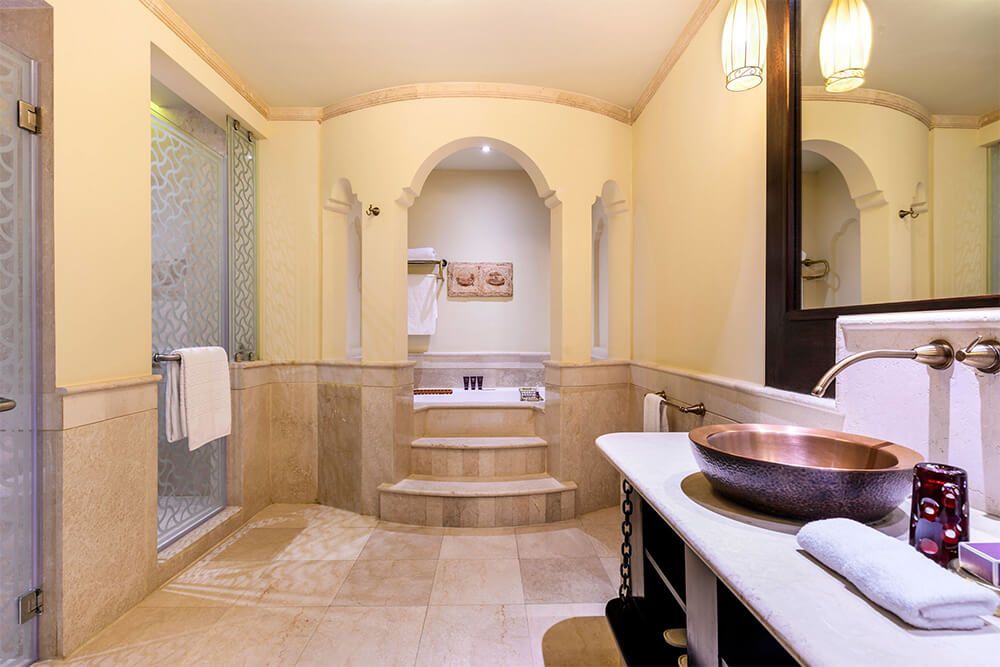 The Sharq Village has five room categories as deluxe, superior with pool, sea, and garden view. With a space of 49 sq. meter, each room will offer you the best assistance and features like separate bathrooms, quality furnishing, a private balcony, a floor-to-ceiling window, and more. Enjoy the scenery around while soaking in the beauty of the sunset. The room types here are designed to make Sharq Villa an ideal family hotel in Qatar. You can choose from the following categories and experience the best staycation
Deluxe King Room, Sea View
Features:
The room comes with a furnished balcony with a sea view
For complete leisure and Luxury, there is a deep soaking tub and rainforest shower
Floor-to-ceiling windows overlooking the sea
Deluxe King Room, Pool View
Features:
The room at Sharq Village and Spa has a furnished balcony with a pool view
There are Floor-to-ceiling windows
A Well-designed Marble bathroom with a separate tub
Deluxe King Room, Resort View
Features:
There is a Furnished balcony with a resort view
The room comes with a deep soaking tub and rainforest shower
Floor-to-ceiling windows to admire the beauty of the resort
Deluxe Twin Room, Sea view
Features:
The room includes a furnished balcony with a pool view
There will be two single beds for families
Floor-to-ceiling windows will be there offering a sea view
Deluxe Twin Room, Resort View
Features:
The room has a furnished balcony with a resort view
The guest gets a Deep soaking tub and rainforest shower
There are Floor-to-ceiling windows in each room
Suggested Read: Yoga In Qatar: Top Locations To Experience The Best Of It
Rejuvenating Therapies at Al Sharq Village And Spa
The hotel by Ritz Carlton is famous for its spa and recreational therapies offered by professionals. Catering to the needs of every guest this exclusive hotel and resort has every fitness facility for use. The separate dedicated area for spa and fitness is maintained well with every piece of equipment and a range of innovative techniques that can heal your body and mind. Recreating your holiday spirit, let us see the best fitness services offered at Sharq Village & Spa.
1. The Fitness Center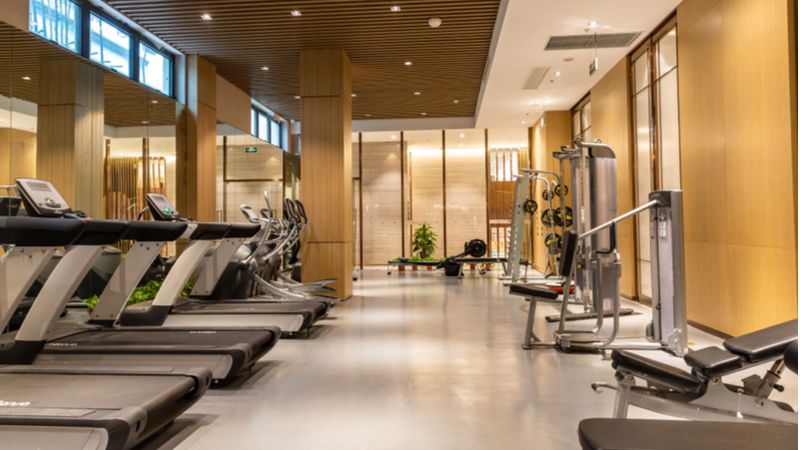 While holidays can invite a lot of extra calories and laziness, the fitness center at the hotel is all you need to be on track. Sharq Village Spa has an array of programs to enhance your lifestyle, and help you in stress management with the best wellness activities. There is a fully-equipped gymnasium offering you Cardiovascular & strength training sessions under the guidance of a personal Trainer. Taking care of the tradition and beliefs of Qatar, the hotel has a separate gym for ladies and gents. There are Fitness Classes, Spinning Classes, and Meditation techniques taught by professionals under complete guidance.
There are Yoga sessions designed for the students to lead them towards healthy living. From effective breathing techniques to body stretch and relaxation, there are many heart-healthy workouts available for the guests. You can even learn T'ai Chi at Ritz Carlton Sharq Village. This involves Soft-Intrinsic Exercise, which emphasizes health to make the muscles stronger and flexible.
Suggested Read: Top Gyms In Doha To Help You Keep Up With Your Fitness Regime
2. The Sharq Spa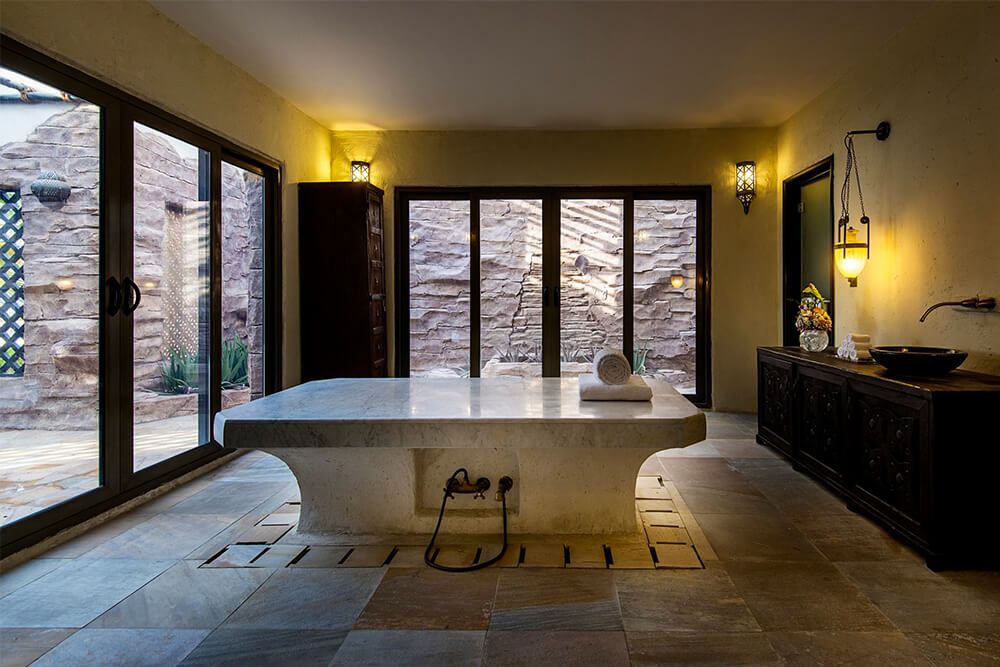 Sharq village is among the best spa hotels in Qatar, offering you the most relaxing holiday. Inspired by the traditional Arabian techniques and holistic healings, you can now rejuvenate and relax while you are on a holiday. There are 23 rooms and an array of unique healing treatments offered to the guests. From sauna rooms to hammam rooms and private rooms for ladies, the spa resort provides you utmost leisure and ease for a soulful experience.
Choose from facials to body detox, body hydration, and other best services for deep cleansing. Pamper yourself with a traditional hammam, beauty sessions, and more. There are Unwind therapies with calming features and rituals that can help you reach your fitness goals.
Suggested Read: Spas In Qatar : A Lavish Yet Traditional Treatment
Activities To Enjoy At Sharq Village and Spa In Doha
Your holiday in Qatar is not just about a luxury hotel and some sightseeing but there is a lot that can make it a memorable affair. While staying at Sharq Village and spa, you will come across the best water and leisure activities. You could experience every thrill and frill, along with the leisure you need to make the best of your holidays. Check out these activities that make Sharq Village the best hotel in Doha:
1. Water Activities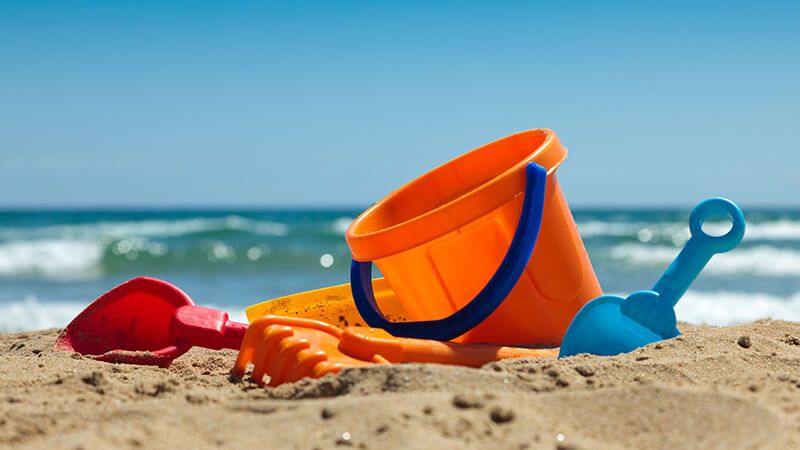 You can spend a day soaking at the pool or beach, witnessing the surreal beauty, and experiencing the best adventure. There are many activities and water games available at the resort to engage a day. You can try a Sunset pedal kayak or pedalboard at the beach during sunset. You can explore marine life and admire the secluded beauty of the beach.
For kids, there are many Beach Games that one can enjoy with the kids and family. If you are on an official holiday, there are team-building activities also available at the Sharq Village and spa, Qatar.
Suggested Read: Water Sports In Qatar You Should Not Miss
2. Kids Activities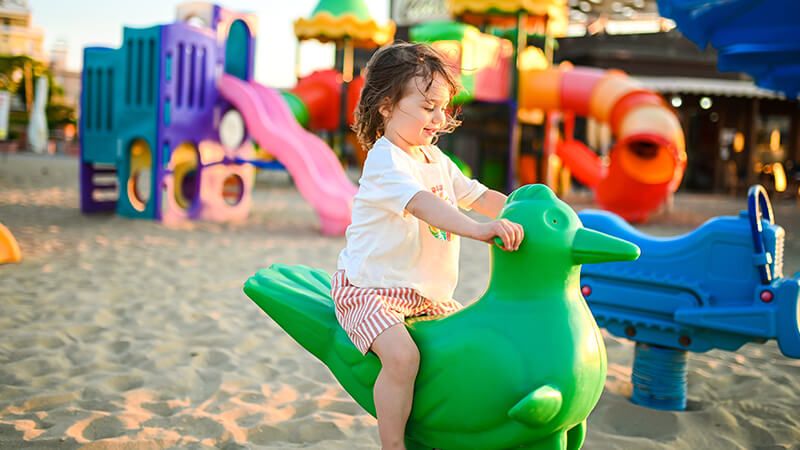 Let your kids enjoy the best adventure and activities at Sharq Village Ritz-Kids Club. There is a kids' area where there are games and rides, a kid's pool, a play area, and more available for them. The entire area is under the surveillance of trained staff and experts to ensure complete safety. These are some of the best activities for kids to enjoy their holiday;
Sand Castle Challenge on the beach where they can make sandcastles.
For family fun, there are Tug War and Bucket Games.
Kids and family team building activities
Kids and parents can now challenge each other for beach volleyball fun. This will be more exciting than you can think.
To educate the kids on marine life and spread awareness a special game called Finding Nemo is set at the beach.
Taking care of your kids' wellness and leisure, the Sharq village has a Kids Kick spot.
The Water Safety Program is initiated to train kids and educate them on safety on the beach and at the pool.
Movies Under the Star with popcorn is something your kids will love.
Kids can be Junior chefs for a day when they can bake their bread.
Suggested Read: Kids Activities In Doha: What Does The Capital Of Qatar Have To Offer
Top 6 Restaurants and Cafes at The Sharq Village and Spa Doha
Qatar is a land of culinary delights offering the most ravishing taste of every authentic and international dish. There are a number of restaurants in Qatar known for their impressive menu and outstanding service. Sharq village itself brings the menu of top restaurants of Qatar in your platter, lending you an unforgettable taste for life. Let us dig deeper into the facilities and services offered by these restaurants in this resort by Ritz Carlton.
1. Persia- A Persian Inspired Restaurant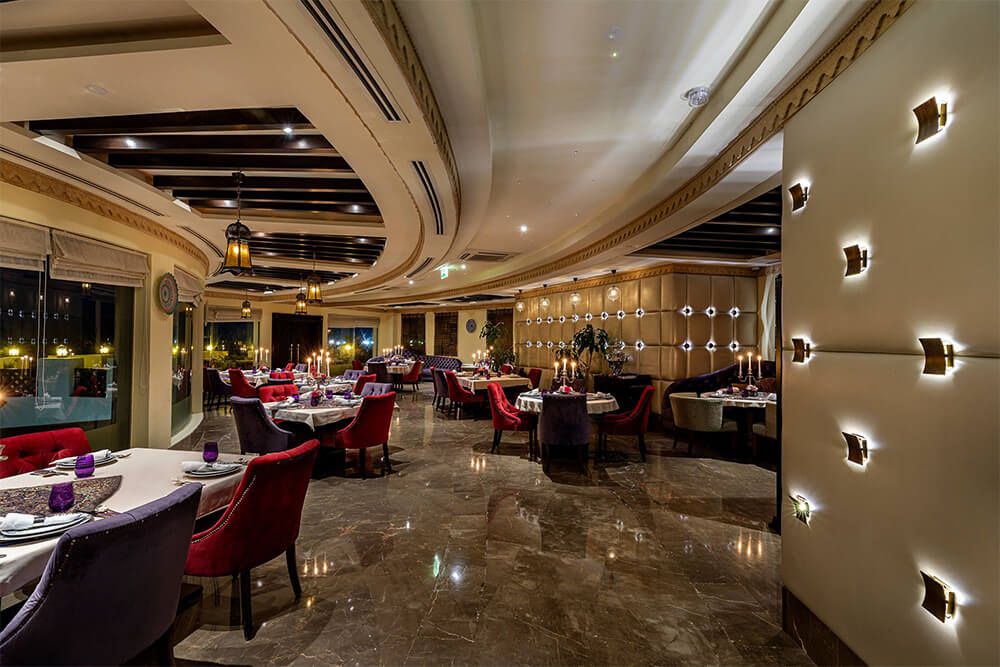 Discover the irresistible taste of Persian cuisine served at this impressive restaurant- the Persia. Overlooking the sea and the Doha Bay, this restaurant has a perfect backdrop that can enhance your dine-in experience. The classic interiors and the warmth of welcome reflects the touch of art and the influence of culture in Qatar. The picturesque beauty of Doha served with contemporary Persian dishes makes it one of the best dining spots for many travelers staying here. The dishes that are served here are prepared with traditional and contemporary techniques offering the perfect taste you need.
Timing:
Lunch Friday & Saturday: 12:30pm to 3:30pm
Dinner Monday to Saturday: 6:30pm to 11:00pm
2. IRIS Doha- For Best Nightlife Experience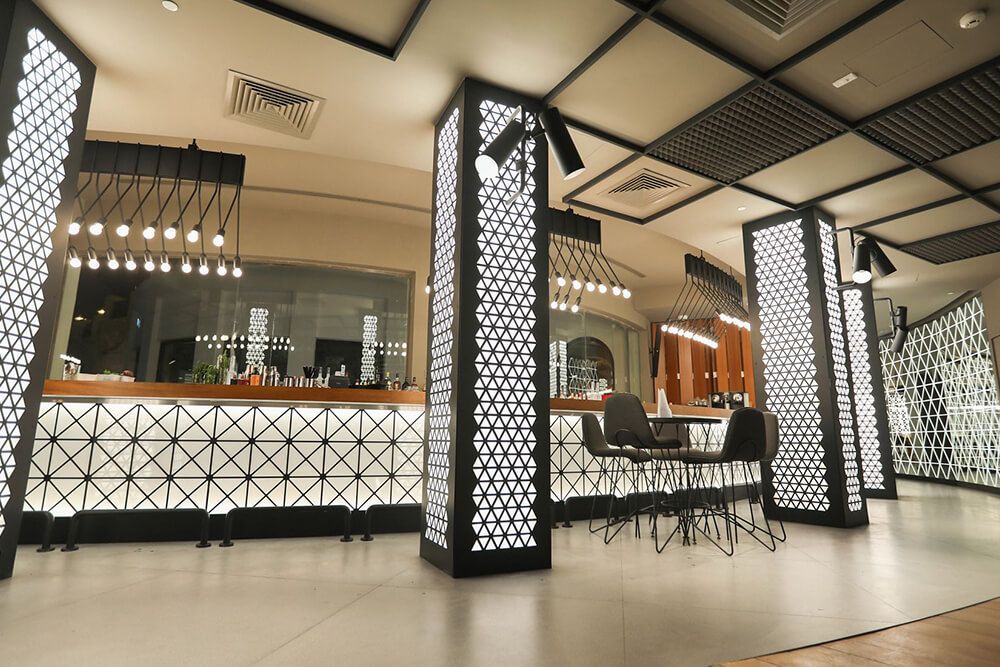 Indulge in the most tempting and soulful taste of your fancy food served at the IRIS Doha, presenting sophisticated seating with an energetic ambiance. IRIS Doha is one of the best restaurants and bars in Doha that is offering just the right spot to spend a leisurely evening. The restaurant serves a menu that will leave you to spellbind with the most scrumptious and playful zest of exotic drinks and signature dishes. Enjoy your evening with the serenity of Doha Bay and the delightful taste of every refreshing meal served for the day.
Timings:
Monday to Thursday – 6 p.m. to midnight
Friday – 1 p.m. to midnight: brunch from 1 p.m. to 4.30 p.m.
Saturday – 6 p.m. to midnight
Closed on Sundays
3. Al Liwan- The Taste of Liwan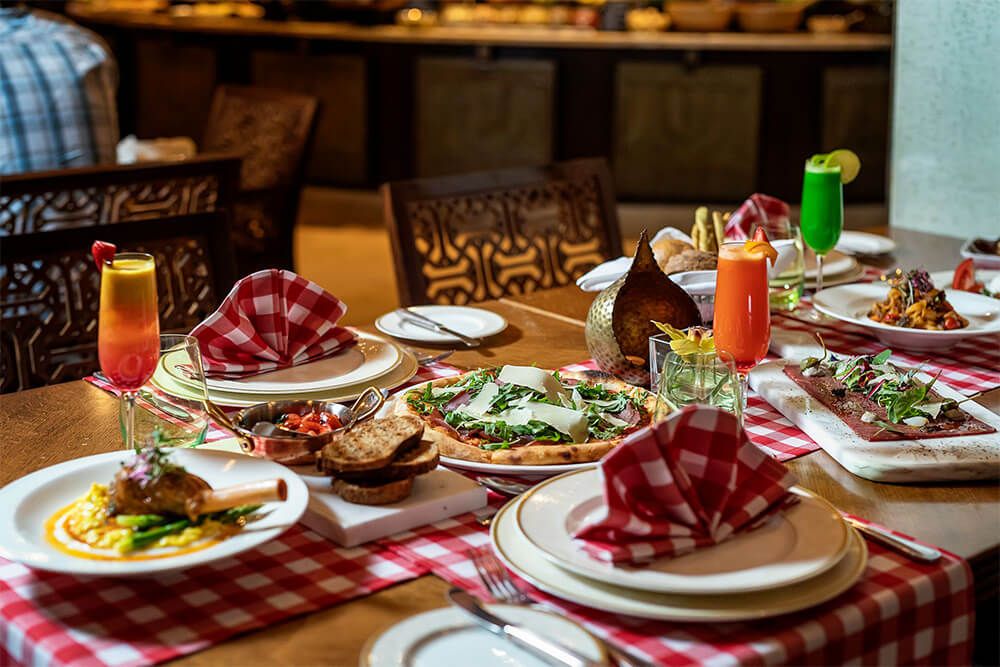 There is a mesmerizing taste of Levantine dishes at Sharq Village and Spa that you must not miss. The tantalizing aroma of the raw species and fusion of authentic flavors make it a popular eatery in the city.
Al Liwan is an all-day-dining restaurant where you can enjoy a wide range of cuisines served from the well-crafted menu. Try the freshly prepared Levantine Salads, or the grilled dishes, fresh seafood, and best-baked loaves of bread. The traditional desserts are best to end each of the courses with a savory punch.
Timings:
Breakfast
Weekdays – 7 a.m. to 10:30 a.m.
Weekends – 7 a.m. to 11 a.m.
Layali Kebab Theme Night
Every Thursday – From 6:30 p.m. to 10 p.m.
Arabesque Lunch
Dinner
Suggested Read: Malls In Doha For The Much Needed Retail Therapy
4. Parisa Souq Waqif Restaurant- For Traditional Dining
This is a highlight of Souq Waqif Doha, located close to the Sharq Village and Spa, a Ritz Carlton Hotel. Talking about the specialty of the place, this restaurant brings you a perfect blend of Qatari and Persian taste. The dazzling interiors and the authentic Persian delights make it an unusual and excellent spot to enjoy the food. Designing and décor of the place include antique elements and ancient motifs, subtle colors, and chandler to add a royal and traditional touch. Most of the accessories are packed from Iran to beautify its look and feel.
Timings:
Sunday to Wednesday: 3:00 p.m. to 11:00 p.m.
Thursday to Saturday: 1:00 p.m. to 11:00 p.m.
5. Al Jalsa- Arabian Inspired Cafe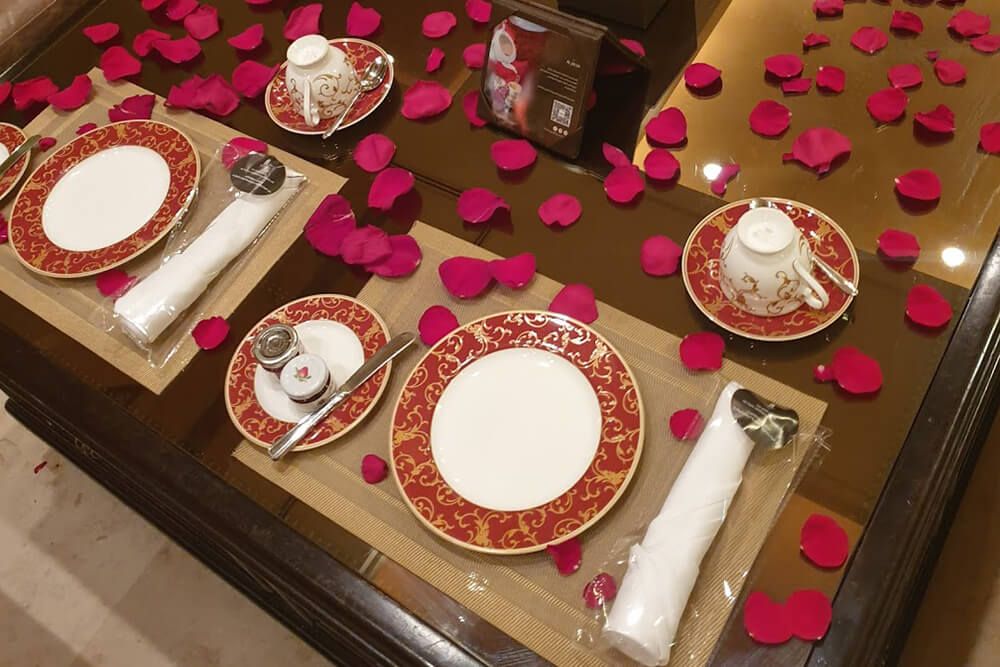 Listed among the top cafes in Doha, Al Jalsa is an art exhibiting the best culinary delights and mesmerizing zest of every authentic dish of the era. This is an Arabian Inspired Café where you will find the most popular Arabian food listed on the menu. With the perfect setting and myriad options to savor your gastronomic experience, Al Jalsa is an ideal leisure spot of Sharq Village and Spa, Doha. Try the best classic cakes and Turkish coffee with Moroccan tea to make the day refreshing.
Timings:
La carte from 8.00 am to 11.00 pm
6. Dhow Terrace- Resembling The Gulf Heritage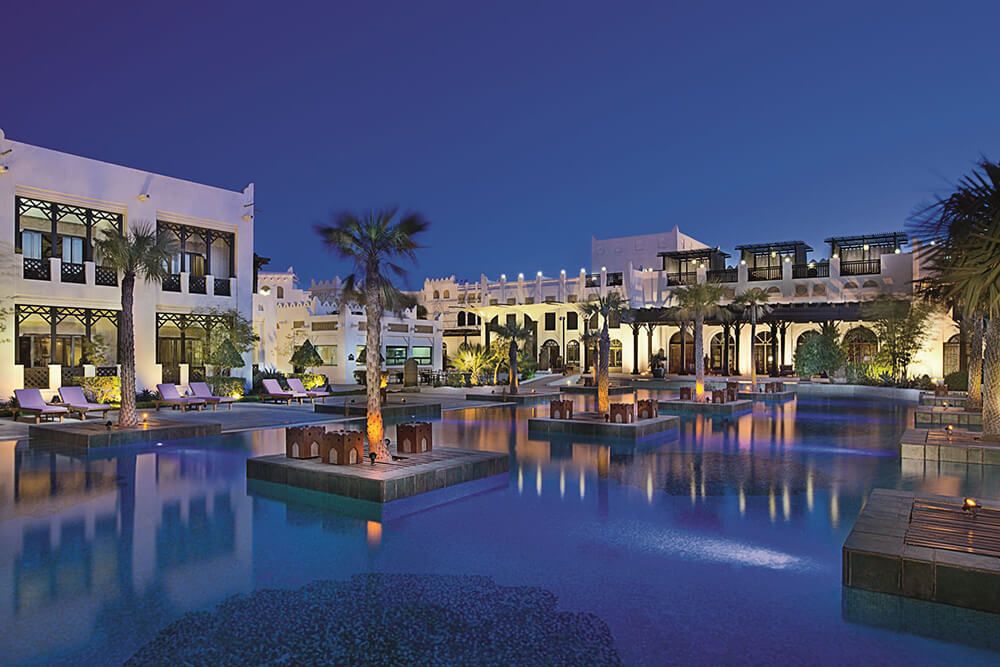 Dhow holds great importance in the Arabian culture and is an integral part of their heritage. Dhow cruises are still organized in Gulf nations to keep the tradition alive. Dhow Terrace in Sharq Village resort is one of the most beautiful eateries that is offering you the splendid beauty of the outdoor setting. The entire restaurant represents the traditional beauty of Qatar, taking you back to history. The menu has the best food, which is served with utmost warmth and pleasure. The pool ambiance and serenity around make it a great spot to spend the evenings.
Timings: N/A
Other Facilities and Services at Sharq Village and Spa Hotel Doha
The Sharq Village hotel in Doha has some striking features that make it one of the best hotels in the country for a luxury staycation. The facilities here are not just bound to luxury rooms and spas, but there is a lot that makes it the perfect place where you can stay and relax for an unwinding experience. Taking care of every guest, you will find everything from parking to dining, entertainment, and more.
1. Games and Activities For Entertainment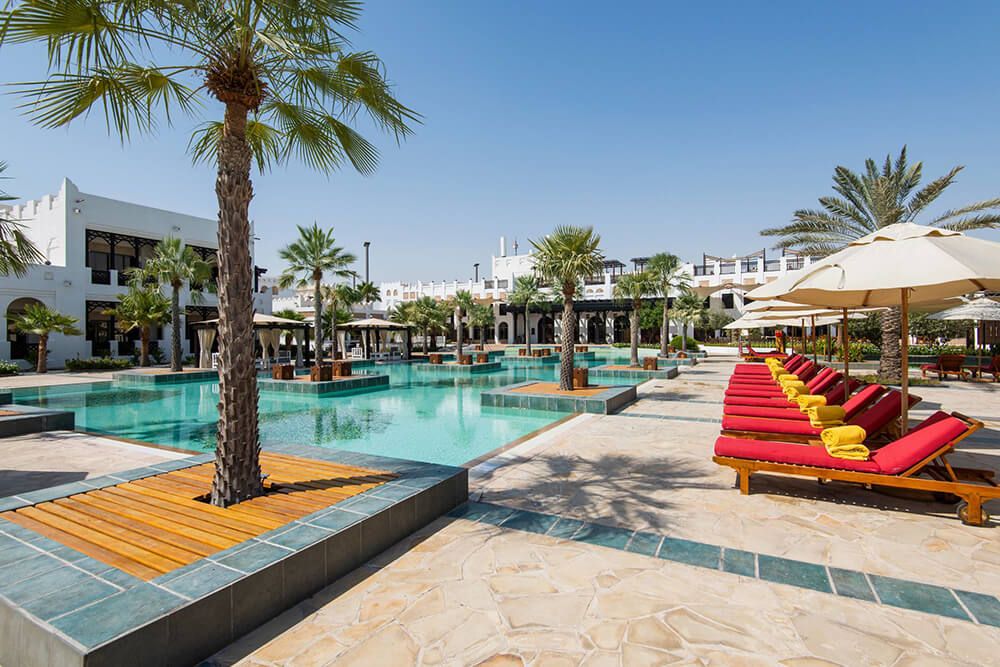 The hotel not only boasts of a serene and captivating landscape, but also offers the best entertainment in adventure facilities. With a luxury shop village and Sharq village and spa beach, the resort offers activities like swimming for water sports to each guest. The perfect location of the resort makes it easier for travelers to explore the neighboring places and attractions in Doha. There is a Ritz-Carlton kids area that is designed to offer your children and safe environment activities that can keep them engaged during their vacation.
2. Wedding Area For Ceremony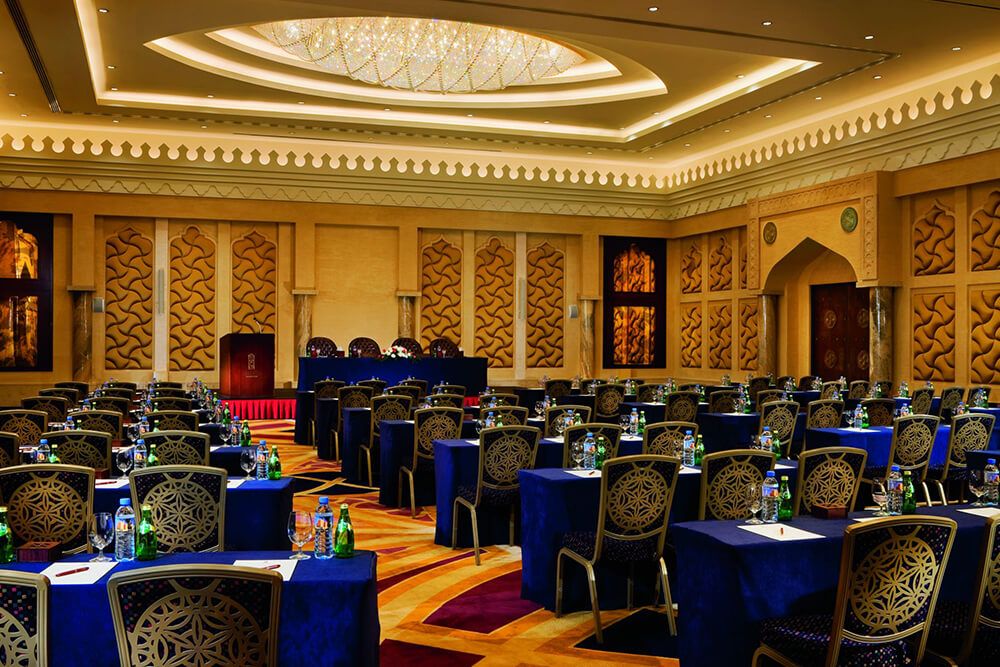 The Sharq Village and Spa hotel in Doha not only offers luxury and elegance for your honeymoon but is also the best destination for your wedding. Arabian weddings are all about culture and tradition therefore, no other place can be as perfect as Doha to make this auspicious day a memory of a lifetime. The influence of Katari culture and the Arabian tradition have made circular the best choice to host a grand wedding. They are outdoor venues and indoor halls with ballrooms that are designed with a traditional touch of Katari art, making it a perfect and romantic face for the newlyweds. Banquet chairs can hold up space for 200 guests while the measuring system offers the most fascinating queens of the other and other Arabian.
The Al Dana Garden and the poolside Royal Arena are the best option to organize your ideal wedding in Qatar.
3. Business Trip And Meeting Arrangements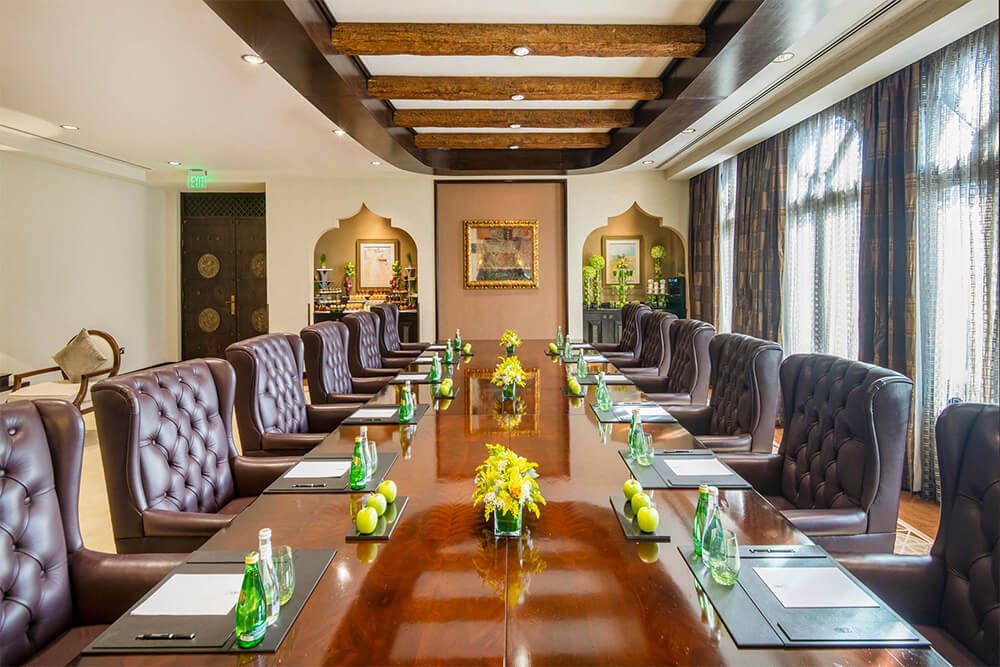 If you are visiting Qatar for your business meets, the Sharq Village and Spa, Doha, has listed every remarkable facility for your corporate events. Architecture with the perfect setting and the beautiful view of Doha Skyline has already made Sharq village a great accommodation and luxury property for all travelers. Adding more to it, there is a vast space of 12000 square feet where any functions can be organized. The Garden and the ballroom along with indoor and outdoor space have made this hotel a venue for every board meeting, gala, event, seminars, and so on. What's more, it facilitates the use of modern technology and silent features that includes every accessory and assistant that turns your event into a grand success. Here is a brief list of facilities to assist you during your event.
Experts to assist you with the event planning process
Modern audiovisual equipment
The standard sound system in every hall
2 Ballrooms and four large meetings or conferences
Three outdoor venues
Customized menus by renowned chefs for lunch meets
Foyer space for large receptions and coffee meets
4. Exclusive Dining Options For Memorable Vacy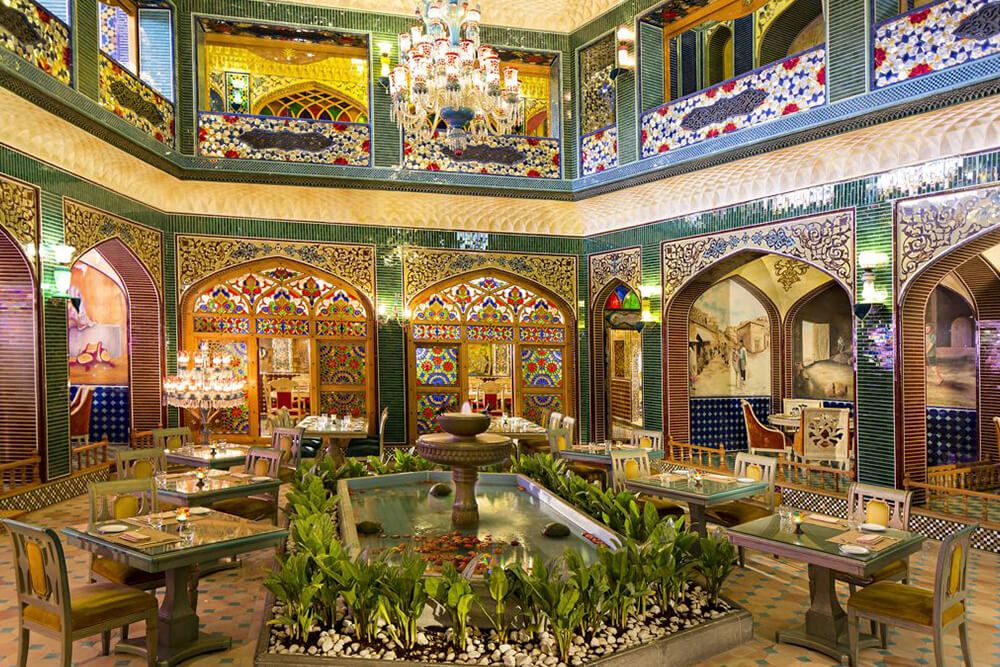 The Sharq Village and Spa hotel, Qatar not only offers you the enriching taste of the menu from the top restaurants but there is an exclusive facility to enhance your gastronomic experience. You can now dive into the best gastronomic experience of your life. The El Cerdo tasting room and Al Seef Snack and Pool are the two highlights of the hotel that makes it best. You can taste the top picks of the menu in a small platter to indulge in the most influencing taste of the day. This is a magical experience of indulging in the art of culinary beauty and the mesmerizing aroma of raw species blended with the zest.
Similarly, the Al Seef Snack & Pool Bar will add more to your leisure by presenting the most refreshing beverages and best continental menu of the day. There will be sacks and drinks for your family to indulge in most tempting cuisine while admiring the serene and calmness of the surrounding along the pool side.
Suggested Read: Islands In Qatar That Present A Blend Of Luxury & Natural Wonders
Attractions Near Sharq Village and Spa- A Ritz Carlton Hotel
A holiday without sightseeing can be quite monotonous, but when you are in Qatar, most of the hotels are located at an accessible distance from the major attractions. The Sharq Village and Spa is one of the best properties that is located perfectly from the best attractions you can find in Doha. Offering you every leisure and comfort, the hotel has also added a lot to your itinerary, making it the best holiday of your life. Here are the best landmarks you can explore while staying at Sharq Village.
1. Souq Waqif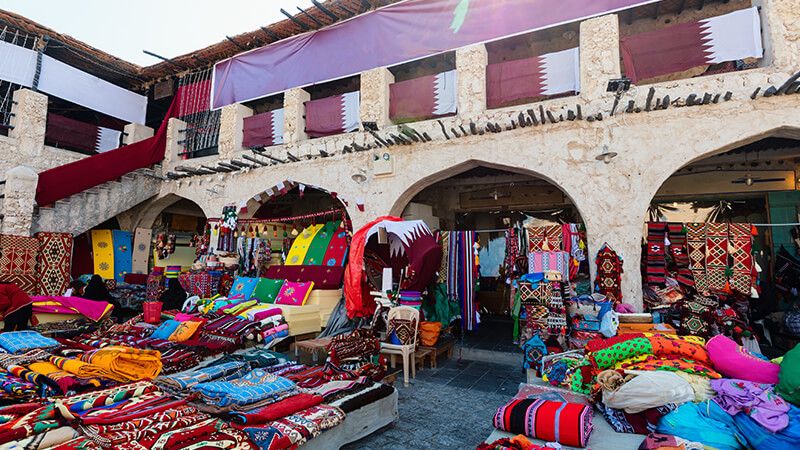 Shop your heart out in Qatar at the famous traditional marketplace, Souq Waqif. This old market spot is quite popular among the tourists as it resembles the era when Souqs were an essential part of the Arabian lifestyle. Even today the significance of Souq's is the same, adding on a glorious touch to the rich heritage. The history of Souq Waqif dates back to the 18th century, but in 2003, a fire broke out in the market, destroying most of the parts. The market was later reconstructed, maintaining the traditionality and significance.
There are shops selling traditional scarfs, embroidered cloaks, authentic spices, dates and crates of tea leaves, fragrances, and more. You can buy souvenirs like pots and other traditional accessories. You will also find the best restaurants and cafes lined along the streets to relish the taste of Qatari food.
Opening hours: 24x7
Distance from the hotel: 6 minutes
2. Qatar National Museum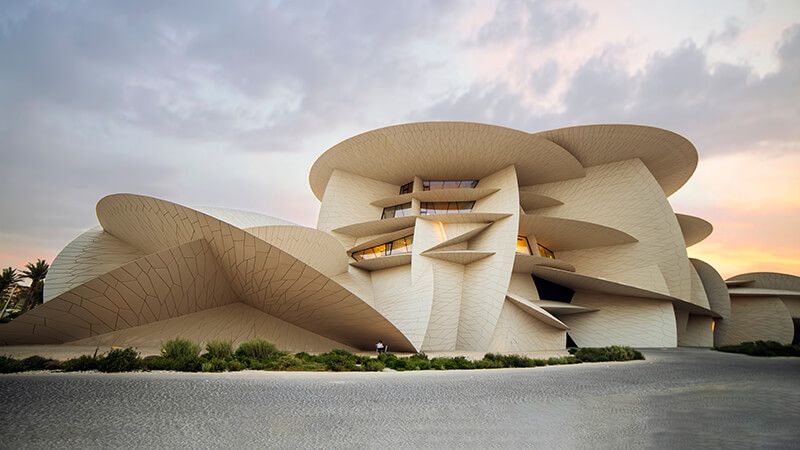 While you enjoy the luxury at Sharq Village and Spa hotel, Doha, do not miss out on a tour of the Qatar National Museum. With its impressive architecture and world-class interiors, the Qatar National Museum is a miracle worth exploring. The museum was designed by the world-renowned French architect and Pritzker Prize-winner Jean Nouvel and traces the history of Qatar. It took about eight years to build, and in the eyes of locals and travelers from afar, it is a real architectural marvel. Speaking of its appearance, the design of the structure is inspired by the desert rose, a phenomenon that forms clusters of petal-like crystals in the desert.
The museum has the best galleries depicting all history. As a tourist, you can unravel the full history of this country and experience the history of Qatar in three different chapters: the beginning of Qatar, the life of Qatar, and the modern history of the country.
Opening hours: Saturday to Thursday is 9 AM to 7 PM.
Distance from the hotel: 5 minutes
3. Museum of Islamic Art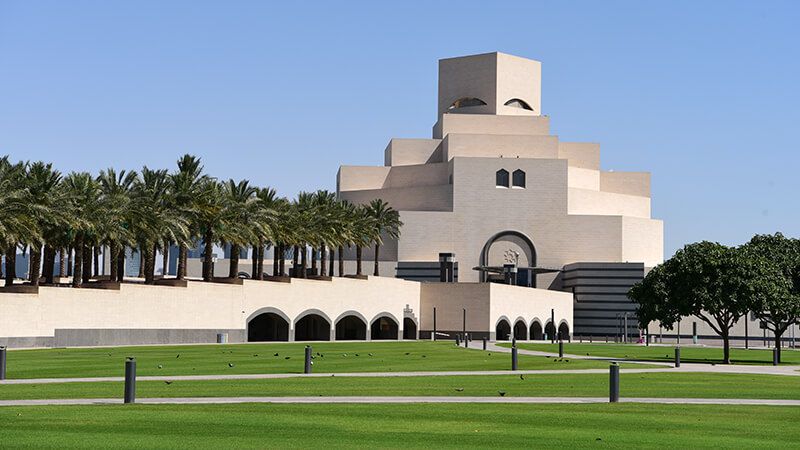 Sharq Village and Spa in Qatar is surely the perfect accommodation you can book as it is located close to the famous Museum in Qatar. The Qatar Museum of Islamic Art is inspired by Islam and is a mixture of religious and non-religious. One of the most famous manuscripts in the Islamic world, the Abbasid Blue Quran can also be seen in the museum. The museum has a rich collection of manuscripts, from the 7th century to the 19th century, during the period of the Ottoman Empire.
You can find these collections on the three floors of the museum. The first two floors are dedicated to permanent collections, including enamel and glassware, ceramic collections, Islamic books, textiles, woodwork, miniatures, and more. The museum has a rich collection of metal products and tells many stories about the past sultans and emperors. In the museum, you can find ships, war masks, keys, astrolabes, and other metal products.
Opening Hours:
Monday to Thursday: 09:00 am to 07:00 pm
Friday: 01:30 to 07:00 pm
Saturday & Sunday: 09:00 am to 07:00 pm
Distance from the hotel: 5 minutes
4. Katara Cultural Village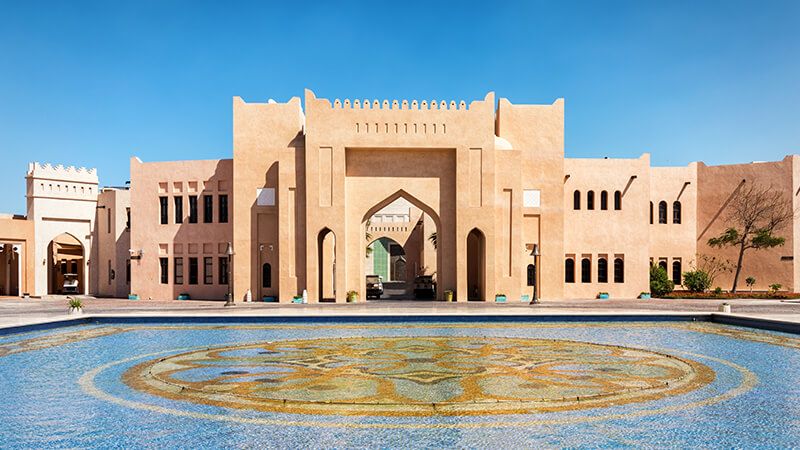 Karata Culture Village is also called Valley of Culture. It is home to Qatar's art, heritage, and history. The village is designed with a perfect architectural facial expression, similar to the ancient Souq and historical places in Qatar. The interior completely defines Qatar's rich culture and the inspection of the art of the vials. The village offers space to the Local workers who understand the legacy and are bringing it to the world. Karata village values the perspective of famous artisans who have their sculptures, murals installations exhibited here.
Katara Village Beach is one of the popular attractions at Katara. It offers the best activities for children and families. You can enjoy boat rides, fishing, and swimming. For leisure lovers, the beach has a seating area, a restaurant, and a cafeteria to praise spectacular scenery. You can plan a day with your family to explore the village and its scenic beach, taking a break from the luxury of Sharq Village in Qatar.
Opening Hours:
Monday to Thursday: 10:00 am to 9:00 pm
Friday and Saturday: Closed
Sunday: 10:00 am to 9:00 pm
Distance from the hotel: 20 minutes
Unwind your mind and body amidst the lavishness of Sharq Village & Spa, a Ritz-Carlton Hotel where village-inspired interiors blend beautifully with contemporary aesthetics and comforts. From lush green gardens to pools, serene private beaches to elegant courtyards, every nook, and corner of this hotel is beautifully designed. It is a great place to enjoy a leisure stay with a family or a honeymoon trip as the hotel promises warm hospitality and unmatched comforts which are not found elsewhere. So, if you are someone who has already booked air tickets to Doha and is looking for a great accommodation option then, we suggest you check out this amazing 5-star property located in an ideal location in Doha.
FAQs
Q1. Which are the top hotels in Qatar for a family vacation?
Qatar, with its rich culture and heritage, is one of the best destinations for a family vacation. You can find a number of hotels offering the best accommodation for your family.
Four Season Doha
Sharq Village and Spa
Mandarin Oriental Doha
Mondrian Doha
Q2. Which is the best Ritz Carlton property in Doha?
The Sharq Village and Spa is the best resort by Ritz Carlton that offers every luxury and comfort to the guest. The resort has a myriad of features and facilities, which include a private pool, beach, garden, dining area, and so more.
Q3. Are there any luxury rooms available at Sharq village & spa, a Ritz Carlton hotel?
There are 174 rooms and royal suites in the Sharq Village that are well-versed with every amenity. You can choose from royal villas and suites to rooms for families offering you a lavish stay. Most of the rooms have a private balcony or a floor-to-ceiling window.
Q4. Is there any age restriction at Sharq Spa?
Sharq village has a separate spa and wellness area for every guest. While there are no such restrictions, the spa is open for all above 18 years of age. There are healing and beauty sessions that you can avail of
Q5. What are the best dining options available at Sharq Spa and Village?
Sharq Village & spa, a Ritz Carlton hotel is a hub for foodies, where there is every authentic and delicious menu available for the vacationers. The top restaurants to enjoy your meals at the hotel are:
IRIS Doha
Persia
Al Liwan
Al Seef Snack and Pool Bar
Dhow Terrace
Q6. Does Sharq village & spa, a Ritz Carlton hotel, have any activity area for kids?
There is a wide range of activities offered at the Sharq Village & Spa, a Ritz Carlton hotel for families, especially kids. From pool games to beach access, and city tours, the hotel brings entertainment and fun to the guests.
Q7. What facilities are there for business travelers at Sharq village & spa, a Ritz Carlton hotel?
The Sharq Village is an ideal accommodation for every vacationer, be it a family holiday, or a business trip. Taking care of every corporate need, here are the best facilities provided to the guest.
Customized menus by renowned chefs
Modern audiovisual equipment
Standard sound system
Ballrooms for large meetings or conferences
Foyer space for large receptions and coffee meets
Q8. Which is the best time to visit Qatar?
You can plan your Qatar holiday in the winter month, between November and March. The city experiences a hot summer, making it unfavorable for all to explore the surroundings. Therefore, winter can be the best time to visit Qatar.
---