The hectic lifestyle and increasing stress have made Yoga, an essential part of our life. Yoga simply means disciplining one with control of emotions, thoughts, breathing, and body. Today there are many centers for yoga in Qatar where spiritual awakening is brought with the best practice and sessions. The need to be healthy and fit in this competitive world is essential for survival. The sudden increase in health-related issues, obesity, heart problems, and worsening eating habits has demanded the need for regular physical and mental exercise. Before moving ahead, let us discover why yoga is a necessity.
Understanding Yoga And Its Origin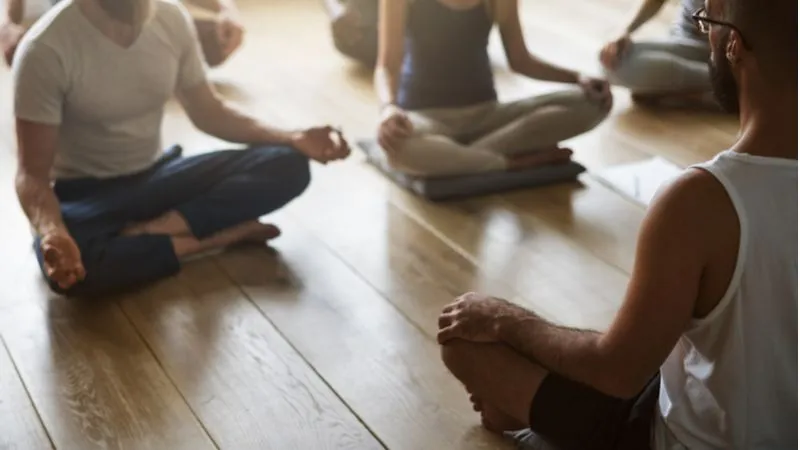 Yoga means to unite the soul with the outer world and better understand your spirit. Derived from the Sanskrit word "Yuj" it helps in creating a connection between the individual self and universal consciousness. The constant focus on our mind and body through meditation and yoga postures or asanas has helped millions in practicing a better living. The origin of Yoga and Yoga Asanas dates back thousands of years, and since then, there has been a variation in its style and practice. While there was a time when Yoga was all about meditation and control, but with time, there has been so much more addition, keeping its essence and originality intact.
Modern Yoga has variation and more flow of flexibility that attracts the youth. The types are as follow:
Yamas
Niyama
Asana
Pranayama
Pratyahara
Dharana
Dhyana
Samadhi
Yoga has always been associated with religion but the reality states that this is a practice of technology that is bringing out the best in you. Irrespective of religion, Yoga is now a wide practice form of exercise that is helping in spiritual awakening and a healthier lifestyle.
Yoga Classes In Qatar To Promote a Better Living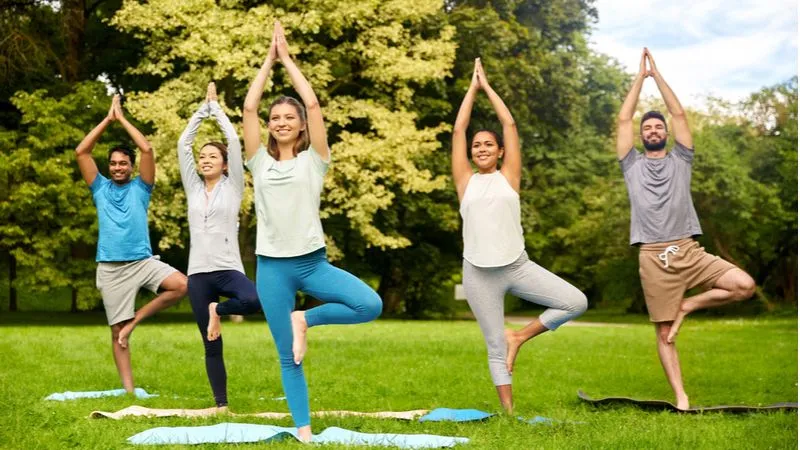 Qatar has embraced Yoga as an essential part of its living. The people of Qatar are embracing a healthy lifestyle followed by healthy living that has increased the demand for fitness centers. There are gyms and spa centers in Qatar promoting a holistic healing and active lifestyle. Yoga has become an essential part of Qataris especially women, where they practice and encourage the betterment of body and soul, letting out their inner self.
Today there are many yoga centers owned privately by hotels in Qatar. The professionals, teachers, and instructors are there to let you practice safe yoga. Here are some of the top yoga centers in Doha where you can discover the secret of healthy living.
1. Swastik Yoga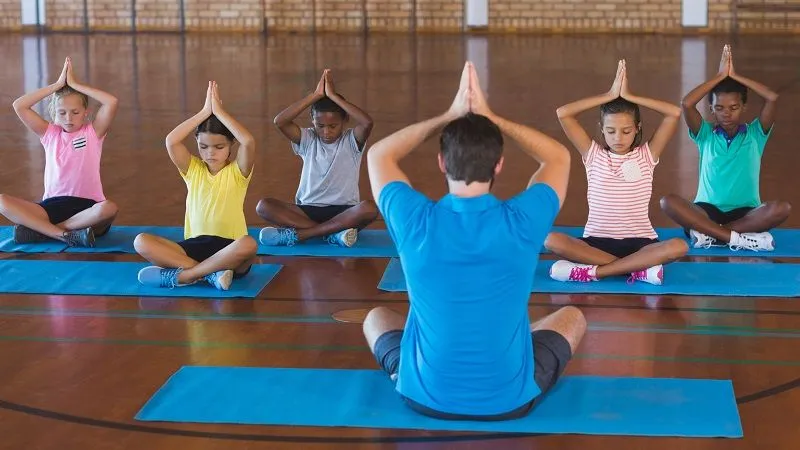 Swastik Yoga was introduced in Qatar by an Indian yoga professional- Vishnu who has been awarded for his wellness programs. There is a wide range of programs and activities available for fitness enthusiasts at Swastik Yoga Center. There are online yoga classes in Doha organized by the center to initiate active participation.
Understanding the fast-paced life, the programs are arranged to offer a long-term approach and the best result. At Swastik Yoga, there will be complete guidance and understanding the limits, and observing the results within weeks. The programs at the classes are elevating physical and mental capabilities. As yoga can boost energy, self-motivation, and confidence, Swastik Yoga will work to bring out the best of your potential and progress. Challenge your body with each pose that is addressing certain areas of the body. You can enroll as a beginner and learn the best each day.
Location: Sheraton Grand Hotel & Fitness Center
2. Yoga Hi Qatar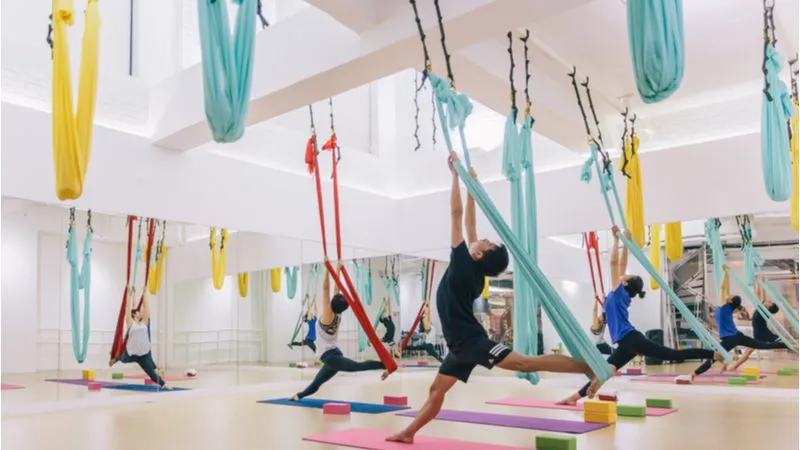 Located in the Bin Dirham Plaza, Yoga Hi is one of the best yoga centers that bring the best courses for weight management and healthy living. Opened by Sonam Singh, one of the former crew members of Qatar Airways, the yoga center was inaugurated on October 10th, 2018. She brought the best yoga techniques and effective sessions to help people choose a healthier lifestyle. One can enroll in the sessions for weight management, stress relief, strength training, and more.
The program encourages individuals to develop habits that will enhance their personality with proper posture, body positivity, and more. The roots of these Doha Yoga centers are rooted deeply into the traditional methods to present the timeless benefits of physical, mental, and emotional wellbeing. From beginners to advanced level training, Yoga Hi Qatar is one of the best yoga centers in the city.
Location: 5 Floor, Bin Dirham Plaza, B Ring Road, Doha, Qatar
Suggested Read: Top Gyms In Doha To Help You Keep Up With Your Fitness Regime
3. Yama Yoga Studios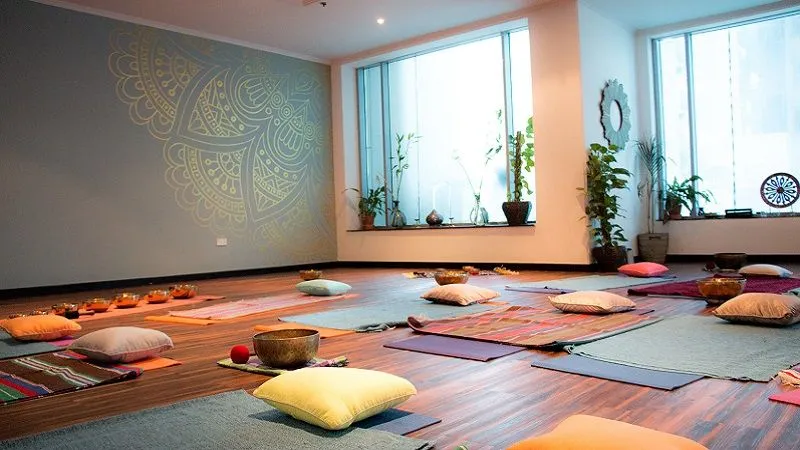 The YAMA Yogas in Doha is not just about training people for a more satisfying living, but it brings an approach to make them educated enough to carry the legacy ahead. There are online sessions and teacher training programs set for individuals who are enthusiasts. YAMA Yoga has been a success in Thailand and Bulgaria, and Doha as the center managed to influence a huge crowd for adopting a healthy lifestyle.
It was opened in 2009 by Valerie Jeremijenko, who encouraged people to embrace Yoga as an essential element of their life. Discover the full range of programs and practice with expert teachers at the most pristine locations. These sessions at YAMA Yoga in Qatar are designed for the physical and spiritual awakening of people with beginner yoga, slow flow, prenatal, or yin. One can look for online or offline sessions organized daily at the venue.
Location: Asas Studio, Doha, Qatar
4. Niya Yoga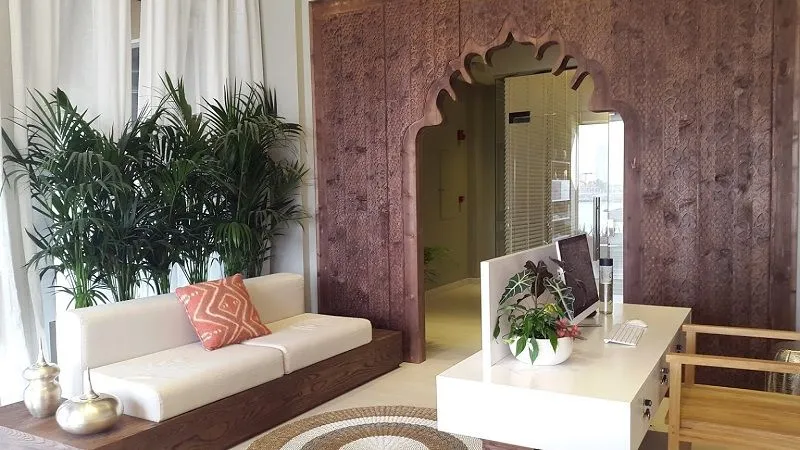 Niya Yoga is among the best centers for Yoga and fitness in Qatar. Niya, or as translated as Intention, gives you the positivity and energy to accept the flaws and the qualities. The Niya Yoga Classes were introduced by Jawaher Al Fardan in 2016 with the intention of offering a warm and tranquil atmosphere. Welcoming people of all caste and Class, Niya Yoga is one of the most vibrant communities where you could learn to explore the inner self. From fitness to mental stability, yoga taught at the Niya center, Pearl Qatar is motivating people for obtaining a more satisfying lifestyle.
There are professional yoga teachers who will help you in understanding the flow of energy and value of yoga in your life. Learn breathing techniques, stress management, and focusing on a positive attitude by making yoga an essential part of your routine.
Location: Qanat Quartier, The Pearl
5. Dynamic Hot Yoga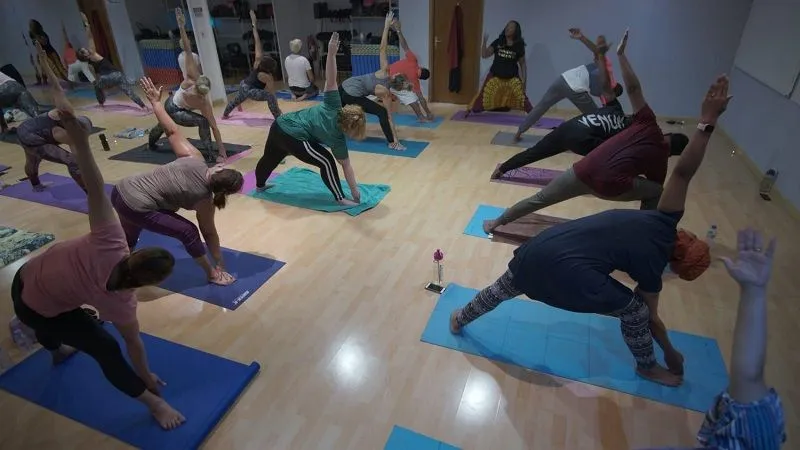 Get ready for more challenges and endurance with Dynamic Hot Yoga in Qatar. Bringing you an effective approach towards life, Dynamic Hot Yoga is an ideal center for mind and life modification. It was Deri who brought Reiki and Yin yoga classes to Doha. With her experience of 5 years, she has helped people to stretch out their bodies and mind and look beyond your perspective.
Her specialty lies in the art of Hatha Yoga, where you will learn the basics to advance pranayama (breathing exercise), flexibility with mobility exercise, and yoga to boost your metabolism for weight management. You can now push your limits and take your body abilities to a different height. There are online and offline sessions available for all to enroll and move towards a healthier beginning.
Location: European Family Club, Doha
6. Helipad Yoga at Shangri La Hotel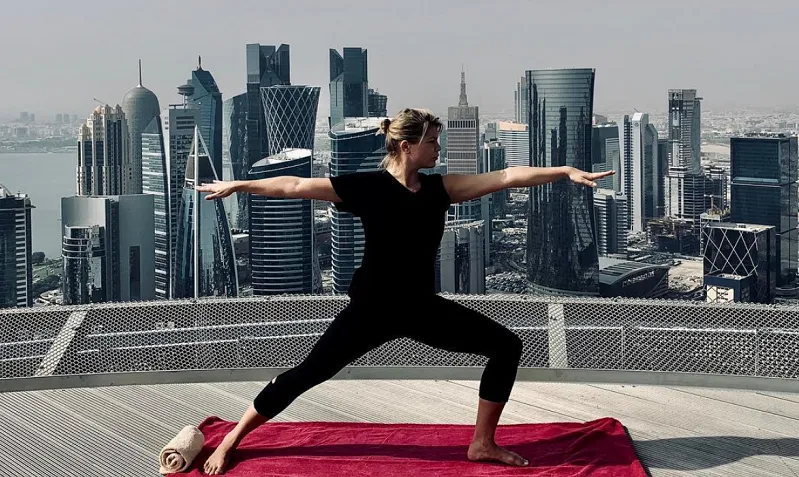 Being one of the most luxurious hotels in Doha, Shangri La offers the best facilities and services to international tourists. The hotel presents Helipad Yoga for once in a lifetime experience. The spectacular view of the city and the refreshing beauty of Doha Skyline makes it an experience worth every money and challenge. From the 5oth story of the hotel, you can now discover the secret of better loving and admiring the magnificent panorama of Doha.
The hotel even organizes a regular wellness program where guests can relax and rejuvenate with the energizing sessions and challenging asanas. There is a dedicated section for fitness where other physical exercises are taught under the guidance of expert teachers and coaches.
Location: Evofit Qatar, JW Marriott Marquis City Center Doha, West Bay
7. Evolve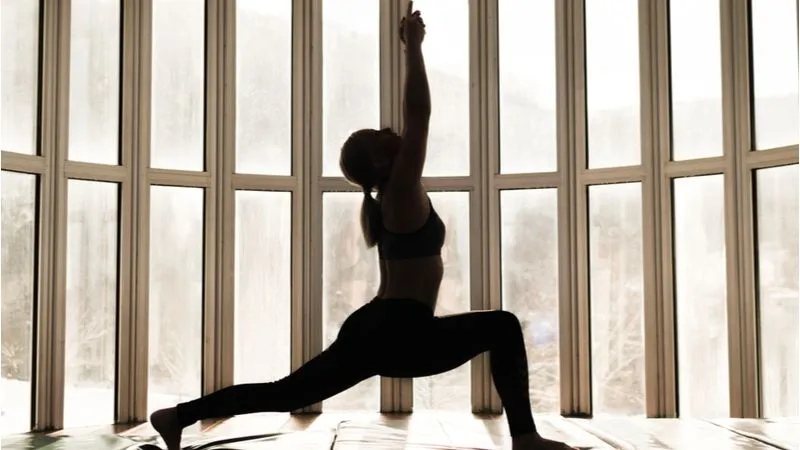 For an ultimate challenging growth and better approach toward life, evolve is known as the best gym in Doha that also presents the beauty and ease of Yoga. While the fitness center is popular for its fancy interiors with the best enthralling set up as a gym, visitors can find sessions for Yoga in Qatar that are organized daily for the fitness freaks.
The studio is located at the Ritz-Carlton and the Four Seasons, managed by a team of professionals encouraging people to understand and choose a healthy living even during vacation. From Pilates to pranayama, salutations, and other Yoga forms, the coaches are there to teach you every technique for a better mind and body.
Location: Ritz-Carlton and the Four Seasons Doha, Qatar
Suggested Read: Places To Visit In Qatar For The Stunning Skylines And Attractions
8. Yoga In Doha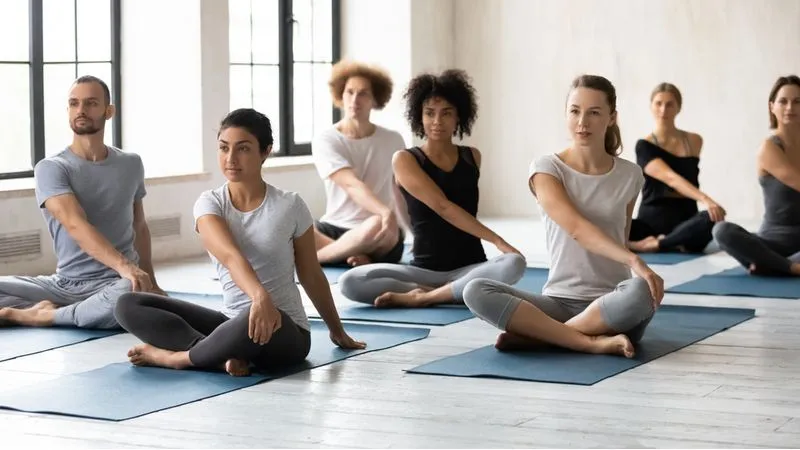 Yoga in Doha, or Doha Yoga Training W.L.L is one of the most famous organizations that is offering complete Yoga guidance with effective Yoga sessions. Associated with Patanjali Yoga, a renowned name for Yoga Training and Research Center India, this Doha Yoga Center is another initiative of promoting the values and benefits of Yoga in the world.
Different courses are designed by the Yoga professionals at Yoga In Doha that are best for beginners and practitioners of intermediate level. These yoga asanas will help you with every health-related problem, be it chronic muscle pain, anxiety, depression, and more. The experience of PYTRC and the teachers working there have made it the best wellness center for people.
Location: G11, Sharq Plaza, D Ring Road
Suggested Read: Parks In Qatar To Enjoy The World Of Nature And Serenity
Why Choose Yoga?
Yoga is holistic healing that has endless benefits. For ages, Yoga has been associated with a better living and happier lifestyle, making it easier for humankind to survive even under difficult situations. Including Yoga in your daily life has helped practitioners with benefits that are not just physical but mental and spiritual.
The study shows that practitioners, who are practicing yoga regularly have better control over life. The benefits include improved blood circulation, lesser risk of heart-related issues, better mental health, and [positive approach towards life. WHO has stated that involving 30-60 minutes of exercise daily is essential for a healthier body, and it can be ensured by practicing yoga daily.
Yoga in Qatar has now been a part of our lifestyle. There are hotels that include special yoga sessions for the tourists while many individuals have taken the responsibility to spread the practice among citizens. There are yoga centers established in almost every corner of Doha to encourage people to adopt and practice the asanas. If you are a tourist or a citizen, planning to be a YOGI who wants to discover the secret of life and body, these centers will help you in safer practice. Improve your health and accept new challenges by making Yoga a routine.
FAQs
Q1. Are there any Yoga centers in Doha?
Yes, there are many yoga centers in Qatar where you can find the best sessions for healthier living. You can book your classes at:
YAMA Yoga
Swastik Yoga
Dynamic Hot Yoga Studio
Niya Yoga
Yoga Hi Qatar
Q2. Why is Yoga so essential in Life?
Yoga offers the best fitness guide for a healthy body and mind. Practicing Yoga daily can result in better metabolism, blood circulation, sugar and cholesterol control, and better mental health.
Q3. Can I learn pranayama or Breathing techniques?
Yes, Pranayam or breathing Yoga is one of the most essential and basic yoga techniques that everyone can learn. There are many yoga centers in Qatar where complete classes are organized for beginners.
Q4. What are the types of Yoga sessions available in Doha?
There are centers for yoga in Doha where you can learn Pranamya, Power Yoga, Yamas, Niyama, and Asanas.
Q5. Where can I get an online yoga class in Qatar?
If you are looking for online Yoga classes in Doha, you can enroll at Swastik Yoga or YAMA studios and other centers. These yoga centers are managed by experts who provide the best service with effective results.
Q6. Are there any hotels in Qatar promoting Yoga Practice?
There are many hotels that are providing yoga sessions for tourists. The hotels like Sheraton Grand Hotel & Fitness Center, Four Seasons Doha, and The Ritz Carlton, West Bay, Lagoon have listed the facility for guests.
Q7. What is the best time to visit Qatar?
Qatar experiences a hot summer that makes it unfavorable for tourists to visit. You can plan anytime between November to April when the climate is pleasant for sightseeing and excursions.
Q8. Which is the main airport in Qatar?
Hamad International is the only international airport connecting Qatar with other countries. There are flights to Qatar operating from almost every Asian or European nation.
---