Are you crazy about shopping? Get ready to shop till you drop at the Mall of Qatar, known to be the best shopping hub in the country. Boasting the finest brands, trendy style, and entertainment options, the mall has added more fun to your weekends. Stretching to an area of 500,000 sq, the mall offers you an array of shopping delights, be it your fashion apparel, your home decors, electronics, gadgets, sportswear, and so more. Read on to find out everything about one of the largest malls in Qatar, where you have every interesting option to kill your time.
A Glimpse Of What's Inside The Mall of Qatar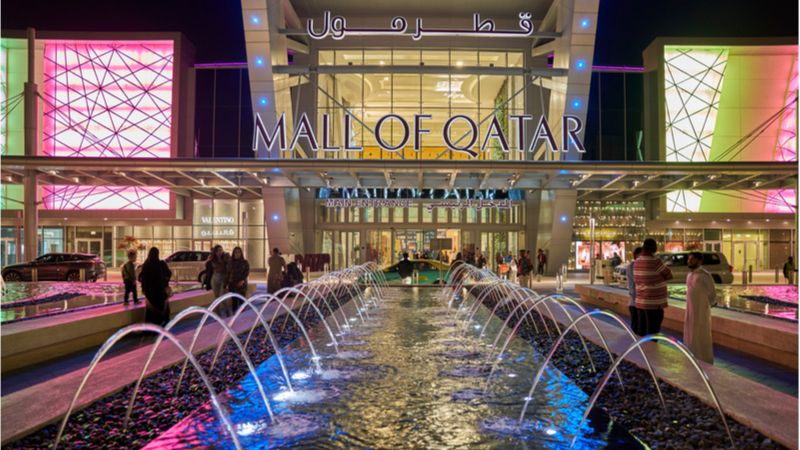 Located in the Rawdat Al Jahhaniya District, Doha, the Mall of Qatar is listed among the top famous and largest malls in the country. With more than 520 stores in its three-flooring space, the malls bring up a vast collection to meet the needs of visitors. Unlike any other mall, this can be rightly defined as a hub where you can choose to shop and dine.
Malls have always been the first option when it comes to planning a day out. Qatar experiences hot weather that makes day sightseeing during summers quite difficult for tourists and travelers. During such scenarios, the Mall of Qatar in Doha offers a perfect spot to hang out. So, before you plan your family outing at this extravagant mall, let's find out what is inside.
1. Shops and Fashion Units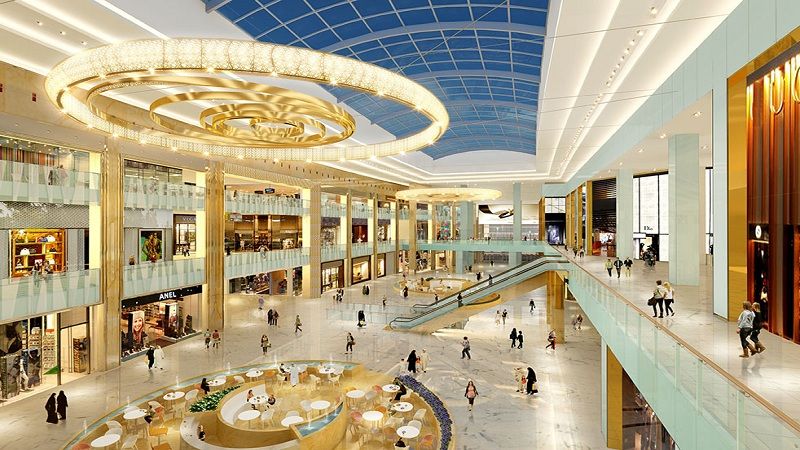 Whopping more than 500 shops, the mall boasts of some finest brand names and a diverse collection of top trending options. Be it your home décor and furnishing option or the collection for your wardrobe, there is everything you need to make the best out of the day. The FB units and Carrefour hypermarket have changed the game by providing an exclusive list of your grocery shopping, kids care, cosmetics, and health care materials. Adorning the best Qatar shopping complex, the mall is a paradise for brand lovers.
There are a number of categories apart from fashion and lifestyle that make Mall of Qatar a perfect place for every local and expat. The Mall of Qatar shops include travel agencies, tailor and textile units, your department stores, Opticals, bank service, and stationery where you can get everything you need for your day-to-day needs.
When we say "Fashion" the term does not bound itself to luxury and expense, but it brings you a vast list of every traditional and international fashion style you need for a change. There are separate sections to shop for kids, men, and women and complement your style statement. All you need is to explore a bit till you find your best match for your shopping in Qatar.
2. Cafes and Dining For A Lavish Gastronomic Experience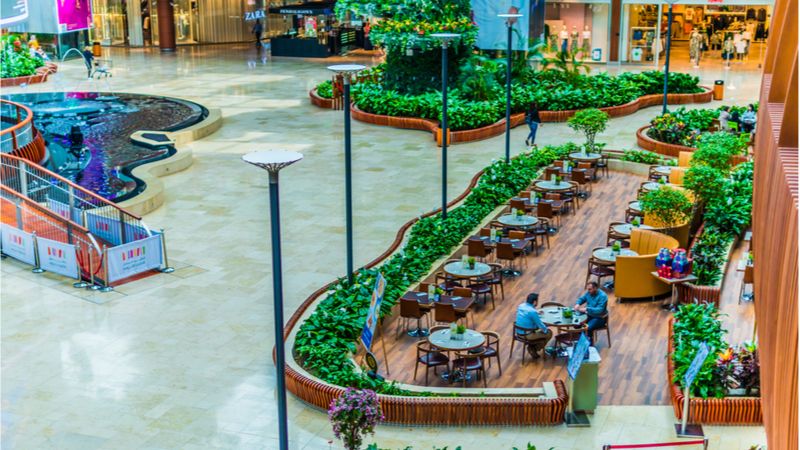 What does a perfect outing mean to you? There will be dining for sure, and if not, you can't call off the day without a quick meal with family. The Mall of Qatar, Doha, presents some of the most trending restaurants and cafes, serving you every delightful meal.
Relax and ease a bit as you relish the taste of your favorite food in Qatar. There are more than a hundred restaurants and café where you will find a multi-culinary menu with every taste. Be it Italian, Chinese, Sea Food, or a traditional dish of Qatar, there is a diverse option for every visitor. If you are not a fan of fast food or fancy eating, the foot court does include restaurants that serve quality food at a reasonable price.
Here are some best Mall of Qatar restaurants that are known to be the best in terms of quality, price, and service.
Sugar Space
Krispy Kreme
Baskin Robbins
Kane Mochi
Patchi
Pinkberry
Restaurants
Le Paradis Delord
Asha's
Crave Nation
Dukkan Burger
Jwala Restaurant
Cafes
Baladna
Bun Al - Ameed Roastery
Cafe Eleven Eleven
Costa Coffee
Cafe Bazza
Galler Chocolatier
Food Court
Al Aker Sweets
Hardee's
Papa John's
Attila Mongolian Grill
Magic Wok
3. Fun and Entertainment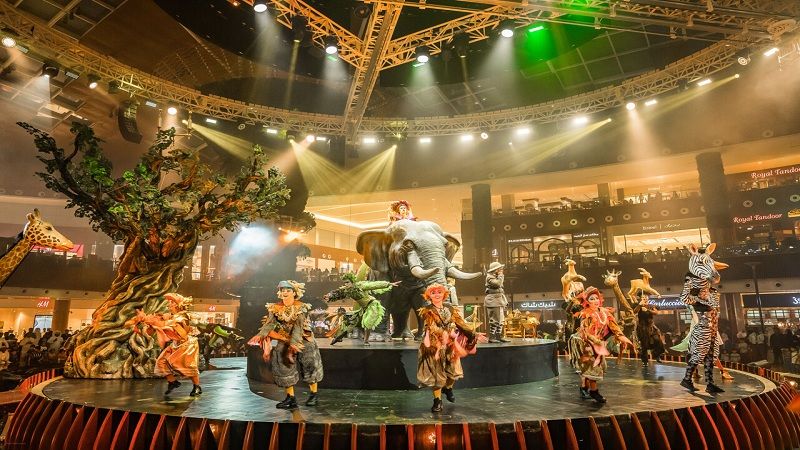 Entertainment is something we are constantly looking for, especially while on a holiday. Mall of Qatar is a shopper's paradise, but it welcomes visitors to enjoy and relax, vibing with some fun activities. The mall has added a range of entertainment options and fun things to do in Qatar for those who are looking for a break from their regular schedule.
NOVO Cinema
The Mall of Qatar cinema experience can be worthy and exciting. The Mall of Qatar features the world's fastest IMAX Laser 3D Projection System and a 19-screen cinema section to enhance the experience. Stepping out of the box, cinema here can be more than your Bollywood and Hollywood show. There is a live digital screening where you can catch up with the best shows, ongoing matches, and so much more. These OLED screens are so arranged that you can watch them while you shop.
Live Performances
The malls also host live performances and events to add more entertainment. Attending the fascinating live performances is one of the best things to do in the Mall of Qatar. There is a custom-made 360-degree rotating multi-lift stage, set in such a manner that people can enjoy their food sitting at the food court and enjoy the ongoing event at the same time. A number of promotional events and festivities are also organized occasionally at this famous mall in Qatar.
Fun Games and Activities for Families
The gaming area in the mall is a major attraction for every family in the city. The Mall of Qatar brings you the thrill and frill of best activities like Pin Bowling and more. Enjoy an enthusiastic session of bowling in Mall of Qatar with your family and friends. There is an 8-lane bowling alley and Xtemeland for adventures like real-life battlefields or video games to keep you engaged and entertained. Age is just a number when you are looking for some fun activities as the mall has everything you need to boost your holiday mood.
Suggested Read: Bakeries In Doha: Drool Over The Luscious Desserts
Major Highlights In Mall Of Qatar That Makes It Perfect Attraction for All
Not just a mall, this Doha Attraction has a lot more to offer its guests. The mall is so designed that it reflects every feature to excite, thrill, engage, relax, and unwind your holiday. Have a look at some exceptional features of the mall that makes it beyond what you have imagined.
1. Al Rayyan Hotel Doha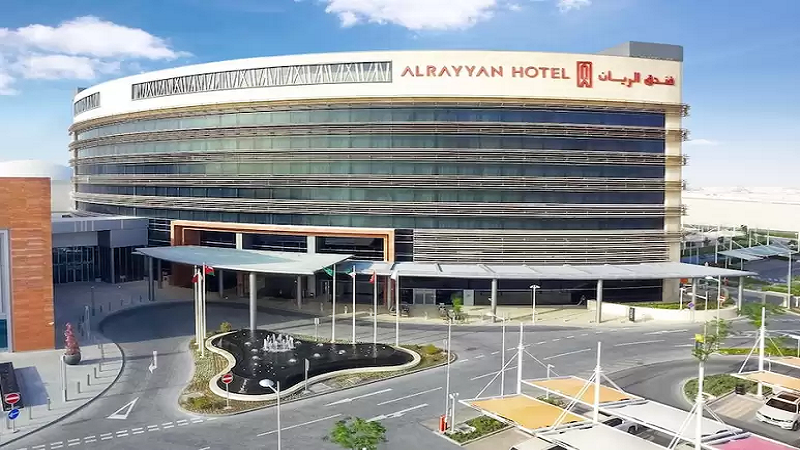 Choose to stay at the best hotel in Qatar, Al Rayyan Hotel that is a part of this extravagant mall of Qatar. The five-star property features the most comforting services and facilities for your stay. This is the first Curio Collection by Hilton to lend you the luxury and leisure you need.
The 5-star property has 201 rooms that include exquisite furnishing, lavish interiors, and complete room assistance. There is a sense of contemporary design and trending fashion look, which adds to its magnificence.
The rooms offer floor-to-ceiling windows that overlook the city. Amenities here include a work area, 48-inch TV, spacious room with a private, marble bathroom equipped with a separate bathtub and shower. You can choose from the Ambassador Suite and Presidential Suite that features the most luxuriating design. These luxury rooms of AlRayyan hotel offer two bedrooms, with oversized bathrooms, and large living and dining space for complete comfort.
Offering you so much more than just a living space, AlRayyan hotel has a swimming area, fitness center, kids' area, restaurants, and meeting space. The separate dining section at the hotel allows guests to spend quality time with family on dinner.
Address: Mall of Qatar, 0000 Doha, Qatar
TripAdvisor Rating: 4.5
We love it for:
Three swimming pool
Free Wi-fi
Direct link to the Mall
Restaurants and Cafe
Suggested Read: Al Rayyan Stadium Qatar: A FIFA World Cup Venue In The Cultural Hamlet Of The Country
2. KidzMondo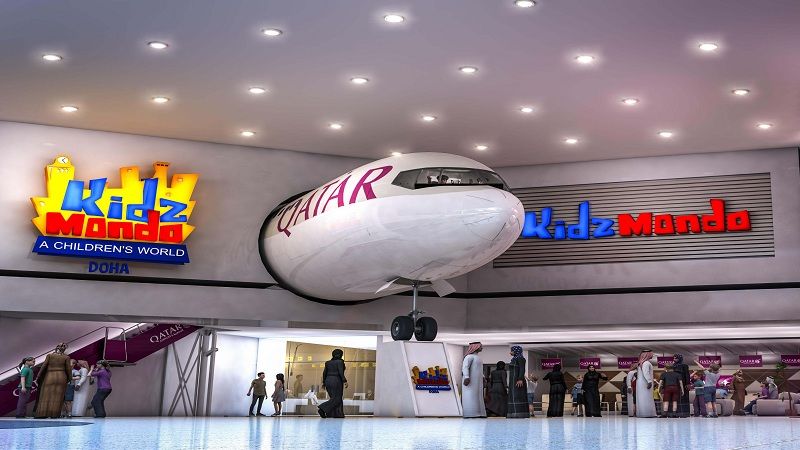 Theme parks can be the best option for those who are on a family holiday. Mall of Qatar, Doha, has a unit of KidzMondo, a popular indoor park for kids. While Qatar has a number of amusement parks and theme parks, KidzMondo stands out of the line for bringing the fun with knowledge and education.
The place is ideal for kids under 12 years of age as there are loads of engaging activities to build their memory. Established on an area of 8000m2, this is nothing less than a mini city with its own constitution, neighborhood, and currency. You will find a TV Studio, a fire station, Factory, a Radio station, a hospital, and more. The theme education park can help your child with the most important aspects of life like:
Respecting every individual
Right for Self-expression
Being a citizen of "Kidizen"
Civic and Social responsibility
The activities at KidzMondo, Qatar, are specially organized to let your child understand the need for practical knowledge. From being a responsible citizen to planning a better future, every basic knowledge is offered here. There are special characters introduced to make learning more fun. The entire park is managed by more than 115 teachers and professionals, who are experts of child physiology and understanding. Here are some top activities your child can learn while having some fun.
Cooking Pancake and Mini Cakes
Basic knowledge of finance and banking with a branch of QIIB bank
Early Aircraft knowledge
Other details of KidzMondo are:
Prices
Children 4-14: 135QR
3 and under: 90QR
Under 1s: FREE
Adults: 90 QAR
Timings
Saturday to Thursday: 10 am - 10 pm
Friday, 1 pm - 10 pm
3. Xtremeland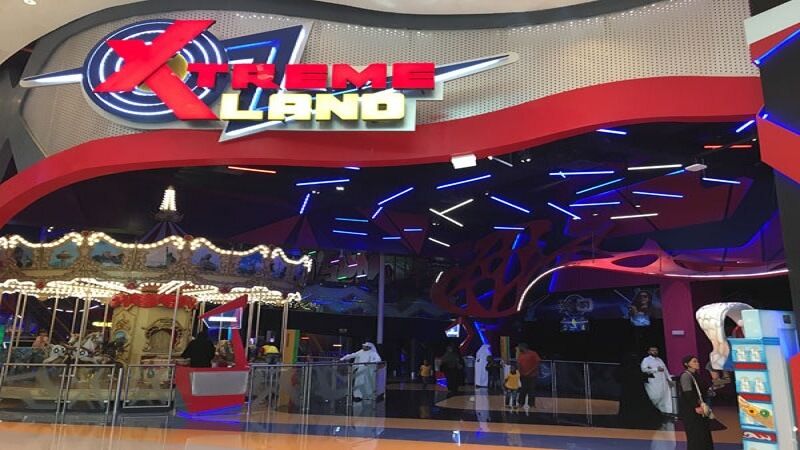 As the name says Xtremeland is all full of extreme adventure and fun. This adventure park in the Mall of Qatar is all about thrill and excitement that will take you on an adrenaline journey. The Xtremeland has a variety of fun and thrill for all age groups, making it a place for families to spend an entire day trying out new adventures and fun. This is an amusement park, a gaming arcade, and a fairground where you will find everything to excite your day. There are rides that are particularly designed for each age group, keeping the place safe and fun for all visitors.
Xtremeland has many rides and games to engage your day with utmost thrill. From Drop and Twist Tower, Jump Around, Dance Party 360, the North Pole water boat ride, Convoy, and three-story-high slide. Challenge your physical stamina with a trampoline park, climbing walls, arcade games and machines, and more. For kids, the park features video game activities and 3D games with Multiple players.
The adventure and fun don't end here. Xtremeland brings the best fun for mums and kids of different age groups. There is a toddler land for kids with a height of 120 cm, featuring soft play with tunnels, swings, ramps, wall puzzles, a soft play area, and air cannon. Here are some rides you can enjoy depending on the height and age:
Convoy Ride, younger than 4 years old
North Pole Ride, under 90cm
Bumper Cars, under 120cm
Jump Around Ride, 4–8 years old
High Wire Adventure Course, 115–140cm
Opening Hours:
Sunday to Thursday 10:00–23:00
Friday and Saturday 10:00–midnight
closed from 11:30–13:00 on Fridays
Fees:
There are Xtremeland cards available at the reception desk for 3QR. You can top-up with a minimum of 50QR.
Suggested Read: Top Sweets To Taste In Qatar To Delight Your Taste Buds
Top Restaurants and Cafes in Mall Of Qatar To Enjoy A Family Meal
Presenting you some of the best restaurants in Mall of Qatar to delve into the finest exotic flavors for a world-class culinary experience.
1. Pinkberry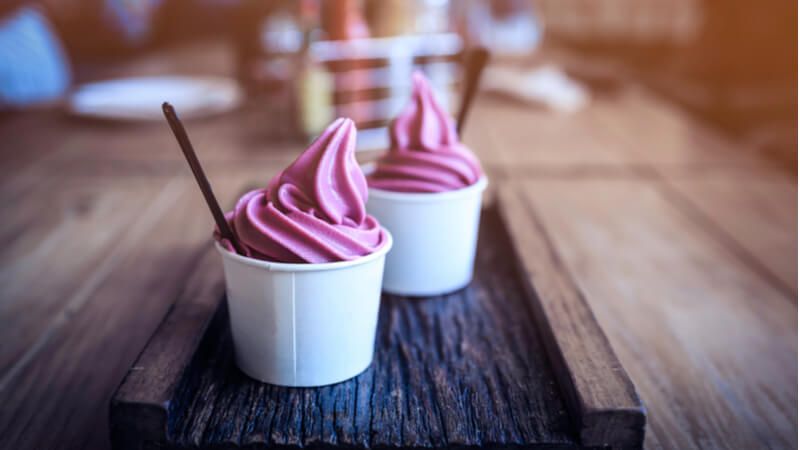 Dive into the relishing flavors of sweet and delighting dessert at the Pinkberry. Located on the ground floor of Mall of Qatar, Pinkberry is heaven to relish your taste buds with sweet-savory dishes. The café has set its branches in over 62 spots in the Middle East, making it quite a famous place among travelers. The café offers a fresh menu with tantalizing fruity punch, yogurt toppings, and some baked siders.
Opening hours:
Sat 10:00 AM - 11:00 PM
Sun-Wed 10:00 AM - 10:00 PM
Thu 10:00 AM - 12:00 AM
Fri 10:00 AM - 11:30 AM , 01:00 PM - 12:00 AM
2. Jwala Restaurant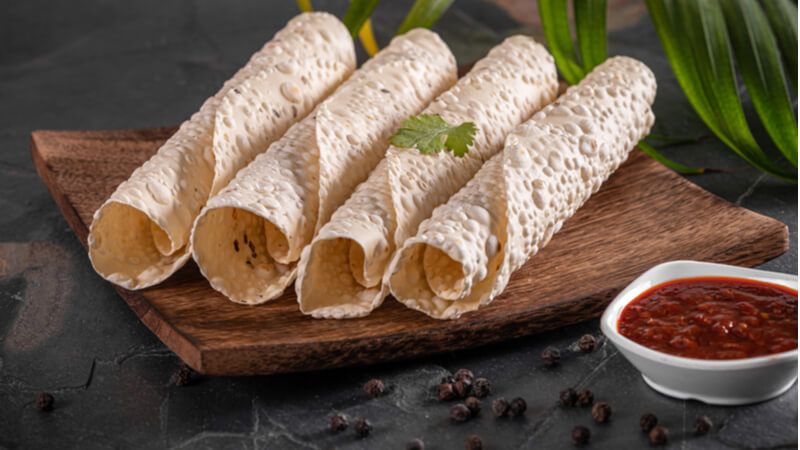 Discover the hot and spicy Indian flavors at the Jwala Restaurant, located on the ground floor of Mall Of Qatar. This contemporary eatery is a combination of fancy Indian cuisine and street food picked from every city. Offering the traditional flavors with an authentic zest, dining here can be quite exciting and flavorful. The atmosphere is cool and casual, where you can share a joyful meal. The ambiance boasts live music to make your evening pleasurable and leisurely. You can try the best from the menu like
Baloo Bites, Amitabh Mix Samboussa, Twisted Papadum, Khushi Khushi Pakura, Jumbo Mirchi, Loco Pani Puri, Sour Yoghurt Served with Spiced Water and more.
Opening hours:
Sat 10:00 AM - 11:00 PM
Sun-Wed 10:00 AM - 10:00 PM
Thu 10:00 AM - 12:00 AM
Fri 10:00 AM - 11:30 AM , 01:00 PM - 12:00 AM
3. Baladna Restaurant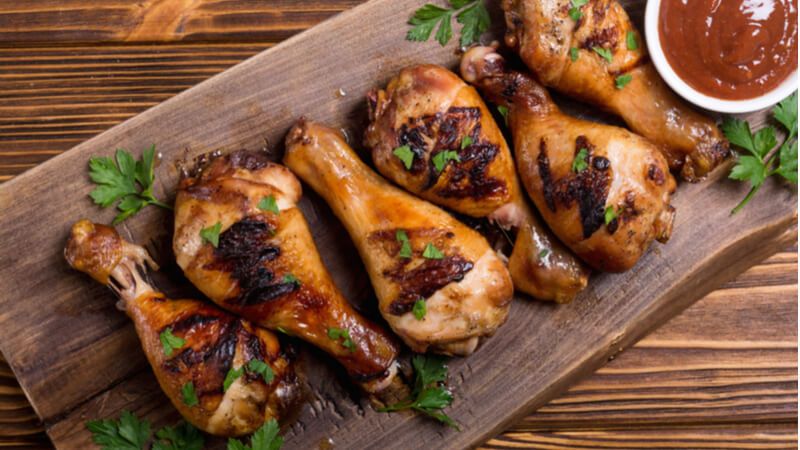 Baladna in Qatar is known for its quality dairy products and meat. The restaurant, set on the ground floor of the Mall of Qatar is delivering a quality meal prepared from fresh raw material. Following the concept of farm-to-table, this restaurant in the mall is a paradise for meat lovers. The menu is inspired by a variety of Dairy and meat dishes. You can also purchase jams and crackers from Baladna.
The restaurant is basically a traditional shop that is exhibiting its charming ambiance. The taste of fresh dairies, meat, and livestock will make your culinary experience memorable and worthy.
Opening Hours:
Sat 10:00 AM - 11:00 PM
Sun-Wed 10:00 AM - 10:00 PM
Thu 10:00 AM - 12:00 AM
Fri 10:00 AM - 11:30 AM , 01:00 PM - 12:00 AM
4. Papa John's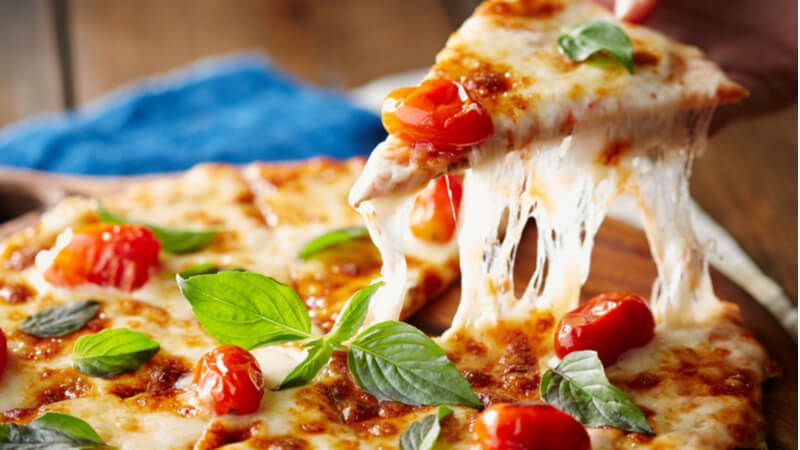 Looking for the finest quality Pizza In Qatar? Well, Papa John's at the Mall of Qatar in Doha delivers you the best fast food to enjoy a day. Preparing the meal with the finest ingredients, the eatery offers a savory dining experience. The hand-tossed pizza, topped with fresh cheese and extra veggies, some food options to keep the calories in check, and a quiet bite of crispy fries are making Papa John's an ideal family spot at the mall. The café is located on the first floor.
Opening Hours:
Sat 10:00 AM - 11:00 PM
Sun-Wed 10:00 AM - 10:00 PM
Thu 10:00 AM - 12:00 AM
Fri 10:00 AM - 11:30 AM , 01:00 PM - 12:00 AM
5. Le Paradis Delord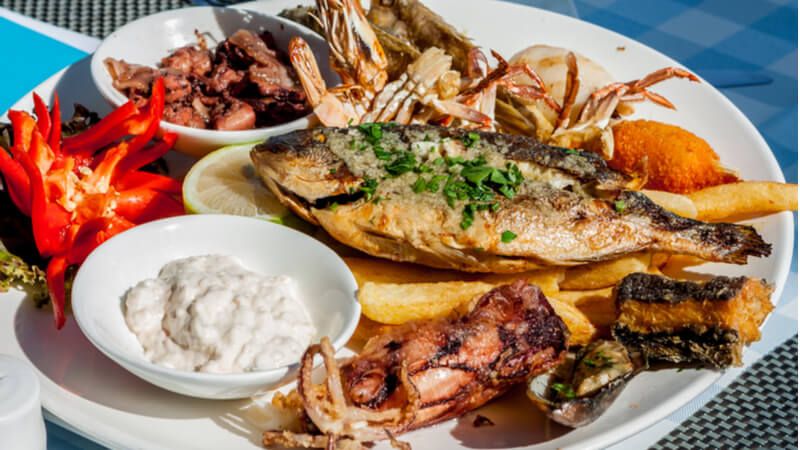 Le Paradis Delord, the best dining space at the Mall Of Qatar is known for its extensive menu and a refreshing Coastal taste. This eatery not only delivers a blend of flavors but it is also offering variety to choose from as per the mood. From the Mediterranean diet and cocktails to the traditional cuisines, you will find a wide range of dishes to change your taste. The restaurant is led by professional chefs who prepare the dosh keeping the taste authentic. The cool ambiance of this casual dining space welcomes families to dine in together and try out every fancy seafood they need.
Opening Hours:
Sat 10:00 AM - 11:00 PM
Sun-Wed 10:00 AM - 10:00 PM
Thu 10:00 AM - 12:00 AM
Fri 10:00 AM - 11:30 AM , 01:00 PM - 12:00 AM
Suggested Read: Top Restaurants In Doha That Will Take You On A New Culinary Adventure
Key Facilities For Visitors in Mall Of Qatar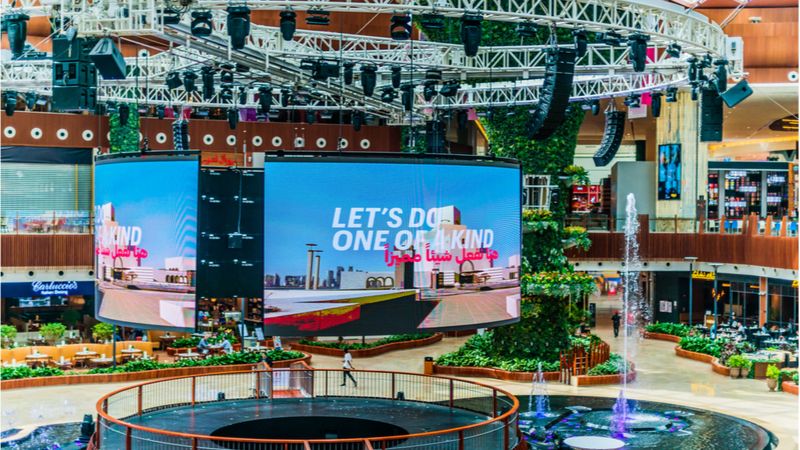 Your comfort and ease are the major priority. Mall of Qatar in Doha has left no stone unturned for being the best in public service and offering every exclusive facility. While there are shops and restaurants that serve everything you desire, there is much more to the facilities making it one of the best malls in Doha. There is meeting space, customer service, and a lot to make it a perfect place for your family time. Let's have a look at the top facilities that will make your visit enjoyable.
Lost & Found – If you lost any of your valuable belongings in the mall, you can directly report to the customer service department shopping at the mall. The lost and found department is located on the ground floor near the main entrance.
Concierge – There is Concierge staff for those who need some information about the best stores, restaurants, or anything regarding the mall. The staff is duly appointed to assist the visitors.
Porter Service- At times, it gets difficult to hold those heavy shopping bags and shop more. Well, Mall of Qatar offers visitors a porter service to shop more without carrying the weight.
Free Wi-Fi Facility – Network connectivity will never be an issue at the Mall of Qatar as it has its own WIFI service, free for all visitors. You can stay connected to the world via social networks and continue to enjoy shopping.
Locate your car- Mall of Qatar has a parking area to allot more than 700o cars. During peak hours, it may get difficult to find your car easily. Mall of Qatar offers an interesting way of locating your car via the Mall of Qatar app. Download it easily and find your car in the parking lot. You can even shop online via the app if you have planned a longer stay in Doha.
Event Space- The Mall of Qatar has an area dedicated to events organization. You can launch your brand or conduct a seminar, fest, and so on to entertain the public and grow business. From Product Launches to Youth Group Outings, Social Receptions, Exhibitions, Special Celebrations, Team-Building Activities, and Corporate Meetings & Conventions, the mall offers space for every meeting.
Suggested Read: Restaurants in Saudi Arabia: Discover The Fine Dining Spots
Timings and Location of the Mall of Qatar
The opening hours of Mall of Qatar are:
Sunday To Wednesday -10:00 AM to 10:00 PM
Thursday -10:00 AM - 12:00 Midnight
Friday -10:00 AM - 11:30 AM & 1:00 PM to 12:00 Midnight
Saturday - 10:00 AM to 11:00 PM
Location of the Mall of Qatar: The mall is located in Rawdat Al Jahhaniya, Al Rayyan, Qatar
How to Reach Mall of Qatar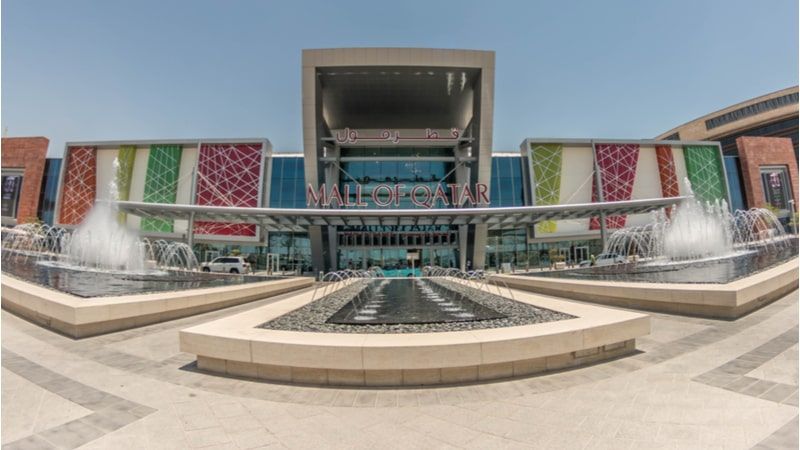 By Metro: One can easily travel via green line of Doha Metro and board the metro to reach the Al Riffa Station to reach the Mall of Qatar.  The mall is just an 11-minutes walk away from the metro station.
By Taxi: One can easily hire a taxi and reach the Mall of Qatar for a hassle-free travel experience.
By Bus: One can avail of the plethora of bus services from Doha to reach the Mall of Qatar. The nearest bus station is Al Shahaniya Coop which is about 8 mins walk away from the mall.
Brimming with shopping and entertainment options in plenty, the Mall of Qatar has all the potential to be your one-stop destination for a day out in Qatar. From luxury brands to unique entertainment options, this is a mall that features it all. Want to treat your taste buds? The Qatar Mall has more than a thing or two. So, what's making you wait? Want to enjoy the best shopping experience in the heart of Qatar? The Mall of Qatar awaits you with its unique offerings. Book your flight to Qatar and relish a shopping day experience like no other.
FAQs
Q1. What are the top malls in Qatar?
The best malls in Qatar for your shopping experience are:
Mall of Qatar
Doha Festival City Center Mall
Villaggio Mall
Al Khor Mall
Tawar Mall
Q2. What is the timing of the Mall of Qatar?
The opening details of Mall of Qatar are as follows:
Sunday To Wednesday -10:00 AM - 10:00 PM
Thursday -10:00 AM - 12:00 Midnight
Friday -10:00 AM - 11:30 AM & 1:00 PM - 12:00 Midnight
Saturday - 10:00 AM - 11:00 PM
Q3. How can I reach the Mall of Qatar?
The mall is connected with every transportation that makes it easier for travelers to commute to and from the mall. To reach the Mall of Qatar, you can board a bus or a metro for a hassle-free ride. There are cabs and taxi rentals easily available from any corner of the city.
Q4. What facilities are there at the Mall of Qatar?
Mall of Qatar, being the best mall in Doha, Qatar, has the best services available for your convenience. There is free Wi-fi connectivity, event space, lost and found area, porter service, parking space, and a special app to locate your car at the parking.
Q5. Where is the Al Rayyan hotel?
The Al Rayyan Hotel is directly linked to the Mall of Qatar. This is a five-star property that offers luxury living with a facility like a swimming pool, meeting space, restaurants, and cafes. There are family rooms available if you are traveling with your family.
Q6. What is KidzMondo?
KidzMondo is a theme park for kids. The indoor theme park is ideal for kids under 12 years of age, where they can learn and enjoy. The Park is designed as a mini city with its own constitution, neighborhood, and currency. You will find a TV Studio, a fire station, Factory, a Radio station, a hospital, and more.
Q7. What entertainment options are there at the Mall of Qatar?
For your fun and entertainment, the Mall of Qatar offers the best activities and games along with a cinema experience. There is a NOVO cinema with IMAX Laser 3D Projection System and a 19-screen cinema. The mall also features OLED screens to steam the best shows and ongoing matches. There is a custom-made 360-degree rotating multi-lift stage for live performances and events. You can bowl or spend time at Pin Bowling and Xtemeland.
Q8. Is there a dining facility at the Mall of Qatar?
The Mall of Qatar has a vast space for your best dining experience. There are more than 100 restaurants and cafes that allow you to relish the taste of every authentic and international cuisine.
Q9. Which is the nearest metro station to the Mall of Qatar?
Al Riffa Station is the nearest metro station to the Mall of Qatar which is just 11 minutes walk away from the mall.
Q10. How far is the Mall of Qatar from Hamad International airport?
The Mall of Qatar is just a 16 minutes drive away, 12 km from the Hamad International Airport.
---