Desserts are like a cherry on the cake after a hearty meal. If you come to Qatar then, do not forget to relish the enriching flavors of different desserts here. Desserts in Qatar boasts of special Arabian flavors and are severed after food or at different special occasions. Relishing different flavors of the sweets in Qatar will give you an insight into the rich culture of the country and also different Arabian flavors. We have listed down some of the best sweets to taste in Qatar that will make your taste buds dance and will make you crave for more.
Top 10 Desserts In Qatar To Try On Your Next Trip
Qatar is quite famous for its traditional food be it fancy dishes, street-side dishes or sweets. People who come here for a trip should definitely relish these exotic desserts that are an integral part of Qatar's food culture.
Umm Ali
Rez b Haleeb
Baklava
Basboussa
Kunafa
Muhallabia
Khanfaroosh
Qatayef
Luqaimat
Esh Asarayah
1. Umm Ali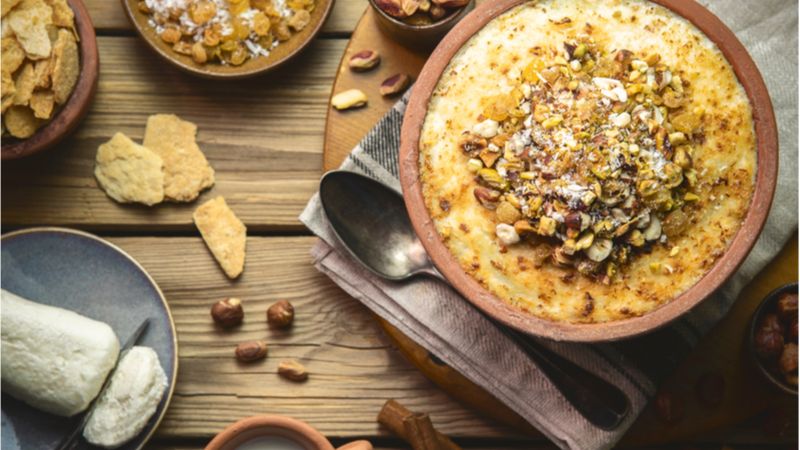 Umm Ali was originated in Egypt but is quite popular in Qatar as well. The preparation method and taste of Umm Ali is almost similar to a North American bread pudding. It is very easy to make Umm Ali as it is made from basic ingredients like milk, cream, puff pastry, sugar, vanilla extract, almonds, raisins and is topped with flaked coconut, pistachios and pine nuts. It can be served warm with a scoop of vanilla ice cream that enhances the overall flavors of this dish. It has a creamy texture with a brown crispy layer on the top.
Main Ingredients: Milk, cream, puff pastry, sugar, vanilla extract, almonds, raisins
2. Rez b Haleeb
One of the best Qatar desserts, Rez b Haleeb is a Lebanese rice pudding which is made only from three main ingredients which are sugar, milk and rice. This dessert is also served as Suhoor during the holy month of Ramadan but can also be consumed daily in breakfast. Flavoring this dish with orange blossom further enhances the flavors of this dish. The Nutrional value of this dessert is quite rich as quantity serving 4 people has around 386 kcal, 6g of saturated fat, 13g of protein, 54g of carbohydrates, 1g of fiber, 359mg of calcium, along with Vitamin A and C.
Main Ingredients: Rice, milk and sugar
3. Baklava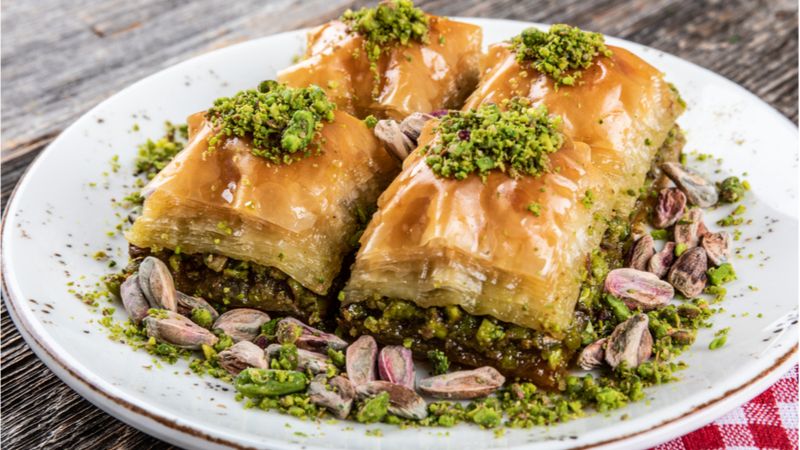 You will find Baklava at most of the restaurants in Qatar and is one of the main dishes of Turkish, Arab, Iranian and Ottoman cuisine. The texture of baklava is soft and crisp and is soaked in honey syrup. The history of Baklava dates back to 8th century BC when it was served to Janissaries by the sultans during the holy month of Ramadan. It has several layers of filo dough which are separated with vegetable oil and melted butter and is cooked in large pans. The dough pastry after it has been baked is cut into different shapes like triangle, rectangles or parallelograms. Soaked in honey or sweet syrup, Baklava tastes heavenly which makes it one of the best Arabic sweets in Qatar.
Main Ingredients: Fillo dough, sugar, honey, butter, vegetable oil
Suggested Read: Food In Qatar That Will Leave You Drooling For More
4. Basbousa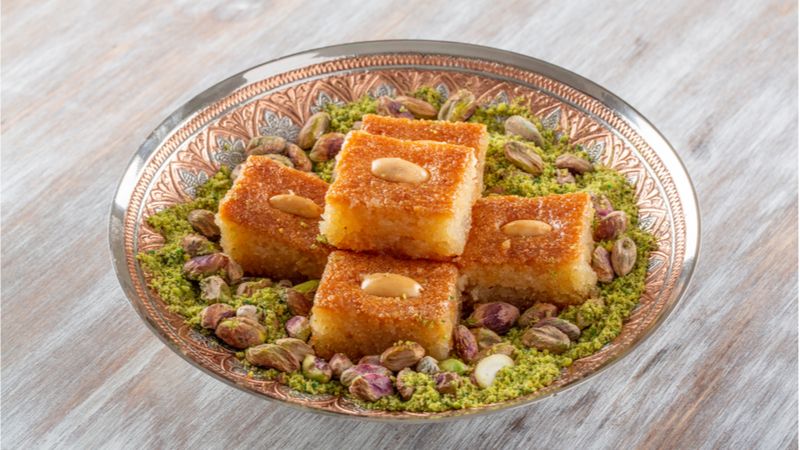 Dessert lovers will love Basbousa as it is a cake type dessert quite famous in all the Middle Eastern countries. It is presented beautifully, garnished with coconut and topped with dry fruits like walnuts and almonds that makes it one of the best Arabic sweets in Qatar. Basbousa is basically a semolina cake that originated in Egypt and later got very popular in all the Middle Eastern countries. It takes around 55 minutes to prepare this dish and is usually served cool, topped with different dry fruits. One can find this dessert at many cafes in Doha and also at several sweet shops.  Basboussa has different variations like Pastūsha that originated in Kuwait and Basbousa bil ashta that originated in Levantine.
Main Ingredients: Semolina, coconut, butter, curd, sugar, rose essence
5. Kunafa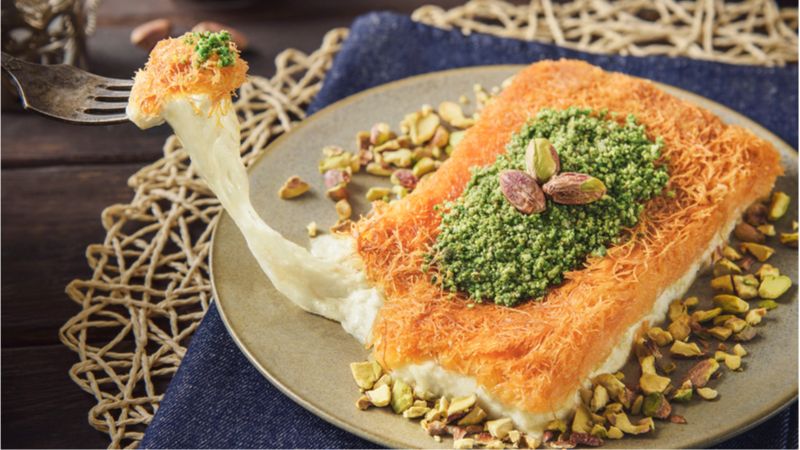 Kunafa in Qatar is very popular and one must definitely relish the rich flavors of this Arabian dessert. Trying and tasting different Qatari dishes and desserts will make you aware about the rich lifestyle and traditions of the local people here and also about their food habits. Kunafa is a famous Middle Eastern dessert that originated in Lebanon at the time of Ottoman Empire and now is also found in Qatar in three different varieties like khishnah, na'ama and muhayra. It is made from shredded filo pastry which is soaked in sugar syrup, layered with cheese and topped with nuts and pistachios.
Main Ingredients: Shredded filo pastry, sugar, cheese
Suggested Read: Shopping In Qatar: A True Reflection Of The Country's Tradition
6. Muhallabia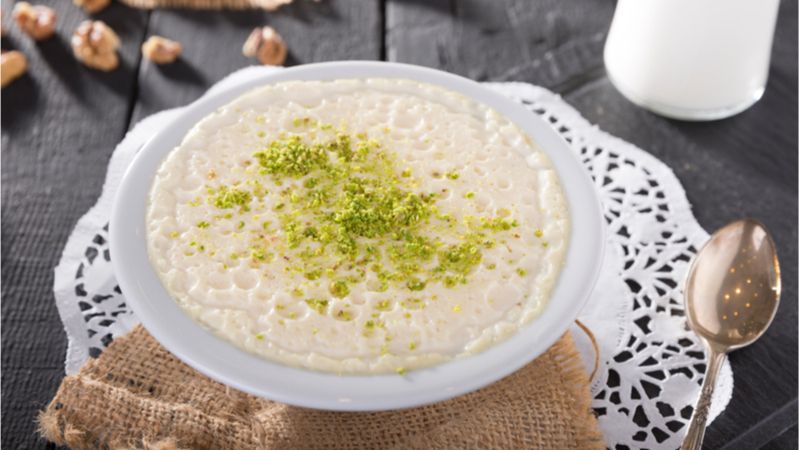 Muhallabia is a milk pudding which is extremely light, easy to make and one of the best sweets in Qatar. Creamy milk, rose water, and cardamom are the main ingredients that are used to prepare Muhallabia. It is sprinkled with dry fruits on the top that accentuates its flavors. Muhallabia comes in packaged boxes so these can be purchased as souvenirs from Qatar and can be consumed later. It can be consumed after meals or on special occasions like Eid and weddings. The rich and creamy texture of Muhallabia will delight your senses and taste buds, making you crave for more and more.
Main Ingredients: Creamy milk, rose water, and cardamom
7. Khanfaroosh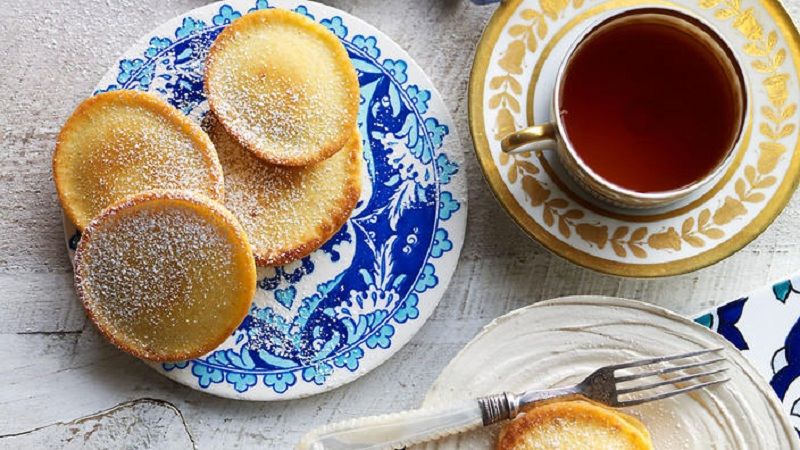 Have you ever heard of Khanfaroosh? The list of Qatar sweets will be incomplete without the mention of Khanfaroosh which are deep-fried biscuit like discs made of dough and are dusted with honey or icing sugar. Different bakeries in Doha sell this sweet as it is quite popular not only in Qatar but throughout Middle East. If you have a sweet tooth or in general are craving for something savory, then you should definitely try Khanfaroosh. You have no idea what you are missing out on. Go ahead and give yourself the best treat ever. You will always come back for more.
Main Ingredients: Flour, icing sugar, saffron, honey
Suggested Read: Things To Do In Doha To Discover Its Culture and Civilization
8. Qatayef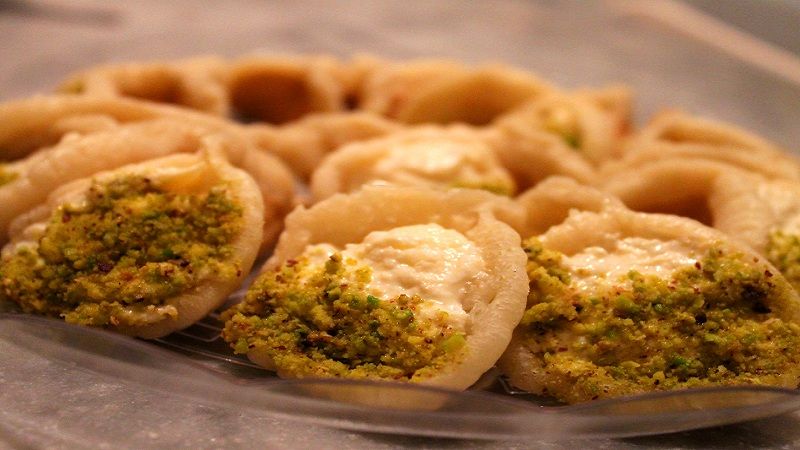 A staple dessert in Middle East, Qatayef is something that one must definitely try in Qatar. Qatayef is basically a pancake which is stuffed with nuts, cheese and fried until golden brown. Qatayef can also be baked but mostly it is fried and is topped with honey or hot sugar syrup when served. This famous dessert in Qatar is found at Souq Waqif and several other sweet shops in Qatar. Qatayef is made from semolina and thickened milk cream and is served in cones which is filled with unsalted cheese.
Main Ingredients: Semolina, milk cream, nuts, cheese, honey
9. Luqaimat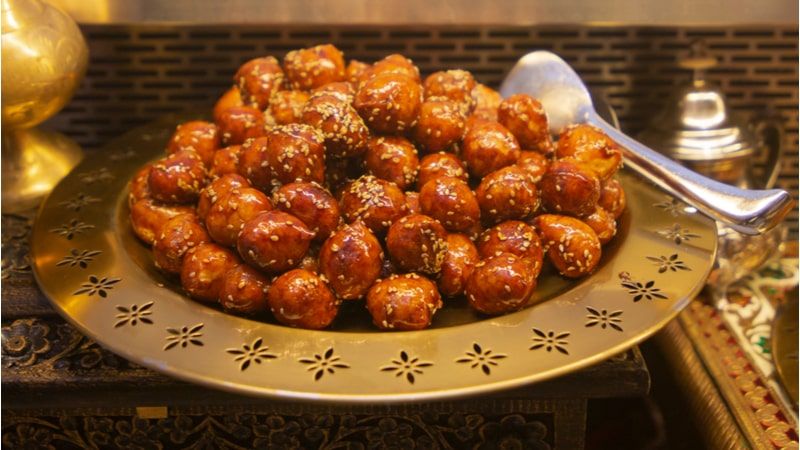 Have you ever tried a sweet dumpling? Luqaimat is also known as sweet dumplings, a dish that is fried and made in sugar syrup. To improve the taste and look of the dish, honey is added to it.  It is one of the many sweets served during Ramadan. Well? What more can you ask for? If you haven't tried it yet, then you should. It is a dish similar to Gulab Jamun.
Main Ingredients: Yeast, flour, milk and olive oil
10. Esh Asarayah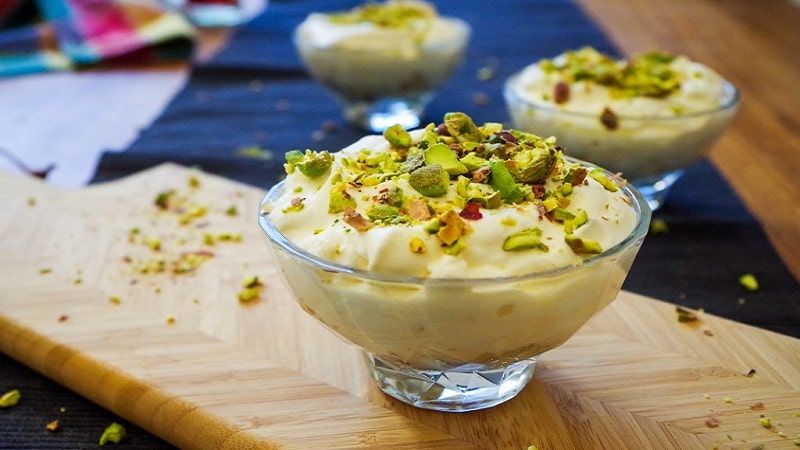 One of the most popular sweets in Qatar, Esh Asarayah is made with pieces of bread, cream and topped with pistachio nuts. It is one of the yummiest desserts people often crave for every often. Once people tuck into the sweet, they will always crave more. Have you tried it yet? If you haven't, then you should tuck into it right away.
Main Ingredients: Bread, Cream, Pistachio Nuts
Binge on these famous Arabian desserts to explore the rich taste of Qatar's food culture and delight your taste buds with the richness of their texture and taste. From beautiful presentation to richness in flavors, the sweets in Qatar offer a burst of flavors. Visit the different restaurants, cafes and sweet shops in Qatar to get relish the rich tastes of Arabian desserts.
FAQs
Q1. Which are the best dishes to try in Qatar?
Some of the best dishes to try in Qatar are:
Balaleet
Warak Enab
Saloona
Majboos
Madrouba
Kousa Mahshi
Rogag
Q2. Where should one go for fine-dining in Qatar?
Some of the best places to enjoy fine-dining in Qatar are:
Hunters Room & Grill
Spice Market
Frying Scotsman
Al Hubara Restaurant
Morimoto
IDAM
Al Jalsa Garden Lounge
Astor Grill
Q3. Which are the most popular sweet shops in Qatar?
Some of the best sweet shops to buy desserts in Qatar are:
Soghat Sweets
Al Aker Sweets & Bakeries, Qatar
Turkiana Sweets
Sweet Factory
Dolci Sera Sweets
Al Hallab Sweets Qatar
Touch of Sweets
Q4. Which are some popular drinks to try in Qatar?
Some of the most popular drinks to try in Qatar are Karak chai, Arabic coffee, Sun Top drink, Laban, Vimto, Jallab, Qamar al Din, and saffron tea.
Q5. Which are the best bakeries in Qatar?
Some of the best bakeries in Qatar which you should consider visiting are:
Paul Bakery & Restaurant, Doha
Batteel Cafe & Bakery
Gourmet House
La Patisserie Doha
Coral All Day Dining
Torch Tea Garden
La Cigale Traiteur
Q6. Which are the most famous sweets to try in Qatar?
Baklava and Umm Ali are the two most famous sweets to try in Qatar.
Q7. Which are the best cafes in Doha?
Doha is home to myriad of cafes that offer the best coffee, snacks and blissful ambience to spend some pleasant time with friends or family. Some of them are:
W Café
Museum of Islamic Arts Park Café
Sugar & Spice
Chac'Late
Café Tasse
Café #999
Al Jazeera Media Café
Q8. Which are the famous street dishes to try in Qatar?
Qatar is quite known for its street food delicacies. Some of the best ones to try here are:
Puri with karak
Falafel
Shawarma
Samboosa
Ragag
Luqaimat
---