Qatar is a  Middle Eastern country with scorching heat. What is the best way to escape the heat? Swimming, right? Well then, there are many swimming pools in Qatar that are waiting for you to dive in. Beat the heat with these mesmerizing beauties. Swimming is one of the best sports and you can be enjoyed in several spots in the country. You can either hit the beach or if you wish to have a more secluded and shaded swim you can opt for the indoor pools.  
Here is a list of some top places with swimming pools in Qatar.
Top Swimming Pools in Qatar: Clubs And Activity Centers
Qatar is a country of with numerous clubs and activity centers that offer the facility of swimming pools. Here is a list of some of the best ones.
1. Doha Family Activity Center/ Hamad Aquatic Center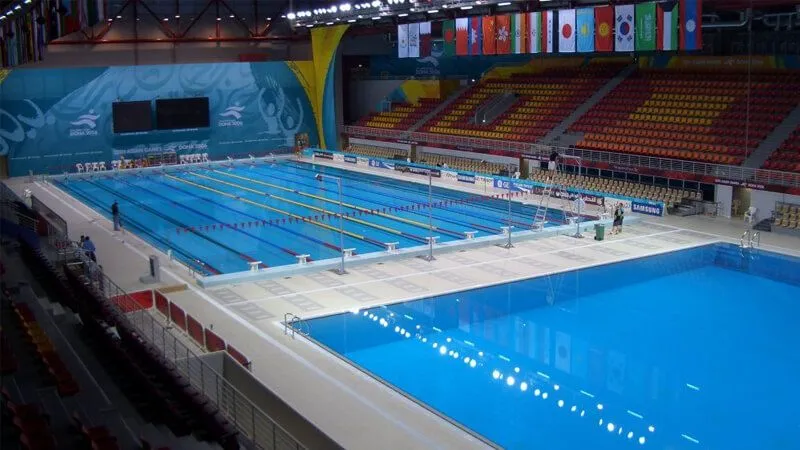 On a global stage, the Hamad Aquatic Centre has proven to be one of the best facilities in the world, with hundreds of millions of sports fans witnessing world-class performances by swimming's top stars under its conditions. The Hamad Aquatic Centre is one of best swimming pools in Qatar, with five temperature-controlled pools that are each tailored to a specific purpose and different degrees.
TWO (2) 50m OLYMPIC SWIMMING POOLS
The Hamad Aquatic Centre has two 50-meter Olympic-size pools, making it the preferred training venue for experienced swimmers, Qatar swimming clubs, and athletes. The pools also cater to all types of swimmers, with men's only, women' only, and family times available, ensuring that everyone has a fantastic swimming experience.
12m X 25m LEARN TO SWIM POOL
The Hamad Aquatic Centre emphasises the benefits of learning to swim as well as advanced swimming skills in its many pools. It has a "learn to swim pool" for people of various swimming abilities. The 12m x 25m pool is appropriate for novices of all ages and provides a safe and secure atmosphere.
All water aficionados are catered to in the Hamad Aquatic Centre. The biggest Aquatic Complex in Doha features 5M diving pools with spring diving boards, ideal for individuals looking to expand their swimming abilities.
2. Al Rayyan Swimming Pools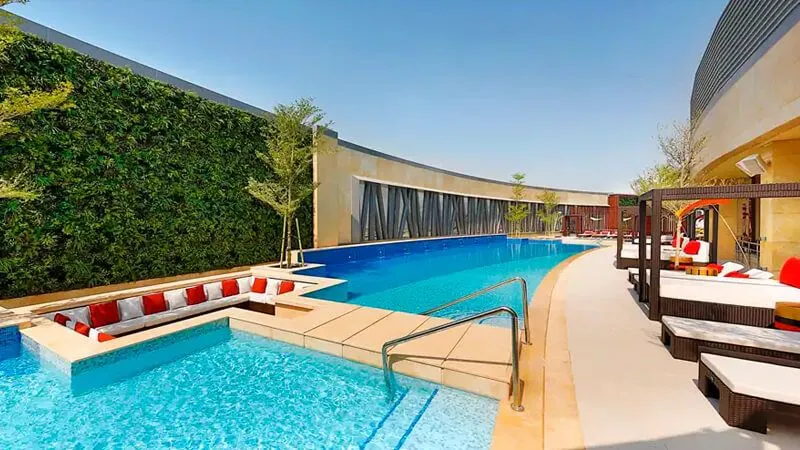 Al Rayyan Swimming Pools W.L.L is a branch of the Al Sulaiteen Group of Companies, which was founded in 1987 and has over 31 years of devoted quality standards. Al Rayyan is the most desired pool specialist in Qatar, with in-depth understanding of the state's specific pool needs. Over the years, Al Rayyan Pools has established industry standards. This is one of Qatar's most prestigious swimming pool firms.
Design, Construction, and Maintenance of Indoor & Outdoor Swimming Pools, Facilities & Pool Enclosures Buildings, Spa, Water Features, Waterfalls, Steam, Sauna, Lakes, Ponds, Gardens, Playgrounds & Landscapes, and more are all offered via Al Rayyan.
Al Rayyan Pools' quality requirements are stringent, beginning with the acquisition of equipment and materials and continuing through the design and construction phases and after installation. Our machinery suppliers are hand-picked from manufacturers in Europe, the United States, and Australia that satisfy our stringent quality standards. That is why Al Rayyan Pools is the most recognized brand of swimming pool Doha lifestyle in the entire Qatar.
3. Al Ahli Sports Club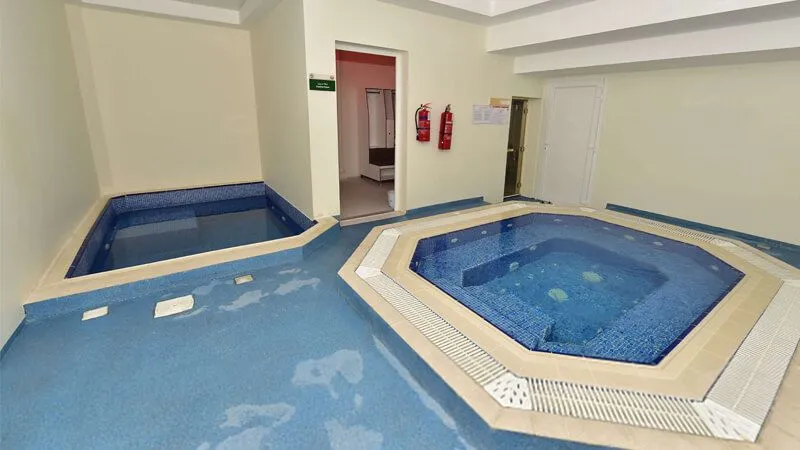 Al Ahli Sports Club, which was founded in 1950, is one of Qatar's oldest clubs. One of the first clubs to bring in the world's most powerful sports teams, such as (Brazilian Santos) club in its golden period, headed by international player Bella's accomplishment, such as Sao Paulo and the Iranian junior squad, and in raising the friction for continuous profit. The Dean's share was the honor of being the first club in the State of Qatar to travel outside the country, competing with Arab and foreign teams to benefit and benefit from the youth of the club's sports teams.
Suggested Read: AlRayyan Hotel Doha: A Perfect Accommodation Option For Family And Business Stays
4. Al Sultan Beach And Pool
Al Sultan Beach Resort has a private beach and a huge swimming pool, which is the second feature on our list. The resort lies in Al-Khor and is one of the greatest locations to stay in Al-Khor and the surrounding area. When it comes to the beach, joy and tranquilly come to mind when you think about the Al Sultan Beach.
There are a variety of aquatic activities available to hotel guests, as well as an outdoor pool, which is one of Qatar's largest. What's the best part? The beach is available not just to Al Sultan Beach Resort guests, but also to non-guests. They only need to acquire a day pass to have entry to the beach and pool area.  So, in addition to enjoying the different water sport activities on the beach, you also have the choice of going for a dip in a huge swimming pool or simply relaxing on the beach while drinking a drink.
Suggested Read: Virtuocity Qatar: Challenge Your Brain At This Funzone In Doha Festival City
5. Al Mamoon Swimming pool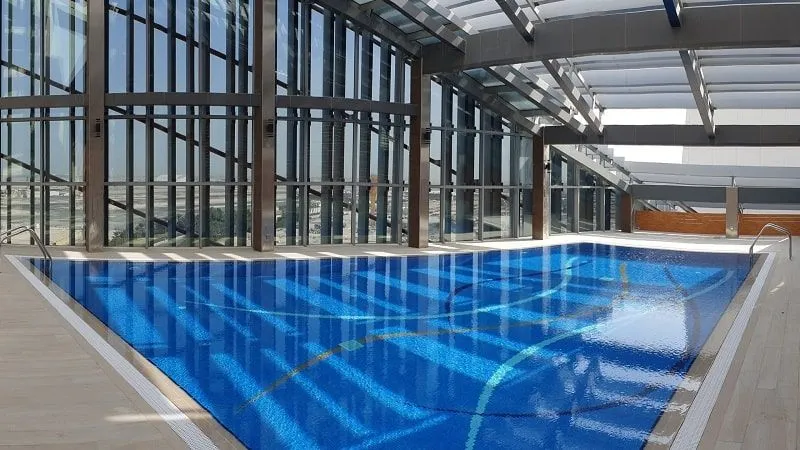 Al Mamoon Swimming Pools & Spas in Qatar was founded by Engr. Osama K. Ghabeish. With skilled workers and an innovative approach, the swimming pool and spa were established as a prestigious project in the State of Qatar. Al Mamoon not just features pioneering architecture and design but it includes various features like Jacuzzi, Sauna, Fountain, and a steam bath. It has been more than 30 years since the team of Al Mamoon is delivering new ideas, space for practice, and other assistance.
Top Hotels Offering Swimming Pools
There are many hotels in the country that offer lavish facilities and best in class hospitality. Below is the list of hotels that houses swimming pools for you to escape heat.
1. The St. Regis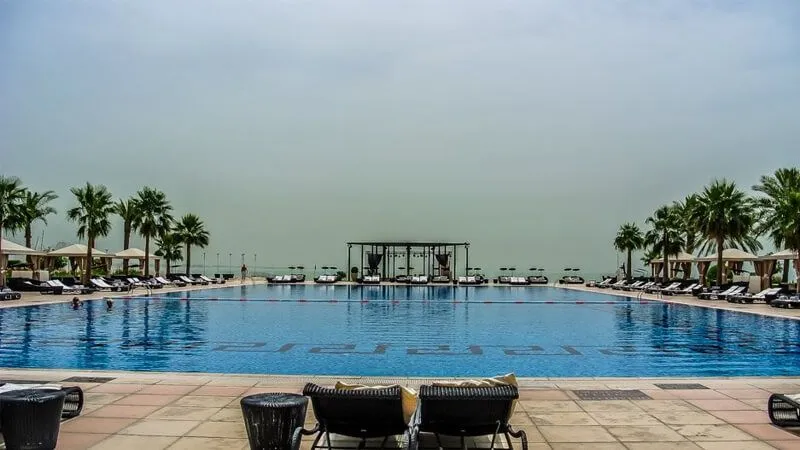 The St. Regis Doha is regarded as one of Qatar's greatest hotels, and it demonstrates it with every amenity it provides. Thanks to its picture-perfect, Olympic-sized pool, this opulent retreat ups the glitz factor. The only option you'll have to make is whether to lay on a day bed beneath a gazebo or on a floating bed, thanks to attentive care. Throughout the day, refreshments such as mocktails are given, as well as mineral water spritzes to keep you cool. If you want some privacy, book one of the beachside cabanas close to the pool, which include plunge pools, smart TVs, private toilets, and butler service.
2. Sheraton Grand Doha Resort & Convention Hotel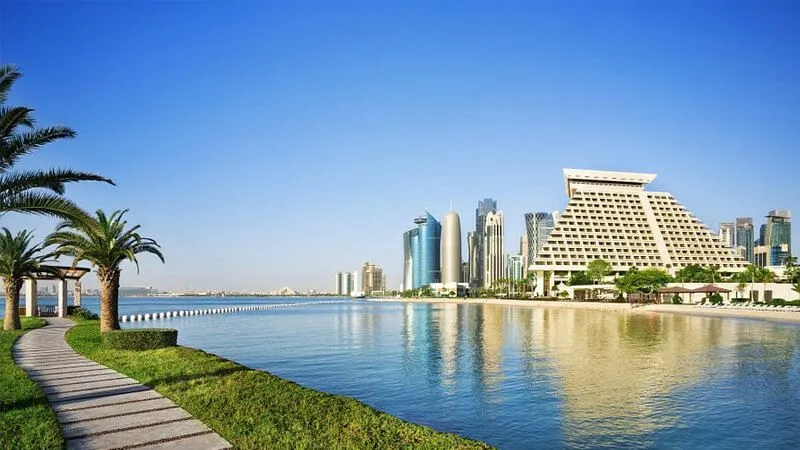 This pool at a Doha hotel may be one of the oldest, but it is still one of the nicest. The lush landscape leads to a private beach and a large pool area with lounge chairs and hammocks for complete enjoyment. Inflatable slides and other water activities are frequently set up throughout the summer at the site. Check out the city views from the outdoor Jacuzzi, which are worthy of a postcard. With its verdant green lawn and white wicker furniture, Pool Café is a great accompaniment to your visit, cooking up the usual sandwiches, salads, and burgers.
Suggested Read: Aqua Park Qatar: The First-Ever Water Theme Park In the Country
3. The Ritz-Carlton, Doha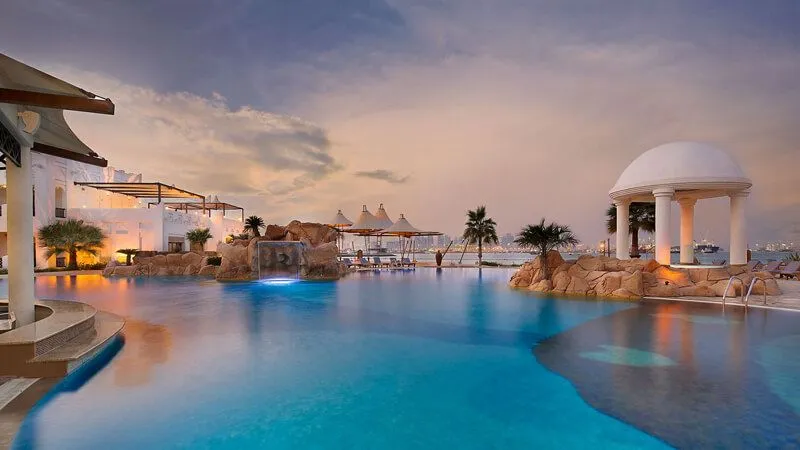 With its palm tree-lined outdoor pool — technically, pools, with five in total, including plunge and children's options — this longtime local favourite continues to delight. A swim-up bar and lots of spaces to relax and soak up the sun can be found in the temperature-controlled, free-form main pool. Flamingos offers some of the city's greatest poolside food (try the grilled halloumi with mint yogurt). Also if you need extra sustenance, staff continually comes around with fresh fruit platters and cold water. The indoor pool is considered as one of the best indoor swimming pool in Qatar. When it's a little too hot outside, the indoor 25-meter heated pool is just the tonic.
Suggested Read: Arabic Drinks To Try In Qatar: The Refreshing Essence Of Middle East
4. InterContinental Hotel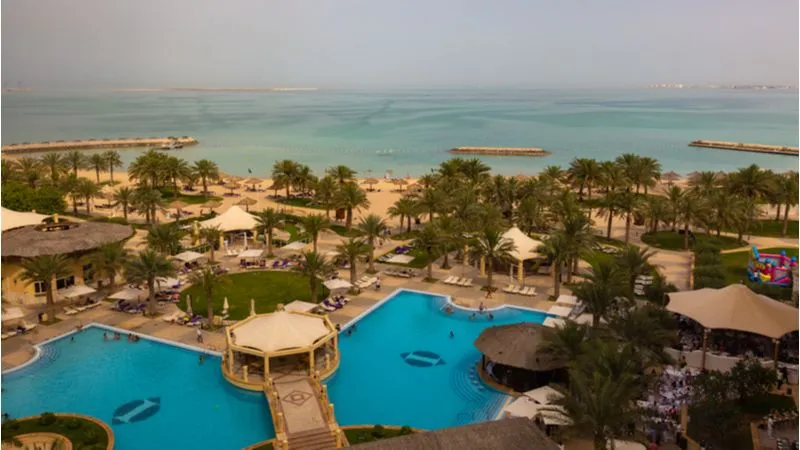 InterContinental Hotel is a gulf-side getaway is popular with families since it offers lots of fun in the sun for people of all ages. You could easily spend a whole day on the resort's well-kept grounds, wandering between the beach, pool, and neighbouring eateries. Send your kids to play in the covered children's pool while you choose a seat (don't worry, there are plenty of loungers) alongside one of Doha's largest pools. With beautiful dunes just feet away, you could forget you're in the heart of the city. When you become hungry, go to the Pool Bar for some light refreshments and nibbles. Another option is the hotel's well-known Greek restaurant, Mykonos. Its airy décor and delicious Mediterranean food complete the beach-holiday experience.
5. Mondrian Doha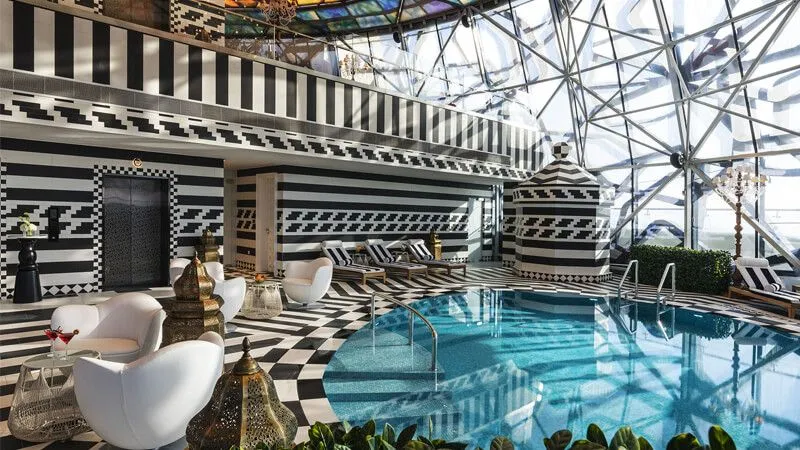 Taking a cue from the quirky hotel itself, this indoor pool is not your typical lap-swimming pool. The pool, which is located on the building's roof, is completely surrounded by a hand-painted glass dome designed by Dutch designer Marcel Wanders. The checkerboard décor, pure white couches, and topiary-inspired bridge evoke Alice in Wonderland – where else can you swim in a pool illuminated by chandeliers? Having saying that, it's a fantastic spot to hang out, especially after dusk. Rise, the hotel's rooftop bar, is located on a terrace with a view of the pool. And if that vista ever gets boring, simply switch your gaze to the 16-foot TV screen.
Suggested Read: Mondrian Doha: An Elegant and Luxurious stay
6. Mandarin Oriental Hotel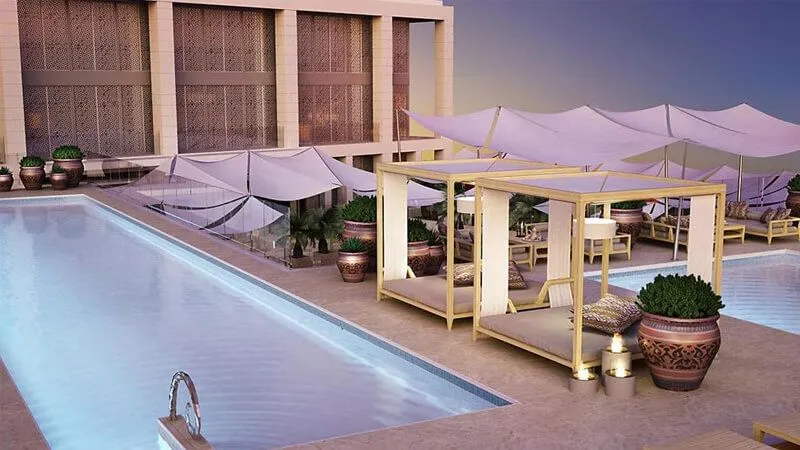 Rooftop pool fantasies are formed of the two locations atop this Msheireb Downtown accommodation. A 25-meter lap pool and a smaller recreational option shimmer in the Doha sunshine, perched high above the city with spectacular views of the skyline. You only emerge to test out the temperature-controlled pools, which are shielded from the intense sun by curtained cabanas. Perks like regularly distributed frozen fruit skewers add to the experience. It's a calming oasis amid this re-emerging area of the city.
7. Radisson Blu Doha
If Radisson Blu Doha is offering you a perfect place to stay in Doha, it is also offering you access to the best swimming pool in Qatar to spend some time. There is a luxury room that overlooks the vast outdoor pool, where you can enjoy games or spend a leisurely day. You can even chill out, relax and enjoy the heat of the sun, soaking up near the pool. There are two pools at the hotel, making it one of the best hotels in the city to enjoy a luxury stay. The Pool bar is perfect to plan an evening with friends and sip your favorite Ice-cold mocktails, soft beverages along appetizing snacks. The swimming pool is open every day from 09:00 am to 09:00 pm. Other dining options are also available at the hotel. With restaurants and cafes, the hotel is also known for having the most delightful food menu in the country.
8. The Curve Hotel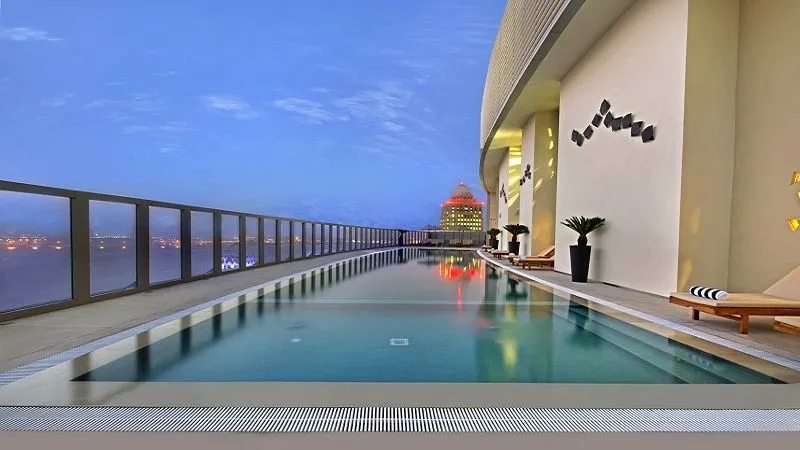 The Curve Hotel is one of the greatest choices for individuals looking for a hotel with a Swimming pool in Qatar at a reasonable price. There are two pools for adults and children; the larger pool, which is approximately 142 square meters, is for adults, while the smaller pool is for children, who can comfortably swim while being supervised by experienced lifeguards. Its terrace pool, which is one of the best Doha hotels with a pool, allows you to soak up the sun while relaxing by the pool.
Apart from the pool, the Curve Hotel has 600 exquisitely designed suites, including one, two, and studio apartments, which are excellent for both leisure and business tourists. The Curve Hotel welcomes you to experience the remarkable with its magnificent interiors and high-end amenities.
9. Al Messila, a Luxury Collection Resort & Spa, Doha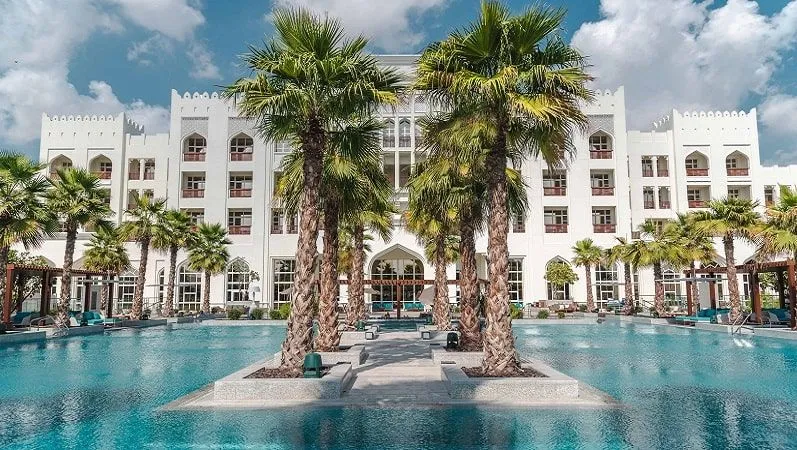 With its luxurious accommodations and expansive pool, Al Messila has revolutionized Qatar as a vacation destination. If you're looking for a private pool in Qatar, this is the perfect place to go because the hotel has private pool villas with all the bells and whistles. This 5-star resort is built around stunning outdoors, excellent hospitality, and transforming experiences and is home to one of Qatar's best pools. You will be transported to heaven as you walk through the beautiful resort gardens to your magnificent rooms, suites, or private pool villas.
Suggested Read: Beach Hotels In Doha Offering Luxury & Comfort With Gorgeous Views
10. Alwadi Hotel Doha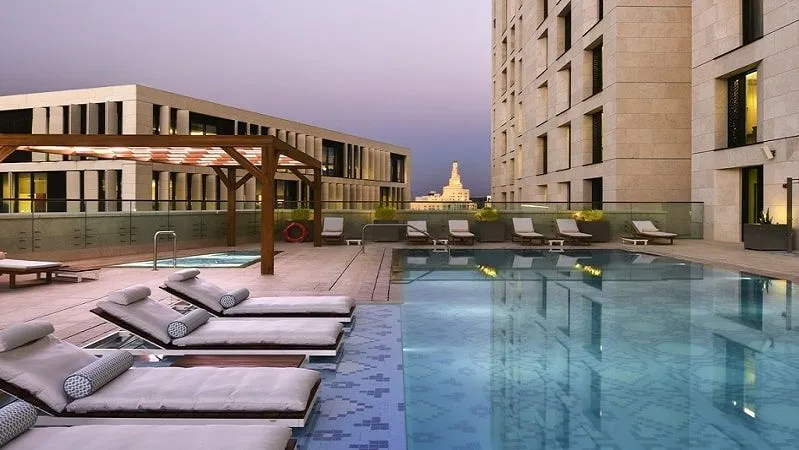 The Alwadi Hotel Doha is a five-star boutique hotel with a high-end gym, peaceful spa, fine dining, spacious and beautiful suites, and a relaxing pool. Enjoy some downtime at the hotel's outdoor pool, which is pretty large and certainly a highlight of the property. The hotel also has a fitness facility and a spa where guests can receive rejuvenation treatments.
The hotel's 213 rooms and suites blend culture with contemporary style, and it's famed for its MyBed cocoon idea. There is no shortage of dining alternatives in Alwadi, with restaurants such as Le Colonial, O'Glacée Restaurant, AtTeatude, Sofra, and Infinity Rooftop Lounge.
Suggested Read: Pool Hotels In Qatar Ideal For A Refreshing Retreat
11. Four Seasons Swimming Pools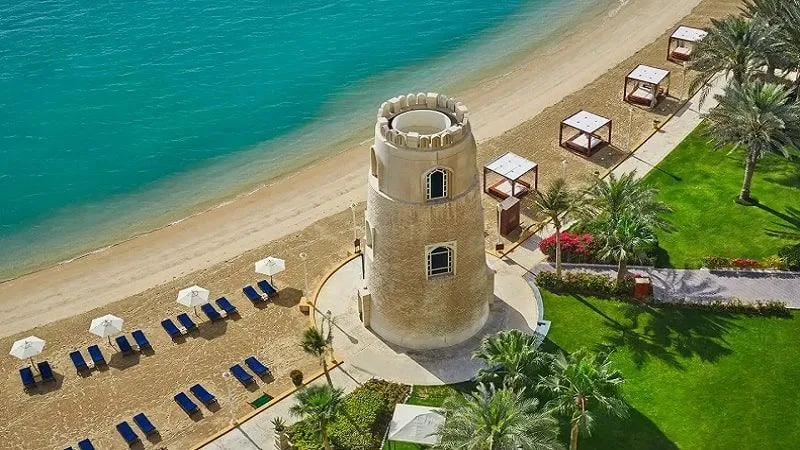 Four seasons Doha has a total of 5 lavish swimming pools and can be accessed by the guests and by those who have day pass. The resort has a private beach as well which is famous for water sports. The swimming pool in Doha is one of the prominent attractions in the city.
The pools are big enough to allow the entire crowd to swim at once in comfort. If you love being in water then you must visit these pools brimming with turquoise water. The facilities at the swimming pool can be enjoyed at any point of the day.
Suggested Read: Four Seasons Hotel, Doha: A 5-Star Luxury Retreat Known For Its Rich Grandeur
12. Simaisma Beach And Pool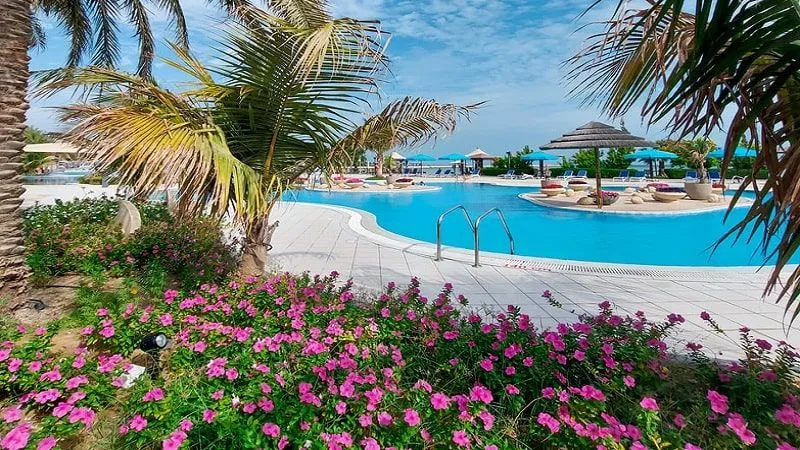 Simaisima Beach resort is located 20 minutes from Doha, and closer to Al Khor. The resort is a home to stunning beaches and gorgeous swimming pool. The outdoor pool is an ideal place for shunning away stress and anxiety. Guests can relish lip-smacking pool side meals and enjoy the water activities.
The swimming pool is beautifully designed and remains open throughout the year. So no matter how tires you are, one dive in the cerulean water will make you ecstatic. Take some time out and plan a trip with family for a fun filled day.
Suggested Read: Things To Do In Al Khor, Qatar For Your Perfect Getaway In This Historical Hamlet
Are you a fan of swimming? Well then, you must also that swimming is the perfect activity to beat the heat, plus it has several other benefits for the body. It keeps you in shape. While you can always opt to swim at a beach, the best way is to swim in a pool, keeping in mind various factors. There are many swimming pools in Qatar that offer the best experience. Numerous clubs and hotels have indoor as well as outdoor pool facilities. You can choose your row game of beating the scorching heat. So, what are you pondering over then?  Book your Qatar Tour packages today and also don't forget to enjoy swimming.
FAQs
Q1. Which are the best hotels in Qatar?
Qatar being one of the richest countries of the Arab world, houses several lavish and comfortable hotels. The best hotels in Qatar are: -
Sheraton Grand Doha Resort & Convention Hotel
The Ritz-Carlton, Doha
The St. Regis Doha
Park Hyatt
The Grand Hyatt
Marsa Malaz Kempinski
Mondrian Doha
W Doha
Q2. Which are the hotels that facilitate swimming pools?
Swimming is the perfect activity to beat the heat, plus it has several other benefits for the body. It keeps you in shape. The hotels that facilitate swimming pools are: -
Mandarin Oriental
Mondrian Doha
Intercontinental Doha
Sheraton Grand Doha Resort & Convention Hotel
The Ritz-Carlton, Doha
The St. Regis Doha
Q3. How many pools are there in Doha Family Activity Center?
Hamad Aquatic Centre or Doha Family Activity center is home to five temperature-controlled pools, with each pool customized to different degrees. These are divided into two (2) 50m Olympic swimming pools, one 12m x 25m learn to swim pool, and one 5m diving pools.
Q4. What are the qualities of Al Rayyan Swimming Pools?
Al Rayyan Pools' quality standards right from procuring equipment and materials, throughout the design and construction phase and after installation are uncompromising. Our suppliers of machinery are handpicked from producers from Europe, the USA & Australia who meet our challenging criteria for excellence. That is why Al Rayyan Pools is the most recognized brand of swimming pool lifestyle in the entire Qatar.
Q5. What is the best time to visit Qatar?
The best time to visit Qatar is in the months from November to February. The temperature is moderate and the weather is mild. Visitors can enjoy the best of the country to its fullest during this time. Also, this span of time is known as "peak season" because most travelers visit Qatar during this time.
Q6. Which is the main airport in Qatar?
The main airport in Qatar is Hamad International Airport. With time, Hamad International Airport has attained a position as one of the best tourist attractions in Qatar. It is also the only international airport in the country, has numerous facilities, and is the busiest airport in the country.
Q7. Which are the best water sports to indulge in Qatar?
The diverse landscapes and pleasant climate make it the ideal country for all the adventure activities including water sports. The best water sports to indulge in Qatar are: -
Banana Boating
Kitesurfing
Parasailing
Jet Skiing
Kayaking
Stand Up Paddling Boarding
Wakeboarding
Scuba Diving
Q8. Does Mondrian Doha have a swimming pool?
Yes, Mondrian Doha facilitates a swimming pool. Located on the roof of the building, the pool is fully enclosed by a hand-painted glass dome imagined by Dutch designer Marcel Wanders. The checkerboard decoration, pure white armchairs, and topiary-inspired bridge give off an Alice in Wonderland vibe — nowhere else can you swim in a pool lit by chandeliers.
---